"Monet Suite", elegante amueblado de 2 habitaciones suite principal con pinturas al óleo originales; balcón privado. Magníficas vistas de Blue Ridge Mountain en villa artista situado en el corazón de caza crecientes fábricas de cerveza artesanal de vinos y caballos y Virginia y país de Loudoun; baño con jacuzzi y ducha romana para dos. toallas y albornoces de lujo previstas en suite.
Microondas, nevera, cafetera en la Suite. Segunda cocina está disponible bajo petición especial para cocinar lite, con un cargo adicional. Lavadora n secadora están disponibles bajo petición. Castro sofá convertible se puede convertir en cama de tamaño completo para una tercera persona. Deck y jardines están disponibles.
Philomont es una joya escondida con encanto en el condado de Loudoun, que se incorpora en una cresta, lo que la villa tiene unas vistas espectaculares de las montañas Blue Ridge, a sólo una hora de Washington, DC
Gave us great recommendations for dining in the area.
Benjamin
2016-07-30T00:00:00Z
Maude was very nice to share her home. She gave us the privacy we desired, and I am confident she would have accommodated us if we asked for anything she didn't already provide.
Daniel
2016-09-19T00:00:00Z
The suite was accurate as described, the bed and couches were very comfortable, and the view was beautiful. It was quiet and private, just what we were looking for.
Christine
2016-07-27T00:00:00Z
Lovely place to escape. The suite is very large, the the views are lovely. Loved the shoer and the tub - a great way to be spoiled. there is a small refrigerator (which had water), Microwave, and a coffee maker. there is a cute little store just minutes away you should stop into...and if needed...a variety of restaurants within 20 mins or so. Though there is no private entrance - it still felt very private. Maud was quite gracious. As I said, a great place to escape the hectic world for a couple of days.
Abba
2016-05-12T00:00:00Z
Maud has a lovely place. Very spacious, beautiful views, and an amazing jacuzzi tube!
Paige
2016-09-06T00:00:00Z
We had a wonderful time staying at Maud's for the weekend. The location is very convenient for the greater DC area and makes for a lovely weekend getaway. Maud also provided great recommendations for things to do in the area. We opted for an afternoon at the Catoctin Creek Distillery followed by lunch at Market Burger Fries & Shakes. The view from the suite was so nice we decided to stay in for dinner and watch the sunset from the balcony. Looking forward to coming back in the future!
Jeff
2016-06-27T00:00:00Z
Very beautiful views from the suite. Everything was clean and Maud was a wonderful host. The art in the house was unique and beautiful and gave the property a very unique quality
Varun
2016-04-11T00:00:00Z
Maud was very accommodating to my check in time and odd hours. She was so sweet and so happy to host me. Everything that was promised was provided and the suite was so comfortable. It was very spacious and the view was just beautiful. It was peaceful and relaxing.
Bonnie
2016-06-10T00:00:00Z
ประเภทห้อง
บ้าน/อพาร์ทเมนท์ทั้งหลัง
---
ประเภทที่พัก
วิลล่า
---
พักได้
3
---
ห้องนอน
Purcellville, เวอร์จิเนีย, สหรัฐอเมริกา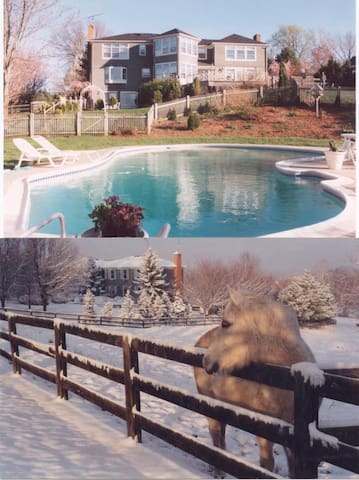 สถานที่ของเราอยู่ใกล้กับเมดิสันทุ่งนาและวอชิงตันดีซี คุณจะรักสถานที่ของเราเพราะมุมมองที่สวยงามและบรรยากาศเงียบสงบของประเทศภายในระยะไม่ไกลจากศูนย์กลางทางวัฒนธรรมและประวัติศาสตร์ สถานที่ของเราเป็นสิ่งที่ดีสำหรับคู่รักนักผจญภัยเดี่ยวนักธุรกิจครอบครัว (กับเด็ก), และกลุ่มใหญ่
This is a great place. Great owners. Very welcoming and flexible. Looking forward to coming back next year.
Dyllis
2017-03-12T00:00:00Z
This home is amazing! We used the Shiloh estate to host a small wedding (25 guests), and the property did not disappoint. Not only did we have 12 people staying in the house with us, but nearby hotels are about 20 min away so all of our other guests were able to be close by. There is a full commercial kitchen with a desperate entrance adjacent to the already large "regular" kitchen so our caterer was able to come in and feel right at home. The number one thing guests were talking about was how beautiful a location we had for our wedding and we would not hesitate to recommend this location for events of a similar nature. Diane was a wonderful host as well, extremely communicative and when there was an issue with one of the furnaces in the house not only did she come out on a Saturday to fix it, she ended up getting the HVAC company out on a Saturday afternoon to make certain it was done before the ceremony started. Thank you so much Diane we will always remember how beautiful our location was when we look back at this special day!
Daniel and Jesus
2017-01-08T00:00:00Z
Awesome place
Matthew
2016-11-06T00:00:00Z
Diane was terrific! Would definitely stay again. We used it for our company retreat (10 people total) and there was AMPLE room for more. A great living room for everyone to talk in, great hiking, and two kitchens!! Highly recommend for family reunions, company retreats, and more.
Evan
2017-01-10T00:00:00Z
The host canceled this reservation the day before arrival. This is an automated posting.
Antonio
2017-03-29T00:00:00Z
Beautiful area, large house. Don't expect to use the bedroom in basement or basement because of horrible musty smell.
Page
2017-01-22T00:00:00Z
The place is immaculate and pictures do not do it justice. Diane was a great host and I would definitely stay at her place again. For anyone traveling in a large group, there is more than enough space to accommodate a large group. Would highly recommend.
Zach
2017-01-01T00:00:00Z
The house is a fantastic location for groups of friends looking for a weekend retreat. The house Stands by itself on a large beautiful terrain with scenic views on sugar mountain. It is very spacious and has a unique charming character, with beautiful common areas out- and inside including a well separated leisure room. The management is very friendly and flexible, run by a charity for autism so any proceeds go to a good cause. We are already planning our return!
Tobias
2016-12-11T00:00:00Z
ประเภทห้อง
บ้าน/อพาร์ทเมนท์ทั้งหลัง
---
ประเภทที่พัก
วิลล่า
---
พักได้
16
---
ห้องนอน
Dickerson, แมรี่แลนด์, สหรัฐอเมริกา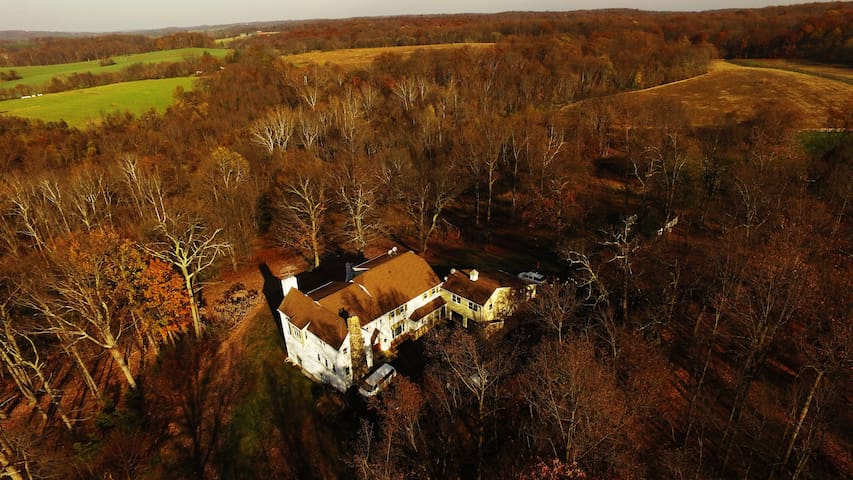 Enjoy a true B&B experience with your own private floor. Beautiful master bedroom with adjoining bath. Separate bedroom. Large sitting area & breakfast cart. Access to large kitchen, pool table, and washer & dryer. Clean. Quiet. Serene. Tons of amenities. Less than a mile to 81. Perfect for getting to Shepherdstown, Antietam National Park, Winchester, Hagerstown, and an easy drive to DC and Baltimore. Great for couples, solo adventurers, and business travelers.
ประเภทห้อง
ห้องส่วนตัว
---
ประเภทที่พัก
วิลล่า
---
พักได้
3
---
ห้องนอน
Martinsburg, เวสต์เวอร์จิเนีย, สหรัฐอเมริกา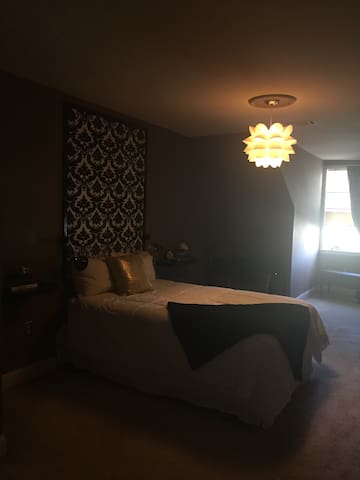 กรอกวันที่เพื่อดูการกำหนดราคาเต็ม มีค่าธรรมเนียมเพิ่มเติม อาจมีภาษีเพิ่ม