มันเป็นเช่นพื้นที่ที่ยอดเยี่ยมกับร้านอาหารคาเฟ่และห้องดีลักซ์โรงภาพยนตร์เพียงไม่กี่ประตูออกไป มีสวนขนาดใหญ่ข้ามถนนสำหรับการเดินวิ่งและการออกกำลังกายอื่น ๆ เหมาะสำหรับคู่รักนักผจญภัยเดี่ยวและนักธุรกิจ ใกล้กับระบบขนส่งสาธารณะสำหรับบริสเบน, ฟอร์ดเซนต์ (Cafe เพิ่มเติมของร้านอาหารและร้านค้า) และมอเตอร์เวย์กับทองคำและชายฝั่งซันไชน์ 10 นาทีเดินไป Citycat สำหรับ CBD หรือ Southbank 5 นาทีเดินไปยังรถบัสสำหรับ CBD และขับรถ 15 นาทีเข้ามาในเมือง
En el albergue la esperanza Gatos ECO nos gustan los animales y tienen 2 gatos residentes (otoño y manoplas) que pueden dormir en su habitación o acurrucarse con usted en el sofá. Por lo que son ideales para los amantes de los gatos. Puedes seguirlos en instagram en hopecatsfun. Creemos que cada dólar que gastamos crea el mundo en que vivimos. Así que funcionan con energía solar. Utilizamos productos de limpieza, respetuoso del medio ambiente orgánicos. Proporcionamos champú orgánico, acondicionador y gel de baño. Nuestro papel higiénico viene de "quién le importa una mierda". Ropa de cama está hecha de algodón orgánico o procede de línea de vida. Reciclamos todo lo posible y tener un compost en el patio trasero. Ofrecemos tés orgánicos libres y café, agua filtrada y microondas en el salón para calentar las cosas en. Tenga en cuenta - no hay acceso a la cocina para cocinar o la ropa para lavar. Hay un montón de libros para leer, una mesa para sentarse con las computadoras, y un cómodo sofá para relajarse. Hay wi-fi ilimitado. Esta hermosa habitación tiene una - cómoda cama de matrimonio, - mesas de noche, - un escritorio - una tabla de planchar y plancha - un armario grande para todo su equipaje con estantes y espacio para colgar - un refrigerador Hay un baño compartido con un inodoro Hay aparcamiento en la calle gratuito e ilimitado (excepto por fuera de la oficina de bienes raíces) Esta habitación es la más cercana a la calle y es una carretera muy transitada durante el día, con un poco de tráfico por la noche. Usted puede disfrutar de la salida a la increíbles restaurantes italianos, turcos, indios, griegos, estadounidenses y tailandeses o ser servido la cena mientras ve una película en el cine de lujo :-) Tengo un dormitorio en la parte trasera de la casa y el uso de la misma a medida que la ducha. Como Alquilo dos habitaciones también puede haber quien se aloje en la otra habitación. Tengo una oficina en la casa con el personal que entra en muchas opciones de transporte dentro de la ciudad o llegar a otros lugares de Brisbane. Transporte 1. Bus 232 - Lindsay St en Barton Street, detener 22b, Hawthorne - 5 minutos a pie 2. Ferry - Hawthorne - 8 minutos a pie 3. Tren - estación de Morningside - 20 minutos a pie Para llegar desde y hacia el aeropuerto Taxi - 20 min - aprox $ 50 Uber - 20min - aprox $ 35 Por 1,5 horas Transporte público - $ 19 dólares para un estudiante y $ 21- $ 22.50 POR un adulto. La primera opción que llega al aeropuerto a las 6.25am Ver Translink para las opciones
ย่านนี้มีความมั่งคั่งของร้านอาหารและร้านกาแฟของตัวอักษรไม่กี่ประตูออกไปรวมทั้ง "Marinara" กับอิตาเลียนที่ดีที่สุดที่ฉันเคยมี ราคาที่ดีที่สุดโรงภาพยนตร์ที่ $ 8 สำหรับโรงภาพยนตร์ปกติและ $ 14 สำหรับห้องดีลักซ์ นอกจากนี้ยังมีที่จอดอยู่ฝั่งตรงข้ามถนนสำหรับการออกกำลังกาย มันเป็นสถานที่ที่ยอดเยี่ยมให้กับตัวเองเมื่อไปเยือนบริสเบน Oxford Street ใช้เวลาเดินเพียง 20 นาที 5 นาทีหรือไดรฟ์ที่มีร้านอาหารมากขึ้น, Cafe และค่ำคืน ที่ฉันชอบคือโคโค่บลิสสำหรับอาหารเช้าอินทรีย์หรือบรันช์
Georgie's accommodation perfectly reflects the online description. Georgie ensures you have all you need and more. The location is amazing - close to everything.
Ian
2017-04-09T00:00:00Z
Really nice place & host. There's two cute cats like to meet people. If you want to go to Brisbane you can choose her place.
Chase
2017-01-28T00:00:00Z
Great location and near the airport
Zach
2017-03-01T00:00:00Z
Fantastic stay. The house was comfortable and clean and very affordable. Close to the Hawthorne CityCat which takes about 30 mins to get you into the CBD if you get off at riverside and walk. Gorgeous cafes and restaurants right next to the house and a lovely, quaint little row of shops and restaurants just up in Bulimba on oxford street (a 20 min walk). Georgie is very accommodating and more than willing to help in any way she can. We both very much enjoyed the company of Georgie and her gorgeous Cats! Thanks so much Georgie! :)
Kiera-Mae
2017-01-20T00:00:00Z
Quirky house, very helpful friendly host, would recommend.
Kate
2017-01-27T00:00:00Z
Be sure to pat mittens
Nigel
2017-03-25T00:00:00Z
Very nice place to stay
Shine
2017-03-19T00:00:00Z
I had a great time staying Georgie's place, it was clean, nice and quite spacious. I will definitely stay again if I'm visiting Brisbane again!
Shiliu
2017-02-21T00:00:00Z
ประเภทห้อง
ห้องส่วนตัว
---
ประเภทที่พัก
บ้าน
---
พักได้
2
---
ห้องนอน
Hawthorne, ควีนสแลนด์, ออสเตรเลีย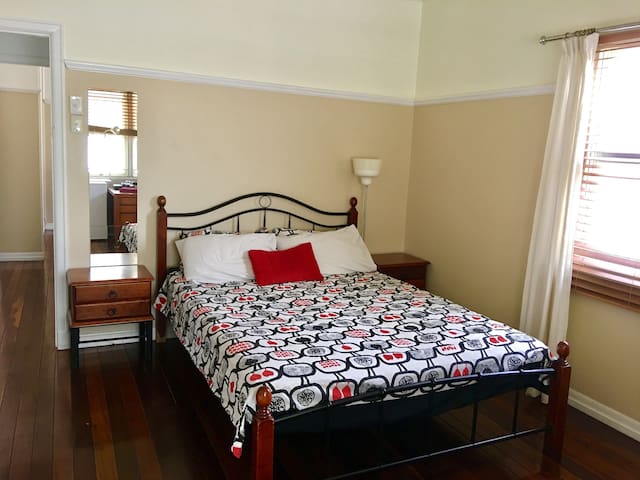 สถานที่ของฉันเป็นปี ค.ศ. 1920 ได้รับการบูรณะควีนสแลนด์ คุณมีการเข้าถึงส่วนชั้นล่างทั้งหมด (ห้องนอน, ห้องน้ำส่วนตัว, ห้องเสียงอึกทึกครึกโครมห้องครัวและสระว่ายน้ำ) เดิน 6 นาทีไปยังแม่น้ำบริสเบนสำหรับการเข้าถึงระบบขนส่งสาธารณะ City Cat รถบัส ร้านอาหารโรงภาพยนตร์ภาพยนตร์ใช้เวลาอยู่ห่างออกไปพิซซ่าร้านอาหาร, ร้านสะดวกซื้อ, ใช้เวลาอยู่ห่างออกไปห้องใต้ดินสุราตั้งอยู่ภายใน 5 นาทีและอีก 5 นาทีโดยรถยนต์ไปยังสดใสฟอร์ดเซนต์บริเวณ (ร้านอาหาร, โรงภาพยนตร์, ช้อปปิ้ง, บาร์, ซูเปอร์มาร์เก็ต)
ในฐานะแขกของฉันคุณจะสามารถเข้าถึงส่วนชั้นล่างทั้งหมดของบ้านของฉัน กว้างขวางสะดวกสบายและเชิญชวนให้ห้องนอนติดเครื่องปรับอากาศรอคุณอยู่ในตอนท้ายของวันที่ยาวนานของคุณ ทำให้ใหม่ขึ้นติดกับห้องนอน, ห้องน้ำส่วนตัวของคุณเอง มีห้องอาบน้ำฝักบัวขนาดใหญ่และโต๊ะเครื่องแป้งคุณสามารถใช้เวลาของคุณจะล้างออกไปเศษของวันที่ ห้องพักกว้างขวางเพื่อที่จะย้ายไปรอบ ๆ จะช่วยเพิ่มประสบการณ์ของคุณในระหว่างเข้าพักของคุณ หากคุณเพียงแค่รู้สึกว่าผ่อนคลายห้องเสียงอึกทึกครึกโครมขนาดใหญ่กำลังรอคอย เลานจ์ที่สะดวกสบายทีวีจอไวด์สกรีน, ตู้เย็นและบาร์ (ไม่มีเครื่องดื่ม) คือบางส่วนของสิ่งอำนวยความสะดวกที่มีอยู่เพื่อให้คุณสามารถเย็นได้อย่างเต็มที่ กาต้มน้ำเครื่องปิ้งขนมปังเครื่องถ้วยชามและช้อนส้อมนอกจากนี้ยังมีคุณควรจะรู้สึกเหมือนขนมหรืออาหารเช้า ก้าวภายนอกคุณสามารถเพลิดเพลินกับการแช่ตัวสระว่ายน้ำในพื้นดินหรือพักผ่อนบนดาดฟ้าไม้โดยรอบ
พื้นที่ฮอว์ ธ เป็นเพียง 2 กิโลเมตรจากย่านศูนย์กลางธุรกิจ Southbank และความแข็งแกร่งในหุบเขาอันน่า ประมาณ 20 $ นั่ง Uber หรือ 20 นาทีโดยเรือข้ามฟาก CityCat, คุณจะได้เพลิดเพลินกับชิ้นส่วนเหล่านี้มีชีวิตชีวาของบริสเบน นอกจากนี้คุณยังจะมีการเข้าถึงที่สะดวกไปยังสถานที่สำคัญ ๆ เช่นกีฬา, The Gabba และสนามกีฬา Suncorp หากคุณต้องการที่จะอยู่ในท้องถิ่นที่ฮอว์ ธ และพื้นที่ที่อยู่ติดกัน Bulimba มีโรงภาพยนตร์ร้านอาหารและบาร์มากมายซูเปอร์มาร์เก็ตและช้อปปิ้งสไตล์บูติก บางคนมีเพียงแค่ 5-8 นาทีเดินจากบ้านของฉัน แม้ว่าความสะดวกสบายนี้อยู่ใกล้โดยถ้าคุณต้องการที่จะอยู่ในสภาพแวดล้อมที่เงียบสงบมีความสุขที่กำลังรอคอย นี่คือความงามของการเลือกบ้านของฉันในขณะที่คุณในครั้งต่อไปที่จะบริสเบน
Alex is great. You will be surprised with you stay.... for the price!!@
kevin
2017-03-31T00:00:00Z
Great value, it is effectively a whole apartment.
Gerhard
2017-04-03T00:00:00Z
Very clean and large house ! I could relax and have private time! I'd like to stay again !
AKIKO
2017-03-01T00:00:00Z
We loved our stay at Alexis place. Top notch. Clean. Spacious. Eating and water taxi nearby. Great host
Elke
2017-04-12T00:00:00Z
My girlfriend and I stayed with Alex for 2 nights. His place was very cozy, clean and offer lot of privacy. Great value too. We will definitely be back one day.
Martin
2017-03-05T00:00:00Z
Brilliant brilliant brilliant
kevin
2017-03-23T00:00:00Z
This place is really amazing! Very good house, location and a wonderfull pool! Alex is anexo amazing host always helpful and easy to communicate. I strongly recommend this place for people who wants to spend some time in Brisbane.
Fernanda
2017-03-18T00:00:00Z
The host canceled this reservation 3 days before arrival. This is an automated posting.
wendy
2017-02-15T00:00:00Z
ประเภทห้อง
ห้องส่วนตัว
---
ประเภทที่พัก
บ้าน
---
พักได้
2
---
ห้องนอน
Hawthorne, ควีนสแลนด์, ออสเตรเลีย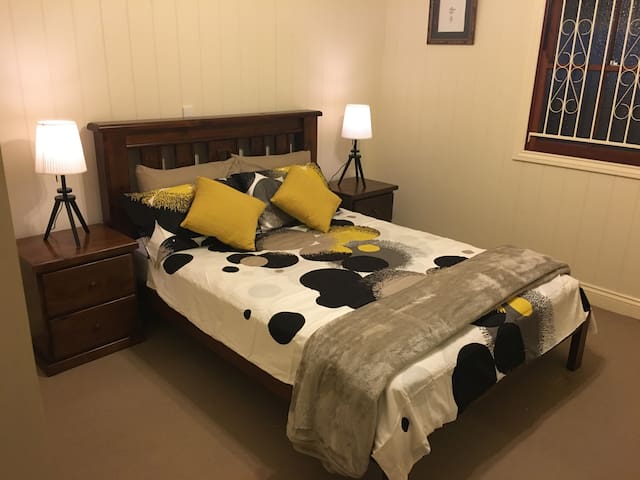 Mi lugar está a poca distancia de la popular calle Oxford, Bulimba y Hawthorne, donde hay restaurantes y comedor, el arte y la cultura, y excelentes vistas. Te va a encantar mi lugar debido a la zona de luz y aireado de estar y jardines tropicales, la cama cómoda, el barrio y la intimidad. Mi lugar es bueno para parejas, aventureros en solitario, y viajeros de negocios.
A great comfortable stay, walking distance to the cafes, cinemas and restaurants of Oxford Street. Rachel is welcoming and a great host.
Scott
2017-02-02T00:00:00Z
Rachel seemed friendly. The room was very warm and host should definitely consider getting wifi.
Philip
2017-02-21T00:00:00Z
Rachel is a great host and the location is handy to all that Bulimba has to offer.
Scott
2017-02-23T00:00:00Z
10 minutes down the road from Hawthorne Road cafes. 10- 15 minutes from Oxford St restaurants and shops. 10-15 minutes from Hawthorne Ferry Terminal. Cute setup. Owner -Rachel- was welcoming and lovely. Thanks heaps :)
Jenny
2017-03-26T00:00:00Z
Nice room....nice home....good security.
Samuel
2017-02-27T00:00:00Z
Rachel is friendly and welcoming. Great location near bulimbs
Niall
2017-04-02T00:00:00Z
Rachel was a very communicative and practical host; kept in touch with her movements and any change to the original plan. Highly recommended - the bed is very comfortable.
Stuart
2017-03-19T00:00:00Z
Rachel's house was comfortable,convenient and cosy. Located in a very nice suburb and very close to the famous Oxford Street it was the perfect location for me. The house was clean and roomy - loved the subtropical garden in the backyard the host Rachel and Sammi are super friendly and accurate.
Remi
2017-01-13T00:00:00Z
ประเภทห้อง
ห้องส่วนตัว
---
ประเภทที่พัก
บ้าน
---
พักได้
1
---
ห้องนอน
Hawthorne, ควีนสแลนด์, ออสเตรเลีย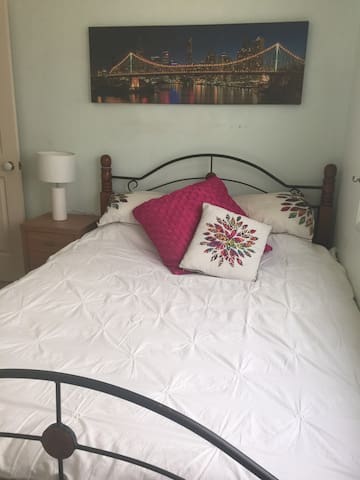 Fantastic house, area and hosts. Above and beyond expectations in every way.
Richard
2015-10-10T00:00:00Z
Peter & I have been welcomed by a very warm, pleasant, helpful & charming family. Their beautiful Federation Queenslander house is very well located and at walking distance to the ferry and also close to the city. Definitely a great place to stay in Brisbane. Thank you to Kathryn, Peter & Tyler & Julia for such a pleasant stay. Highly recommended!
Patricia
2015-09-07T00:00:00Z
Katheryn and Peter were very keen on helping us. I came with my family and the room was really large enough to fit the 4 of us. the house is amazing and really welcoming. the Swimming pool is really enjoyable after a long walking day. we used their bikes to hang around and also took the ferry every day to get into city or nearest places like NewFarm Park. the hosts are really willing to help have a great experience in Brisbane.
jerome
2015-11-18T00:00:00Z
Kathryn and Peter were perfect hosts - courteous, considerate and unobtrusive. The listing was accurate - luxury room, in charming house, with ensuite bathroom. Great residential neighbourhood. Try Hawthorne Garage for coffee, dine (mediterranean) at Ambrosia and Co and browse Riverbend Books (both in Oxford St, Bulimba) or catch ferry to Teneriffe.
Colin
2016-05-23T00:00:00Z
The room was just as described on the page. Lovely outlook and so close to the river and citycat. The bed was comfortable and the room quiet and homely. Kathryn and her partner greeted me with a pleasant manner and showed me around the house making me feel comfortable and at home. Definatley recommend!
Delappe
2015-10-06T00:00:00Z
It was a nice experience to stay with Kath and Peter for 3 nights in our Brisbance trip. The house was so beautiful with typical characters of Queenland home. The room was spacious and clean. There are big common area and Kitchen to use. Besides considering the lovely house itself, the lovely hosts, which I have to mention, Kath and Peter, are such interesting and helpful couple, who not only showed us around the suburb, but also shared lots of their stories. We felt lucky to choose their home to stay instead of a hotel as we made good friends in our trip. To whom is looking for an accommodation in Brisbance, I'm highly recommend them without any hesitation and sure you will enjoy the stay with Kath and Peter. Annie and Bob
Yan
2015-10-03T00:00:00Z
We loved our stay here. The neighbourhood is peaceful and especially being so close to the river and the city cat makes it ideal for visitors to Brisbane. Parking outside was easy for those with cars. We arrived quite a bit later than expected and were greeted warmly and openly. we instantly felt welcomed. The sleeping arrangements was very suitable for our needs and we had a comfortable stay. Breakfast was so good and we appreciated the generosity given to us for our overnight stay. Thank you for looking after us so well. We would love to come back some time.
jared
2015-10-07T00:00:00Z
Kathryn and Peter have a lovely home which they are happy to share with guests. Our room was very large with a study area, wifi and ensuite. We were made to feel by welcome and it was very acessible to the river, transport and cafes. Lovely, we would be happy to stay again.
Venetta
2016-06-18T00:00:00Z
ประเภทห้อง
ห้องส่วนตัว
---
ประเภทที่พัก
บ้าน
---
พักได้
3
---
ห้องนอน
Hawthorne, ควีนสแลนด์, ออสเตรเลีย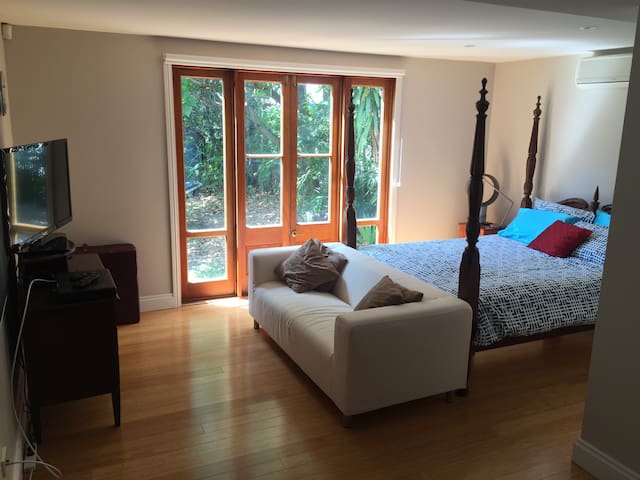 Amy Calle Retiro está a 4 km de Brisbane CDB, a poca distancia hermoso río Brisbane y Citycat; pocos pasos de restaurantes, cafés, cine, tienda de delicatessen + frutas / verduras del mercado, café, parques y mucho más. Marca nueva casa cuenta con piscina de estilo de centro vacacional, patio ajardinado privado, 4 amplios dormitorios, cocina gourmet y conductos de aire acondicionado para su comodidad. Ideal para parejas o una familia, estamos felices de configurar los dormitorios a sus necesidades. Pot-a-cuna, cochecito y asientos de automóviles pueden estar disponibles a petición. Estamos encantados de proporcionar información adicional con respecto a los servicios locales. Por favor, póngase en contacto con si usted tiene alguna pregunta!
Es un barrio precioso tal, tranquila, sin embargo está tan cerca del ajetreo de restaurantes y cafés. También estamos tan cerca del centro de la ciudad.
ประเภทห้อง
บ้าน/อพาร์ทเมนท์ทั้งหลัง
---
ประเภทที่พัก
บ้าน
---
พักได้
8
---
ห้องนอน
Hawthorne, ควีนสแลนด์, ออสเตรเลีย
We had a fantastic experience at Comfort On the Park. Karen and Marek made us feel right at home, particularly in the way they catered to our kids. The house is very well appointed, especially the kitchen. It's very close to parks and shops, and there is a coffee shop literally next door which was a real bonus. We'd definitely recommend to others to stay here!
Llew
2016-04-01T00:00:00Z
Comfort on the Park was a great property, it looked just like the pictures. It was very clean and well fitted out with everything that we needed and the location was great. A fantastic coffee shop next door and a good selection of restaurants on the other side of the park. We were travelling with two small children and the house had a generous collection of toys, some of which were new, these Kept but the kids and adults entertained. Karen was in constant contact to ensure that we had everything we needed. Would recommend this property.
Victoria
2016-10-03T00:00:00Z
ประเภทห้อง
บ้าน/อพาร์ทเมนท์ทั้งหลัง
---
ประเภทที่พัก
บ้าน
---
พักได้
8
---
ห้องนอน
Hawthorne, ควีนสแลนด์, ออสเตรเลีย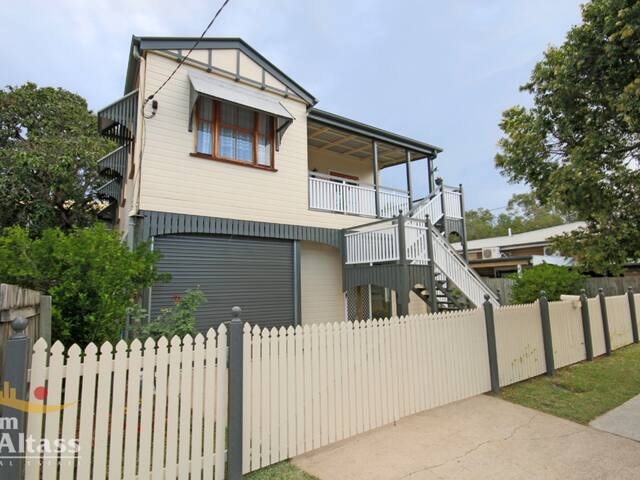 This is a lovely cottage in a wonderful location. We felt like we were on holidays the moment we walked through the door. It's well renovated and has a family home kind of feel, with a large open living area, good sized bedrooms, a gorgeous bathroom, and tropical deck overlooking the park. Our daughter loved the story books kept in the TV unit, and insisted we read her favourite ones every night! Tracey was great to deal with, and we thoroughly enjoyed our visit.
Ryan
2014-12-27T00:00:00Z
This house is roomy and immaculate, and Tracey is a most professional and friendly hostess. She was forthcoming with communications and ensured that the house was cleaned and ready for us to move in. The house itself is adjacent to a park and is a two minute walk to cinemas and restaurants, yet located on a quiet street. Perfect location and highly recommended!
Robert
2017-01-09T00:00:00Z
Tracey is a nice host, really helpful. This house is lovely and pleasant to live in a calm area very close (access in the garden) to a park where it's possible to run and go to the playground for children. Very close to the house, there are a lot of shops. The house is very well-equiped and clean. The beds are confortable. We stayed 10 days and it was totally restful. Our 3 year-old son liked to look at the books.
Angelique
2015-01-22T00:00:00Z
Great location, ideal for access to the park. Spot on for kids to walk to the Park and great play area for kids and quiet road. Comfy beds, good shower, BBQ area and outdoor seating was Spot on. Good kitchen facility and very clean. Enough room inside the lounge etc for kids to also run about inside and get good through breeze in the place. One of the best places we have rented and local town is great for families. Thanks.
Luke
2016-07-29T00:00:00Z
Everything about our stay here was excellent. We loved it! The location is amazing. The house is very charming and had everything we needed for our five night stay. Tracey was an exceptional host and we definitely hope to stay here again next time we are in Brisbane.
Jay
2016-07-12T00:00:00Z
Tracey was welcoming and organised and made our stay easy and enjoyable. The house was perfect to show off the best of Brisbane to our family. The back deck overlooking the park was our favourite! We will be returning soon!
Maddy
2016-10-06T00:00:00Z
We stayed at this house for 10 days and would have happily stayed longer. The house is extremely well-equipped and is in a fabulous location backing onto a large park and near a bus stop with buses direct to the city. We loved sitting out on the deck watching the possums. We will be recommending this house to our friends when they come to visit us in Brisbane.
Sarah
2016-12-21T00:00:00Z
Great location. Loved being near the park.
sarah
2016-12-11T00:00:00Z
ประเภทห้อง
บ้าน/อพาร์ทเมนท์ทั้งหลัง
---
ประเภทที่พัก
บ้าน
---
พักได้
5
---
ห้องนอน
Hawthorne, ควีนสแลนด์, ออสเตรเลีย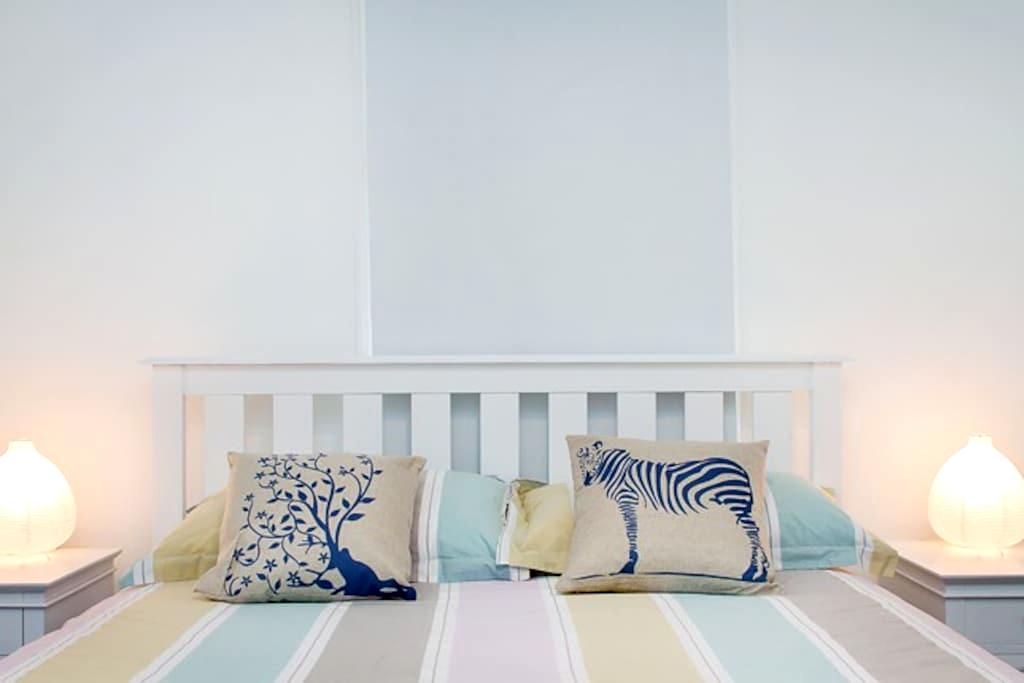 キャサリンもピーターもとても親切で素敵なホストです。 私は10日間滞在しました。 無料で自転車を貸してくれたり、晩御飯も分けてくれたりと ここまでしてもらっていいのかな。と思うほどもてなしてくれます。 ブリスベンのシティー周辺には川沿いを走れる自転車と歩行者専用の道があります。 ですので自転車と一緒にここのお宅からフェリーで一駅分だけ行けば中心部をくまなく観光できます。 晩御飯もホストが家で食べる場合はついでに作ってくれたので食費を抑えることができました。 ただ、お肉中心のメニューで、ほぼ野菜はないです。 私はお昼に野菜をたくさん食べれるようにお弁当を作ってました。 とにかくもてなしてくれます。 本当に感謝しております。 ロケーションもとても良く、シティーからも近くフェリーで20分ほどで行けます。 が、おそらくピーターにも勧められると思いますが、先ほども書いた通りフェリーで一駅分だけ行って自転車で散策するのがお勧めです。 とても景色も良く、こんな経験は日本ではできません。 他の国でも滅多にできる経験ではないかもしれません。 フェリー乗り場は歩いて5分ほどの距離にあるのでとても便利です。 バス乗り場も近くにありますが、電車は歩いて30分ほどと遠いです。 シティーへのアクセスは良いですが、場所によっては郊外へ行くには少し不便です。 スーパーマーケットは一番近くて歩いて25分ほどのところで少し遠いですが自転車を借りればすぐです。 シティーからの帰りの場合は一駅分だけ余分に乗ればスーパーマーケットのすぐ近くのところで降りれます。 フェリーは2つのゾーンしかなく、シティー中心部以外は全て同じゾーンなので料金も同じで 下車後、1時間以内に買い物を済ませてフェリーに再度乗ることができれば帰りのフェリー代も必要ありません。 公共交通機関のルールは変更する可能性がありますので 確認して下さいね。 あくまで私が滞在してた期間のルールではこのようなこともできました。 とにかく良い事づくしのところですが 唯一、虫が多いことはデメリットではあります。 ただ私はオーストラリアで計6つのところに泊まりましたが 虫が発生しない場所は高層ビルの部屋かメルボルンなどの寒い地域のみでした。 シドニー、ブリスベンではハエ、蟻などは当たり前です。 オーストラリアは自然と共存してる国で日本とは考え方が違います。 郷に行ったら郷に従えです。 虫が苦手で絶対に嫌だという方は少し高いお金を払ってでも良い宿に泊まりましょう。 こちらの家ではトカゲも出ます。 一応、ピーターにそのことを伝えましたが『彼らはフレンドリーだから大丈夫。我々は自然と共存している』といった返事が返ってきました。 絶対に虫は無理だ!という方は日本人の方には多いかと思いますので他をお勧めします。 そうでない方には本当にお勧めできる最高の宿です。
Yusuke
2016-12-16T00:00:00Z
Fabulous home in a great location, everything you will need for a great visit to Brisbane.
Heather
2016-02-13T00:00:00Z
Kathryn and Pete are simply hawsome! I was supposed to stay 5 days and finally, I stayed 9. They are very helpfull and gentil. Pete bring me to Mt Coo-Tha to show me the view of the city at night. It was wonderfull. They gave me a lots of information about the City Cat, the train and activities to do. We shared almost every breakfast and dinner. I felt like being a member of the family. The house is beautiful, in a very nice area. Easy to go to take the City Cat. Thanks to all of you. Give you 5*
Carole
2016-01-26T00:00:00Z
Kathryn's home is a great place to stay. I was truely welcomed into her home amongst all the family. I was also given my own space when I wanted it. I would recommend Kathryn's home as it is very comfortable and easy going, for me it felt like a home from home.
Lindsey
2017-01-25T00:00:00Z
Beautiful home. Most engaging and lovely family. Never felt more welcome.
Samuel
2017-03-15T00:00:00Z
Great house, location is not bad. The owner is very friendly here I spent a very pleasant two days, thank you
yee
2015-10-29T00:00:00Z
I had a wonderful time Kathryn treated me like a family friend. Beautiful home, relaxing atmosphere, close to the airport. I was even invited to join the family for dinner. I would definitely stay here again and thoroughly recommend this place.
Philippa
2015-10-15T00:00:00Z
I was welcomed and made to feel at home by Kathryn and her family immediately upon my arrival. The room was exactly as described, and suited my needs perfectly. I was granted use of the facilities at all times, and was encouraged to help myself to tea, coffee or cold water at any time, and to help myself to breakfast cereals. The house is a wonderful example of a classic "Queenslander", and has been lovingly restored. It is close to the river, and handy for the Citycat river ferry into Brisbane.
George
2016-03-24T00:00:00Z
ประเภทห้อง
ห้องส่วนตัว
---
ประเภทที่พัก
บ้าน
---
พักได้
1
---
ห้องนอน
Hawthorne, ควีนสแลนด์, ออสเตรเลีย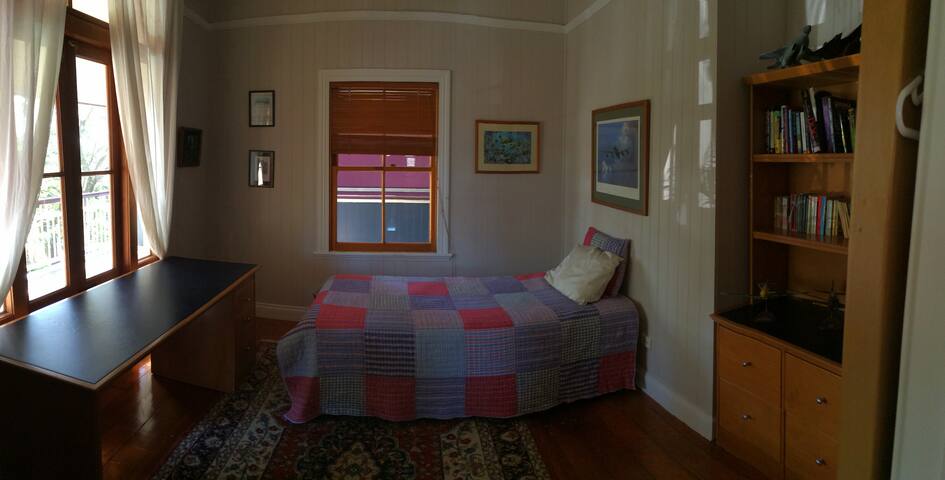 친절하고 멋진 및 현대 집 애완 동물, 10 명까지 잔다. 공원, 카페, 영화관과 트렌디 한 옥스포드 세인트 그레이트 액세스 단 몇 분 거리에 있습니다. 두 개의 외부 엔터테인먼트 지역, 호손 공원 타원형에 뒤뜰 액세스
We truly enjoy our stay at Mike's place, great location with a wonderful park for morning walk in the back.
Vinh
2016-12-12T00:00:00Z
The house is clean and we enjoy staying in Mike's house. We love the house setting. Recommend it!
Dory
2016-12-20T00:00:00Z
ประเภทห้อง
บ้าน/อพาร์ทเมนท์ทั้งหลัง
---
ประเภทที่พัก
บ้าน
---
พักได้
10
---
ห้องนอน
Hawthorne, ควีนสแลนด์, ออสเตรเลีย
ホーソーン私の家は大きなバックデッキと非常に大きなバックヤードと3ベッドルームの家です。 場所はオックスフォードセント、Bulimba上とホーソーンホーソーンと乗馬道に沿って地元のカフェやショップが徒歩圏内にある、素晴らしいです。
ประเภทห้อง
ห้องส่วนตัว
---
ประเภทที่พัก
บ้าน
---
พักได้
2
---
ห้องนอน
Hawthorne, ควีนสแลนด์, ออสเตรเลีย
*24 hour Check in Available *8mins AIRPORT - AIRTRAIN/CAR *5klms City Centre BUS TRAIN *2 SEPARATE Bedrooms *FREE WIFI *FREE OFF STREET PARKING *FREE BREAKFAST Basket *Own Private SWIMMING POOL *KITCHENETTE induction hotplate,no oven *Easy Access to M1 GOLD & SUNSHINE COAST *Rail to Gold Coast *Walk Local Cafés *Security Screens, Keylocked Windows
I hope you will enjoy your super quiet, fully self contained 2 bedroom house which has its own private pool, complementary breakfast basket and free off street parking. You will have the entire lower level of the home. No one lives upstairs as I am currently living at my partner's house. Your 2 bedroom house includes - *2 SEPARATE BEDROOMS Bedroom 1 - QUEEN Bed (3.5m x3.5m) Bedroom 2 - 2 Single Beds (3.5m x 2.5m) * LIVING ROOM (4.5m x 4m) Sofa, TV, DVD player, FREE WiFi * DINING ROOM (2.5m x 2m) Welcome Breakfast Basket of Cereal Eggs Fruit Milk Juice & Chocolates. * KITCHENETTE ((2.5m x 1.3m) Small fridge, microwave, single plate induction hotplate, toaster, kettle, coffee plunger, crockery, cutlery, etc N.B. there is NO OVEN in the kitchenette. * BATHROOM (2.5m x 2m) Glass shower, toilet, vanity,shampoo, conditioner, hairdryer, towels. *Iron and board. Washing machine available for stays of more than 2 nights *PRIVATE SWIMMING POOL!! The HUGE outdoor entertaining area with POOL, sofas & dining table is for your exclusive use. You will not be sharing the swimming pool with anyone else. *Free covered OFF STREET PARKING for 2 cars is at your doorstep, making packing and unpacking those heavy bags super easy.
*8mins to Brisbane Airport *5mins to Highway M1 to Gold Coast/Sunshine Coast *5klms to City Centre *8 min drive Tangalooma Island Ferry Clayfield has terrific public transport options including both train & bus. Wooloowin Station is my local train station with AIRTRAIN Clayfield is a super safe & quiet neighbourhood for a peaceful nights sleep, yet a quick walk to all amenities with cafes and restaurants all within a 7-10 min walk. Clayfield is an affluent suburb with many examples of beautiful 'Queenslander' architecture .
Eirena is one of the best hosts I've met throughout my Airbnb journey, she's super friendly, helpful and resourceful! The apartment is situated in a great location where you can enjoy both quiet and city-life. The outdoor private pool welcomes you at the entrance, with the private lounge to sit down during the night. Free private parking is available within the apartment, just beside the door, so it is very convenient for us to unload our luggages. Living room is well kept and feels very much like a home. Eirena also keeps a booklet of Brisbane's where-to-go so you'll be kept busy during your stay. The bedroom and bathroom are very clean and all necessities are provided, including hair dryer. Best part of the stay is that Eirena provides free breakfast including cereals and milk, even fruits for us! Eirena is always there and replies promptly to our requests and questions, definitely one of the best host I've met! I'll definitely come back to stay whenever I'm back in Brisbane!
Jason
2016-09-14T00:00:00Z
Welcoming, neat, and conveniently located. The family really enjoyed the stay, thanks for having us Eirena.
Shane
2016-12-18T00:00:00Z
We enjoyed our stay at Eirena's half-house, finding it spacious, bright, clean and comfortable. Eirena even picked us up from the train station (a few stops from the airport, costing $27 for two adults and free for kids under 14). The swimming pool and outdoor undercover area was so pleasant we could have stayed "at home" all day, but enjoyed the walk to train station - which is a bit hilly but through a lovely quiet neighbourhood filled with beautiful timber Queensland houses. Clayfield and Eagle Junction shops are within walking distance too with several dining options. It was just a few train stops to the city or a $25 taxi ride. Thank you Eirena
Lydia
2016-01-02T00:00:00Z
It is a great place to stay just a few minutes from the CBD and close to bus stops if you don't have a car, the apartment is very well decorated and very clean, Eirena left a very nice breakfast, definitely would come back.
Paula
2016-11-20T00:00:00Z
Although Brisbane's weather wasn't very welcoming...the complete opposite has to be said for Eirena, right from the moment we walked through the front gate, she was bright, bubbly & so very Lovely! She provided us with great local knowledge & everything we needed for our stay. The Studio was light filled, clean & cosy. And thanks to a great suggestion about donating to The Smith Family food bank appeal, we felt much better about accidentally leaving 4 packets of Tam Tam's behind :) Would definitely stay here again if I'm ever up that way again.
Nancy
2016-12-11T00:00:00Z
it is a nice room. we arrived very late at night. Leave early in the morning.
玲珑
2016-09-26T00:00:00Z
Eirena was ready to welcome us after our flight from Melbourne. The photos, as usual don't do it justice; we were pleasantly suprised. The home is in a lovely suburb of Brisbane.
Josie
2016-06-21T00:00:00Z
Eirena was a lovely welcoming host. I only booked the day before arrival & she rang me to confirm this was fine. She also helped out with directions & the accommodation was beautiful. Really clean & gorgeous Hamptons/Modern Interior decoration. Quiet & peaceful location, walking distance to Airport Train & transport into the city.
Laura
2016-06-05T00:00:00Z
ประเภทห้อง
บ้าน/อพาร์ทเมนท์ทั้งหลัง
---
ประเภทที่พัก
บ้าน
---
พักได้
4
---
ห้องนอน
Clayfield, ควีนสแลนด์, ออสเตรเลีย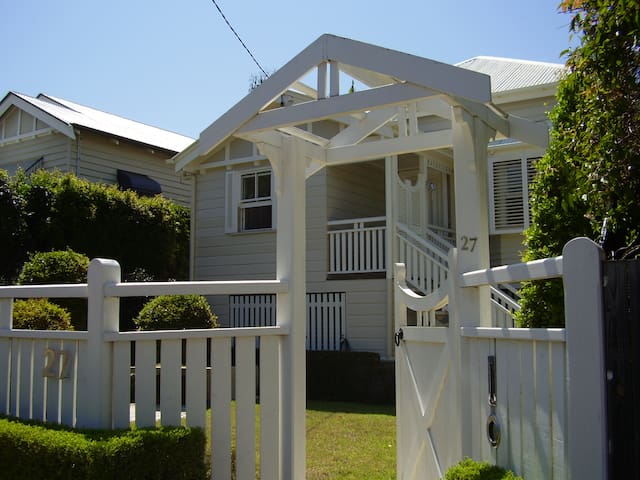 A very good host.Like to help people,gives me a lot of help when i first time come to Australia,Also sents me a map from Brisbane Airport to the address,that is all good.More important,the Queen room is better than i thought,very comfortable and i have the best sleep in my first day in Australia.Anyway, many thanks for you Wdxoxo_ _!
Zhang
2015-02-07T00:00:00Z
Was an absolute pleasure staying here. Nice, quiet, comfortable queen bed. Great views from the balcony. Not far from the city. Was going thru an interstate move and stayed here while looking for a rental. Couldn't have asked for anything more. Highly recommend.
Dale
2015-01-27T00:00:00Z
We enjoyed our stay. The other house mates were extreemly friendly and welcoming. The bed was comfortable and the shower was super powerful. The house was clean, comfortable with two balconies to sit out and admire the view of Mount Gravatt. The pool and hot tub were lovely too. We would highly reccomend this accomodation :)
Louisa
2016-03-10T00:00:00Z
ประเภทห้อง
ห้องส่วนตัว
---
ประเภทที่พัก
บ้าน
---
พักได้
2
---
ห้องนอน
Mount Gravatt East, ควีนสแลนด์, ออสเตรเลีย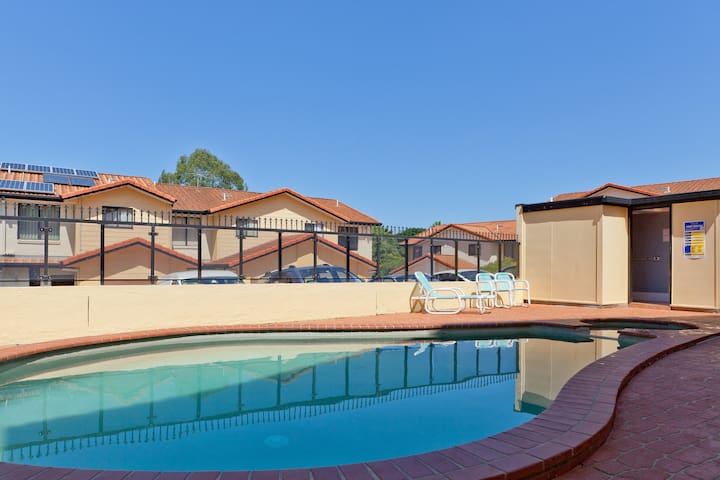 킹 싱글 침대, 책상과 찬장 공간 바람이 잘 통하는 방. 욕실은 다운 홀 및 우리가 다른 손님을 호스팅하는 경우에만 공유합니다. 우리 집은 조용한 강 애비뉴에 큰 매력 Queeenslander입니다. 시티 캣 페리 브리즈번을 탐험하는 가장 좋은 방법 중 온에 쉽게 걸어 갈 수있는 거리. 손님은 부엌과 다른 생활 영역을 사용하도록 초대했다. 차와 커피 머신 및 사용 가능한 기본 아침 식사 음식 무료.
우리는 큰 집과 서로 걸려 넘어 질 것처럼 손님과 가족 느끼지 않도록 충분한 공간을 가지고있다.
I had an amazing time with Kathryn an her family. The listing is as I expected and the family is very welcoming, in fact I had a thanksgiving dinner with the whole family and was incredible experience for me. I would like to say thank you and would definitely stay here on my next Brisbane adventure!
Biruk
2015-12-02T00:00:00Z
Kathryn, Peter and their family were very warm and welcoming hosts and were even kind enough to share a dinner with me one night! I had a superb time, their place is lovely and is in a nice, safe and quiet part of the city, - particularly good if you like a good nights rest, yet still close to public transport like the city cat (ferry) and Bulimba/Hawthorne restaurants. I would highly recommend their air bnb to anyone visiting Brisbane.
Catherine
2016-12-09T00:00:00Z
Kathryn is a really nice and friendly landlord!!Her husband and her hosted me great!! The facility in house are well-equiped and the location is convenient really close to the harbour. All in all, its a best choice to stay here if you come to Brisbane!!
Eric
2016-01-29T00:00:00Z
Yes Better than expected Excellent value Warm welcome by her and her family
Nicholas
2015-11-04T00:00:00Z
From the minute I arrived I was pretty much welcomed with opened arms. Such a beautiful family. Amazing home. Very quiet setting. I will definitely be back to stay when I travel to Brisbane.
Cassandra
2016-11-01T00:00:00Z
Absolutely beautiful house in premium location. Close to CityCat terminal and very nice boatride to CBD. Always great to meet people who like to travel and share stories. Such a nice family! Really enjoyed my stay there. Ps check out the italian restaurant Marinara that's close by ;)
Mika
2016-06-20T00:00:00Z
Fantastic stay yet again.
Richard
2015-10-28T00:00:00Z
Lovely welcoming hosts in a beautiful Brisbane location close to river, cafes and shops. Stunning view of city lights across the river minutes away.
shannon
2017-03-05T00:00:00Z
ประเภทห้อง
ห้องส่วนตัว
---
ประเภทที่พัก
บ้าน
---
พักได้
1
---
ห้องนอน
Hawthorne, ควีนสแลนด์, ออสเตรเลีย
Hawthorne - Airbnb
:
เฉลี่ย

4.88

จาก

5

ดาวจาก

213

รีวิวผู้เข้าพัก
1

–

18

จาก

300+ บ้านให้เช่า
กรอกวันที่เพื่อดูการกำหนดราคาเต็ม มีค่าธรรมเนียมเพิ่มเติม อาจมีภาษีเพิ่ม