กรอกวันที่เพื่อดูการกำหนดราคาเต็ม มีค่าธรรมเนียมเพิ่มเติม อาจมีภาษีเพิ่ม
วิลล่าให้เช่า 4
· Hawkesbury
วิลล่าให้เช่า 4
· Hawkesbury
Magnifique villa moderne ,située en sommet de montagne .A 1 hre de montreal,ottawa et du mont-tremblant .Site d'exception en pleine nature ,le calme y est assuré.Spa, piscine, tout y est pour passer un sejour memorable N'HESITEZ PAS !
La villa est unique par son emplacement ,ses points de vue magnifiques ,son calme.Parfaite pour un moment de detente en nature a 1 hre de tous les grands centres.Ottawa,Montreal et Mont-Tremblant . Un spa et une piscine chauffée privée sur votre balcon vous y attendent. Du rafting en eaux vive ,peche ,centre de massage le tout a moin de 15 min .Certaines de ces activitées necessites des couts ($) La villa vous est entièrement privée .Aucun donc vous serez seul pour y sejourner .
Endroit unique avec ses points de vues magiques ,couché de soleil a couper le souffle .tout cela en pleine nature . Vous y accederz en voiture sans problèmes .
Amazing view! Great amunities including spa and pool. On 2 levels, so perfect to have privacy with other guests. Neighbours are very far so you can have a great time without feeling like incommodating others.
Luc
December 2016
Très bel endroit.
Nicolas
July 2016
Best place I've visited so far Eric is a very nice guy very helpful Way better experience than any hotel
Elias
September 2016
Expérience exceptionnelle ! Lieu magnifique et très fidèle aux photos. Eric est extrêmement sympathique et attentionné. Encore un grand merci.
hugo
April 2016
Very big nice place, Hot tub and swimming pool with amazing view. Me and my husband had a amazing time there. All photos and listing are accurate. I would like to stay here again with more friends next time! Thank you Eric!
Asami
May 2016
Superbe villa ! ! Éric est un hôte très attentionné! Les photos sont très fidèles à la réalité et la vue est tout simplement magnifique! Les lieux sont impeccables tout comme la piscine et le spa. Nous avons passé un superbe séjour!!
Stephanie
August 2016
Super belle place, exactement tel que décrit, merci beaucoup
LP
February 2017
L'emplacement est absolument incroyable, nous étions seuls au monde, peinards ! Tout est fidèle aux photos, superbe maison, à refaire en hiver !
Gregory
August 2016
ประเภทห้อง
บ้าน/อพาร์ทเมนท์ทั้งหลัง
---
ประเภทที่พัก
วิลล่า
---
พักได้
6
---
ห้องนอน
2
Harrington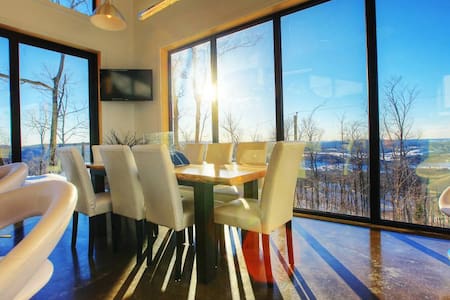 4-Star (CITQ) all-season lakefront luxury country cottage with over 50 windows in the Laurentians, Quebec, 90 km from downtown Montreal and minutes from ski-resorts. 3 bedrooms with Queen beds. Cathedral ceiling, spacious deck, umbrellas, peer and bonfire area. BBQ, fireplace, Canoe, kayak, x-country skis and snow-shoes, board games, 4K HD TV and selection of movies included. Fully equipped kitchen with condiments, spices, grill, waffle-maker, fondue set, rice-cooker, etc.
4-Star (CITQ) all-season lakefront cottage located on the Lac du Coeur in the Laurentians, Quebec, 90 km from dowtown Montreal. 3 bedrooms, 2 bathrooms, 2 living rooms, fireplace, large terrace with picnic table, charcoal BBQ, pier and deck, canoe, kayak and many other amenities. Fully-furnished and available for daily (2 day min), weekly or seasonal rental. 12 to 20 minutes from 5 ski-resorts (50 minutes to Mont Tremblant). 20 minutes from Saint-Sauveur and multitude of restaurants and manufacturer`s outlets shopping. 8 km form Saint-Adolphe village for church and food shopping. 15 minutes from Saint-Agathe for Hospital and large retail shopping. More than 80 lakes in 12km radius! and just an hour`s drive from Montreal and the Jazz Festival, F1 racing, Just for Laughs festival etc. etc.... Direct access to lake from yard and peer. Access-card to sandy private beach 100m from chalet. Use of canoe and kayak in summer and snow shoes (2 pairs) and cross-country skis (3 pairs) in winter. You can reach us at any time during your stay by calling, Christian at 514 222-1396, or Fouzia at 514 660-4664.
Over 80 lakes in a 12km radius, yet just an hour's drive from downtown Montreal. Nous vous demandons la coutoisie de remettre le chalet dans l'état dans lequel vous l'avez reçu, prêt a accueilir les prochains visiteurs. Merci.
Beautiful chalet in a quiet area, right in front of the lake. It was very easy to arrange with Christian and Fouzia, and the cottage was fully equipped. Couldn't have asked for more!
Sophie
June 2015
La communication avec Christian et Fouzia a toujours été bonne et cordiale. Ils nous ont renseigné de manière adéquate et Christian nous a accueilli avec beaucoup de gentillesse. Le chalet est magnifiquement situé et propose un accès direct sur le Lac du Coeur, particulièrement propre et paisible. L'orientation du chalet est idéale pour le soleil. À l'intérieur, la pièce principale est très agréable à vivre en groupe et la vue y est superbe. Les chambres sont réparties sur chacun des paliers pour l'intimité. Nous avons passé une très agréable semaine en famille et nous recommandons la location de ce chalet à quiconque veut passer des vacances paisibles et déconnectées, en pleine nature.
Laury
August 2016
Beautiful view of the lake and nice, comfortable chalet. Christian came up to meet us and made us feel very welcome. We very much enjoyed canoeing on the lake. We had a great stay. Thank you.
Dov
June 2015
Je recommande ce chalet à tous le monde... merci à Christian de nous avoir accueilli d'une façon exemplaire. Très bien situer pour relaxé et avoir la paix. Merci encore P.s. Les biscuits que vous nous aviez préparé à notre arrivée étais excellent :)
Benoit
February 2015
Nous avons passé une dizaine de jours dans le chalet de la détente. L'accueil de nos hôtes a été chaleureux, ces derniers se sont toujours montrés disponibles. Le site est très chouette (superbe vue sur le lac) et la grande pièce principale très agréable. Par contre, le chalet ne répond pas au critère de luxe annoncé sur le site. Plusieurs points laissent à désirer (literie et serviettes vétustes, pas de housse de couette, lampes en papier style « Ikea » réparées à l'aide de scotch, clous dépassant des murs, tringle de rideau de douche non fixée, prise électriques à nue, finitions et réparations parfois précaires, etc...) révélant des éléments qui pourraient être dangereux pour la sécurité de jeunes enfants. Nous ne recommandons pas ce chalet au prix proposé(URL HIDDEN)
anne
January 2015
We found bliss, beauty and tranquility while staying these past few but very precious days at Fouzia and Christian's lovely and charming home! They were extremely accommodating with everything, the kitchen and bedrooms were well supplied with everything we would need... we felt right at home. Highly recommendable!
Jonathan
September 2014
The chalet was just as described and even better in person; cozy, comfortable, clean, spacious, and very well equipped. The kitchen had everything you could possibly need. The kayak and canoe, the books, and the barbeque were all great features. It was my first time booking through Airbnb so I had lots of questions, but Christian and Fouzia were very helpful and answered all of them quickly. Christian welcomed us warmly and showed us around the chalet. He even offered us a late checkout and told us where to get the best croissants in town!
Sarah
August 2015
My fiancé, yorkie, and i recently stayed at Christian and Fouzia's beautiful lakeside chalet and can't say enough great things about our experience and the hosts. We booked the three night stay very last minute and Christian and Fouzia were so accommodating. The place was better than we could have imagined- immaculate inside, beautifully furnished and decorated, and the kitchen was stocked with everything we needed to cook meals at home. We arrived and Christian even had fresh fruit and watermelon for our arrival! The chalet is right on Lac du Coeur and the view from the deck (which is equipped with comfortable lounge chairs and a real grill- not electric) was spectacular. We made great use of the rowboat that Christian has right by his dock and he was also kind enough to let my fiancé use his fishing pole- he managed to catch so many fish right from the dock! The location is perfect- quiet and peaceful yet convenient- there is a large IGA just 20 minutes away. The only thing we regret is that we couldn't stay for longer but will definitely be back again!
Kim
September 2014
ประเภทห้อง
บ้าน/อพาร์ทเมนท์ทั้งหลัง
---
ประเภทที่พัก
วิลล่า
---
พักได้
6
---
ห้องนอน
3
Saint-Adolphe-d'Howard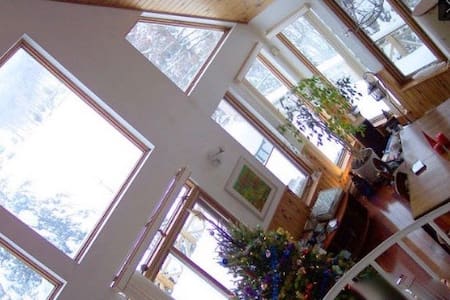 Chalet avec 9 chambres à couches au 2eme étage avec une grande salle grange Idéal pour les touristes qui aiment la nature ou la grade fête 15 min du Saint-sauveur Single house with 9 bedrooms on the 2nd floor and 1st only one huge room grange
Perfect place to get together and spend quality time with good people ** PLS read extra details ** Lot of nature and great view
In the middle of the forest but very closed to city Must have car or bus The price is per room per night Room #1: 1 queen bed Room #2: 1 king bed Room #3: 2 bunk beds (4 double mattress) Room #4: 1 bunk bed (2 twin mattress) Room #5: 1 bunk bed Room #6: 1 bunk bed Room #7: 2 bunk beds Room #8: 1 bunk bed Room #9: 1 bunk bed 1 bathroom with a toilet seat, a shower and a sink Downstairs: 2 washrooms 1 hall (2200 sq ft) with all equipped BAR 1 kitchen with fridge, stove, dishwasher, toaster, coffee machine ***The entire privat house*** Weekend: $2000 Weeks day: $1000/night
The host canceled this reservation 12 days before arrival. This is an automated posting.
Ishimwe
January 2017
The host canceled this reservation 2 days before arrival. This is an automated posting.
Amine
December 2016
ประเภทห้อง
บ้าน/อพาร์ทเมนท์ทั้งหลัง
---
ประเภทที่พัก
วิลล่า
---
พักได้
16
---
ห้องนอน
9
Wentworth-Nord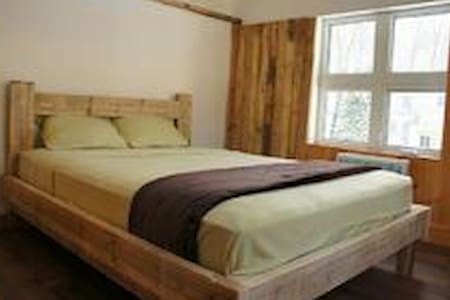 you could can take all 8 rooms for your group. (for individual rooms see other ad) Staff will help you with anything you need and continental breakfast. There is a professional kitchen, dining room, living room with bar, large salon with fireplace , terrasse in the back with two fireplace in the backyard. Beautiful lake in front of the hotel :) It's very close to Mont-Tremblant. You can enjoy all the winter and summer activities, and visit the amazing colorful trees in Fall!
the 8 rooms are on the 2nd and 3rd floor. All rooms are for 2 and have washrooms. 1 room 2 single beds, 1 room king bed, 6 rooms double beds. the room are well isolated from the rest of the building. you have access to all the facilities during the day and in the evening until 10h pm. The terrasse, the backyard and the Salon (with fireplace) are available all night. If you rented all the rooms you have access to all areas at night. All areas (salon, livingroom, dinning room, backyard) are large and each can handle 20 persons. the building is very large and has staff for daily maintenance. There is always staff available upon request. There is also has an apartment attached to the building where management is sometimes present.
車程15分鐘距離的 『魁北克翠湖山莊』 蒙特朗布朗國家公園 Mont Tremblant,其在法語中的涵義是"令人震顫的山脈",法語的發音大致等同於漢語的"猛穿不爛",而華人則賦予這裡更具詩情畫意的名稱--翠湖山莊,並將這裡譽為"東方的班芙"。 Mont Tremblant海拔高度為875米(2871英尺),旅遊區距蒙特利爾只有130公里,約一個半小時​​的車程。這裡是四季皆宜的旅遊勝地,春天踏青,夏天納涼,秋天賞楓,冬天滑雪,每年吸引約230萬名遊客。其中冬季的滑雪更是使其聲名遠揚,《滑雪》雜誌連續十多年將該處評為北美東部地區第一位。 Mont Tremblant在最初,是以冬季滑雪起家的。在寒冷的冬季,Mont Tremblant滑雪場在多個區域開闢有難度各異的滑雪道,包括北坡(Versant Nord),南坡(Versant Sud),陽面坡(Versant Soleil)以及邊緣坡(Versant Edge)等。但在炎熱的夏季,乍眼一看,鬱鬱蔥蔥的漫野山林卻如同剃頭匠的隨意之作,順勢為山坡推理出幾道見底的光頭樣板。 Mont Tremblant最初只是冬日滑雪,在1991年1992年開始轉型,目前已經成為四季開放的度假地。在春夏秋冬四季均安排有不同的節日, 在官方網站上可以查閱不同月份的活動。 夏日里最熱鬧的節日是每年7月中旬的國際藍調嘉年華(International Blues Festival),為期10天的音樂盛會吸引​​愈10萬遊客。此外,夏日的每個週末在中心區舞台都有演出, Mont Tremblant的夏日活動項目在山腳下便有不少,其中概念引進自新西蘭的無動力滑車(Luge)老少咸宜,這是一種完全依靠自身重力和慣性沿坡道下滑的小車,駕車者自己可以通過推拉掌控行駛速度,深得遊客的喜愛。蜘蛛網,蹦極鬆緊繩(Eurobungee),攀岩等適合於兒童的項目便是小孩子們的快樂天堂。 乘坐纜車(Gondola)登頂也是活動的項目之一。站在山頂極目遠眺,各色相間的度假村,平靜的湖泊,蒼翠的樹木逐漸在遠方融入天際線,想必任何沮喪的心情也會在這如詩如畫的美景中得以舒展。如果飢餓難當,還可以在山頂Grand Manitou餐廳一邊觀景一邊就餐。 夜幕低垂華燈初放,山莊中的夜生活也十分精彩,不少人慕名而來,酒吧和舞廳的熱情是絕對值得一去的! 步行在其中,彷彿令人置身于魁北克古城的街區小巷。各間店面沿街順坡定勢,戶外裝飾也別具一格,力求搶眼奪客,引導遊客不自覺間步入店內購物。這些林立的店面內售賣有流行的時尚服裝,香水衣飾,饋贈禮品,還有一些風格各異的藝術作品。 特色餐館、酒吧和咖啡屋等主要分佈在以步行街為軸線的上部中心廣場和下部的老區,儘管內部座位不少,但除非天氣原因,遊客們似乎更喜歡圍坐在戶外露台的餐桌上談天說地開懷暢飲。 We can provide transportation to the hotel. We can also provide with transportation from the hotel to Mont-Tremblant or other activities in the region
Alex and Chi are super friendly! However keep in mind that the location is pretty inconvenient for anyone without a car since mont tremblant is a 20 minutes drive from the inn. Although the host offered driving service for a cost, it depends on their availabilities so we waited for them a few times. This is a shame as the owners are nice but are unable to deliver what was promised from a paid transportation service. View is incredible and the room is clean, the hosts are also really nice. The morning view is really something spectacular. However, be aware that their transportation service is still in its infant stage, and isn't professional.
Claire
October 2016
The value that you get from this place is excellent. Can't complain with the price. The staff were very nice as well. There's ample room in the house to wander about. Whenever we had an issue or concern, the staff would address them immediately.
Sepand
February 2017
ประเภทห้อง
บ้าน/อพาร์ทเมนท์ทั้งหลัง
---
ประเภทที่พัก
วิลล่า
---
พักได้
16
---
ห้องนอน
8
Amherst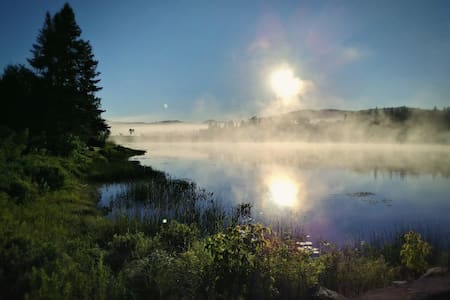 Hawkesbury - Airbnb
:
เฉลี่ย

4.59

จาก

5

ดาวจาก

95

รีวิวผู้เข้าพัก