This Room is the Verona Suite...... the construction is now finished and will now fit in with our Tuscan Villa theme. It's available May 2017. A new Kitchenette and bathroom and new loft, total new look! Our Airbnb prices don't include sales and county taxes (11% due upon arrival).
This Suite is a beautiful and comfortable room that sleeps two people. The bedding is plush and luxurious. The bathroom is private.
The neighborhood is quiet but if you walk 2 1/2 blocks towards the lake there is as much noise and activities as a person wants. If there is a wedding in the area, a Family reunion, or another occasion where you want to travel with a group, the Hideaway has a total of 5 private rooms with kitchenettes and 5 bathrooms to serve each room. One of the rooms has 2 bedrooms and is perfect for families with children.
My husband and I were in need of getting. Last week we decided to take a last minute trip for a long weekend. We ventured upon this lovely getaway right off the Main Street in Lake George. Jonathan was such a gracious host and Kimberly was amazing in ensuring that we would be well taken care of in her absence. Cozy, quiet, and a charming outdoor space to relax. I highly recommend this quaint getaway.
Liz
2015-09-22T00:00:00Z
Kimberly made us feel like we were part of her family. It was very nice to talk with her and know the story of the BNB. Her passion for this type of work is wonderful and it shows from the details she has put into the home. We were there for Americade bike week and it is the perfect spot for a little quite time just 2 blocks off of the main road through the village. The scenery in the area is spectacular and she gave us lots of info on where to eat while we were riding in the Adirondack mountains. Thanks Kimberly we will be back again!!!!
Debra
2016-06-13T00:00:00Z
We had an absolutely wonderful stay at Romeo and Giulietta's Hideaway B&B! It was my husband and my first visit to Lake George and we couldn't have chosen a more enchanting place. The location was a short walking distance to the town and lake. Kimberly and Jonathan were such warm, friendly hosts. Their hospitality evident each morning as we enjoyed Kimberly's delicious homemade banana bread and amazing blueberry pie in the charming breakfast nook. They were very knowledgeable, with advice as to places to visit, things to do and restaurants in which to dine. Our room was elegantly and comfortably decorated in old world style with much attention to detail. We enjoyed sipping our glass of wine in the beautiful garden each evening. We'll definitely be back!
Mr. Carey Fernes
2015-08-30T00:00:00Z
How to describe an indescribable experience? Let me start by saying that Kim is an amazing hostess, very friendly, warm, welcoming and accommodating. She is awe-inspiring as well and I am honored to have met her! Her son Jonathan and his sweet wife and daughter made me feel like family as well. We had a conversation on my last day there that made me wish I had several more hours to pursue....(people actually conversing, what a concept). The place itself was magical. Four conjoined rooms out back in a private garden, each one uniquely decorated. I was able to spend time in suite 1 & 2 and my sister stayed in the family room, suite 4. Each room has its own personality and is gorgeous as well as soundproof. I was worried that the couple next to me could hear my TV and they wondered the same. No worries there. I was originally going to be staying with my boyfriend and that was one of the main reasons I picked this location. For honeymoon couples or couples needing to reconnect, I definitely recommend. But from my own experience, I HIGHLY recommend this to the lone traveler, woman or man, as a retreat to relax, reflect and renew. I feel as though I showed up as one person and left a week later as someone else. Once I got home, I literally cried thinking about it. The location in relationship to the village could not have been better. Just a short walk to the village and lake (not to mention the grocery store) one of my favorite days was grabbing a cup of coffee and sitting in the park staring at the water and talking to the locals. In a world of constant electronics, political and social unrest, do your self; mind, body & soul, a favor ....head to Romeo & Giulietta's. You won't regret it!
Susan
2016-07-17T00:00:00Z
Kimberly was a wonderful host. Her home was beautiful and the room that we were in was newly renovated. Her home is just a few blocks away from the lake. The location was perfect. Kimberly made us an amazing breakfast in the morning. It was a great weekend!
Nikita
2016-05-31T00:00:00Z
My girlfriend & I went for a 3 day getaway to Lake George. We're both very busy, so searching for an accommodation was pretty exhausting - until my I came across the Romeo & Julietta's getaway Inn. Let me first start by saying that the host, Jonathan & his wife, are extremely kind and hospitable, which made our stay even more relaxing. They have a beautifully set up 3 rooms, that are decorated so romantically. We had room 3, however; room 1 has a kitchen in it - so I think that's a plus for families. Our room had a very comfortable bed, AC, nice plasma TV, and a refrigerator. I'm very particular about restrooms, and I was not disappointment ! The restroom is very clean, they have so many towels, my girlfriend & I didn't need to use ours. The inn functions like a B&B, so we enjoyed a delicious breakfast- let me just say THEY HAD EVERYTHING! And they're so kind enough to ask if we needed anything more. I highly recommend this place, the price is moderate, certainly cheaper than staying in a hotel for 2 nights. Not to forget to mention it's literally a 5 mins walk from the Lake & the Main Street that has all the restaurants & stores. But the neighborhood is very relaxing & quite - makes it a beautiful getaway from the City craziness ! I would definitely love to go see them again & there's no doubt in mind that you should go there too !!
Ahmed
2015-07-26T00:00:00Z
I stayed at Romeo & Giulietta's Hideaway for a weekend with my boyfriend, and we had a wonderful stay. Everyone was very friendly and made sure we were comfortable. The room was beautifully decorated and had a romantic and vintage feel to it. Outside there were several areas to sit and relax, and in the front of the house they served a delicious breakfast with several choices (even fresh baked bagels!). The area was very quaint, and was very convenient - within walking distance to the main street in the Village of Lake George. Would definitely recommend!
Angela
2015-06-28T00:00:00Z
Kimberly and Jonathan were great! The location was easy to find and the arrival process was smooth. The room is very comfortable (the bed was amazing) and the garden area out front was beautiful. I liked how private each room was while still having an opportunity to interact with the hosts and guests in the main room. Jonathan was extremely friendly in the morning and made sure we had some breakfast before we hit the road.
Vera
2015-08-02T00:00:00Z
ประเภทห้อง
ห้องส่วนตัว
---
ประเภทที่พัก
วิลล่า
---
พักได้
2
---
ห้องนอน
Lake George, นิวยอร์ก, สหรัฐอเมริกา
Our home is a classic post and beam chalet with great views. Close to Middlebury College. Our home is good for couples, solo adventurers, families (with kids), big groups, and furry friends (pets). 3 bedrooms PLUS 2 futons in separate living room. 3 levels of living space with ridiculous views on all 3 levels.
The view was lovely, if you wish to be far far away from everything this is the place. The house is not homely and was cold downstairs and the amenities were not sufficient ti cook. You are unable to use the fires and there are not blankets sufficient to keep warm downstairs. If you expect roaring fires and cosy sofas, you will be disappointed.
Amanda
2016-11-27T00:00:00Z
Aaron did a great job responding to any and all questions that I had. I rented his house for 10 adults and it was the perfect size, location was great, views were absolutely spectacular, the neighbors in the house directly next door were very friendly, its about a half hour from some amazing hiking trails. The only downside was the lake wasn't exactly what we were expecting (it isn't one of the cleanest lakes in VT) if we had planned ahead more and rented a boat it would've made it even better.
Tabatha
2016-09-05T00:00:00Z
What a lovely home to host a perfect getaway!!!
Bianca
2016-07-29T00:00:00Z
We had a wonderful stay. Aaron was very responsive to all questions I had throughout the whole process. The house is just as described and quite comfortable with gorgeous views from just about every room. And there is plenty of room to spread out and for kids to run around. The house is situated on a quiet country lane surrounded by farms. And the roads around the house are safe if you like to run. (We encountered a friendly dog and two jovial neighbors while running in the neighborhood.) We didn't get to spend anytime in or on the water as we would have liked due to wind on the lake but it was enough to just sit on the dock or skip stones from the shore. It's truly a house and location made for relaxation.
Jennifer
2016-09-27T00:00:00Z
Aaron was incredibly responsive in my many inquires prior to arrival. He even ensured my kids had a Kayak and life vests to use. The property had amazing views and the evening sunsets were breathtaking. The accommodations were very comfortable and well appointed with nice decor - my son classified the bed in the upper loft as "the worlds largest bed" he has ever seen and immediately (SENSITIVE CONTENTS HIDDEN)ted it to all his friends. The lake is very low this year so swimming was not the best but it was made up with lots of great fishing from the peer and smooth kayak rides. The location was very convenient for the day trips we planned to NY ferry over to Fort Ticonderoga and Button Bay park. If you are into Geocaching there are 2 right near the property too.
Angel
2016-07-23T00:00:00Z
We had a really wonderful stay for the holidays. Aaron's house was more beautiful than the pictures do justice to. The lakefront view was breathtaking and the house had a fun, spacious and accommodating layout that was super fun and relaxing. The kitchen was huge which made cooking a really treat. Aaron was so responsive any time we had a question and wifi connection was really good. Would rent yearly at the holidays if we could. Thanks for a great stay!
Jonathan
2017-01-02T00:00:00Z
Aaron's house is so warm and welcoming that it immediately felt like home when we arrived for the weekend. Seeing the Adirondacks in the fall when the leaves are changing and vibrant is a really beautiful thing and this house puts you in a great place to see the mountains while being lakeside. My friends and I are already planning another trip.
Tobias
2016-10-31T00:00:00Z
This house was great, right on the lake, spectular view of Lake Champlain and the Adirondack mts, very clean, very spacious with multiple decks. The house alone is a must see. We and everyone that came to visit us just loved it. A must if you love to fish, see Vermont and upstate New York. Great for kayaking or boating. Lacks a beach for swimming but this was not a problem for us, there are many lakes and beaches within driving distance. I just loved being able to sit out, watch the kids fish, boat around while taking in the great views.
Frank
2016-07-10T00:00:00Z
ประเภทห้อง
บ้าน/อพาร์ทเมนท์ทั้งหลัง
---
ประเภทที่พัก
วิลล่า
---
พักได้
12
---
ห้องนอน
Bridport, เวอร์มอนต์, สหรัฐอเมริกา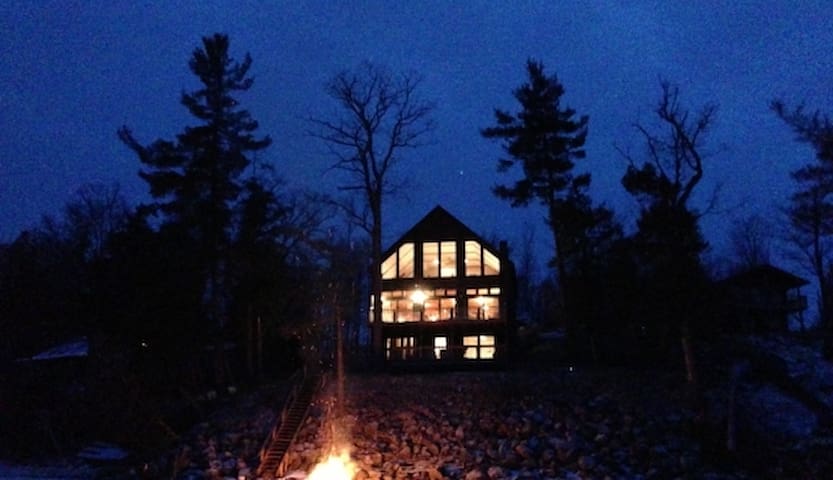 - Artfully Restored Antique Farmhouse Hotel - 9 Beautifully Assembled Guest Rooms - Sleeps 20 + Guests - Heated Pool - 17 Pristine, Private Acres In The Mountains - Large Barn - Event / Wedding Tent - Event Catering and Valet Available - Strong WiFi Throughout Property - Large Dining Room - Large Living Room w Flat Screen & Fireplace - Gazebo - Outdoor grills - Reflection Pond - Peace, Silence, Beauty & Serenity. - Incredible Space For Weddings, Reunions, Get-To-Togethers, Events & Retreats
A charming retreat and event location for weddings, reunions, anniversaries, parties and small events. It offers 9 tranquil, country bedrooms in an antique farmhouse hotel that was lovingly re-envisioned and rehabbed to retain its history in an updated way in 2013. It has a heated pool, gazebo and poolside lounge area, event barn, reflection pond, grill, fire pit, places to eat outside and sits on 17 acres in the mountains. Immense skies, dirt roads leading through 'sugar houses' (old barns where maple syrup is made), cows, goats and creeks. The scene is very tranquil and time moves at a tangibly more relaxed pace. The house is updated with a well-stocked, professional kitchen with a restaurant-grade gas range and oven. It has everything needed to cook pretty much anything. The dining room has 2 large antique wooden dining tables, antique China on display and is surrounded by 3 walls of windows looking out to the mountains. Catering is also offered for parties of up to 50. The living room has 2 large sofas that face a fireplace and just to the right, a flat screen with cable and DVD player. Antique oriental carpets sit atop antique wood floors and Vermont antiques including a 1700's butcher's block table can be found around every corner. There are small libraries and books all around the house as well. The interior is inspired by writers, the rooms named after and subtly themed by famous novelists. There's strong WiFi throughout the property, internet-related work can be done poolside and there's a lot of space for parking. Vermont's Mountain View is a unique event location with a lot to offer, including a wedding tent for up to 80 guests, set between 360 degrees of mountains and sky. The summers are green and warm, the fall colors are dazzling and it's located about 45 min south of Killington and 45 min North of Sugar Loaf, two popular ski destinations. There's a large barn that can accommodate storing any amount of winter sports-related equipment. Spring in Vermont can be muddy, but also beautiful and adjusted rates are offered for spring. Vermont's Mountain View was envisioned and lovingly assembled to environment of tranquility, creativity and relaxation, while in good company and very well fed.
Wonderful location and space. A perfect place for a group or family retreat. I would return again and again
Bree
2015-08-31T00:00:00Z
This is a beautiful home in a beautiful area of Vermont. We had 16 family members staying in the house and everyone was very comfortable. The space encourages big family dinners and together time, but also allows for reading together peacefully inside and out. We were very happy. The atmosphere is casual, warm, and welcoming.
Ariel
2016-08-01T00:00:00Z
Lovely home! Stayed here for a ski trip with college friends and it was exactly what we needed. The house is about a 45 minute drive from Killington. Very secluded yet extremely picturesque property. Perfect for a quiet getaway with family/friends. If traveling here in the winter months, be sure to use a car that handles well in the snow as we had some issues with the road conditions. Other than that we had a wonderful time in this cozy home! Our host was personable, answered all of our questions, and directed us to house. She allowed us to check in early and checked in with us throughout our stay to make sure we had everything we needed. We enjoyed our time here very much and would definitely stay here again!
Christa
2017-01-02T00:00:00Z
Everything in the listing was accurate and much better once experienced in person. All of our family was so impressed not only with the beautiful location but also the inviting inn. Tommy was fantastic with the arrangement of the reservation as well as with his communication. The entire staff was so welcoming, especially Eberly. Not only did we feel welcomed, she felt like another member of our family.
Amanda
2016-05-09T00:00:00Z
A more idyllic location is hard to find and our interactions with the folks at Mountain View Farm went a long way toward our blissful experience there. I can't recommend this space highly enough. I wish it could always be the secret diamond in the proverbial Airbnb rough. At the same time, I hope anyone looking for a quiet spot, charged with incredible energy, has the opportunity to spend time in this truly remarkable spot.
Glenn
2016-07-18T00:00:00Z
ประเภทห้อง
บ้าน/อพาร์ทเมนท์ทั้งหลัง
---
ประเภทที่พัก
วิลล่า
---
พักได้
16
---
ห้องนอน
โรเชสเตอร์, เวอร์มอนต์, สหรัฐอเมริกา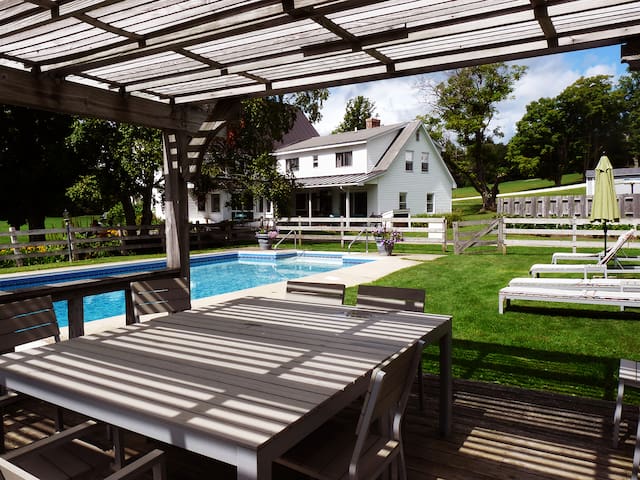 Quiere alejarse de todo! Este acogedor de tres dormitorios, un baño, casa privada con una envoltura alrededor de la cubierta se encuentra en un lote de esquina. Escondido en el bosque de la histórica Ciudad de Mendon, sus minutos de todas las actividades de la zona de esquí Killington tiene que ofrecer. Visitar cerca Chittendon ciudad donde se puede pescar en el hielo en el embalse de Chittendon o moto de nieve en los muchos senderos VAST locales de la zona.
ประเภทห้อง
บ้าน/อพาร์ทเมนท์ทั้งหลัง
---
ประเภทที่พัก
วิลล่า
---
พักได้
6
---
ห้องนอน
Mendon, สหรัฐอเมริกา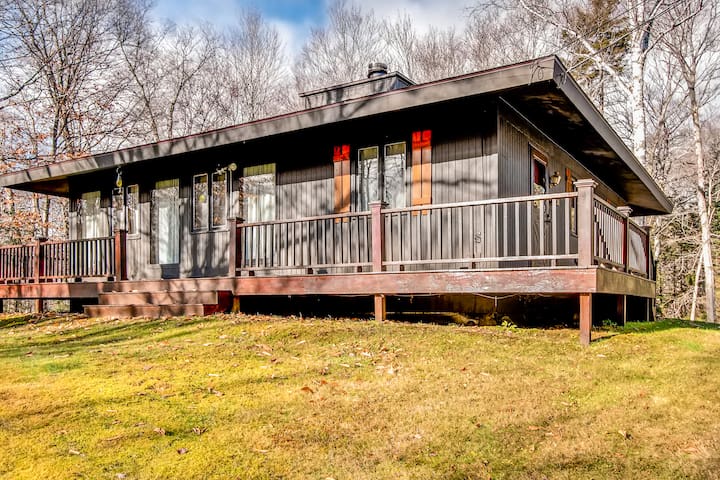 แฮมป์ตัน - Airbnb
:
เฉลี่ย

4.76

จาก

5

ดาวจาก

27

รีวิวผู้เข้าพัก
กรอกวันที่เพื่อดูการกำหนดราคาเต็ม มีค่าธรรมเนียมเพิ่มเติม อาจมีภาษีเพิ่ม