Full size apartment located on the second story of Hakalau's historical theater. Great neighborhood, reserved parking and laundry. Close to the bay and attractions. Convenient, private and unique, we hope you'll love it as much as we do. Aloha!
Though the building is nearly 80 years old, the theater has not been in use for generations. The apartment has been updated from its ancient redwood bones to modern drywall and fixtures. To learn more about this old sugar town I recommend googling Hakalau Home for a great website which explains our local history.
The neighborhood is a very nice, newly constructed small community primarily featuring it's close proximity to Hakalau Bay. Make sure to enjoy a walk down to enjoy the scenery.
Simple and spacious, just as described, in a quiet neighborhood just off the highway. There is a large bed in the bedroom and a sofa in the living room, along with a small dining room table in the kitchen area - perfect for quick meals in between our sightseeing or before winding down for the evening. The location is a quick drive north of Hilo and within easy access of many of the sights along the Hamakua Coast.
Tyler
2016-12-28T00:00:00Z
Exactly as advertised! Chris was a great host! He promptly answered all our questions prior and during our stay. We had a wonderful time staying at this large apartment. It was very spacious and comfy. The neighborhood was quiet even though it's located above USPS. Washer and dryer were a big bonus which helped us pack light. Upstairs, there's a desk for a workspace and the kitchen was abundant of necessities. The bathroom also had a lot of storage space. Lastly, the bedroom was large and had a huge closet. Overall, this was one of the best air bnb space we've stayed at. The price was reasonable. Would definitely recommend!
Macy
2017-01-01T00:00:00Z
We definitely enjoyed our stay. It is located in a nice, quiet neighborhood; very easy to find. The apartment itself was clean and private. Amenities were minimal, but overall a great place to stay.
Shereen
2017-01-15T00:00:00Z
This was just what we needed for our stay! It's very simple and tidy. It was also just uphill from a very out of the way park and ocean access. We practically had the place to ourselves. Lots of great places to explore within 30 minutes. And we loved the sounds of the frogs and birds at night.
Megan
2017-02-09T00:00:00Z
We enjoyed our stay at Chris's place. The place was huge, private, and clean. The full kitchen helped us save a bit on meals. Finding the place is pretty easy (it is in the same building as the post office) and it is relatively close to nearby attractions such as Hilo, Akaka Falls, and Waipio. Overall, a great expereince. Thanks again!
Jenny
2017-01-07T00:00:00Z
ประเภทห้อง
บ้าน/อพาร์ทเมนท์ทั้งหลัง
---
ประเภทที่พัก
อพาร์ทเมนท์
---
พักได้
4
---
ห้องนอน
Hakalau, ฮาวาย, สหรัฐอเมริกา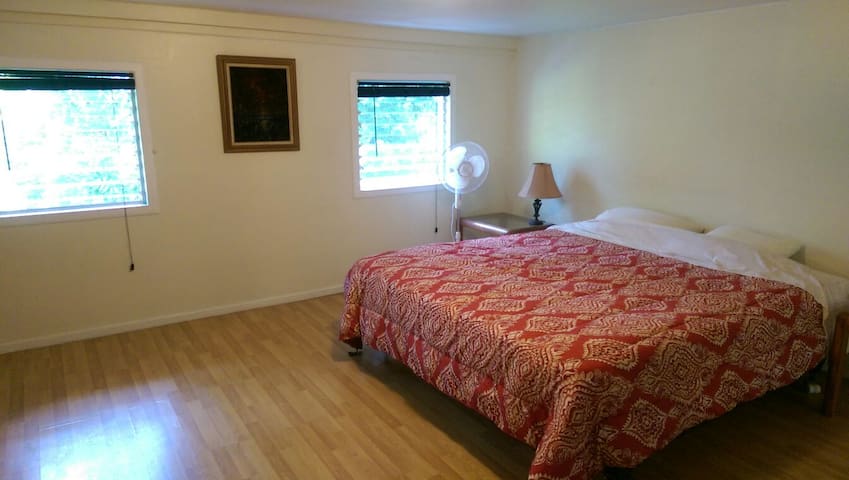 Newly built home with private 610 sq. ft., three-room suite, 1 private bedroom, Living Area, Dining Area with Large fully stocked Kitchenette includes one private Bathroom with full-size Shower. Two sets of towels per person. Complimentary shampoo, body soap, coffee, and tea. Iron /w board, luggage racks, and ice chests. Free fast high-speed WiFi/Internet and Free parking. Your very own clothes Washer and Dryer. Just 15 miles from Hilo, along the beautiful and majestic Hamakua Coast.
Hakalau Vacation Rental is an excellent choice for two to three people, making it an affordable choice over much larger expensive rentals. Our first-floor unit is new and very nicely decorated with many amenities not seen in many other rentals. There is a generously sized kitchenette with a full-sized refrigerator, large sink, appliances; microwave, toaster oven, coffee maker, coffee grinder, electric skillet, double burner hot plate, blender, tea kettle, all cooking utensils, spatulas, can openers, wine bottle opener, chef knives, knife sharpener, cutting boards, mixing bowls, measuring cups and spoons, all eating utensils, plates, cups, bowls, glasses, wine glasses. A starter supply of coffee, a variety of different tea bags, creamers, half and half, sugar, honey and sweetener packets are also provided for your convenience. You will also be welcomed by homemade banana bread! In the bathroom, we offer each guest two sets of towels, shampoo, soap and a starter supply of two rolls of toilet paper. the tastefully decorated tiled shower is full-sized with lots of water flow with its rain-style shower head! We get compliments on it all the time from guests! The bedroom has a new Queen-size bed with bedside tables, a wall-mounted, new 32" flat screen television, wall sconces on each side of the bed, large and quiet ceiling fan that's lighted with remote control, luggage racks, closet with hangers, iron w/ ironing board, extra portable oscillating fan. Two windows for great cross airflow ventilation. The living area consists of a large sleeper lounge sofa bed for a third person. A wall mounted 42' flat screen television with DVD and CD players, along with a media collection of movies and Hawaiian style music CDs. Above the Sofa lounge is a lighted ceiling fan with additional wall mounted lighting sconces on a dimmer switch. The dining area has a round glass top table with four upholstered and padded chairs with a dimmer controlled chandelier A gas barbecue is provided with barbecue utensils including "shish-kabob" skewers and vegetable barbecuing basket.
Hakalau is a community of new homes built in the same area with a rich historical past that's still reminiscent of the bygone era of Hawai'i's sugar plantation days. The community is very friendly and safe for strolling about the neighborhood. We welcome you to enjoy the peaceful beauty and quiet that Hakalau affords! The Hakalau Beach Park is an easy walk, just 0.38 miles from the vacation rental. The small Hakalau which is just 15 miles from Hilo, is centrally located on the east side of Hawai'i island to see all the popular destinations and attractions!
We´ve stayed in Hakalau Vacation Rental during our honeymoon on Hawaii and really enjoyed our stay. The apartment was totally new, spacious, very clean and better equipped than our home ;-) There was everything we could have asked for. Chris took care of all the little details, when she furnished and decorated the vacation rental. This made us immediately feel comfortable. We loved the flowers and the little fountain outside! You can find lots of travel magazines and books and Chris also assembled a portfolio with information about restaurants and interesting places in the neighbourhood, what helped us exploring the Hilo area. We highly recommend staying in Hakalau. Mahalo and Dankeschön for being such great hosts!
Kristina
2017-01-03T00:00:00Z
The property was extremely clean and the pictures were very accurate. Very nice driveway to the room. Everything you need is there included cooking necessities. Used the small bbq one day which was very clean and easy to use. The outdoor patio is very spacious with a small waterfall. The sounds of the birds and frogs at night were our favorite part of the stay. Very close to the beach and only 15 minutes away from the town of Hilo. Close to akaka falls. Nice and quiet neighborhood. Chris was very welcoming when we arrived. Was there for any questions or concerns. Would definitely recommend to stay here if staying near Hilo.
Louie
2016-06-04T00:00:00Z
We have stayed at many Airbnbs and this definitely is one of the best: many thanks Chris and Steve for this wonderful memory. The whole place has been set up for rentals with great eye for detail. Found beautiful flowers, banana bread, and fruits on arrival. The apartment is tastefully decorated, very clean, and everything in it is brand new. Very comfortable for 1-3 persons and invites outdoor living on the large lanai with relaxing chairs, a table for eating, a ceiling fan, fountain and beautiful garden. Chris and Steve are great hosts who made sure we had everything we needed: from an array of cooking and bathroom supplies to detergent for the washer and dryer. Hilo is just an easy 15-min drive away. We highly recommend this as a place to stay when you are visiting the Hilo side of the big Island, both for short and long stays.
Remo
2016-04-19T00:00:00Z
ประเภทห้อง
บ้าน/อพาร์ทเมนท์ทั้งหลัง
---
ประเภทที่พัก
อพาร์ทเมนท์
---
พักได้
3
---
ห้องนอน
Hakalau, ฮาวาย, สหรัฐอเมริกา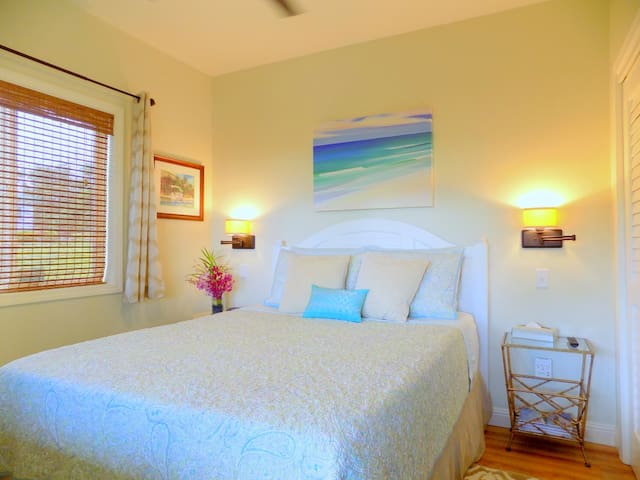 MAHANA HOUSE Country Inn features purpose accommodations. Our Ohana Suite is a great add on room when booking out the entire Inn.
ประเภทห้อง
ห้องส่วนตัว
---
ประเภทที่พัก
อพาร์ทเมนท์
---
พักได้
2
---
ห้องนอน
Hakalau, ฮาวาย, สหรัฐอเมริกา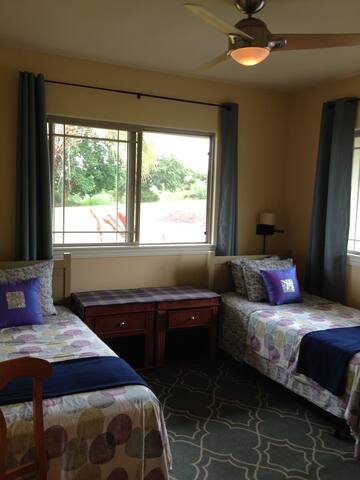 OPENING SPECIAL RATES! MAHANA HOUSE Country Inn features purpose built junior suites with KING sized SLEEP NUMBER beds, ensuite bath, and kitchen facilities in the suites. Enjoy sweeping ocean views on your private lanais in a quiet rural setting
OPENING SPECIAL RATES FOR A LIMITED TIME! See our other listings on airbnb, we often have more availability than listed. Welcome to Mahana House Country Inn. Newly opened fall 2014, MAHANA HOUSE features purpose built suites with KING sized SLEEP NUMBER beds, ensuite bath, and kitchen facilities. Our property is legal and licensed by the State of Hawaii. Enjoy sweeping ocean views on your private lanai at the end of a quiet country road. Relax as you walk through the orchards and our small 'BAMBOO FOREST'. A great location to explore the East side of the Big Island of Hawaii from WAIMEA TO VOLCANO Explore Hakalau Bay, Laupahoehoe, ziplines, and amazing botanical gardens within a 10 minute drive. Spend time in Old Hilo Town, exploring a more authentic side of Hawaii - don't forget to go to Big Island Candies. About an hour from Waimea with more great shopping, or to Pahoa/Volcano park where you can see the new lava flows! Ask about itineraries, restaurants, attractions and beaches and we will help you make the most of every day! We currently have a 3 night minimum, as we recommend at least 3 nights to be able to explore the east side of the island. With attractions including, Waipio valley, Honoka'a town, Kalopa state park, Laupahoehoe, Akaka falls, Kolekole beach park, the four mile scenic route, the tropical botanical gardens, Liliuokalani Park and Gardens, Richardson's beach park, Pahoa, Kalapana, and the amazing Volcano National park, just to name a few the east side of Hawaii offers fantastic adventures! Or just recharge on your private lanai! Laundry room with all supplies is available for our guests. In addition to all suites having private lanais, guests have use of our large common lanai, great room and full kitchen. All rates include accommodation taxes. Aloha, Alison and Randy Hawaii TA and GET tax id W(PHONE NUMBER HIDDEN)
Quiet, sweeping ocean views, rural setting, warm breezes
That is a beautiful place,it's clean,quiet,large lawn ,ocean view ,there are every thing that we need. randy and Allison are very nice couple .
菊芳
2016-01-20T00:00:00Z
Great place to stay around Hilo, very quiet and clean. Randy is very helpful and friendly. He knows a lot about the island and gives great suggestions. I would definitely stay there again.
Paul
2016-12-26T00:00:00Z
Great house and friendly big family. It was such a happy surprise to see Randy and his family write a Welcome and a Happy Chinese New Year message on the blackboard. The house is close to zipline tour and rainforest. Everything was perfect.
Iris Xu
2016-02-14T00:00:00Z
A superb stay. Well appointed rooms with very comfortable beds. A great Lanai with nice views of the ocean. Amazon Prime was a nice addition so we could watch a movie one evening. Randy was very helpful, yet discreet. Lovely coffee and cookies left for us. All in all 5* and would love to come back in the future.
Colin
2015-06-03T00:00:00Z
A Coqui Frog was waiting beside my room gate to say Aloha to me when Randy came from upper of the hill to be the guide warmly. You could go to dream with the amazing unique frog tweet. It didnot take us too much time to find the place even it's located at the end of the country road. After the entrance, the courtyard is quite large and rooms are on half of a hill. We arrived till the sky turned to dark but when you stand alone in the middle of the grassyard, all twinkling stars come to speak with you. The milky way was so marvellous, it was keeping me take the photoes till 3am. I cancelled the trip to Mauna Kea observatory next day because Mahana house's night sky is enough for my astronomy interesting. In the big lobby you could communicate with other guests very well, unfortunately we were too late that day just simple conversation made. Room quite big and clean with fresh air since we kept all windows open, the grass smell coming with the breeze. It's my first time to find a hotel with a Sleep Number bed hardness controlling system, really impressive. Randy shared all fruits they made in the farm free kindly. In the next morning when we wake up, a perfect Pacific ocean view come through our Laia. Randy kindly allow me to check out much later so I could look aroud the farm with my wife. It is a really wonderful country inn you could have unique stay! 风景独特的乡村山庄,观星胜地,蛙鸣入眠,值得停留,别样感受!
Zeight
2016-10-26T00:00:00Z
Randy and Alison were superb hosts! Randy met us at our car and showed us where we would be staying. The description Randy gave was very accurate. The place is very new (6 months?), nicely furnished and clean. The bathroom is rather large with a beautiful, large shower. There is an area to hang your clothes and a nice kitchen area with a microwave, small refrigerator, large sink, plenty of dishes and utensils, and a small table for two. There is also a nice living area with a flat screen TV and a loveseat. This place is located about 10 miles or so outside of Hilo in a very serene, country setting with beautiful vistas. We stayed here for 5 days and really enjoyed the peacefulness here after a long day of sightseeing! Thank you, Randy and Alison, for being such gracious hosts!
Linda
2015-10-09T00:00:00Z
Randy and Alison are excellent hosts. The place is very clean, has nice touch on the decorations and very well managed - from the scheduling, booking, pre-stay communication and during the stay. The place is so serene and perfect place to unwind from my busy schedule yet not far from Hilo. They always have fruits from their orchard for everybody. I will be back again but this time with the entire family. Thank you Randy and Alison.
Raymond
2016-04-17T00:00:00Z
Randy made us feel welcome right from the moment we arrived. He greeted us, showed us the place and allowed us to feel "home" in our private little house (felt like we were at a hotel given his house is detached), which we have enjoyed given we like being in our "vacation bubble". We loved the fact that everything was well maintained (actually, everything is new and chosen with a lot of taste). Access to a fully equipped kitchen and BBQ was a plus. Try to enjoy the beautiful sunrise from your lanai, a unique experience!
Maryse
2015-08-16T00:00:00Z
ประเภทห้อง
บ้าน/อพาร์ทเมนท์ทั้งหลัง
---
ประเภทที่พัก
อพาร์ทเมนท์
---
พักได้
2
---
ห้องนอน
hakalau, ฮาวาย, สหรัฐอเมริกา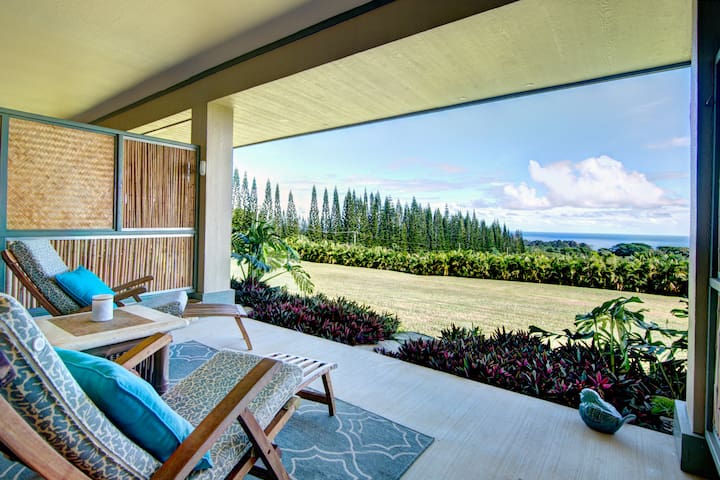 Simple & clean 1BDR just 8 miles from downtown Hilo along the breathtaking coast. Just 1 mile off the Pepeekeo Scenic Drive & 6 miles from the Honolii Surf Beach. Conveniently located along bus route. Near Akaka Falls and Hawaii Botanical Gardens
Quiet and clean in a great location, for an awesome price! With 2 units available, ideal for groups of up to 4 people (see Sunrise Room Listing). Ideal for college age adults or anyone traveling on a budget. Great place to use as a base while exploring the island...not a great place if you want a resort atmosphere and high end living. Room looks just like the pictures :-) Military Specials, contact for rate change. ~20% discount for veterans ~33% discount for active military
Quiet residential neighborhood, close to town, within walking distance of convenience store.
Joe and his family were really friendly and helpful. It's a great and quite place and still close to hilo. I would recommend a rental car to get to his place and to all the nice other places around hilo. The kitchen and bathroom were nice. Thanks Joe, i would come back!
Oliver
2016-03-09T00:00:00Z
It's really nice to stay in Joe's house. The kitchen has a fridge, bowls, plates and a microwave, which is pretty good for a single traveler. It's quiet at night as other occupants stay in their own room as well.
Yiwen
2015-06-07T00:00:00Z
We were greeted by Mrs Thorpe and 2 lovely daughters. She showed us our area and brought fresh fruit. The room was very nice and private, and listening to all the tropical noises was quite nice. The area was in a nice and quiet neighborhood (except for barking dogs). Easy to find just off the main road.
Bob
2015-10-10T00:00:00Z
I want to be honest.. we spend there one month. The room was nice and clean also kitchen. In the room we just miss little night table because how I said we was spending there one month so we had to have everything on the floor and some little night table will be really nice. The bathroom was ok but dirty all the time, but I guess that wasn't mistake from the owners [but the girl who should care about the house ] because they was gone almost all our vacation and last couple days when they come back they clean it.. And we had big problem with internet. We work online and our priory was have good connection to internet and owner said to us he will do the best to have good connection but this never happened. So we was really disappointed and we spend all our staying figure out how to fix it. For somebody who go just on the vacation and dont need the wireless to much that will be ok...but for us thats was the most important thinks number one! But anyway we make our best to have good time there and there was quiet neighborhood, nice garden, close to botanic garden and around 5 miles close to surf beach.
Denisa
2015-08-01T00:00:00Z
Joe and Jan were a great host. Extremely helpful and friendly. Location was great.. not far from town and very convenient to visit scenic places.
Gyan
2015-09-03T00:00:00Z
I found the room to be exactly as described. Good size room, fairly quiet neighborhood. Easy to get to location! It worked out great for the 5 nights I stayed there.
sema
2016-10-11T00:00:00Z
La chambre était simple mais pratique. La qualité du matelas était hors pair. Les fruits disponible au déjeuner était prèsque rassis mise a part les bananes. Rapport qualité prix était excellent. J'aurais aimé avoir plus d'informations sur les produits locaux. J'ai apprécié mon séjour.
Julie
2015-08-18T00:00:00Z
It's a nice place which I can really recommend and Joe the host and his family are so friendly and helpful.
Mirjam
2016-09-13T00:00:00Z
ประเภทห้อง
ห้องส่วนตัว
---
ประเภทที่พัก
อพาร์ทเมนท์
---
พักได้
2
---
ห้องนอน
Pepeekeo, ฮาวาย, สหรัฐอเมริกา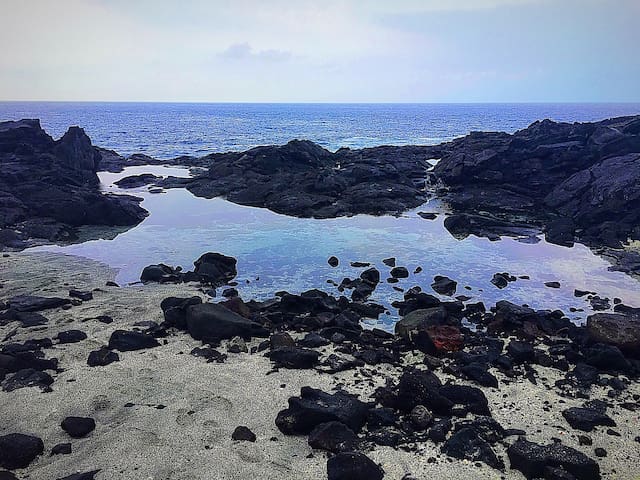 Simple & clean 1BDR just 8 miles from downtown Hilo along the breathtaking coast. Just 1 mile off the Pepeekeo Scenic Drive & 6 miles from the Honolii Surf Beach. Conveniently located along bus route. Near Akaka Falls and Hawaii Botanical Gardens.
Quiet and clean in a great location, for an awesome price! With 2 units available, ideal for groups of up to 4 people (see Sunset Room Listing). Ideal for college age adults or anyone traveling on a budget. Great place to use as a base while exploring the island...not a great place if you want a resort atmosphere and high end living. Room looks just like the pictures :-) Military Specials, contact for rate change. ~20% discount for veterans ~33% discount for active military
Quiet residential neighborhood, close to town, within walking distance of convenience store.
Joe has a good room, shared with another room with the same living room. They put fruit for us on the living room table. It is good to spend there for 2 nights.
Lihui
2015-04-27T00:00:00Z
Joe was a great host. He met us on arrival, showed us around, and assured us if we needed anything to just text him and he would be right there. The only thing is, we never needed anything. He would also leave bananas from his tree on the table in the dining area. The shower and bathroom are shared with the guests in the other room, but we just took our turns and it worked fine. I am a bigger guy so I found the double bed a little small for my wife and I, but it was very comfortable and I slept pretty well. There is a common area wth a toaster, microwave, coffee maker and a supply of coffee. This was a great bargain!
Mike
2016-12-22T00:00:00Z
Joe was very helpful and knowledgeable about the area. We enjoyed our stay. It was the perfect distance from Hilo. We'd would come again!
Nicole
2017-02-01T00:00:00Z
Joe's place is the best location as a base for me to explore the east half of the island. It is in the heart of all the attractions I wanted to go on the eastern side of the island including Volcano National Park, Mauna Kea, Puna, Hilo and Waipio Valley....etc. Joe and Jen and their two girls are very welcoming people with warm hearts. They invited me to their Easter Dinner which was really nice. I enjoyed my stay at their place, feel really calm and home. And it is always good to be surrounded by lovely people.
Andrea
2015-04-09T00:00:00Z
What a great location and host. Close to Hilo for convenience, but far enough out to avoid the noise. the room is cool with its private entrance and lounging area. It's Spartan, but that's the way I prefer it.
Ken
2016-04-11T00:00:00Z
Joe was a good host. The place was clean and the bed was very comfy!
Ashley
2016-08-04T00:00:00Z
it was great at joes place! he was very friendly and ready to help! the room was clean,so towels and sheets! he also cooked once and brought me some food:) is about 15 min drive to hilo and on the way there is a scenic 4miles scenic route you have to see! thank you joe and family!
Viviana
2015-10-24T00:00:00Z
Great room, lots of privacy. Joe gave us great insider tips about the island and lent us a great travel book that let us make our trip truly special.
Rebecca
2016-05-24T00:00:00Z
ประเภทห้อง
ห้องส่วนตัว
---
ประเภทที่พัก
อพาร์ทเมนท์
---
พักได้
2
---
ห้องนอน
Pepeekeo, ฮาวาย, สหรัฐอเมริกา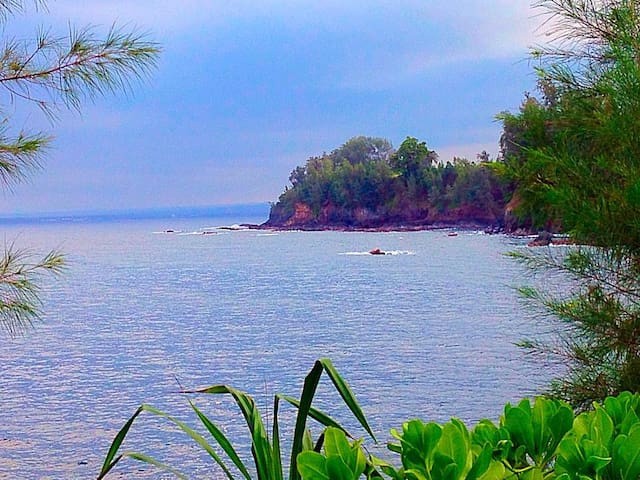 Aloha! Our country estate is in Onomea, 6 miles north of Hilo, on 5 tropical acres with garden and ocean views. The Garden Suite at Onomea is a private cottage with views of flowering royal Poinciana trees, mango, lychee, mountain apple trees, monkeypod trees, and coconut palms. The most repeated description by our guests is 'peaceful'. The suite has a studio layout... bedroom, living room and kitchenette all in one very ample space, and a lovely stone-tiled bath with very high ceilings and gorgeous light. The kitchenette is equipped with an array of cooking appliances for simple cooking needs, and a full sized refrigerator. In lieu of a stove there is a gas barbecue on the covered lanai. The queen bed sleeps two and there is a twin bed that sleeps one additional. Our road is one of the loveliest in all of Hawaii. Artists frequently come to paint it! Within walking distance is the Hawaii Tropical Botanic Gardens. A short hike from the Botanic Garden down the old donkey trail is Onomea Bay. Fed by a mountain stream, this is a truly beautiful coastal spot with a serene majesty. By car, we are less than 8 miles to the 400+ foot Akaka Falls State Park and equi-distant from Volcano National Park to the south and Waipio Valley to the north.... Just two of many other attractions in the area. Sleeps two in queen bed and 1 additional in a twin bed. Private entry in a stand alone building. (cottage suite) Last minute bookings (under three weeks) MAY be discounted. At our discretion, 2 day or even 1 day stays are sometimes possible if our calendar permits. Rates are not uniform for short term stays. Please request a quote. Touring and adventure suggestions in our area: By car, within 15 minutes, are the magnificent 419 foot high Akaka Falls, the charming village of Honomu; and the nearby city of Hilo, center of commerce on the east slope of Mauna Kea and home to a renowned Hilo Farmers Market open daily. Some other places/activities we recommend you think about during your stay, here on the east side of the Island of Hawaii...... Volcano National Park, Waipaio Tide Pools, Mauna Kea Astronomy visitors center, Imiloa Museum in Hilo; three zipline adventures are nearby; several nearby beach parks... snorkeling, swimmng, surfing and boogie boarding; horseback riding is available literally across the street from us as well as up in Kohala and Waipio Valley; The 13,980 foot summit of Mauna Kea is home to 13 international telescopes. The work done with these telescopes are redefining our understanding of of the universe (a visitor center is open daily at the 9,000 foot level); Alahanui Park - Hot Spring Pond; the Lyman Museum, the Tsunami Museum, the Hilo zoo, Mauna Loa Macadamia Nut farm and factory; and.... Volcano National Park!
Great place, very quiet and romantic
Bruno
2016-12-21T00:00:00Z
Le logement est très agréable dans un environnement magnifique. La végétation est très belle et les repas sur la terrasse du jardin sont inoubliables. L'accès vers Hilo est facile et l'emplacement permet de rayonner facilement dans tout l'est de l'ile.
Loïc
2016-11-28T00:00:00Z
Randall gave my best. In a very large room, I was able to spend relaxing. I was able to talk with the Ipad even if you do not speak much English. Thank you very much. Mahalo
Yukiko
2013-03-24T00:00:00Z
Clean, comfortable, and well-decorated accommodations in a serene setting. Randall was very friendly and gave great recommendations for local food and activities. Will definitely stay again if I get the chance!
Darin
2016-12-06T00:00:00Z
Randall took care of us, wonderfully, at our arrival. His place is adorable. We loved it !
Linda
2015-03-16T00:00:00Z
We had a very lovely stay at Randall and Donna's sanctuary , starting with the welcoming Buddha and several free roaming beautiful hens. The tranquil sounds from the pond is very relaxing and soothing while blending with the distant coqui frogs.
Daniel
2017-01-06T00:00:00Z
What a paradise to stay at! Such a peaceful and quiet place in the midst of a beautiful tropical garden. The whole guest suite is very comfortable and the bathroom is a dream. Donna and Randall were great hosts providing us with everything we could wish for including advices for places to visist. We very much enjoyed this green side of the island and would love to come back one time.
Silvana
2013-09-18T00:00:00Z
The Onomea Guest Suite surpassed our expectations, turning out to be a wonderful experience! The suite was spotlessly clean and super comfortable. The grounds were very well maintained and we enjoyed the immensely peaceful surroundings. Randall was an excellent host, and it was a pleasure to get acquainted with him.
Roshni
2012-05-31T00:00:00Z
ประเภทห้อง
บ้าน/อพาร์ทเมนท์ทั้งหลัง
---
ประเภทที่พัก
อพาร์ทเมนท์
---
พักได้
3
---
ห้องนอน
Pepeekeo, ฮาวาย, สหรัฐอเมริกา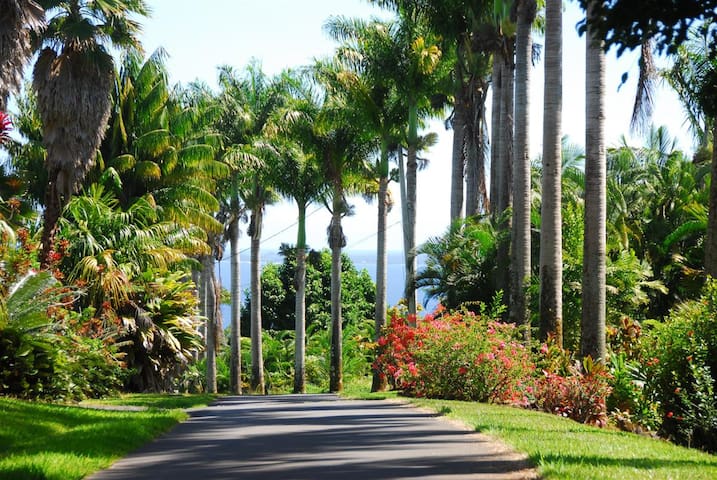 Central to everything. This is more than a "private room". This studio is a new listing on Airbnb. We are renting it as a "private room", as it still could use a few things, such as a kitchen table. Space is very clean, spacious and private. The bed size is a DOUBLE. (TA# (PHONE NUMBER HIDDEN))
Very clean, spacious and private :)
Quiet and safe neighborhood. We love knowing all of our neighbors :)
私たちは、レンタカーで訪れました。チェックインの時間が遅かったため、辺りが暗くて家を探すのに少し苦労しました。 明るい時間にチェックインすることをオススメします! 部屋は凄く綺麗で、広くて、ベットも寝心地が良かったです:-) 最高です!
Riho
2017-03-18T00:00:00Z
The studio was perfect and Michele was a great host.
Alexandria
2017-03-12T00:00:00Z
The room is quite spacious. Everything is clean and seems new. The bed was super comfortable. There was also a tablet that we used to play Christmas music while getting ready. :)
Colin
2016-12-18T00:00:00Z
Spacious n very clean n tidy
Suzi
2017-01-28T00:00:00Z
The studio is more beautiful in person, well equipped for your cooking needs, very comfortable bed, free from outside critters, and close to town. I traveled alone and felt very safe. I recommend staying here :-)
Falon
2016-12-19T00:00:00Z
The unit is exactly as described and shown in pictures. It is a nicely renovated, in-law style suite and was perfect for our last night in Hilo. It is a short drive from the Hilo airport and our host Michele was very accommodating.
Sam
2017-03-25T00:00:00Z
Thank you Michelle
Jessica
2017-03-27T00:00:00Z
Wonderful host, wonderful place! You have an entire large room incl. a fully enquipped kitchen + personal bath room to yourself. All very clean, very quiet residential neighborhood. Can totally recommond it to anyone!
Moritz
2016-11-12T00:00:00Z
ประเภทห้อง
ห้องส่วนตัว
---
ประเภทที่พัก
อพาร์ทเมนท์
---
พักได้
2
---
ห้องนอน
ฮิโล, ฮาวาย, สหรัฐอเมริกา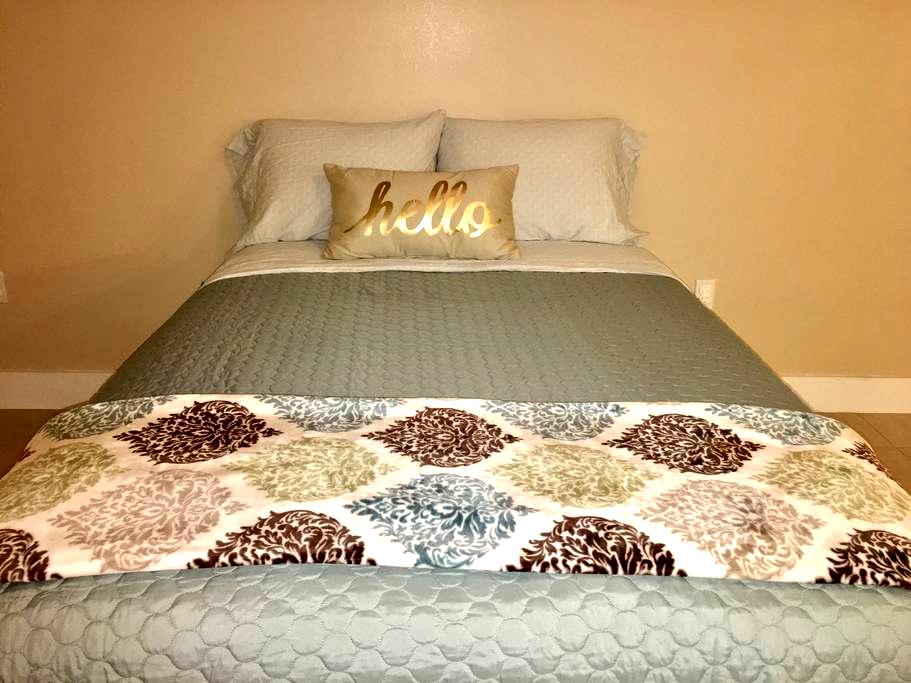 MAHANA HOUSE Country Inn features purpose suites with, ensuite bath, and kitchen facilities in the suites. Enjoy sweeping ocean views on your private lanais in a quiet rural setting
OPENING SPECIAL RATES FOR A LIMITED TIME! See our other listings for 3 additional suites. Welcome to Mahana House Country Inn. Newly opened fall 2014, MAHANA HOUSE features purpose built suites with KING sized SLEEP NUMBER beds, ensuite bath, and kitchen facilities. Our property is legal and licensed by the State of Hawaii. Our family suite offers all of the amenities of our other listings, PLUS an additional adjoining bedroom with 2 twin beds and an additional full bathroom. The second bedroom does not have a private lanai or entrance and is accessed through the first bedroom/lanai. Enjoy sweeping ocean views on your private lanai at the end of a quiet country road. Relax as you walk through the orchards and our small 'BAMBOO FOREST'. A great location to explore the East side of the Big Island of Hawaii from WAIMEA TO VOLCANO Explore Hakalau Bay, Laupahoehoe, ziplines, and amazing botanical gardens within a 10 minute drive. Spend time in Old Hilo Town, exploring a more authentic side of Hawaii - don't forget to go to Big Island Candies. About an hour from Waimea with more great shopping, or to Pahoa/Volcano park where you can see the new lava flows! Ask about itineraries, restaurants, attractions and beaches and we will help you make the most of every day! We currently have a 3 night minimum, as we recommend at least 3 nights to be able to explore the east side of the island. With attractions including, Waipio valley, Honoka'a town, Kalopa state park, Laupahoehoe, Akaka falls, Kolekole beach park, the four mile scenic route, the tropical botanical gardens, Liliuokalani Park and Gardens, Richardson's beach park, Pahoa, Kalapana, and the amazing Volcano National park, just to name a few the east side of Hawaii offers fantastic adventures! Or just recharge on your private lanai! Laundry room with all supplies is available for our guests. In addition to all suites having private lanais, guests have use of our large common lanai, great room and full kitchen. Aloha, Alison and Randy Hawaii TA and GET tax id W(PHONE NUMBER HIDDEN)
ประเภทห้อง
บ้าน/อพาร์ทเมนท์ทั้งหลัง
---
ประเภทที่พัก
อพาร์ทเมนท์
---
พักได้
2
---
ห้องนอน
Hakalau, ฮาวาย, สหรัฐอเมริกา
You'll love my place because of the Local Flavor! Hilo locals live a more colorful life than the resorts. This charming little space is located in an old plantation-era house, with all the neighborhood quirks of local life: chickens, geckos, and pidgin-speaking neighbors! This is real Hawaii life. :) Conveniently located 4 mi from airport, 5 from black sand beach, and walking distance to farmer's market and shops. Check in can be flexible, but let me know if you'll be earlier than 10.
DIY (cook it yourself!) Breakfast of fresh fruit, oatmeal, rice, pancakes, eggs, and SPAM! is always available to you. So Ono! The perks of this home are that it is clean, cozy, recently updated! Almost always a delightful breeze comes through the spacious yard into the house, and we stay cooler than our neighbors on those hot Hawaii days. You may notice that this downstairs apartment is, well, charming, yet irregular! The truth is that this space used to be a machinist's workshop! Over the past year, it has been transformed into the cute, clean, quirky home that it is now. (For every odd detail, there are about 50 others that have been taken care of!) Like the town, this apartment is a DIY masterpiece of using what is available, and making it into something with character.
Sometimes you have to look a little carefully to see the beauty in this neighborhood. Hilo is predominantly made of working-class families. You'll see a lot of love, but as I'm sure you'll notice from the neighboring houses, there isn't a lot of money for maintenance. I hope you'll see the beauty in the family-focused efforts rather than material efforts.
Stephanie's place is absolutely wonderful. I didn't get to meet her during this stay because she was traveling herself, but she made sure to have two kind friends greet me and they offered so many wonderful suggestions for my monthlong adventure on the Big Island. And snuggle sessions with Esma (Steph's loveable fur ball) were the absolute best. Plus, the location can't be beat. Close to restaurants, shops, farmers market, and just about anything else you could need or want. If you want to live like a local, Steph's place is where it's at. Mahalo Stephanie!
Anielle
2017-04-01T00:00:00Z
Awesome place - super cute and clean. Steph is very friendly and accommodating and responds quickly to messages. Highly recommended!
Sara
2017-03-22T00:00:00Z
Stephanie was very pleasant and kept the house clean while we were there. The basement was unique and cute. My daughter loved her cat. The neighborhood was average and close to stores. It was an excellent stay for the price!!!
Barbara
2017-01-09T00:00:00Z
Stephanie is very welcoming and kind and her house is just beautiful. I immediately felt at home, slept really well and enjoyed being in this quiet neighbourhood. I would love to stay there again.
Deborah
2016-12-10T00:00:00Z
This was the perfect private room! Such a comfortable bed, plenty of space for belongings, access to the rest of home! Stephanie I s a very kind and generous host! Anyone would be lucky to stay there!
Daniel
2017-03-16T00:00:00Z
A 5 star room in a 5 star home with a 5 star hostess. Everything was easy, from the communication with Stephanie, over the check-in to the stay. I loved the place. Stephanie made me feel welcome and at home, it was rather having a room mate than being in someone else's house. I stayed 5 nights with her and found the location perfect to explore the east side of Big Island, which was just enough time to get a first impression. I would definitely stay with Stephanie again. Hosts like her make Airbnb the experience it should be! Staying with a new friend in a local neighborhood!
Katrin
2017-02-09T00:00:00Z
Stephanie was a great host, her home was very warm in decor and clean!
Jayme-Lynn
2017-03-19T00:00:00Z
Ich bin mehr als begeistert. Stephanie ist eine hervorragende Gastgeberin, die den Aloha-Spirit absolut verkörpert. Sie war sehr kommunikativ - ich habe sie auch mit vielen Fragen gelöchert! - und hilfsbereit. Sie hat tolle Ortskenntnisse und stand immer mit Rat und Tat zur Seite. Die Lage der gemütlichen und heimisch schön eingerichteten Wohnung ist klasse. Sie liegt auf der tropischen Inselseite, der angeblich regenreichsten Stadt der USA. Ausnahmen bestätigen die Regel, in den ersten 4 Tagen hatte ich strahlenden Sonnenschein. Viele Sehenswürdigkeiten befinden sich direkt in oder um Hilo herum und sind schnell mit dem Fahrzeug zu erreichen. Wenn ich wieder nach Hilo komme, auf jeden Fall wieder bei Steph! Besser gehts nicht. Auch die kleine Mitbewohnerin ist supersüß. Mahalo!
Alexander
2016-11-21T00:00:00Z
ประเภทห้อง
ห้องส่วนตัว
---
ประเภทที่พัก
อพาร์ทเมนท์
---
พักได้
3
---
ห้องนอน
ฮิโล, ฮาวาย, สหรัฐอเมริกา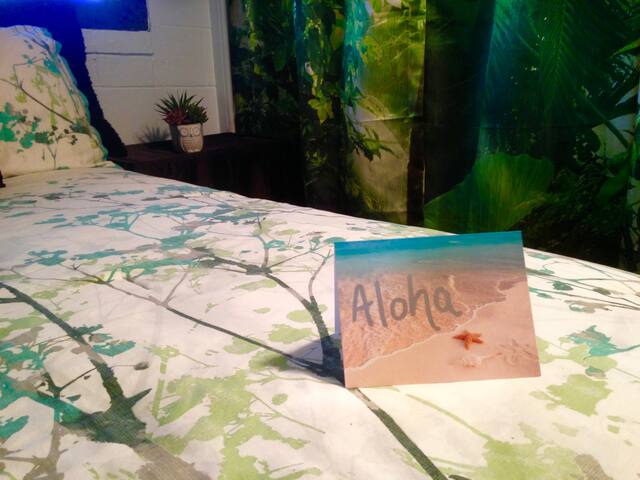 Aloha! Come join us in our jungle sanctuary. *1/4 mile to the beautiful scenic route to Onomea Bay *2.5 miles to the gorgeous Hawaii Tropical Botanical Gardens *2 miles to Hilo's best surf spot - Honoli`i *6 minute drive to Hilo town Up the idyllic Hamakua coast, our home is the perfect spot to set the stage for your Big Island exploration and adventure. With a comfy queen size bed for the adults and a pull out twin bed couch and fold up futons for the kids, we've got you covered!
The Haumea Hale is our in-law suite with a private entrance, a master bedroom, office/sitting room with a pull out twin bed love seat, Free Wi-Fi, full private bathroom with stand up shower, and private kitchenette/dining space with full sink and fridge. The suite is on the lower level of our home and entrance is through your private covered outdoor space overlooking our gorgeous jungle ravine. Start your days enjoying a cup of our delicious complimentary coffee, grown and roasted on a farm just a mile down the road. Bags of coffee are also available for purchase if you find you can't head home without some. The kitchenette is equipped with just microwave, toaster oven, electric kettle, filtered drinking water, full fridge and freezer, regular full coffee maker and french press coffee maker. Good for light meals and snacks and keeping your food fresh. The space has been created to provide maximum privacy for our guests and facilitate a comfortable and homey stay for either a single traveler, couple or a small family. The master bedroom has a queen size tatami bed with organic, handmade futon mattress made locally at the Dragon Mama Futon Shop, and the office loveseat pulls out into a twin size bed. A full size tri-fold sleeping mattress can also be made available if needed. The kitchenette allows you to prepare some of your meals "at home" and the outdoor covered space extends your living area, providing a scenic, comfortable place to gather with your loved ones or curl up with a book while looking out into the jungly paradise of this beautiful island.
The neighborhood is in Papaikou, one of the many tiny towns dotting the Hamakua Coast, this one just 6 miles North of Hilo. Within a mile is an elementary school, access to the Scenic Route, a Church, a Hong Wan Ji, and the coffee farm where we source our local beans.
Caroline and her husband were quite honestly the best hosts I've personally ever had! They were incredibly sweet, their home was absolutely beautiful, and they welcomed us as if we had been old friends. Even their two adorable kitties greeted us and made me feel at home while missing my own cats. I wish we were staying longer in Hilo so that we could spend more time in their home. Such a great find, the house and the hosts!
Kelly
2017-01-21T00:00:00Z
Lovely little place! Clean, bright, beautifully decorated, and so comfy. I wish we had booked a longer stay :( Really convenient location (10 min drive from Hilo). Check-in and check-out & all communication with Caroline was a breeze. Highly recommend!
Jocelyn
2017-01-28T00:00:00Z
Caroline is a top notch host! The place was adorable and the view of the jungle ravine is beautiful. Caroline was friendly and gracious and provided us tons of good recommendations. We felt very welcome!
Kristen
2017-03-29T00:00:00Z
This sweet little apartment is cozy, charming, comfortable, has all the basics you need and is a great value. The location is perfect for doing anything on the Hilo side of the island, it's just north of town and right by the amazing Hawaii Tropical Botanical Garden. We especially loved the covered outdoor living room!
Meiko
2017-04-01T00:00:00Z
Really cute and cozy place to stay. Caroline is really responsive. It was a lovely stay
Pauline
2017-01-17T00:00:00Z
Carolines place was perfect for our east side adventures. Clean and comfortable. Great communication by Caroline. Give it a go if your on that side of the island.
Cat
2017-02-24T00:00:00Z
Excellent cozy, clean and comfortable place. Close enough to Hilo and other scenic attractions. Although we did not meet Caroline, she was very quick with communication and you can tell she has taken time to make the place very satisfying and tidy. We also appreciated the complimentary coffee, teas and toiletries - especially the emphasis on organic/quality food and products! The porch area is also relaxing and has a great jungle view. Mahalo!
Michael
2017-02-15T00:00:00Z
We stayed here the first night of our short vacation. It was a great little place for exploring the northeast coast of the Big Island. The place was nicer than the pictures (which is rare!) and Caroline was a courteous and super easy host.
Nathan
2017-02-25T00:00:00Z
ประเภทห้อง
บ้าน/อพาร์ทเมนท์ทั้งหลัง
---
ประเภทที่พัก
อพาร์ทเมนท์
---
พักได้
3
---
ห้องนอน
Papaikou, ฮาวาย, สหรัฐอเมริกา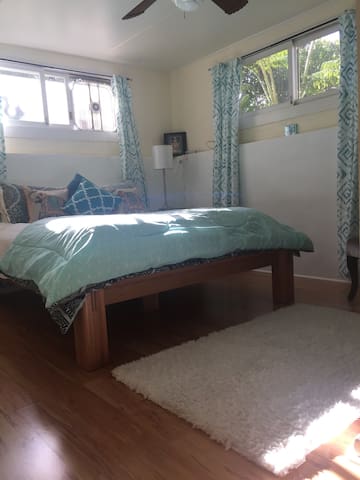 This suite is attached to the main house, but is a separate two room apartment with its own entrance. Our property is simple and comfortable. It is a gem for those who love nature and want to be close to best beaches. Relax and detach for a few days without cable tv. DVD collection available. Please book your airfare and auto rental through our Expedia and Travelocity links and choose 3 bonuses. See Maria and Steve's Hilo Ohana on social media for details. Mahalo!
not suitable for children under 10 clean and comfortable 2 room suite with private entrance private bath 1 block to ocean quiet, park like property with fruit trees off street parking 3 miles from Hilo airport 30 minutes to Volcano National Park Seaside Restaurant 1/2 mile away ocean - 1 block Richardson's Beach - short walk
Quiet, safe and close to beaches Historic Keukaha with natural fish farms (location of the earliest fish farming) Seaside restaurant is 1/2 mile away Excellent homemade ice cream and gelato at Tropical Gardens in Keaukaha
The place was nice, very clean and conveniently located close to the airport and the ocean. Maria welcomed us very warmly and was very kind and accommodating before we checked in.
Santiago
2015-03-03T00:00:00Z
Maria and Steve were great hosts. The accommodations were clean and exactly as described. The setting is close to the airport and city and very convenient yet its far enough off the street to be quiet and peaceful. The bed is large and excellent and the bedroom has lots of flow-through breezyness . Lots of hang-up space and drawers. We enjoyed the outdoor lanai with fridge and microwave and it is well-stocked with utensils. Appreciated also was that they had lots of beach gear. Steve and Maria are very personable yet respected our privacy. I'm already planning my next trip back!
Tom
2015-05-23T00:00:00Z
Arrival couldn't have gone smoother - Maria and Steve were continuously kind, accommodating and checked up on us throughout our stay. Utilize them for suggestions on local food spots and activities around the area. The suite was perfect and exactly what you need while visiting Hawaii. There is no air conditioner, which was not a problem for us as they have a pretty big ceiling fan and portable fan that did the job. Make sure to disconnect from technology for a while and take in the beautiful surroundings. Maria and Steve have a pretty impressive array from fruits and veggies growing on the property. The fresh banana muffins that Maria made were on point!!! Location is very close to both Hilo airport and a very short walk to the beach.
Jessica
2016-05-03T00:00:00Z
Had a great time! Malia was friendly and helpful, and the apartment was comfortable, pleasant, clean and fairly priced.
Gadi & Keren
2014-09-11T00:00:00Z
We stayed with Maria and Steve for 4 nights and had a wonderful time in their apartment. We arrived before check-in, but Maria welcomed us very warmly and we could leave our things without any problems. The apartment is spacious and clean. The kitchen on the lanai was different and very fun! Whenever we met our hosts they were super friendly and helpful. For us Maria and Steve's apartment was the perfect location for our trips around the Big Island. We would definitely stay with them again!
Marius+Louise
2015-05-28T00:00:00Z
This was the perfect suite for our Hilo vacation! Malia & Steve were gracious hosts and we loved meeting their dogs and chickens! The house was in a very convenient location and right across the street from Richardson Beach as well as a quick drive to the Hilo airport, farmer's market, and downtown restaurants/shops - at the same time, the house was nestled in a great secluded driveway with lush tropical plants all around. Malia especially gave us some excellent tips and went above and beyond to make our stay very comfortable. We hope to be back soon!!
Annelise
2014-08-28T00:00:00Z
We loved staying with Maria and Steve! It was in a great, convenient location - close to the beach and 3 miles from the Hilo airport! Although it was close to Hilo, their house is still tucked away enough to make it feel remote. It was very quiet and romantic! The room is exactly as shown and described - but even better! Spacious with everything you may need. The private lanai has a small "kitchenette" - complete with coffee available to make every morning :) Maria was great - she greeted us the first night and offered local advice. She would check in with us daily to make sure we had everything we needed. The home was clean and comfortable. This was our first Airbnb experience it will be hard to beat! It was easy, quiet, everything we expected and more! We definitely will stay again if we are on Big Island! Mahalo!
Ellen
2016-03-28T00:00:00Z
FABULOUS! We stayed for 3 nights and we didn't want to leave. It's such a lovely, private and safe property that is so close to the ocean. The sounds of the birds during the day and frogs at night were just wonderful. Maria made us feel very welcome, giving us a nice tour of the property, teaching us how to harvest papayas, and leaving us beautifully smelling gardenia flowers. The apartment was spacious with a nice outdoor kitchenette. I'd love to stay here again.
Ahmed
2016-06-23T00:00:00Z
ประเภทห้อง
บ้าน/อพาร์ทเมนท์ทั้งหลัง
---
ประเภทที่พัก
อพาร์ทเมนท์
---
พักได้
2
---
ห้องนอน
ฮิโล, ฮาวาย, สหรัฐอเมริกา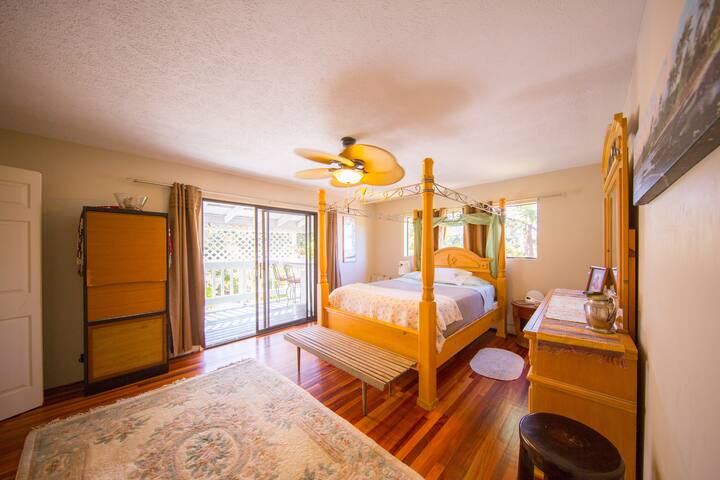 A studio apartment with King Bed, private bathroom & 'Bali Style' outdoor shower, mini fridge with tea/coffee & small sun room. Wi fi signal. Apartment is at street level and right downtown in Hilo - close to restaurants, market etc. Street parking.
Enter from our garden courtyard, and hear the sound of running water from the stone pond beside the entryway. There is plenty of ambience and a feeling of 'sanctuary' here. This apartment is something a little exotic for your visit to Hilo. Charming architectural features include stone and teracotta tile floors, a timber wall and wooden beams. The Lohi features King sized bed. 'Lohi' is the Hawaiian name for the wetland taro that grows in clear running water. This apartment was formerly a 'Poi factory' where the staple taro vegetable was processed and was a much loved icon for Hilo locals for several generations and since the 1980's it was converted to a clothing store where two leading Hawaiian designers got their start. ..Fast forward to 'now' and you will find this is a self contained apartment with a bedroom, a sun room, private bathroom and outdoor shower area. A ceiling fan helps to cool the bedroom and due to the helpful suggestions of our guests we have added extra privacy by hanging a curtain on the rear door. There's no kitchen here but there is a mini fridge and a tea & coffee station. This may work for travelers who don't plan on spending vacation time cooking. Once you step out onto the street, there are plenty of great restaurant choices for breakfast, lunch or dinner within one or two blocks of The Lohi. PLEASE NOTE THAT TO THE TOTAL COST PER NIGHT GUESTS ADD 13.25% TAX WHICH IS PAYABLE UPON ARRIVAL. This apartment is part of a complex of several old homes which have been refurbished and restored and is called 'The Lotus Garden.' On the property is a two bedroom guest cottage called 'The Sugar Shack' and a three bedroom vacation home called 'The Lotus.' Both of these homes are listed with airbnb.com. Our guests continue to let us know that our central location makes their stay with us easy and convenient. You can enjoy the convenience of being in the same block as some great budget cafes and restaurants as well as grocery stores and the Farmer's Market. Travelers on a budget could do without a car here if it's a slow paced vacation they are looking for..Most visitors do hire a car however just so that they can see more of the remote spots on the island. If you are looking for an alternative to the major rental companies, just ask us for a recommendation for someone renting cars .. and thanks for stopping by and reviewing this listing. We hope this is a wonderful vacation for you.
Hilo is a great town to walk about in and explore because of its small size. The heart of Downtown Hilo is only 3 blocks. In this area you will find wonderful restaurants and several great venues for live music. Keawe street is home to a wonderful crepe restaurant, a Kombucha bar, a Kava bar and two great sushi restaurants. There's also a farmer's market on Bayfront and plenty of little stores to browse in. We love the slower pace of life here and the many artists, musicians and eccentrics who call this home.
I am not an AirBnB-Pro, I stood in maybe 10 Appartements. But Megans was really the best. The location right in die middle of Hilo is perfect, the private outdoor shower a lot of fun, and Megan treats her guest with very much Aloha. I hope to come back sometime...
Alex
2015-02-07T00:00:00Z
A very sweet and lovely home at central downtown of hilo. Full of detailed decorations. We enjoyed our stay and recommending it to others!
Wensheng
2016-12-25T00:00:00Z
Accueil très sympathique, chambre propre et très joliment décorée. Localisation parfaite pour une première ou une dernière nuit à Hilo (surtout si besoin de l'accès rapide à l'aéroport ... en voiture) mais très proche de la rue (n'empêche pas dormir). Première expérience réussie
Audrey
2016-11-07T00:00:00Z
My husband and I stayed at the Lohi suite and loved it! The bed is so comfortable, the space is calming, and the outdoor shower is just awesome! I was worried about the sounds at first but the first night I realized how relaxing and soothing the sounds were. The location is awesome. There are a lot of really good places to eat within walking distance and the market is right down the street. Overall it was wonderful, we will be back to stay when we visit the Big Island again!
Domini
2016-09-12T00:00:00Z
It was great!! Cozy quarters and totally zen. Quiet, peaceful, and serene. The outdoor shower is AWESOME. Also, the location is perfection. Super close to great restaurants, coffee shops, and an amazing farmers' market. Beautifully accommodating hosts.
Susan
2014-02-23T00:00:00Z
This was a funky, fun place. A little more basic than the photos suggest, but it had all the necessities, except shampoo and shower gel. Host accommodating.
Carolyn
2014-04-10T00:00:00Z
Very cool stay for the 2 nights we stayed in Hilo, you are right in the downtown area and when you walk out your door the Farmers market is 1 block away, great food in the area and you have to end your night with some Kava right down the block which will make you sleep great. The spot is real clean and love the design and feel, love the hot outdoor shower. Really fortunate to be able to spend time in this place, Host were great and did not have a issue with us arriving late for check in after have a day trip up north, just be courteous and give them a call to let them know your out and exploring and might be checking in late for your first nite. Def recommend this spot if your spending time in downtown Hilo, Thanks again Jasper for all the tips
JOHN
2016-02-09T00:00:00Z
A lovely place in a lovely town. The room matched the pictures, and the location was perfect!
Shaun
2016-02-29T00:00:00Z
ประเภทห้อง
บ้าน/อพาร์ทเมนท์ทั้งหลัง
---
ประเภทที่พัก
อพาร์ทเมนท์
---
พักได้
2
---
ห้องนอน
ฮิโล, ฮาวาย, สหรัฐอเมริกา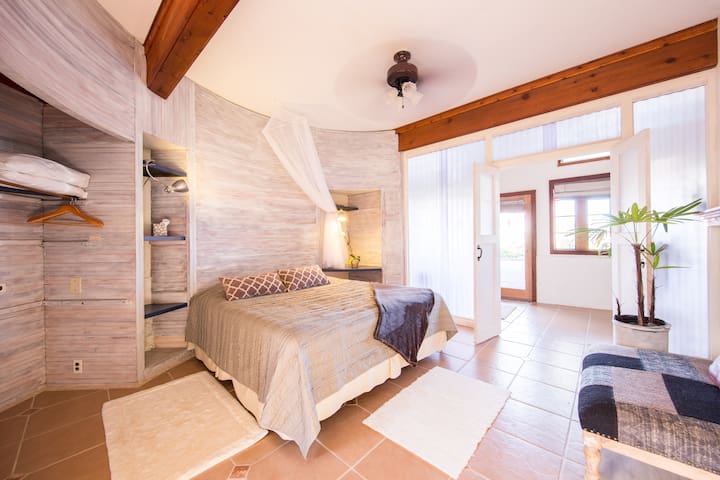 "Open the door and enter your own private paradise: The Ohana Caridad Room. You'll be amazed by the large bedroom and enticed by the comfortable bed. But, the kitchen/dining area will immediately call you in with their spectacular Hawaiian views!"
Aloha and welcome to our private ohana set up high above Hilo Bay, It is truly outdoor living at its best! It overlooks a myriad of big trees and palms, over magnificent views of a rushing river to the beautiful blue ocean. You can watch the cruise ships come and go, whales breaching, and the enchanting sunrise from this fantastic property. It has a real queen bed, plenty of space for a lovely couple. Our place offers a lot of privacy. It has an exclusive one car parking in front of its entry door, a private spacious indoor bathroom and a kitchenette/lanai. The kitchenette has everything you need, from a refrigerator, coffee maker, a toaster, a small hot plate, and a microwave to plenty of dishes. A real queen bed will await you at the end of your day. A comfortable daybed is available for reading, relaxation, and enjoying the wonderful Hawaiian breezes and views. The lanai is fully screened and has a space for simple yoga or meditation. I am in my own separate unit and available if needed. The Ohana Caridad Room is one of our special rental units. It is just minutes from downtown Hilo Hawaii. The Big Island is a must see during your Hawaii vacation plans! The precious town Hilo has all the shopping, restaurants, live music, attractions, and art galleries that you can easily access and enjoy. We provide a light breakfast for your convenience for the first morning. We have great beach parks for swimming and snorkeling, too. Surfing, paddle boarding, and body boarding are only three minutes away! Our private little space feels like a slice of heaven and is so central that you can take day trips to the mountain, hike Volcano National Park or go to Kona or Puna and still sleep peacefully in your home away from home. I welcome you with an open heart and will be graciously waiting your visit. Mahalo, Delia
What a wonderful neighborhood we have waiting for you!: Honoli'i Beach Park: 3 minutes Onomea Bay: 4 min. Hawaii Tropical Botanical Gardens: 5 min. Hilo: 7 min. Lyman Museum 8 min. Rainbow Falls: 10 min. Kolekole Beach Park: 10 min. Coconut Island Park: 11 min. Reeds Bay Beach Park: 11 min. Hilo Hospital: 11 min. Umauma Falls: 13 min. Imiloa Astronomy Center: 13 min. Akaka Falls State Park: 16 min. Hilo International Airport: 16 min. Prince Kuhio Plaza: 16 min. Richardson Beach Park (and others): 18 min. Mauna Kea Visitor Information Center: 55 min. Volcanoes National Park: 59 min. Kona International Airport: 1 hr. 40 min. ...just to name a few.
The house is located at the north of hill, great location actually. Drive to Hilo only needs 8-10mins. The room has the individual bathroom, and balcony which faces the sea. Delia is a great host, she kept contacting me before I arrived to make sure I will hit the right place. Highly recommend this in Hilo!
Kiki
2016-02-15T00:00:00Z
Delia was very welcoming and friendly to us and we stayed three nights here. The bed was comfortable and room beautifully decorated. The lanai has a functional kitchenette with the basics kindly supplied. Delia has thoughtfully added some extra touches to the kitchen supplies that made our stay easier and special. It was lovely to cook our meals and look out at the stunning veiw of the jungle, river and ocean! The lanai also provides areas/sofa-beds to relax and admire the view and listen sound of the river and birds. The pristine bathroom has a good hot shower. It is only a short distance out of Hilo. We had a memorable stay, and I my only wish is that we could of stayed longer!
Megan
2016-03-20T00:00:00Z
Delia's place is just like the pictures show: a smooth combination of privacy and the intimacy with nature. Delia made sure that we got what we needed and respected our need for privacy. This is a lovely place to stay with a lovely lady to take care of you. Although one might want to be prepared for the mosquitos-they can be really annoying.
Xin
2015-03-21T00:00:00Z
Great place to be at when you are visiting east coast of big island Hawaii! We definitely got more than we asked for - private room, beautiful lanai overlooking a lush forest and running stream, private kitchen and nice bathroom. We couldn't ask for anything more to end off our vacation.
Raymond
2015-05-25T00:00:00Z
Delia's place is not too far outside of Hilo, just along the highway with a bit of a head start to Akaka Falls, which was perfect for us. Despite our late arrival (and some nasty weather) Delia came out to give me a very friendly welcome and tour. The place is lovely, with a cozy lanai for relaxing, and equipped with a full kitchen. We only wish we had more time and better weather so we could enjoy that view!
Justin
2017-01-24T00:00:00Z
Delia made us feel so welcome and she anticipated all out needs. The descriptions and amenities are exactly as she stated. The location is ideal. Very close to downtown Hilo but far enough away for some peace and quite. This is a little bit of home away from home. After long days of site seeing and the bustle of wedding plans, it was so nice to come home to tranquil location. The view is amazing and very romantic.
Adela Christine
2016-06-08T00:00:00Z
We had a wonderful time staying in Delia's place. The unit was very nice. Loved the little kitchen which we were able to store groceries and cook some small meals. Loved the view out back. Lush forrest and a small waterfall were wonderful to look at during morning breakfast. Bed was comfortable. No a/c but the ceiling had fans that kept us cool when needed. No tv but there was internet. Delia contacted us numerous times to make sure all was well. The unit is just north of Hilo so it is easy to go see things on the east side of the island. All in all a nice stay there. Thanks Delia. She also has two other units to rent so look at those as well.
Scott
2015-03-26T00:00:00Z
Delia is a sweetheart and very friendly! It was a breeze communicating with her before our stay. Plus, she was flexible with our check in time and accommodated a late arrival. The photos of the room and space are accurate. If you book this listing with the right expectations, you'd be blown away. Delia's home is tucked away on a secluded road, 10 minutes away from Hilo. It's not glamorous but it's safe and you get plenty of privacy. The scenery around the property is gorgeous with lush forest and small streams. This also means you will encounter some wildlife (mainly insects and chickens) but they're everywhere in HI. If you're a light sleeper, there might be a pesky rooster that crows early in the morning so bring ear plugs! Overall, the room and bathroom are clean, spacious, and cozy--very classic Hawaiian vibes. The kitchen/lanai is stocked with everything you need, including extra goodies like a hot plate and toaster. You get a parking spot in front of the house as well. The property is also centrally located, close to Hilo and Akaka Falls/Botanical Gardens. This is a quaint and relaxing place to stay!
Judy
2016-02-29T00:00:00Z
ประเภทห้อง
ห้องส่วนตัว
---
ประเภทที่พัก
อพาร์ทเมนท์
---
พักได้
2
---
ห้องนอน
Papaikou, ฮาวาย, สหรัฐอเมริกา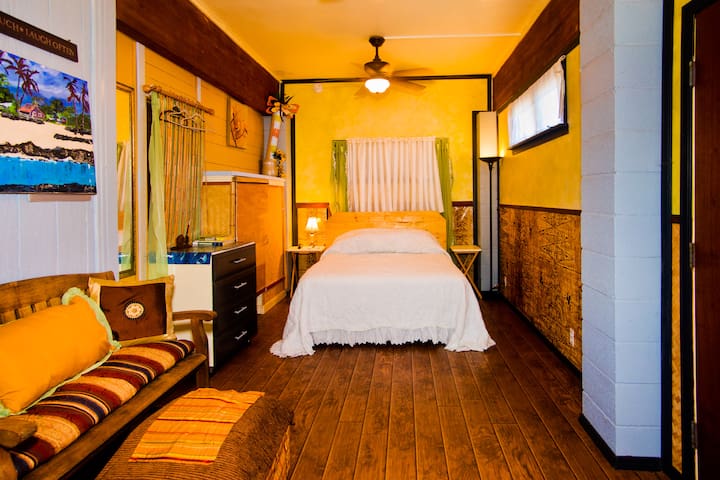 Sip a tropical drink while listening to the lull of breaking waves from the lani. Watch humpback whales breaching in winter Enjoy Hawaiian sunsets and rainbows most days. Easy walking distance to Hawaii's beautiful Liliuokalani Park, & Hilo Bay Cafe
Off street parking. Security cameras and patrol. Memory foam bed. Golf clubs and swimming fins in unit. Golf course across the street. The condo is fully equipped with an oversized fridge/freezer with an icemaker, complete cooking items; microwave, blender, rice cooker, steamer, juicer, two burner hot plate, convection oven, toaster oven, dishes, plates, silverware, glasses, etc.etc. (including champagne glasses) You will want for nothing in the kitchen.... Hilo generally is temperate, (between 67-83 degrees), and the unit is cooled by the ocean breezes and overhead fan and free standing fans.
Within walking distance to a fresh seafood market, upscale Hilo Bay Cafe, and Hawaii's most beautiful park. Close to a large farmer's market. Less than ten minutes to the Hilo International Airport.
He was timely with commutation. Unit was clean, well furnished.
Alan
2016-02-14T00:00:00Z
We absolutely loved Arthur's Ocean front condo.. It is beautifully decorated. The flowers he provided for our arrival were so pretty. He was wonderful at helping us with everything we needed.. Recommended places to eat/things to do. Very fast to respond to everything.. The elevator was down a few times while we were there and he offered to come over and help us carry our luggage up the 5 flights.. It was so amazing to just lay in bed with the ocean right out the window. The breeze was lovely and the view spectacular. The condo had everything we needed and very much enjoyed our time there. The trees on Banyan drive are amazing. So nice to just walk around that area. The LILIUOKA'LANI Gardens is right around the corner and so pretty! I recommend this condo to anyone looking to stay on the Hilo side. Thanks Arthur!!
Tonya
2016-05-29T00:00:00Z
We had such a lovely stay at Arthur's gorgeous condo! Right away Arthur was in touch with us about the details we needed to know upon arriving. He also helped us with adjusting our stay a day longer than we originally planned and was always available to answer questions and had great advice about where to go and what to do. He truly made us feel as if we were staying at a friend or relatives. His condo is immaculate and the view is absolutely incredible! Waking up to that view every morning made our trip all that more special. His attention to detail really shows in the beautiful decor and amenities provided. We look forward to our next trip back!
Katherine
2016-09-20T00:00:00Z
Arthur's place is great! Clean, just as pictured, and with a beautiful view of the water! Comfortable bed, hot shower, multiple outlets and ample space for luggage and things! Great use of a small space and perfect for our stay in Hilo! Arthur is helpful and ensured an easy check in when we arrived, even providing us with papaya and water! Only downside is the broken a-c unit (the main one for the building which will be fixed in the spring). It wasn't too bad with the multiple fans, but when it rained one night it was slightly stuffy. Otherwise, we loved our stay, would definitely stay here again!
Rathna
2016-11-30T00:00:00Z
Arthur was an excellent host - great communication, timely and thorough. The unit itself is exactly as described. However, the apartment building does not exactly inspire a feeling of safety - I would be wary of being in the parking lots or neighbourhood alone at night.
Emily
2016-08-25T00:00:00Z
Beer & fruit in the fridge, fresh flowers and the place was neat as a pin and has a beautiful view. Be aware that the building itself is not kept up.
Joel
2017-01-23T00:00:00Z
Sehr gute Unterkunft. Nur das Gebäude ist ein wenig gewöhnungsbedürftig. Super Bett und das Meeresrauschen mit dem Ausblick sind super.
Jörg
2016-11-21T00:00:00Z
We really enjoyed our stay. The kitchen had everything we needed for our stay, the view was lovely and we left the sliding doors open all night. The breeze was wonderful and the sound of the waves were relaxing. The apartment was very clean and organized and everything had it's place. Arthur was very helpful when we couldn't figure out the tv on one of our nights. It was a great location to travel from and explore the island. Overall, a great experience!
Martha
2016-11-09T00:00:00Z
ประเภทห้อง
บ้าน/อพาร์ทเมนท์ทั้งหลัง
---
ประเภทที่พัก
อพาร์ทเมนท์
---
พักได้
2
---
ห้องนอน
ฮิโล, ฮาวาย, สหรัฐอเมริกา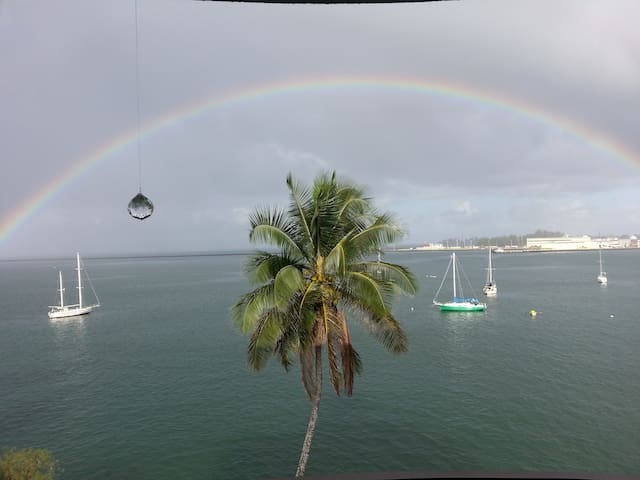 Full charming apt in duplex. Two spacious bedrooms (both with Queen bed) can accommodate up to four adults. Cozy kitchen, large living rm. Extra large bath room with shower and furo tub; separate half-bath/WC. Quiet, private, convenient! Central Hilo location close to everything. Free TV/Wireless. NO CLEANING FEE!
Charming full floor 2 bedroom apartment downstairs in a traditional duplex home. Japanese style bathroom with furo, comfortable living / TV room has a separate desk for quiet work or study space; Washer & Dryer available for your use, outdoor sitting areas in carport and back yard. BBQ available.
This area of Hilo is close to restaurants, shopping, business, government buildings and downtown, yet it is on a quiet sidestreet with little traffic. You can walk, or bicycle to downtown, the bayfront, Coconut Island, Tourist Hotels etc. Adjacent to numerous bus lines, and not far from main bus terminal, farmer's market, banks and other amenities. Easy walk to the University of Hawai'i and to Hawai'i Community College. Also close to all Merrie Monarch performances and activities.
we really enjoy staying at Miguel's place! the location is great, it takes about 45 mins drive to Mauna Kea or the Volcano Park, and very close to downtown Hilo, several markets are just in walking distance! We are attracted by the decoration in the house very much, it shows the hosts' love and passion to a beautiful life. The kitchen and laundry room has everything we need and we enjoyed cooking breakfast there. Overall the room is spacious for a whole family and I do recommend it. Btw the TV has hundreds of channels and my daughter found all her favourite cartoon programs
Frances
2016-04-29T00:00:00Z
Miguel's basement apartment was great! It's clear they have taken the time to fix it up and the care they have put in shows. Having access to laundry was a really nice perk, as well as a full kitchen. Very clean and well-maintained! We didn't get to meet Miguel but he was very responsive to messages and very pleasant. Highly recommended!
Sara
2016-05-05T00:00:00Z
We really enjoyed our stay at Miguel's apartment in Hilo. It is the downstairs of a home in the middle of Hilo and we were so cozy and happy to stay there. The place is cottage-like with eclectic furnishings all over that make it a comfortable, cozy place to be when you're not out seeing the island. We found the kitchen well stocked to cook for ourselves and were within walking distance to Island Naturals grocery store which was perfect preparing meals at home. Miguel was a gracious host, even when I knocked over a decoration while he was showing us the place, and then when I forgot to leave the key when we left... (we backtracked and got it back to him asap!) It was quiet and comfortable and we'd happily stay here again.
Steven
2015-12-06T00:00:00Z
Miguel has good communication and was friendly. I really enjoyed his house. There is a good amount of space downstairs where you stay. I love the decor theme. Neighborhood is quiet and convenient to downtown and plazas.
Becky
2015-12-15T00:00:00Z
Upon arrival Miguel greeted us with a big smile and a welcoming aloha spirit ! He personally showed us around the home and all of the custom amenities. It is obvious that a lot of time and care was spent to insure that guests have all that they may need while staying here. The home was very clean, comfortable, and quiet. We went into town for the evening, and the ease in driving to and from, back home, the soft lights upon return to a safe little neighborhood felt perfect. We would highly recommend this charming home and delightful host to anyone wishing for an easy, thoughtful, and accommodating time while in Hilo.
Peter & TJ
2015-12-11T00:00:00Z
Miguel was very welcoming and the place was very spacious. Miguel definitely put some time and effort into decorating the place and it seemed very well thought out. This is a great place to stay to check out the southeastern part of the island and to take day trips to the volcano and Mauna Kea. Great place in Hilo.
Baki
2016-10-28T00:00:00Z
This is how all Airbnbs should be. Just like staying at uncle's.
tammy
2016-11-02T00:00:00Z
With a car, this place is very convenient to go anywhere in Hilo, Kilauea, and Maunakea. Spacious and unique rooms to explore with fun. Interior ornaments are fantastic. Miguel is a composed nice gentleman.
Katsuaki
2016-03-13T00:00:00Z
ประเภทห้อง
บ้าน/อพาร์ทเมนท์ทั้งหลัง
---
ประเภทที่พัก
อพาร์ทเมนท์
---
พักได้
4
---
ห้องนอน
ฮิโล, ฮาวาย, สหรัฐอเมริกา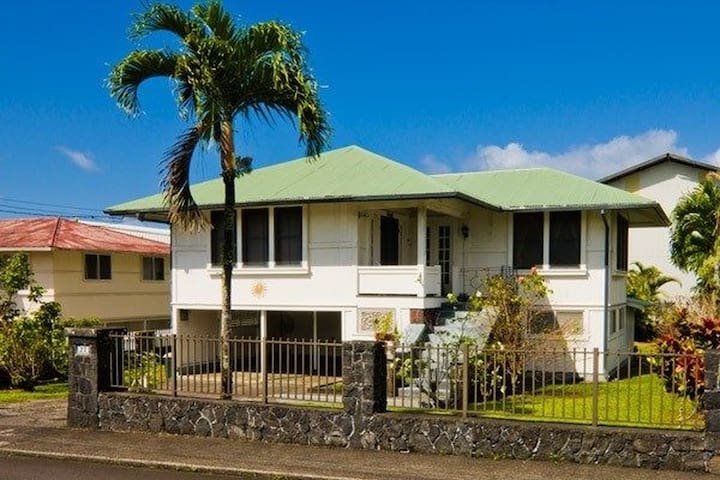 Enjoy a peaceful stay at this elegant apartment with a lovely view of the ocean, and wake up to a 180 degree view of the jungle. Within walking distance of popular beaches, and about four miles from downtown Hilo and five miles from the airport. Has a queen sized bed and a futon couch that can pull out into a bed. Grand piano and artwork for music and art lovers alike.
This is a studio apartment with a bedroom area that can be sectioned into a smaller room by using our shoji screens. The apartment is best for 1 or 2 people who can share the queen sized bed, but visitors can also use the futon couch for a third person.
Very cute studio apartment with beautiful views of the ocean. Great communication and we had a lovely stay. Will be back again!!
Michelle
2016-12-29T00:00:00Z
Shinko's place is great! Right on the ocean, with no noise but the gentle crash of waves to lull you to sleep. Also, very good location for exploring the east side of the BI. Not to far from the volcano, Mauna Kea, some great trails and some fantastic food (the fish restaurant down the street is exceptional). Really loved the place and would recommend to anyone visiting Hilo. Great for couples!
Will
2017-01-03T00:00:00Z
This place is absolutely beautiful. Close to the airport and easy to find and get to. It has a great view and was very clean.
David
2017-03-15T00:00:00Z
Amazing location with a wonderful view, and super easy access to ocean swimming. It felt very private, despite being a condo. So much to love about this home! Shinko and Mari are excellent hosts. Highly recommended!
Danielle
2017-03-19T00:00:00Z
Such a beautiful home! We absolutely loved staying at shinkos apartment. The location was ideally right downtown and the pool was sooo nice for a night swim. Will defiantly stay there next time we're in town! Thanks for everything Shinko!
Tanna
2017-03-23T00:00:00Z
The view is spectacular and it's very quick to drive to many places from here. The turn into the place is easy to miss so don't drive too fast part the beaches...lol.
Christina
2017-03-28T00:00:00Z
ประเภทห้อง
บ้าน/อพาร์ทเมนท์ทั้งหลัง
---
ประเภทที่พัก
อพาร์ทเมนท์
---
พักได้
3
---
ห้องนอน
ฮิโล, ฮาวาย, สหรัฐอเมริกา
A studio apartment, separate from the owners' home, on a 5 acre property on the Hamakua Coast. Tropical fruit tree orchard, gardens, lanai, sea views. A 2014 construction... Japanese minka and kura architecture. Fenced and gated, secure parking.
This is an exceptionally quiet and green location with cool, trade wind breezes. There is access to a lanai with BBQ and deck furnishing. Your studio apartment has a queen bed and a sofa bed suitable for a couple or a couple and 1 child or, other adult. There is a fully supplied kitchen (you bring your own groceries!) and, comfortable furnishings. Guests are supplied with keys by resident owners, an older couple. Beauty and tranquility two blocks off the main road to Hilo on a sparsely resided upon cul-de-sac. Just 7 minutes to town; near the Onomea Botanical Garden, Akaka Falls and charming "plantation villages". Access to the ocean by the nearby Donkey Trail; there is a surfing beach 2 miles away. ~Two night minimum requested. ~Please remove your shoes before entering the house, Hawaiian style. ~No smoking or pets indoors, please. ~Please remember to bring your groceries, briquettes if you plan to BBQ, beverages etc. We are 5 1/2 miles from the nearest store.
Beauty and tranquility two blocks off the main road to Hilo on a sparsely resided upon cul-de-sac. Just 7 minutes to town; near the Onomea Botanical Gardens, Akaka Falls and charming "plantation villages". The closest access to the ocean is by the nearby Donkey Trail off of the Scenic Route, just below us. But, there is a surfing beach 2 miles away, at Honoli'i (turn off of 19 onto the first, oceanside road before the Japanese cemetery en route to Hilo. Turn left after one block and look for where the surfers park their trucks. There is a set of steep stairs down to a rocky beach but well-kept lawns, picnic tables, showers and w.c.'s.
We were so pleasantly surprised when we pulled up to the property in Papaikou. Our stay was for 6 nights. A lush farm with a separate loft like cottage for us above their garage. Very Zen. Thais and Miguel could not be more gracious. Everything in the unit was clean and they thought of little things in the kitchen and the bath to make our stay ever so comfortable. Impressive floral arrangements, from the garden, dotted the living space. We were lulled to sleep by the coqui tree frogs. The 2 ceiling fans made sleeping quite comfortable. Windowed views of the farm and the Bay were exquisite in all 4 directions. Thais took me on a "walkabout" around the grounds and I came back to my kitchen with a basketful of delicious tropical fruits that we savored for breakfast the following morning. Staying with a "local," gave us insights not mentioned in tour books. Don't forget to ask for directions to "Uncle Roberts" on Wednesday evenings!
Janice
2015-08-16T00:00:00Z
What a wonderful place. We felt very comfortable in the house and with the lovely couple Thais & Miguel. They are great hosts! The kids were also very happy there with the animals, and the always open and warm Thais & Miguel. The house is lovely and well furnished. There is a big garden with a lot of fruits and vegetables to use. There are many things to do around papaikou. We would definitely stay there again.
Matthias
2017-03-10T00:00:00Z
Very peaceful and private stay within an easy drive of Hilo town. The hosts are very communicative and have loads of tips for sightseeing and making the most of your time on the Big Island. The kitchen is well equipped and the space is plenty big enough to relax and spread out in. Great hot water pressure in the shower, too!
Sara
2016-12-15T00:00:00Z
Thais and miguel's house is wonderful and cozy. Someday i 'll go Hilo, I stay Thais's They are very kind and welcome to guest :-)
Lee
2015-12-19T00:00:00Z
Very nice place with a great attention of Thays. She was very kind in suggesting us where to go and what to did.
Ana Paula
2016-03-08T00:00:00Z
Thais is an exemplary AirBnB host. She was responsive, incredibly warm, thoughtful, kind & considerate to us throughout our stay. A couple of days before we landed in Hilo, she wrote & gave us an exhaustive list of places & events to see while we were on the Big Island. Thais & her collection of dogs, ducks & cat were at the gate to give us a warm Aloha welcome upon arrival at her sumptuous estate. The facilities were as good as described & even though we had come in right after a hurricane had just passed by & it was hot & humid, Thais made us feel quite comfortable & things soon cooled down. We were not able to spend much time with Thais & her husband Miguel because they left Hilo the day after we got there on a long-planned trip. But Thais left the wonderful & effervescent Mika-san, her house-sitter with whom we bonded instantly, to look after us. Thais also made sure to send us a text at the end of each day to make sure all was well. We totally loved our time at Thais & Miguel's place. It felt like country living with a view of Hilo Bay in the distance. We returned from our various jaunts around the Island to a great place for quiet meditation & reflection, even though it's only a few minutes from downtown Hilo. We highly recommend Thais & Miguel's place for any one seeking a peaceful accommodation surrounded by lots of green space.
Kunle
2015-09-08T00:00:00Z
Thais and Miguel were wonderful hosts. Although there were some difficulties with the booking, they managed to accommodate us in a very comfortable, cozy atmosphere. We had a great christmas time at their house and it was always nice to have a talk with Thais and Miguel. Mahalo!
Tillmann
2015-12-28T00:00:00Z
This place is pretty big and gorgeous! We had a blast staying there. After a full day of hiking mountains in the rain, this house provided ideal comfort and peace of mind. We had difficulties finding the house using (SENSITIVE CONTENTS HIDDEN) Maps, but the directions Thais and Miguel provided led us straight to it. This is a farm, so be prepared to see animals when you're on the property. The only ones who will come up to you are two very friendly dogs and one cat that likes to jump on the car. This place is also in the jungle, but the geckos keep most of the creepy critters away - we weren't bothered by unwelcome guests inside the house. Thais was very helpful with all our questions, like good spots for sunrise photography or best places to eat around Hilo. We would definitely come back to stay there again if Thais and Miguel would have us!
Yuriy
2015-12-22T00:00:00Z
ประเภทห้อง
บ้าน/อพาร์ทเมนท์ทั้งหลัง
---
ประเภทที่พัก
อพาร์ทเมนท์
---
พักได้
3
---
ห้องนอน
Papaikou, ฮาวาย, สหรัฐอเมริกา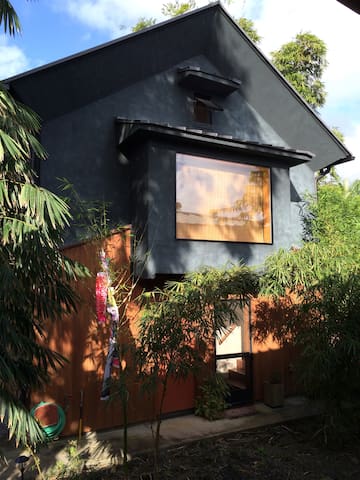 Hakalau - Airbnb
:
เฉลี่ย

4.71

จาก

5

ดาวจาก

1026

รีวิวผู้เข้าพัก
1

–

18

จาก

68 อพาร์ทเมนท์ให้เช่า
กรอกวันที่เพื่อดูการกำหนดราคาเต็ม มีค่าธรรมเนียมเพิ่มเติม อาจมีภาษีเพิ่ม