Beautiful & private West Vancouver house situated between 2 creeks (pass through property) with 2 bedrooms & 2 bathrooms. Easy access to Downtown Vancouver and Whistler.
SPECIAL WEEKLY & MONTHLY RATE - CONTACT US FOR DETAIL. Located in a residential neighborhood in British Properties. This beautifully renovated house is surrounded by beautiful trees and a creek on each side that cross each other in front of the property. There is a designated driveway that will fit 2-3 cars and street parking is super easy and free right in front of the house. Tall trees give you complete privacy for this oasis in the middle of the one of the most sought after neighborhoods in all BC. Upon arriving, you will be greeted by the soothing sound of creeks passing through the property. As you enter the house, you will discover a spacious living room with several couches and a cozy dining area. You can cook in a fully equipped kitchen with stainless steel appliances, dishwasher and a coffeemaker. Enjoy a full size washer and dryer and the comfort of a gas fireplace. This home has 4 bedrooms, but two of the bedrooms are currently being used as storage and there is no guest access. 1 bedroom has a queen bed and the other has two twins or a king size bed. There is also a bed downstairs in our secondary living room. This home has bed for 5 guests. But we can also provide you with air mattress for extra guests All rooms are tastefully furnished and decorated - Hardwood floor throughout. Free WiFi and cable TV. A large private patio in the back of the house offers an area perfect for relaxing after a long day in the City. This exquisite house is perfect for tranquility and privacy with an ideal location super convenient, providing easy access to all that Vancouver has to offer. A short trail will take you to Grouse Mountain where you can enjoy British Columbia's beautiful nature. A quick drive will land you to Park Royal Shopping Center and Park Royal Village. A 5 min drive will take you to Capilano Suspension Bridge and 15 min drive will take you to downtown Vancouver. Horseshoe Bay is 20 mins drive and you can take the ferry to Bowen Island and Nanaimo. Whistler is also a 90 minute drive through Sea to Sky highway with many attractions on the way. We can provide you with more tourist attractions upon your arrival. PLEASE CONTACT US FOR DISCOUNTED WEEKLY PRICE!
British Properties is one of the most sought after neighborhoods in BC. You're just minutes away from all the action: Grouse Mountain, Capilano Suspension Bridge, Mount Seymour, Cypress Mountain, Horseshoe Bay, Downtown Vancouver, Deep Cove, and Whistler.
A great family getaway in a tranquil serene quiet neighborhood of west Vancouver. Home has everything you need to feel at home. Would highly recommend this home!
Ben
2016-10-10T00:00:00Z
ประเภทห้อง
บ้าน/อพาร์ทเมนท์ทั้งหลัง
---
ประเภทที่พัก
บ้าน
---
พักได้
5
---
ห้องนอน
เวสต์ แวนคูเวอร์, บริติชโคลัมเบีย, แคนาดา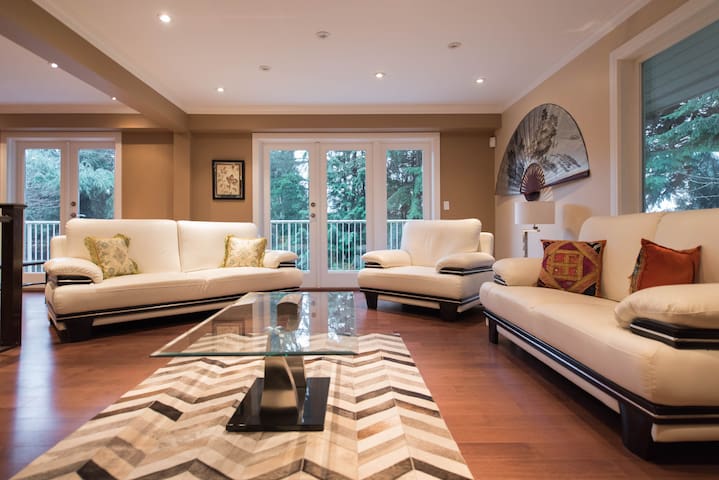 Dieses fabelhafte Aussicht, neu moderne 1-Zimmer-Suite sonnigen auf die North Shore Mountains renoviert ist nur wenige Minuten zu den öffentlichen Verkehrsmitteln, Einkaufsmöglichkeiten und bietet eine große Auswahl an Freizeitmöglichkeiten. Wenn Sie die Ruhe und die Natur und unmittelbaren Zugang zur Stadt .... Minuten Grouse Mountain, Wanderwegen, Erholungszentren, Einkaufszentrum, Einrichtungen und Bibliotheken und 1 Block zu unserer lokalen Gemeinschaft Park. Dieses Haus bietet Komfort und Stil mit er offenem Konzept Grundriss ist.
Diese fabelhafte Ansicht neu moderne 1-Zimmer-Suite renoviert mit offenem Konzept und Westen ausgerichteten Fenster und Glastüren französisch lassen SieFormal eine süße sonnige Basis für Vancouver zu erkunden und darüber hinaus.
1 Minute vom Busverkehr in North Vancouver und in die Stadt, ist diese Unterkunft komfortabel und ruhig. Sie sind nur wenige Minuten zu tief Waldwegen doch nur wenige Minuten von den Geschäften, Freizeiteinrichtungen, unsere lokalen Skiberg und vieles mehr.
ประเภทห้อง
บ้าน/อพาร์ทเมนท์ทั้งหลัง
---
ประเภทที่พัก
บ้าน
---
พักได้
4
---
ห้องนอน
นอร์ทแวนคูเวอร์, บริติชโคลัมเบีย, แคนาดา
Hi Sid and his family were great hosts. The days that we stayed at their comfortable and beautiful house were the best holidays that we had. When we reached their house every thing was ready and we ejoyed our stay at this beautiful house in a beautiful location.
ZahraDana
2015-09-14T00:00:00Z
The place was extremely clean, great value and layout. The appliances were all new and top quality. Definitely challenges in regards to basement suite noise from foot traffic, music and piano playing. If this isn't an issue then this place is worth your time.
Atalanta
2016-12-09T00:00:00Z
Very nice owners. Tidy apartment. Small beds
Matt
2016-05-28T00:00:00Z
The host canceled this reservation 46 days before arrival. This is an automated posting.
Bruna
2015-11-22T00:00:00Z
This is a perfect location for Grouse Mountain (a 5 minute walk) and all other areas of Vancouver. It is a very well equipped apartment in a quiet residential neighborhood. As it is the basement of the house owned and occupied by the host there was some 'normal' noise from upstairs however this was to be expected and did not bother us at all. Overall a beautiful place, highly recommended.
Pete
2017-02-20T00:00:00Z
The host canceled this reservation 70 days before arrival. This is an automated posting.
Sharon
2015-11-23T00:00:00Z
Sids house was modern, clean and situated in a beautiful area close to grouse mountain. I would recommend it to anyone and would like to thank Sid for the great experience once again!
Mark
2016-09-28T00:00:00Z
My family and I had a great stay at Sid's place. The apartment was super clean and we had everything we needed. Every time I contacted Sid he responded very quickly. I can totally recommend his accommodation.
Jenny
2016-10-13T00:00:00Z
ประเภทห้อง
บ้าน/อพาร์ทเมนท์ทั้งหลัง
---
ประเภทที่พัก
บ้าน
---
พักได้
2
---
ห้องนอน
นอร์ทแวนคูเวอร์, บริติชโคลัมเบีย, แคนาดา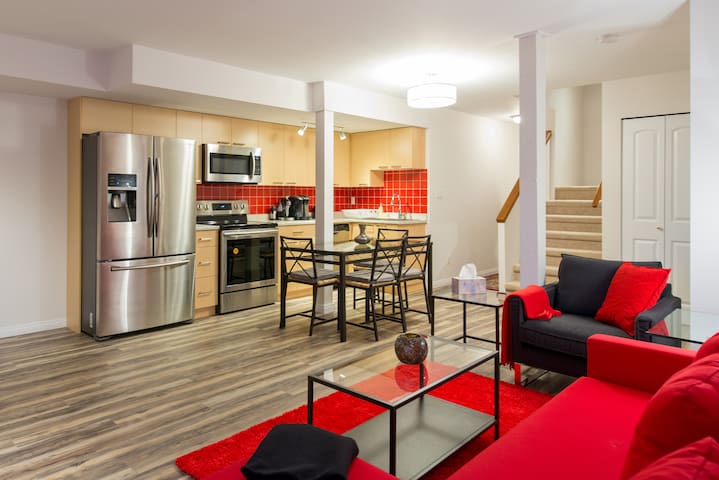 Mi lugar está cerca de muchas de las atracciones de Vancouver como: Grouse Mountain, Cleveland Dam, Capilano Suspension Bridge, Stanley Park y está a unos 17 minutos del centro. Te encantará la ubicación, el barrio seguro, la privacidad, en un callejón sin salida, rodeado de árboles altos, el enorme patio, la exposición al sol. Perfecto para aquellos que les gusta estar cerca del centro, pero disfrutar del esquí / embarque, senderismo, ciclismo y paseos por la naturaleza. Bueno para parejas, aventureros individuales, familias con niños y grupos grandes.
We had a great stay at Jay's place in North Vancouver. The house is exactly as advertised....clean, simple, and not far from the city. Downtown Vancouver is an easy 15 minute drive by car and you are close to many outdoor adventures/hiking trails as well. The neighborhood is quiet and seemed very safe. Jay was great in his communication with us, the house had everything we needed, and our stay was wonderful. 10/10, would recommend!
Brendan
2017-03-12T00:00:00Z
I stayed at Jay's house in North Vancouver and it was everything hat the description and pictures promised it would be. It was near a lot of the major attractions I visited and a quick drive to restaurants, shops and all the necessities. Jay was a very attentive host who checked in regularly to ensure I was comfortable and the house was stocked the house with all the necessities during my trip. Great price for the location which was a beautiful and safe neighborhood. Great place and great host, thank you Jay, I would love to stay again next time I'm in town.
Kendrick
2017-01-02T00:00:00Z
Jay was a nice host and easy to communicate. It was simple to check in and check out though Jay was not there. The location of the place was perfect to go skiing on the Grouse Mt. and it was just 3 min driving to get to the parking lot of the mountain. The neighborhood was very quiet, peaceful and just like a deep forest. My family could take a real break while staying at Jay's house.
Seungho
2017-01-31T00:00:00Z
Jay the owner is an amazing host. Easy to reach easy to communicate with.House located in the beautiful spot. Peaceful and safe. Easy to reach downtown. Hope u enjoy your stay there.
Sheida
2017-03-22T00:00:00Z
Jay was the best host!!! Always in touch and reachable, the is house exactly as in the add. He was nice enough to leave shampoo and soap, dish and laundry detergents. Don't hesitate in staying in this place. In the best location.
Lorena
2016-12-31T00:00:00Z
We had a great stay in Jay's place with some friends. The place was perfect, very clean, spacious and comfortable. Walking distance to a lot of great trails in North Van. Great for a quiet getaway.
Suzie & Sean
2017-02-12T00:00:00Z
Great family place, just a few minutes to Grouse and everything else North Van has to offer.
Cam
2017-02-26T00:00:00Z
Well furnished house in a quiet residential area, but convenient to North Vancouver city areas. Served our purposes very well.
Abdul R.
2017-02-05T00:00:00Z
ประเภทห้อง
บ้าน/อพาร์ทเมนท์ทั้งหลัง
---
ประเภทที่พัก
บ้าน
---
พักได้
6
---
ห้องนอน
นอร์ทแวนคูเวอร์, บริติชโคลัมเบีย, แคนาดา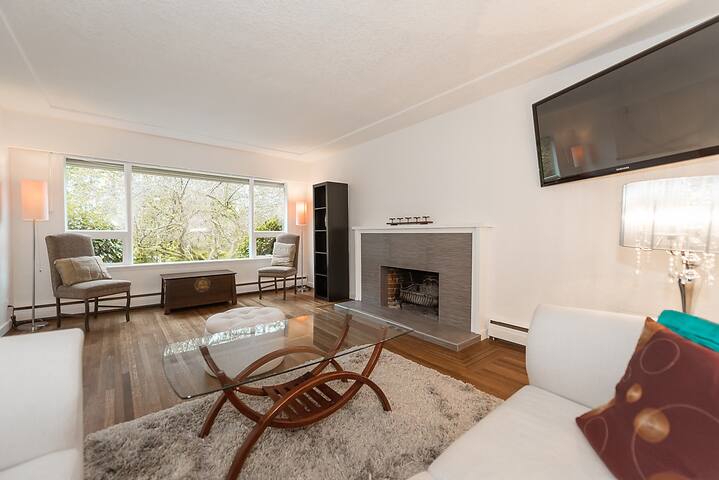 Private 600 Sqft suite located in the British Properties. A quiet neighborhood in West Vancouver surrounded by stunning scenery. The home is situated between two creeks that adjoin in the front of the property. Enjoy walking through the British Properties or to Grouse Mountain. Bus stop less than a minute away. Downtown Vancouver is 20 minutes away and Whistler is 1.5 hours away
The suite is on the lower level of the home with a private entrance. The space is equipped with a kitchen, dining table and gas fireplace. The suite can sleep 3 upon request of a single bed. There is a patio outside the suite that looks over the garden and the creeks. There is a designated driveway for your vehicle.
10-minute drive to Park Royal or 20 Minute Bus ride to enjoy world class shopping. 10-minute drive to the beach. 15-20-minute drive to downtown Vancouver. Local skiing or hiking at Grouse, Cypress and Seymour all within 30-minutes. The world-renowned Whistler mountain is 1.5 hours north of the home.
ประเภทห้อง
บ้าน/อพาร์ทเมนท์ทั้งหลัง
---
ประเภทที่พัก
บ้าน
---
พักได้
3
---
ห้องนอน
เวสต์ แวนคูเวอร์, บริติชโคลัมเบีย, แคนาดา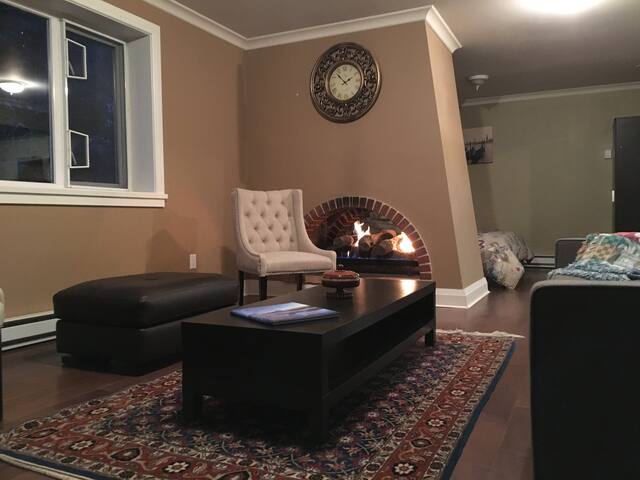 Notre maison moderne et confortable est lumineux et a une énergie zen calme. Il est situé à North Vancouver proche de la nature et des sentiers, mais aussi à distance de marche des magasins, des restaurants et les transports en commun. Downtown Vancouver se trouve à 10 minutes en voiture et Whistler est d'environ 1,5 heures.
Julia was an excellent host by all means First she surprised us with a warming reception basket gift on our arrival . Check inn very and checking out was very smooth a easy . She provided us with excellent booklet guide that's make 20 days vacation ran so quickly to visit all the places and to do all activities she recommended in the area . The house is modern and clean as described and Julia recommend a cleaning service lady which we felt very safe around her when she comes . The house was near all the best natural attractions and trails , grouse mountain 10 mints , capilano suspension bridge even less time , to down town Vancouver 20 mints max , there were a lot of restaurants in our areas . She was super kind to provide us with extra crib for our one year old son and to send someone immediately to install and stairs safety gate for our youngster son upon our last minute request ... And she quickly respond to any questions we had sent although she was in Europe with time difference . You could feel the love and warm in her house , she shared her daughters toys and books which make our daughters excited during our whole stay . Thank you Julia for sharing your lovely house with us and we would definitely come back Emad and family
Emad
2016-08-25T00:00:00Z
ประเภทห้อง
บ้าน/อพาร์ทเมนท์ทั้งหลัง
---
ประเภทที่พัก
บ้าน
---
พักได้
7
---
ห้องนอน
นอร์ทแวนคูเวอร์, บริติชโคลัมเบีย, แคนาดา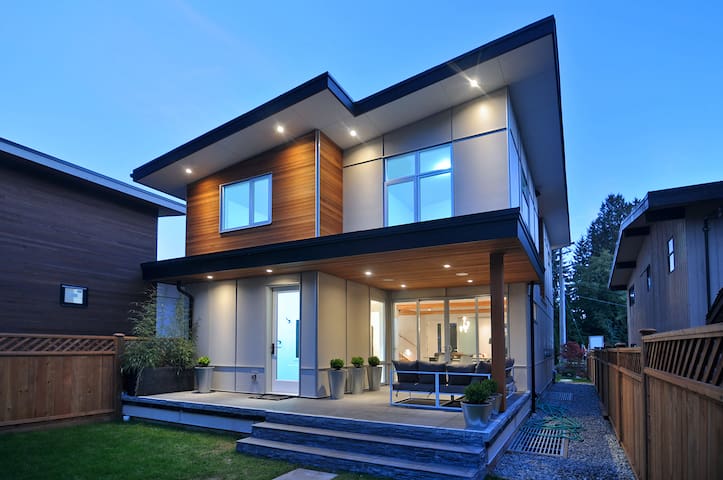 Una sensació-Hotel com a aquesta habitació de North Vancouver privada situada centralment en la nova llar. A prop de totes les muntanyes d'esquí, restaurants, activitats a l'aire lliure, el trànsit i el centre de Vancouver. Equipat amb un llit matrimonial, bany complet, un petit nevera, proveït amb aigua embotellada, ràpid Wi-Fi i televisió per cable HD premium amb HBO i canals de pel·lícules.
Còmode per a 2 persones. Entrant un de privat. Vostè està a prop de tota Vancouver ha d'oferir. muntanyes de la costa nord (Grouse, Seymour, Cypress) Whistler. El centre. Lonsdale menjador i compres. Ensenada de profunditat. Capilano pont penjant. Lonsdale Quay.The Grouse Grind i una altra senderisme. El transport públic. Res està massa lluny :) Amb connexió ràpida. HD TV per cable premium. Petit nevera abastit amb aigua. Bany complet amb banyera i dutxa. Les tovalloles i articles de tocador, assecador, planxa i taula de planxar a petició.
La millor part de la zona és el prop que està a tot. muntanya Grouse, Cypress muntanya, muntanya Seymour, platja Ambleside són tots molt a prop. Fins i tot Whistler no està massa lluny en cotxe :)
The room was very neat and homey as showed in photos. Matt was very hospitable and kept in contact with us while making our way to Vancouver. Beautiful house and family welcoming visitors of the icy north. Highly recommended.
Fatima
2017-01-02T00:00:00Z
Great little place. Super comfy bed and pillows. Enjoyed our stay. Matt and Yuchia were very easy to communicate with and very accommodating.
Michelle
2017-02-23T00:00:00Z
Matt and Yuchia made us feel welcomed in their place as we travelled around Vancouver. They made sure we were stocked with water and other essential necessities and made for a great first stay with airbnb. Thanks!
Isaac and Nathalie
2016-12-31T00:00:00Z
From day 1, the hosts made us feel like we were home. Very cozy and comforting atmosphere, which we loved. They were always in direct reach, had direct communication with them at all times via airbnb messenger. I would recommend this place to anyone that is looking for a stay that is authentic living as a local, safe, and cozy. They were the best!
Don
2016-12-21T00:00:00Z
We stayed one night at Matt's and Yuchia's place. It was the perfect suite for 2. Clean, spacious, a incredibly comfy bed and a nice TV. Communication was excellent and quick. Check-in was super uncomplicated. The seabus that brings u to downtown Vancouver is easy to reach as well. We'd totally recommend this place.
Paul
2017-01-18T00:00:00Z
Matt and Yuchia were warm and welcoming hosts and available during our stay to help us out and answer questions. The place was beautiful, and everything we needed!
Jessica
2017-01-01T00:00:00Z
Perfect place for a short stay. All the right amenities. A clean and comfortable space. Highly recommended.
Markus
2017-04-12T00:00:00Z
Great place to stay!
Robert
2017-02-15T00:00:00Z
ประเภทห้อง
บ้าน/อพาร์ทเมนท์ทั้งหลัง
---
ประเภทที่พัก
บ้าน
---
พักได้
2
---
ห้องนอน
นอร์ทแวนคูเวอร์, บริติชโคลัมเบีย, แคนาดา
Located in West Vancouver, this home has stunning views across the Lions Gate Bridge to the sparkling city lights. It is a stones throw to all the shops at Park Royal and is walking distance to Ambleside Beach. It has 5 bedrooms, 3 bathrooms, and can sleep up to 8 people. Plenty of deck space and city views from both levels!
The host made us feel very welcome! Great communication! Great location!
Coral
2016-07-26T00:00:00Z
Gordon was very responsive. He responded to all questions and requests quickly and very efficiently. The house is located in a very nice area with unparalleled views. It was a wonderful enhancement to our visit to Vancouver.
Bill
2016-08-22T00:00:00Z
Very nice home with lots of space and comfortable beds!
Mike
2016-08-09T00:00:00Z
Gordon was very response. Good views of the bridge and DT from the balcony. loved the place
Amisha
2016-09-06T00:00:00Z
La casa estaba bastante bien: grande, con muchas comodidades, una hermosa vista y localizada en un buen barrio. Gordon estuvo muy atento en hacernos saber sobre imperfecciones de la casa (como lo fue un detalle con las hornillas de la casa), pero siempre estuvo disponible para hacer y solucionar aquello. Así mismo nos hizo recomendaciones sobre a que sitios podíamos ir a esquiar y lugares donde ir de compras. En general, la experiencia fue agradable y lo recomiendo.
Ricardo
2016-12-28T00:00:00Z
House was really nice and spacious. We were provided with toiletries and other amenities. My group enjoyed our stay in Canada and Gordon's place just made it even more relaxing. Would book again in the future if I come back to Vancouver!
Tung
2016-07-05T00:00:00Z
The house has a perfect position for being downtown in few minutes, bike or car. In late evening the landscape is gorgeous, you can see a good view of Vancouver. The house has lots of spaces where relax and enjoy food, tv or music. Perfect!
Lionello
2016-08-29T00:00:00Z
Gordon was a pleasure to deal with. The house was ready when we arrived and Gordon was on hand to explain everything we needed to know about the house and gave us helpful tips on Vancouver. The location of the house was perfect for our needs within easy walking distance to shops and cafes. We couldn't have picked a better place to stay in West Vancouver.
Georgina
2016-07-20T00:00:00Z
ประเภทห้อง
บ้าน/อพาร์ทเมนท์ทั้งหลัง
---
ประเภทที่พัก
บ้าน
---
พักได้
8
---
ห้องนอน
เวสต์ แวนคูเวอร์, บริติชโคลัมเบีย, แคนาดา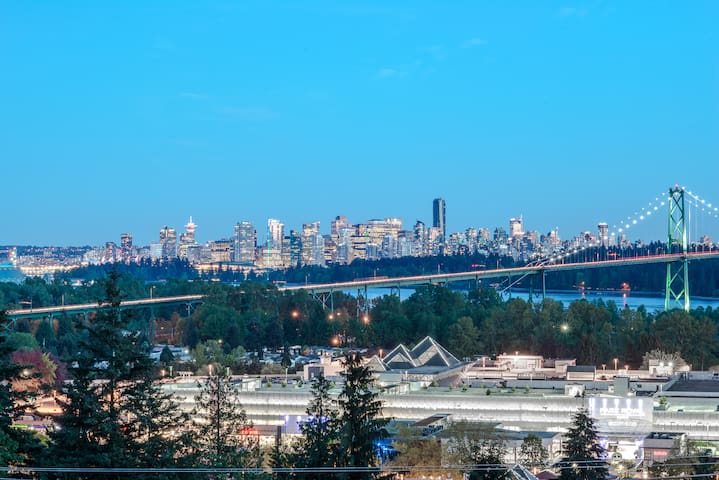 Lage, Lage, Lage! 10 Minuten, um Grouse Mountain, Capilano Suspension Bridge und Stanley Park. 20 Minuten auf der Robson Street, nur 2 Minuten von Highway1 und das Sea to Sky Highway nach Whistler. Sie werden meinen Platz wegen des Charakters und die Lage lieben. Das Haus ist ein Erbe zu Hause, also nicht erwarten, glänzende neue Unterkunft, aber es ist sauber, gemütlich und sehr komfortabel. Nicht durch den niedrigeren Preis meiner Liste abschrecken. Wir genießen Hosting-Gäste, mein Platz ist wirklich ein Schnäppchen!
North Vancouver ist spektakulär, in der Nähe der Berge, das Meer und die Stadt. Es gibt viele Dinge zu tun; Wandern, Skifahren, Radfahren, Kajak fahren, Einkaufen und Theater in der Stadt. Vancouver ist eine kurze Meer Bus / Bus oder entfernt Autofahrt. Die Haltestelle befindet sich auf der Straße, ist das Meer Bus eine 15-minütige Busfahrt entfernt oder eine angenehme 40 Minuten zu Fuß bergab durch Lower Lonsdale Einkaufs- und Restaurantbereich, lokal bekannt als LoLo. Es gibt viele verschiedene Restaurants in der Gegend von großem Wert Sushi zu High-End-Küche. Starbucks, Tim Hortons, Queensdale Markt, (große Delikatessen, Suppe und Sandwiches) 7-Eleven, Subway, Pizza, eine große Pub und Harmony Donuts (einen Besuch wert!) Sind alle 2 Minuten zu Fuß entfernt.
Kathryn was a wonderful host! She not only accommodated me last-minute, but welcomed my dog into her home, too. We are so appreciative and would highly recommend her place for anyone looking for an incredibly cozy bed and warm family environment during their stay.
Heather
2016-10-21T00:00:00Z
Kathryn was a great host, my boyfriend and I felt so welcome in her home. Her daughter Jen was sweet and has a lovely singing voice. Kathryn's home was very clean and tidy and the bed was super comfy. If your planning on making a trip to Vancouver I suggest you stay with Kathryn!
Gulsen
2017-02-23T00:00:00Z
Excellent place to stay! If you are going to rent just a room in an air bnb this place is ideal because you have your own half bathroom in the room. The kitchen is also for use which is nice for making or keeping healthy snacks and keeping your food expenses down. Kathryn also provides Starbucks coffee, granola breakfast and fruit and even made a special trip for half and half for coffee for me. Her and her daughter are very friendly and helpful. Had no problem accessing the shared shower when needed. I'd recommend a rental car for your visit as Vancouver is very big. Parking is street parking, a slight half block walk. Kathryn's is a quick day trip to whistler too- 1.5 hours and beautiful views as well. You can stop halfway at the sea to sky gondola and spend some time on the mountain, hiking, tubing and snowshoeing in the march time frame. Kathryn's place made my trip to Vancouver great and affordable!
alana
2017-04-03T00:00:00Z
Kathryn and her family are lovely hosts, always going the extra mile to make sure I was comfortable and knew how to get around North Vancouver. The room and house were clean and located very near Grouse Mountain and Lynn Canyon. Incredible airbnb experience.
Li Lin
2017-03-02T00:00:00Z
The place was pretty awesome Would love to visit again !
Arsh
2017-03-04T00:00:00Z
Kathryn is an amazing host and her room was great! Claire and I felt so spoiled. The room is exactly as it is described and so nice and cozy. Breakfast and coffee were available every morning and Kathryn offered a lot of great advice on where to go and what to see. Her house is minutes away from the Capilano Suspension Bridge Park and Grouse Mountain and only a little further to Stanley Park, Granville Island and downtown Vancouver. We wished we could have stayed longer and hope to return soon.
Dean
2016-10-31T00:00:00Z
Exellent experience. Kathryn is a wonderful human being, so caring and mind. The room was clean and super comfortable.
Ghazal
2016-10-29T00:00:00Z
Kathryn's house is in from the main street of Londsdale like 1 house in. Which makes it very accessible to travel on bus or taxi. Just around the corner is a organic store. Great Free parking on the street. Her home is very cozy and welcoming. Kathryn is very pleasant. The room was a nice size and it was very quite which was good for me , I have to work when I am there and I need my rest. I would revisit Kathryn's place anytime.
Corinne
2017-02-19T00:00:00Z
ประเภทห้อง
ห้องส่วนตัว
---
ประเภทที่พัก
บ้าน
---
พักได้
2
---
ห้องนอน
นอร์ทแวนคูเวอร์, บริติชโคลัมเบีย, แคนาดา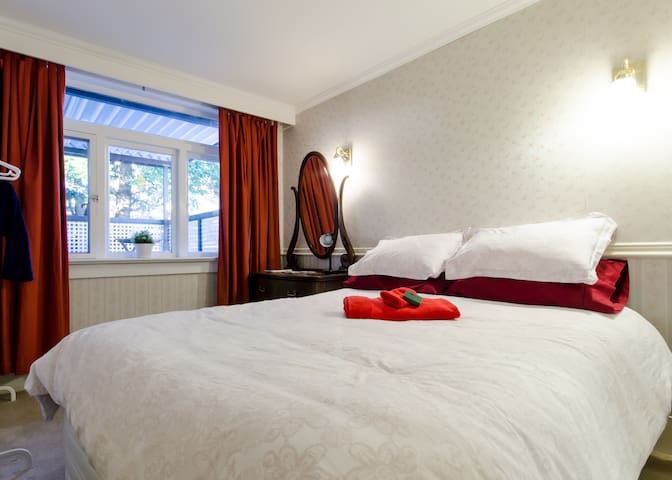 Arquitectos propia casa, lujo y una vista inigualable océanos. A minutos del centro y el esquí locales en las montañas de North Shore y mucho más.
B
Kris
2017-01-08T00:00:00Z
ประเภทห้อง
บ้าน/อพาร์ทเมนท์ทั้งหลัง
---
ประเภทที่พัก
บ้าน
---
พักได้
6
---
ห้องนอน
นอร์ทแวนคูเวอร์, บริติชโคลัมเบีย, แคนาดา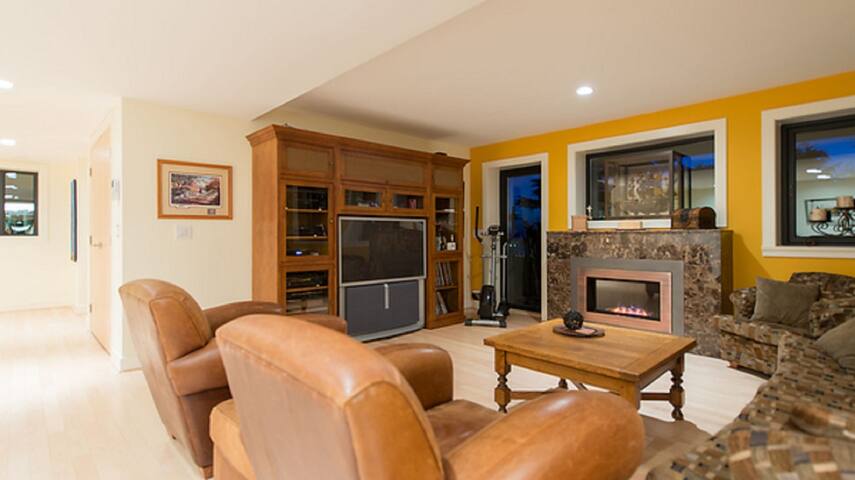 *** Meine 1000 Bewertungen auf mein Profil *** Eine brandneue geräumige Haus, tief in die Natur, und doch ganz in der Nähe der Stadt. Der schönste Teil von North Vancouver, perfekte Lage für die öffentlichen Verkehrsmittel und Outdoor-Aktivitäten. Warnung! Ich habe gerade dieses Haus und verfügt bin Möblierung. Es gibt keine Dekoration, bequeme Couch, usw. fehlen. Hier finden Sie eine einfache Küche haben, ein sehr, sehr sauberes Zimmer und Bad. Aber dann haben Sie mir, eine wunderbare Gastgeber: D ich Sie in irgendeiner Weise helfen, werde ich kann
Ihr Keller-Suite mit eigenem Eingang verfügt über zwei Zimmer mit Queen-Size-Betten, eine komplette Küche, Waschraum und ein sehr sauberes eigenes Bad.
Siavash's home was everything she said it'd be. It was new, clean & close to everything we needed for our trip! Although we weren't able to meet her, still had a great experience!
Kimberly
2016-08-15T00:00:00Z
Very good :)
Severino
2016-09-26T00:00:00Z
This is a lovely newly remodeled space. Still needs some of the comforts that will come as the place is further furnished, but very nice for a place to just spend the night. Looking forward to returning once the living area is furnished and the kitchen equipped for use! Once this is done, this will be a great place to stay for a few days and enjoy the many things to do in Vancouver! Easy access to Hwy 1 and close to the ferry to Vancouver Island. Easy access to what we needed and restaurants close by.
Joan
2016-11-26T00:00:00Z
The space itself is clean. However it is a Basement Suite and not an Entire Home. I had searched Entire Home under AirBnb's search function and this house came up. So I assumed it was the "Entire Home". There are 2 bedrooms and 2 beds and a kitchen area. There is no TV, no couch and no pots or pans in the kitchen,
Tony
2016-08-20T00:00:00Z
Good place and reasonable price.
Vincent
2017-03-27T00:00:00Z
10/10
Raymond
2017-02-14T00:00:00Z
Absolutely Impeccable Unit, worth the stay if you're ever in North Van or surrounding areas.
Ricardo
2017-01-29T00:00:00Z
Exceptionally clean and very comfortable. Beds felt like a high end hotel!
Andrea
2017-02-25T00:00:00Z
ประเภทห้อง
บ้าน/อพาร์ทเมนท์ทั้งหลัง
---
ประเภทที่พัก
บ้าน
---
พักได้
4
---
ห้องนอน
นอร์ทแวนคูเวอร์, บริติชโคลัมเบีย, แคนาดา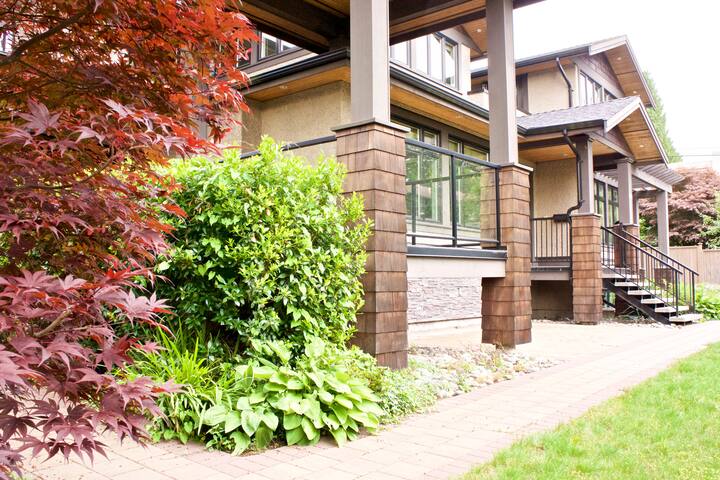 Linda e muito particular! Esta é uma oportunidade fantástica e rara para entrar neste bairro. Este tranquilo quartos casa superior Lonsdale 3 tem uma grande visão abrangente do porto de Vancôver da baixa, Stanley Park, Point Grey e pontos de oeste para Vancouver Island. A casa é uma empresa privada localizada no centro do bloco e acessado por uma longa entrada compartilhada privada, com espaço para a abundância de estacionamento garagem. Esta casa de dois andares possui um conceito aberto, a partir da cozinha através da área de refeições para a sala de família. ANDAR PRINCIPAL: Cozinha com vista para a cidade - 5 queimadores Dacor gás cook-top, Whirlpool forno de parede, microondas, máquina de lavar louça, Samsung congelador-on-the-bottom frigorífico estilo, e uma grande pia dupla - Ao lado da cozinha é uma área de alimentação mesa redonda (acomoda confortavelmente 6) Sala de estar - Lareira a gás aberto - Capacidade para 10 Quarto de família - Inserção da chaminé de gás fechado - 55 TV "Panasonic LCD sala de jantar com vista para a cidade - Acomoda confortavelmente 8 Lavandaria - Tamanho grande - Com carga superior de alta eficiência lavadora e secadora CIMA - 2º ANDAR (3 quartos e 2 banheiros): Um quarto principal - Cama king size - Com vista para a cidade - 4 peças casa de banho (piso de cerâmica aquecida, banheira de imersão, duche separado e vaidade make-up) - armário de roupa - TV LCD 32 "na armadura Sul, de frente deck com mobiliário - cadeiras mesa de 6
Localizado perto: Trilhas para caminhadas
Mike was a very kind, considerate and generous host. And the Harbourview House looks just like described, even better. Nice and clean. The view is great. I highly recommend this house.
Jeremy
2015-09-01T00:00:00Z
ประเภทห้อง
บ้าน/อพาร์ทเมนท์ทั้งหลัง
---
ประเภทที่พัก
บ้าน
---
พักได้
6
---
ห้องนอน
นอร์ทแวนคูเวอร์, บริติชโคลัมเบีย, แคนาดา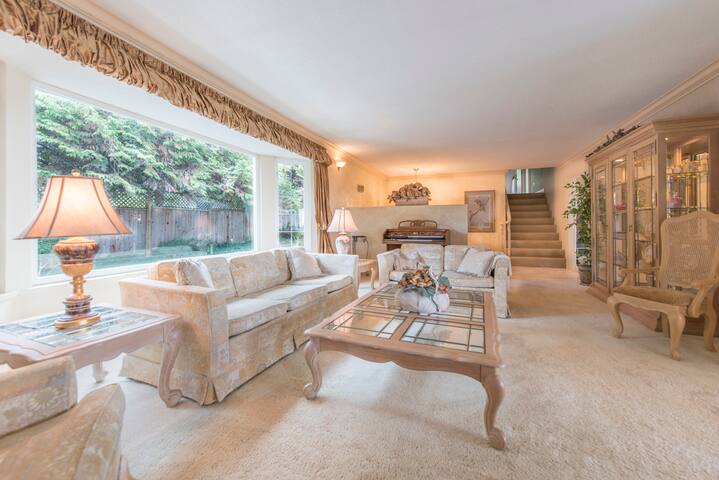 ประเภทห้อง
บ้าน/อพาร์ทเมนท์ทั้งหลัง
---
ประเภทที่พัก
บ้าน
---
พักได้
4
---
ห้องนอน
นอร์ทแวนคูเวอร์, บริติชโคลัมเบีย, แคนาดา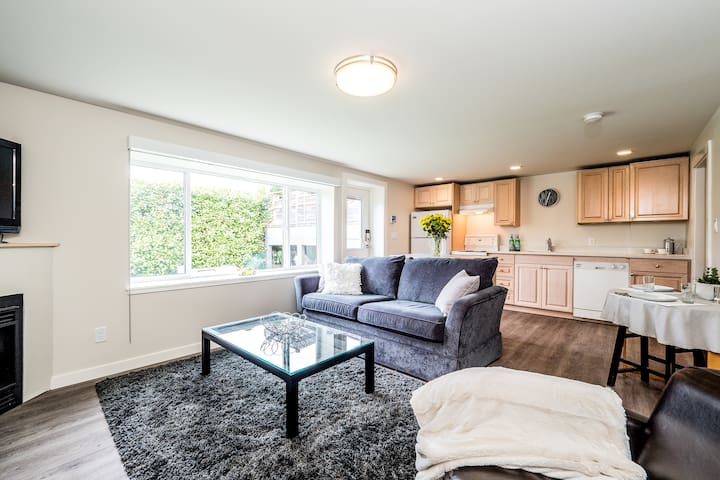 Large furnished suite. Incredible view. Private patio. 5 min to high way 1 , close to beach, hiking trails and ski hills. Family room with sofa bed (can be used as second bedroom). BBQ, fridge, toaster, coffee machine, microwave, laundry, ...
Be ready to have your breath taken away by one of Vancouver's most stunning views of the mountains, Burnaby downtown, Vancouver downtown, and the water. 8 min to Park Royal village and mall also marine drive with more than 30 resturants. Short walk to many walking trails. Short drive to dozens of popular and quite beaches, sea wall, Light House Park with 1200 year old tree, and hundreds of restaurants. One hour from Whistler and 20 minutes to Grouse Mountain. Approximately 20-30 minutes to heart of downtown and 30-40 minutes to Spanish Banks and the University of British Columbia. Wake up to the sun rise peeking from behind Mount Robson in your large bedroom. Drink your first cup of coffee on your private garden overlooking the stunning view, while listening to dozens of birds chippering away. Relax at the end of the day in your own private lavish family room, see the city glitter under your feet, or watch one of hundreds of available movies. Main bedroom includes queen size bed and Egyptian cotton linen, dresser, and chair. Family room and kitchenette includes sectional leather chair ,queen sofa bed, TV and (website hidden) fridge, microwave, coffee maker, toaster oven, and dishes ready. Family room can be used as second bedroom Private covered patio with patio furniture. BBQ with stove top available. Laundry available upon request.
The house is located in the British Properties neighborhood. You will find some of Vancouver's best architecture (and largest homes) here. You could easily spend a few hours driving and walking through the neighbourhood and enjoy the variety of styles and artistry. There are many walking trails within a few blocks from the house. 10 min to Horseshoe bay (Ferry terminal) 20-25 min to center of downtown 20 min to Grouse mountain 20 min to Deep cove
We enjoyed our stay. Very accommodating and the view was exceptional.
Mike
2016-09-21T00:00:00Z
The house is beyond our imagination. In the garden can see the beautiful scenery of Vancouver, especially the night of the harbor, quiet, brilliant, beautiful. Shabnam's family was very hospitable and patient to solve all the problems that we didn't understand as a foreigner. I like garden scenery and the BBQ, let us have a wonderful dinner time. Overall, we had a perfect holiday because of the house. I hope we do not bother you, but also hope that the next time we can continue to live in your house.Thanks very much.
好_我还有梦
2015-09-12T00:00:00Z
We were not able to use the room as we had personal travel conflicts. Shabnam kindly offered to refund the cleaning fee, but after offering did not follow through. Hopefully this will be resolved.
Janessa
2015-10-03T00:00:00Z
This place had incredible views of Vancouver and was located in a very upscale neighborhood. Would absolutely recommend staying here.
Bryant
2015-10-10T00:00:00Z
Staying a weekend in this house was a rejuvenating experience. Watching the sunset was a blessing, it's a short drive into Vancouver, and it has plenty of space to lounge around and relax. I would recommend this to anyone looking for a peaceful getaway.
Jon
2016-01-13T00:00:00Z
Is exactly like posted very beautiful view and nice home.Shabbam was very nice and if needed anything was very nice in helping i would stay again and say to others that it is a very nice place to stay.
Byron
2015-11-25T00:00:00Z
superb view and scenery, awesome place, great location. Would definitely come back!
Soroush
2016-09-07T00:00:00Z
Perfect launching point for the city of Vancouver and hitting the slopes. The view of the city was amazing and peaceful, and the apartment was very comfortable.
William
2016-03-27T00:00:00Z
ประเภทห้อง
บ้าน/อพาร์ทเมนท์ทั้งหลัง
---
ประเภทที่พัก
บ้าน
---
พักได้
4
---
ห้องนอน
เวสต์ แวนคูเวอร์, บริติชโคลัมเบีย, แคนาดา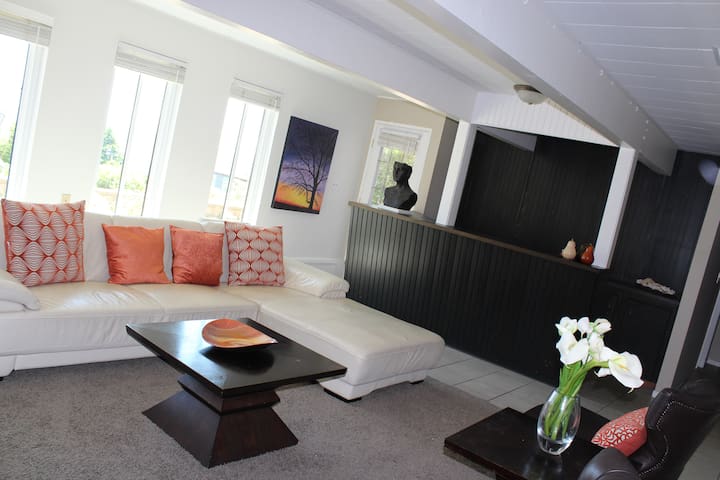 Das Beste aus beiden Welten: in der Natur und die Stadt. Trails, Parks, Geschäfte und Busse sind alle in der zu Fuß zu erreichen. Grouse Mountain und Hängebrücke sind 5 Minuten Fahrt. Fahrt zum Zentrum der Innenstadt ist nur 15 Minuten. Die Suite verfügt über zwei Queen-Size-Betten und zwei zusätzliche Einzel faltbare Betten werden nur dann gewährt werden, wenn Sie mehr als 4 Gäste.
Zwei Schlafzimmer mit Küche und Bad befinden sich im ersten Stock unseres Hauses. (Meine Familie lebt auf dem zweiten und dritten Stock) Ein schöner Bach läuft durch Hinterhof. Perfekte Lage, wenn Sie wollen einige Tage verbrachte zum Entspannen. Wanderwege, sind berühmte Parks rund um Sie durch zu Fuß. Grouse Mountain ist nur 5 Minuten von der Fahrt, und es ist ein idealer Ort für Outdoor-Sport-Liebhaber. -------------------------------- * Schlafzimmer # 1: an Deck und Bach mit Blick auf, eine Queen-Size-Bett, ohne Gegentor / Steppdecke / Kissen / Decke, High-Speed WIFI hat, Schreibtisch, Kleiderschrank mit Kleiderbügeln, Groß Creek Ansicht Deck * Schlafzimmer # 2: an die ganz Straße, hat eine Queen-Size-Bett (extra zwei klappbare Einzelbetten werden nur dann gewährt werden, wenn Sie mehr als 4 Gäste) ohne Gegentor / Steppdecke / Kissen / Decke, High-Speed-WIFI, Apple TV ( Netflix), Sofa, Couchtisch, Schrank mit Kleiderbügeln. * Küche: Kaffeemaschine, Toaster, Einzel E-Herd, Mikrowelle, Kühlschrank, Kochutensilien, Tassen, Weingläser, Teller, Schüsseln, Gabeln, Löffel, Messer, Esstisch mit Stühlen, Babyhochstuhl *** Kaffee, Teebeutel, HOT CHOCOLATE POWDER, Flasche Wasser und Saft sind in der Küche zur Verfügung, HELFEN sIE UND ENGJOY sIE KOSTENLOS! *** * Waschraum: Duschkabine, Handtücher, Shampoo und Conditioner, Body Wash, Handseife, Haartrockner * Parken: Parkplatz befindet sich direkt vor Ihrer Haustür zur Verfügung!
Zentrale Lage für alle Aktivitäten, die Sie wollen! Grouse Mountain: 5 Minuten mit dem Fahren oder 15 Minuten zu Fuß Hängebrücke: 5 Minuten mit dem Fahren oder 15 Minuten zu Fuß SeaBus Bahnhof in der Innenstadt: 13 Minuten mit dem Fahr Bus 246 Anschlag Nächstes Lebensmittelgeschäft, Groß Café und Restaurants: 4 Minuten mit dem Fuß
Selina and her family were wonderful, accommodating hosts! We felt so welcome in their home and really enjoyed our short time in Vancouver. She and her family were great about keeping in contact with us when we had questions and being there for our check-in. We had the entire bottom floor apartment to her house, with our own private balcony overlooking a pretty, wooded creek in her quiet backyard and our own kitchen area. Selina was helpful with giving us tourist recommendations, giving us maps and brochures of things to do around the Vancouver area. Her house was within running distance / a short drive from Grouse Mountain, the Capilano suspension bridges, and a very pretty park with hiking trails. The location was great, just outside the city, enough removed to be a quiet, peaceful stay -- but a short enough drive to the downtown area to have fun going out, eat, shop, and explore the city. Really the best of both worlds: close to nature and the city. I would absolutely stay here again and recommend Selina's Airbnb to anyone visiting Vancouver.
Sarah
2016-06-14T00:00:00Z
She was a great host and caring about my situation With my clients. James
James Zhengmao
2017-01-15T00:00:00Z
房东真的非常nice,我们当天入住的时候,我们三人找不到路了,房东亲自去找我们,而当时已经非常晚了。Selina很热心的为我们介绍周围的景点,超市等,为对本地陌生的我们提供了不小的便利。房子周围没有显眼的建筑,不容易一下找到,需要靠谷歌地图找。房子非常安静整洁,屋后就是一条小溪,早上端着一杯热咖啡坐在溪前木椅上看溪水流淌,甚是惬意。总之这个房子是非常不错的。另外要感谢Selina
舟
2016-07-17T00:00:00Z
My stay there was for the Spartan Race at Mt. Seymour in Vancouver. It was very nice and serene with the back patio opening to the sound of the Brooke. Selina was very accommodating. My favorite was the comfort of the bed.
kelly
2016-06-06T00:00:00Z
Great house, beautiful neighborhood, and very accurate description. Host was Very quick to reply as well. Very very happy! :)
Joshua
2016-06-22T00:00:00Z
très bon accueil, attention de Selina à toutes nos demandes, très bel endroit, merci !
sandrine
2016-08-11T00:00:00Z
My mom and I had a great time in Selina's home. She was very welcoming and was always very prompt with all communication. The rooms were very clean, bright, and relaxing. The neighborhood is nice and quiet, but still close to lots of activities. Selina was also kind enough to let us know that no guests were arriving on our last day, and we didn't need to check out until much later. It was very much appreciated! I would highly recommend staying here, and I will most definitely be booking this place whenever I come back to Vancouver. I wish I could've stayed longer!
Sarah
2016-05-17T00:00:00Z
We had the most relaxing time at Selina's place. The decor is very simple and the colors are soothing. We loved ending our day sitting on the deck listening to the creek and dipping wine. Highly recommended!
Victoria
2016-05-06T00:00:00Z
ประเภทห้อง
บ้าน/อพาร์ทเมนท์ทั้งหลัง
---
ประเภทที่พัก
บ้าน
---
พักได้
6
---
ห้องนอน
นอร์ทแวนคูเวอร์, บริติชโคลัมเบีย, แคนาดา
Mé místo je dobré pro sólové dobrodruhy a obchodní cestující. Vybaveny mini lednicí, mikrovlnnou troubou a kávovarem; místnost má svůj vlastní vchod a je zvlášť v přízemí, která vám umožní přicházet a odcházet, jak je libo.
Great hosts! They were very accommodating and helpful. Would definitely stay here again
Neha
2017-03-16T00:00:00Z
Great experience! Cozy 1 bedroom suite with parking. Host was very hospitable to all needs and had great communication skills.
Andrew
2017-03-26T00:00:00Z
Great location between Grouse Mountain and the city. The room was clean, comfortable and very private. Easy parking right in front. Parneet provided fresh towels, a coffee maker, a tv and wifi service. Although we never met, Parneet was very responsive and answered all my questions very quickly. I would highly recommend Parneet's place if you are planning a visit to Vancouver, a wonderful city.
Jonathan
2017-03-20T00:00:00Z
Nice and cozy
Marc
2017-02-27T00:00:00Z
ประเภทห้อง
ห้องส่วนตัว
---
ประเภทที่พัก
บ้าน
---
พักได้
1
---
ห้องนอน
นอร์ทแวนคูเวอร์, บริติชโคลัมเบีย, แคนาดา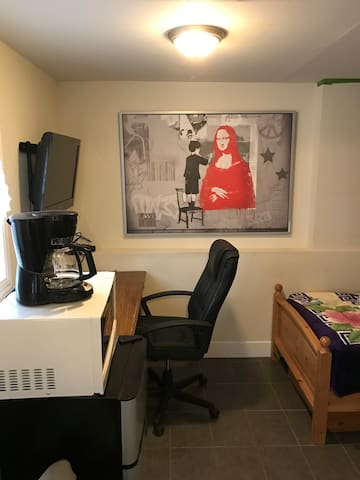 Grande casa de 2 quartos que fica a poucos passos da paragem de autocarro que dá acesso a todas as áreas em North Vancouver (incluindo área de Grouse Mountain ski), Downtown Vancouver, ect. 15 minutos de caminhada famosa trilha Grouse moagem em Grouse Mountain, área da barragem de terra Cleave.
We enjoyed our stay in Mehrane's appartement very much. It was spotless clean, had a well equipped kitchen, it was tastefully decorated and everything was as described and seen on the internet. Mehrane was a very friendly host, had eggs, fruits and cereal for us to use, and offered us a bottle of sparkling wine to celebrate New Year! The appartement is ideally located for trips to Grouse Mountain, we can only recommend it!
Lukas
2016-01-03T00:00:00Z
Thanks for the great hospitality!
ww
2015-12-02T00:00:00Z
What a glorious place. Close to Grouse Grind, Capilano bridge and Cleveland dam. Very quiet place in a quiet neighbourhood. The beds are a bit rickety/noisy, however all amenities you might need were there including washer and dryer. Mehrane was a great host - very organised and pleasant to us. We will certainly be back and can recommend it to anyone travelling to Vancouver!
Christie
2016-07-28T00:00:00Z
The host canceled this reservation 29 days before arrival. This is an automated posting.
Bridget
2016-11-01T00:00:00Z
It was a good place and neighborhood. It is near from Capilano Bridge. The house was very clean and we got all the things that we need. The hostes are really nice people, they are flexible and polite.
Emma
2015-08-11T00:00:00Z
The posting was just like the actual place. Very easy to get to and very close to tourist places without all of the traffic headaches. Walking distance (2km) to Capilano suspension bridge and across the street from 2 other parks. Good location for kids and families. We were traveling with a 2,8 & 12yr old. It was nice to be able to get in/out of Stanley park from the north side near the house without much difficulty. I would recommend this place to stay for a family that wants a little bit of space and peace, but also to be close to some attractions.
Craig
2015-07-31T00:00:00Z
A spacious apartment, very clean and well equiped. Very quiet and within a few minutes on a walking trail. Within 30 minutes in Downtown Vancouver. You can't find a better place if you like the city and the proximity to nature. The hosts are attentative to the welfare of the guests.
Astrid
2016-08-15T00:00:00Z
After our first stay in North-Vancouver we had to come back. We liked it so much there that we decided to spend more time there. And it was a fantastic stay again in North-Vancouver. Mehrane and her husband were very helpful. They wanted us to feel good and they succeeded! Thank you very much!!!
Astrid
2016-09-06T00:00:00Z
ประเภทห้อง
บ้าน/อพาร์ทเมนท์ทั้งหลัง
---
ประเภทที่พัก
บ้าน
---
พักได้
5
---
ห้องนอน
นอร์ทแวนคูเวอร์, บริติชโคลัมเบีย, แคนาดา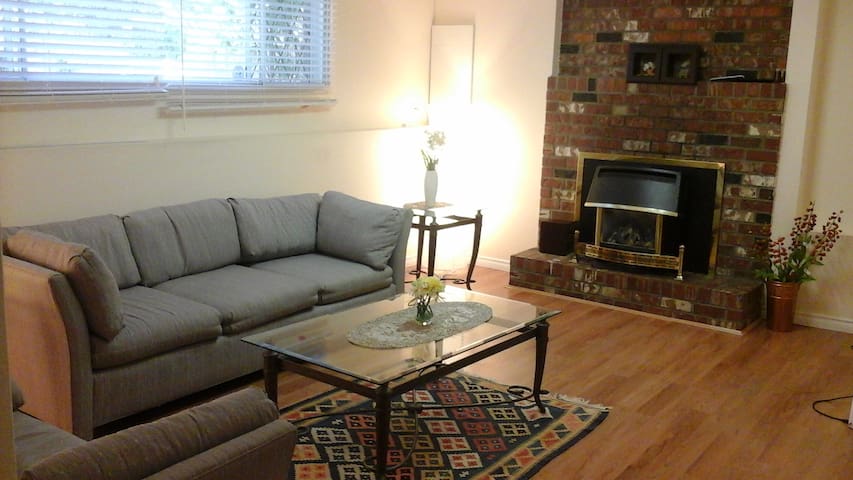 habitación luminosa y privada en una casa grande con impresionantes vistas del bosque. Situado en el corazón de North Vancouver, Grouse Mountain y el río Capilano son pasos. De fácil acceso en transporte público. Sólo un paseo de 10 minutos de Ambleside Beach y 20 minutos al centro de Vancouver en autobús. Aparcamiento delante out disponible. Tenemos un perro lindo y agradable. Un montón de espacio de almacenamiento para bicicletas, tablas de snowboard / motos, herramientas, etc.
Experimentar la verdadera belleza de Vancouver! Con nada más que la naturaleza a su alrededor es fácil conseguir un buen sueño sin el ruido y la contaminación lumínica. ¿Rutas de senderismo? El ciclismo de montaña? Un paseo por el río? Todo lo que tienes que hacer es paso fuera. Esquí o snowboard? montaña del urogallo es literalmente un paseo de 10 minutos o un corto trayecto en autobús. Cypress Mountain es un 20 minutos en coche y siempre estoy conduciendo a Mt. Seymour, por lo que llegar hasta las colinas es fácil. Si también le gusta disfrutar de la vida de la ciudad, hay un autobús que te lleva al centro en 15 minutos.
Tranquilo, seguro y agradable barrio, aparcamiento gratuito en todas partes, calles limpias y un montón de los bosques de todo.
Room, ease to location and location itself, hosts (including the dog!), and house all exactly as stated and fantastic. A very relaxed and chilled vibe - super quiet. Buses to and from the city very close by. Trails and hikes very near by. Very fortunate to have been able to stay here!
Hayley
2016-08-25T00:00:00Z
Unkomplizierter Aufenthalt und in sehr schöner Lage. Ideal um in Nord-Vancouver etwas zu unternehmen.
Alexandra
2016-09-16T00:00:00Z
Nick was a great host. He is very laid back and his roommates were very nice as well. I'm pretty low maintenance, but regardless, he gave me a walk through when I first arrived and allotted me the freedom to make myself comfortable and to come and leave when I needed to.
John
2016-09-29T00:00:00Z
Nick's place is clean and peaceful.
Turkka
2017-03-01T00:00:00Z
This place worked perfectly for my brief stay on a budget, would recommend!
Jessica
2017-03-31T00:00:00Z
Very clean, very quiet rooms and neighborhood. Nick is a very good host. Highly recommended stay.
Leonardo
2017-03-20T00:00:00Z
Cool
J.T.
2017-03-08T00:00:00Z
Due to my flight, I wasn't able to arrive until late at night and Nick was very understanding and accomodating. A very considerate host and I fell in love with his dog. The room was quaint and more than enough for myself traveling solo. Definitely a great experience!
Kat
2017-03-17T00:00:00Z
ประเภทห้อง
ห้องส่วนตัว
---
ประเภทที่พัก
บ้าน
---
พักได้
1
---
ห้องนอน
นอร์ทแวนคูเวอร์, บริติชโคลัมเบีย, แคนาดา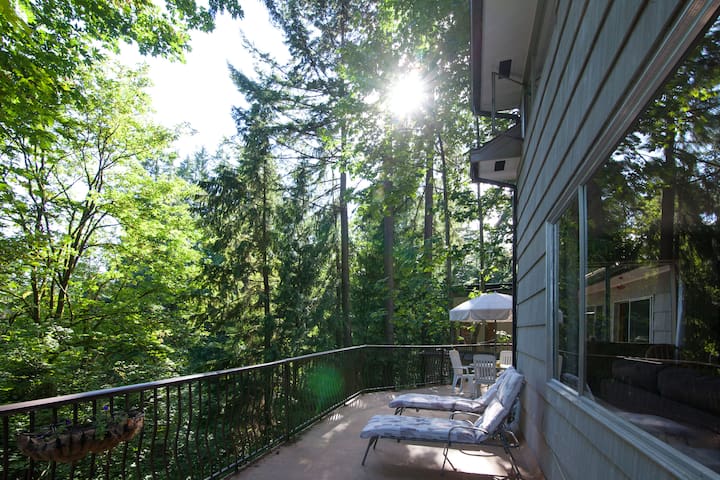 1

–

18

จาก

180 บ้านให้เช่า
กรอกวันที่เพื่อดูการกำหนดราคาเต็ม มีค่าธรรมเนียมเพิ่มเติม อาจมีภาษีเพิ่ม