in the quiet setting of 10 units, beautiful apartment suitable for families. 1° floor, garage, swimming pool and 2 terraces. Kitchen/living room with sofa bed, large double bedroom with terrace and small bedroom with 1 bed. Bathroom with washingmac
Holiday Rental House – 2 Bedrooms, 1 Bathroom, Sleeps 5. In the quiet setting of 10 units, beautiful apartment with pool, suitable for families. 1° floor, garage, swimming pool and 2 terraces. Kitchen/living room with sofa bed, large double bedroom with terrace and small bedroom with 1 bed. Bathroom with washing machine. Supermarket within walking distance. From Manerba you can relaxing days around: Salò, Desenzano, Sirmione. For those travelling as a family you can go to Gardaland, Caneva World, Movieland, Parco Giardino Sigurtà and Cavour water park. For those who prefer to relax, there is an outdoor swimming pool with a constant depth of 140 cm. The Lake with its famous beaches is 3 km.
The position of the apartment is particurary convenient because you can walk 100 mt. and shop at Penny Market.
Silvia è una persona molto disponibile ed è sempre possibile contattarla per ogni problema. La casa è molto accogliente dotata di ogni comodità, piscina compresa. Vicinissimi al supermercato è comodo e veloce fare la spesa, in più la casa è in mezzo tra due paesi vicini molto belli da visitare. Lo consiglierei a tutti
Cecilia
2016-09-01T00:00:00Z
Hallo,wir waren zu viert, zwei grosse und zwei kleine unterwegs und leider nur für zwei Nächte auf der Durchreise. Aber silvia hat uns den Urlaubseinstieg sehr leicht gemacht. Die Wohnung ist schick eingerichtet und es ist alles vorhanden was man so braucht. Und unsere Zwerge waren natürlich am meisten vom grossen Pool begeistert. Die Kommunikation mit silvia funktionierte problemlos und sehr unkompliziert. Wenn wir wieder in der Nähe sind werden wir sicher wieder einen stop einlegen. LG katrin
katrin
2016-06-29T00:00:00Z
Die Wohnung entspricht der Beschreibung. Silvia ist eine sehr nette und hilfsbereite Gastgeberin.
Birgitt
2016-03-26T00:00:00Z
Sylvia was very accommodating with our arrival time. Her apartment is lovely, and is air conditioned. Parking is readily available, and there is a pool shared with just a few homes, and was always empty when we wanted to use it. The apartment has lovely views from the back terrace, although there is also a front terrace too. We would certainly recommend this apartment.
Joe
2016-07-10T00:00:00Z
We spent 5 days in Silvia's lovely apartment. The place is very comfortable, all the utilities you need are available. Thank you Silvia for all your kindness and hospitality!
Joshua
2016-06-06T00:00:00Z
Trotz später Anreise wurden wir freundlich von Silvia, die immer erreichbar war, empfangen. Das Apartment befindet sich direkt hinter einem Einkaufszentrum am Rande von Manerba, deshalb nur mit dem Auto gut erreichbar, ein Parkplatz steht aber zur Verfügung. Die Wohnung ist zweckmäßig eingerichtet, nur WLAN gibt es leider nicht.
Elisabeth
2016-10-08T00:00:00Z
hôte attentionnée et souriante logement bien situé pour rayonner autour du lac certes pas de vue sur ac mais la piscine très appreciable
Helene
2016-09-24T00:00:00Z
Silvia was very nice to us. She helped with everything, and gave us a map to the city. The place was just exactly the same as on the photos. I recommend it very much!
Maja
2016-03-04T00:00:00Z
ประเภทห้อง
บ้าน/อพาร์ทเมนท์ทั้งหลัง
---
ประเภทที่พัก
อพาร์ทเมนท์
---
พักได้
5
---
ห้องนอน
Manerba del Garda, Lombardia, อิตาลี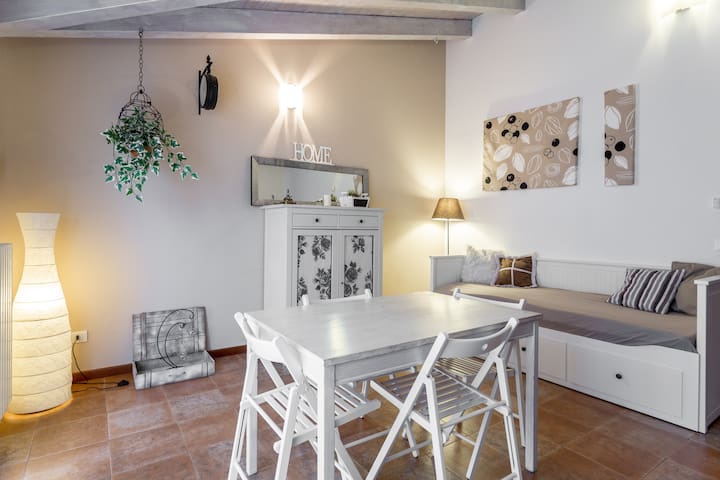 Between Soiano and Polpenazze, just 3,5 km from Manerba beach and 1h 15 from Expo 2015, we rent an elegant villa with two bedrooms and a big dining room. The kitchen is fully equipped, the villa has wify and is in front of a shared big swimming pool
The villa is restructured in an elegant mode. Outdoor : on the front there is a patio in which is possible to have outdoor lunch/dinner, the privacy is ensured through the curtains. In the back a small garden. The shared swimming pool is really magnificent
The Garda lake is perfect for lake activities like swimming, beach, sailing. There are a lot of restaurants nearby and a nice night life with discos, bars and shops opened till late. For lovers of bikes and trail running there is plenty of nice paths
We had a wonderful time at Antonio's apartment. It was very clean and tidy and had everything we needed. The lake is easy and quick to get to by car and the pool is also big and nice to relax. I would definitely like to come again.
Dennis
2015-09-03T00:00:00Z
Antonio made us feel very wellcome with little welcome package and clear instructions. The apartment was well equipped and nicele decorated with enough storing place. The swimming pool and garden were excellent. Apartment patio had a straight view to the pool which is very convinient for families with children. The private carrage under the house kept our car safe and cool. There were variois shops and restaurants within few minutes drive. Truely a five star experience all the way through - Thank you Antonio!
Katri
2016-07-04T00:00:00Z
Nach einer super Kommunikation und Buchung im Vorfeld haben wir Antonio am Haus getroffen. Er war sehr freundlich, hat uns alles gezeigt und keine Frage offen gelassen. Für einen kleinen Snack hat er auch gesorgt! Die Wohnung ist sehr schön eingerichtet und entspricht den gezeigten Fotos. Die Wohnung befindet sich in einem Komplex aus mehreren Häusern mit mehreren Wohnungen-der Komplex liegt etwas entfernt von den nächsten Restaurants,Bars und Einkaufsmöglichkeiten! Der Pool ist groß und war bei unserer Reise nie überfüllt. Antonio war bei weiteren Fragen auch während unseres Aufenthalts immer erreichbar und ansprechbar! Danke dafür!
Johannes
2015-08-24T00:00:00Z
We realy enjoyed our holidays with our two kids at Antonio's place. Really comfortable with everything you need for cooking, laundry, wi-fi... We enjoyed meals on the front patio, enough privacy for us, also with the curtains open. The pool is twice the size of the picture. We had a lot of fun in it, also on the lawn next to the pool. It's nicely situated in a very well-kept and green compound. Although there are about 15 other appartments to share the pool, it was never crowded there. I guess most owners use their place only a few weeks or weekends per year, so it's nothing like a "holiday village" that would be crowded with other tourists. Antonio was very friendly and welcoming, he made sure we had and knew everything we needed for our stay. I would recommend this place to anyone looking for a relaxing vacation close to lake Garda.
Stijn
2015-08-09T00:00:00Z
Unsere Erwartungen an diesen Urlaub und die Unterkunft wurden voll erfüllt. Das Appartment ist sehr schön, die gesamte Anlage sehr gepflegt. Leider waren die Temperaturen nicht mehr so um den schönen Pool ausgiebig nutzen zu können. Antonio und seine Frau haben uns sehr herzlich empfangen. Ein kleines technisches Problem mit dem Warmwasserboiler wurde umgehend behoben, sodass wir und die Kinder nach unserer Ankunft sofort warm duschen konnten. Polpenazze d. G. ist ein sehr schöner Ausgangsort für Wanderungen oder Städtetouren in der Umgebung des Gardasees. So ist z.B. das Castello in Padenghe einen Besuch unbedingt wert. Wir danken Antonio und seiner Frau für die herzliche Gastfreundschaft und kommen bestimmt bald mal wieder (bei höheren sommerlicheren Temperaturen um den Pool richtig zu nutzen). ;)
Holger
2015-10-16T00:00:00Z
Wij verbleven een weekje in het appartement van Antonio. We werden uitstekend door Antonio opgevangen en waren blij (URL HIDDEN) werkelijkheid was mooier dan de foto's doen geloven. Een prachtig appartement met alles er op en er aan in een heerlijke omgeving. Mooi groot (gedeeld) zwembad met bedjes en buitendouches. Door de weeks was er bijna niemand en hoewel het in het weekend wat drukker werd, was het nog steeds prima te doen. Wij komen hier absoluut nog eens terug.
Rene
2016-07-23T00:00:00Z
Nach einer guten Kommunikation mit dem Gastgeber wurden wir von seinem Sohn sehr nett empfangen. Die Wohnung war gemütlich und sehr gut ausgestattet. Wir verbrachten eine sehr angenehme und sehr ruhige Zeit im September. Die Wohnung ,der Pool und die Gartenanlage waren sehr gepflegt, alles entsprach der Beschreibung und der Fotos. Wir können dieses Urlaubsdomizil nur bestens weiterempfehlen.
Michael
2015-09-13T00:00:00Z
The booking process was good and fast. We had a warm welcome by Antonio himself in the house. Antonio realy accompanied us by arriving, being sure everything was OK etc. and supplied some basic food and drinks. The house and equipment were complete. The pool is realy good. And also parking facilities are good, we could park the car right under the appartment, so the car was always cool when driving away.
Maarten
2015-07-02T00:00:00Z
ประเภทห้อง
บ้าน/อพาร์ทเมนท์ทั้งหลัง
---
ประเภทที่พัก
วิลล่า
---
พักได้
4
---
ห้องนอน
Polpenazze del Garda, Lombardia, อิตาลี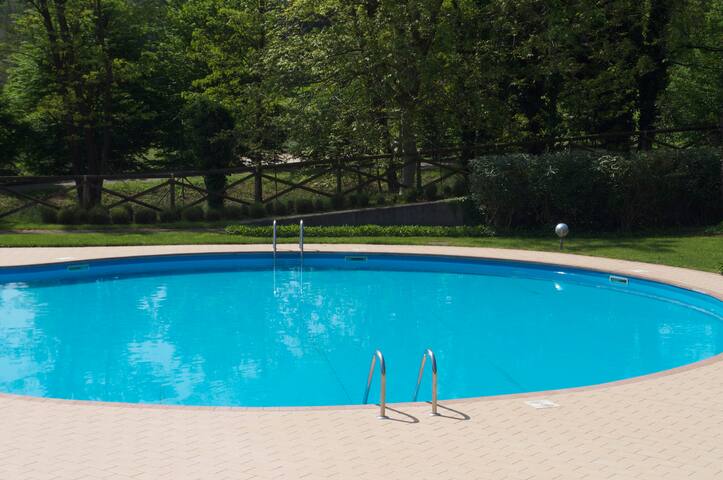 country house relaxing in nature and just minutes from the Lake Garda and the amusement parks such as Gardaland and Caneva World. Also just a few minutes you can practice sports such as golf, wind-surfing, karting.
I travel with my family to gardasee for two nights. The Apt is very lovely. Daniele is very nice and give us so much helpful information. We enjoy for our traveling and would like to stay there once again.
Yu
2015-07-03T00:00:00Z
Bright and fully equipped apartment in a beautiful and tranquil location. Highly recommended!
Teresa
2016-06-01T00:00:00Z
Die Wohnung ist einfach ausgestattet und liegt sehr abgeschieden vom Gardasee-Auto erforderlich. Von den Bildern haben wir uns etwas mehr erwartet aber das ist der persönliche Eindruck. Die Küche ist teilweise schon sehr abgewohnt. Es liegen eine Menge Prospekte aus mit Schifffahrten, Veranstaltungen etc., leider waren diese alle von 2015. Außerdem fanden wir es sehr schade dass das WLAN an 2 Abenden gar nicht funktioniert hat (vermutlich überlastet). Wer etwas abgeschieden vom Gardasee wohnen möchte ist hier genau richtig.
Sandra
2016-09-22T00:00:00Z
Super Apartment und sehr netter und hilfreicher Gastgeber! Auto jedoch notwendig.
Markus
2016-07-21T00:00:00Z
Lokalita je odlehlá, ale přesto pěkná.
Adéla
2016-08-25T00:00:00Z
Daniele was always prompt in responding. He even came to receive us, when we were not able to find the apartment. The place is clean and nice. But unfortunately, the location shown on the map is terribly wrong. This significantly affected our experience, since we planned to stay near the lake. It takes quite a drive to reach to the key centre on west side of the lake. Also, the bed is not the best. Overall, it was not a great AirBnb experience, mainly because of location inaccuracy.
Nikhil
2016-05-26T00:00:00Z
Appartamento molto carino in zona tranquilla. Daniele è molto gentile e disponibile.
Luisa
2015-12-23T00:00:00Z
Everything ok. Nice quiert flat. Lovely surrounding. You need a car. The flat is a bit smaller as it seems on the pictures but everything clean.
Dietmar
2016-03-24T00:00:00Z
ประเภทห้อง
บ้าน/อพาร์ทเมนท์ทั้งหลัง
---
ประเภทที่พัก
อพาร์ทเมนท์
---
พักได้
4
---
ห้องนอน
Lago di Garda, BS, อิตาลี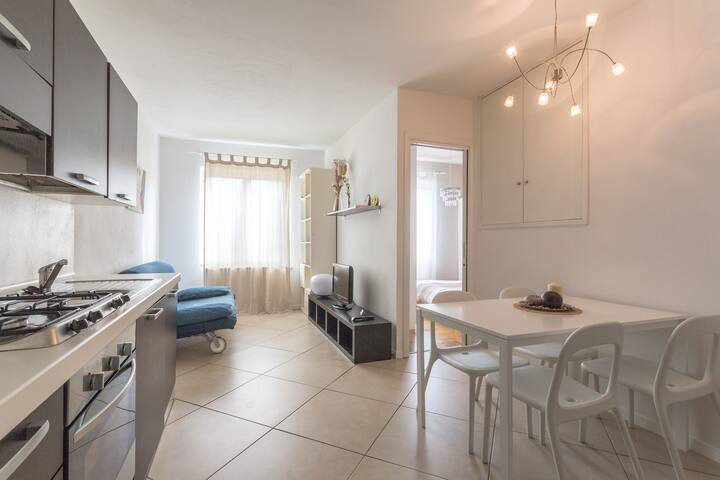 Soiano del Lago: house in residence with pool. Small apartment in a quiet area on the Valtenesi Hills, a few km from the lake. Suitable for couples, to business travelers and families with children. It is located on the first floor and consists of a lounge with kitchen with sofa bed, a double bedroom and a bathroom with shower. In the common area pool and garden.
Soiano is a little village in the heart of the Valtenesi rich in vineyards and olive trees surrounded by green hills. And 'it situated on a hill about 200 meters from where you can admire a wonderful view of Lake Garda. At Soiano worth visiting the castle which during the summer is home to many events. For golf lovers there is the Garda Golf Country Club, one of the best facilities for golfers of all levels.
ประเภทห้อง
บ้าน/อพาร์ทเมนท์ทั้งหลัง
---
ประเภทที่พัก
อพาร์ทเมนท์
---
พักได้
4
---
ห้องนอน
Soiano, Lombardia, อิตาลี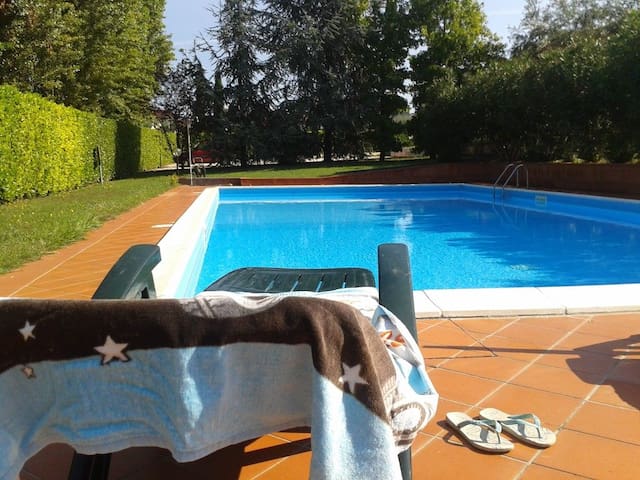 Furnished flat in an elegant residence with pool near Garda golf in Soiano. You sul be welcomed in a pretty and warm flat. Ground floor. Two bedrooms, one bathroom, a large sittingroom with the kitchen too. View in the pool from the verande. Park outside the residence.
L' appartamento e' stato da me arredato con grazia e fantasia ed è dotato di ogni confort, i colori delle pareti nella zona giorno dividono l'area cucina dalla zona relax e TV. Il giardino sul retro, posto proprio a fianco della porta finestra della cucina, ha un piccolo angolo delle spezie ....un po come sentirsi a casa Le camere sono spaziose ed il bagno risponde a tutte le necessità. PER INTERO APPARTAMENTO soggiorno minimo una settimana. È' possibile prenotare una SOLA CAMERA PRIVATA matrimoniale con bagno in comune con me con possibilità di utilizzare cucina, soggiorno, portico ad €.40 - 45 - 50 a notte a seconda del periodo + €. 25,00 al giorno per uso piscina + €. 10,00 pulizia.
Il residence si trova vicino al famoso Garda Golf di Soiano del lago, intorno al quale è possibile fare delle splendide corse o passeggiate nel silenzio della zona. La collina circostante offre camminate anche in Nordic Wolking ed al chiaro della luna piena. A poca distanza il fantastico lago di Garda, dove è possibile nuotare, fare immersioni, veleggiare, andare in kayak. Gardone Riviera, Desenzano, Sirmione che distano pochi km dall'appartamento sono i luoghi di interesse dove poter visitare il Vittoriale degli italiani, le Grotte di Catullo.
Elena was a fantastic host, her home is beautiful and we had an amazing time.
Anne
2016-07-15T00:00:00Z
Insgesamt war der Aufenthalt okay. Das Apartment war sauber, die Anlage an sich ist schön, man findet alles vor, was man benötigt. Dinge, die ausgegangen sind haben wir nachgekauft. Man sollte allerdings wissen, dass das ganze eher wie eine Gated Community aufgebaut ist mit sehr strikten Regeln. Die ganze Anlage besteht aus 22 Apartments, wodurch der Pool dann doch etwas kleiner wird. Der Eindruck der Anwohner war, dass diese nicht ganz einverstanden waren mit der Vermietung des Apartments. Wir hatten beispielsweise eine Luftmatratze mit am Pool, auf der mein Freund lag, worüber sich der selbst ernannte "Boss" der Wohnanlage am ersten Tag fürchterlich aufgeregt hat, obwohl zu diesem Zeitpunkt niemand im Pool war. Er hat uns in einer Art "Strafpredigt" auf Italienisch auf die Poolregeln verwiesen, die wir danach nochmals gründlich studiert haben, aber konnten nichts dazu finden. Wir sind die ersten Tage an einen schönen Strand am Gardasee gefahren, nachdem es am ersten Tag Probleme am Pool gab. Dazu ist zu sagen, dass die Unterkunft für 4 Personen ausgelegt und ausgeschrieben ist, es allerdings nur zwei Liegen am Pool gibt, die anderen beiden müssten dann im Gras dahinter liegen. Es lässt sich allerdings auch sehr gut am Strand, der nur 10min entfernt ist aushalten. :) Wir würden die Unterkunft nur weiterempfehlen für Paare, die einen total ruhigen Urlaub haben wollen. Für Familien mit Kindern oder auch junge Erwachsene in einer Gruppe halten wir die Unterkunft eher nicht für geeignet. Die Gegend ist sehr schön, man kann in Ort sehr gut essen gehen, sowohl Pizza&Pasta, als auch Eis. Wir sind einen Abend nach Salo gefahren, und haben dort zu Abend gegessen, auch sehr empfehlenswert.
Sabrina
2016-08-25T00:00:00Z
We had an amazing time at Elena's Home. She provided us a very comfortable house, we really enjoyed our week in Polpenazze. The Location with the Pool is very clean and perfect for relaxing or exploring the surrounding areas of the Gardalake. Looking forward for our next trip!! David
David
2016-07-23T00:00:00Z
The place of Elena is truly a little gem, a bit off the shores from lake garda up on the hills. The place is well equipped and very relaxing. Truly a little gem to relax away from the tourist crowds around lake garda. The complex is very well maintained and the pool is amazing. Last but not least Elena is an extremely charming and friendly lady. Thank you Elena
Kris
2016-08-20T00:00:00Z
ประเภทห้อง
บ้าน/อพาร์ทเมนท์ทั้งหลัง
---
ประเภทที่พัก
อพาร์ทเมนท์
---
พักได้
4
---
ห้องนอน
Polpenazze del Garda, Lombardia, อิตาลี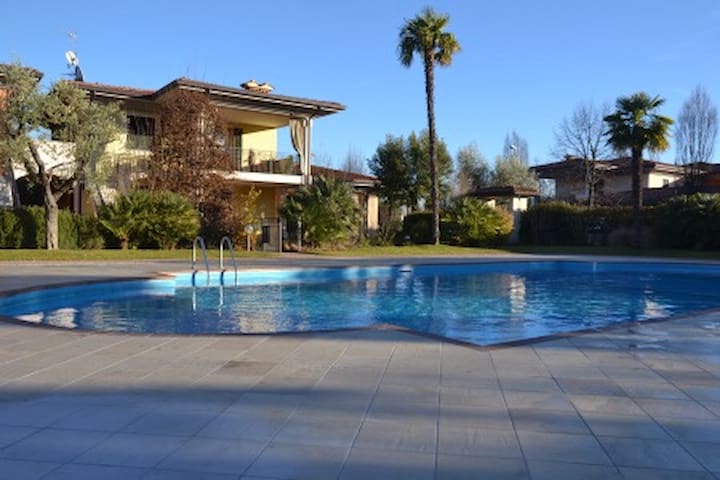 Situato in pieno centro, Il residence Villa Maura con i suoi 6 appartamenti trilocali assicura tranquillità e relax. Ogni trilocale completamente arredato può ospitare fino a 4 persone, con piscina, posto auto, spazio giochi e patio privato.
I nostri appartamenti sono arredati con la massima cura, offrono soluzioni intelligenti e innovative per offrire il Top del comfort e assicurare un esperienza di vacanza indimenticabile. La sala da pranzo è dotata di TV a schermo piatto, mentre la camera matrimoniale è dotata di Smart TV di ultima generazione. Cucina con piano ad induzione, letto a castello per gli ospiti più piccoli, doccia multifunzione ed un innovativo WC elettronico. Il vostro appartamento sarà completo di tutto. Asciugamani, shampoo, saponi, detergenti per la pulizia e molto altro è già compreso. Non dovrete pensare a nulla se non a rilassarvi e divertirvi con la vostra famiglia.
Grazie alla posizione centrale potrete raggiungere il centro storico di Moniga a piedi per assistere ai molteplici eventi che vengono svolti nella piazza centrale o semplicemente per cenare in uno dei ristoranti situati a breve distanza.
Vi hade en fantastisk vistelse hos Luciana och kan varmt rekommendera detta boende till andra gäster. Luciana var en perfekt värd och hjälpte oss att komma till rätta i huset och i området. Barnen trivdes som fiskar i vattnet, med pool utanför dörren, lekplats och mysigt inrett barnrum. Vi önskar att vi hade kunnat stanna längre! Moniga del Garda är en väldigt vacker plats, lugn och mysig med en fin piazza några hundra meter från huset och en trevlig strand vid Gardasjön.
Sofie
2016-07-07T00:00:00Z
Sehr schöne, gepflegte kleine Wohnung. Sehr geschmackvoll eingerichtet und sehr sauber. Den Pool hatten wir oft für uns alleine. Gut gelegen für Ausflüge nach Sirmione, Lazise oder auch Verona. Die Besitzerin wohnt direkt über der Wohnung und ist sehr hilfsbereit ohne jemals aufdringlich zu sein. Ideal für Familien mit Kindern. Claudia
Claudia
2016-06-25T00:00:00Z
Eine ganz tolle Location mit einer sehr netten Vermieterin die zuvorkommend und hilfsbereit ist. Sehr modern und sauber vor allem sehr ruhig gelegen. Alles vorhanden vom Schlafzimmer, Kinderzimmer, Küche und Bad alles neu und sehr gepflegt. Der Pool und Garten sind toll zum entspannen und eine Privatsphäre ist vorhanden. Werden wieder Gäste sein.
Ricardo
2016-05-30T00:00:00Z
We hebben een fantastische vakantie gehad in villa Maura!Dit dankzij de accommodatie en de persoonlijk touch! Met de service van een hotel maar met de mogelijkheden van een eigen appartement was dit de ideale vakantie voor ons als jong gezinnetje. Alles voor onze baby was voorzien (bedje, kinderstoel, kinderwagen, verschoonkussen, babybadje en zelfs speelgoed). Aan alles werd er gedacht, basis spullen wc-papier, olijfolie, wasmiddel, eerste ontbijt (cornflakes, melk,..) en zoveel meer. Hierdoor hebben wij kunnen genieten van een zorgeloze vakantie. Het centrum van Moniga is 5 min wandelen waar je bakker, post, boekenwinkel, supermarkt en gezellige restaurants vindt. Het zwembad is rechttegenover het terras en privé parking is ook vlakbij voorzien. Daarboven op is alles perfect onderhouden en tot in de puntjes verzorgd. Steeds staan de eigenaars paraat voor je eventuele wensen en vragen. De villa kent in totaal 6 appartementen maar van de andere bewoners heb je nagenoeg geen last, er is voldoende privacy. Wij voorzien alvast een terugkeer naar dit appartement en bevelen dit verblijf erg aan! Bedankt nogmaals Dino en Luciana !
Rubine
2016-08-21T00:00:00Z
Ein wirklich toller Aufenthalt! Super freundlich, sehr sauber, perfekt und modern ausgestattet, geschmackvoll eingerichtet - sehr zu empfehlen. Zu Fuß schön schnell ins Zentrum, sehr ruhig, tolle Veranda.
Felix
2016-09-04T00:00:00Z
We could not recommend this apartment highly enough. It is very tastefully decorated with a well equipped kitchen, beautiful bedrooms (hotel standard) and modern bathroom. It has been recently renovated to a very high standard. The fridge was stocked with water. And there were coffee pods for the nespresso machine There is a really nice private outdoor seating area where we spent most evenings. The pool is located 5m from the door. There is also free, secure parking. The WIFI is excellent. The apartment is only a 3 min walk to the village and the bakery, restaurants, Spar shop. You can cook in, arrange a take away or stroll up to the village for a coffee or a meal - it really is in an ideal location. It's a 2 minute drive to the main road that snakes along the western shore of the lake. 10 minutes to Desenzano and around 45 min to Verona. Luciana & Dino were the perfect hosts. They immediately made us feel at home - we arrived early and they helped us with our baggage and allowed us to put our stuff in the fridge even though we were not supposed to move in until later that day. They also provided a cot and high chair for our toddler. Luciana even took some of our clothes to dry them (not sure she wants that info publicized!). Dino is fluent in English so we had no issues with communication. We would highly recommend this apartment and would definitely stay again.
Lisa
2016-05-22T00:00:00Z
Eine top gepflegte und saubere Ferienwohnung! Es hat an nichts gefehlt! Es war Alles und noch viel mehr vorhanden. Wir waren mit Kleinkind und Baby dort. Selbst für das Baby war Alles liebevoll vorbereitet. Ein guter Ausgangspunkt für Ausflüge. Der Ort Moniga d. G. selber ist auch sehr schön. Luciana und Dino sind perfekte Gastgeber!
Elif
2016-06-17T00:00:00Z
Lovely apartment with everything that you need for a self catering stay. Spotlessly clean. Lovely grounds and close to the town centre. Hope to stay again and would recommend.
Jason
2016-10-27T00:00:00Z
ประเภทห้อง
บ้าน/อพาร์ทเมนท์ทั้งหลัง
---
ประเภทที่พัก
อพาร์ทเมนท์
---
พักได้
4
---
ห้องนอน
Moniga del Garda, Lombardia, อิตาลี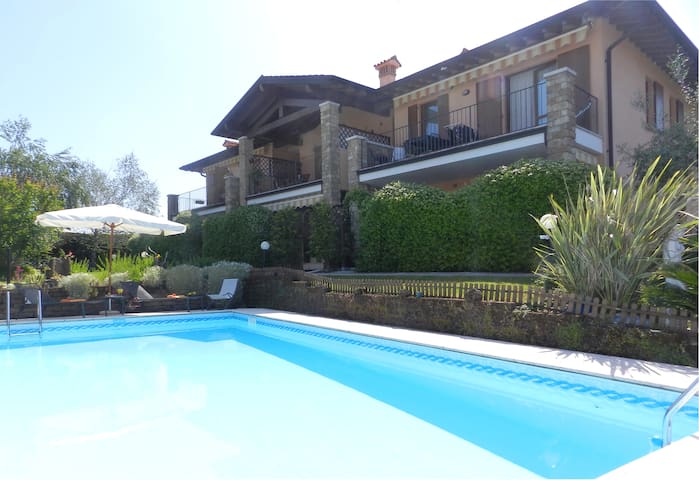 In ancient building renovated two-room bright rent on the 1st floor, directly on the lake, fully furnished and equipped with all comforts (WiFi, air conditioner, TV, washing machine, dishwasher, microwave). Two balconies directly on the lake. with parking
The apartment is located directly on the lake, the furniture and fittings are new. The apartment consists of: living area with kitchen and living room (with sofa bed) two French doors give access to the balcony, bedroom with balcony, closet, bathroom.
The apartment is located on the harbor of Moniga, on the lakefront promenade that leads from Moniga in Desenzano. The area is far from traffic, but all services (supermarkets, pharmacy etc.) are within easy reach. Many bars and restaurants contribute to an enjoyable and vacation atmosphere.
Schöne Wohnung, sehr sauber. Die Lage ist fantastisch. Direkter Blick auf den See, 2 Balkone, eigener Parkplatz. Die Gastgeber sind immer zu erreichen. Wir kommen gerne wieder. Alles was benötigt wurde war vorhanden. Bzw. wer morgens gerne einen Kaffee trinken möchte, sollte eine Kaffeemaschine mitbringen.
Yvonne
2016-07-31T00:00:00Z
Schöne Wohnung, sehr sauber, schöner Ausblick. Alles was benötigt wurde, war vorhanden. Die Gastgeberin ist freundlich und stand jederzeit für Fragen zur Verfügung. Beautiful Appartement, clean, nice view.
Oliver
2016-05-09T00:00:00Z
Tiziana was so welcoming and helped us setting right away! The apartment is great, so close to the lakeside and there are some great restaurants near by (especially the one immediately below). On leaving they even helped us to the nearest Bus Stop so we could catch the bus to our next destination! Super :)
Craig
2016-09-19T00:00:00Z
The apartment was ready on our arrival and was absolutely spotless. We were made to feel very welcome and nothing was too much trouble. We had everything we needed for our 2 week stay. The apartment was in a prime location with restaurants within walking distance. Would recommend. After our stay Tiziana and her daughter gave us olive oil (from the Moniga del Garda region) and also honey. Very much appreciated.
Louise
2016-08-22T00:00:00Z
Super Unterkunft direkt am See mit gesichertem Parplatz. Alles wunderbar, Kommunikation mit der Gastgeberin war sehr gut. Immer sehr hilfsbereit und freundlich. Wir kommen gerne wieder!
Matthias
2016-09-13T00:00:00Z
Das Apartment von Tirziana ist eines der schönsten, in denen wir je waren - es liegt direkt am Wasser, unweit der Schiff-Anlegestelle, verfügt über einen abgeschlossenen Parkplatz und ist ausgestattet mit ALLEM was man im Urlaub so brauchen könnte. Das Apartment ist blitzblank sauber, die Küche bietet alles was das Herz begehrt (obwohl wir sie kaum benutzt haben, dazu gleich mehr), das Bad für 2 Personen wunderbar mit Dusche/WC/Bidet ausgestattet - das Bett herrlich (nur manche mögen vielleicht eher doch 2 Decken haben, für uns war es prima), es gibt 2 Balkone die auf den See hinausgehen, Klimaanlage (für unseren Aufenthalt Anfang Oktober habe nicht mehr nötig) - alles liebevoll dekoriert, einfach wunderschön! Die Schlüsselübergabe war trotz unserer verspäteten Ankunft kein Problem, die Abreise (sehr früh) auch nicht - Tizianas Tochter Isabella spricht Englisch, Tiziana eher nur italienisch (und wir genau umgekehrt) - trotzdem war die Kommunikation kein Problem. Der Bonus den man dort hat, ist einerseits, dass Moniga eher etwas ruhiger ist (zum Vergleich mit z.B. Sirmione) und dass man direkt unter dem Apartment ein Restaurant findet (Al Porto) in dem man frühstücken und Abend essen kann (und das zu äußerst moderatem Preis). Wir fühlten uns pudelwohl und werden sicher wieder kommen!!
Stefan
2016-10-08T00:00:00Z
wir wurden von unserer Gastgeberin sehr herzlich empfangen. Die Kommunikation verflief einwandfrei. In der Wohnung wurde für uns sogar kleine Häppchen Obst und sogar Sekt bereitgestellt zur Begrüßung. Englisch sprechen hat super mit der Tochter funktioniert. Wir hatten alles was man braucht und waren auch noch direkt am Wasser. unter uns war direkt ein Restaurant/Café und entlang der Straße viele andere Möglichkeiten etwas zu essen zu besorgen. 1 km vom Haus ein Supermarkt. Und wer Spaziergänge mag kann sehr weit entlang des Ufers spazieren. Ab und zu war die Musik vom Café was laut aber es könnte da dran liegen das gerade EM ist und alle auch Fußball geschaut haben. Wenn man die Fenster geschlossen hat, hat sich die Sache auch erledigt. ansonsten ist Venedig 2 Stunden mit der Bahn zu erreichen und Verona in sogar 30 min. die Lage ist also super. !!!! uns hat es sehr gefallen !!!!
Anja
2016-06-20T00:00:00Z
Amazing spot by the lake. Great facilities and the kindest host. Enjoy!
Eran
2016-10-18T00:00:00Z
ประเภทห้อง
บ้าน/อพาร์ทเมนท์ทั้งหลัง
---
ประเภทที่พัก
อพาร์ทเมนท์
---
พักได้
4
---
ห้องนอน
Moniga del Garda, Lombardia, อิตาลี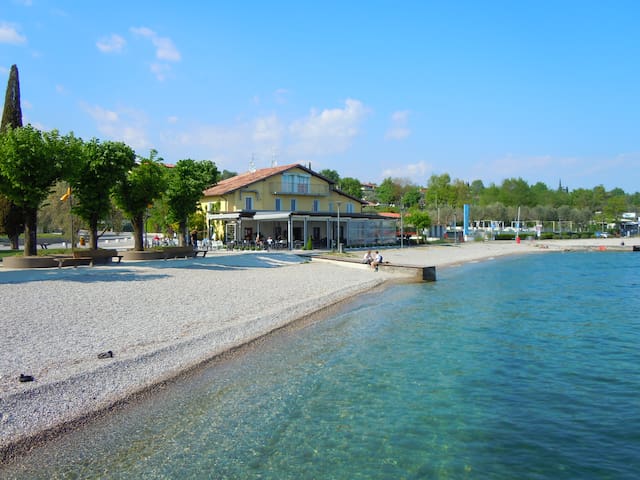 All'interno del parco di una villa in zona residenziale molto tranquilla con splendida vista lago, dependance completamente arredata con portico e giardino privato, piscina e garage. Ottima soluzione per trascorrere le vacanze in luogo tranquillo e poco distante da tutti i servizi.
ประเภทห้อง
บ้าน/อพาร์ทเมนท์ทั้งหลัง
---
ประเภทที่พัก
อพาร์ทเมนท์
---
พักได้
4
---
ห้องนอน
Soiano del lago, Lombardia, อิตาลี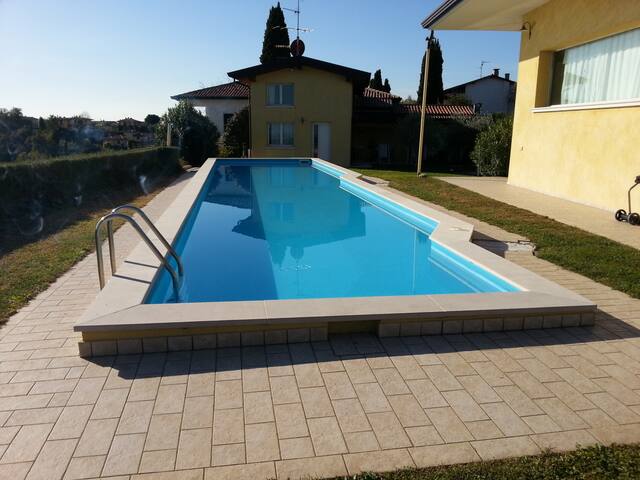 A cozy three-room apartment with private garden in the prestigious residence Garda Golf Country Club, the apartment is located at the foot of the picturesque medieval castle of Soiano del Lago and only a few kilometers away from Lake Garda's shores and major historical and touristic centers.
The large living area with a double sofa-bed and satellite TV is the heart of the house, completed by an open space kitchen with dishwasher and washing machine, two double bedrooms, a bathroom and a dining room located in the intimacy of the porch, overlooking the private garden (great for barbecues!). The house has two owned, open-air parking spaces. The exclusive Gardagolf Country Club has always been considered among the best golf courses in Europe, it includes 27 championship holes on 110 hectares of green between the Rocca di Manerba, the Soiano Castle and the Valtenesi hills, with an extraordinary beautiful panoramic view. The residence is spacious, leafy and peaceful. It is impossible to get bored: there is a large park with access to the communal pool, tennis courts, a clubhouse with a bar and a great restaurant and kilometers of golf courses (for a fee) a few steps from the house. Ideal both for golfers and for those who want to relax with their family or do physical activity, the location is a relaxation and tranquility oasis surrounded by cypresses, olive trees, oak trees, pine trees and holm oaks. For outdoor activities' lovers: you can venture into a cycle route of 8 km that connects Lonato and Salò or try in one of the many walks available in the surrounding area, among olive trees and vineyards. Just 10 minutes away there is a riding school where you can arrange horse riding and visit the scenic route of the Manerba Rock. Also available gourmet experiences in the surrounding area are many and varied, including cellars, traditional restaurants and superlatives olive oil manufacturers.
ประเภทห้อง
บ้าน/อพาร์ทเมนท์ทั้งหลัง
---
ประเภทที่พัก
อพาร์ทเมนท์
---
พักได้
5
---
ห้องนอน
Soiano del lago, Lombardia, อิตาลี
You can relax your mind and your eyes with the Our lovely view of the Gulf of Manerba and rest in the privacy of our rooms or apartments. Our family will welcome you warmly giving you a relaxed holiday by the "old flavor".
The family of Anna Brotto creates an intimate, serene in 9 romantic rooms in style. Some are spacious, others smaller, but all unique and simple. The balconies are romantic, so 'as the gardens where the hammocks are hung. There is always room a fresh flower from the garden on white lace.
Our hotel is located in an area both for sports lovers and for those who love the art: Golf courses, horse riding, motorboat rental, bicycles ... and yet ancient city 'to visit such as Verona, Cremona, Brescia, Pavia, Milan, Padua, ancient ports of the lake and castles ...
ประเภทห้อง
ห้องส่วนตัว
---
ประเภทที่พัก
ที่พักพร้อมอาหารเช้า
---
พักได้
2
---
ห้องนอน
Provincia di Brescia, Lombardia, อิตาลี
Bright, colorful and new apartment in villa on Lake Garda. Great garden and large sunny terrace. Environmental friendly Home. Perfect for one or two families up to 8 people for healthy and relaxing holidays.
Just restored space using natural materials. Original and colorful furnishings. More than 3400 m2 of garden. Iron bathtub with lion's paws for a relaxing bath. Dishwasher and large washing machine (10 kg). The apartment is large (115 m2) with terrace (20 m2). Organic vegetable garden. BBQ area. Television with satellite decoder (German, French, Dutch, English channels...) Wifi in all rooms.
- 5 minutes from the beach by car. - Special road for bikes only: 200 meters. - Very beautiful golf resort. - Very close to touristic cities like Salò, Desenzano, Sirmione, Peschiera del - Garda with Gardaland resort. - Many opportunities for art and culture, Venice,Verona, Brescia, Mantova. - You can go to Venice in one hour trip by train.
Nous avons passé un formidable séjour dans la villa NannaDodo ! L'emplacement est idéal, à quelques minutes du lac en voiture, proche de Desenzano et Salò et à une heure de Vérone. L'appartement loué est à l'étage d'une maison habitée au rez-de-chaussée par les propriétaires. Il est grand, très coloré, plein de charme et aménagé avec beaucoup de goût. Le mobilier a été en partie réalisé par Elena dont c'est le métier ; nous avons adoré en particulier la table à dessin dans la chambre des enfants ! Tout l'équipement est neuf, de bonne qualité et écologique. Elena et Raphael nous ont accueillis très chaleureusement et nous ont délivré de précieux conseils pour visiter la région. La proximité avec les propriétaires n'est absolument pas un problème, d'une part parce qu'ils sont très sympathiques et discrets et nous ont tout de suite dit "vous êtes chez vous", et d'autre part parce que la terrasse de l'étage est exposée à l'opposé de celle du rez-de-chaussée. Quand tout le monde est à l'extérieur en même temps, on ne s'en rend donc même pas compte. Nos filles ont beaucoup profité du grand jardin et sont mêmes tout de suite devenues amies avec la fille des propriétaires. Elles se sont amusées avec elle à la balançoire et ont eu l'occasion d'aller chercher les œufs au poulailler. En résumé, une région magnifique, un appartement très agréable à vivre et des hôtes charmants, de quoi réussir de belles vacances !
Herve
2016-08-11T00:00:00Z
The entire family had a great time....location is very nice - wonderful views and not a touristic neighborhood, which is a big plus in the summer at Lake Garda. On the other hand you can get anywhere from here very quickly. The flat is new and well equipped, there's is nothing missing. Unfortunately we didn't meet the owners as they were on vacation, yet everything was nicely prepared and communication worked fine. We will definitively consider this place again. Thanks!!!
Markus
2016-08-21T00:00:00Z
Elena, Raphael and Mathilde are really friendly hosts, my family had a wonderful time there. The "apartment " are just like it's described, very clean, cozy and located in a quiet place. During the stay, we had BBQ together in the garden, they offered us the most tasty homemade ice cream, it's a unforgettable and fabulous night. We will definitely go back and stay again! Thank a lot!!
Laura
2016-09-12T00:00:00Z
Nous avons passé avec nos jeunes enfants et nos amis un excellent séjour chez Elena. Elena et sa famille sont très accueillants, nous nous sommes sentis comme à la maison. L'appartement est très spacieux, très confortable, lumineux, avec une grande terrasse et une superbe vue dégagée. Il est particulièrement bien aménagé, équipé et décoré avec beaucoup de goût et de soin, avec plusieurs meubles et objets très jolis fabriqués par Elena. Les enfants ont aussi pu profiter de quelques jeux à l'intérieur et à l'extérieur. Sur place, nous avons pu rayonner autour du lac de Garde (Salo, Sirmione...) mais aussi à Brescia et Vérone, sur les conseils d'Elena et son conjoint.Nous avons passé avec nos jeunes enfants et nos amis un excellent séjour chez Elena. Elena et sa famille sont très accueillants, nous nous sommes sentis comme à la maison. L'appartement est très spacieux, très confortable, lumineux, très agréable, avec une grande terrasse et une superbe vue dégagée. Il est particulièrement bien aménagé, équipé et décoré avec beaucoup de goût et de soin, avec plusieurs meubles et objets très jolis fabriqués par Elena. Les enfants ont aussi pu profiter de quelques jeux à l'intérieur et à l'extérieur. Sur place, nous avons pu rayonner autour du lac de Garde (Salo, Sirmione...) mais aussi à Brescia et Vérone, sur les conseils d'Elena et son conjoint.
Nicolas
2016-08-05T00:00:00Z
Très bien accueillis et renseignés sur tout ce qu' il y a à faire dans ce coin fabuleux par ce couple franco italien très sympa. Appart très grand, neuf, avec terrasse et vue superbe. Les glaces maison de raphael sont un délice. on revient l automne prochain !!!
Audrey
2016-06-13T00:00:00Z
ประเภทห้อง
บ้าน/อพาร์ทเมนท์ทั้งหลัง
---
ประเภทที่พัก
อพาร์ทเมนท์
---
พักได้
8
---
ห้องนอน
Soiano del Lago, Lombardy, อิตาลี
attic of 80sqm + 25sqm terrace in villa on the lake between moniga and Dusano vista.Piscina splendid garden and parking are shared with the other 2 apartments of the villa. Guests BBQ table tennis, canoeing.
beauty is the location directly on the lake in a very quiet area with a great view
We had a very pleasant and relaxing time in the mansard of Giuseppe's beautiful villa. It's location is ideal for a variety of activities around and on the lake. The neighborhood is very exclusive and quiet. The estate is neat and very enjoyable. The pool has a shallow entry that is perfect for smaller children to play in. Giuseppe is a very courteous and reliable host.
Karsten
2016-06-24T00:00:00Z
We visited many areas around Lake Garda during our stay, and all were out-shined by the one we woke up to every morning! The accomodation was just as the pictures, and the location was ideallic. We had a couple of technical issues during our stay, but Guiseppe was quick at hand and helped solve as quick as he could. Perfect host!
gemma
2017-03-10T00:00:00Z
Wir hatten einen wundervollen Aufenthalt bei Giuseppe in Solarolo. Die Wohnung und besonders die Dachterrasse sind ein Traum! Geschmackvolle Einrichtung, alles hat gepasst. Den Pool konnten wir täglich nutzen und unseren Jungs hat's gefallen. Die Lage vom Haus ist kaum zu toppen! Wir kommen sicher mal wieder.
Silke
2016-05-27T00:00:00Z
Everything was great! We had a very nice welcome. The photos show exactly what the appartement looks like: stunning view from the great terrace, beautiful and lovely decorated, very clean, furnishing and equipment are great, nice garden with pool - we loved to sit under the olive trees We really enjoyed our stay!
Kathrin
2016-07-04T00:00:00Z
The apartment is beautiful and the location is wonderful. We were 2 adults and a toddler and found the apartment and the pool/garden to be perfect for our needs. Guiseppe was a lovely host and dealt promptly with any questions we had. You do need a car and it is a 5 minute drive to the nearest shops/restaurants. There are lots of amenities close by. This apartment deserves its popularity.
Louise
2016-09-10T00:00:00Z
Wir waren mit 5 Personen (3 Erwachsene, 2 Jugendliche 13 & 16) für 11 Tage, Mitte Oktober, bei Giuseppe. Es war unser ersten Aufenthalt am Gardasee und wir wollen die Region außerhalb der touristischen Hochzeit kennenlernen. Wir haben uns in der Wohnung von Giuseppe sehr wohl gefühlt. Die Wohnung ist wie auf den Bildern dargestellt und hat eine ganz besonderen Charme. Der Blick über den See (Sonnenaufgang) ist wirklich etwas ganz besonderes. Die ruhige Lage mit dem großem Grundstück und eigenem Zugang zum Wasser ist wirklich sehr, sehr schön. Den Pool konnten wir aufgrund der Jahreszeit natürlich nicht mehr nutzten. Nach ausgiebigen Tagestouren war bei schönem Wetter aber immer noch Zeit für ein Match an der Tischtennisplatte. Giuseppe hatte noch kurz vor unserer Ankunft einen neuen Holzpellt Offen im Hauptraum der Wohnung installiert. Den Ofen haben wir in den manchmal doch schon recht kalten Morgen und Abendstunden gerne genutzt. Giuseppe war eine ganz hervorragender Gastgeber, sehr freundlich, unkompliziert und zu jedem Zeitpunkt sehr hilfsbereit. Wir kommen sehr gerne wieder. Danke Giuseppe!
Andreas
2016-10-21T00:00:00Z
The apartment is beautiful and has great views on the lake. The terrace is the best place to spend time in the evening, just sit and relax. The pool has a shallow entry that is perfect for smaller children to play in. We would highly recommend this as a perfectly family location!
Bartosz
2016-09-16T00:00:00Z
This is what airbnb is all about: to be able to stay at a beautiful house at a prime location, with stunning views of lake Garda, completely private and tastefully decorated. Giuseppe's place is absolutely beautiful. The location is very convenient for travelling to all the area around the lake and beyond. We were a family of 4, and felt very comfortable in the house. There is an amazing varanda on top of the lake, a private access to the lake front and really everything you imagine when you think of a relaxing stay. The local village is nice and friendly, and we had great morning cafe's as well as dinners at the local restaurants. Giuseppe is a great host, very attentive and answered all our questions promptly. I really recommend Giuseppe's house!
Leoni
2016-10-11T00:00:00Z
ประเภทห้อง
บ้าน/อพาร์ทเมนท์ทั้งหลัง
---
ประเภทที่พัก
อพาร์ทเมนท์
---
พักได้
5
---
ห้องนอน
Solarolo, Lombardia, อิตาลี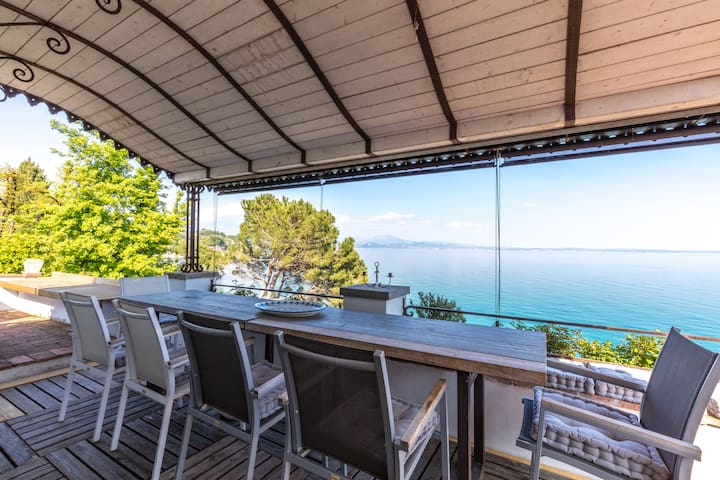 The Bed and Breakfast "Wellness Retreat" of well being is invitingly quiet and is surrounded by greenery. It consists of three rooms with private bathroom, outdoor pool and heated Jacuzzi: the ideal place to spend a relaxing holiday on Lake Garda. The B&B is located in Puegnago, a few kilometers to Salò, in a strategic position to explore the surrounding territory. At the entrance of the Bed and Breakfast large living room, perfectly furnished with taste and attention to detail. Breakfast is se
The Bed and Breakfast "Wellness Retreat" of well being is invitingly quiet and is surrounded by greenery. It consists of three rooms with private bathroom, outdoor pool and heated Jacuzzi: the ideal place to spend a relaxing holiday on Lake Garda. The B&B is located in Puegnago, a few kilometers to Salò, in a strategic position to explore the surrounding territory. At the entrance of the Bed and Breakfast large living room, perfectly furnished with taste and attention to detail. Breakfast is served in the morning, which consists of sweet and savory food and is mostly prepared from biological zero-kilometer products. Some of the homemade jams are made from the fruits of the fruit trees in the garden. On request, we can also prepare gluten-free and vegetarian products. The room "Bambu" is located on the first floor and is equipped with queen size bed, a wardrobe, two nights cases and a private bathroom with large private whirlpool. The Bed and Breakfast has three rooms, where you can find many books that can be borrowed or exchanged. The "Wellness Retreat" provides the guests with a space for moments of relaxation through music using the original method ReAT (RelaxAudioTraining). Here relaxation techniques are combined with music by Mozart and guided visualizations. We also create a special "wellness program" for our guests on request, which we tailor to our individual needs through our experience with antistress methods.
ประเภทห้อง
ห้องส่วนตัว
---
ประเภทที่พัก
ที่พักพร้อมอาหารเช้า
---
พักได้
2
---
ห้องนอน
Raffa, Lombardia, อิตาลี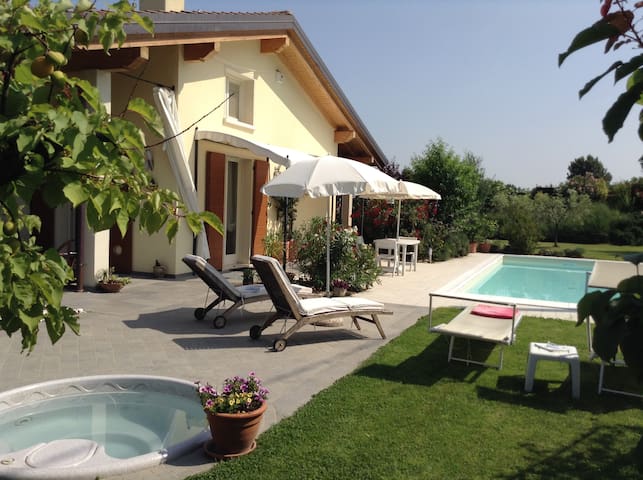 Tipica porzione di villa in posizione tranquilla e soleggiata posta sulla collina sovrastante Padenghe con vista sul lago e sulla meravigliosa cittadina di Sirmione, dotata di giardino privato recintato, grande terrazzo e portico coperto.
La villa è su due piani, al piano terra sono collocate le tre stanze delle quali due sono matrimoniali, un grande bagno una lavanderia e la scala che conduce al primo piano dove si trova il soggiorno con l'angolo cottura, un bagno. Dalla cucina si esce sul giardino retrostante, dal soggiorno si accede alla grande terrazza e al portico coperto dotato di caminetto/barbecue e un grande tavolo per poter mangiare in tutta tranquillità.
Alberto met us at the villa late on Friday evening due to travel delays, and still spent time explaining everything about the villa, then directed us to a local pizza restaurant. The villa is everything you could expect and more, very clean and stylishly decorated with classic furniture. The location is quiet and perfect for families, electric gates keeping us secure. Still only 7 or 8 minutes drive to the local village centre, for the bakery, restaurants and supermarket. A car is required as it's up a steep hill. Look forward to going again, certainly one of the best villas and holidays we've come across. The outside space really makes this villa stand out, cooking and eating on the terrace was a delight.
Brian
2016-08-13T00:00:00Z
Das Appartement ist sehr schön gelegen auf den Hügeln von Padenghe sul Garda. Die Zimmer waren sehr sauber und stilvoll eingerichtet. Es entsprach alles der Beschreibung. Ein kleiner Dämpfer war, dass man für Handtücher und Bettwäsche pro Person 10 Euro zahlen musste. Dies war für mich nicht in der Anzeige zu erkennen. Durch das durchwachsene Wetter mussten wir die Heizung nutzen, da wir mit kleinen Kindern unterwegs waren. Diese war Anfangs nicht eingeschaltet, aber Alberto hat sehr schnell reagiert und die Heizung eingestellt. Leider war die Kommunikation etwas schwierig, da Alberto sehr wenig Deutsch spricht und mein Italienisch ebenfalls sehr beschränkt ist. Englisch war auch keine Alternative. In Summe war es ein schöner Aufenthalt.
Carsten
2016-05-15T00:00:00Z
ประเภทห้อง
บ้าน/อพาร์ทเมนท์ทั้งหลัง
---
ประเภทที่พัก
บ้าน
---
พักได้
6
---
ห้องนอน
Padenghe sul Garda, Lombardia, อิตาลี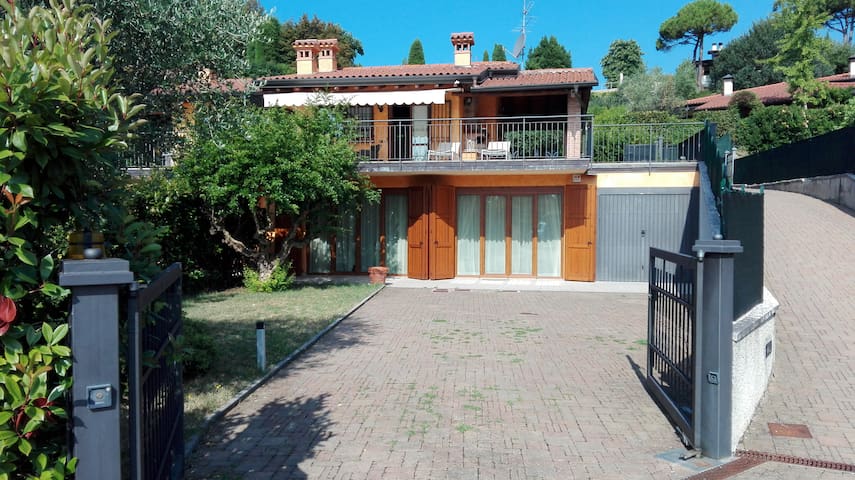 Appartamento al piano terra di una villetta ,(soggiorno minimo 4 notti ) , con vista lago ,Ampio Giardino. Apartment at the first floor , with private garden ( minimum 4 days ).
Ideale per famiglie , appartamento in villetta singola, posizionato al piano terra con giardino privato
Ad 800 mt. Dal centro di moniga, comodo PARCHEGGIO di proprietà
ประเภทห้อง
บ้าน/อพาร์ทเมนท์ทั้งหลัง
---
ประเภทที่พัก
บ้าน
---
พักได้
4
---
ห้องนอน
moniga, Lombardia, อิตาลี
La nostra B&B è situata in una zona tranquilla a Soiano del Lago, offre un 'giardino rigoglioso con parcheggi privati e una ampia piscina. La Struttura sorge a 10 min di auto da Saló e da Desenzano del Garda e un passo da Gardagolf Country Club.
- Green Mobil Home, the small new houses are completely independent and surrounded by greenery, internally made of wood, ecological, cozy and modern and they are equipped with air conditioning. Each has a private bathroom has a double bed. Bed linen, towels and beach towels, are provided the structure. On request we have a baby cot for under 4 years of age. Every morning we serve a breakfast sweet and salty typical of our area. Wi-Fi is free in the structure.
This is a very sweet and comfortable accommodation. They discreetly delivered a breakfast basket every morning which was enough for a lunch as well. Great shower. We had the pool to ourselves 3 times. Very helpful host...
Heather
2016-08-17T00:00:00Z
Super expérience! Tout est pensé avec soin . A recommandé
Hélène
2015-08-10T00:00:00Z
Lovely little place!! Had everything we needed and amazingly a proper bathroom! Breakfast and coffee machine were fantastic. Very nice family who left us to our own devices but helpful when needed. Great pool and surrounding area.
Katherine
2016-09-18T00:00:00Z
Wir wurden erst mit privatem Shuttle von der Bushalte in Moniga abgeholt und molto gentile empfangen. Rückfahrt nach Desenzano im privaten Taxi mit spannendem polit-palaver über Europa e Italia.. Grazie mille!
Michel
2015-06-29T00:00:00Z
Una cosa fuori dal comune..casetta mobile dotata di tutti gli comfort! Immersa nella tranquillità.. Da provare!
Mattia
2017-03-12T00:00:00Z
We booked 2 nights in Valeria's bungalow and add 1 extra night as we really loved it! The bungalow is new, very clean and cute. We slept very well: good bed, no noise around and right temperature. Valeria brings a breakfast basket at your door in the morning full of delicious stuff. Valeria and her husband (?) are always willing to help if you have question. If you need wifi, you need to be out of the bungalow, although it works very well outside. We highly recommend!
Amelie
2015-06-23T00:00:00Z
We had a really good time in this place. Its a new, clean and very cozy bungalow. The fresh breakfast we get served every morning was awesome. The area is very nice and peaceful. We absolutly recommend this place.
Dana
2015-07-18T00:00:00Z
It was all and even more than we expected. Hosts were perfect and always available. The place was perfect combination of nature peace. We will come back for sure.
Sinisa
2016-05-02T00:00:00Z
ประเภทห้อง
บ้าน/อพาร์ทเมนท์ทั้งหลัง
---
ประเภทที่พัก
ที่พักพร้อมอาหารเช้า
---
พักได้
2
---
ห้องนอน
Soiano, Lombardia, อิตาลี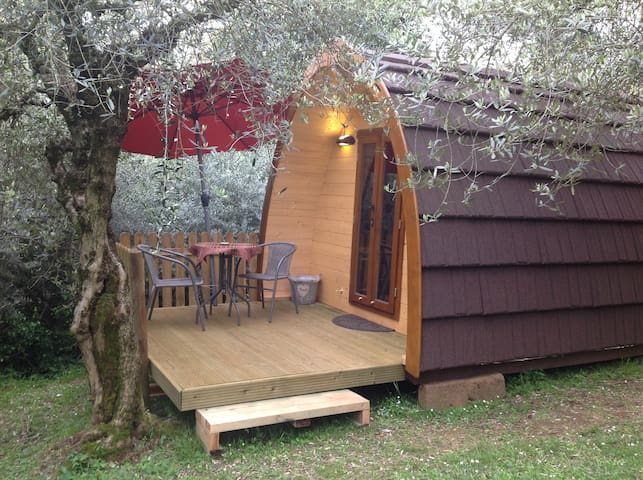 The apartments are located in a small and quiet campsite just 50 meters from the beach of the Gulf of Romantica. The Camping Garden Tourist offers apartments (two and three) for 2 to 7 persons holiday. We have a sunny pool. We are located 1 km from the center of the village, 300 meters from the mini market and playground, adjacent pizza restaurant and clothing store, 50 meters from an ice cream bar. clean outdoor spaces, cared for, and shaded with lots of green.
ประเภทห้อง
บ้าน/อพาร์ทเมนท์ทั้งหลัง
---
ประเภทที่พัก
อพาร์ทเมนท์
---
พักได้
7
---
ห้องนอน
Pieve Vecchia, Lombardia, อิตาลี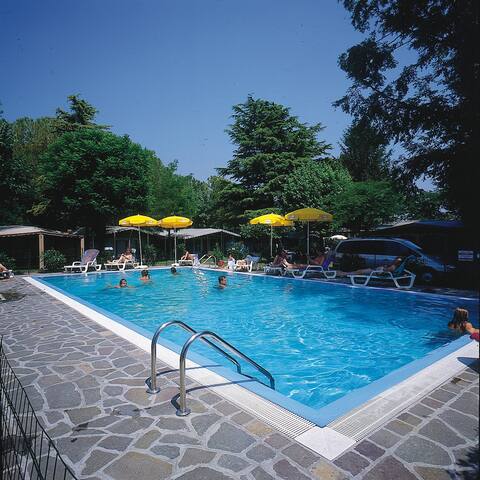 Splendida casa con giardino indipendente all'interno del complesso Gardagolf, vista sul campo da Golf, a pochi passi dalla piscina.
ประเภทห้อง
บ้าน/อพาร์ทเมนท์ทั้งหลัง
---
ประเภทที่พัก
บ้านพักตากอากาศ
---
พักได้
5
---
ห้องนอน
Soiano del lago, Lombardia, อิตาลี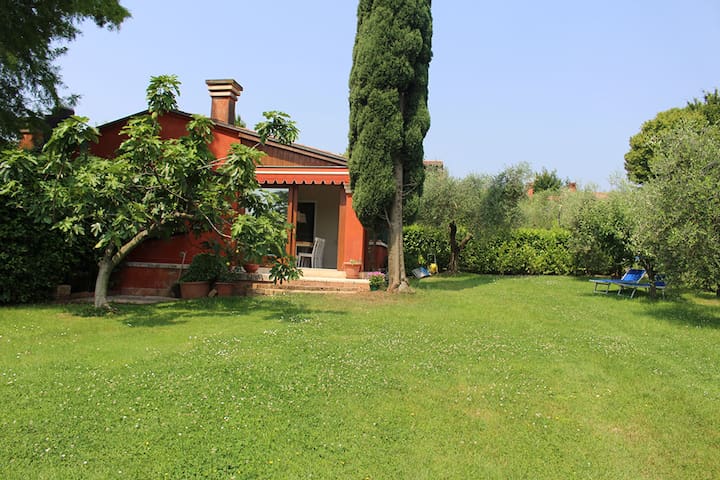 กรอกวันที่เพื่อดูการกำหนดราคาเต็ม มีค่าธรรมเนียมเพิ่มเติม อาจมีภาษีเพิ่ม