Come visit our beautiful country home, in a quiet neighborhood. Located just 2.5 miles from Hwy 99 and 15 minutes South of Fresno. Less than 2 hours away from Yosemite, Sequoia and King's Canyon National Parks!
Comfortable room with Tempurpedic mattress and television. Private bathroom and separate bathroom with shower access. Breakfast and coffee provided.
Stonehaven is such an oasis ! I always look forward to my stays there. They couldn't really be more attentive than they already are. They even pre-heat the spa for me each evening before I arrive and send me off with coffee to-go each morning (after feeding me a nice breakfast). Feels more like vacation than business travel !
Bryan
2015-10-10T00:00:00Z
Darle, the mother of Ashley, gave me a great welcome. Being in the spa outside in the garden at night under the stars was fantastic. I even swam at night in the beautiful pool. Great breakfast. Good talks. The day after we hanged out in the garden. Nicest i ve ever seen. Darle is a great host and warm person. I had a fantastic stay.
birger
2015-07-30T00:00:00Z
This is my second time staying at Stonehaven and it won't be my last. The accomodations are excellent. Much better than a five star hotel. The hostesses are very cordial and have the attitude of "make yourself at home", which definitely makes you feel comfortable. Thank you Stonehaven, "I'll be back"
Bud
2016-04-07T00:00:00Z
Awesome place ... Excellent hosts ! This is my "Go-to" place in the South Valley.
Bryan
2015-09-24T00:00:00Z
Of all the places I have stayed with AirBNB, this is my favorite. The hosts are very gracious, accommodations are 5 star and the location is excellent for my purposes. This being Christmas time, their Christmas decorations are superb. Merry Christmas
Bud
2016-12-21T00:00:00Z
This is hard to review as just a private room. This is an experience. Stonehaven comes by it's name very easily. The room was as described with a bathroom which had a beautiful view. The landscaping is something else entirely. It is a retreat. You would think you were near a waterfall in the Sierras with boulders strewn around, creating side streams with their own waterfalls. The Hostesses were exceptionally gracious. I would not hesitate to return. Exceptional!
Bud
2015-08-26T00:00:00Z
A wonderful weeks stay in the Valley! The central location and being convenient to a freeway exit made this an easy commute to both Visalia and Fresno for business meetings. The accommodations were comfortable and quiet. Breakfast was lots of great options and healthy too. A+ coffee!
Jeff
2016-02-13T00:00:00Z
Ashley was not around this week but Darle her mom was and was very helpful and welcoming.
David
2016-08-06T00:00:00Z
ประเภทห้อง
ห้องส่วนตัว
---
ประเภทที่พัก
---
พักได้
2
---
ห้องนอน
Fowler, แคลิฟอร์เนีย 93625, สหรัฐอเมริกา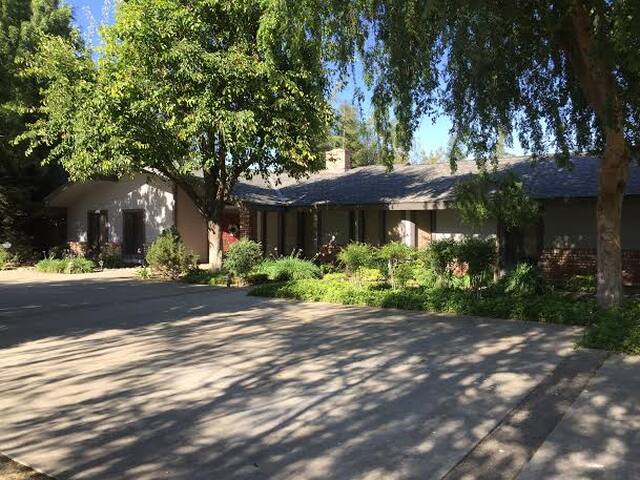 Quiet country home surrounded by orchards and vineyards but only 3 miles from the freeway. Less than two hours from King's Canyon, Sequoia and Yosemite National Parks! We are just 15 minutes south of Fresno, CA. Meet our gentle alpacas. We have 11 right now They love carrots if you happen to bring some! Cozy room with private bathroom and shower. Wireless, plenty of parking space. Swimming pool. Small towns nearby with good restaurants and stores. We are just "bed and breakfast" (i.e. we have jobs) with check-in any time after 6 p.m. and check-out time 10:30 a.m. If you stay more than one night we can certainly be more flexible on times. Beware, we have very friendly dogs........... We love meeting people from all over the world and we'd love to meet you! Barb and Charis
A wonderful stay! The room was clean and a nice size, the breakfast very generous and tasty (complete with homemade granola, fruit, cereal, bagels, and coffee), and the hosts gracious. They were so welcoming and happy to let our dog play with theirs. We also got to see the alpacas - such a unique touch! Overall a very pleasant stay.
James
2012-10-29T00:00:00Z
This place was just wonderful! Barb and Caris made us feel welcome and were so kind to let us play with the dogs and alpacas (we miss Cinnamon already!) Caris also made us a beautiful breakfast each morning. Highly recommend. Would love to stay here again!
laura
2015-07-07T00:00:00Z
We had a great time staying here. The description was accurate. The setting was great. We are birders and saw many birds just in the front yard. A real treat. The hosts were very friendly and house very clean. Room was comfortable with a private bath. We very much enjoyed the dogs (who were well behaved) and visiting the alpacas. There was a wide variety of breakfast choices each morning. The location was nice because it was in the country but close to Fresno for our meeting there. I would love to stay here again.
Gwen
2015-02-13T00:00:00Z
It was a wonderful time being with them. The place is lovely, big room private bathroom and even included a weighing scale. It has 5 adorable dogs and 18 cute alpacas to accompany your time. I will definitely go back again if I were to visit the US again. If you plan to visit the sequoia national park. You HAVE to stay there. It completes the trip.
Joel
2014-09-24T00:00:00Z
Barb and Charis are such great hotsts! We stayed with them while peach picking at the Masumoto Family Farm. They were extremely accommodating and made us a wonderful breakfast spread. Barb gave us a great tour of her ranch and answered all of our alpaca questions. She was even nice enough to let us come back to swim in their great pool after we had already left! I recommend staying with Barb and Charis and will come back for future peach harvests.
Miju
2012-08-06T00:00:00Z
Barb's alpaca ranch was a perfect place to stay. The room is quite, clean and cosy. The hosts are so nice and I enjoyed chatting in the evening. ... and the alpacas, they have so a soft fur. I felt in love with them. Charis even cared about breakfast as I was leaving quite early the next day. I definitely recommend staying there. I regret I could not stay a bit longer.
Johanna
2014-08-28T00:00:00Z
We could not have asked for more welcoming hosts and thoughtful and open set of people to greet us on our travel. The only thing I regret is not having had the chance to hang out with Barb and Charis more. Thank you!
Oscar
2015-02-09T00:00:00Z
We had a short but sweet stay at Barb's and Charis' lovely ranch-house hybrid where activities included alpaca feeding, cuddling with dogs and getting some much needed rest. Both the home and the ladies were adorable. Breakfast was fantastic and included extravagantly colored eggs from the neighborhood. Rumor has it, white owls were nesting in a nearby palm tree. Definitely recommended stay!
Ellika
2016-04-12T00:00:00Z
ประเภทห้อง
ห้องส่วนตัว
---
ประเภทที่พัก
---
พักได้
2
---
ห้องนอน
Fowler, แคลิฟอร์เนีย 93625, สหรัฐอเมริกา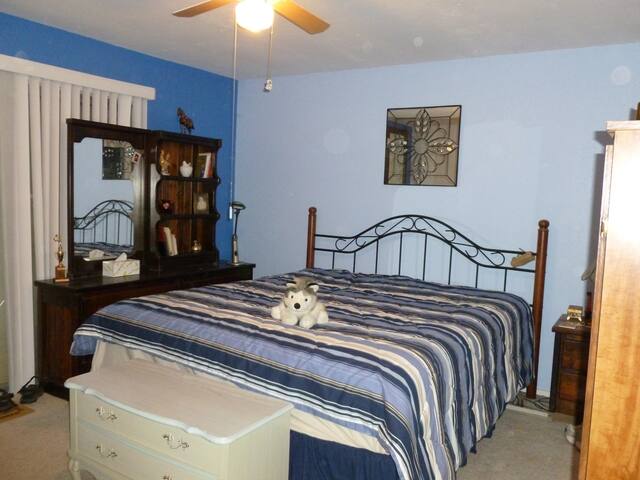 This is a two bedroom (URL HIDDEN) have your own (URL HIDDEN) Internet is available 24 hours of the day,tv is available to your (URL HIDDEN) (URL HIDDEN) only alone with my two year old daughter.
Reuben responded quickly to my last minute request. He had to work and made sure his cousin greeted me and showed me where everything was. The bed was comfortable; I slept well.
Tama
2016-06-13T00:00:00Z
Reuben is an awesome guy! Room was very clean and bed super comfy, fast wifi connection also. Reuben was very friendly by inviting me to have dinner with him over a great conversation about life, I can safely say that I made a new friend :)
Ismael
2016-06-01T00:00:00Z
cool place !
Himanshu
2017-02-06T00:00:00Z
Good price for the money,big room very nice person
Joseph
2017-02-24T00:00:00Z
Awesome stay. Simple home. Reuben is an amazing host.
Christina
2016-08-16T00:00:00Z
Reuben was waiting to welcome me
Bummie
2016-08-02T00:00:00Z
Reuben is very nice and accomodating. I did not like the scenario, I feel very un safe. I was unease parking my car on the street but I was assured none has ever been broken in.
Eric
2016-07-12T00:00:00Z
I was unable to stay due to work, but Reuben was courteous and responded to my messages very promptly.
Tangie
2016-06-02T00:00:00Z
ประเภทห้อง
ห้องส่วนตัว
---
ประเภทที่พัก
---
พักได้
1
---
ห้องนอน
Fresno, แคลิฟอร์เนีย 93727, สหรัฐอเมริกา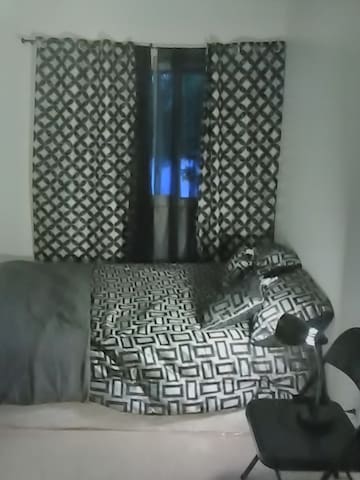 ประเภทห้อง
บ้าน/อพาร์ทเมนท์ทั้งหลัง
---
ประเภทที่พัก
---
พักได้
2
---
ห้องนอน
Fresno, แคลิฟอร์เนีย 93706, สหรัฐอเมริกา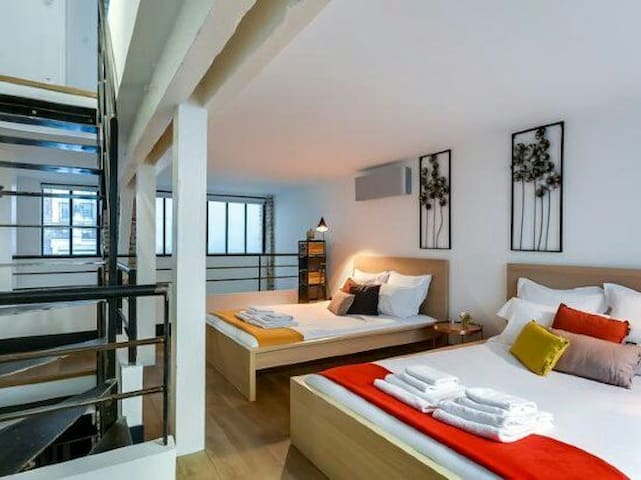 My place is close to public transport and the airport. You'll love my place because of the coziness and the location. My place is good for solo traveler nurses and respiratory therapists and furry friends (pets). Only.
You will have your own bathroom and walking closet..
Is very family oriented and gated community.. quiet and great neighbors.
Alicia kept in touch during my commute to her house. The rainy weather delayed arrival. She adjusted her schedule to be at the home to greet and assisted with moving my stuff into home. Her home is lovely in a quiet neighborhood - easy in and out, access to all main hwys including airport. Very helpful to direct when GPS is wacky! Easy to talk to. Son is a young gentleman with a welcome smile. Highly recommend to hang out for short or long stay.
Lydia
2016-11-20T00:00:00Z
ประเภทห้อง
ห้องส่วนตัว
---
ประเภทที่พัก
---
พักได้
1
---
ห้องนอน
Fresno, แคลิฟอร์เนีย 93725, สหรัฐอเมริกา
กรอกวันที่เพื่อดูการกำหนดราคาเต็ม มีค่าธรรมเนียมเพิ่มเติม อาจมีภาษีเพิ่ม