Located in the heart of Brabant, one of the southern provinces in the Netherlands. Just one hour drive from dynamic Amsterdam, either by car or public transport. Rotterdam and The Hague are easily reachable as well. Less than one hour drive from Antwerp and one and a half hour from Brussels. Also close to the German cities of Düsseldorf and Cologne. Conveniently located close to the famous Efteling theme park (10 min.) and the bustling city of Den Bosch (15 min.).
Ground floor: Large kitchen 16 sqm with patio doors to enclosed front garden facing North. Living room of 40 sqm with patio doors to enclosed backyard facing South, with port entrance. Hall and toilet. Second floor: Bedroom 20 sqm with sliding doors to large balcony. Bathroom with shower and toilet. Third floor: Master bedroom 20 m2, bathroom bath and integrated shower. Quiet area, shops and restaurants within walking distance. Public transportation is available at 500 m. It takes about 15 minutes to 's-Hertogenbosch Central Station and city center. Drunen is located next to the national park 'Loonse and Drunense Duinen'. Seven golf courses can be found in surrounding region. Furthermore, touristic attractions such as the old Giersbergen hamlet, the medieval fortress city of Heusden, amusement park the Efteling, national park the Biesbosch, 's Hertogenbosch, Oisterwijk and Breda are at a short distance. Antwerp is about an hour's drive away.
Perfect stay!
Bartlomiej
2016-12-03T00:00:00Z
Un grand Merci à Daantje elle a une très belle maison bien équipés et très propre !! On était accueillit comme des rois (champagne, bougies partout dans la maison, lits déjà préparés. Vraiment nous avons passé un très bon séjour .
Marloes
2016-10-29T00:00:00Z
Fantastic!!! Our stay in Drunen at the Spacious & Quiet 2/1 residence was the best. The arrangements went so nicely with quick responses through e-mail. To our surprise Daan asked if we would like to check in early so we arrived at 10AM and had a tour of the home with any needed explanations of the home. Upon entering the home you see a beautifully decorated show house with a large kitchen and dining table(very modern and sleek) with a beautiful private garden filled with Hydranga's. As you enter the living area you are once again looking into a beautiful private garden with nice seating. The living area is again beautifully decorated with comfortable seating and a formal dining table. On the bottom floor is a seperate toilet. On the first and second floors are the 2 bedrooms. Each bedroom is spacious and very comfortable. The first floor bathroom is complete with shower, sink, toilet and washer and dryer. The second floor bathroom is with a soaking tub and sink. The locaton of the home is a great place to have a home base and explore the area. We are an hours drive to most area's. Antwerpen, Brugge, Delft, Maastricht. At the end of the day we would always return to our comfortable home. In the town of Drunen we had some great meals. Hemlocks Grotestraat 67 Drunen A great place to experience fine dining and fun. The staff was very interactive and engaged in our experience. Food was excellent. Also Din Dries Duinweg 65 Drunen This is a place where we stumbled upon and had an enjoyable dinner outside with many locals stopping by. Inside the restaurant there is a glass wall allowing one to watch the arena and horses being riden. This home is in a quiet neighborhood, parking is adjacent to the home and it exceeded our expectations. We will definitely stay here again. Thank you Daan for sharing your home!!!
David
2013-08-21T00:00:00Z
ประเภทห้อง
บ้าน/อพาร์ทเมนท์ทั้งหลัง
---
ประเภทที่พัก
บ้าน
---
พักได้
4
---
ห้องนอน
Drunen, North Brabant, เนเธอร์แลนด์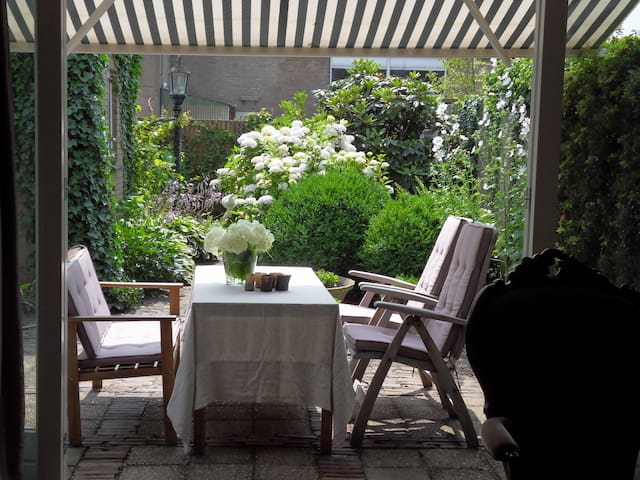 Nette kamer in nieuwbouwwoning die van alle gemakken voorzien is. Tilburg en concertzaal 013 is vijf-tien minuten hier vandaan. Ook de Efteling is vanuit hier gemakkelijk te bezoeken.
There's no place like home
It was so nice to stay at Dillon's place. The house is clean and very modern. Dillon is a cool guy and it was fun hanging out with him and his friends.
Julia
2016-09-13T00:00:00Z
Dillon nous a accueilli très chaleureusement et en toute simplicité, nous avons passé un excellent séjour. Sa maison, récente, est bien aménagée et confortable. Elle dispose d'une terrasse intérieure. Elle est aussi bien située: à quelques minutes de l'autoroute qui mène à Breda et à Bois-le-Duc, à 15-20 mn à pied du centre d'Oisterwijk qui est une ville agréable (nous recommandons les terrasses du Lind!).
Laurence
2016-05-09T00:00:00Z
This is my second stay at Dillon's place, as always he is a real gentleman. It will be a pleasure to return for another stay.
Melvin
2017-04-06T00:00:00Z
Staying with Dillon was a great airbnb experience. He owns a well designed House, welcomed us with a cup of coffee and made us feel very comfortable. A perfect host. Though we only stayed for one night to see the Hieronymus Bosch exhibition we were feeling at home away from home. So whenever we will travel to that region in the Netherlands again, Dillon and his house would be our first choice to stay.
Lothar
2016-04-02T00:00:00Z
Unser Aufenthalt bei Dillon war sehr schön. Wir wurden herzlich empfangen und durften uns wie zu Hause fühlen. Die Küche, das Wohnzimmer sowie Netflix und ein Kühlschrank voller Bier standen uns zur Verfügung. Das Haus ist sehr sauber und gemütlich.
Vinzent
2016-08-10T00:00:00Z
Dillon heeft bij aankomst mij de woning laten zien en we hebben gezellig koffie gedronken. Dillon is een erg aardig persoon waarmee je een goed gesprek kan voeren.
Rob
2016-03-09T00:00:00Z
Het intensieve contact voor de overnachting zorgde ervoor dat wij de nieuwbouw huis konden vinden en de sleuteloverdracht konden bespreken. Als je meer wilt leren over Brabantse gezelligheid, een luxe overnachting wilt hebben en genieten van luxe faciliteiten (incl. tuin, tweepersoonsbed, ruime woonkamer & keuken, verse bonen koffie, citrus pers en ook nog worstenbroodjes) dan zou ik bij Dillon een overnachting boeken.
Melvin
2016-03-28T00:00:00Z
Zeker een aanrader! Heel vriendelijk ontvangen, supermooi huis, alles goed geregeld. Jullie hebben de ervaring op best kept secret nog beter gemaakt. :)
Judy
2016-06-21T00:00:00Z
ประเภทห้อง
ห้องส่วนตัว
---
ประเภทที่พัก
บ้าน
---
พักได้
2
---
ห้องนอน
Oisterwijk , Noord Brabant, เนเธอร์แลนด์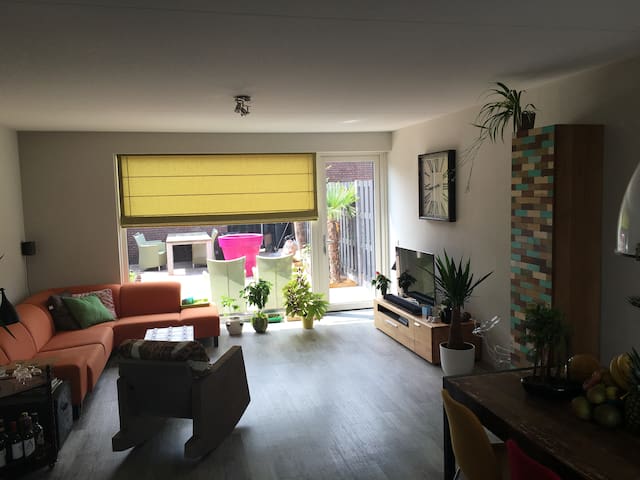 Minutes walk from the train station in quiet area very close to Oisterwijk's famous nature reserve and the famous high street full of cafe's and world class galleries and shops. Come relax and experience "The Pearl of Brabant".
The house is in a very quiet neighbourhood and the backyard is very private so you will feel as if you have your own piece of the world to enjoy in this very unique village.
The house is uniquely situated equal distance from the vibrant high street of Oisterwijk which is full of fabulous restaurants and terraces and the famous forests and lakes of Oisterwijk also full of cafe's and forest terraces. The area is totally unique with all kinds of opportunities for activities and adventures.
Andrews home was perfect, we felt very welcome, everything was just as stated, communication was superb, any question or issue that arose was immediately answered. Lovely home and great location. I would highly recommend staying in Andrews place it has every comfort of home.
Janet
2016-11-06T00:00:00Z
We had a wonderful Christmas time in Oisterwijk. It was easy to contact Andrew and he always replied right back. The home had some (easy to fix) flaws, which we communicated with Andrew. Nothing can beat the location. Only a 10 minute walk from the train station & the center of Oisterwijk with great restaurants & beautiful boutiques.
Wendy
2017-01-05T00:00:00Z
This house is a very beautiful little house in a wonderful little village. We found the house very clean and there is absolutely everything you need if you also intend to cook and eat with your friends at a dinner party. This house is a really lovely vacation house, it's warm and cozy and you will feel at home instantly. The host and property manager are very nice and ready to help you as far as shops or public transportation infos and the people in Oisterwijk is really really nice. We had a wonderful time here! 5 stars!
Manuel
2016-04-18T00:00:00Z
ประเภทห้อง
บ้าน/อพาร์ทเมนท์ทั้งหลัง
---
ประเภทที่พัก
บ้าน
---
พักได้
4
---
ห้องนอน
Oisterwijk, Noord-Brabant, เนเธอร์แลนด์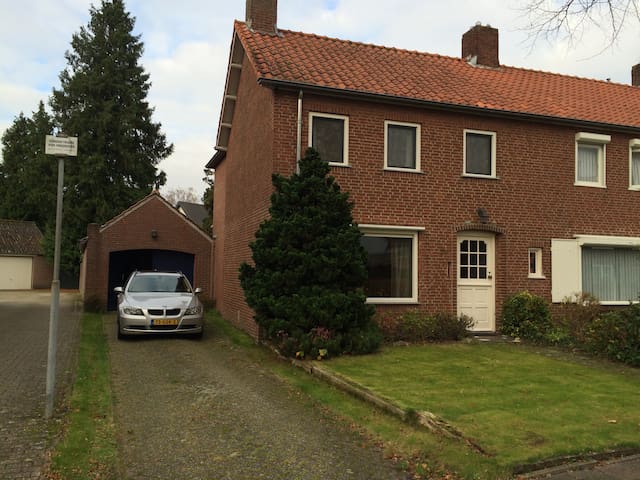 Comfortable family home in the south of Holland in a "green region" with all amenities and recreational activities. Quick access to Amsterdam, Brussels and Paris. Dutch en Belgium beaches approx. 1 hour and 15 minutes away.
ประเภทห้อง
บ้าน/อพาร์ทเมนท์ทั้งหลัง
---
ประเภทที่พัก
บ้าน
---
พักได้
5
---
ห้องนอน
Oisterwijk, Noord-Brabant, เนเธอร์แลนด์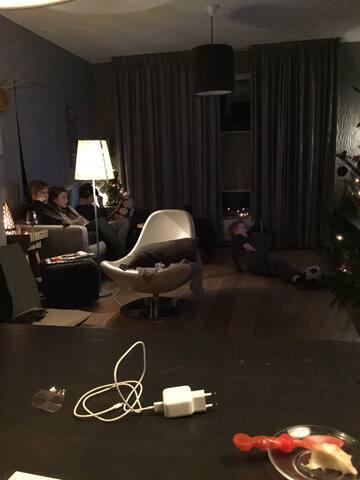 A beautiful house for 2 in the woods with a garden, close to a nature park. A combination of feeling at home and being away in a gorgeous natural environment. The house has wifi and everything to be creative, to write, to paint, relax and to enjoy.
The positive energy, quietness, and serenity of nature, the birds in the garden and the atmosphere in the house will make this place to an unforgettable stay. You will feel at home and close to nature.
The nature with its woods and may little lakes is magnificent. The village Oisterwijk is 3,5 km away. You can get there by car or by bike. The village is very lively with many bars, restaurants, a good shopping area, a gallery and good supermarkets. At walking distance there are a few restaurants and places where you can have a drink.
Ik werd hartelijk ontvangen. Er stond een fles wijn klaar. Alles zat in het huisje wat nodig was. Hoewel het weer niet echt meewerkte hebben we ons goed vermaakt. Er is veel te doen in de omgeving van Oisterwijk De omgeving van het huisje is mooi en rustig. Je zit midden in de natuur. Er zijn veel wandel en fietsroutes in de omgeving We hebben genoten van de prachtige vennen, die zowat langs de deur liggen Kortom ook bij niet al te best weer een fijn vakantie adres.
marjolein
2016-08-06T00:00:00Z
ประเภทห้อง
บ้าน/อพาร์ทเมนท์ทั้งหลัง
---
ประเภทที่พัก
บ้าน
---
พักได้
2
---
ห้องนอน
Oisterwijk, Noord-Brabant, เนเธอร์แลนด์
Wilt u eens lekker met vakantie, maar het comfort van thuis niet missen? Dan ligt in Oisterwijk, in hart Brabant, een kleinschalig bungalowparkje dat bestaat uit 4 luxueuze Finse Boshuizen. LET OP: Onze Finse Boshuizen verhuren we uitsluitend per week, weekend of midweek met aankomst en vertrek om vrijdag of maandag!
Kijk voor uw aanvraag eerst naar de de boekingsvoorwaarden! De Boshuizen zijn sfeervol voor 6 personen ingericht en bieden het comfort van bij u thuis. Met een luxueus ingerichte keuken maar ook een was- en droogmachine. Op de bovenverdieping zijn een luxe compleet ingerichte badkamer en 3 slaapkamers (bedlinnen te huur of zelf mee te nemen). In de Finse Boshuizen is gratis Internet beschikbaar. De houten boshuizen liggen tegenover Vakantiepark De Reebok, u kunt gebruik maken van de voorzieningen en het animatieprogramma die het park biedt. Maar ook fietsverhuur en een winkeltje waar u 's ochtends terecht kunt voor versgebakken broodjes en uw krant, een snackbar en een Grand Café. Het is zowel binnen als op het terras, aangenaam vertoeven. Hebt u in de vakantie geen zin om dagelijks zelf in de keuken te staan, dan kunt u in Grand Café de Reebok genieten van een prima keuken, die ook door de lokale bevolking zeer gewaardeerd wordt. Het tegen het park gelegen natuurreservaat de Kampina, biedt een rijke diversiteit aan flora en fauna voor natuurliefhebbers. Vanuit het huis loopt u het bos in, met heide, vennen en zandverstuivingen. 's Zomers alsook in de winter zijn er prachtige wandel- en fietsmogelijkheden. Op 10 minuten fietsen ligt het welvarende en elegante stadje Oisterwijk, zowel overdag als 's avonds is er volop vermaak. Er zijn luxueuze winkels, gezellige terrassen en een weekmarkt. Op culinair gebied kunt u zich hier tegoed doen in de vele verschillende restaurants. In de nabije omgeving zijn diverse plaatsen die de moeite van een bezoek zeker waard zijn, zoals de steden 's-Hertogenbosch, Tilburg, Breda, Eindhoven en Turnhout. Of dorpen, als Oirschot en Hilvarenbeek. U ziet, genoeg redenen om de uitdaging aan te gaan, comfortabele boshuizen, en een geweldige omgeving. U zult het geen straf vinden om lekker lui, onderuit te gaan bij de houtkachel, de dag door te brengen met een goed boek of een mooie DVD. De ruime tuin met terras zal op mooie dagen ook erg aantrekkelijk zijn met de vele vogels, eekhoorns en konijntjes. Kortom, wilt u zich thuis voelen in een andere omgeving dan zijn deze Finse boshuizen beslist een aanrader!
Het park ligt midden in het groen en is een fantastische plek om te wandelen en te fietsen. Op 10 minuten fietsafstand is het centrum van Oisterwijk. Dit pittoreske, maar mondaine stadje wordt ook wel 't Gooi van Brabant genoemd. Hier vind je meerdere grote supermarkten, slagerijen, bakkerijen, diverse landelijke winkelketens en exclusieve shops. Daarnaast zijn er tientallen bars, cafés en restaurants. Vanuit Oisterwijk is het zeker de moeite waard om de steden Tilburg, 's-Hertogenbosch en Eindhoven te bezoeken (15 – 25 min autoafstand) . Attractieparken De Efteling en Beekse Bergen liggen eveneens om de hoek.
Alle vragen die we per mail stelden werden vlot beantwoord.
Marijke
2016-12-05T00:00:00Z
House is situated in a lovely area in Oisterwijk with lots of activities in the close vicinity for young kids. We stayed with our two boys of 4 and 6 in Fins Boshuis 1 which was very comfortable and had a lovely garden with terrace at the back of the house that we used a lot. Only minor negative was that host didn't manage to get the DVD player fixed during our stay. All in all we had a great stay and would definitely recommend this house to other people!
Eric
2016-07-30T00:00:00Z
Wat een ongelooflijk mooie accommodatie en omgeving! Het huisje heeft voldoende ruimte en is ingericht met interieur van kwaliteit, zelfs een elektrische relaxfauteuil. Geen spullen van een Zweeds warenhuis te vinden. Ook is het huisje voorzien van een heerlijke houtkachel die de kamer binnen no-time opwarmt. De ligging is prachtig, midden in de natuur. Al wonen wij op een kwartier rijden afstand, het voelde echt als een vakantie. Vanaf de eettafel hadden we een mooi uitzicht op de broedende bonte vliegenvanger, genieten! Ondanks dat het huisje erg fijn was, hebben wij het huren zelf als minder prettig ervaren. Al bij aankomst kregen we bezoek van de buurvrouw, die bleek betrokken te zijn bij de verhuur (niet Ruud of zijn vrouw). Mevrouw wilde weten of we niet met te veel personen aanwezig waren. Op dat moment was dat met 5 volwassenen en 1 baby. Ik gaf aan dat het nog wel kon zijn dat mijn vrouw later zou komen, die was op dat moment nog ziek. Al was het volgens mevrouw niet de bedoeling (6 volwassenen en 1 baby), ze vond het prima en zou het door de vingers zien. Bij vertrek kwam de buurvrouw ons nog vriendelijk gedag zeggen, terwijl we aan het inpakken waren. Eenmaal bij de receptie om uit te checken, werd ons gevraagd met hoeveel personen we precies waren. Blijkbaar was de buurvrouw nog langsgegaan omdat ze dacht te zien dat we met maar liefst 8 mensen in het huisje hadden gezeten. Dit was niet het geval. Mijn vrouw is zondagavond aangekomen, waardoor we in totaal met 6 volwassenen en 1 baby waren, precies zoals we hadden aangegeven. Dat we hier achteraf nogmaals over onder/bevraagd worden, gaf ons allemaal een vervelende nasmaak over de verhuur.
Arjan
2016-05-17T00:00:00Z
Super leuk en schattig huisje! Heel erg schoon en mooie locatie. Goed geïsoleerd qua warmte en geluid. Mooie bosrijke omgeving met het centrum van Oisterwijk op 3km. Enige minpuntje was de afwezigheid van een aantal basisartikelen die in mijn ervaring met airbnb wel aanwezig zijn (vaatwastabletten, afwasborstel, zeeppompje etc.) dus even goed opletten dat je veel spullen toch ook van thuis mee moet nemen of moet kopen. Maar al met al heerlijk weekend gehad en zeker een aanrader!
Nina
2016-11-14T00:00:00Z
Mooi huisje, fijn ingericht. Lekker dicht bij de bossen.
Suzanne
2017-01-06T00:00:00Z
Met zorg ingericht huis, er is echt aandacht aan besteed, waardoor je je direct welkom voelt. De inrichting was meer dan volledig. De ligging van het huis is prachtig, in het bos met ruime tuin, kortom wij hebben een hele fijne vakantie gehad!!
Ruud
2015-08-01T00:00:00Z
This was an amazing home with everything you need to vacation comfortably! The hosts were awesome at adapting to our needs with a late check in and an extremely early departure. The area has several restaurants and is very close to a quaint town. We would absolutely recommend it to anyone!! Loved it!!
Kim
2017-02-27T00:00:00Z
Het huisje was super comfortabel; vloerverwarming, open haard, boxspringbedden en een erg complete keuken met zelfs een tosti-ijzer en vaatwasser.
Kirsten
2017-02-20T00:00:00Z
ประเภทห้อง
บ้าน/อพาร์ทเมนท์ทั้งหลัง
---
ประเภทที่พัก
บ้าน
---
พักได้
6
---
ห้องนอน
Oisterwijk, Noord-Brabant, เนเธอร์แลนด์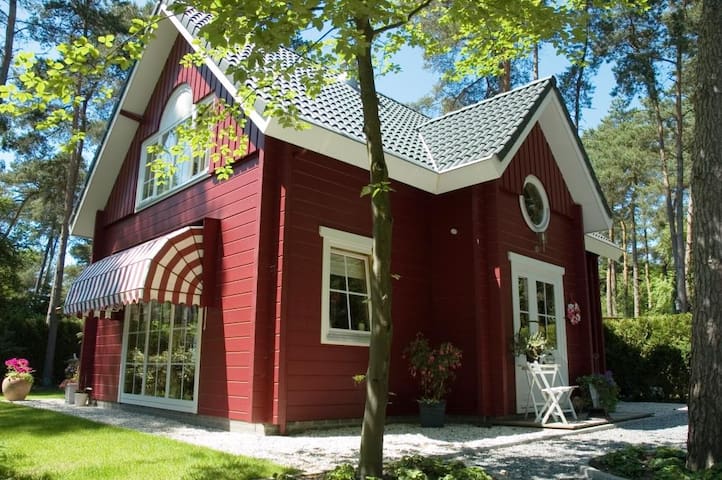 Bungalows Oisterwijk is gelegen midden tussen de prachtige bossen en vennen van Oisterwijk. Bungalows Oisterwijk is een onderdeel van Résidentie Sparrenburg en beschikt over een 7-tal schitterende luxe hotelbungalows.
Prachtig gelegen midden tussen de bossen en vennen van Oisterwijk. - 2 verdiepingen. - 3 slaapkamers met 2 x boxspring per kamer. - 1 van de slaapkamers is op de begane grond. - 2 Badkamers met ligbad en wastafel. - 1 van de badkamers is op de begane grond. - 2 toiletten. - Keuken voorzien van serviesgoed, pannen, bestek en ander keukengerei, koelkast met vriesvak, 4 pits kookkachel, magnetron en koffiezetapparaat. - Eethoek voor 6 personen met aanliggend terras en tuin. - Woonkamer met TV. - Berging, wasmachine en droger.
Oisterwijk heeft een centraal station. Wij raden u aan om fietsen mee te nemen of bij ons te huren. De omgeving is perfect om per fiets te verkennen!
ประเภทห้อง
บ้าน/อพาร์ทเมนท์ทั้งหลัง
---
ประเภทที่พัก
บ้าน
---
พักได้
6
---
ห้องนอน
Oisterwijk, Noord-Brabant, เนเธอร์แลนด์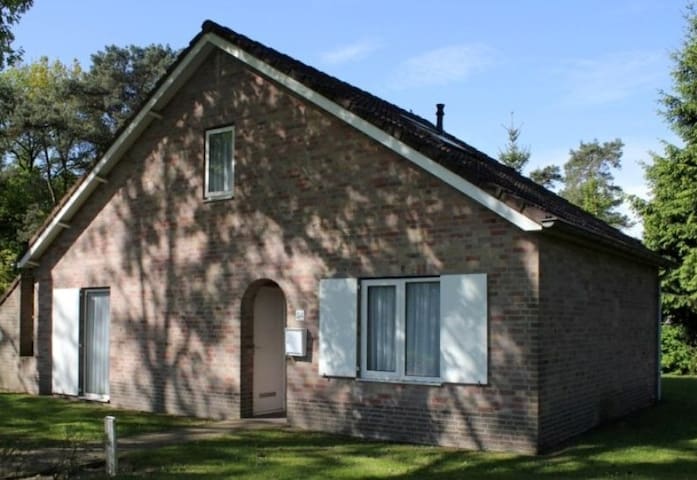 Ons huis ligt vlakbij het centrum van Oosterhout in een rustige omgeving. Het is een gemeentelijk monument dat in 2014 geheel gerestaureerd is. De vele gasten vinden het een ruim stijlvol huis, van alle gemakken voorzien. Je zult genieten van de goed uitgeruste keuken, de zeer ruime kamers, de privacy en het beschermd stadsgezicht. Omgeving: Efteling, Biesbosch, Breda, Den Bosch, Amsterdam (1 uur). De ruimte is geschikt voor stellen, zakelijke reizigers, gezinnen (met kinderen) en grote groepen.
Het sfeervolle ruime huis van 220m2 heeft 6 slaapkamers en drie badkamers voor max. 12 pers.. Het is geheel gericht op een aangenaam verblijf. Rondom ligt een grote afgesloten ruime tuin. Het is zeer duurzaam gebouwd. Zo zijn er een warmtepomp met vloerverwarming en zonnepanelen. Het regenwater wordt opgevangen en gebruikt voor de spoeling van de toiletten. Voor 3 euro per persoon is er een handdoekenpakket verkrijgbaar.
Het huis ligt in een landelijk gebied op 10 minuten lopen van het gezellige centrum van Oosterhout. U kunt heerlijk wandelen en fietsen in de directe omgeving en de drie kloosters bekijken. Tegenover is een mooie kinderboerderij.
Bel hébergement. Propriétaires sympathiques et acceuillants.
didier
2017-01-13T00:00:00Z
The host canceled this reservation 44 days before arrival. This is an automated posting.
marco
2017-03-11T00:00:00Z
Super nice and spacious house, with very correct owners and close to Biesbosch natural park!
Simon
2017-02-19T00:00:00Z
ประเภทห้อง
บ้าน/อพาร์ทเมนท์ทั้งหลัง
---
ประเภทที่พัก
บ้าน
---
พักได้
12
---
ห้องนอน
Oosterhout, Noord-Brabant, เนเธอร์แลนด์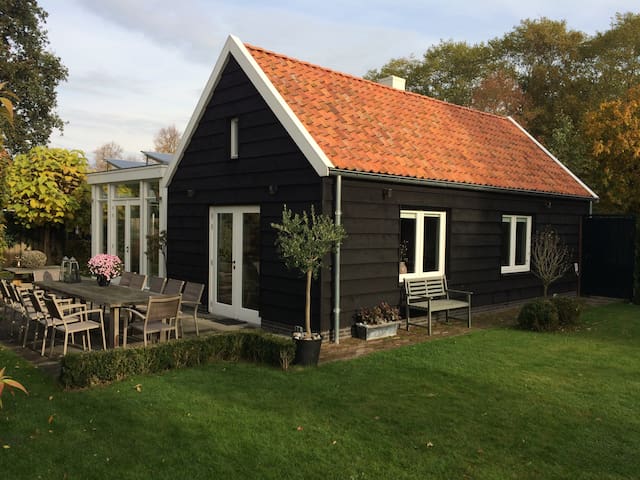 Verblijf in stille, verkeersvrije omgeving op 10 min te voet van de markt. Gelegen aan de rand van een park, de IJzeren vrouw en rivier de Aa met zicht op stadswal.
Fijn verblijf gehad in Den Bosch. Ruime, verzorgde woning met leuke zitmogelijkheid in de tuin op goede loopafstand van het centrum!
Rian & Eveline
2016-08-22T00:00:00Z
Berthe's apartment is a cost-effective option for staying in Den Bosch. It is conveniently located within walking distance from the historic centre of Den Bosch. It is in a quiet area and she had arranged for a parking permit down the street. The place is as pictured and especially the patio doors are great as they open the living room completely to the garden.
Udo
2016-07-17T00:00:00Z
Berthe's place offered us everything we wanted for our weekend in Den Bosch. Nice beds, good shower and a very well equipped kitchen. All in a big house in a quiet neighborhood, 10 min walk from the center. Unfortunately we didn't get to meet Berthe, but Nissrine provided us with everything we needed to know.
Suzanne
2016-11-06T00:00:00Z
Большой, чистый и уютный дом, 10 минут пешком от центра города по красивым тихим улочкам. В доме есть всё необходимое,хозяева приветливые и отзывчивые люди,встретили на вокзале,рассказали про город,мы очень довольны!
Maria
2016-09-08T00:00:00Z
Alle faciliteiten aanwezig. Goede communicatie en ontvangst. Ongeveer 20 minuten lopen naar de Brabantshallen en 15 naar het centrum. Een aanrader!
Patrick
2017-04-02T00:00:00Z
Bert's house is nice, clean, big, well-equipped and well located. Free Parking is included, city center is 5-10min away by foot. We liked to stay at Bert's place very much, recommendation!
Harald
2016-08-08T00:00:00Z
Wij vonden het erg makkelijk om alles te vinden, dit dankzij een topol communicatie met bert! Ook waren wij buitengewoon tevreden over de locatie. Wij hadden zelf wat fietsen gehuurd wat alles nog bereikbaarder maakte. Een perfecte plek, zeker als je met 5 mensen bent om gezellig te verblijven en Den Bosch te zien.
Emma
2016-07-25T00:00:00Z
Great, quiet location with walking distance to everything in Den Bosch. You will find everything you need in the house, which is well organized with 3 separate bed rooms, nice living room and a small garden. Bert is a very kind and pleasant host and made our arrival easy, even though we came in late at night. The description corresponds perfectly well to the house. I can only recommend this place if you are going to Den Bosch!
Magnus
2016-06-23T00:00:00Z
ประเภทห้อง
บ้าน/อพาร์ทเมนท์ทั้งหลัง
---
ประเภทที่พัก
บ้าน
---
พักได้
5
---
ห้องนอน
's-Hertogenbosch, Noord-Brabant, เนเธอร์แลนด์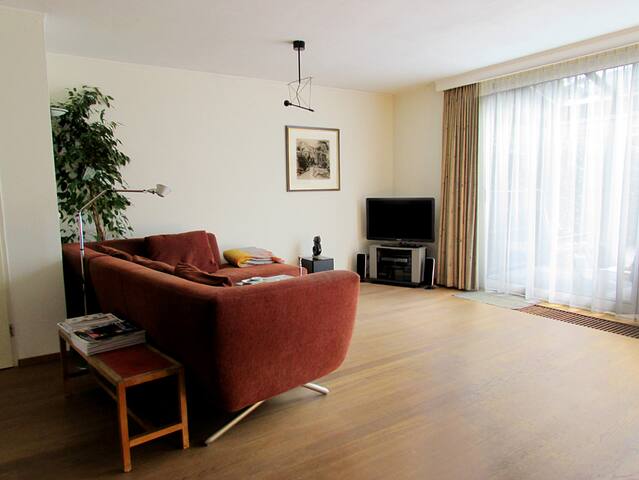 Beautiful city center location - middle of den Bosch. Terrace house built in 1886 providing whole downstairs floor to guests with guest's private terrace, ensuite with bath, reading area & separate toilet. Delicious Breakfast included.
This rental includes the whole ground floor which makes this easily accessible for wheelchairs or pushchairs. With a large double bedroom with an outdoor terrace, bathroom including bath and separate toilet. And a library area where you can enjoy your breakfast or read a book!
Beautiful quiet setting on the canal, located in the city center with all amenities on your doorstep such as shops, restaurants, bars. There are boat tours outside our house.
I had a lovely stay at Lucy's place, the house is in a great setting right by the canal and super close walking distance to everything in the town. The room is really big and just like in the description with a huge bed that is mega comfortable. Everything was clean to a really high standard and Lucy is a perfect host ready with any recommendations and help that you need and rustled up a delicious breakfast. Absolute home away from home, would definitely recommend.
Laura
2016-11-12T00:00:00Z
Fantastische locatie en verwend met een heerlijk ontbijtje.
Daniel
2017-02-26T00:00:00Z
Heerlijk verblijf, dicht bij centrum en toch rustig.
Nannette
2017-03-26T00:00:00Z
Uitstekende plek om de stad te verkennen en goed bereikbaar. Goed verzorgd onderkomen.
Sandra
2017-02-27T00:00:00Z
Great breakfast, lovely accommodations, excellent location! Lucy was very responsive and even let us drop off our bags early.
Katherine
2017-02-28T00:00:00Z
Prima verblijf en lekker dicht bij het centrum.
Eveline
2017-04-08T00:00:00Z
The host canceled this reservation 61 days before arrival. This is an automated posting.
Tim
2017-03-18T00:00:00Z
ประเภทห้อง
ห้องส่วนตัว
---
ประเภทที่พัก
บ้าน
---
พักได้
2
---
ห้องนอน
's-Hertogenbosch, NB, เนเธอร์แลนด์
Bedroom (appr 2-3 mtr) with sink. Only 1hr from Amsterdam! This room is small but there's enough space to sleep with two people. For short stay (2 nights) I'm charging a small fee (3 euro) for blankets, cushingcovers and towels. Spending more than 2 nights all te bedding is included in the roomprice. There's a single bed in the room and we can provide an extra mattress. There's no other furniture. The sink in the room is yours to use during your stay. You're welcome to use the bathroom as well but it is the familybathroom and thereby used also by others than yourself. Food is not included in the price but in our kitchen it's ok you make yourself a meal or a drink. You can store drinks and foods in the cupboard, refridgerator or freezer. Our home is WIFi environment-there's unlimited internetacces 24 h a day. On the back of the house is a nice garden which you can also use for drinking and eating or just to relax and read a book.. Smoking is not allowed in the house but you can use the garden to do so. There is a spare bike you can rent for 5 euro/day. Public transport: 8 minutes by foot from railwaystation Den Bosch Oost-30 minutes from main railwaystation. There are busses (line 63) towards the centre It is a family home, mostly we get to bed early and wake up early. Entering the house is only possible when there's someone at home-which is most of the times the case. There are two restaurants in the street, one of them is Italian. You also can get fastfood very nearby. There are supermarkets (AH and Arabic supermarket) close to our home-walking distance 30 sec. There's also an Asian market quite nearby towards the centre of town. We have some famous turistic and cultural attractions: Jeronimus Bosch Art Centre, Brabants Museum, European Ceramics Work Centre. The city of Den Bosch is a medieval town very worthwhile visiting. There are lots of outdoor swimming possibilities, city beaches. The most beautiful amusement parc in Europe very nearby in Kaatsheuvel. De Efteling. An amazing fairytaillike experience.
Very good place. Hannie, the host, was so welcoming and made me feel like home straight away. Good value for money with shops and supermarkets around, and 10-15 mins walk to the city center. I recommend it, I had everything I needed.
yulyan
2017-03-24T00:00:00Z
Hannie is really nice and kind and makes you feel at home. You have your privacy, but it is also possible to use the kitchen if you need. There is just one bathroom and toilette in the house for the whole family and guests, but it was not a problem! The house is not in the center of the city. You can use a bus during the day (nr.3, twice per hour), but the last one is at 21.30 from the Central Station, so if you have to come back home after that hour you always need a taxi (which is quite expensive). Anyway I really recommend this place to everybody!
Tania
2016-04-16T00:00:00Z
Hannie und ihre Familie sind exzellente Gastgeber, man fühlt sich gleich wohl. Ein schönes, kleines Haus. Nur zu empfehlen!
Sebastian
2016-03-19T00:00:00Z
I had a really pleasant stay. The house is only a 20min walk from the city centre so it was very convenient to walk everywhere. Plus there was gorgeous weather! The train station is a 35min walk. Hannie was so kind to let me stay at her house while she and her family were on holiday, so unfortunately I didn't have the pleasure of meeting her. She arranged for her lodger Helga to pick me up at the train station and accompany me to the house. Helga explained which busses to take, showed me the house, the garden and the cute rabbits in the garden. Thank you Helga! I left my phone charger behind and Helga and Hannie went out of their way to get it back to me. Thanks to both of you! I would definitely stay again and I'm looking forward to meet Hannie and her family next time. Everything was such a pleasant experience.
Justine
2016-05-04T00:00:00Z
You can easily reach the centre and the central railway station both by walking and by bus n.3 Behind the House you find a supermarket very Well furnished. Really close you find a bakery and cafes.
Noemi
2017-02-24T00:00:00Z
Prima gastvrije mensen, denken mee en helpen je waar nodig. Kamer was zoals op de foto.
Mark
2016-05-12T00:00:00Z
Hannie and her family were wonderful hosts. Although I stayed very shortly, the experience was good. For the price, it is just what I needed. The bed was very comfortable. However, the room was not in the city centre, but a 15-20 bus ride/ 30 minute walk away. The host is fortunately always happy to provide directions.
Kar
2017-03-11T00:00:00Z
Very nice room. Host was very friendly and helpful.
Marc
2016-06-06T00:00:00Z
ประเภทห้อง
ห้องส่วนตัว
---
ประเภทที่พัก
บ้าน
---
พักได้
1
---
ห้องนอน
's-Hertogenbosch, North Brabant, เนเธอร์แลนด์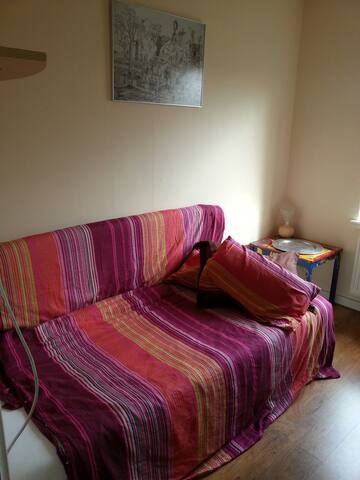 Leuk dat je mijn kamer bekijkt. Voel je welkom en vooral thuis. De ruimte die ik verhuur is redelijk dichtbij de binnenstad en op loopafstand van het ziekenhuis. De kamer is geschikt voor zowel stellen als solo-reizigers en zakelijke reizigers.
De kamer is voorzien van een twee persoon bed met twee nachtkastjes.
Deze kamer ligt op loopafstand van het ziekenhuis, maar ook de binnenstad is redelijk dichtbij. Als je langer verblijft dan ligt het winkelcentrum Heuvelpoort in de buurt. Hier zitten alle winkels die je nodig hebt.
Erik haalde ons op aan het station en gaf ons goeie tips voor restaurants en activiteiten in de stad. Zijn woning ligt aan de rand van de stad, 20 minuten lopen tot het centrum, en vlakbij velden waar je mooie wandelingen kan maken. De kamer is ordelijk en je hebt je privacy. Aangenaam verblijf.
Sammy
2017-02-19T00:00:00Z
Erik heeft ons erg gastvrij ontvangen en ons gewezen naar leuke plekjes in den Bosch. Hij wilde ons zelfs ophalen en brengen naar het station. Het huis mag nog wel iets meer worden ingericht maar verder heeft het alle voorzieningen.
Kim
2017-03-26T00:00:00Z
Goed te bereizen. Betaald parkeren, behalve in de avonden en op zondag. Vlakbij gelegenheid tot langer parkeren voor lage prijs. Heerlijk bed. Zeer vriendelijke gastheer. Leuke gesprekken gehad.
Chris
2017-04-09T00:00:00Z
al besproken met verhuurder, net begonnen, nog niet helemaal klaar met inrichten
Tessa
2017-03-25T00:00:00Z
Werd opgehaald van het station. Heb heerlijk geslapen en was erg relaxed bij Erik. Centrum is makkelijk aan te lopen.
Lenneke
2017-04-02T00:00:00Z
It's a good place to stay, we'll repeat next time!
Andreu
2017-02-26T00:00:00Z
ประเภทห้อง
ห้องส่วนตัว
---
ประเภทที่พัก
บ้าน
---
พักได้
2
---
ห้องนอน
's-Hertogenbosch, Noord-Brabant, เนเธอร์แลนด์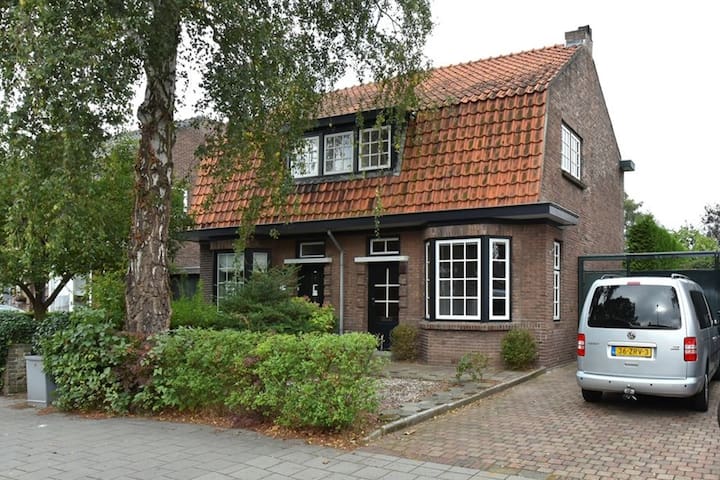 This retreat, 'Groots Onthaal' is perfect for relaxing and enjoying nature. Yet at the same time vibrant city center 's-Hertogenbosch is only 5-10 minutes away. It comfortable fits 9-10 people. The stylish modern interior is collection of furniture from all over the world.
This retreat, 'Groots Onthaal' is perfect for relaxing and enjoying nature. Yet at the same time the vibrant city center 's-Hertogenbosch is only 5-10 minutes away. It comfortable fits 9-10 people. The stylish interior is a combination of farmers' simplicity with an Asian touch. Relaxing in the spacious living room after a long walk or an amusing night out. Enjoying a bath in the luxurious modern bathroom. Sleeping on a romantic antique Chinese or hanging bed Waking up in the morning with a view on your own patio and a meadow with cows. This is all possible! 145 sqm. of your own! A spacious inspiring apartment with your own terrace. Very luxury and well equipped. On the ground floor, you will find a brigh cosy living room with flatscreen tv, the kitchen. and master bedroom. The kitchen is fully equipped. The modern luxurious bathroom on the secund floor has a bath and rainshower. There is a second bedroom where you can sleep at the hayloft or in a bedbox. In there is a bathroom in Hammam style. Perfect for children, friends or colleagues. On a sunny day you can have breakfast on your own terrace. Breakfast is optional but not included. Free Wifi. Bicycles available for rent. The apartment is all yours during your stay. Feel at home. I provide you with maps and lots of information finding your way around and things to do in vibrant 's hertogenbosch. If you need me, you can always contact me. Our renovated monumental farmhouse from around 1700 is located at the dike, dated from the middelages, adjacent to the nature reserve the 'Heinis'. Railway station Den Bosch- East and busstop are on walking distance. The central station is 10 minutes by bus or taxi. The high-way is only 3 min away. Located at the dike adjacent to the nature reserve de Heinis with walking/cycling trails. When you are looking for a photoshoot you could take the opportunity in the the adjacent studio. Go to my website (URL HIDDEN)
Located at the dike adjacent to the nature reserve de Heinis with walking/cycling trails. I've 3 very good bikes available for rent. The city center is only 10 min cycling.
We had a lovely stay at Joss' place. It was wonderfully located, beautifully decorated and the breakfast was a nice treat. Joss was very helpful and very accommodating. It was a perfect place for 4 adults and two children. Very conveniently located off the highway.
Jennifer
2015-04-02T00:00:00Z
Erg prettige ontvangst én contact met de zeer vriendelijke huiseigenaresse. Mooie accommodatie met sfeervolle en verzorgde inrichting. Locatie prima bereikbaar door openbaar vervoer mogelijkheden op loopafstand ( bushalte/ transferium) en dichtbij de snelweg.
Judith
2015-03-22T00:00:00Z
Afgelopen weekend met zes vriendinnen een heel mooi weekend gehad in de boerderij van Joss! Joss was zelf niet aanwezig bij aankomst maar we werden hartelijk ontvangen door Esther. De boerderij ligt dichtbij de stad en er is een prima busverbinding!
Claudia
2016-02-14T00:00:00Z
This beautiful home lived up to our expectations, and then some! This is a beautiful home, with luxurious attention to detail. Joss made us feel quite welcome for my birthday/honeymoon trip! I loved having access to bikes, and it is only about a 10-15 minute ride to get to downtown Den Bosch.
Rebecca
2016-05-06T00:00:00Z
Perfecte plaats om onze vakantie in Nederland te vieren! In de natuur, maar zeer dicht bij de stad, maar vooral een heerlijke relaxte ruimte... Wij komen graag terug tijdens onze volgend verblijf in Nederland.
Pieter
2014-08-07T00:00:00Z
Wij hebben genoten van een fantastisch verblijf bij Joss. Het huis is zeer smaakvol ingericht en onder andere aangekleed met de door Joss zelf gemaakte prachtige foto's. De grote slaapkamer is prachtig, voor onze kinderen was er een erg leuk soort bedstee waar ze als rozen in hebben geslapen. Joss heeft ons geweldig ontvangen met koffie, taart en vers fruit. Kortom, dit appartement kunnen wij iedereen van harte aanbevelen. Geniet van een heerlijk verblijf!
Martijn
2015-04-12T00:00:00Z
De boerderij van Joss is zeer authentiek, ruim en tegelijkertijd zeer luxe, wat heeft geleid tot een bijzonder ontspannen verblijf in het hartje van Den Bosch.
Peter
2016-10-06T00:00:00Z
Fijn en heel gastvrij ontvangst! Zelf gebakken kersenflappen, wijn en kakelverse eitjes stonden klaar. Uitleg over de prachtige locatie en omgeving. de locatie is werkelijk prachtig. Ruim en heel sfeervol. Midden in de natuur en toch dicht bij de stad. Perfect!
Fieke
2016-03-13T00:00:00Z
ประเภทห้อง
บ้าน/อพาร์ทเมนท์ทั้งหลัง
---
ประเภทที่พัก
บ้าน
---
พักได้
9
---
ห้องนอน
's-Hertogenbosch, North Brabant, เนเธอร์แลนด์
Ons hippe en gezellig huis midden in de binnenstad van 's-Hertogenbosch geeft een echt stadsgevoel! Een hele complete monumentale stadswoning staat tot je beschikking met alle luxe en comfort. De toplokatie van de gastvrije stad 's-Hertogenbosch!
Here is a cosy cityhouse in the citycentre of hospital 's-Hertogenbosch, A1-location. Walking out the door you are immediately in the atmosphere of this lovely citycentre. The house has a living room, a modern kitchen, a modern bathroom (with bath), a quiet romantic masterbedroom at the back of the house, with a view on the cathedral St. Jan. A third and fourth person could sleep in the second bedroom at the front of the house. In the morning you take breakfast in the city or make your own, the bakery is around the corner. After shopping you take a rest in the loungeset in the garden. After this you refresh yourself in the bathroom, after which you can enjoy everything this lovely city has to offer, all on walking distance; restaurants, pubs, museums, music halls, the canals ,the parc etc. In short, a complete stay in the middle of a lovely city! More pictures can be send to you on request.
Den Bosch ademt sfeer uit waar je met deze volledige stadswoning middenin zit! Een beleving die je nog lang zal nablijven. Niet voor niets de nummer 1 locatie van 's-Hertogenbosch! Het Jheronimus Bosch Jaar 2016 met het museum om de hoek, dus wat let je en boek!
centraal gelegen , knus huisje, alles prima geregeld
Carla
2017-03-26T00:00:00Z
Wat een gezelligheid en een leuke woning op een toplocatie. De tips van Lonneke waren ook helemaal goed!
Maaike
2014-11-03T00:00:00Z
Door omstandigheden ben ik later gearriveerd. Mijn vriendinnen vonden het ontvangst prima! Het huis ligt in een rustige buurt. We hebben het met zijn vijven erg leuk gehad!
Tineke
2015-10-26T00:00:00Z
The host canceled this reservation 244 days before arrival. This is an automated posting.
Sandra
2015-06-07T00:00:00Z
Our host met us at the house and was very friendly and informative. The house is perfectly situated in the centre of 's-Hertogenbosch, with shops and restaurants within a few meters of the property. This was perfect for our teenagers who wanted to go out at night and still find their way home :) The view from the master bedroom onto the cathedral was beautiful, and with 6 people in the property the endless supply of hot water was much appreciated! The beds were comfortable (including the 2 sofa beds) and all was clean and ready for our arrival. Communications with our hosts have been prompt, friendly and relaxed, and we were made to feel very welcome throughout our stay.
Sarah
2016-03-29T00:00:00Z
Great location to the center of town. The house was better than I was expecting. Hosts were very accommodating. Definitely would stay there again.
Michael
2017-04-05T00:00:00Z
Bij aankomst meteen hartelijk welkom geheten door Lonneke. Rondleiding en tips gekregen, we voelden ons meteen erg welkom. Het is een gezellig en mooi centraal gelegen appartement, we komen hier graag nog 's terug!
HRL
2017-01-05T00:00:00Z
Lonneke heeft een heel knus, super centraal gelegen appartement in Den Bosch. We hebben een heerlijk weekend gehad!
Kirsten
2017-01-01T00:00:00Z
ประเภทห้อง
บ้าน/อพาร์ทเมนท์ทั้งหลัง
---
ประเภทที่พัก
บ้าน
---
พักได้
6
---
ห้องนอน
's-Hertogenbosch, North Brabant, เนเธอร์แลนด์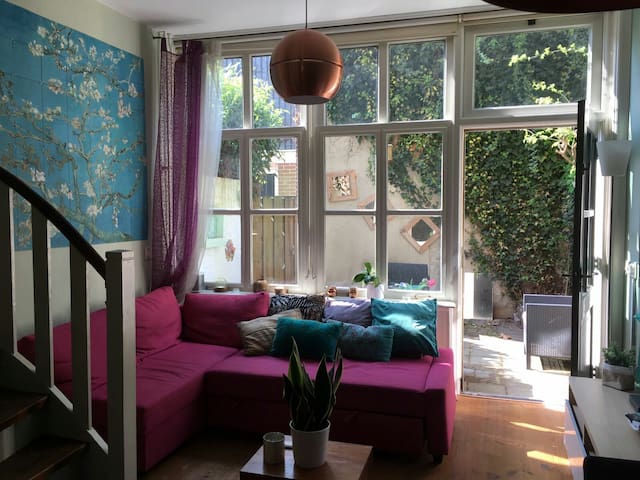 Two rooms are available here; this room (double pull-out sofa) is at the 1st floor at the back-side of the house. While staying at my place for a longer period you will have the opportunity to visit my studio enjoying a chat with a coffee or a tea.
The small room with a single bed is available on the 1st floor at the back-side of the house. For the small room (single) check the other advertisement. A breakfast can be provided (costs €10/pp), pls let me know in advance.
Den Bosch is a historic city about 80km away from Amsterdam (Schiphol) (easy to reach by train). From my house it is only a 10 min. walk to the center with many pubs, restaurants and shops. It's the same distance to the green outskirts providing a great view on the old Sint Jan's cathedral in the middle of town, which is said to be one of the most beautiful cathedrals in the country. The greenish environment of this area of the city with short walking distances is definitely great!
A beautiful woman has offered me a good accommodation. She is very friendly and graceful: thank her very much
几几
2016-09-01T00:00:00Z
Leidi was very friendly and welcoming! The place is in a calm and nice neighbourhood and at the same time very close to the city center! The room was clean and in good condition! Overall good value for money!
Christina
2016-05-01T00:00:00Z
Great stay with Leidi in Den Bosch.
buff
2016-05-09T00:00:00Z
Op 10 minuten lopen van het centrum kun je hier rustig overnachten. De kamer voldoet aan alle basisbehoeften.
Frank
2017-02-28T00:00:00Z
Een "basic" kamer met een prima bed. Heerlijk geslapen! Voelde me direct meer dan welkom. Leidi is vreselijk aardig en doet er alles aan om je verblijf zo aangenaam mogelijk te maken. Ik kom graag nog eens terug.
Peter
2017-01-10T00:00:00Z
Prima verblijf, aardige gastvrouw.
Jasper
2017-04-07T00:00:00Z
Fijne rustige plek, dichtbij centrum en prachtig natuurgebied, en Leidi is fijn gastvrij. :)
Tetje
2017-03-31T00:00:00Z
Prima plekje om de nacht door te brengen. Prijs kwaliteit verhouding is top.
Thomas
2017-03-26T00:00:00Z
ประเภทห้อง
ห้องส่วนตัว
---
ประเภทที่พัก
บ้าน
---
พักได้
2
---
ห้องนอน
's-Hertogenbosch, Noord-Brabant, เนเธอร์แลนด์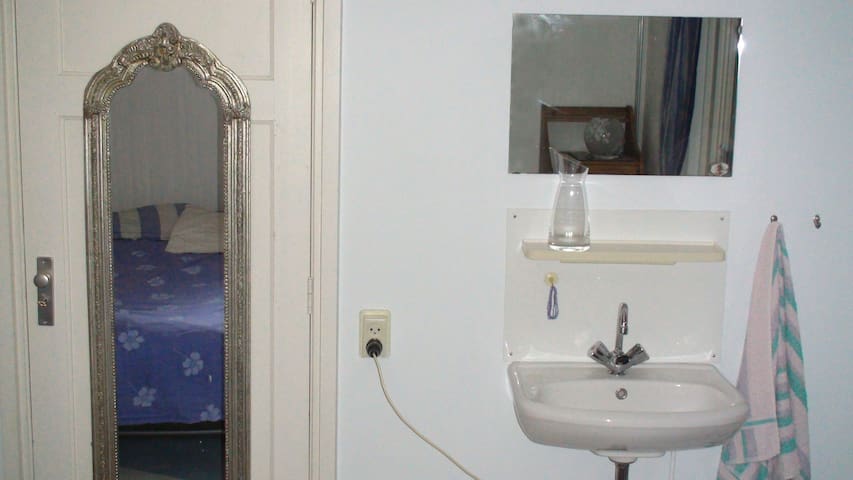 Cute, quiet, very light private room with a desk. In a renewed house from the 30's. Close to the city center. With a possibility to borrow a bike (or two). Breakfast incluced.
The neighbourhood is close to the citycenter but in a very quiet street, you won't really notice the business. You'll hear the birds sing!
Melanie is an extremly nice and helpful host. The house and the room look lovely and are decorated in style. We enjoyed our stay at her place very much and highly recommend her.
Karin
2016-06-12T00:00:00Z
Very nice moments with Melanie and Tom ! You can talk and laugh a lot with them. I recommend this airbnb and I hope I'll have a chance to review them :)
Adeline
2016-06-03T00:00:00Z
Melanie and Tom were fantastic hosts to us! Their house is lovely, the bed is extremely comfortable, and all the facilities are modern and state of the art. In addition to all of this, though, we were greeted by a fresh breakfast every morning! Melanie was very helpful and gave us travel tips and advice on how to get around Tilburg and the area. I cannot recommend Melanie highly enough as a host - she will make you feel welcome and treat you like a friend. She showed us the utmost generosity and should we return to Tilburg, it will definitely be to stay with Melanie again.
Milena
2016-10-30T00:00:00Z
Melanie is just great! We slept for 4 nights, and we felt like being home. She offered us some bikes, a booklet about Tilburg, clean towels, excellent wifi, and the most important thing, she (and her boyfriend and friend) were very warm people ready to chat with you and share some time. We had a really good time, I definitely recommend you going there!
Marina
2016-09-23T00:00:00Z
We had an amazing stay at Melanie's place. Melanie is a wonderful host; her creative and open-hearted mind is reflected in both her house and her hospitality. It was very easy to arrange our stay in advance as well as on spot. She offered us to borrow her her bikes, which made our travels to and throughout the city much easier. And in the morning she arranged a traditional Sundaymorning-breakfast for all of her guests!! This really gave us the opportunity to get to know each other a little bit better and to experience the feeling of a home away from home. Staying at Melanie's place will truly add to your experience of exploring Tilburg!!
Milou
2016-06-27T00:00:00Z
Mooi en net huis. Vriendelijk ontvangen door Melanie, ze is heel flexibel. En een fijn ontbijt gehad. Aanrader!
Amanda
2016-12-01T00:00:00Z
Very nice and friendly couple, had a nice chat but some delicious craft beers. Nice and quiet bedroom and clean bathroom. Lat but not least a delicious breakfast. What more can you wish for?
Andy
2016-04-30T00:00:00Z
Het welkom bij Melanie en haar vriend was hartelijk. Een leuk gesprek met een lekker drankje volgde. De kamer is uitstekend en het ontbijt was royaal. Bij gelegenheid ga ik graag weer langs.
Geert
2016-05-18T00:00:00Z
ประเภทห้อง
ห้องส่วนตัว
---
ประเภทที่พัก
บ้าน
---
พักได้
2
---
ห้องนอน
ทิลเบิร์ก, NB, เนเธอร์แลนด์
Rustige buurt nabij centrum en natuurgebied. Radio en tv aanwezig. Eigen keuken met alle voorzieningen. 10 minuten lopen naar binnenstad met musea. 25 minuten lopen naar station.
La stanza è spaziosa e pulita, dotata anche di una piccola anticamera con cucina. La casa è in una zona tranquilla a pochi minuti a piedi dal centro della citta. Frank ci ha dato i biglietto per parcheggiare di fonte alla casa. Consigliato
Michele
2016-04-11T00:00:00Z
Een aangenaam onthaal met een kopje koffie, een toffe kamer met eigen keuken waar een lekker ontbijt voorzien was. Ideaal gelegen op wandelafstand van het centrum, met gratis parkeerplaats. Een aanrader!
Lotte
2016-02-16T00:00:00Z
Frank en zijn vrouw zijn zeer gastvrij en gaven ons de nodige tips om Den Bosch beter te leren kennen. Wij werden zelfs verrast met een ontbijt. Uitstekend bed en rustige omgeving. Ideaal als je met de auto komt.
Johanna
2015-11-02T00:00:00Z
Wij waren blij verrast van deze accommodatie. Het welkom was hartelijk, Frank en Monique zijn 2 vriendelijke mensen met een hartelijk woordje en heel gastvrij. De accommodatie was goed, het ontbijt stond er voor 2 dagen en was meer dan genoeg! Het bed was heel goed! Leuk zoals zij van de zolder een prachtige locatie hebben gemaakt met keuken en zit/slaapkamer en zooo compleet. Netjes en schoon was het ook. En fijn dat het vertrouwen naar ons goed was, zodat we rustig 'thuis' konden komen ondanks dat zij er niet waren. Top!
jet
2016-03-08T00:00:00Z
We hebben een erg goed verblijf gehad in Den Bosch bij Frank en Monique. Hartelijke ontvangst met tips van een echte local, erg schoon huis en heerlijk bed. De echte airbnb experience!
Helena
2016-12-23T00:00:00Z
Prima ontvangst al vroeg in de ochtend met een kop koffie. We moesten bijtijds in het Nrd-Brabatsmuseum zijn voor de Jeroen Bosch expositie. Is slechts 10 min. Lopen van het huis. Kamer prima met lekkere bedden. Met onze speciale dieetwensen was rekening gehouden. En wat heel bijzonder was, we bezitten dezelfde camper! Zelfde kleur type en leeftijd. Lokatie is dus perfect voor een bezoek aan het museum, maar ook naar het centrum vd stad.
Marjan
2016-02-21T00:00:00Z
The couple that hosted us was really nice and polity! The place is close to the center and in a calm area. We had a great experience and we enjoyed a lot the stay!
Ludovica
2016-12-22T00:00:00Z
Bijzonder attent en gastvrij stel. Aanrader!
Maurits
2017-02-05T00:00:00Z
ประเภทห้อง
ห้องส่วนตัว
---
ประเภทที่พัก
บ้าน
---
พักได้
2
---
ห้องนอน
's-Hertogenbosch, Noord-Brabant, เนเธอร์แลนด์
Nieuwbouw huisje, compleet inclusief keuken, midden in centrum Den Bosch, met eigen parkeerplek, aan de Dieze, prachtige, verrassend rustige plek. Verblijfsduur minimaal 2 nachten. Zelfvoorzienend, ook ontbijt zelf verzorgen.
Surprise no. 1: what a wonderful (little) city is Den Bosch!? Surprise no.2: what a wonderful place is Ineke's house!? Very good place to live the amazing city center (everything at walking distance). In a sunny day you can enjoy the lovely little terrace, near the canal. Charming atmosphere. Better than pictures you see here! Kind and welcoming host.
Renato
2016-05-10T00:00:00Z
Een geweldige locatie in het centrum van de stad. Echt alles binnen loopafstand.
Jeroen
2016-06-06T00:00:00Z
De foto in de advertentie doet denken aan het eerste huis, terwijl het gaat om het kleine huisje achterin. De ligging is perfect en het welkom ook. Sap en wijn in de koeling en producten voor het eerste ontbijt. (wij hadden niet gezien dat het alleen om logies ging). Ineke loste dit meteen op.
Eduard
2016-04-20T00:00:00Z
The guest house is well-appointed with tasteful decor. Though what we loved most about it was its terrific location. It is within a short walking distance to EVERYTHING. We were in Den Bosch primarily to see the Bosch Exhibition, but when exploring the town, we were able to come back and rest before heading out again, which made a huge difference. Ineke was a gracious host and sent us detailed directions, which were easy to follow. The days we were there were quite cold, and the robe and slippers added a nice touch. Thanks!
Margaret
2016-04-27T00:00:00Z
This was our first time using AirBandB and after this experience we will be happy to use it again. Ineke provided a lovely conveniently centrally located yet quiet apartment nearby to the city's major attractions. The apartment was very clean, comfortable and well provisioned. We visited s-hertogenbosch to view the Jheronimus Bosch 500 events and Ineke had already looked out guides and maps for us and was ready to give us advice on good places to eat etc and spoke very good english.
David
2016-03-27T00:00:00Z
Good staying
Joy
2016-03-16T00:00:00Z
huisje ligt midden in de stad , perfekt gelegen aan de dieze .Woning was schoon en alles aanwezig ( keuken , magnetron etc).Lekker bed en Dousche Wc in orde ......Wifi verbinding , geen TV ( wat we jammer vonden ondat we sinds jaren in buitenland (URL HIDDEN) ieder geval een plekje om weer eens terug te komen
marc
2016-03-21T00:00:00Z
Goed verzorgd onderkomen in hartje Den Bosch, perfecte uitvalsbasis voor (in ons geval) huwelijk in het centrum! Auto voor deur parkeren op eigen terrein.
Rik
2016-06-27T00:00:00Z
ประเภทห้อง
บ้าน/อพาร์ทเมนท์ทั้งหลัง
---
ประเภทที่พัก
บ้าน
---
พักได้
2
---
ห้องนอน
's-Hertogenbosch, Noord-Brabant, เนเธอร์แลนด์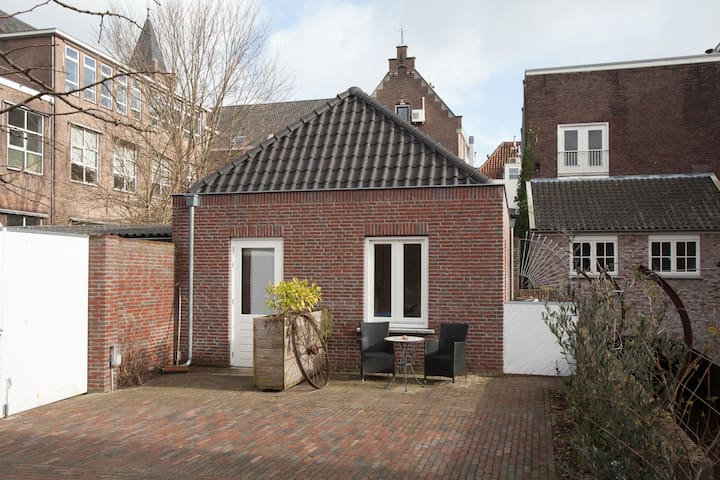 Drunen - Airbnb
:
เฉลี่ย

4.66

จาก

5

ดาวจาก

429

รีวิวผู้เข้าพัก
1

–

18

จาก

147 บ้านให้เช่า
กรอกวันที่เพื่อดูการกำหนดราคาเต็ม มีค่าธรรมเนียมเพิ่มเติม อาจมีภาษีเพิ่ม