Located In the Heart of Long Beach on Ocean Blvd, this 2 bedroom Villa has Expansive Ocean Views of Long Beach & The Queen Mary,The beach is across the street , walk to Second ST is 10 mins away. Completely remodeled accommodates up to 6 people
AS AN FYI AIRBNB DOES NOT CHARGE THE DEPOSIT TO YOUR CREDIT CARD, Its only reserved. Ocean View Living Room with * 46" TV with cable * HD Dvd Player * Wireless Internet * Book Library * Music library * Games * Sofa Bed * Queen airbed if required Gourmet Kitchen * Microwave * Toaster * Coffee Maker * Blender Red Room has a Queen Bed Blue Room has a Queen Bed *All linens are provided Bathroom * Hairdryer * Flat Iron * All Towels are provided, Washer & Dryer This is the Top floor Villa when looking at the building, it is split down the middle as 2 Villas on top, so 2 Large windows are this property, when looking straight on its to the left. *There is a Private 1 Car garages with direct access to the Rear Yard at $10 per night optional, please let me know when inquiring if you would like to book a garage or space so it can be added to the transaction. I have up to 4 available. Price is $20 upon arrival, if available as I have to move people around, if its late notice .....
*There are 3 Ocean view Restaurants within a 5 min walk. *Supermarket is a 5 min walk *Second St is a 10 min walk * Broadway is only 3 blocks with lots of stores, restaurants and Bars.
It was a wonderful stay. The house rules can definitely be intimidating upon first review of Susan's place however she has good reason. Her home is as awesome as described and she is very responsive. I will definitely be returning the next time I am in Long Beach. Thank you for the great accommodations!
LeShandra
2015-11-01T00:00:00Z
Great location and price
Mitchell
2016-09-28T00:00:00Z
Unfortunately we just had one night at Susans place. It was awesome. Some other guests were in the other part of the villa. We had a nice chat with them on the terrace. The beach and some fancy restaurants are just a few steps away. I really recomment this place!
Stefan
2016-10-15T00:00:00Z
On arrival, the views were spectacular. Getting access to the home was a bit of a hassle as there was no street parking and we were unable to get to the garage in the alley without getting the key from the lockbox in the front in order to access the garage in back by first getting through a locked gate. Sometimes it is difficult to reach the host by phone and a wait time for a return call so that was a little frustrating. Over the phone directions before we arrived were very hasty and a bit confusing. The garage space was almost too tiny to even fit a Camry or Honda car in. Once inside the home, it was beautiful and quite comfortable. You'll have to make sure you can walk the distance to the store as it will be difficult to find parking if you move your car from the street parking and moving from the garage is also a pain as there is no remote as stated in the listing. I was told that it is no longer available due to other guests not being respectful of it. There is no bathing soap nor shampoo available.
Heidi
2016-06-23T00:00:00Z
My overall experience is good/very good. The apartment was clean. The location was convenient for me. It was quiet at night.
Ram
2015-05-29T00:00:00Z
The home was perfectly located and looks exactly as pictured. Straight across the street is a park with beach access which offers miles of boardwalk for beach cruising, a quick jog or casual stroll. Susan was easy to reach and made sure our needs were met. Just a short walk was Starbucks/ Vons/ and some great restaurant options. I'd highly recommend the Belmont Brewery as the food was amazing and the patio offered a fabulous sunset and service was on point.
mark
2015-06-15T00:00:00Z
Very nice place with an awesome view of the beach! Would stay at again.
Kianna
2017-03-17T00:00:00Z
The place was lovely! A beautiful view of the water, spacious rooms, and outside seating as well as a cozy tv room. There is one bathroom so keep that in mind, although it was no problem for us! Great location, and near downtown. Parking is on the street out front, otherwise you have to pay..but we were able to find a spot right away as well. Would love to stay here again!
Dylan
2016-03-06T00:00:00Z
ประเภทห้อง
บ้าน/อพาร์ทเมนท์ทั้งหลัง
---
ประเภทที่พัก
วิลล่า
---
พักได้
6
---
ห้องนอน
ลองบีช, แคลิฟอร์เนีย, สหรัฐอเมริกา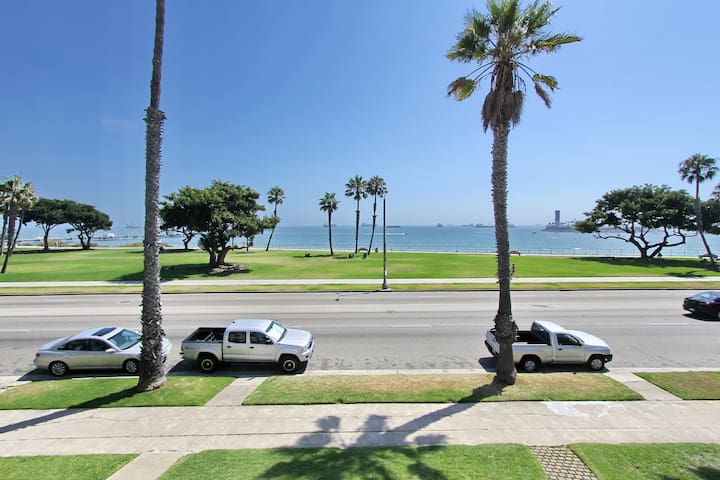 2bath místnosti 15 minut od Disneyland, 15min od dlouhé pláže 25 minut od letiště 3bed pokojů. 30 minut do centra LA Wifi služba nejde. TV praní & Dry 2car nebo čtyři auta balení plocha, vaření kuchyň. Je velmi dobré pro jednu rodinu žít
3bed pokoj ve 2. patře
Je to velmi pohodlné a dobře Plocha domu. Existuje jeden horní dvě vyšší škola v celém kole Kalifornie. Existuje mnoho parku bazén basketbal cíl Walmart Best Buy. Asie trh ve vzdálenosti 1mile
Very nice home. Other than the noise from the freeway at night, everything was perfect.
Eva
2017-03-04T00:00:00Z
房东非常热情,房间很漂亮,舒适,干净,特别推荐给大家!谢谢!
GONGXIANG
2017-02-24T00:00:00Z
ประเภทห้อง
ห้องส่วนตัว
---
ประเภทที่พัก
วิลล่า
---
พักได้
6
---
ห้องนอน
เซอร์ริโต, แคลิฟอร์เนีย, สหรัฐอเมริกา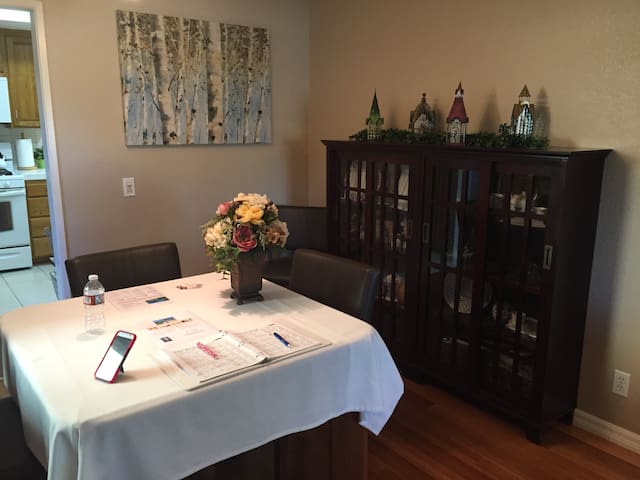 The Dolphins Cove time share, which this is, does charge a $50 CLEANING FEE WHICH THEY REQUIRE UPON CHECK IN In addition to the fee you pay airbnb, you will be required to pay the cleaning fee directly to them. It is a one time $50 fee for the entire DESCPRIPTION OF ROOMS We are owners, not someone trying to sell timeshares. Look it up on the internet. It is a Wyndham Vacation Resort Timeshare. If you have been to timeshares, you know how nice they are. All resort rules MUST be followed. This unit sleeps 6 with: * 1 king size bed (bedroom 1) * 2 twin size beds (bedroom 2) * 1 queen size pull out sofa (in living room) * Balcony or Patio RESORT AMENITIES • Outdoor Swimming Pool • Outdoor Children's Pool • "Get Out & Play" Activities Program • Exercise Equipment/Fitness Center • Outdoor Hot Tub • Game Room • Picnic/BBQ Area • Putting Green • Laundry Facilities • Daily Activities • Grocery Store Nearby • Late Check-ins • Movie Rentals • Sorry, no pets With timeshares, just bring your clothes and food and you're pretty much set. Everything you pretty much need is there to use. Kitchen has pots and pans, utensils, dishes, glasses cups and many more items. Just bring your food or purchase at nearby grocery stores. It is only a 2 story resort. This place has beds for six adults, maybe more, if you have small children. Keep in mind that this is a small family friendly cozy time share resort. Not the 5 star high rise timeshare resorts you may have visited before and that come with the high price tag as well. Another hint is that we like to get a room just down the hall from the rec room oe. RIGHT NEXT DOOR TO A DENNY'S. One More thing. If you look at the street view of the property, you wiil notice a driveway, which is ours to the left and behind it is an orange building next door that is on Harbor Blvd, same street at Disneyland. That Orange Building is Denny's. We would go for breakfast with their $2,$4,$6, $8 menu and then head to Disneyland. Cheap Breakfast for the Disneyland area and it is practically on your doorstep. Just another helpful tip. I can't control it if they change their menu though. DAILY EVENTS CALENDAR (ADULT AND KID FUN) Dolphins Cove has an event calendar they will give you for social events they have for the week when you arrive. Look up the resort to see more. FREE LAUNDROMAT AT THE RESORT & COMPLIMENTARY DETERGENT IN YOUR ROOM. RESORT AMENITIES • Outdoor Swimming Pool • Outdoor Children's Pool • "Get Out & Play" Activities Program • Exercise Equipment/Fitness Center • Free WiFi • Outdoor Hot Tub • Game Room • Picnic/BBQ Area • Putting Green • Laundry Facilities • Daily Activities • Grocery Store Nearby • Late Check-ins • Movie Rentals • Sorry, no pets • BBQ near swimming area/Ice machine • Complimentary Wine & cheese on Saturdays I am not at the property here, but only a phone call away and available anytime a need arises no matter the time if day or night. Many restaurants within walking distance. The convention center is too. Getting around The reservations desk will help yo with your needs and questions while you are there. I know when I was there I asked where the big grocery store was and COSTCO and they have maps they had made up just for that purpose. Can't guarantee this is what will happen when you are there, but just shows how helpful they are. Public transport to Disney or 15 minute walk
The reservation was canceled the day before arrival. This is an automated posting.
Heidi
2014-09-12T00:00:00Z
ประเภทห้อง
ห้องส่วนตัว
---
ประเภทที่พัก
วิลล่า
---
พักได้
6
---
ห้องนอน
อนาไฮม์, แคลิฟอร์เนีย, สหรัฐอเมริกา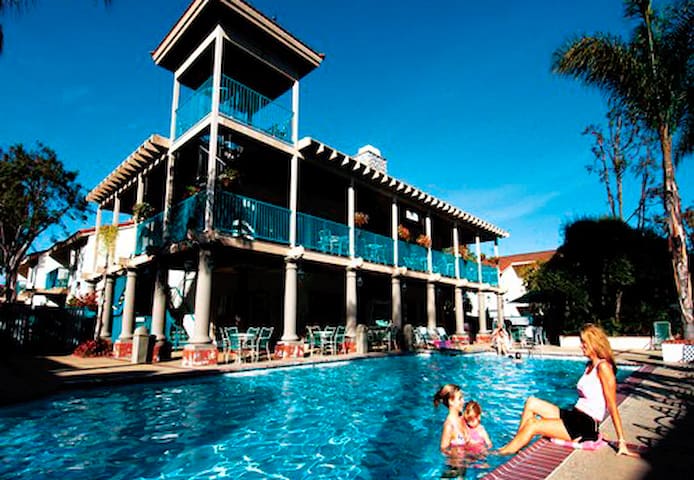 Cypress - Airbnb
:
เฉลี่ย

4.39

จาก

5

ดาวจาก

121

รีวิวผู้เข้าพัก
กรอกวันที่เพื่อดูการกำหนดราคาเต็ม มีค่าธรรมเนียมเพิ่มเติม อาจมีภาษีเพิ่ม