On Angle Lake, in a residential community. Close to SeaTac Airport but much more beautiful! Experience a little nature at your doorstep. This full 2 bedroom apartment has a full kitchen and a washer/dryer laundry closet and a comfortable living area
Enjoy your stay on Angle Lake in a 2 bedroom fully furnished waterfront daylight basement apartment! The 1200 sf space includes private entry, 2 bedrooms and a hide-a-bed sofa in the living room. The in-floor heating system keeps the rooms cozy in the cooler months with a separate thermometer for the bathroom and the rest of the living spaces. We also have an ottoman that pulls out into a small bed. Whether you're a single guest or a whole crew we have space for you. The full kitchen includes stove, refrigerator, dishwasher, microwave, toaster and coffeepot. There is even your own laundry room. The 3/4 bath, while diminutive, is full of charm. Watch TV while relaxing in the living room, working at one of the desks, or while working out on exercise equipment. When you're ready to wander outside the beach is mere steps away - take a kayak or two out for a paddle or go for a swim or just sit and watch the ducks. We'll provide continental breakfast fare to start your morning. If you have special requests please let us know and we'll see what we can do. Our place is close to SeaTac Airport - it's about a half hour walk or a $8 cab ride. We are working folks but if we're available we will pick you up and drop you off at the terminal. Access to downtown Seattle is close by also. It is about a twenty-five minute walk to the light rail station or quicker if you combine it with a bus trip. We are close to Southcenter mall for shopping. There are restaurants within walking distance - a few blocks away. The same goes for a 7-11.
3 miles to airport pickup/drop off, 1.5 miles to the light rail station into downtown Seattle. .5 miles to buses. Close to Southcenter Mall
Jim and Robyn were really hospitable and the place was amazing!!
Devin
2017-01-16T00:00:00Z
A hidden gem! Our stay was quick but very pleasant. Clean and comfortable. The heated floors in the bathroom were a nice treat. Great picturesque opportunities throughout the garden and lakeshore.Would love to come back during the summer months. Jim and Robyn were very welcoming. Water, juice and snacks were stocked in the kitchen. Great experience overall.
Cookie
2015-04-08T00:00:00Z
It was a wonderful one night stay at Jim and Robyn's place. It was spacious living place with big kitchen.
elmer
2017-03-29T00:00:00Z
Robyn and Jim's place was great for the five of us for an overnight before heading out of SeaTac in the morning. I wish we could have stayed longer to explore and enjoy the property a bit - the lake, the kayaks, the grill area etc. It's a quiet, lovely place, with fun decor. Robyn greeted us when we arrived and we felt very welcomed. They'll take good care of you!
Dea
2016-08-08T00:00:00Z
We loved relaxing at this beautiful lake house. I didn't want to leave. It is just as they described on the listing......only better!
Jackie
2015-10-30T00:00:00Z
Fantastic place, having everyhing we needed for our one night stay! Wish we had more time to really enjoy the place!
Jim
2014-10-01T00:00:00Z
Our stay was comfortable and relaxing. Jim and Robyn were delightful, I would gladly recommend their place to anyone.
Molly
2016-09-08T00:00:00Z
It was really nice stay at Jim & Robyn's house. Their house and garden is beautiful. Also the view is amazing! You should stay at here. I totally recommend this air bnb.
Sumin
2015-05-23T00:00:00Z
ประเภทห้อง
บ้าน/อพาร์ทเมนท์ทั้งหลัง
---
ประเภทที่พัก
อพาร์ทเมนท์
---
พักได้
7
---
ห้องนอน
SeaTac, วอชิงตัน, สหรัฐอเมริกา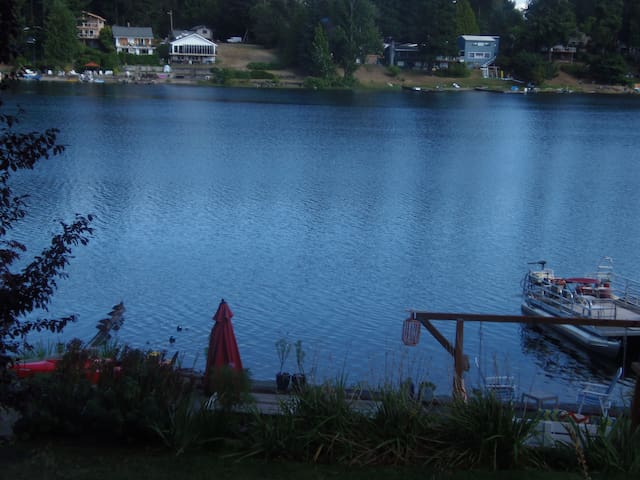 Private Indoor Pool & Hot Tub with Large Fireplaces, Views & Central Location. Great space for small group gatherings like, family reunions, board retreats, rehearsal dinners - bachelor or bachelorette parties, wedding party lodging.
Features: Private Indoor pool and hot tub with a large fireplace Secluded 10 acre wooded setting with Territorial views Five fireplaces Fully equipped kitchen Sleeps 19 in beds
Secluded 10 acre property in Maple Valley
We loved the house! Great open space with plenty of activities! We really enjoyed ourselves!
Haregu
2016-04-17T00:00:00Z
We had a wonderful retreat at this retreat home. It was beautiful! Stella met us to give us a tour of the house and explain the house rules. She made herself accessible whenever we needed her and was just great. We would definitely be coming back to use the space. Thank you!
Abesha
2016-03-05T00:00:00Z
Lynn was a delightful host! She provided helpful instructions for getting into the property, and called just before our arrival to make sure we were all set! She even provided information about local activities for us to enjoy.
Jaren
2016-03-17T00:00:00Z
The house was amazing, spacious, cozy and comfortable! Loved all of the seating areas and fire places and outdoor fire pit! Thank you for providing wood, what a treat. Perfect for our girls reunion. The gourmet kitchen is well stocked with dishes, and essentials. Loved the patio seating and wished the weather had been a bit nicer so we could spend more time enjoying the nature view. The outdoor lighting adds so much evening charm! The beds were comfortable and everything was so clean and modern. Stella is a sweetheart. Great communication and willing to accommodate special needs. We will definitely be recommending!
Suzanne
2016-10-10T00:00:00Z
Stella was a complete sweet heart. Even when she was busy, she took the time to give us a quick tour of the house before leaving. The house looked phenomenal, even better than the pictures look. Everyone loved the house, and we hope to use it again next year!
Patience
2016-01-10T00:00:00Z
Very friendly and detail instruction that I can enjoy the stay.
CHIHTE
2015-05-17T00:00:00Z
We had a wonderful stay for the second year in a row! Looking forward to next year.
Austin
2017-01-29T00:00:00Z
This house is absolutely fantastic. We used it for our board retreat. It was affordable for everyone, it had great spaces for us to all meet and plenty to do to entertain ourselves when we weren't working. The host was great, the house was meticulous, and that pool is great.
Amy
2017-01-22T00:00:00Z
ประเภทห้อง
บ้าน/อพาร์ทเมนท์ทั้งหลัง
---
ประเภทที่พัก
บ้าน
---
พักได้
16
---
ห้องนอน
Ravensdale, วอชิงตัน, สหรัฐอเมริกา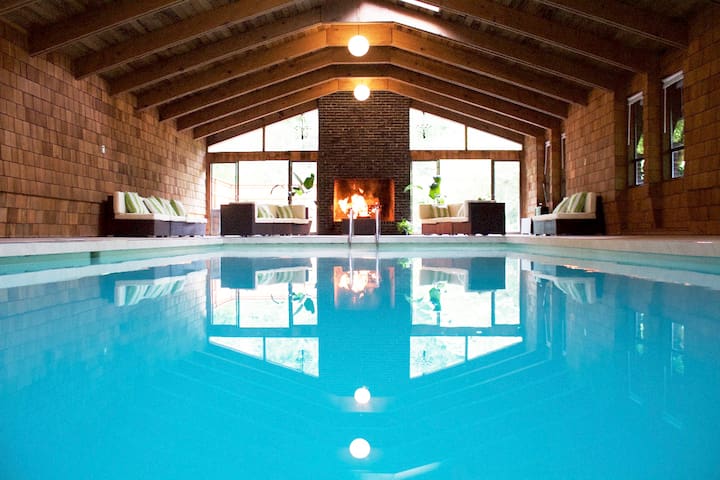 Great daylight filled apartment on the garden level of my home, I live upstairs but it's totally separate from your space. Private entrance, 2 parking spots, huge living room, full kitchen, bedroom w/ Queen bed and 55" TV and bath (1000sqft). Living room has a 65" TV, WiFi and sectional couch. Outside Zen garden & BBQ
Sorry to put this on top of everything but this space is not suitable for children under 12, Smoking is not allowed anywhere on the property and no pets are allowed. Our location is 20 miles South of Seattle so might not be ideal if you want to be in the city center. Park your car in the semi circle in front of the house and walk right in to the large living room of your private residence while you stay with us. Key-less entry means you will have access as soon as you arrive. Inside you will find an eclectic mix of things including a 1937 Wurlitzer Jukebox, projectors and 65" smart TV with 7.1 surround sound. The kitchen is fully equipped with both modern and vintage appliances. Being a mid-century home is fun with the Flair range just like Tabitha used on Bewitched but we also have a modern fridge, microwave and coffeemaker for you to use while here. The private bedroom is down the hall with a queen sized bed (new Tuft & Needle mattress installed June 2016) and lots of space in the wardrobe. A 55" TV is also provided along with 2 comfy chairs and large window for fresh air or to watch the world go by. There is a large private bathroom with a stand up shower, tons of counter space and fluffy towels. We have added an elevated queen size air mattress for guests to use when there are more than 2 people staying. The living room has a privacy curtain so all guests can have some privacy and still access the kitchen and bathroom.
We have great friendly neighbors who stop by time to time for a talk or for a cocktail. It's pretty suburban but close enough to everything that it's either a quick drive or bus ride to anything you need (or a walk if you don't mind the hill). We are halfway between Tacoma and Seattle and have a Sounder Train Station close by
Great stay. Perfect host.
Larry
2015-12-29T00:00:00Z
Paul was a great host and his place was just as great. Met Paul upon arrival and gave us a tour. Place was bigger than I thought, quite roomy. He also had water bottles, orange juice in the fridge for us. Coffee, Tea and snacks were also provided. I will continue to use Paul again whenever I am back in town.
Tommy
2016-02-04T00:00:00Z
Paul's place was cozy, spacious and perfect for me and my boyfriend for the long weekend! Had many good memories in Seattle and definitely would recommend it to anyone :)
Lucy
2016-10-10T00:00:00Z
Paul's apartment in Kent is wonderful! The location was convenient to highways as well as a grocery store and let's not forget Dairy Queen. We stayed for a week while visiting our young grandchildren during the day and then recharging in the evenings with our own home away from home at Paul's. He was a fantastic host and welcomed us with bagels, snacks, and coffee. The towels were fluffy and the bed was very comfortable. The surround sound with the large screen TV in the living room was a treat that we don't have at home. We'd like to stay here again the next time we come out from Chicago to see our family in Washington.
Shirley
2016-07-17T00:00:00Z
Paul's place was trendy cool and comfortable, loved all the little details and the convenience. The host was very helpful and friendly, would love to stay again.
Zaya
2016-05-17T00:00:00Z
Stayed her multiple times and it is great! Couldn't be any happier.
Nic
2015-07-10T00:00:00Z
Once again, a wonderful stay at Paul's place - we spent Thanksgiving there hosting our family. This time, we were blessed with a tour of the collections in the unit as well as fascinating stories about the history of the house. Paul is an amazing host - from the well stocked fridge and breakfast to the loan of an oven pan for our ham. Can't wait till we get to visit again
Helen
2015-11-28T00:00:00Z
he explained everything i needed at arrival, and was very a wonderful host.
Ahmed
2016-11-13T00:00:00Z
ประเภทห้อง
บ้าน/อพาร์ทเมนท์ทั้งหลัง
---
ประเภทที่พัก
บ้าน
---
พักได้
4
---
ห้องนอน
เคนท์, วอชิงตัน, สหรัฐอเมริกา
Super fun three bedroom-one bath daylight basement apartment with private entry & off street parking. Huge sectional in the living room with 60 inch TV, Donkey King & Ms. PacMan! Laundry, kitchenette, & huge backyard with patio, dining area, & BBQ.
This is a funky, artsy 1700 sq foot, three bedroom basement apartment in my home. There is off street parking. The basement is full height with tall windows & a large locking slider to the backyard & side entrance. I have a penchant for the 80's so you are surrounded by my collection of toys, posters, & memorabilia. The home consists of two apartments & this is the downstairs apartment. The upstairs apartment is listed on AirBNB as well & is called Cheerful & Whimsical Sanctuary. It is possible to rent both & I could release the lock on the adjoining interior door.
Suburb to Seattle. Quiet & safe. Really cool playground one block away. Walking, running, & cycling trails nearby, close proximity to Seattle, Bellevue, Tacoma & Seatac.
Lisa is a fantastic host and her listing is out-of-this-world amazing. She was so thorough in communication and very accommodating to my late check-in and early leave from the listing. All I could wish for is to have more time at the listing. Speaking of, my 10-month old son got to play his first Mrs. Pac Man game. The place is like a museum of awesome, with such a kind host to manage it. Would stay again, anytime.
Stephanie
2015-08-07T00:00:00Z
What an amazing place! We absolutely loved the 80's theme. Lisa was an amazing host and really helpful... Can't wait to stay here again!!
Tiffany
2016-09-11T00:00:00Z
The neighborhood was quiet, and felt safe. We very much loved the walk down memory lane with all of the 80's memorabilia. It was close to the airport and downtown. I especially appreciated that we didn't have to wash towels and sheets before we left, which allowed up to sleep in a little extra.
Jessica
2016-09-03T00:00:00Z
We didn't spend much time there but it was all good. We arrived late (after 11 pm following a Blue Jays / Mariners game) and went promptly to bed. The outside lights remained on and were a bit bright in the one bedroom - they were still on in the morning daylight and we couldn't find a switch to turn them off. Bathroom and shower facilities were great - lots of towels and toiletries. It was a unique experience and I would recommend to anyone wanting a clean, quiet and reasonable cost stay.
Karen
2016-09-21T00:00:00Z
The Time Capsule was a great stay! Very private and clean. Lisa was very communicative and helpful.
Maxwell
2015-10-25T00:00:00Z
A very quite place, the decor is amazing takes me back to youth for sure! It was close enough to major stores and only less then 30 minutes to downtown Seattle. I highly recommend this house to anyone that is coming to Kent or Seattle area! Thank you for hospitality Lisa.
Bill
2017-03-06T00:00:00Z
We stayed for 2 nights and it was great. This was my MIL first time staying at an airbnb and she told me at least 3 times how happy she was with our choice! I really look forward to our next visit!
Amber
2016-11-30T00:00:00Z
Lisa's house is great. The decor is going to keep you busy for hours! Lisa is very friendly and very responsive. We sadly didn't get to meet but everything was very well organised.
Michael
2016-08-27T00:00:00Z
ประเภทห้อง
บ้าน/อพาร์ทเมนท์ทั้งหลัง
---
ประเภทที่พัก
บ้าน
---
พักได้
8
---
ห้องนอน
เคนท์, วอชิงตัน, สหรัฐอเมริกา
Private suite with nice bedroom furniture and queen size bed, ceiling fan,refrigerator and microwave in the room and separate coffee room with cable TV, two comfortable chairs and coffee table. The suite has private entrance and private balcony with outside furniture.Guests and owner share all common areas including the bathroom, kitchen, livingroom, laundry,outdoors 2 decks; front deck - 1 glass coffee tables and 4 chairs Back deck - large gas BBQ, dining table with two bench seats, garden- pond and fire pit House location - good quiet neighborhood ,walking distance to restaurants- Chinese, Indian , Vietnamese food, teriyaki, pizza, McDonalds , grocery stores, banks. We are 20 min from SEATAC airport. Saltwater beach, with fresh seafood restraunt is ten minutes away. The home is close to all major highways- 167, 405, I-5 and 20 min to Seattle, walking distance to public transit. Kitchen is spacious with, energy star appliances. Short driving distances are, Microsoft, Boeing,amazon,star bucks, and the university of Washington. Many sights to see include Mount Ranier, ski resort,Chrystal mountain, Seattle Mariner and Seahawks stadiums. Island ferries to locations with wildlife, trails, hunting,and excellent fishing. Ocean tours to seeOrca whales.Seattle has many theaters,outdoor concert venues,casinos and headline music shows. There are two zoo close by, also we have many tranquil areas of beauty,with waterfalls and flora of the seasons. Kent station,our local train (the sounder) to Seattle and Tacoma, with bus transport,has a large shopping area, with movie plex ,vibrant farmers market and great food choices, just 1-1/2 miles from home.
Rysie truly goes out of her way to keep her guests happy. The system booked me for two with two beds, which I thought the photo indicated a type of queen with a trundle. But only one bed was booked on her end. She was quick to fix the issue and accommodate us. She is an amazing woman and I hope a life long friend. Her talents show in her home decorations, her lovely backyard, how she has provided outdoor seating areas to accommodate a multitude of guests and yet still not feel crowded. She offers all you will need for traveling and a small refrigerator in the room. Her beds were very comfortable and her cleaning process immaculate. It was very clear to me that she takes the utmost care to provide a comfortable, clean and safe accommodation. We had a wonderful time comparing bnb host notes on how we could improve our services. Consider yourself fortunate to be her guest.
Michele
2015-08-24T00:00:00Z
Ryszarda was an excellent host, she was really friendly. The place was spacious and cozy. We always return to a clean house. We would definitely return here!
Vee
2015-05-24T00:00:00Z
Rysia and Peter were fabulous hosts. It was my husband and I's first Airbnb experience so we were a little nervous, as we were unsure what to expect. However, Rysia and Peter quickly put us at ease when they kindly welcomed us in and showed us their suite. The room/suite was clean, and the bed was very comfortable. We had a chance to use the hot tub, which was nice. We also really enjoyed the shower which featured a nice, large shower head. It was a great experience and we hope to stay with Rysia and Peter again in the future.
Jodi
2014-08-11T00:00:00Z
Rysia is an excellent host, great communication, warm and welcoming and helpful. House is very comfortable. We've stayed several times before, it's always a pleasure.
Will and Joanne
2016-12-26T00:00:00Z
Fifth time I´ve stayed with Ryszia, lovely as always!
Susan
2017-02-18T00:00:00Z
We had a great experience at Ryszarda's place! She gave us a warm welcome which made us feel right at home. We appreciated her attention to our needs and warm demeanor. Ryszarda keeps a beautiful home and takes pride in keeping it that way. We even got to meet her equally warm, friendly and welcoming family that visits with her occasionally. The neighborhood is quiet, close to public transportation and a very short drive or walking distance to a park, restaurants, and shops. We would certainly stay again and recommend Ryszarda's place to anyone. You too will feel right at home!
Esther
2017-01-29T00:00:00Z
Ryszarda is the greatest host. It's easy for me to communicate with her. If you are worried about speaking English, that's not problem! You can enjoy talking with her! Then room is awesome and so comfortable. I really recommend you to stay at here. 日本のみなさんももし、ワシントン、シアトルに来る機会があれば是非泊まってください!オススメです!
Naoko
2017-02-20T00:00:00Z
We had the most amazing stay with Rysia and Peter, there home became our haven and we had everything we could ask for. Not only were they the prefect hosts with an amazing and beautiful home but they soon became our friends and family during our long stay. Would stay with them again.
Theunis
2013-10-01T00:00:00Z
ประเภทห้อง
ห้องส่วนตัว
---
ประเภทที่พัก
บ้าน
---
พักได้
3
---
ห้องนอน
เคนท์, วอชิงตัน, สหรัฐอเมริกา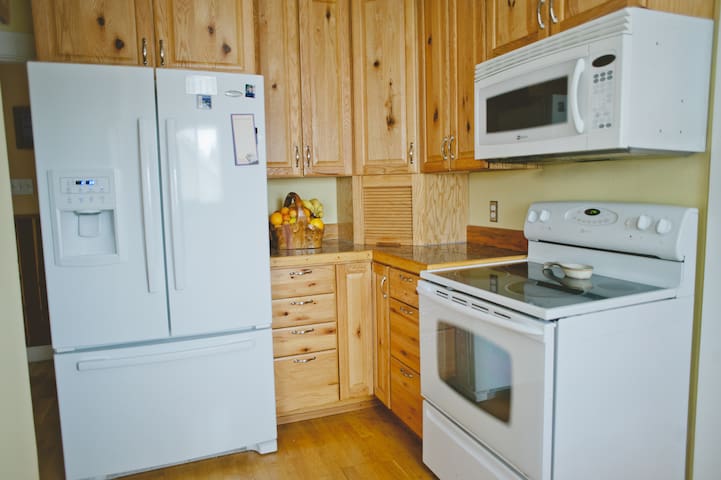 Brand new on Airbnb! One fancy studio, daylight basement with lake & city views in Victorian house in Downtown Renton. This unit features private entry w/kitchen & bathtub, all newer equipment! Close to Seatac airport, freeway, stores & parks.
* Daylight studio basement with separate entry door located under the stairs after you come to the gate, apprx. 500 sqft *Own kitchen with complimentary coffee, own bath/toilet, private unit. * One Twin size bed for 1 adult * One Full size Pull-out sofa bed for 2 adults * Full kitchen with microwave, refrigerator, oven/range, oven toaster, rice cooker, dishwasher, dishes, and utensils. *Comforable leather chairs to relax. * Plasma TV, DVD, with more than 100 Satellite TV channels * Hi Speed Wi-Fi/Internet * Washer/Dryer in unit *No Air Conditioning
CITY: Renton * Conveniently located in Renton, near South Center Mall and Sea-Tac Airport. * Close to Starbucks, MacDonald, two major grocery stores(Asian-Uwajimaya & Safeway), all kind of bars & restaurants in Downtown Renton. * Walking distance to Library, Philip Arnold Park & Liberty Park (Basket ball, and tennis courts).
My friends and I waved at Suzie when arriving. I did not get to meet Suzie, but she provided clear instructions on check in and check out time. She checked in on us through message and gave great reminders too. The listing matches the place. Enough space for 3 adults. We enjoyed the heated floor in the bathroom. The place is easy to get to and it is less than 30 min drive to Seattle.
Angelina
2016-04-05T00:00:00Z
We enjoyed our four nights so much. Our host made sure we had everything we needed. We will gladly stay here again when we need lodging in Renton!
Bill & Patty
2016-01-29T00:00:00Z
Suzie is such an amazing host. I would definitely come back and reserve her place again. It's homie and comfortable and very great. Thank you so much for a wonderful Washington experience!
Robert
2017-04-02T00:00:00Z
Suzie's place is the perfect place to wind down and be comfy. I enjoyed cooking in the kitchen, and all the natural light through the windows. The decorations give it a bright and relaxing feel. Spend some time cuddling on the bed, in front of the fireplace watching movies, I promise you will be comfy. Suzie is a wonderful host, and is easy to get in touch with. Anything you need, just ask!
Jessica
2016-12-05T00:00:00Z
We had the most wonderful stay at Susie's. The place is simply great, so comfortable to a point we almost refused to head out. It had everything we needed. Suzie was always quick to response, even when we had trouble with the lock during check-in. Will definitely stay here again if we come by this way.
Lydia
2017-01-31T00:00:00Z
It was a GREAT place to live in. It's a little far from Seattle but, it's close from tranportation. Also, it's in a safe place in Renton. Suzie knew how to take an advantage of a small place to make it A great one and so modern. I couldn't meet Suzie but, everything we need was there. Also, I like the heated floor in the bathroom! Thank you Suzie!
Abobaker
2017-03-13T00:00:00Z
Suzie was very prompt with communication and welcomed us warmly. The apartment was clean, comfortable, nice bathroom and had all amenities we needed. A perfect airport crash pad after a two week road trip! I would stay here again!
Lena
2016-07-01T00:00:00Z
Suzie was a great host, the place was big and very clean. Highly recommend this place to anyone visiting seattle
Dave
2015-10-19T00:00:00Z
ประเภทห้อง
บ้าน/อพาร์ทเมนท์ทั้งหลัง
---
ประเภทที่พัก
บ้าน
---
พักได้
3
---
ห้องนอน
Renton, วอชิงตัน, สหรัฐอเมริกา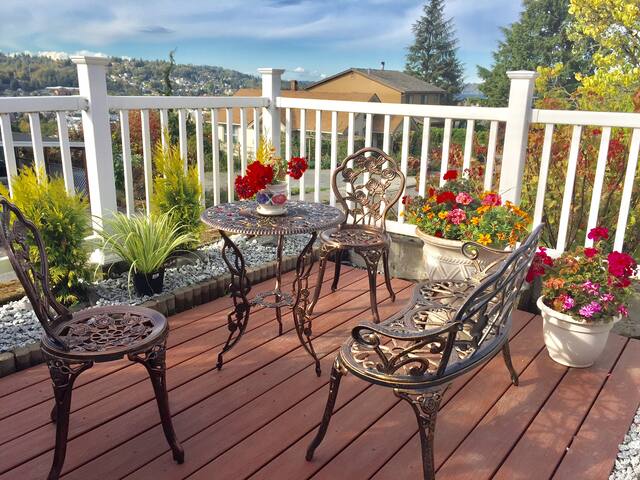 Spacious bedroom in a quiet gated community. Perfect for travelling nurses and other professionals in the area. Right across Covington MultiCare ER. Close to UW Valley Medical Center Covington, Proliance and other medical, dental clinics. Rent includes the use of a full bathroom with tub. It's a shared bath, but the daughter is away in school, so the whole 2nd floor is practically a private space for you!
Quiet gated community. Everything you need is at the nearby Covington Mall. A brisk run will be the perfect warm up for a workout at nearby LA Fitness. Morning walks to Starbucks will give you the boost. In the evenings, meet up for burgers at Red Robbin or sushi at Trapper Sushi, or pizza at The Rock Wood Fired Kitchen. Costco is so close. For nature lovers, Lake Wilderness is a ten minute drive.
ประเภทห้อง
ห้องส่วนตัว
---
ประเภทที่พัก
บ้าน
---
พักได้
2
---
ห้องนอน
Covington, วอชิงตัน, สหรัฐอเมริกา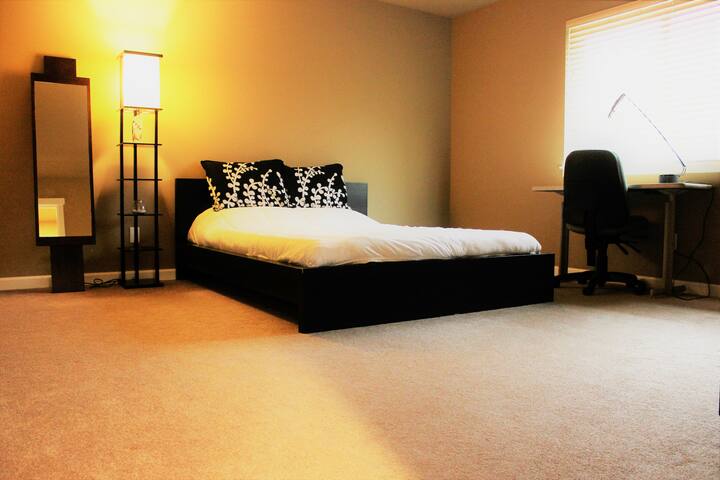 offering a community of other single professionals working or exploring career opportunities in the area. This home is set back off the highway in a private woodland setting on acreage with nearby river trails, mountain views & outdoor attractions...
ประเภทห้อง
ห้องส่วนตัว
---
ประเภทที่พัก
บ้าน
---
พักได้
1
---
ห้องนอน
Covington , วอชิงตัน, สหรัฐอเมริกา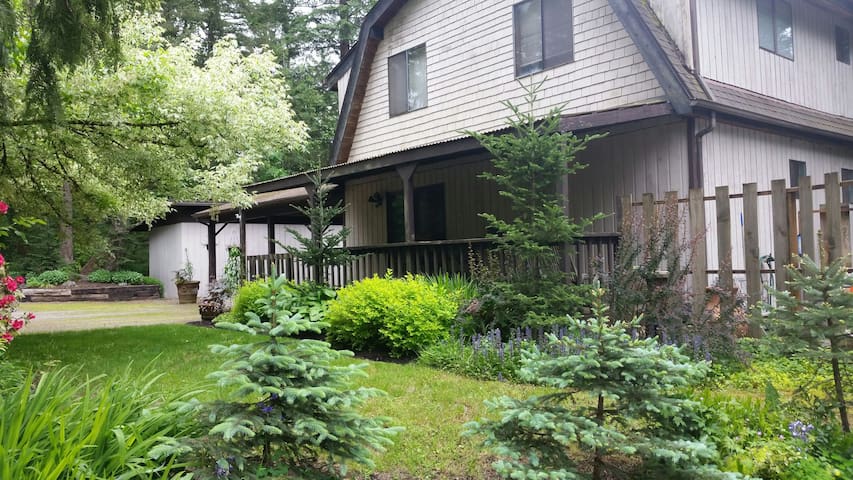 My place is close to restaurants and dining.
ประเภทห้อง
ห้องส่วนตัว
---
ประเภทที่พัก
บ้าน
---
พักได้
2
---
ห้องนอน
Covington, วอชิงตัน, สหรัฐอเมริกา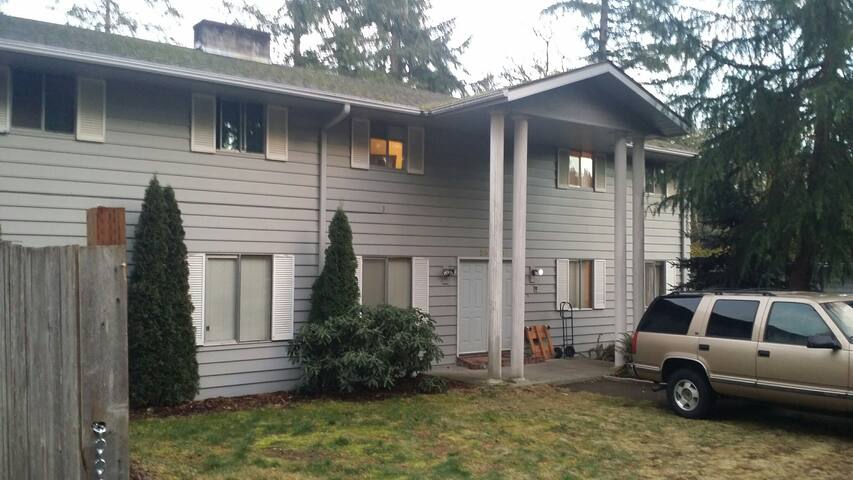 Our home is conveniently located in the middle of Kent, WA. Minutes to Hwy 18. A very fun family lives here.
Nick and Lindsay were wonderful hosts! They made me feel right at home and it was like I have known them for years! The room is nice and cozy as well. I will definitely book here again when I am in town. Also, they have the cutest little kiddos!
Reed
2016-10-07T00:00:00Z
ประเภทห้อง
ห้องส่วนตัว
---
ประเภทที่พัก
บ้าน
---
พักได้
2
---
ห้องนอน
Covington, วอชิงตัน, สหรัฐอเมริกา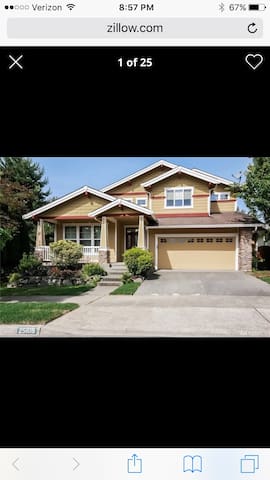 Great location home is walking distance to family-friendly activities, public transport, nightlife, the city center, library, shopping, . You'll love your private rooms because of the high ceilings, the view, the ambiance, and the location. The place is good for couples, solo adventurers, business travelers, families (with kids). Book your small wedding, anniversary or family reunion here. Thirty minutes to Seattle, 30 minutes to Tacoma, 10 minutes to Pacific Raceway, & 15 to Emerald Downs.
Large custom rooms with 14' ceilings, view of creek and pastures with a variety of wildlife, a sweet spot for bird watching. Private bedroom, living room, and bath with microwave and fridge (water and juice provided). Extended cable TV, Free Wi-Fi, A/C, Keurig Coffee Maker - coffee, dry creamer and sugar provided. Bedroom has a new California King size bed, closet with hangers and shelving, robes, dressers, nightstands, desk, bench seat, rural & creek view. Shampoo, conditioner,soap and hair dryer and towels provided. Ironing board, iron and clothing steamer available.
Nearby shopping, restaurants, library, public swimming, movie theaters, parks, trails, fishing, boating at Lake Meridian or Lake Sawyer, Seattle International Raceways, Green River Community College. 30 minutes to Tacoma or Seattle. 25 minutes to SeaTac Airport. Easy drive to Mt Rainier or the ski slopes.
ประเภทห้อง
ห้องส่วนตัว
---
ประเภทที่พัก
บ้าน
---
พักได้
2
---
ห้องนอน
Covington, วอชิงตัน, สหรัฐอเมริกา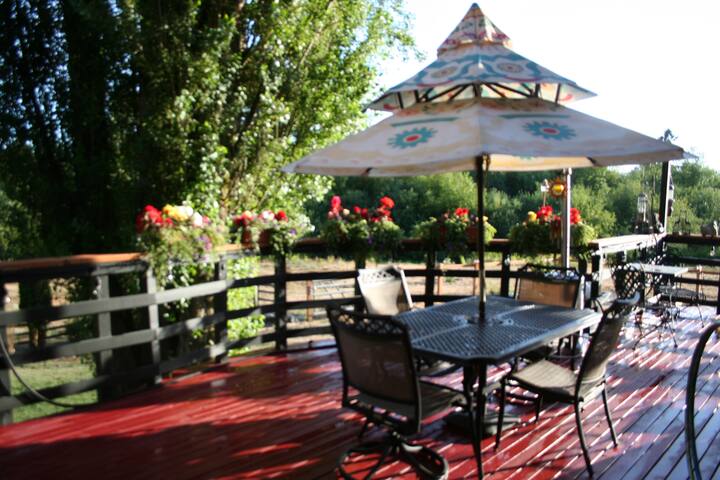 My place is close to Parks, Restaurants and dining, Bus transit, Jimi Hendrix Memorial, Renton Technical College. You'll love my place because of Wifi, Cable TV, comfy bed. My place is good for couples, solo adventurers, and business travelers. Located in a quiet neighborhood with plenty of parking.
Brian was very communicative and responded quickly to all questions. The electronic key makes things super easy to come and go. Very clean apartment and perfect for a place to crash.
Jessica
2017-03-27T00:00:00Z
Nice place. Very clean and well kept.
David
2017-02-19T00:00:00Z
Great place to stay. The fire place, xfinity television, and WiFi made our stay at home wonderful. Very accommodating and plenty of privacy.
Toribio
2017-01-31T00:00:00Z
The place was really clean! That's super important to me. We pretty much only slept there, we explored the cities during the day. It was the perfect place to crash at the end of a long day.
Samantha
2017-03-13T00:00:00Z
This was a very nice basement apartment. The electronic lock made check-in / out very convenient. Was easy to get to our destination from, but not close enough to it that we were bothered by folks driving about at all hours. The accommodations were very clean and all necessities were provided.
Kona
2017-03-21T00:00:00Z
Brian's place was clean and a great location for our visit. Brian was responsive to our needs.
Sheryl
2017-03-08T00:00:00Z
We had a great stay at Brian's place. He was very helpful, but also let us do our own thing. For what we needed, his place was in just the right location. Everything was as advertised, and it was a pleasant stay.
Mark
2017-04-04T00:00:00Z
We have family in Newcastle, so this place was super convenient for our stay! The room was spacious and we were easily able to sleep two people comfortably. The fireplace was a real perk as was the electronic lock. Highly recommend if you are looking for a place in the Seattle suburbs!
Janessa
2016-12-28T00:00:00Z
ประเภทห้อง
บ้าน/อพาร์ทเมนท์ทั้งหลัง
---
ประเภทที่พัก
อพาร์ทเมนท์
---
พักได้
4
---
ห้องนอน
Renton, วอชิงตัน, สหรัฐอเมริกา
Our condo is located in a quiet gated community with easy access to Seattle (17m), Bellevue (13m), SeaTac Airport (9m), and the Cascade Mountains. Come enjoy the PNW! You'll enjoy our fully remodeled condo with king bed and new appliances. Use the second room as an office or second bedroom. (airbed provided) Our place is good for couples, solo adventurers, business travelers, and families (with one-two kids).
Very nice and comfortable apartment
Sergey
2017-01-29T00:00:00Z
Immaculate top floor apartment with just one flight of stairs to manage luggage with car parking spaces less than a minute walk away. Quiet gated community away from the hustle and bustle of the city but commutable 30-40 minutes to either Seattle or Tacoma. Olympia only an hour away which was not far to travel to see Capitol Buildings. SEATAC Airport about 20 min drive. The apartment was like home from home with everything to hand including lots of kitchen utensils, good iron & board to xfinity channels on the TV. Best of all was a huge comfortable bed. Communication with Eric was spot on from the time we booked until we left. We spent 5 nights here and could have happily stayed much longer. Overall a great place in a nice quiet location.
Nev
2017-04-05T00:00:00Z
This condo was absolutely perfect. Eric, the host could not have been more helpful and accommodating.
Opal
2017-01-08T00:00:00Z
This place was amazing! Once you walk in it has such an open feel. There's a patio where you can sit and relax. The kitchen was fully equipped. The entire condo was beautifully decorated and felt very homey. The master bedroom has a connected bathroom with a filter on its shower head(bonus!). The bed was one of the most comfortable beds we've ever laid on. Communication was easy and straight forward. Would definitely book again if we were in the area. Overall, absolutely loved the place.
Lorenzo
2017-03-05T00:00:00Z
Eric was very responsive in answering all my questions and the entire transaction was very smooth. We loved our stay and all the extra touches at the property.
cathryn
2016-12-31T00:00:00Z
As advertised! Quiet, roomy, very nice style.
Curt
2017-02-06T00:00:00Z
Very nice, clean and well appointed condo. Had a great stay.
Josh
2016-12-04T00:00:00Z
The condo was GREAT! Very clean and open. I really enjoyed my stay. The kitchen was fully stocked, well the house actually had everything we needed plus more ! Loved the balcony as well , the area in whole was very peaceful and private . Eric had great communication . Would defiantly stay again !
Aleia
2017-03-19T00:00:00Z
ประเภทห้อง
บ้าน/อพาร์ทเมนท์ทั้งหลัง
---
ประเภทที่พัก
(ไม่ทราบ)
---
พักได้
4
---
ห้องนอน
Renton, วอชิงตัน, สหรัฐอเมริกา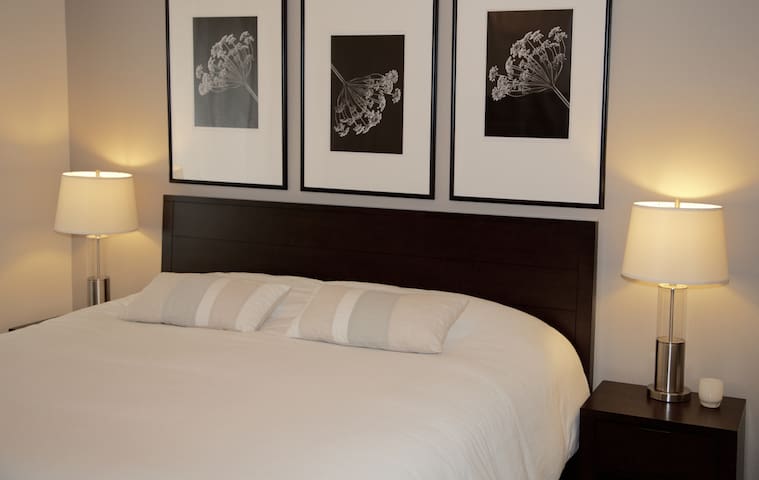 My wife and I have a newly remodeled home with a finished one bedroom basement apartment. You'll love the open space and natural light from the windows. Our home is close to SEA-TAC International airport, parks, public transport, I-405, I-5, Columbia City, Seward Park, Lake Washington, The Landing, Regal Cinemas, and hiking trails. We live upstairs and are available if you need anything or we can value your privacy.
We just bought our first home in September 2016. Our newly remodeled house came with a fully finished basement apartment with an open flowing layout. It is roughly around 1500 square feet. The apartment is yours to enjoy with your own kitchen, dining area, living room space, full bathroom, dish washer, refrigerator, full sized toaster oven, hot plate, and a microwave. The kitchen is partially stocked with supplies (coffee, tea, spices, some dry goods, cooking supplies, and some basic food supplies. The bathroom is fully stocked with basic supplies.
This AirBnB is perfect for business travel, corporate housing, visiting, Seattle Sounders, Mariners, Seahawks fans, pilots, traveling Boeing employees, leisure travel, or just wanting to visit the greater Seattle area. Our street is an evolving neighborhood and has a mixture of really nice homes along side some up and coming properties. It is a result of Renton growing as it's own booming neighborhood of Seattle. Just up our street has a really nice view of Mt Rainier, the Cascade Mountains, and the Boeing Airfield where they make and test 737 commercial jets. You can see them take off for the first time ever from our property. Here's what's close: Seattle: Pike Place Market: 12.7 miles (24 minutes away) Columbia City: 6.6 miles Capitol Hill: 13 miles Century Link Field: 11.8 miles (pretty easy to Uber/Lyft to the nearest Light Link station which will take you directly to the stadiums) Safeco Field: 11.5 miles Renton: Meijers (large grocery store): .6 mile (2 minutes) The Renton Landing: 2.3 miles (plenty of shopping and restaurants to choose from, also known to be some of the SeaHawks stomping grounds) Virginia Mason Athletic Center (Are you a 12 fan? Come see the SeaHawks practice or check out their training grounds) 4.8 miles Downtown Renton: 1.4 miles (If you are looking for something more local and family owned, downtown Renton has some nice restaurants) Boeing Air Field: 1 mile Valley Medical Center: 4 miles Tukwila: Starfire Sports - Seattle Sounders soccer facility (best soccer facility in WA, also where the Sounders practice and train): 3.6 Miles
Filmer and his wife were so kind to us! I really recommend people to stay here. It's just like if you were in your own house.
Daisy
2017-03-26T00:00:00Z
Filmer and his wife were so sweet, they even invited us to watch a soccer game with them. Their home was beautiful, spacious and super clean! We would definitely stay here again. My family and I enjoyed our stay here :)
Diana
2017-03-25T00:00:00Z
Filter's place was above and beyond anything we expected! The place was immaculate and we really appreciated all the small details and extra convenience that the full kitchen provided! We literally needed nothing because Filmer had thought of everything a guest would've needed. Will definitely consider staying here again! Thanks so much!
Diana
2017-03-28T00:00:00Z
This one bedroom is huge, bigger than my 2bed in NYC... Filmer was kind enough to show me the place and giving me suggestion for dinner. great place to stay ! I recommend it.
Emilie
2017-04-06T00:00:00Z
Place was great and loved all the details that they included into the unit. However the hot water ran out in the middle of a shower which kinda sucked having to wait 20 mins for it to get warm again while I am fully soaped up and wet ha! The fitness supplies and full kitchen was a nice touch. Not the best area since a car was stolen right next door during our stay. Overall great value for the price :)
Diana
2017-03-29T00:00:00Z
ประเภทห้อง
บ้าน/อพาร์ทเมนท์ทั้งหลัง
---
ประเภทที่พัก
บ้าน
---
พักได้
2
---
ห้องนอน
Renton, วอชิงตัน, สหรัฐอเมริกา
You'll love this cozy space. 25 minutes away from Seattle/Bellevue and 5 minutes from The Renton Landing, our house is close to many forms of entertainment, dining and restaurants. If you don't want to go out, feel free to enjoy a movie/show on the Xbox with the house's fully stocked kitchen, bathroom with amenities and washer and dryer. Everything you need to feel right at home. Great for couples, solo adventurers and business travelers.
The 760 square foot space might seem small but it's perfect for anyone wanting to getaway for a bit.
Funky little house. Comfortable. Hosts have everything you need there. Eclectic, quiet neighborhood. Approx. 30 mins drive to get to the things I wanted to see like Pikes, MoPop, etc. Convenient to the airport. I felt this rental represented good value. Hosts put thought into equipping the house for a good stay.
Kirby
2017-03-13T00:00:00Z
This home is cozy and perfect for a couple. It was clean and had lots of room. I loved the recliner chairs. Hosts were quick to answer our questions. I will definitely rent the house again.
Ka
2017-04-02T00:00:00Z
THE BEST hosts EVER!!! The place was amazing. The communication was perfect. I would absolutely stay at any property listed by Roberto and Kalii!!!
Katherine
2017-03-28T00:00:00Z
ประเภทห้อง
บ้าน/อพาร์ทเมนท์ทั้งหลัง
---
ประเภทที่พัก
บ้าน
---
พักได้
2
---
ห้องนอน
Renton, วอชิงตัน, สหรัฐอเมริกา
Spacious studio apartment in a quiet neighborhood 15 minutes from downtown Renton or Issaquah. Queen size bed, fully stocked kitchen and washer & dryer. In the summer, enjoy lake access (not view) with kayaks available from Memorial Day weekend through Labor Day and fishing in our stocked lake. Firepit available, wood not provided.
Your home away from home is located in a separate building from the main house in a very quiet and secluded neighborhood. You're welcome to take a walk down to the lake and enjoy the view.
Super secluded and quiet! 5 miles to restaurants and stores in the Renton Highlands. 8 miles to downtown Renton, downtown Issaquah, 405 and I 90.
ประเภทห้อง
บ้าน/อพาร์ทเมนท์ทั้งหลัง
---
ประเภทที่พัก
อพาร์ทเมนท์
---
พักได้
2
---
ห้องนอน
Renton, วอชิงตัน, สหรัฐอเมริกา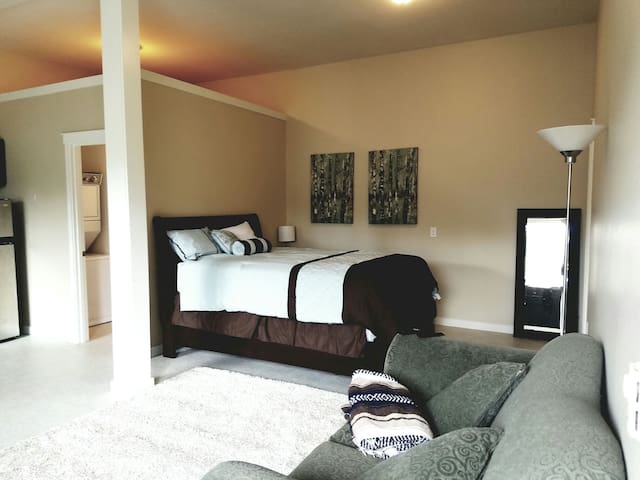 Hello dear, I have space to host travelers and stay-cationers in my newly built townhouse. The place is 3 bedroom, 2000 square feet, 3 levels, professionally furnished, with all amenities including an elliptical machine and a private garage. The community is great. All professionals. This is one of the best areas of Renton, as far as safety. Everything is close by: Seatac airoirt, grocery store, restaurants, starbucks, South center mall. 15 min to downtown Seattle, 15 min from downtown Bellevue.
ประเภทห้อง
ห้องส่วนตัว
---
ประเภทที่พัก
ทาวน์เฮาส์
---
พักได้
2
---
ห้องนอน
Renton, วอชิงตัน, สหรัฐอเมริกา
Very private apartment with keyless entry. Minutes to I5, 405, Seattle, SeaTac, Boeing, walk to bus, shopping, dining, and more! Basement apartment is yours to enjoy with your own kitchenette including refrigerator, coffee maker (we keep coffee and supplies ready for you!), toaster, hot plate, electric skillet, and microwave. Spacious and private bedroom, private living/dining area, no need to share! We live upstairs and are here if you need anything but value your privacy. Lock on bedroom door.
Guest Access- Enjoy the space! It is a private 1 bedroom basement apartment with private entry. Comfortable and spacious including private bedroom, private living room and dining/working nook, private bath, great outdoor space, close to everything! Wi Fi, cable TV, washer/dryer in unit, complementary coffee. Does not have a full kitchen but kitchenette does include: coffee maker, microwave, refrigerator, toaster oven, hot plate and electric skillet, dishes, utensils, sink, and more! We do share laundry and have private office in the basement and may access these during your stay.
Quiet neighborhood close to everything!
This is basically a small apartment. It is awesome and private. Leah was very helpful and took care of anything I needed immediately. The furniture is very comfortable and all the rooms are warm and cozy. I will definitely be back soon. I recommend this place to anyone.
Hank
2017-02-17T00:00:00Z
Lonna
2017-03-17T00:00:00Z
Excellent!
Romanito
2017-01-23T00:00:00Z
Lonna
2017-03-10T00:00:00Z
I really enjoyed staying at Jason & Leah's! It truly is it's own little apartment - cute, convenient, and cozy. The hosts made my experience easy and comfortable.
audrey
2017-03-14T00:00:00Z
Great communication and keypad entry made check-in super easy and convenient. I can tell that Jason & Leah have put a lot of effort into making the space as comfortable as possible. Super clean and on a quiet, dead end street. I only stayed one night, but the space would also be great for longer term stays. Definitely recommend.
Samantha
2017-03-29T00:00:00Z
I have had total privacy in my own "apartment" with private entry. Jason & Leah are very responsive via email, text and/or cell phone to help and answer any questions. They have been very thoughtful with providing information and snacks and genuinely want you to enjoy your stay. The airbnb is close to bus lines going to downtown (and burien), and there is also a park-n-ride within a mile.
Lonna
2017-03-31T00:00:00Z
This room worked well for my business trip. Very quiet, clean, and nicely decorated.
Rachel
2017-03-28T00:00:00Z
ประเภทห้อง
ห้องส่วนตัว
---
ประเภทที่พัก
บ้าน
---
พักได้
1
---
ห้องนอน
Renton, วอชิงตัน, สหรัฐอเมริกา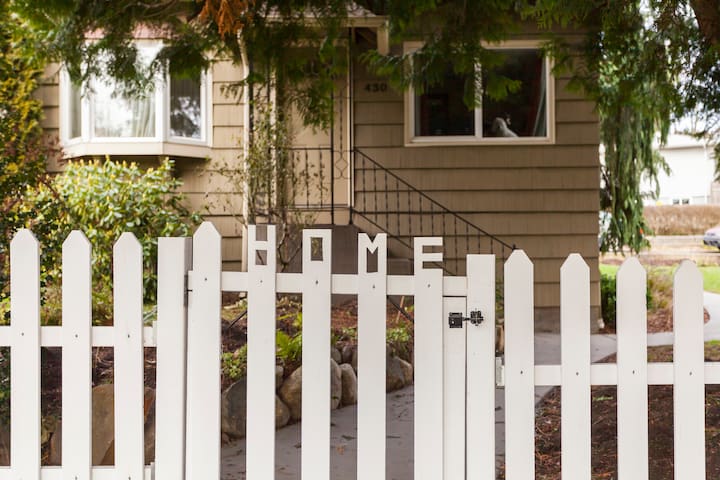 Covington - Airbnb
:
เฉลี่ย

4.91

จาก

5

ดาวจาก

785

รีวิวผู้เข้าพัก
1

–

18

จาก

ที่พัก 296 รายการ
กรอกวันที่เพื่อดูการกำหนดราคาเต็ม มีค่าธรรมเนียมเพิ่มเติม อาจมีภาษีเพิ่ม