APPARTAMENTO NEL VERDE VICINO AL MARE AD ANDORA, VICINO A TUTTI I SERVIZI E SUPERMERCATO. Parcheggio privato GIARDINO PRIVATO CON PERGOLATO, VIVIBILE ANCHE ALL 'ESTERNO. OTTIMO Per giornate di relax, pranzi e cene a contatto con la natura a solo 1,5 km dal mare
Il giardino da potersi godere cenando all'aperto anche sotto il pergolato, confort e quiete, possibilità di solarium a casa
Il contatto con la natura, il silenzio, la pace essendo però a due passi dal centro
They are amazing person! We are very happy to came in this area ! It's a good place for couple ! Thanks for all !
Lou
2017-04-06T00:00:00Z
Tutto perfetto. Casa molto pulita e ottima accoglienza.
Vittorio
2017-03-05T00:00:00Z
Ottimo
Maicol
2017-02-26T00:00:00Z
ประเภทห้อง
บ้าน/อพาร์ทเมนท์ทั้งหลัง
---
ประเภทที่พัก
บ้าน
---
พักได้
3
---
ห้องนอน
Andora, Liguria, อิตาลี
Cozy home in Andora,Italian Riviera. Perfect weather any time of the year,next to walking and bike trails, 2km from the beach. Walking distance to supermarket. Beach life, sports and culture, lots of historical sites and museums in the area.
ประเภทห้อง
บ้าน/อพาร์ทเมนท์ทั้งหลัง
---
ประเภทที่พัก
บ้าน
---
พักได้
6
---
ห้องนอน
Pian Grande, Liguria, อิตาลี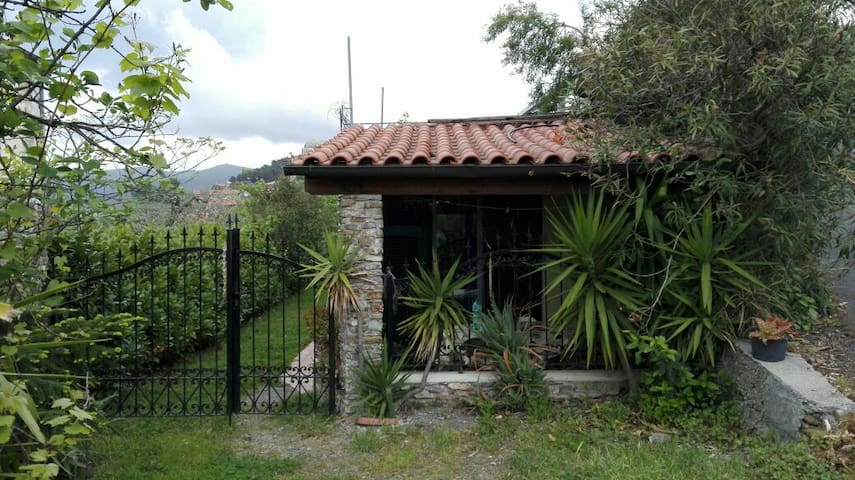 A semi-independent house in the quiet residential hill of Pinamare di Andora, in Liguria, the Italian Riviera, only 100 km from Nice airport. A 10 minutes walk downhill to the beach but far enough to avoid the noise and the crowd of the coast. You'll love the quiet and green setting, as a base to explore the region or to simply relax at the beach. Newly renovated to welcome couples and families with kids.
Lovely cocoon in the quiet - perfect for those who enjoy to be outside the crowd without being too far. We have renovated, furnished it and equipped to be pretty and functional at the same time and we think we did a great job :-)
Ho soggiornato in questo appartamento insieme al mio compagno, la mia bimba di 2 anni, e altri 2 familiari. La casa è davvero accogliente e supera le aspettative. Dispone di due confortevoli camere matrimoniali, di una camera per i bimbi, tutte finestrate e luminose. Ha due ampie terrazze dove poter anche pranzare/cenare e una vista impagabile sul verde della pineta. Essendo in collina, la notte( periodo estivo) si gode di una temperatura fresca e piacevole e soprattutto di tranquillità. La casa è dotata di ogni comfort, e fornita di tutto il necessario (lenzuola, salviette..)..e di più ancora. La nostra bimba ha avuto persino a disposizione giochi e attrezzi per la spiaggia. La casa dista dal mare all'incirca 1,2 km, ; noi con la bimba piccola e facendo vita di mare quotidiana, abbiamo optato per la macchina, ma fattibile anche a piedi. In più, la casa dispone di un parcheggio privato, utile nei periodi di alta stagione. E'stato un soggiorno veramente piacevole e rilassante. Ringrazio Serena per la cura e l'attenzione con cui ha saputo organizzare la sua casa. Lo consiglio vivamente alle famiglie con bambini, alle coppie..insomma a chi ha voglia di mare e tranquillità, insieme.
Ilaria
2016-07-27T00:00:00Z
Un viaggio di lavoro diverso dal solito!Ottima alternativa al soggiorno in Hotel senza rinunciare alle comodità ed al calore di casa. L'appartamento è perfetto, gli arredi curati e funzionali, dotato di tutto il necessario, pulizia molto accurata. Posizione silenziosa e due terrazzi dai quali godere una piacevole tranquillità. Da sottolineare infine, la comodità, in particolar modo in queste zone, di avere a disposizione un posto auto privato. Serena è un host molto disponibile, precisa e attenta. Grazie per questo piacevole soggiorno.
veronica
2016-09-23T00:00:00Z
Notre hôte à été joignable tout le temps, excellent accueil !!
anne-laure
2016-08-15T00:00:00Z
Die Wohnung von Serana ist super gelegen mit toller Aussicht! Sauber, schön eingerichtet und verfügt sogar über einen eigenen Parkplatz! Dieses Airbnb ist absolut zu empfehlen!
Vassilios
2017-03-12T00:00:00Z
Such a pleasure to communicate with Serena! The place is amazing, a real peaceful place in the middle of trees and close to the city in the same time!
Cyrielle et David
2017-03-05T00:00:00Z
E' la seconda volta che alloggio presso Serena e ormai è una mia buona abitudine avere questo ottimo riferimento per i miei viaggi di lavoro
veronica
2017-04-07T00:00:00Z
ประเภทห้อง
บ้าน/อพาร์ทเมนท์ทั้งหลัง
---
ประเภทที่พัก
บ้าน
---
พักได้
7
---
ห้องนอน
Marina di Andora, Liguria, อิตาลี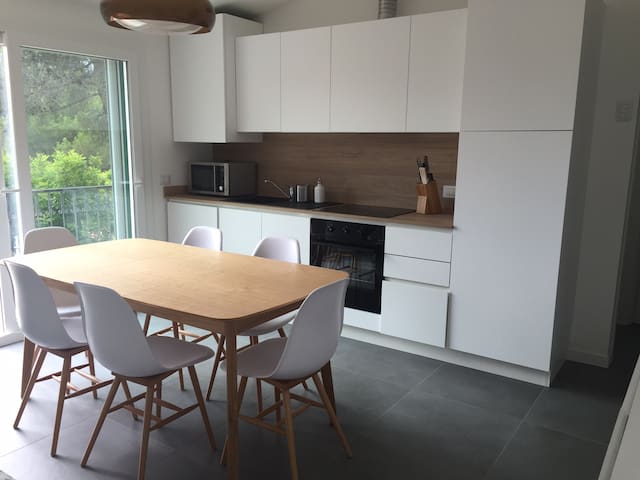 Apartment (ground floor) renovated, 5 places letto.Soggiorno bright, breathtaking view of the sea. Kitchen dishwasher and microwave. Barbecue in the garden.
It seems to be on a ship!
The house is situated in a quiet area (except July and August where the noise of the traffic on the Aurelia can 'be annoying way) the beaches are within walking distance (10 minutes). Private parking at the side of the d 'entrance gate.
Très bel appartement décoré avec goût.quartier charmant face à la mer.proximité D Alassio tres agréable.bien équipé,terrasse super. Bon séjour .
BOUET
2016-11-02T00:00:00Z
Laura's home is a great place to stay. It is very clean, well equipped and well located to enjoy and explore the local beaches and and the historical villages in the surrounding hills. The home is tastefully decorated in a nautical theme both indoors and out. The view is amazing!!!!
Berkley
2017-01-10T00:00:00Z
Chouette endroit agréable. Propriétaire pas sur place mais très agréable par son suivi rapprocher au téléphone pour assurer notre bonne prise des lieu et notre confort.
Emeline
2017-02-25T00:00:00Z
We liked this house very much, it has a fantastic view to the sea. We watched the sun- and mond(!)rise from the terace. The equipment inside is very nice and creative. The kitchen is fully equipped. The beach takes 8 minutes by feet, it is just sand! :) There is a free public beach, too. Andora center is in 15 minutes walking distance, it is a nice holiday town with palm tree avenue and lots of programs. It is also worth to visit the other towns nearby (Dolceaqua, San Remo, Imperia, Toriano...).
Edit
2016-06-26T00:00:00Z
Wir waren vom 06.-18.08 2016 in der Ferienwohnung von Laura. Die Kommunikation war ab der Buchung sehr gut. Laura hat sich stets bemüht, über E-Mail bzw. Handy uns hilfsbereit zur Seite zu stehen. Sie war auch ein paar Tage vor Ort, wo sie uns persönlich nett willkommen hieß. Die Wohnung, der Außenbereich sowie der Meerblick stimmen mit den Inseratbildern überein. Leider führt direkt unterhalb des Hauses eine viel befahrene Straße vorbei. Auch nachts wurde es nicht wirklich ruhiger. Wir konnten nicht bei geöffnetem Fenster schlafen. Am nahegelegenen Strand war fast allabendlich laute Musik, die auch uns am Ortsrand gut erreichte. Vielleicht ist das nur in der Haupturlaubszeit so?! Der Strand ist zu Fuß erreichbar. Für Unternehmungslustige ist der Standort gut, man kann die Küste hoch und runter einige tolle Ausflüge - auch mal ins Hinterland - machen. Wir bedanken uns bei Laura und ihrem Mann für die nette Begrüßung in Andora.
Dieter
2016-08-21T00:00:00Z
I talked mainly with Laura who was super helpful and lovely - easy to get in touch with her when I needed. They were also happy to give us an extra mattress which was great. The house itself was maybe a little smaller than I imagined but it had a fantastic terrace and was very clean and well furnished. Oh and the view is just amazing! Would definitely stay again. Thank you!
Hannah
2016-05-09T00:00:00Z
made most welcome to a beautiful home in a beautiful location good comfortable bed clean home and quiet neighbourhood superb we loved it want to go back next year for a longer stay
Mark
2016-09-28T00:00:00Z
La casa è ESATTAMENTE come mostrata e descritta nell'annuncio. L'host è stato sempre velocissimo a rispondere alle mie mille domande. Non c'è davvero nessun aspetto negativo da sollevare per quel che riguarda la casa e le procedure di prenotazione o la comunicazione tra viaggiatore e proprietario. Anche i vicini si sono dimostrati estremamente carini!
Alice
2016-09-19T00:00:00Z
ประเภทห้อง
บ้าน/อพาร์ทเมนท์ทั้งหลัง
---
ประเภทที่พัก
บ้าน
---
พักได้
5
---
ห้องนอน
Marina di Andora, Liguria, อิตาลี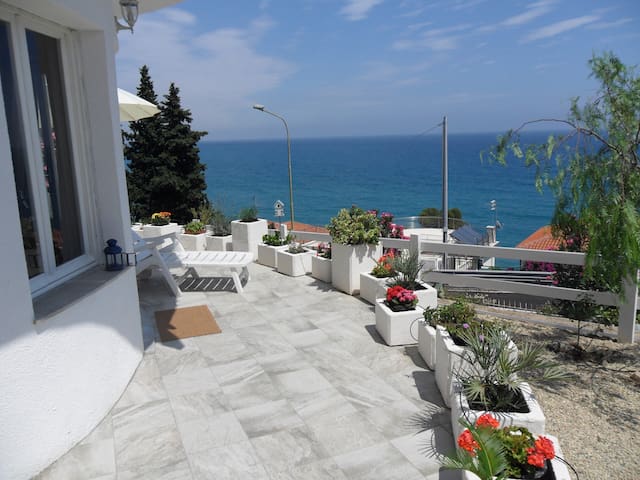 Bungalow 45 square meter, one double bed roome, one room with two singles bed, living room with TV, fully equipped kitchen, garden, parking and common pool. Laundry 24h, children playground, two pools, dog area and barbecue. Free parking.
Completely independent, wood and green, comfortable position 2 km from the sea and the centre. From 1 person till 6 perosn bungalow.
A restless and wandering location, the last coastal town to the west of the "Riviera delle Palme". It's very old. It was probably founded some centuries A.C., at the same time as Genoa, San Remo, and Marseille. Then there came the Romans to live, and they built the road to Provence and a bridge over the river Mèrula, a beautiful, medieval stone bridge with 10 arches and it is still standing. During the dark ages of wars, hunger and nvasions, the inhabitants found safer homes on the hill, around the castle of the Marquis of "Clavesana" and the late-Romanesque church of Saints James and Philip, built around year 1100. The castle is now in ruins but the church is still beautiful and charming, and is home to some appointments of "Music at the Castles of Liguria". Then in safer times, the inhabitants moved back down to the sea, the Navy and the Pigna, around the coastal defense tower built by the Genoese. Andora's town is still built by the sea, with its fine sandy beach, the beautiful touristic harbour with regattas, beautiful backdrops of sand and rocks where there lies a wreck of a ship from the Second World War; sea full of whales and dolphins: Andora is right in the middle of the Whale Sanctuary recently started by Italy, France and Monaco.
Très joli bungalow bien pratique. Piscines très proches, agréables. 5 minutes en voiture de la mer, parfaite pour les enfants. Joli séjour dans une belle région.
Sylvain
2014-07-28T00:00:00Z
Yellowed laminate and cheap air freshener permeate this rental. With over 100 (!) cabins this place is not an AirBnB. My car was vandalized during my stay,too! No salt or pepper, filthy looking aged futon... But The exterior is beautiful. Pool convenient for kids although the adult pool closes very early. Also, the sound of the highway is constant. Shut the windows, but if it gets warm count on a 15 Eur fee for a fan and 10 Eur for a hair drier!
Emily
2016-07-05T00:00:00Z
We had a very pleasant stay at Villaggio Colombo. Although our navigation had some troubles to find it. The signing in the village did not help us. At the end we used (SENSITIVE CONTENTS HIDDEN) maps to find it. When we arrived we were friendly welcomed. We arrived way earlier as expected but that wasn't a problem at all. They gave us the linnen and we entered our bungalow immediatly. The bungalow is very basic although everything that you need is in house. For us it was no suprise because this was mentioned on the site. it was clean and the beds were ok. Villaggio Colombo has a great set up and is very quiet. The pool is great and the facilitations are there. It completly met our expectations for this price level. We will definitly come back in the future! We more then enjoyed the enviroment. Cervo ( 10 min) and Bussana Vechhia (30 min) are must sees. We travelled to Varigotti (30min) and Final Ligure (30 min) to visit the beaches. The last days we discovered that the Andora Beach is excellent as well ( 5 min). Andora has some nice restaurants ( check tripadvisor) and a nice boulevard. We decided to share our experiences with you because we saw some negative reactions on this site. I can only speak about our experineces and they we great! Our children ( 1 and 4) and we had a great stay at Villaggio Colombo.
Roel
2016-08-04T00:00:00Z
La disposition des bungalows est bien conçue avec de l'espace entre les bungalows mais un grand manque d'ustensiles de cuisine.
monique
2015-08-07T00:00:00Z
We were a bit disppointed by Villaggio Colombo. Description does not mention a major point : bungalows are very close to a major highway, making the village very noisy (doesn't matter wich bungalow you have). Moreover, the bungalow we had was very dirty and provide only basic equipement. However, Tommy tried is best to manage our inconveniences (except noise). Despite those points, outdoors are nice and well maintenanced, pool is great and the village is quite close to Andora's beaches (10 min drive).
Nass
2016-08-13T00:00:00Z
Die Anlage war ok, das Personal freundlich. Das Haus und die Terasse waren geräumig. Man könnte es etwas wohnlicher gestalten. Leider ist die Autobahn direkt vor der Tür und zum Strand ist es sehr weit, man braucht das Auto.
Manuela
2016-09-04T00:00:00Z
Tommaso è stato molto disponibile e professionale ci siamo trovati proprio bene! La descrizione della strada e del villino sono è stata precisa e dettagliata. Il punto di forza di questo villaggio...è sicuramente la posizione...molto verde, privacy e parcheggio comodo....poi la piscina veramente bella....insomma lo consiglio al 100%; solo una cosa aggiungerei 2 sdraio per ogni villino adesso ci sono solo sedie. Marco
antonella
2015-07-13T00:00:00Z
ประเภทห้อง
บ้าน/อพาร์ทเมนท์ทั้งหลัง
---
ประเภทที่พัก
บ้าน
---
พักได้
4
---
ห้องนอน
Marina, Liguria, อิตาลี
In the first inland andorese, 2km from the highway and 5 km from the sea, apartment in detached house with parking. The accommodation comprises a large living room with living area and kitchen, two double bedrooms and bathroom.
ประเภทห้อง
บ้าน/อพาร์ทเมนท์ทั้งหลัง
---
ประเภทที่พัก
บ้าน
---
พักได้
4
---
ห้องนอน
Pian Rosso-costa, Liguria, อิตาลี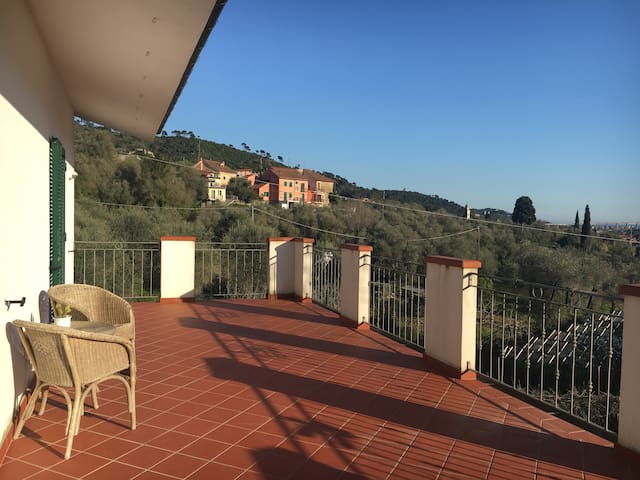 CHARACTERISTIC AND BEAUTIFUL VILLA ON TWO LEVELS, IN ANDORA ( SAVONA), WITH A VIEW OF THE SEA, private entrance, 5 MINUTES FROM THE SEASIDE. Villino caratteristico su due piani, con vista mare, zona tranquilla e a soli 5 minuti dal mare a piedi.
La casa è strategicamente localizzata in uno dei punti più pregevoli di Andora, vicini al mare e al centro del paese, raggiungibili facilmente a piedi. Oltre a ciò ci hanno offerto anche l'uso di due biciclette. Parcheggio per l'auto sempre disponibile. Diego e Francesca sono simpatici ed ospitali, anche se non perfettamente organizzati. La consegna della casa è avvenuta con ritardo rispetto all'orario stabilito. Mancava in parte la dotazione di asciugamani, come avevamo concordato. La casa era abbastanza pulita, ma molti spazi del guardaroba, della cucina e del bagno erano occupati da vestiti, cibo, oggetti di igiene personale dei proprietari. A parte ciò, il giardino magnifico, le camere e i bagni funzionali con le comode docce, gli spazi di vita ampi, la quiete della zona ed il panorama ci hanno permesso di trascorrere delle vacanze molto piacevoli.
Armanda
2016-08-21T00:00:00Z
Fantastica villa attrezzata vicino alla spiaggia di Andora come da annuncio. Proprietari molto ospitali e gentili che ci hanno accolto facendoci trovare l'appartamento molto pulito, permettendoci di passare un bel week end al mare come se fossimo a casa nostra.
Davide
2016-06-20T00:00:00Z
Abbiamo soggiornato io, mia moglie e il nostro piccolo. Tutto come da annuncio, proprietari sempre a disposizione. Mare raggiungibile con una camminata di 10 minuti in discesa (al ritorno salita ). Casa grande. Terrazzo molto ampio. Zona tranquilla, ci si addormenta e sveglia con i gabbiani.
STEFANO
2016-07-05T00:00:00Z
Diego showed us the house and gave us some very nice tips about things to do around the house.
Loewie
2016-07-31T00:00:00Z
ประเภทห้อง
บ้าน/อพาร์ทเมนท์ทั้งหลัง
---
ประเภทที่พัก
บ้าน
---
พักได้
6
---
ห้องนอน
Marina di Andora, Liguria, อิตาลี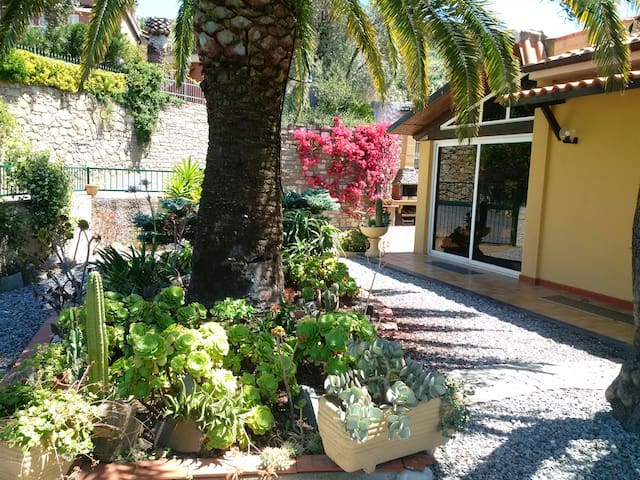 Splendida villa con piscina, sulla collina di Andora, immersa nel verde della pineta, a 10 minuti a piedi dal mare. Contornata da un giardino di 4.000 mq e dalla tipica macchia mediterranea, è in una posizione di eccellenza per vista, silenzio e privacy.
La villa si sviluppa su tre livelli: Livello 1 ENTRATA con cancello telecomandato e GARAGE Livello 2 - APPARTAMENTO - GRANDE TERRAZZA OMBREGGIATA con tavolo e poltrone da giardino - GIARDINO fiorito e curato Livello 3 - PISCINA piacevolissima ricavata nella roccia con servizio giornaliero di pulizia e manutenzione - GRANDE TERRAZZA SOLARIUM con ombrellone, lettini e doccia - GIARDINO fiorito e curato L'accesso ai diversi livelli avviene tramite scale. La casa non è adatta a persone disabili, non autonome negli spostamenti o che si devono spostare tramite carrozzina.
Tra pineta e macchia mediterranea, la collina di Andora, località Pinamare, è tra le zone più esclusive della costa ligure.
Super séjour, l'emplacement de la maison est idéal et la vue magnifique. Pour aller à la plage à pied et pour en retourner il faut avoir du souffle car très en pente. Le gardien qui nous a accueilli et qui est resté à notre disposition tout le long de notre séjour est une personne de grande gentillesse.
Alice
2016-07-31T00:00:00Z
Superbe villa tres bien située, avec une magnifique piscine. Tout pour se reposer en famille. Le gardien et sa famille sont adorables, plus particulièrement avec nos enfants. Le propriétaire est aussi très accueillant. Location à recommander!
Floriane
2016-08-15T00:00:00Z
Affittata per trascorrere il capodanno con amici. Bellissima casa, appartata, tranquilla, immersa nella natura, e a poche centinaia di metri da discoteca e spiaggia. Casa arredata con tutti i beni di prima necessità necessari, accoglienza molto elegante e gentile da parte del custode. Ideale per famiglie o gruppi, in quanto compende numerose camere e bagni attrezzati ed è indipendente. Bellissime anche la terrazza panoramica e la piscina, oltre al parco, i quali non abbiamo utilizzato appieno in quanto abbiamo soggiornato nel periodo invernale. ma anche d'inverno se ne può intuire la bellezza godibile nella stagione estiva!
Luca
2017-01-03T00:00:00Z
We had a wonderful week in this house in Andora. The house is fantastic, with a nice pool, wonderful terraces, great indoor spaces, and it´s all surrounded by amazing flowers and beautiful trees. The house was clean and tidy, all bedrooms had their own bathroom, and the kitchen was well-equipped, so we could do lots of cooking at home. We will recommend this house to our friends, and of course to all here at Airbnb. A great house in a beautiful neighborhood! Thank you, Amalia, for giving us the best homebase we could wish for when visiting Italy. We hope to come back!
Jørn
2016-07-14T00:00:00Z
ประเภทห้อง
บ้าน/อพาร์ทเมนท์ทั้งหลัง
---
ประเภทที่พัก
บ้าน
---
พักได้
8
---
ห้องนอน
Marina di Andora, Savona, อิตาลี
Alassio - From here you can go to the beach , mountain biking or medieval villages , diving to the Navy Reserve of Gallinara , climb on the trees , bird watching , hiking in the woods or relax on the terrace in a slice of paradise
The Delicious Residence Adriana is located close enough to the center of Alassio , reachable on foot or by bicycle if you want to do some ' of movement .. but also far enough away to be away from the heat of the sea front , and to be able to withdraw a private paradise .
The house is part of a group of three terraced houses are located on the western cape of Alassio city in a unique area for landscape, silence and coolness .
In search of a nice Place for our Holiday we have decided immediately on Vivianas Apartment. We have found everything, as the pictures promised. It is bright, clean and furnished nicely. The Apartment has a great location, is quiet and the City is near. We felt like at home. Thanks Viviana
Joachim
2016-06-04T00:00:00Z
Thanks so much...everything was great. We especially enjoyed the big kitchen to involve our kids with cooking preparation.
Beatrice
2016-09-02T00:00:00Z
The flat is good situated - about 2,5 km away from Alassio towncenter. So the surroundig is quiet -but there is only a short way if you want action. The flat was very tidy and well equipped -we found everything we need. The communication with Viviana was really nice and everything was good organised- we got lots of helpful informations bevor we arrived. Alassio is a great place for holidays - specially in the late autum because at this time there are not many tourist there and anyway we had really good weather. We hope we will be able to come again next year.
Petra
2016-11-06T00:00:00Z
Ottimo! L'appartamento corrisponde alla descrizione e alle foto pubblicate: spazioso, arredato con gusto, molto luminoso e pulito. A meno di cinque minuti dal centro di Alassio e, al tempo stesso, in posizione molto tranquilla e lontana dal caos. Eccezionale il panorama dalla terrazza al piano superiore!
Massimo
2016-04-27T00:00:00Z
Che dire, Viviana é una persona estremamente gentile, disponibile ed ospitale; ci ha accolti nel migliore dei modi fornendoci tutte le indicazioni per raggiungere la sua splendida casa e l'assistenza necessaria per tutta la durata del nostro soggiorno. La casa é semplicemente splendida e pulita, dispone di tutte le comodità (lavastoviglie, lavatrice, phon, biancheria, attrezzature per la cucina, ecc) e si trova in un'ottima posizione con una bellissima vista dall'alto di Alassio, immersa nella tranquillità ma a 5 minuti di macchina dal lungomare e dal centro. É dotata di un grande terrazzo corredato di tavoli e sedie nel quale è possibile rilassarsi al sole. Soggiorno super consigliato a tutti!!!
Serena
2016-03-30T00:00:00Z
Everything was so nice and comfortable! We were traveling with small kids, so better conditions could not even imagine!
Nadia
2016-08-02T00:00:00Z
La maison est parfaitement conforme aux photos, il s'agit la d'un havre de paix, ou il fait bon vivre, ou il est agréable de se prélasser en fin de journée sur le toit terrasse avec un bon verre de vin. la maison est a quelques minutes de la ville, permettant ainsi de profiter pleinement de la ville, et de bénéficier d'un calme absolue le soir. Viviana a tout bien préparer pour notre arrivée, elle a été très disponible pour nous fournir les meilleurs adresses, je conseil fortement au personne de s'y rendre en cette période de l'année. Ringraziamo Viviana per tutti, la casa e perfetta, la situazione ottima, viccino la citta, ma nella colina per non avere il rumore della citta. Racomendo veramento a tutti, di nollegiare la casa in questa perioda. Viviana rimane alla disposizione dei ospiti per tutti. Vi ringraziamo ancora
Filipe
2016-05-06T00:00:00Z
Viviana ist eine großartige Gastgeberin, sie hat vor der Reise schon viele Informationen gegeben und sich sehr gekümmert und bemüht. Die Wohnung ist sehr schön und wir fühlten uns sofort wohl und heimisch. Alles war wie beschrieben und besser. Die Wohnung war sehr geräumig und ansprechend und lässig möbliert.Ich liebte besonders die Bilder. Die Aussicht war toll und die Dachterasse war der Hammer. Kommen gerne wieder. Franco hat den Schlüssel übergeben und ist ein Schatz und immer ansprechbar. Auch dafür Dank.
Birgit
2016-10-09T00:00:00Z
ประเภทห้อง
บ้าน/อพาร์ทเมนท์ทั้งหลัง
---
ประเภทที่พัก
บ้าน
---
พักได้
4
---
ห้องนอน
Alassio, Liguria, อิตาลี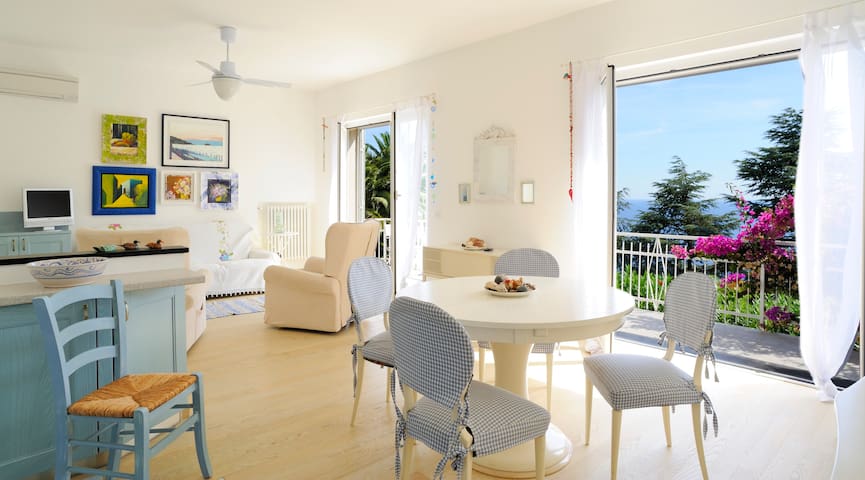 Abitazione rustica e confortevole a 4 km dal mare con posto auto e giardino, adatta a famiglie.
ประเภทห้อง
ห้องส่วนตัว
---
ประเภทที่พัก
บ้าน
---
พักได้
5
---
ห้องนอน
Andora, Liguria, อิตาลี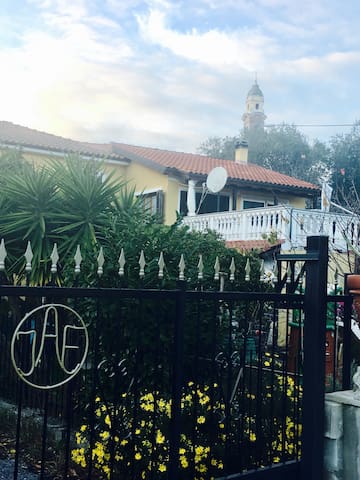 Apartment in a beautiful setting of a nineteenth-century restored villa with access to the pool reserved for the few condos. private garden with picnic area for outdoor dining.
ประเภทห้อง
บ้าน/อพาร์ทเมนท์ทั้งหลัง
---
ประเภทที่พัก
บ้าน
---
พักได้
5
---
ห้องนอน
Molino Nuovo, Liguria, อิตาลี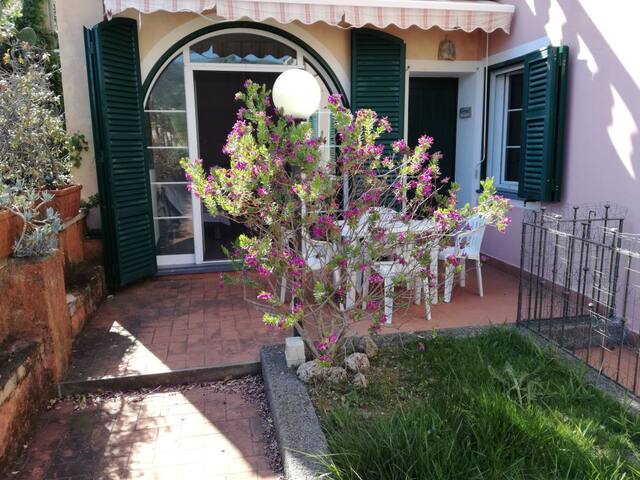 Accogliente trilocale in casa singola, 4/5 posti letto, doppi servizi, giardino e parcheggio in cortile chiuso con cancello automatico, TV, lavatrice. 1,5 Km dal mare, comodo ai servizi vicino supermercati, zona pianeggiante. Ideale per famiglie.
Alloggio pulito, host molto ospitale. Arredi funzionali anche se non recentissimi. Zona un po' rumorosa. Wi-fi ok.
Enrico Maria
2016-07-30T00:00:00Z
L'accoglienza di Giorgio e Franca è stata molto cordiale, ma nonna Dina è fantastica! Sono stati tutti molto disponibili e molto discreti nonostante abitassero sopra. L'alloggio è descritto in modo molto corretto, pulito e talmente vivibile che mi è sembrato si essere a casa mia; il giardino è stato un vero toccasana soprattutto per i bambini. Ci siamo trovati molto bene anche se il posto è abbastanza rumoroso perchè si pone su una strada molto trafficata e di fronte c'è una carrozzeria, inoltre dista dal centro più di un chilometro (come già anticipato nella presentazione dell'alloggio); per chi non ne fa un problema questo alloggio è decisamente da consigliare!!!
fabio
2015-08-01T00:00:00Z
ประเภทห้อง
บ้าน/อพาร์ทเมนท์ทั้งหลัง
---
ประเภทที่พัก
บ้าน
---
พักได้
5
---
ห้องนอน
Marina di Andora, Liguria, อิตาลี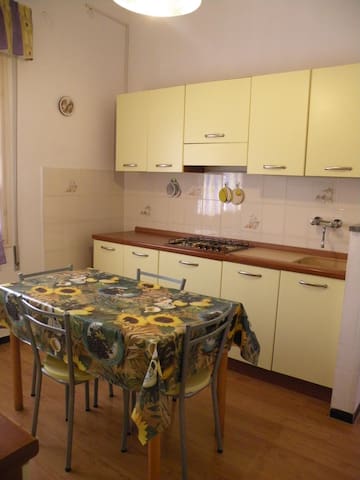 L'alloggio è disposto su due livelli abitabili e un ampio solarium sul tetto, comprensivo di lettini e ombrellone. Ulteriore terrazza al piano terra, con tavolo, sedie e ombrellone. Ingresso al primo piano in soggiorno con divano letto, tavolo da pranzo caminetto e TV. Al piano inferiore troviamo una camera da letto matrimoniale con bagno privato completo, più un secondo servizio separato con WC e lavandino. L'alloggio è provvisto di Lavatrice, TV satellitare e connessione internet con Wi-Fi.
L'alloggio è situato in una piccola frazione del comune di Andora (SV) chiamata Rollo. A circa 200 m sopra il livello del mare, si può godere di una splendida vista su tutto il golfo.
ประเภทห้อง
บ้าน/อพาร์ทเมนท์ทั้งหลัง
---
ประเภทที่พัก
บ้าน
---
พักได้
4
---
ห้องนอน
Bande di Là-rollo, Liguria, อิตาลี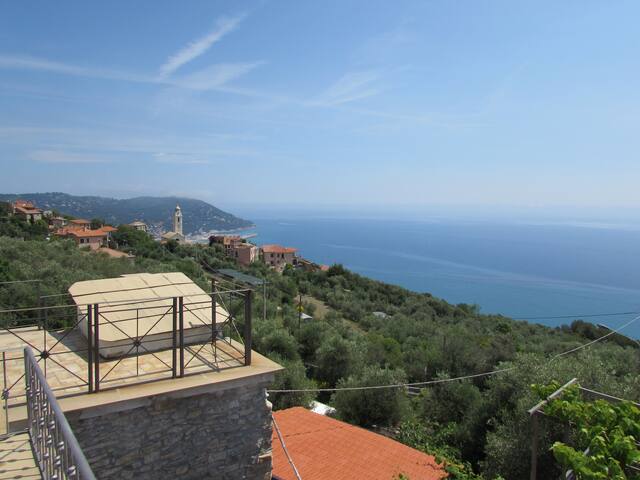 My accommodation is suitable for couples, lone adventurers, families (with children), large groups and furry friends (pets).
l 'apartment on the first floor is at your disposal, there are tents for lunch or dinner outside the parking spaces available.
ประเภทห้อง
บ้าน/อพาร์ทเมนท์ทั้งหลัง
---
ประเภทที่พัก
บ้าน
---
พักได้
6
---
ห้องนอน
Laigueglia, Liguria, อิตาลี
La nostra casetta è indipendente,disposta su 2 piani (uniti sia da scala interna che esterna) ogni piano ha il suo bagno con box doccia, dotata di tutti i confort, vicino al centro del paese e alle rinomate spiagge di Alassio,(700 metri, 10 minuti a piedi) appena costruita con finiture di pregio, luminosa fresca e soleggiata con ampio cortile, parcheggio privato incluso nel prezzo e prato verde per attività ricreative o per prendere il sole . è adatta a tutti, coppie,famiglie con bambini,ecc..
la casa è ubicata all'uscita di un'importante strada (Aurelia- bis ) del paese che lo mette in comunicazione con molti paesini dell'entroterra ligure e la piana di Albenga.
il quartiere è leggermente decentrato ma raggiungibile comodissimamente a piedi, inoltre è allo sbocco dell'Aurelia-Bis quindi collegato con tutti i paesini dell'entroterra ligure, nel nostro quartiere si svolge al sabato un mercato settimanale caratteristico da visitare.
Maria est très sympa...l'appartement est très bien équipé est super propre comme sur l'annonce... par contre la seconde literie sur la mezzanine n'est vraiement pas au top.. l'appartement est situé proche autoroute donc un peu bruyant... la mer payante est à 10min à pied sinon il faut prendre la voiture maria vous renseignera.
Greg
2016-08-23T00:00:00Z
La casa e' perfettamente come descritta nell'annuncio. Disposta su due piani (uniti sia da scala interna che esterna), ogni piano ha il suo bagno attrezzato con box doccia. I mobili sono nuovi di zecca, l'appartamento perfettamente pulito, la cucina attrezzata di tutto. Un comodissimo parcheggio privato all'interno del cancello, dove ci si parcheggiano almeno 3 auto (ad Alassio il parcheggio e' introvabile). La distanza dal mare e dal "budello" di Alassio, e' di 700 metri (10 minuti a piedi, calcolati sull'orologio). Maria e' un host perfetto, al nostro arrivo ci ha fatto trovare 2 bottiglie di acqua in frigo e una torta alle mele squisita!!!! Ci ha dato la possibilita' di effettuare il check-in in anticipo e ci ha fatto lasciare le macchine nel suo parcheggio anche il giorno della partenza. Lo consiglio vivamente in qualsiasi periodo dell'anno. Perfetto anche e soprattutto per famiglie!!!! Grazie mille Maria. A presto!!!! Marco
marco
2016-10-31T00:00:00Z
Ottima accoglienza, casa nuova e confortevole
Fabiana
2016-08-28T00:00:00Z
Tutto ok. Appartamento nuovo e molto pulito. Consigliato
Alberto
2016-09-11T00:00:00Z
ประเภทห้อง
บ้าน/อพาร์ทเมนท์ทั้งหลัง
---
ประเภทที่พัก
บ้าน
---
พักได้
6
---
ห้องนอน
Alassio, Liguria, อิตาลี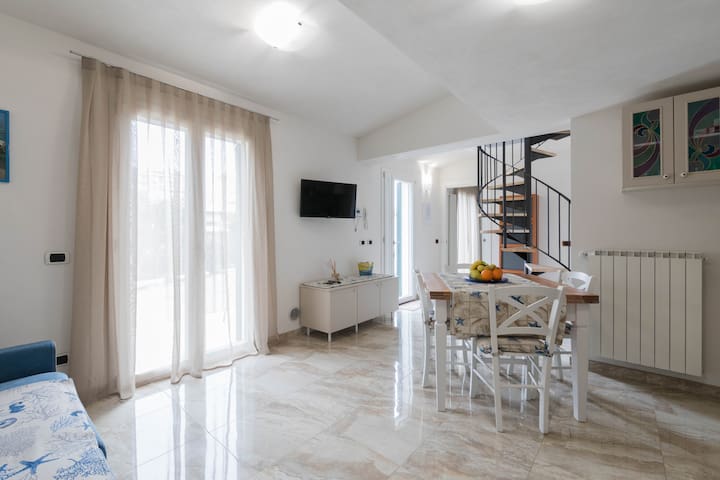 Casa rustica situata 6 km dal mare in zona tranquilla tra gli ulivi. 400 metri di strada sterrata. Ein altes Bauernhaus,dass sich 6 km vom Meer entfernt befindet in einer ruhigen Umgebung zwischen den Oliven. 400 Meter Schotterweg.
Diamo lenzuola e strofinacci per cucina (ce tutto occorrente per la cucina) Asiugamani per il bagno non compreso. L'aria condizionata (Caldo oppure freddo) si trova solo in sala. Wir geben Bettwaesche und Kuechenhandtuecher(in der Kueche finden sie die noetigsten Sachen) Badehandtuecher bitte mitbringen. Die Klimaanlage (Warmluft oder Kaltluft) befindet sich nur im Wohnzimmer.
Un luogo un po' isolato ma tranquillo in mezzo alla natura con vista mare. Das Haus befindet auserhalb des Zentrums,in der Natur mit Meerblick.
First of all you have to point out the amazing view over the bay and the ocean you have at Josephine's place: you get up in the morning, step out on the balcony and there is the bright sun, the beautiful landscape and the bay. This is the perfect start in a day. In her apartment is enough space for 4 people and everything you need is provided. In about 10 mins you can drive to the beach of San Bartolomeo which is a really beautiful town with relaxing beaches and a lot of restaurants. A further advantage which we enjoyed is that Josephine is born in Germany and moved to Italy a long time ago. So it is easy to get information about the area and some hints in German, English and Italian. Summarizing we absolutely enjoyed our trip to Chiappa and especially Josephine's house. She is really welcoming and she helped us a lot with her great suggestions concerning the best restaurants and beaches. We would definitively come back again and recommend her house! Thanks a lot for the great hospitality!
Robert
2016-08-16T00:00:00Z
Das Appartement ist genau wie auf den Fotos beschrieben. Wir haben uns sehr wohl gefühlt und Josephine war super nett. Der Ausblick ist wunderschön und wir würden jederzeit noch einmal zu Besuch kommen.
Eike
2016-05-11T00:00:00Z
Wir haben uns abgesehen von den Temperaturen sehr wohl gefühlt und hatten eine schöne Woche! Josephine war als Ansprechpartner immer vor Ort und im Haus war für alles gesorgt, was man für eine angenehme Woche braucht. Lieben Dank für die schöne Woche!
Judith
2017-01-07T00:00:00Z
ประเภทห้อง
บ้าน/อพาร์ทเมนท์ทั้งหลัง
---
ประเภทที่พัก
บ้าน
---
พักได้
4
---
ห้องนอน
Chiappa, Liguria, อิตาลี
Il mio alloggio è in campagna ma vicino ad altre case. Ha un giardino dove è possibile pranzare. La casa è a 3 km dal mare, ci sono molte spiaggie attrezzate ed una spiaggia comunale per i cani. Ampio soggiorno con angolo cottura, stanza matrimoniale e bagno con doccia. Il mio alloggio è adatto a coppie, famiglie e animali domestici. Vicino casa c'è ampio parcheggio e un grande discount per fare la spesa. L'uscita autostrada a 1 km e la stazione ferroviaria a 2 km. Ingresso al piano rialzato.
Siamo al centro della Valle Merula, la valle di Andora, fra due verdi colline e a pochi passi da un mare,premiato più volte "Bandiera Blu".
La zona dove si trova l'appartamento è famosa per la coltivazione del tipico basilico ligure che ha un sapore unico.
Sono andata con i miei figli a fine giugno. Mi sono trovata molto bene. Ottimo punto di appoggio per andare in (URL HIDDEN) l'ho usato per andare a Laigueglia e non ho avuto problemi di parcheggio particolari. L'host gentile, disponibile e molto discreto. Grande disponibilità nelle informazioni che ho richiesto.
Marzia
2016-07-06T00:00:00Z
We had a great time at Luca's place. Luca and his father picked us up from the railway station at Andora which was really good of them. The house is lovely, clean, quiet and cool ( we went in June) set amongst fields of Basil a couple of miles out of Andora. The main bed in bedroom is a large double/king size and very comfortable. Also good sofa double bed and a single pull out bed in lounge/kitchen. Good shower and kitchen facilities. Brilliant views of surrounding hills. Thanks for the fabulous olive oil, tomatoes and fresh basil. Luca lent us bikes which was great for us as we had no car - the local roads are quiet and there are tracks leading up into hills that we didn't try. Fun locals market on Monday morning while we were there. We went to right hand end of beach which was very nice and simple - enjoyed swimming in the clear water. Luca and family very helpful and friendly. All in all highly recommended.
Shaun
2016-06-23T00:00:00Z
We had a really nice stay at Luca's apartment. It was great that we could have free bikes so it was no problem to get to the beach. Thank you!
Susanne
2016-09-06T00:00:00Z
ประเภทห้อง
บ้าน/อพาร์ทเมนท์ทั้งหลัง
---
ประเภทที่พัก
บ้าน
---
พักได้
5
---
ห้องนอน
Andora, Liguria, อิตาลี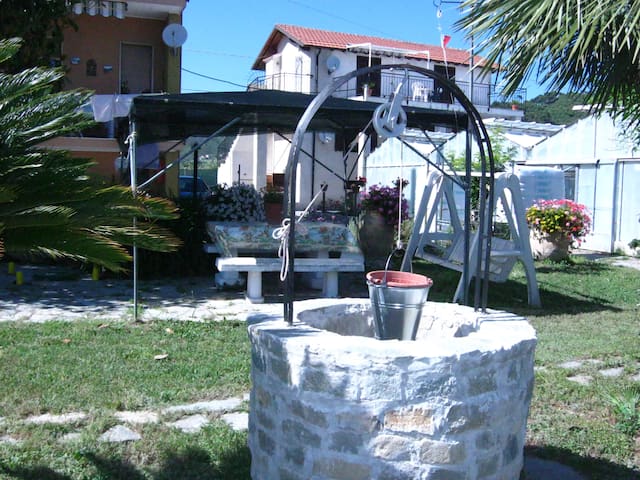 Large house with amazing sea view. Near the sea and Alassio, Cervo, San Bartolomeo al Mare and Diano Marina. It's the perfect spot for your holiday in Italy. With 4 bedrooms the house easily fits 10-12 people. Enjoy your vacation in Liguria, Italy.
Newly restored 200 years old rustic house in Liguria. The house is close to cities like Imperia, Alassio, San Remo, Albenga and even Nice and Monaco. The house is situated in a small mountain village 350 mts above sea level. The sea view is stunning where ever you are inside or outside the house. Its a 15 min drive from the cost of San Bartolomeo al Mare. The two neighbor cities by the sea are Cervo and Diano Mariana. Cervo is one of the most beautiful cities on the cost of Liguria. Diano Marina offer great shopping of all kinds. The house has a very nice and big kitchen and dining room, a washing room, a large bathroom, a small toilet, a small living room, 4 bedrooms of which one is a master bedroom with a private terrace and another is based privately in the basement of the house with its own entrance from the large garden terrace. The room is not accessible from inside the main house and has no direct access to toilet. The two other bedrooms upstairs have each room for 4 people. The Master bedroom has room for two people. The room in the basement has room for two people. You will comfortably be 8 people, 10 or even 12 people. Inside the house is approx. 160 m2 and with an outside terrace area of about 200 m2, including a nice barbecue area, grass and stone, you should have plenty of space no matter the size of your group. For winter season the house has floor heating and is just a very nice place to stay. A good hour drive from the house you have skiing facilities - but they are not open every year. Check Monesi Sci to be sure. During summer, spring and fall the area is just fantastic. Swimming in the sea, trekking in the mountains. Playing tennis nearby. Sailing. Shopping or just relaxing on the terrace. There are great beaches in Alassio, Cervo, San Bartolomeo and Diano Marina. Alassio is a 30 min drive from the house and you would combine that with some shopping in the small streets in Alassio. Kids will love it :) Cervo beach is my personal favorite as it is on big rocks. You jump directly into the water.. not sand! San Bartolomeo, the closest to the house, is the largest public beach in the area. It has everything, including showers, shopping street, food etc. Very kids friendly. Diano Maria is a more traditional sand beach (like Alassio) but the Public area is very limited, meaning that you have to rent beds. In the small village of Tovo Faraldi you find one restaurant and bar - La Campagnola. They make a fantastic 10-12 course Italian dinner for just 30-35 Euro pr. adult and about 20-25 Euro pr. child, all inclusive. In the nearby villages there are other restaurants but no grocery shopping. You will have to go to San Bartolomeo (at the sea) for shopping. (15 min drive) Close by you have Cervo, Diano Marina, Imperia and Alassio which all together offer great shopping and all you need during your vacation. All the basics that you will need in terms of food and drinks are available in San Bartolomeo just 15 minutes from the house.
It is a nice, small and quiet village just 350 m above sea level and 12-15 minutes from the beach. It has the most amazing view of the sea and approx. 200 m2 of outdoor terrace.
What an awesome place to spend your holidays. Enjoy the big, clean house with its super equipped kitchen. Take a rest in one of the spacious sleeping rooms or refresh in the twin shower. There are several terasses and the view on the ocean is mindblowing. Jacob, the host, is super responsive, friendly and helpful with any questions. Thanks Jacob, we had a good time at your house.
Alexandra
2015-08-30T00:00:00Z
Vi havde en skøn uge i Jacob og Rikkes villa i Tovo Faraldi. Roen og udsigten fra den store terrasse er helt fantastisk. Og villaen er rummelig og lækker. Jacob og Rikke vender hurtigt tilbage med svar på forespørgsler og er i det hele taget de bedste værter man kan få. Bjergene omkring villaen er nemt tilgængelige for de skønneste vandreture og der er kun 15mins. kørsel til stranden. Vi kan kun anbefale Jacob og Rikke villa i Tovo Faraldi :-)
Pau
2015-04-04T00:00:00Z
Jacob has a great house in the mountains with a very nice view. He has moved to the United States which gave some initial contact problems but everything was solved quickly.
Arjen
2015-07-26T00:00:00Z
We have been using airbnb for a long time and this was one of the best experience we had The house is indescribable you have to experience it and feel the serenity of the view from the property Make sure you try all the local restaurants
Federico
2015-06-16T00:00:00Z
A nice host and a lovely place with a stunning view - we ha'd a great time in Tovo Faraldi!
elisabeth
2016-08-14T00:00:00Z
La maison est incroyablement belle, charmante, sans de faute de goût :-)) Vue incroyable sur la mer, avec la plage à 1/4h d'heure. Jacob est aux petits soins avec ses hôtes, on a passé de merveilleuses vacances
Olivier
2015-07-19T00:00:00Z
Jakob's house is a beautiful and unique place to stay. It is extremely large and spacious. Fabulous relaxing stay. Beautiful location, BEAUTIFUL views. One of the most memorable places we have ever stayed. You cannot go wrong renting this place!
Josefin
2013-10-10T00:00:00Z
We instantly felt at home in this very cosy house. the place is lovingly renovated an has a great location with seeview. everything was well organized and jacob was interested in our well beying. Great host! We had a great week in tovo!
Gabriel
2016-01-05T00:00:00Z
ประเภทห้อง
บ้าน/อพาร์ทเมนท์ทั้งหลัง
---
ประเภทที่พัก
บ้าน
---
พักได้
12
---
ห้องนอน
Tovo Faraldi, Liguria, อิตาลี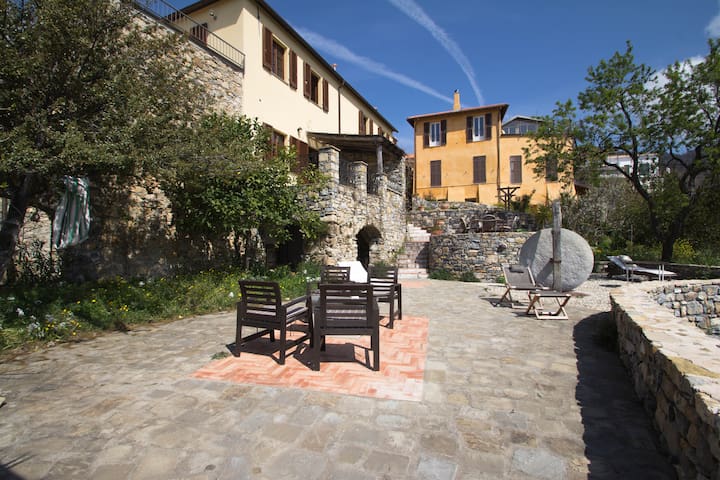 กรอกวันที่เพื่อดูการกำหนดราคาเต็ม มีค่าธรรมเนียมเพิ่มเติม อาจมีภาษีเพิ่ม