หาบ้านใน Canberra บน Airbnb
ค้นพบบ้านทั้งหลังและห้องส่วนตัวที่ดีเลิศสำหรับการเดินทางใดก็ตาม
ห้องพักช่วงวันหยุด ใน Canberra
ที่พักให้เช่าโปรดใน Canberra
ดู ห้องพักช่วงวันหยุด เพิ่มใน Canberra
$83
Freshly renovated 2 bedroom unit
---
ห้องพักช่วงวันหยุด

· Canberra
I can't hide from the fact that the outside of my building is ugly! But you won't be disappointed once you walk across the front door. Conveniently located and completely renovated. Enjoy our comfortable 2 bedroom apartment for 2 nights or 2 months! With comfortable leather lounges, flat screen TV and DVD player and yummy soft throw blanket, you may never leave to explore Canberra. My unit has all the things you need to feel right at home including free WIFI. It offers 2 large bedrooms both with wardrobes for your clothes. The main bedroom has a Oh-so-comfortable queen size bed and the 2nd bedroom is furnished with 2 single beds. If you really need too; another person could sleep on the lounge using the extra blankets provided. My kitchen has all new appliances with stove, oven, microwave and fridge/freezer. A large breakfast bench with cool stools to seat you for casual meals and a compact dining setting for 4. The bathroom has also been given a complete facelift and is clean and I provide a washing machine & clothes dryer, for your use as well. With plenty of storage and an allocated undercover car space for your car (could actually fit 2 cars if squashed in close) I am sure you will love my unit as much as I do. I don't smoke but I don't mind if you do so on the lovely little balcony with it's own little outdoor setting. Please enjoy my home and my town. You can use anything within the unit and the allocated undercover car space for your vehicle. I'm overseas so you'll always will have the whole place to yourselves. Any interaction would be with my mum and dad (who have kindly offered to oversee this for me) . They are very cool and helpful so you can call them if you have any problems or questions. Hawker is a suburb of Belconnen with the local shops are just a very short walk from the apartment. Woolworths, bakeries, butcher, chemist and some good restaurants all at your fingertips. A licenced bowling club and soccer club also within walking distance with great bistros to choose from. It is located just 15 minutes drive to the city centre, all most major tourist attractions in the Capital. I supply all linen and towels you may need during your stay. Please use any of the small things I have left behind and if you finish something just leave a note for my parents so we can refill it.

อ่านเพิ่มเติม
Jonathan
The accommodation was exactly as it was described and as expected - from the outside it's fairly ordinary but inside it is really nicely renovated throughout and well-equipped. For a two bedroom flat it was perfectly adequate in terms of size and we had no problems at all. I had the master bedroom and it was super comfortable! Kim was attentive in her communication and made the whole process a breeze. I thought the price was very good value - yes, Hawker is a little ways out of the city centre, but with a car hire from the airport it was so quick and easy to get in that that became a non-issue. It will be my regular accommodation if ever I head back to our nation's capital - thanks Kim!
Serena Eul Kun
Kim was extremely welcoming and friendly. We couldnt ask for a better host. The accomodation was comfortable and very clean and had everything we needed.
Penny
This was a great appartment. Walking into the appartment was a pleasant surprise as it was modern, clean, and light with some lovely touches in each room to give a homely and welcoming feel. The bed was very comfortable. Kim had a great vision for this place, as the appearance from the outside is more dated in the 70's style and there were many appartments. I was initially a bit worried that noise could be a factor however the neighbourhood was quiet and we felt safe. It was handy having the supermarket locally and a good pizza shop. The appartment was located about a 15 minute drive away from the center of Canberra. The off street under cover parking was very good for us. Kim is a great communicator and was able to send us some things that we'd left in the appartment very promptly back to Melbourne. Thanks Kim, I'm glad we stayed here, we really enjoyed our stay!
Darryn
Kim is a great host and was very quick with replies to any questions that we had prior to and during our trip. The unit felt like a home away from home with toys for the kids and a great selection of DVD's. The neighborhood is quiet which allowed for a great night sleep. The shops are within walking distance. It was only a short drive to all of the tourist attractions. We are a family of 4 and it was the perfect spot for our week in Canberra. We would not hesitate in recommending Kim's unit as a great place to stay if you are visiting Canberra.
Llewelyn
Kim met me upon arrival and was really helpful with information and getting us set up. A terrific host.
Ruby
Kim is a fantastic host, making sure we had all the information we needed even before arrival and waiting patiently for us to hand over the keys and show us promptly around the flat before leaving us to enjoy this comfortable flat. Woolworths is walking distance selling groceries and alcohol. There's also a bakery and cafes in the same complex. The unit was super clean, with everything you could possibly need in exactly the right place. Our children said their beds were comfortable, clean and warm. The double (or perhaps it is a queen) bed in our room was also super comfortable. Thank you Kim for making our stay convenient. We highly recommend staying here. You will not be disappointed.
Jenni
This was the second time that we have stayed at Kim's lovely apartment and once again we were not disappointed. Modern and clean and minutes away from the supermarket, bakery and restaurants. Not to mention only a 15 minute drive to Canberra city centre and all sightseeing attractions. Everything you need is in the apartment - crockery, cutlery, pots and pans, all bedlinen, plenty of towels, plus a washing machine and dryer. All you need to buy is your food. Lots of other thoughtful extras too! Kim's communication is great and we highly recommend her apartment to anyone wanting to stay in Canberra. Thank you again Kim.
Mitch
Kim's communication was excellent, I knew exactly where to go and what to do. The apartment was perfect for our little family. The kids' room even had a few toys to discover. The apartment felt recently renovated, so we were extremely comfortable during our stay. Definitely staying there again.
$94
Laurobel Cottage - Rural Farm Stay
---
ห้องพักช่วงวันหยุด

· Canberra
The warm and tranquil atmosphere of the cottage is evident the moment you step inside. Open plan lounge/dining opens to outside sitting area giving splendid views of the Tinderry & Clear Range mountains. Escape to Laurobel Cottage, nearby to Canberra City and Cooma NSW. Breakfast Hampers can be arranged with a minimum of 48 hours notice. There are 2 queen and 1 king size comfortable beds and a single sofa in the common area. Babies 12 months and under can stay for free... Situated in the Snowy Mountains Region and just 30 minutes South of the Australian Capital Territory, Canberra, Laurobel Cottage makes for an ideal choice for travellers visiting both Canberra and or the Snow fields. Guests have access to the entire cottage and most sections of the farm. Enjoy bush walks and view or take part in feeding the beautiful and gentle Alpaca family, goat family and Angus cow herd. We are happy to interact with our guests should they request it and equally happy to leave them alone should they want to keep to themselves. There are no immediate neighbours to disturb and guests can enjoy the surrounding countryside by walking, picnics or just enjoy the experience of being on a rural property. The snow fields are within easy reach of the farm and Canberra is also close by for those travellers who are seeking a central location to both without the expense of either. Use of the swimming pool, walking tracks and scenic views are all on offer at Laurobel Cottage!

อ่านเพิ่มเติม
Rhiannon
Our family really enjoyed our time at Laurobel Cottage. Unfortunately due to our busy schedule we weren't able to meet Dianne however the cottage was just as described and was the perfect home away from home. The cottage was always warm and the kids loved all the animals and the set of swings out the front. The kids have been asking if we can go back soon!
Priyanshu
Diane and Dave are very warm and friendly couple. The cottage is quite cozy, comfortable and nicely done. I stayed with my family and they all loved the place. The cottage has a serene location, away from the city life. The place is nestled in the beautiful mountains, making this an ideal location for getaway. The kids enjoyed animal feeding and farm activities. We loved the farm animals, the natural beauty of the location and the nicely done cottage. Well done Diane and Dave....and thanks a lot for the fresh veggies right from your garden... Richa and Priyanshu
昕昕
Diane is very friendly and nice, giving us lots of advice. The cottage we lived is amazing and unique, and the 3 bedrooms meet everyone's expectation. I will recommend to my friends.
Parul
Laurebel Cottage was so comfortable and clean. It had everything you can ask for. We felt like home and the surroundings were so beautiful. We all were mesmerised by the scenic view. Daine and her husband were very friendly and polite. We loved having a chat with them before we left in the morning. Wish we had booked the place for few more days.I would highly recommend their cottage to everyone.
Nicholas
Our family of 4 had a fantastic stay with Diane and Dave. The property is lovely, very comfortable and beautiful. Breakfast was included and with cereal, bacon, eggs and muffins it was more than enough. We helped feed the cows and the alpacas and this really added to the experience. Our only regret was that we could only stay for one day. This is a really good option for families wanting to break up a road trip south from Sydney. Thank you Diane and Dave for sharing your lovely cottage with us.
Eyal
Coming back to Laurobel Cottage was great. Diane is a great host and our girl loved playing with the farm animals and alpacas. Most recomended - thanks Diane.
Lissie
An amazing place to stay - we thoroughly enjoyed it! Dave & Diane are lovely hosts. We did several walks around their land and enjoyed meeting/feeding the animals. The cottage is very comfortable and well equipped. The perfect place to recharge - we will definitely come back!!
Nanda
Awesome stay at Laurobel Cottage. The Cottage was clean and everything was exactly as described on the details. I would prefer this property over staying in a commercial hotel. Will come back again and will also recommend my friends to stay here. The animals were friendly and Dave & Diane walked us thru the farm house, meeting and greeting their animals. The children loved feeding the alpacas and goats, had fun with chicken and the pet cats. The Wood fire heater kept us warm and cozy all night and we had a pleasant sleep overnight. Diane helped us light up the wood fire since we were new to use it (Thanks for that). The kitchen was self contained as well. Although the property is a farmhouse with nothing around for a couple hundred meters radius, the property was well lighted and was easily locatable in the dark. Just make a note of the unpaved road to the property and best to arrive before dark if coming for the first time.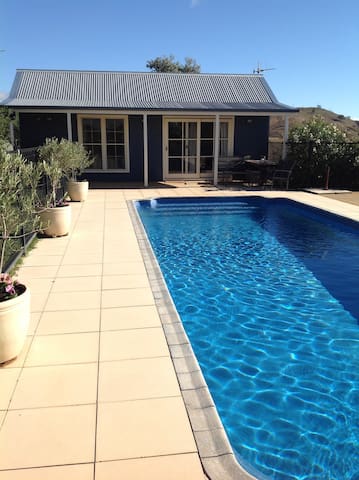 $102
Amazing Views Pet Friendly Bnb
---
ห้องพักช่วงวันหยุด

· Canberra
Modern, self-contained, pool house, and working sheep/cattle property in a peaceful country setting, 20 minutes from Yass. Great water views overlooking Murrumbidgee River and exclusive use of swimming pool. Break your trip with your four legged friend/s.. or stay awhile. See the stars, and hear the silence. The space consists of a queen size bed with a modern ensuite bathroom, and a sitting area with a sink, refrigerator, microwave and stove. The cooking space is quite small and best for fairly basic food preparation. Also included is a TV. (32" flat screen) and a DVD player. There are ceiling fans if required and gas heating, and an oil heat bank heater for the cooler weather. A 'Tastic' heater is in the bathroom for extra comfort. Enjoy exclusive use of our 10m pool, BBQ and deck. We will take children, over 5 yrs old, who are able to swim, but would insist that parents supervise at all times. A futon or fold up bed is available as an extra bed, and the charge for extras per night is $30.00. You will find some up to date magazines to relax with while here, DVDs and complimentary chocolate. Our guests are welcome to use the swimming pool and deck with elevated views of the surrounding spectacular scenery. We endeavour to keep the pool sparkling, but cannot always guarantee perfection. No diving please, for your own safety. A BBQ is available for use on the deck. We provide old fashion country hospitality, and will be on site if anything is required, otherwise we will respect your privacy. We are always contactable. We're willing to help with advise and information on the local area for sight seeing or where to eat etc. A two course home cooked meal is available here for $35/person on request. It is served in your accommodation for you to relax and enjoy in peace. This is a peaceful rural working property, 20 minutes drive from the town of Yass, with great views of Burrinjuck Dam. It is within easy reach of Canberra for sight seeing. Ie The National Gallery of Australia, Australia Museum, The Arboretum, High Court of Australia, The National War Memorial, National Capital Zoo and Aquarium, Floriade to name a few. A good place to stay to break a long journey and see more than just a motel room. There is no public transport from Yass to our B&B . Continental breakfast is included, and if you require an evening meal, I can provide a two course dinner for $35/person.. Please give advance notice if this is required, preferably when booking. We are a pet friendly B&B, but expect your dog to be clean and obedient. We charge $10 extra for one dog/night, and $15/night for two dogs/night. We ask that you provide your pets bedding as they are not allowed on the bed or sofa under any circumstances. Please note that we do not have credit card facilities.

อ่านเพิ่มเติม
Kerry
This is my favourite airbnb property!! Most of all the views are breathtaking!! It was a lovely country drive from the motorway and we were warmly welcomed on arrival by Jacquie and Tom who proceeded to show us around. This is such a beautiful and peaceful spot. The property is well equipped and we were very comfortable for our overnight stay - we both slept like logs!! The pool is an extra bonus, although we didn't get to try it out, and is a lovely spot for an early evening drink. I would love to stay here for a longer stay.
Sandro
Great place to stay around Yass. Jacquie was going to be away the day we stayed, but her neighbour Nick was there to greet and make us feel welcome. The views are truly breathtaking and we wish we could have stayed longer.
Alena
We booked Jacquie's beautiful little B&B for a one night stop over on our way from Sydney to a wedding in Griffith. We arrived much later than planned due to traffic, and Jacquie was very accommodating and met us with her friendly dog Tom to show us our room. The little flat was equipped with everything you'd need for a comfortable stay, and the view upon waking up in the morning is truly breathtaking. The continental breakfast thoughtfully planned was exactly what we needed to get us up and on the road and we left in the morning wishing we had a few more days to stay!! Thanks Jacquie - we will definitely come and stay with you in Yass again.
Michael
What a location. Miles from anywhere with the most fantastic view. Ideal for those seeking solitude and wanting to have a retreat. Immaculate and comfortable accommodation. Do your shopping in Yass on the way and stay put here soaking it all up and recharging your batteries.
Ashleigh
We had such a great night at Jacquie's place - the other reviews say it all. A clean, tasteful cottage propped over gorgeous sweeping views. Unsealed road in, but nothing our little Suzuki Swift couldn't handle. Breakfast was a lovely touch. We'll be recommending our friends :)
Claire
What amazing accomodation. A pool and balcony all to ourselves with breathtaking views. The breakfast provided was lovely and Jacquie was s a perfect host. Our dog also enjoyed it very much :) 10/10
Tamara
Thank you Jacquie for sharing your beautiful property with us. It was so relaxing, the views are amazing and it is just the perfect place to unwind. We would love to visit again sometime. Nothing but praise- Thank you!
Wabei
If you are not afraid to go off the beaten track, if you like day and night critters to greet you morning and night, if you like a big dog called Tom and a view unlike no other stay with Jacquie and Michael. They took the Airbnb experience to another level for me in the small details. Fridge was stocked with breakfast essentials cozy bedroom with pool outside and a stunning view. I would recommend this little oasis with its gentle hosts over any place in the area. Well worth a visit.