A charmingly rustic 5 bedroom country home in the heart of the Atlantic Rainforest, natural habitat for some 300 species, a great variety of birds and fauna, located inside the "Três Picos" state park, less than 3 hours from Rio de Janeiro. The perfect place to get away from it all, fully equipped for your comfort - complete kitchen, fireplace, barbecue, small pool and we include bed linen and towels. There is also a river - crystal clear waters - crossing the property where you can have a dip!
THE LODGE | A ESTALAGEM A charmingly rustic 5 bedroom country home in the heart of the Atlantic Rain Forest, natural habitat for some 300 orchid species, and a great variety of birds and fauna, located inside the "Três Picos" state park, itself one of the last primeval rain forest covered areas in the state of Rio de Janeiro. Just over an hour's drive (traffic permitting) from Rio's international airport takes us to the edge of the park where the road climbs for half an hour to an altitude of 1000 meters and there we travel through the forest for another 40 minutes over a dirt road to A Estalagem (The Lodge), a 3 acre river front property with a fully equipped professional kitchen, large living room with a fireplace, library and gaming room and 5 bedrooms, either en suite or shared bathrooms. We have our own spice patch, local organic vegetables and freshwater stream. If you are a bird watcher, hiker, nature walker, want to swim in the rivers, or just want to read books, listen to music and relax, this is the place! Being the perfect getaway, we don't have internet or mobile coverage, only landline. We include fresh linen and towels and full use of the kitchen facilities, as well as an optional house keeper for daily cleaning.
Uma casa com características rústicas, porém bem confortável. Bom ambiente para conversas com amigos e familiares próximo à lareira, caminhadas nos arredores, leitura, descanso e, por fim, se conectar à Natureza. Roupas de cama e toalhas impecáveis. A pequena piscina atende bem às crianças e o rio, em frente à casa, aos (URL HIDDEN) o apoio de D.Irani o descanso está garantido. Diana, sempre atenciosa em dispor toda informação necessária à estadia, serviços, lazer e acesso. Muito organizada. Voltaremos certamente e recomendo.
Simone
2017-01-22T00:00:00Z
Ótima experiência! A casa é exatamente o que promete e com o plus de ser super limpa com roupa de cama e toalhas arejadas e aprazíveis, chuveiro caudaloso e quentinho e colchões de qualidade. Pelas fotos achamos que a piscina era bastante maior do que é de fato, mas isso não afetou a experiência como um todo. Dona Irani nos recebeu muito bem e com energia ótima. Chegamos com uma champagne de boas vindas nos esperando e tivemos um ótimo ano novo em volta da lareirinha deliciosa. Para os próximos hóspedes super indicamos a casa e sugerimos chegar a ela por Lumiar em vez de por Mury, a estrada está bem melhor conservada atualmente!
Martina
2016-01-05T00:00:00Z
O Chalet é lindo, se alguém procura tranquilidade e natureza, não pode deixar de ir a este local. Ótimo para levar um grupo, curtir um banho de rio, ler um livro, fazer um churrasco e tomar umas cervejas com o pessoal. Além disso, existe uma coletânea enorme (centenas) de ótimos CDs com os estilos mais variados de música, com certeza você encontrará algo que te agrade. Numa época onde temos uma seleção recente de músicas no smartphone, é ótimo poder pegar um CD do Ray Charles ou B.B. King, por exemplo, acender a lareira e bater um papo com os amigos com som ambiente. Quem for, voltará revigorado para a cidade, pode ter certeza.
Bruno
2015-05-25T00:00:00Z
O ponto alto da Estalagem é a área externa, que possui um lindo paisagismo e ótima integração com a natureza do local. A casa é bem rústica e antiga, mas bastante convidativa para curtir com amigos. O caminho para chegar à casa é bem longo, mas vale a pena. D Irani, caseira do sítio, é uma excelente ajuda para a estadia. Nossas únicos pontos de melhoria seriam sobre alguns pontos de manutenção da casa e do uso do Wi-Fi - a casa tem mas fica restrito ao uso dos donos - não teríamos nos importado em pagar para usufruir desta comodidade!
Andre
2017-03-02T00:00:00Z
This place is a beautiful retreat, the house is incredibly beautiful and blends perfectly with its environment. Diana and Bruce are awesome hosts, very welcoming. They fixed us delicious meals every morning with amazing fresh fruit . Their multicultural background made them the most interesting hosts I have ever come across in my travels. I highly recommend it. The place is a paradise!
Ana
2013-06-04T00:00:00Z
Amamos passar o feriado nessa linda propriedade. A casa é bem cuidada, a distribuição dos quartos é ótima e a Dona Irani é uma pessoa sensacional, nos ajudou muito no tempo em que ficamos lá. Vale a pena tirar uns dias e ficar contemplando a natureza espetacular que o lugar oferece. O rio em frente a casa é um atrativo a mais. Antes de chegar, tínhamos vários planejamento de atividades ao redor para conhecer o lugar, mas a casa é tão incrível, que acabamos não saindo para nada. Recomendo e pretendo voltar em breve.
Leticia
2015-09-08T00:00:00Z
We were so happy that we found this place! It was a perfect weekend in a perfect company of our hosts. The house is spacious, stylish and cozy, we had lots of privacy and it felt like home from the first minutes. Diana and Bruce are great cooks and have a good selection of wine and other drinks. The surrounding area is a primary Atlantic forest with dramatic landscapes. Dear Diana and Bruce,thanks for everything and especially for the music! Hope to come back one day.
Marina
2013-05-08T00:00:00Z
O lugar é maravilhoso. O sítio é muito bem cuidado a casa muito limpa sem cheiro de mofo. Foi tudo perfeito. O caminho quando sai do asfalto é ruim porém da para ir pelo outro lado que a estrada é melhor. Anda uns 18km +.
Luiz Felipe
2017-01-29T00:00:00Z
ประเภทห้อง
บ้าน/อพาร์ทเมนท์ทั้งหลัง
---
ประเภทที่พัก
วิลล่า
---
พักได้
10
---
ห้องนอน
Nova Friburgo, ริโอเดอจาเนโร, บราซิล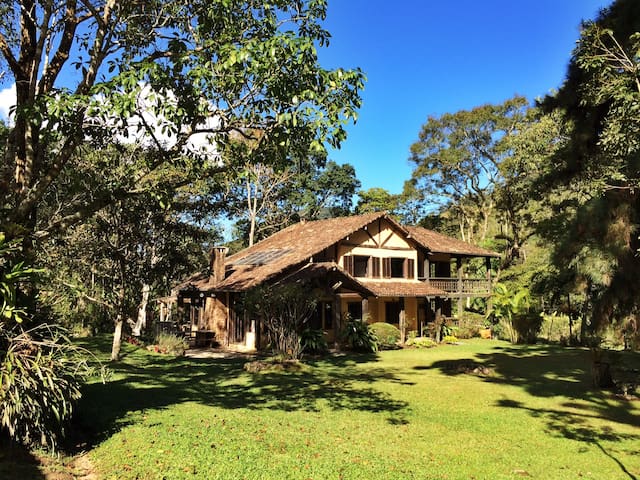 Cool and airy two-bedroom townhouse with secure Wi-Fi network designed by and for surfers in the middle of Itaúna beach, just one block back from the oceanfront. Very safe and completely private in a quiet street with ample street parking. Spacious for four, comfortable for six and cozy for eight. Secure Wi-Fi network throughout the house. English spoken e português também, con un poquito de español.
Downstairs: double doors open onto a spacious sitting room with two settees and large wall fans, tiled bar and fully-equipped American kitchen integrated with the barbecue patio. Plenty of crockery, cutlery and glasses. Breakfast corner with double fold-out sofa-bed and ample pantry. Upstairs: two bedrooms with wall fans, black-out curtains and orthopedic mattresses, one with a double bed and the other sleeping five with twin beds, a bunk bed and a rollaway bed. Bedding provided Bathrooms: one upstairs, one downstairs, both with hot showers (electric) with plenty of towels available, plus two garden showers to rinse off the sand before coming into the house. Three rooftop water tanks hold 500 liters each (1500 liters total). Fun stuff: board racks (safely holding +12) and lockable concealed board loft; loads of hammocks, beach chairs and cart, stretchers, sun brollies etc. Two bikes, beach trike, skateboards, longboard, bodyboard, surfboards, floats, roller blades, bats, balls etc. Facilities: refrigerator, drinking fountain, toaster, microwave, blender, juicer, mixer, pots and pans; basic washing machine (no automatic cycle), drying rack and iron; hairdryer; radio and television (no cable channels); electric mosquito repellers, phone/tablet chargers
Upmarket but casual, with very little traffic, Itaúna offers a broad white-sand beach with great waves for surfers. Stroll a kilometer left along the beach to the rocks (lage) for casual restaurants and sports events, or turn right for the town square with evening street fair and open-air entertainment, with easy access to banks (Banco do Brasil & Itaú), cashpoints, boutiques, drugstores, bus terminal, mini-mall etc. Note: no currency exchange bureaux nearby so bring Brazilian Reals for small purchases.
A casa é excelente, tem ótima infra estrutura. As acomodações são boas, e a casa equipada. Tem uma churrasqueira, fica muito próxima à praia. Os anfitriões também são ótimos, sempre respondem às perguntas e fazem de tudo para nos sentirmos bem. Recomendo muito e certamente voltarei mais vezes.
Andre
2017-03-22T00:00:00Z
A casa é agradável, muito bem localizada e bem refrescante, tanto Robert qto sua mãe Carolyn foram super atenciosos e gentis. Correspondeu anossa expectativa. Recomendo.
Élida
2016-11-20T00:00:00Z
Ótima localização próxima a melhor praia, padaria, mercadinho e restaurantes. Casa aconchegante e bem montada. Anfitriões super atenciosos e gentis.
fernando
2017-01-02T00:00:00Z
A casa é espaçosa, cozinha equipada, próximo à praia, ideal para grupos de jovens. O anfitrião foi atencioso e prestativo.
Daniela
2016-01-08T00:00:00Z
Robert e sua mãe foram muito atenciosos, sempre se colocando à disposição para esclarecer quaisquer dúvidas. O bairro e a localização eram muito boas, bem perto da praia fácil de encontrar. A casa era espaçosa, no entanto fiquei decepcionada ao chegar, estava tudo muito sujo e desorganizado.
Iara
2016-05-16T00:00:00Z
La Casa de Robert es mejor que las fotos del sitio!!. Es amplia y muy confortable. Nos llamó la atención el equipamiento y todas las cosas que dejaron generosamente a disposición de los huéspedes para que uno se sienta como en casa!! Incluyendo todo el equipamiento para pasar el día en la playa. La casa está ubicada muy cerca de las playas mas lindas y no tan cerca del centro comercial pero desde la casa se puede ir en colectivo rápidamente. Nada queda lejos en Saquarema... Lo único que le agregaríamos como servicio es acceso a internet o wifi. Una casa para aprovechar y disfrutar!!! Saquarema: una belleza!!
vero
2017-01-12T00:00:00Z
A casa fica realmente muito perto da praia de Itaúna, em Saquarema.
SHIRLEY
2016-01-26T00:00:00Z
Ótima localização. Casa confortável e bem equipada. Bairro muito tranquilo. Eu e minha família adoramos.
Eloisa
2017-01-28T00:00:00Z
ประเภทห้อง
บ้าน/อพาร์ทเมนท์ทั้งหลัง
---
ประเภทที่พัก
วิลล่า
---
พักได้
14
---
ห้องนอน
Itauna, Saquarema, ริโอเดอจาเนโร, บราซิล
Casa de vila perto de Praça São Salvador. Bom para casais e famílias (com 1 criança). Casa simple mas funcional e limpa. Perto de onibus metro (largo do machado) cinema bares praia do flamengo onibus exclusivo direto para o corcovado. Ponto de taxi na porta. Please read house rules.
A experiência de hospedar com Célia e Roberto foi de grande aprendizado e proveito. Célia é uma mulher com uma alma muito bondosa e nos recebeu com o carinho simples de uma mãe, com croissants, lanches e sorrisos. Seu espaço simples e aconchegante é o encaixe perfeito para quem procura muita simplicidade e aproveitamento da cidade (que inclusive se encontra em um ótimo e calmo setor). Célia se tornou um grande exemplo e deixou uma vontade de concretizar amizade, é atenciosa e prestativa no que pode. Agradecemos sempre por esses dias, agradeceremos sempre pelo que foi feito por nós.
Wendyane
2017-01-30T00:00:00Z
Fomos recebidos com muito carinho e gentileza pela Célia!
André
2017-04-04T00:00:00Z
Aangenaam rustig verblijf gelegen in een klein straatje, dichtbij largo do Machado , de zee op 10 min wandelen , winkels, bars en restaurants op 5 min .. Aangename ontvangst van Celia... Met de eerste levensbehoeften in de frigo ! Proper en alles is aanwezig , behalve airo zou aangenaam zijn tijdens de warme zomermaanden . De leuke buren krijg je er bovenop !
Christa
2017-03-01T00:00:00Z
Mantive mais contato com a Célia, esposa do Roberto. Acho que faltou uma atenção melhor dos mesmos pois sequer conhecemos pessoalmente os mesmos.
Leandro
2016-08-14T00:00:00Z
A localizacao e otima no entanto faltou a informacao que trata se de casa de vila. E tb achei a casa quente e nao tem ar condicionado.
Rita
2016-08-02T00:00:00Z
Roberto and Célia appartment is very good to enjoy Rio : close to flamengo station, close to praca Sao Salvador, easy to get to Corcovado... The place is simple but good for couples. They are really helpful people. Good Airbnb
Julien
2017-01-03T00:00:00Z
Ótima localização, perto de comércios, vida noturna, metrô e farmácias! Não foi mencionado no anúncio ser casa de vila! O local não é bem ventilado e por isso, é bem abafado e quente! Para quem vai passear o dia todo e voltar somente para tomar banho e dormir, está bom!
Camila
2017-03-13T00:00:00Z
ประเภทห้อง
บ้าน/อพาร์ทเมนท์ทั้งหลัง
---
ประเภทที่พัก
วิลล่า
---
พักได้
2
---
ห้องนอน
ริโอเดอจาเนโร, ริโอเดอจาเนโร, บราซิล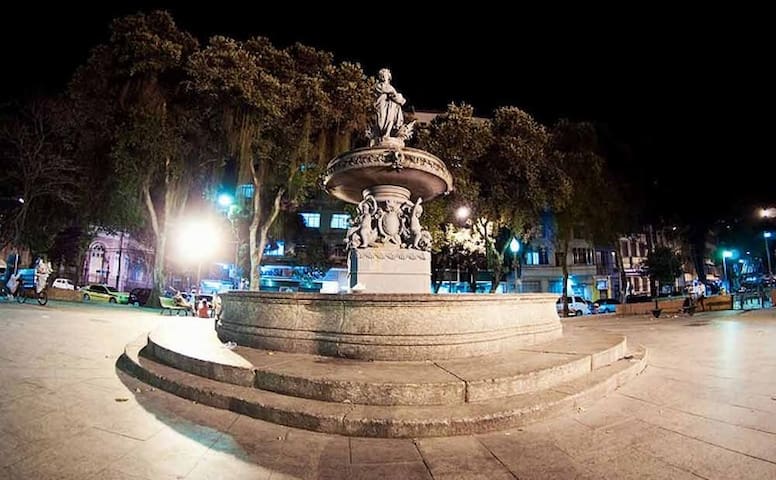 Uma ótima casa rustica e romantica a frente de mar na Praia Rasa, Búzios. A Praia Rasa é normalmente silencioso e calma, as vezes há hondas. Linda jardim com bastante espaco e vista maravilha para o mar. Churrasqueira. A casa é particular com muros altos e vizinhos em duas lados. Temos caseira casal que mora no mesmo terreno ao lado nossa casa. Servicos de caseira disponivel (opcional e extra). Temos wifi com limite de 20 gigas por mes. Se acaba pode comprar extra gigas com o caseiro.
A linda casa rustica em frente de mar na Praia Rasa, Buzios. Otima vista para o mar. Muito silencioso! Nos temos tres quartos (sendo dois suites) tudos com arcon. Na sala tem uma sofá-cama para duas pessos. Max capacidade é de até 11 pessoas. Temos linda jardim com a churrasqueira. Casa tá bem fechado com muros altos. Temos caseira/caseiro casal que mora ao lado nossa casa (24 horas). Distancia para o centro de Rasa é 2 minutos de carro (supermercados, lojas, padarias, internet, banco 24 horas, farmacias ). Distancia para o centro historico de Búzios é 15 minutos de carro.
Local muito tranquilo e silencioso. Linda praia, bom para nadar e pescar tambem. Oferecemos acesso direito para a praia.
A true paradise right on a beautiful beach. Huge house, lovely lawn, hammocks galore and the waves lulling you to sleep at night. It's on a quiet stretch of Raza beach, about 15 mins from the crowds of Buzios. We didn't see a single person on the beach when we were there. This is a place to chill out fully. The house is big and well appointed with Seppo's art and furniture from his travels. It feels warm and inviting, like a real home, and not like most cheap beach rentals nearby. There are three living areas and enough comfy seating in and out for at least a dozen. There's a sauna too. Oh yeah. Olivia, the caretaker, lives on the property and can cook/clean for a nominal fee. Do not think twice about this. She is kind and warm and makes great Brazilian meals, including a coconut spicy chicken that will blow you away. Only con to the place is showers. They are heated via some gizmo in the showerhead that sort of works on one shower and barely on the others. Also, no internet service, but if you come to a place like this to bury your face in a screen, its charms will be lost on you. Crack a beer, hit the hammock, and just forget about everything. Olivia has dinner covered. Life is good. Also, Be sure to rent a car if you want to go explore around Buzios an the area.
David
2013-10-12T00:00:00Z
A estadia na casa foi realmente muito agradável, eu e minha família ficamos muito bem acomodados; a casa é agradável em todos os aspectos, em especial a área externa que possui uma bela vista da praia e área interna pelo tamanho dos quartos e decoração que deixam a casa mais aconchegante. Todas as dúvidas que surgiram durante a estadia foram prontamente atendidas pelo anfitrião e/ou pela pessoa responsável no local (caseiro). A localização da casa fica um pouco afastado do centro (orla de búzios, aproximadamente 20 à 25 minutos indo de carro devido ao grande movimento de veículos da alta temporada), no entanto, a casa, assim como, as redondezas em especial a orla da praia possuem um vista muito bonita e é um ótimo local para se fazer caminhadas. Definitivamente, voltarei em outra oportunidade, assim como, boas recomendações serão repassadas sobre o local (casa + praia).
Gustavo
2015-01-12T00:00:00Z
A casa possui uma localização privilegiada, literalmente "pé na areia". É só abrir o portão e estamos na praia, uma delícia! Por ser uma praia afastada, não fica muito cheia, mesmo nos feriados. Recomendo para quem quer curtir o clima de Búzios longe do agito do centro e de Geribá.
Deborah
2017-03-01T00:00:00Z
Six of us stayed at the villa as a natural end to some time at Rio carnival. Prior to heading, seppo agreed to meet us in Rio and kindly explained the directions and things to do in buzios, which was very kind. On arrival, we were met by Olivia, who was very helpful all week, although we communicated in our very basic Portuguese. The house itself was very beautiful, and perfectly located, and provided a perfect place to relax. Although not centrally located in buzios, we had no issues picking up a shuttle from the end of the road. Overall a great experience, would highly recommend!
Tom
2015-02-26T00:00:00Z
Nice house in front of the Beach. We were 6 people but the house is huge so it is perfect for a group or big families. Thanks for everything
Silvia
2013-05-06T00:00:00Z
An incredible location! I was there with a group of 10 friends and we had a superb time - spacious house, wide private beach, and about a 15 minute cab ride to the historic/commercial parts of Buzios. What really set the experience apart was the service of Olivia, the housekeeper/cook. She went above and beyond to make sure we were taken care of and helped us in the middle of the night with a medical emergency. We each gave her a warm hug and kiss on the way out. Moreover, Seppo was very responsive and accommodating to special food requests. We're already planning our next trip over.
Sheikh
2013-03-22T00:00:00Z
Guau, where to start! WE HAVE NEVER BEEN CHEATED SO BADLY!To give some background, we are users and hosters of airbnb since the beginning of it in san francisco, we have hosted more than 50 people in 3 diferent cities and countries of properties that we own, also we also stayed in more than 20 houses and always with great reviews ( you can see them in our account under PAT). This was our 2 stay in the house within 2 months, so we thought we were building a relationship with Seppo, but what a mistake, the first time we stay same 3 nights in may( low season also as june) and we paid 700 hundred dollars total, fair price, good experience. The second time we told him that we were coming in advance, price was about the same, then we took a while, went back and forward and finally we decided to book during the week also same amount of nights, as we had already checked the prices when we first told him, we went ahead and re enter the dates and book everything with the confidence that we had previously dealt with him. Now the surprise, when he realized that we would stay , he doubled the price to take advantage of us, nothing changed to justify this, but when I asked him over the phone, he said life is not fair, we told him that we trusted him and that since we are in brasil, when we saw the amount to pay,(1400...) we accepted it because we are now in brasil and our account in reals and they are doubled of us dollars, so It made sense to pay that since it was about the same US$ 700 we paid the first time. BUT NO, THIS FARE WAS IN US DOLLARS, HE HAD DOUBLED THE FARE AND WE THAT TRUSTED HIM FROM THE PREVIOUS STAY, BIT THE BAIT. I AM VERY UPSET AS I PAID 450 us dollars and I am not rich and I get pay in brasilian currency. I feel robbed as never before and is hard to see a fellow airbnb hoster to behave so poorly. I am not going to tell anyone to stay away, just to know what kind of person you are dealing with, when I called him, he screemed and did not let me talk as that he would never see me again. He has another apt in copacabana, just to be aware. If you can avoid him it is probably the best.
Silvia
2013-06-21T00:00:00Z
A casa do Seppo é um lugar especial, com o mar ao sair do portão, som do mar a embalar, lindamente decorada e confortável! A paisagem é fantástica e caminhar até o canal e assistir as tartarugas se alimentando é um momento único. A Dona Olívia está sempre pronta a ajudar e bom tê-la por perto. A experiência foi excelente!
Andrea
2016-09-11T00:00:00Z
ประเภทห้อง
บ้าน/อพาร์ทเมนท์ทั้งหลัง
---
ประเภทที่พัก
วิลล่า
---
พักได้
10
---
ห้องนอน
Armação dos Búzios, ริโอเดอจาเนโร, บราซิล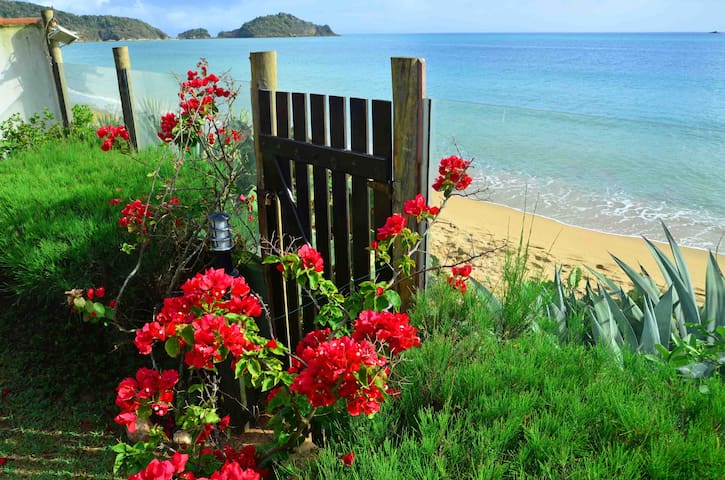 Breathtaking seafront villa located in the exclusive Praía Rasa. 6 large double bedrooms furnished throughout with amazing views of the Atlantic ocean. The property is very private and is perfect for VIP guests - with Private airport 5min away
A casa é linda, espacosa, arejada, um lugar perfeito! Amamos!
Juliana
2017-02-28T00:00:00Z
I rented this place last minute with my family and we are so pleased about everything. First of all, I am spoilt with beaches and beautiful scenery having originated from the Philippines but Brasil is beautiful in general and David's place is just unbelievably perfect! Not the typical beach location you get anywhere around the world especially with the little mounted land-on-the-sea view. Rooms and toilets are HUGE and well maintained. The place was very clean and fresh - the smell of aromatic wood endorsed the true calibre of this place without having to pay anywhere close to the typical price of upscale beach resorts that would match this place. The lightings were warm and the view cannot be justified by any professional photography even from the inside as the windows are all glasses - I mean you just simply have to be there to see it yourself. The housekeepers are nice and very attentive to our needs but pretty much we felt like we are in a very luxurious home yet relaxing. There is also loads of things to do around as it is a straight forward drive into the town from there. We also love how we had grilled dinner every night outside and night swimming in the swimming pool (almost never allowed in beach resorts). I really felt like we rented a beach resort not a family home! I will definitely book another holiday at this place this time with my friends because I feel like it is a little treasure in Brasil, you cannot find another place or even a 5 star resort in Brasil with ocean views and hill view all in one.
Alra
2016-11-11T00:00:00Z
Una casa maravillosa! Muy linda y cómoda. Tiene muchas habitaciones, cada una con su baño privado, todos los espacios muy grandes. Una piscina muy limpia y cómoda. Un poco alejado del centro de Buzios, necesario alquilar un auto o taxi para poder llegar. Arthur (el cuidador de la casa), muy amable nos acompaño en el auto de la casa a hacer compras al supermercado el primer día. Excelente disposición de David y sus empleados. Muchas gracias! Nuestra estadía fue perfecta!
Pia
2017-01-11T00:00:00Z
A casa é perfeita. Muito bem cuidada. Todas as 6 suítes (duas com vista para o mar) possuem ar condicionado split, chuveiros com aquecimento a gás e ótima pressão. Roupa de cama e banho, colchão e travesseiros de ótima qualidade. Cozinha ampla com duas geladeiras duplex e totalmente equipada. A sala possui tv por assinatura e uma linda vista da praia rasa. Jardim muito bem cuidado e mobiliário todo em madeira maciça. As fotos são fiéis ao que se encontra no local. Recomendo!
Andre
2017-01-08T00:00:00Z
David was a perfect host all around ! We arrived quite late but everything was arranged well to make us feel at home . The couple of caseiros were great and very helpful . My friends and I had a wonderful time in this beautiful house on the beach . The rooms + ensuite bathrooms are very big and all well equipped. The house is very clean and beautifully furnished . I adore the kitchen , a dream ! The location is perfect , 10 min outside the city centre of Buzios and very quiet. The almost private beach is beautiful for early morning walks ! Even with a big group you have plenty of space ! Strongly recommended !
willy
2016-11-03T00:00:00Z
Casa confortable, sólida y bonita. Descanso y tranquilidad. Recomendable.
Graciela
2017-01-28T00:00:00Z
The host canceled this reservation 36 days before arrival. This is an automated posting.
Natalia
2016-11-20T00:00:00Z
La vista della casa è assolutamente stupefacente. Si sentiva come se fossimo su un'isola privata. La casa è molto spaziosa e tutti potevano avere loro proprio spazio. La cucina era molto ben arredata che è un plus. Infine è una casa incredibile che io sinceramente ricommando.
esther
2016-11-13T00:00:00Z
ประเภทห้อง
บ้าน/อพาร์ทเมนท์ทั้งหลัง
---
ประเภทที่พัก
วิลล่า
---
พักได้
12
---
ห้องนอน
rasa, ริโอเดอจาเนโร, บราซิล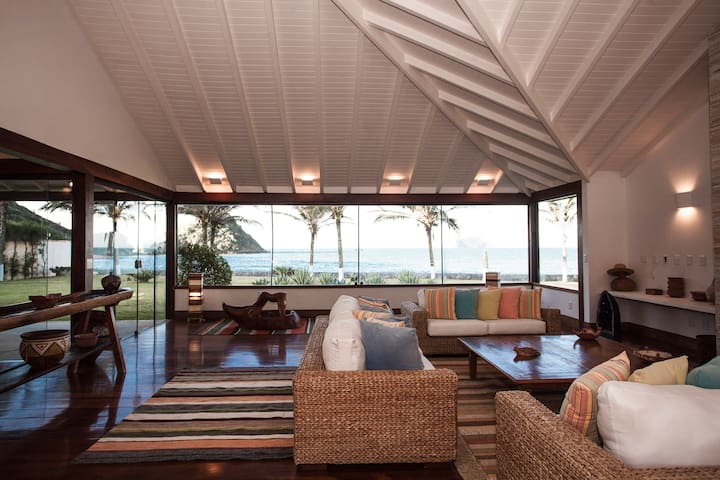 My place has great ocean views, is on a kite surf beach, family-friendly activities such as kayaking and SUP . You'll love my place because of the coziness and the comfy bed and the beautiful pool. My place is good for couples, solo adventurers, families (with kids), and furry friends (pets). We offer kite surf and surf lesions, massage and yoga on call.
ประเภทห้อง
ห้องส่วนตัว
---
ประเภทที่พัก
วิลล่า
---
พักได้
3
---
ห้องนอน
Armação dos Búzios, ริโอเดอจาเนโร, บราซิล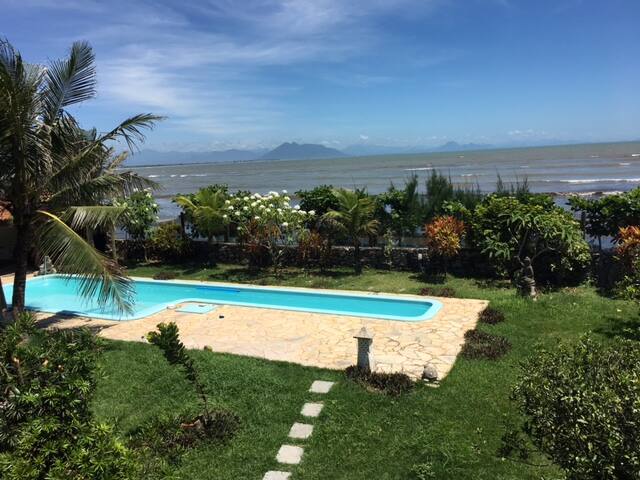 Casa confortável localizado em Figueira bairro de arraial do Cabo próximo a comércio e praia. Para centro de arraial ou cabo frio 20 minutos de carro mais figueira tem praia e lagoa. Tem estacionamento, lugar tranquilo para a praia 15 minutos andando
ประเภทห้อง
บ้าน/อพาร์ทเมนท์ทั้งหลัง
---
ประเภทที่พัก
วิลล่า
---
พักได้
8
---
ห้องนอน
อาไรเอล โด คาโบ, ริโอเดอจาเนโร, บราซิล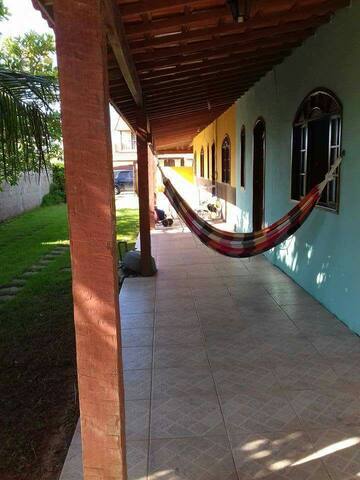 This is a truly humbling place to visit. A beautiful ranch 30 minutes down a dirt track into the forest from the nearest village. Arrival gave us goosebumps - it really is breathtakingly beautiful. Nestled in a steep valley between two huge mountains the property has it's own section of river and lush gardens that will make you so relaxed. So, a detailed review. The house itself is wonderful. The upper level has comfortable bedrooms, a games area and a kitchen. The vie
Simply sensational this paradise amid the stunning Atlantic forest in the city more cool and attractive of the Carioca, Secretario! Feel in the midst of an amazing paradise, in a very beautiful House, renovated and comfortable, in the most charming Condominium of Secretary, Purple Grass. It is difficult to describe this exuberant place, starting with the House amidst a beautiful forest, with stunning views, in a valley between two mountains of giant stones, where you see the whole House, a breath-taking view! The garden is an attraction. With its extremely rare and grown trees, plants of the most beautiful and varied, the impression that one has is to be in the midst of a place completely blessed by nature. The House with its two suites and two other rooms is an invitation to rest and good food. The whole House, you can enjoy complete privacy, and a breathtaking view. The home now with a room downstairs, completely glazed, embraces the beautiful garden, where with his cenografica lighting and a balcony under the starlit sky of infinite clean, leaves any person to reflect on life. In the new room with its stone wall farm, a new and equipped gourmet kitchen, where you and your guests can make a mass, a risotto or what your imagination decide. With a wine cellar for its wines, dinner will be an attraction. The best is still to come. Down by the wonderful and large lawn, you, your family and your guests will face the environment more beautiful, yummy and relaxing or what else your vocabulary and imagination allow describe. An incredible River 100 pure crystalline water, where the caretaker will close its floodgates and 3 front, in less than 10 minutes, a giant pool of pure water will be at your disposal for the most relaxing river bath that you and your family have in his entire life. After an intense day's dives and delicious pies served by the housekeeper, a wood-burning sauna in the pool is the best of what you would want. Because there is she, very hot you waiting. Meanwhile, new and old, will be playing a football in a field society impeccable lawn. There near the River, the place more enjoyable in the world! The famous Bistro! With furnace and wood stove, a sensational barbecue and firewood to cook an igloo their pizzas, and their baked goods. An extremely pleasant environment, with a balinesco lounge, modern and rustico, all glazed and with the noise of the River in the background, you'll feel really in paradise! And all the 1:30 of Rio de Janeiro! And with intense appeal and gastronomic restaurants near the site if you want to feel the taste of top chefs who traded the big cities by the freshness of Secretario. Fireplaces, rare birds, wonderful plants, noise, cold saw, tasty wines and delicious foods ...A marvel! All this with the comfort of home and his gracious wife, who are always ready to make your stay as amazing as possible. Now, make the reservation and get ready to go to a place where if you tell you do not believe. Only with their own eyes to understand all this.
Hy Michel, thanks for this great trip. The river around and the bistrô areas where all we needed and more than we expected all at the same time. Mr. Carlos is great, and was always there for anything with his wife. it was all great!
João
2017-01-08T00:00:00Z
The host canceled this reservation 8 days before arrival. This is an automated posting.
Luciana
2017-04-06T00:00:00Z
A casa do Michael é ótima. Possui 4 quartos, sendo 3 com cama de casal muito confortáveis. A cozinha é muito bem equipada e o espaço gourmet onde fica a churrasqueira é excelente. Fica em um lugar maravilhoso, entre duas pedras e com um rio que passa dentro da propriedade. Enfim, perfeito para momentos de lazer com amigos e família. Super recomendo.
ADRIANO
2016-11-14T00:00:00Z
Michael foi um excelente anfitrião, sempre respondendo nossas duvidas. Passar o reveillon em meio a natureza e numa casa de muito bom gosto foi a escolha certa para nosso grupo. Solange maravilhosa , nos ajudava diariamente com o cafe da manhã. Recomendo para todos aqueles que curtem a natureza, paz, silencio porém com muito conforto. Obrigada!
Luciana
2017-01-02T00:00:00Z
Heaven on Earth. Paradise. This is a truly humbling place to visit. A beautiful ranch 30 minutes down a dirt track into the forest from the nearest village. Arrival gave us goosebumps - it really is breathtakingly beautiful. Nestled in a steep valley between two huge mountains the property has it's own section of river and lush gardens that will make you so relaxed. So, a detailed review. The house itself is wonderful. The upper level has comfortable bedrooms, a games area and a kitchen. The views are absolutely insane. The lower level is a massive lounge and dining area with a party kitchen. It's comfortable and the views from the floor to ceiling glass are enchanting. The gardens are huge and full of wildlife. At the bottom of the three acre garden is a special area called the bistro. This is an Lounge, hammock area and sauna right by the river. The river is dammed and the water is crystal clear, and six foot deep. It's heaven. When renting the room you get the services of the amazing Solange and her husband. Solange cooks for you - you just take the food you want and tell her when and where you want it and she does you proud. She is a fantastic lady and a brilliant chef. Heaven does exist. It's here. Book it now. (Tips - hire a car to get here. It makes the experience even more special. Take an English to Portuguese translator so you can communicate with Solange) Now book it
Tony
2017-03-24T00:00:00Z
Uma delicia de casa, ótimos funcionários. Vale a viagem.
Daniel
2017-01-22T00:00:00Z
Um paraíso na Serra! Bem que o Michael falou... Perfeito para esquecer os problemas...Nosso carnaval foi incrível, piscina de rio, sauna, churrasqueira e uma casa no meio de um vale lindo! Super astral! Além de duas pessoas que nos ajudaram a tornar nossos dias maravilhosos: Sr. Carlos (o caseiro) e Solange (a cozinheira). Perfeito para adultos e crianças. Só sugiro que sejam feitas fotos de todos os quartos, pois são 4 quartos bastante diferentes uns dos outros, para que os próximos casais já se preparem para a diferença. A suíte principal do quarto com duas camas de solteiro, por exemplo. E Algumas melhorias como ventilador nos quartos para o alto verão e uma geladeira nova para a cozinha, pois para muitos dias ela não deu vazão... De resto foi incrível! Voltaremos, sempre que possível!
Andrea
2016-02-12T00:00:00Z
The reservation was canceled 2 days before arrival. This is an automated posting.
Ana Cristina
2015-04-21T00:00:00Z
ประเภทห้อง
บ้าน/อพาร์ทเมนท์ทั้งหลัง
---
ประเภทที่พัก
วิลล่า
---
พักได้
8
---
ห้องนอน
เปโตรโพลิส, ริโอเดอจาเนโร, บราซิล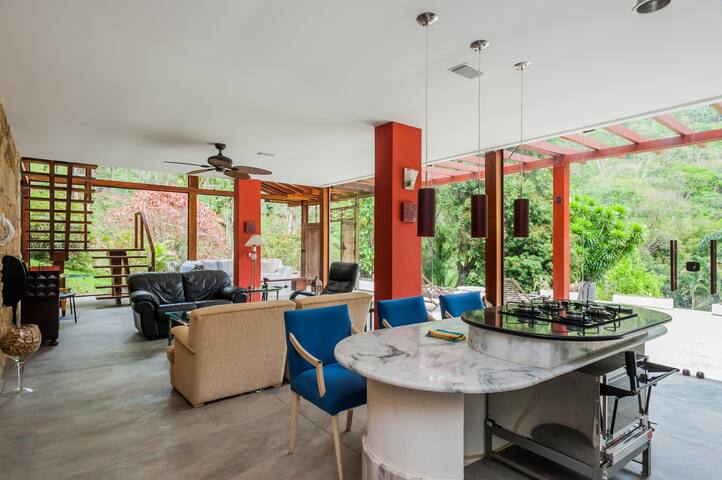 Vila Muito tranquila em uma rua excelente, onde a maioria são vilas e casas, poucos prédios, raro isso em Botafogo. Somente 3 casas, em uma vila de 50m de profundidade. Mutias plantas, mto verde.. Se encontra de tudo por perto, Bares, Bancos, restaurantes, padarias, etc....
Shopping Restaurantes Todos os Bancos Padaria Mercearia Hortifruti Mercados ...
ประเภทห้อง
ห้องส่วนตัว
---
ประเภทที่พัก
วิลล่า
---
พักได้
1
---
ห้องนอน
ริโอเดอจาเนโร, ริโอเดอจาเนโร, บราซิล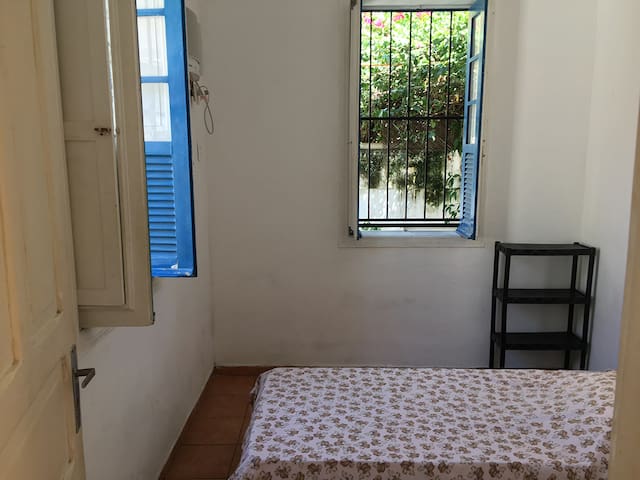 sobrado em Casa de Vila na Rua Lopes Quintas com 2 andares, sendo um terraço com vista para o Cristo Redentor.Estamos ao lado da TV Globo, a uma quadra do Jardim Botânico, 2 quadras da Lagoa, 2 Supermercados (Zona Sul e Pão de Açúcar); melhores padarias (Carandaí e La Byciclete); vários restaurantes 5 minutos a pé, sem necessidade de usar carro; agências bancárias, farmácias e correio na esquina. Fácil acesso aos pontos turísticos do Rio de Janeiro. Apartamento
2 andares, sobrado numa vila florida, ambiente familiar
Próximo ao Jardim Botânico, Lagoa, Parque Laje, Restaurantes e Padarias para todos os gostos, ambientes bucólicos, familiares e agradáveis
Dulce was very nice and welcoming. the place is nice but could be a little better maintained. the neighborhood is very nice and has a lot of good restaurants. if you are looking for a fancy place, this is not the right place for you but it has very good value for money.
Leora
2016-08-24T00:00:00Z
Dulce foi uma ótima anfitriã, cuidou de todos os detalhes para nossa estadia. A casa é bem equipada, limpa e numa excelente localização! Recomendo!
Ana Maria
2016-01-10T00:00:00Z
Maravilhosa estadia, dulce sempre atenciosa e pronta para ajudar! A casa fica muito bem localizada e a vila é muito segura! Obrigada dulce!
Beatris
2016-02-10T00:00:00Z
O apartamento corresponde ao anúncio colocado no Airbnb, os quartos são grandes e têm muita arrumação. O apartamento tem um pequeno terraço que é uma mais valia em noite de muito calor. A vila onde se situa o apartamento é muito tranquila. O local é seguro. O bairro, Jardim Botânico, que já conhecíamos, é excelente. A Dulce recebeu-nos muito bem e os contactos foram sempre fáceis. Os horários de check-in e de check-out foram muito flexíveis. Quase todos os contratempos (que sempre existem numa estadia de 18 dias) foram resolvidos. A anfitriã Dulce esteve sempre atenta e preocupada com o nosso bem estar.
jorge
2017-01-04T00:00:00Z
Dulce é sempre muito querida e solicita. A casa é otima e a localizaçao nem se fala, das melhores!
Beatris
2017-03-02T00:00:00Z
ประเภทห้อง
บ้าน/อพาร์ทเมนท์ทั้งหลัง
---
ประเภทที่พัก
วิลล่า
---
พักได้
4
---
ห้องนอน
ริโอเดอจาเนโร, ริโอเดอจาเนโร, บราซิล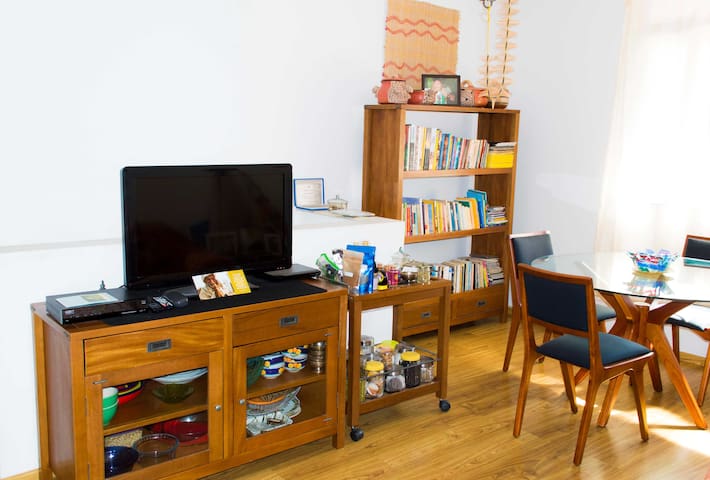 A casa fica muito bem localizada, em uma Vila charmosa com segurança 24h, no coração da zona sul do Rio de Janeiro. Por sua volta (100m), vocês encontrarão vantagens como, Botafogo Praia Shopping, Estação Botafogo de Metrô, mais de 3 cinemas cada um com algumas salas de projeção, o Polo Gastronômico do bairro com uma variação incrível de restaurantes e bares e ainda contam com a segurança de ter nesse mesmo perímetro a delegacia de polícia de Botafogo.
Botafogo é um bairro bastante tradicional no Rio: cheio de comércio, bars, restaurantes e vida cultural. Em uma caminhada de dois minutos você está na estação do metrô, também com fácil acesso ao Centro do Rio e outros bairros. A praia fica à uma estação de metrô(10min).
Em Botafogo você encontrará: Botafogo Praia Shopping, com opções de compras e alimentação; Ruas Nelson Mandela e Voluntários da Pátria (próximo à praia), localizações com vários bares; Ruas São Clemente e Voluntários da Pátria, com opções completas de comércio e serviços; Casa de Rui Barbosa, centro cultural; Cobal do Humaitá, grande mercado com boas opções de alimentação; 4 Cinemas próximo: Unibanco Arteplex, Estação Botafogo, Cinemark, Estação Cinema e Cultura; Teatros: Teatro Poeira, Teatro Sergio Porto, Solar de Botafogo.
Très bel appartement,situé dans une ruelle privée et gardée 24/24 ,proche des transports et magasins,restaurant . Ne pas hésiter si vous passez à Rio .
Daniel
2017-01-28T00:00:00Z
Experiência ótima!!!!
Bernardo
2016-08-13T00:00:00Z
Meu irmão se hospedou na casa do Renato junto com a família e um casal de amigos. Adoraram a localização, próximo de restaurantes, supermercado, farmácias, metrô. Acharam a casa uma delícia, bem cuidada e o Renato muito gente boa!
Angela
2017-01-18T00:00:00Z
Casa excelente, ótima localização, serviços próximos ! Na próxima ida ao Rio com certeza ficaremos aqui de novo
Julia
2017-01-15T00:00:00Z
Apesar de não termos tido contato com o Renato, isso não fez muita diferença, pois ele te deixa a vontade e quando surgiu pequeno imprevisto estava à disposição. Segurança do local é sensacional, mesmo estando na zona sul do Rio de Janeiro. Vizinhança muito agradável. Metrô, supermercado, shopping, salão de beleza, padaria, restaurantes e bares e tudo o que você precisa há pouquíssimos passos
ANDERSON
2017-03-05T00:00:00Z
Localização excelente, casa aconchegante e limpa, além de bem equipada. Nos sentimos super "em casa". Renato nos atendeu muito bem. E grata surpresa ainda contar com vizinhas super agradáveis!
Gabi
2017-02-20T00:00:00Z
Uma casa muito bonita, em local excelente e com um anfitrião muito legal. Tudo excelente.
Eduardo
2016-08-09T00:00:00Z
It was a great experience!! Renato was very nice and flexible with us.. He let us arrived earlier and accepted us with a very harm welcome. He house was super clean, very sophisticated house with a lot comfort!! The location is great too as well, a lot restaurant around. I definely recommended his place!!
Douglas
2016-08-07T00:00:00Z
ประเภทห้อง
บ้าน/อพาร์ทเมนท์ทั้งหลัง
---
ประเภทที่พัก
วิลล่า
---
พักได้
6
---
ห้องนอน
ริโอเดอจาเนโร, ริโอเดอจาเนโร, บราซิล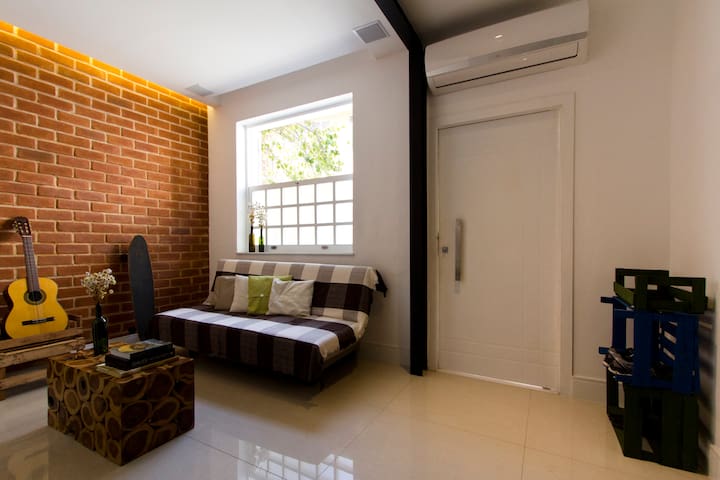 Paradise does exist! Just 2 hours from Rio you will find this idyllic vacation villa with 3 comfortable guest rooms in breathtaking views. Ideal for a romantic honeymoon, wedding group, family or friends reunion, or just for a long weekend to retreat in peace & pure mountain air. You won't get bored; plenty of activities, like on a horseback through the spectacular Brazilian landscape, hiking through the jungle to a hidden waterfall, fishing in mountain lakes for your BBQ, bird watching....
Always dreamt of waking up in the middle of nature, above the clouds with grazing horses in front of your sleepy eyes, in complete peace and comfort, serenity, and fresh air in a warm morning sun... ? Ranch estate Eldorado offers guests a first-hand opportunity to get up close and personal with nature. Surrounded by the rich flora & fauna of the Brazilian Atlantic Forest, this luxury country ranch estate is situated at an altitude of 1.200 mt. with a spectacular view over the mountains of Rio de Janeiro and Minas Gerais. Your family and friends will be enchanted by this home-away feeling in complete privacy and luxury, like 'the world out there don't exist...' This country estate of 3,5 hectares is runt by Dutch artist Daniel, his wife, and a professional staff team who will welcome you with pride to give you this 'once-in-a-lifetime' - experience. Besides the overwhelming nature the estate provides attractive activities for both leisure and adventure. Like horseback riding over country tracks, jungle trekking towards a waterfall, fishing in natural mountain lakes, bird watching of rare and exotic species, BBQ at the lake, or, (for professionals) paragliding over the magnificent landscape... Ou staff will be at your disposal to provide you all the service and comfort you need. Special arrangements can be made for your group. The estate lodges 3 separate guest rooms and the main cottage with all facilities. The country-styled chalet provides a kitchen, a separate bedroom with bathroom-en-suite, a living room with large sofa, tables-chairs and an open fire place, as well as large veranda's around the house for outside dinners and BBQ's. The separate guest rooms are cozy and decorated in a rustic ambiance with attached bathroom and common shower. The ecologic ranch provides easy-going and child friendly horses. Our team will accompany you along the unique flora and fauna at the estate.
The ranch is located at a mountain top, covered by gorgeous flower gardens and surrounded by wildlife and the best of the 'Mata Atlantica'. At top of the mountain you will encounter a breathtaking view over the landscape and at a clear night, the stars can be picked from the sky.
Thoughtful welcoming, friendly staff and owners. A special place with special people, with a great attention to details. The location is unique in Brazil and worth every penny. Highly recommend the experience.
Roman
2016-05-31T00:00:00Z
ประเภทห้อง
บ้าน/อพาร์ทเมนท์ทั้งหลัง
---
ประเภทที่พัก
วิลล่า
---
พักได้
8
---
ห้องนอน
เปโตรโพลิส, ริโอเดอจาเนโร, บราซิล
Between luxe, calm and elegance, everything is done to make sure that your stay will be the perfect one. La Villa Philippe is ideally located in the chic area of Gloria. You'll live upstairs in a wonderful suite and could enjoy of the many living room downstairs. Outside, the swimming pool, the tropical garden and the wonderful view on the Sugarloaf Mountain will finish of amazing you.
Built in 1885 by a French architect, la Villa Philippe is located in the ancient and noble area of the imperial capital. In Gloria, the marina was renovated to welcome the nautical game of the Olympic Games. Really close of the business area and yet nested in an ocean of nature, it offers a direct view on the Sugarloaf Mountain. It's a perfect exemple of the colonial style with columns, galleries, balconies and pediment. It's area is 800 m² with a field of 3400 m². Upstaires, a luminous mezzanine lead to the suite where you'll live. On the ground floor, you'll find the main entry, the living rooms, the dinning room and the kitchen.
La Villa Philippe is ideally located in the Gloria area. Nearby, you'll find : - the beaches of Copacabana and Ipanema - restaurants and salsa's clubs - the business center - the airport
ประเภทห้อง
ห้องส่วนตัว
---
ประเภทที่พัก
วิลล่า
---
พักได้
2
---
ห้องนอน
ริโอเดอจาเนโร, ริโอเดอจาเนโร, บราซิล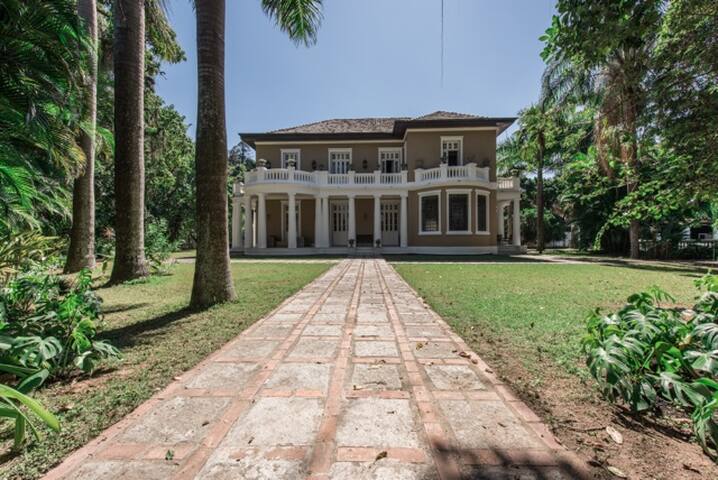 我的房源靠近Enter por Parque Guinle e sobe ate Bope。因为、地段、景观、氛围,您一定会爱上我的房源。我的房源适合商务旅行者。
ประเภทห้อง
ห้องส่วนตัว
---
ประเภทที่พัก
วิลล่า
---
พักได้
2
---
ห้องนอน
ริโอเดอจาเนโร, ริโอเดอจาเนโร, บราซิล
Meu espaço é perto de Praça Saens Penã, com a comodidade de estação de Metrô, condução farta para todas as áreas da cidade, 10min. do Maracanã, comércio variado, shoppings, teatro, bares e restaurantes. Você vai amar meu espaço por ser numa vila residencial de fundos, segura, silenciosa, vizinhança tranquila e solidária. Meu espaço é bom moças, senhoras ou casais, aventuras individuais e viajantes de negócios.
ประเภทห้อง
ห้องส่วนตัว
---
ประเภทที่พัก
วิลล่า
---
พักได้
2
---
ห้องนอน
ริโอเดอจาเนโร, ริโอเดอจาเนโร, บราซิล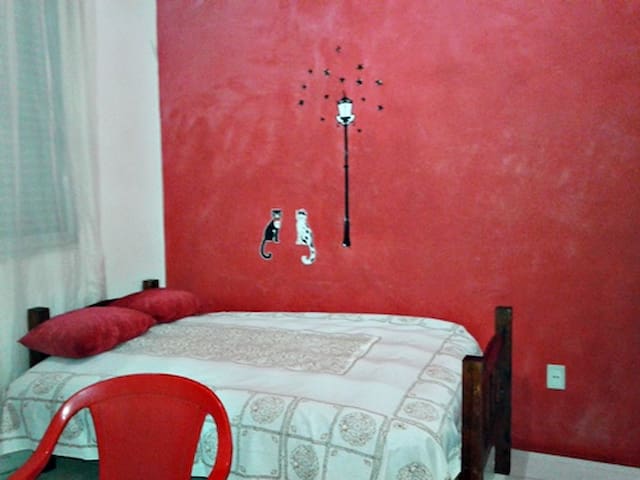 Casa aconchegante, segura,bem arejada. A 3min do estádio Maracanã, a 5min das estações de metrô Affonso Pena e São Francisco Xavier. Próxima a vasto comércio e polo gastronômico, com Burguer King, Mc Donalds, Subway, Food Trucks, restaurantes, lanchonetes. Alugada somente para o período das Olimpíadas e Paraolimpíadas (segundo andar).
Localização e seguranca
Vila tranquila com vizinhos que respeitam o ambiente. As facilidades da vizinhança: polo gastronômico, vasto comércio, mobilidade (metro, ônibus,Uber, taxi, caminhadas), proximidade ao Estádio do Maracanã. Proximidade a Praça Saens Pena (5 a 10 min a pé), onde existe um grande comércio e o Shopping Tijuca (cinemas). Proximidade a grandes supermercados como Extra, Guanabara e Mundial, farmácias e lojas.
ประเภทห้อง
ห้องส่วนตัว
---
ประเภทที่พัก
วิลล่า
---
พักได้
4
---
ห้องนอน
ริโอเดอจาเนโร, ริโอเดอจาเนโร, บราซิล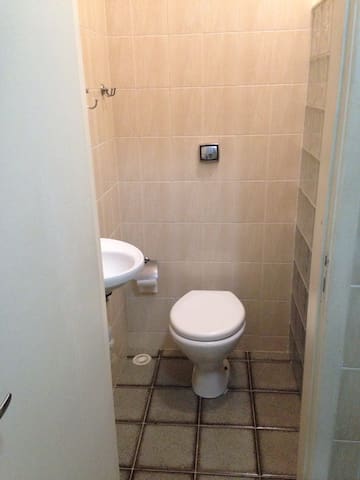 Tudo que fazemos é porque acreditamos que podemos proporcionar momentos incríveis e inesquecíveis para cada um que passa por nós! Venha se hospedar na sede de uma importante StartUp de Educação Médica!
Olá amigos viajantes, O apto fica localizado em uma espécie de "Vila", em uma boa localização do Bairro Vila Isabel, com uma avenida ao lado, contendo diversas opções de Restaurantes, Supermercados, Padaria, etc! O apto em si não é muito grande, mas aconchegante o suficiente para hospedar até 6 pessoas. Os anfitriões Miguel e Daniel, deram um excelente suporte e apoio, desde de o primeiro contato para a verificação da reserva, sempre muito atencioso e prestativo!! Quanto a locomoção para outros bairros, tem a opção de Metro que é próximo, porém, se estiver em 4 pessoas (exemplo do meu caso), há destinos que compensa acionar o Uber!! Desejo a todos uma excelente viagem e experiência, assim como eu e meus amigos tivemos!!! Abraço!!!
Carlos
2017-01-02T00:00:00Z
Desde o momento de chegada tivemos uma ótima experiencia, o anfitrião foi atencioso e nos ajudou quando necessário. Recomendo! Um abraço.
Vinicius
2016-09-24T00:00:00Z
Anfitrião me deixou a vontade desde a procura pelo site. Na minha chegada, mesmo na madrugada, me recebeu com um sorriso largo no roso, super simpático e sempre preocupado com minha família. O bairro é tranquilo, com alimentação boa por perto. A casa é modesta, mas me fez sentir em casa. Ia e voltava do Maracanã, do Maracanãnzinho e do metrô (estação Maracanã) a pé.
Jacqueline
2016-08-12T00:00:00Z
Miguel foi mto prestativo desde o início, sempre em contato para melhor nos atender! A estadia foi ótima, único problema é que umas das camas é um sofá cama e o mesmo acaba sendo um pouco desconfortável! Mas o Miguel já havia nos avisado isso é inclusive nos ofereceu um colchão de ar! Super recomendo o espaço!
Erica
2016-10-16T00:00:00Z
Miguel foi super prestativo e fez de tudo para que tivessemos uma boa estadia. Recomendo o ap. A foto da capa com vista do Maracanã não é uma vista do apartamento, que é de fato bem próximo ao estádio.
Rodrigo
2016-08-19T00:00:00Z
Desde o primeiro contato o anfitrião foi receptivo, tornando nossa estadia ainda mais confiável. Excelente ponto de localização, muito próximo ao Maracanã.
Renata
2016-08-22T00:00:00Z
O Espaço fica muito próximo do Maracanã, tanto que num dia chuvoso e de ruas interditadas por conta das Olimpíadas, não levamos mais de 15 minutos para chegar caminhando. A vila é muito agradável, embora "apertada" para carros, coisa que eles resolveram quando dissemos que íamos de carro. É um espaço simples, limpo, que para uma viagem curta fora bem agradável, já que só possui uma cama, sendo que outros móveis são um colchão inflável e um sofá-cama, tirando um pouco do conforto para longo prazo. No mais, os anfitriões foram atenciosos tanto na reserva quando no decorrer da estadia. Assim, caso fiquemos próximo ao Maracanã no futuro, pelo bom custo-beneficio e boa localização, certamente consultaremos os rapazes para um retorno.
LUCAS
2016-08-22T00:00:00Z
A hospedagem com Miguel foi incrível além de um bom anfitrião é simpático, bastante prestativo e comunicativo. O local corresponde conforme anunciado, ambiente limpo, arejado, cozinha equipada, banheiro com banho quente, wifi, TV . A acesso fácil ao transporte público ônibus, metrô (5min caminhada). Nos arredores com bares e restaurantes e refeições com preço justo. Recomendo... Super Obrigado Miguel e Cia!
Cristiano
2016-08-14T00:00:00Z
ประเภทห้อง
บ้าน/อพาร์ทเมนท์ทั้งหลัง
---
ประเภทที่พัก
วิลล่า
---
พักได้
6
---
ห้องนอน
ริโอเดอจาเนโร, ริโอเดอจาเนโร, บราซิล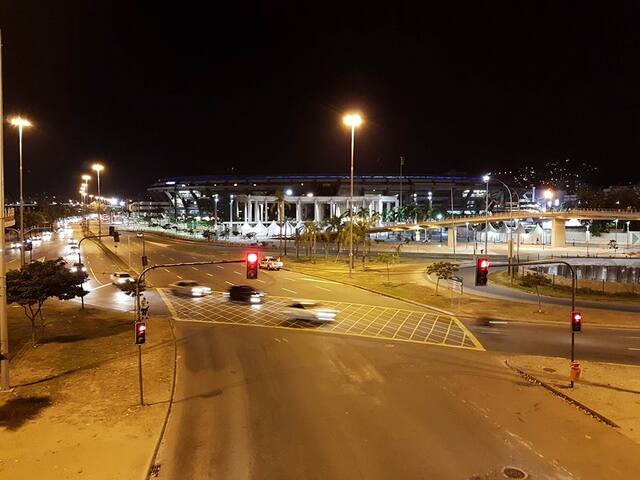 Very close to Botafogo Metro Station, Sugar Loaf, Rio Sul Mall, Copacabana beach, Rodrigo de Freitas Lagoon (all R$ 7 on Uber), Cobal Humaitá (restaurants), Clubs, Comuna (bar, music and hamburguer!), supermarket, bars and commerce in general (all by walking). Located in cozy village (only six houses), noiseless, easy access, many kind of public transportation and honest price! The space is good to families (with children), groups, pets and travelers in general. PS: only air mattresses (no beds)
Renting a house during the olympic games. I'm the owner of the house. The house has 65m2, with 2 bedrooms, living and dining room, 1 bathroom, kitchen and an external area. The location is the best one in Rio. Notice the distances in the pictures!
Botafogo is a strategic district in Rio de Janeiro, with many options of commerce, malls, reataurants and easy mobilities to the whole city and places that will be the games.
ประเภทห้อง
บ้าน/อพาร์ทเมนท์ทั้งหลัง
---
ประเภทที่พัก
วิลล่า
---
พักได้
5
---
ห้องนอน
ริโอเดอจาเนโร, ริโอเดอจาเนโร, บราซิล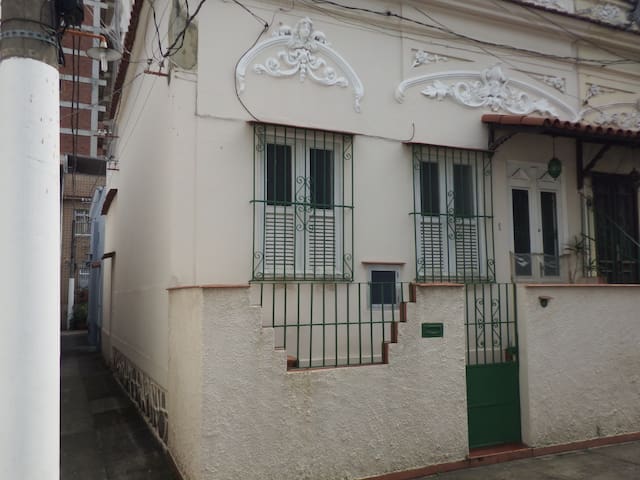 1

–

18

จาก

วิลล่าให้เช่า 90
กรอกวันที่เพื่อดูการกำหนดราคาเต็ม มีค่าธรรมเนียมเพิ่มเติม อาจมีภาษีเพิ่ม