Kate made my girlfriend and I feel very welcome as soon as we arrived. The room was beautiful, clean and the breakfast supplies were amazing - we even got a lift to the pub in the evening for NYE, which a was very nice gesture. We would definitely recommend it to others!
Grant
2016-01-02T00:00:00Z
Our host was very welcoming and very flexible with timings. We loved the fact that everything we needed for breakfast was brought to our room the night before, allowing us to get up when we were ready. Idea.ly located for Sissinghurst, Great Dixter and any Sarah Raven events.
Ellen
2015-09-30T00:00:00Z
Kate made us feel very welcome for our night's stay. The room was delightful with ample space and yet had a cosy feel. We enjoyed our time there very much. It was an ideal stop between our visits to National Trust properties in the area. There was a very generous breakfast provided which we could have in our room when we wanted. The room had coffee and toast making facilities. Thank you Kate for your excellent hospitality.
Christopher
2015-10-21T00:00:00Z
Kate was a fantastic host, very welcoming and lovely. The room was brilliant, a good size and self contained which made for a nice little getaway. Breakfast was amazing, freshly baked bread, fruit, pastries, coffee, juice and home made cup cakes. We have a great time!
Jessica
2015-02-16T00:00:00Z
I had a fabulous stay here and thoroughly recommend it. The room is spacious and so clean and fresh. Being apart from the main house, it also affords great privacy. Kate's attention to detail is wonderful, and she provides a very generous spread for breakfast!
Dave
2015-08-24T00:00:00Z
Kate was very friendly and showed us brochures of many of the local attractions. She recommended some restaurants in Rye. The room above the garage was very spacious, clean, comfortable and private. We loved being able to come and go without interrupting the main house. Highly recommend.
Jeff
2016-07-19T00:00:00Z
Our host was there when we arrived and welcomed us to her B & B with some chocolate cake. The property was as described in the listing and suited our needs exactly. The room was very spacious with bathroom, television and WIFI. A plentiful and delicious breakfast was brought up each evening so we could eat on our own schedule in the morning. We could come and go at our own leisure, which was one feature that we enjoyed. The neighbourhood was a quiet village which was conducive to local walks. A booklet and/or our host provided information about local places of interest, eateries, laundry services, travel directions, etc. All in all, an excellent experience.
Ted
2016-06-04T00:00:00Z
Lovely place, easy to find, perfect hosts.
Kelsey
2014-05-11T00:00:00Z
ประเภทห้อง
ห้องส่วนตัว
---
ประเภทที่พัก
ที่พักพร้อมอาหารเช้า
---
พักได้
2
---
ห้องนอน
Etchingham, East Sussex, สหราชอาณาจักร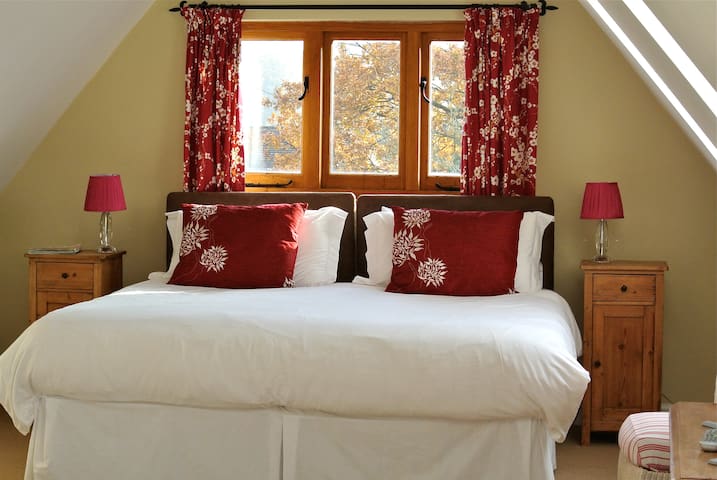 Shoyswell Cottage is gelegen op een idyllische locatie van uitzonderlijke natuurlijke schoonheid ongeveer 2 mijl van het dorp Ticehurst, 10 mijl ten zuiden van Tunbridge Wells. Accommodatie is in 4 grote slaapkamers met eigen badkamer, en de gasten ook genieten van een grote gemeenschappelijke zitkamer, en de ontbijtzaal, die onze vijver uitkijkt. Alle slaapkamers hebben kingsize bedden, luxe beddengoed, een eigen badkamer, zachte handdoeken, gratis toiletartikelen, flatscreen TV / DVD-speler, en koffie- en theefaciliteiten. Ons doel is uw welzijn, en we hopen dat onze kleine B & B grote dienst kunnen aanbieden. De natuurlijke rust en de rust van de locatie is ideaal voor ontspanning en reflectie, en toch zijn we slechts 1 uur van de felle lichten van Londen De omgeving wordt verdrongen zich met dingen te doen en plaatsen om te zien, met inbegrip van Bodiam, Chartwell, Sissinghurst, Hever Castle en nog veel meer. Uw gastheren, twee Notting Hill vluchtelingen, Jolyon en Lawrence, en hun twee vriendelijke honden, Tiny en Lola, zal blij zijn om eventuele excursies die u wilt nemen suggereren. Wij zullen u ook ophalen van Etchingham Station voor een kleine extra vergoeding (£ 5), maar u dient zich ervan bewust dat de B & B ligt in een landelijke omgeving, en om het beste uit de omgeving is het beter om zelf rijden te krijgen. We kijken ernaar uit u te mogen verwelkomen!
Shoyswell Cottage is amazing. Jolyon and Lawrence were superb hosts. Each of the four rooms were unique and beautiful. They catered well to our large group with 3 children. We had a wonderful time sitting on the patio, throwing a frisbee on the massive lawn, and watching a 3 year old chase ducks. Breakfast was delicious, I highly recommend Jolyon's scrambled eggs and chives. A stay at Shoyswell Cottage an ideal getaway.
Peter
2013-07-30T00:00:00Z
Jol was an excellent host, nothing was too much trouble and he cooked a mean breakfast.
Paul
2016-10-03T00:00:00Z
The reservation was canceled 16 days before arrival. This is an automated posting.
Steve
2013-04-24T00:00:00Z
ประเภทห้อง
บ้าน/อพาร์ทเมนท์ทั้งหลัง
---
ประเภทที่พัก
ที่พักพร้อมอาหารเช้า
---
พักได้
8
---
ห้องนอน
Etchingham, East Sussex, England, สหราชอาณาจักร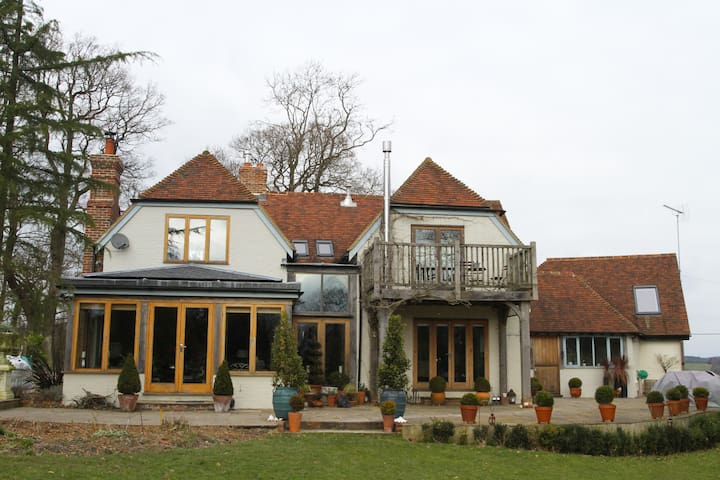 Ovenpå af Barn er besat af os selv, dine værter, men nedenunder er der et møde-spisning-køkken, en dobbelt og en dobbelt / soveværelse til rådighed for gæster og en stor våd-rum skifer og marmor. Set i 6,5 acres af private grunde og skov, gemt væk med ingen vej støj. Ankomst fra 2 Tjek af 10 Vi leverer lagner og håndklæder
Gæsterne har fuld udnyttelse af de nedenunder af laden, og vi vil interagere så meget eller så lidt som du ønsker. Laden er en ny build omkring 10 år og omfatter land fornemmelsen af en stald, men med nogle meget moderne funktioner. Det omkringliggende jord er hjemsted for mange vilde dyr, og nogle mindre vildt. Vi har nogle indiske Runner ænder i dammen og en kylling her eller der. Der har været omkring 20 forskellige fuglearter spottet fra laden. Bewl Vand med sejlsport, windsurfing osv er 10 minutter væk, som er Bedgebury Skov, National Trust steder, Bodiam Castle, Battle Abbey, Charleston hus, Great Dixter Gardens, Sissinghurst, Ruddyard Kiplings Batemans; Glynebourne Opera House er mindre end en time væk.
Der er masser af lange gåture gennem skoven omkring placering, biler er ikke nødvendig, hvis du ønsker at strække benene efter en lang dag kørsel. Hvis du ønsker en indbydende pub med anstændige fødevarer så Bell vil passe regningen! Dens cirka 2 miles væk og walkable. En gåtur rundt Bewl vand gør en stor opfølgning eller endda plukke frugt på Maynards. En af vores naboer driver en planteskole, haver og te værelser. Spørg os til at pege dig i den rigtige retning.
Faye and Simon were great hosts! We never met Faye face to face but really quick response when I texted her. We were 2 young couples staying and we all really enjoyed our stay. The house really is set in an enchanted forest with wildlife surrounding you (chickens and ducks in the garden!). We weren't expecting breakfast which was also a bonus! The blackberry curd, delicious bread and fresh eggs were a lot more than we could have asked for. The rooms were very clean and nice, really comfy beds and nicely decorated. The house is well located if you want to explore the coast or just go for nice walks in the country side. The closest train station is 40mins walk so if you don't have a car you may feel a bit stuck. Absolutely lovely stay and would love to come back!
Dominique
2016-08-30T00:00:00Z
Faye and Simon were brilliant, great communication before we arrived and very very helpful. Simon was an absolute star and dropped us off at a wedding we were attending, helped us with taxi's, made us some great breakfast the next morning and dropped us off at the train station - 5* service which I was not expecting but was very grateful for!
Laura
2016-09-17T00:00:00Z
We had a lovely stay at Faye and Simon's beautiful barn in the woods! Bedroom was comfortable and clean. It was so lovely to be in the countryside and Faye and Simon were brilliant hosts, pointing us in the right direction for walks in the fields and cooking us a lovely breakfast with their own chickens eggs! Would definitely recommend.
Boudicca
2016-10-30T00:00:00Z
The host canceled this reservation 18 days before arrival. This is an automated posting.
Thomas
2017-03-26T00:00:00Z
I had a great stay here over New Year's eve with my wife and son. Faye and Simon were very warm and welcoming. The location is really nice - the barn itself is well away from any public road, so it's very quiet and private. It's also very close to lots of beautiful and interesting places. Highly recommend this place!
Hrishi
2017-01-01T00:00:00Z
Lovely place – great hosts
deborah
2017-01-22T00:00:00Z
Faye was extremely accommodating. She picked us up from the train station which was only a few minutes in the car from her house which was really helpful as we were in a rush to get to a wedding. We booked a cab to collect us from Fayes and they found the drive way easier than we had expected in such a rural environment. The next day Faye's partner very kindly offered to cook us breakfast and drive us back to the station. Excellent Hosts!
Natalie
2016-07-31T00:00:00Z
Sadly we didn't get to meet Faye but Simon was very accommodating and friendly. He's very easy going and helped us feel at home, as well as giving us some great advise about local amenities. It was fantastic having some top notch eggs for breakfast laid by their very own hens. Collin the karate kicking cockerel was also very entertaining. This is a great country stop off with plenty of wildlife to look out for ( we saw deer leaping across the path on arrival). Would recommend!
Hannah
2016-09-18T00:00:00Z
ประเภทห้อง
ห้องส่วนตัว
---
ประเภทที่พัก
ที่พักพร้อมอาหารเช้า
---
พักได้
4
---
ห้องนอน
East Sussex, สหราชอาณาจักร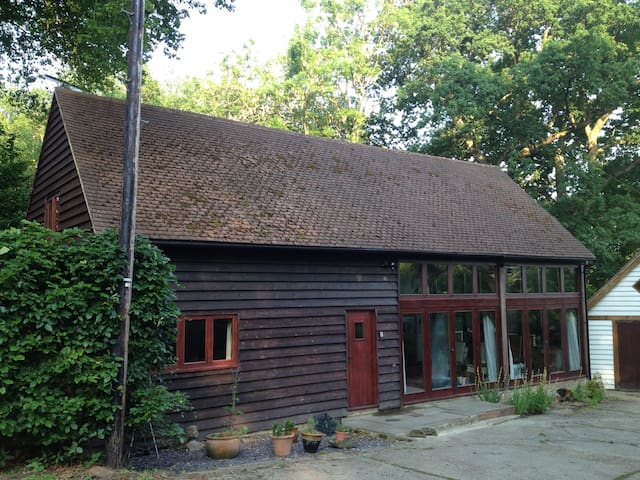 Tento krásný dům kousek od Londýna je v nejvíce skvělém prostředí, uprostřed 100 akrů parkem důvodů a se dvěma akrů formální zahrady. Kompletní s bazénem a tenisovým kurtem, tento laskavý země zámek nabízí teplou a osobitý ustoupit Ideální pro výhradní použití pro rodinné dostat setkávání, srazy a oslav. S ubytováním až pro 14 osob, tematicky ložnice, intimní salonky a jídelna zkombinovány tak, aby z něj činí ideální volbou.
Země Walks
The host canceled this reservation 60 days before arrival. This is an automated posting.
kimberly
2017-03-13T00:00:00Z
ประเภทห้อง
บ้าน/อพาร์ทเมนท์ทั้งหลัง
---
ประเภทที่พัก
บ้าน
---
พักได้
16
---
ห้องนอน
East Sussex, England, สหราชอาณาจักร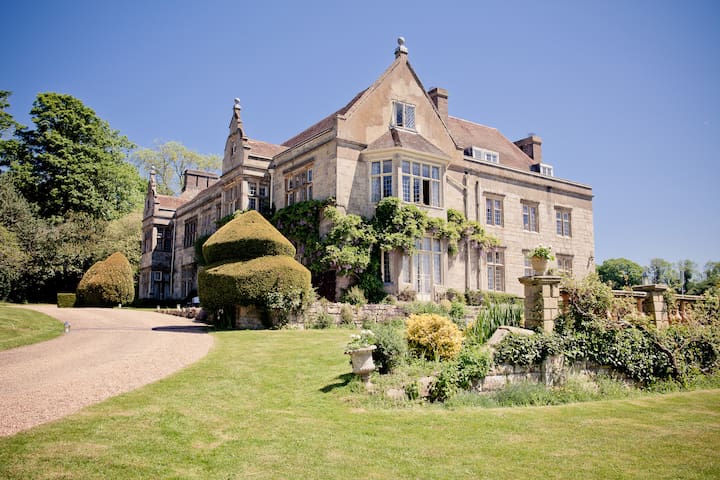 ประเภทห้อง
บ้าน/อพาร์ทเมนท์ทั้งหลัง
---
ประเภทที่พัก
บ้าน
---
พักได้
11
---
ห้องนอน
East Sussex, England, สหราชอาณาจักร
Caroline was a great host, she made us feel very welcome. She made great recommendations and is very knowledgeable of the local area. Her home was gorgeous as was the breakfast. She was very accommodating and had access to a private ensuite bathroom and a living room.
Ali
2017-02-19T00:00:00Z
ประเภทห้อง
ห้องส่วนตัว
---
ประเภทที่พัก
ที่พักพร้อมอาหารเช้า
---
พักได้
2
---
ห้องนอน
East Sussex, England, สหราชอาณาจักร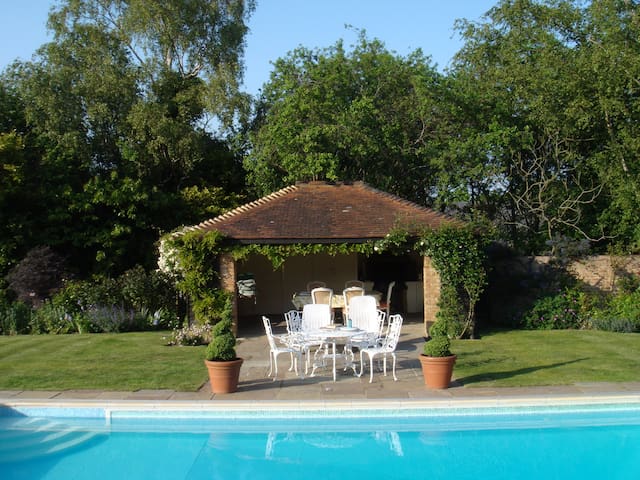 What a beautiful garden (the pictures don't do it justice!) I felt so relaxed during my stay and can not remember being so rested. We spent an evening by the fire enjoying wine under the stars. Perfect escape from London. Jolyon, was an amazing and attentive host, who showed a high degree of professionalism in his bnb. Would come again.
Paul
2015-05-24T00:00:00Z
Jolyon was as warm, funny and welcoming as it is possible to be. The cottage is utterly beautiful, as are the grounds and surrounding countryside. East Sussex is a scenic part of the world, and Shoyswell's style and charm utterly reflects this. Breakfast was excellent, the room was comfortable, and we couldn't have enjoyed our stay more.
Emily
2015-08-09T00:00:00Z
ประเภทห้อง
ห้องส่วนตัว
---
ประเภทที่พัก
ที่พักพร้อมอาหารเช้า
---
พักได้
2
---
ห้องนอน
East Sussex, England, สหราชอาณาจักร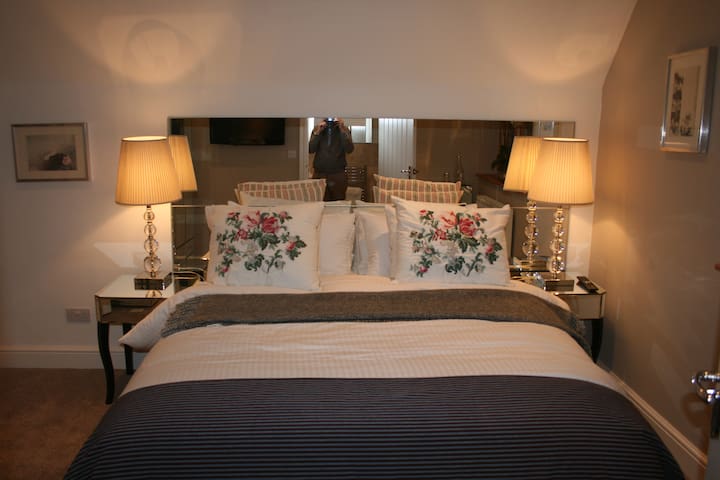 Unser Landhaus bietet die perfekte Pause von der Stadt. Es befindet sich im malerischen East Sussex, mit einem großen Garten mit einem (eingezäunt) Fluss, der durch sie festgelegt. Roberts & Kampfstationen sind nur ein paar Meilen entfernt mit regelmäßigen Zügen nach London Waterloo. Der Raum ist ideal für Paare und Familien (mit Kindern) wollen von ihm zu entfliehen! Es gibt drei Schlafzimmer, hat das Hauptschlafzimmer ein Kingsize-Bett, das Gäste-Schlafzimmer hat ein Doppelbett und das Baby Zimmer ein Kinderbett.
Unser Platz ist sehr leicht und hell. Die meisten Besucher beschreiben ihn als "schön & glücklich" Raum. Wir lieben Mitte des Jahrhunderts moderne Stücke und moderne Kunst, so dass Sie diese Elemente in unserem Haus sehen. Der Garten ist groß, mit Eichhörnchen und Kaninchen in den Morgen zu besuchen. Es gibt einen schönen (eingezäunt) Strom am Boden des Gartens. Es gibt keine Geschäfte oder Restaurants zu Fuß zu erreichen, die es ein sehr ruhiger Ort macht, das ideale "weg von allem". Allerdings Roberts & Einsiedelstadtzentren sind nur 10 Minuten mit dem Auto entfernt.
Es ist sehr grün und ruhig. Es gibt schöne Land direkt vor der Haustür geht. Es gibt einige schöne Städte innerhalb von zehn Minuten mit dem Auto und einige gute Restaurants und Pubs auf dem Land.
We had a fantastic 2-week stay at Lily's home, exploring all over East Sussex and Kent. House is exactly as photos show - beautiful, spacious, comfortable and with everything we needed - including gorgeous views over the stunning garden. Lily was warmly responsive, excellent communicator and very accommodating to our requests. She really went out of her way to make us feel welcome. Very much appreciated the food and wine awaiting our arrival! Also loved the maps and walk guide books. Location was perfect for us - close to the town of Battle but in the countryside with lovely walks outside the front door. Visited London via train which couldn't have been easier. Highly Recommend and would love to stay again.
Bridget
2016-10-23T00:00:00Z
Lovely home, lovely area, great to get away from the city.
Jonet
2017-02-25T00:00:00Z
We had a fabulous stay at Lily's home. The house is furnished tastefully and the combination of beautiful art and photos combined with the white floors and walls looks great. The backyard is huge and perfect for running around with the kids. There is even a small stream running just at the end of the yard. We had a great time playing crocket and also sitting around the fire at night. There is lots to do in the area as well. We went to a nice pub for lunch which was about 10 min drive away. (URL HIDDEN) and then drove to Battle to view the castle and onto Hastings which is a quaint seaside town with some great views. On the way home we stumbled upon a cafe called Great Park Farm. It had delicious food and produce in a really nice setting. Scones are some of the best I have had. (URL HIDDEN) In all we had a fantastic stay. It is a wonderful place to relax and unwind and would highly recommend the home for a weekend or longer stay.
Paul
2016-08-14T00:00:00Z
ประเภทห้อง
บ้าน/อพาร์ทเมนท์ทั้งหลัง
---
ประเภทที่พัก
บ้าน
---
พักได้
6
---
ห้องนอน
East Sussex, England, สหราชอาณาจักร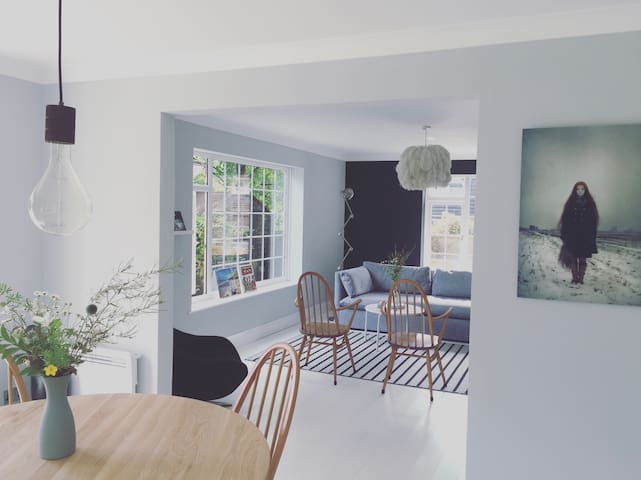 ประเภทห้อง
ห้องส่วนตัว
---
ประเภทที่พัก
ที่พักพร้อมอาหารเช้า
---
พักได้
2
---
ห้องนอน
East Sussex, England, สหราชอาณาจักร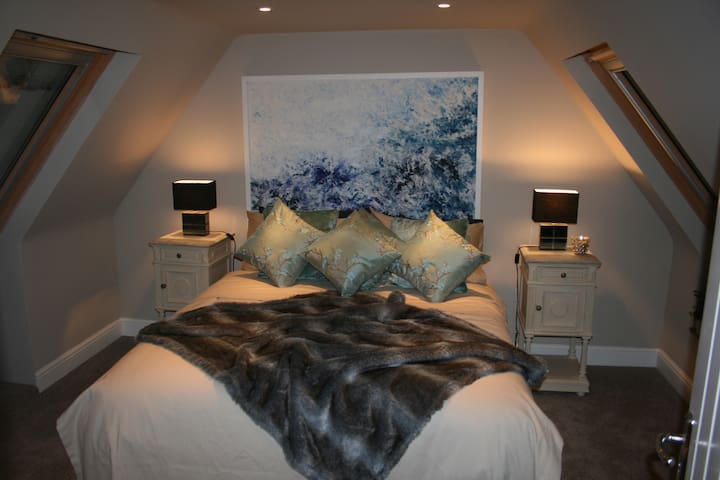 Merryweathers is a stunning contemporary house suitable for large groups up to 21 people. Set within a walled garden and in the heart of Sussex, you are sure to enjoy the spacious comfortable accommodation and access to the great outdoors
Merryweathers a large property with a real 'Wow' factor that has open - plan, contemporary living spaces and comfortable bedrooms to accomodate up to 21 people to spend quality time alone together. At full occupancy this works out to be about £35 per person per night, where you get the whole property to come and go as you please, play music and party together until the early hours if you wish..... you don't have to worry about disturbing others as you would in a hotel setting and there is no one to tell you that the 'kitchen is closed'! What better value can you get! (smaller numbers of people will obviously have to share the cost between them, so please bear this in mind when you book) We provide everything you need to make your stay truly memorable including bed linen and towels (1 x large and 1 x small per person). We also supply loo rolls and liquid soap, dish washer tabs and all cleaning materials. All you need bring are your own toiletries and food. The open living room with vaulted ceiling and large windows enable you to enjoy uninterupted views across the walled garden to the stunning Sussex countryside beyond. TV/video and A/V Systems, with Blue tooth technology, are all available as well as fast, reliable WiFi. Your open-plan kitchen has everything your large group needs, a real 'home from home', keeping cooks in touch with the rest of the group. This well appointed kitchen includes quality cooking equipment, a Tassimo coffee machine (as well as 3 large cafetieres) a plentiful supply of dishes, crockery and cutlery for 21 people to all eat together. We also supply all cloths, tea-towels and washing up liquid. There is a large kitchen table with an additional 2 other tables, which collectively will be more than enough space for your group to all eat together. Our in-house chef is on hand if you wish to book a meal in. Otherwise, there are a number of award winning pubs and restaurants all within easy reach of the house. Our large gas BBQ is available for use at no extra charge. With the addition of a basement annex this spacious country house can sleep up to 21 people in total, ideal for large groups such as family and friend 'get togethers', hen/stag 'do's' etc. We will help you choose the best places to visit during your stay including information on local tourist attractions, great walks, the numerous historical sites and sports venues in the vicinity for cycling, fishing and sailing etc. Maps, brochures and guides are all available for guests to use. Merryweathers is set in an Area of Outstanding Natural Beauty (AONB) just 30 minutes from the old spa town of Royal Tunbridge Wells and the coast at Hastings. The mainline train station to London is a short 10 minute drive away at Etchingham with local shops at Hawkhurst just 10 minutes away. Most guests arrive by car. Plenty of car parking is available at the house for up to 10 cars. Regular trains run from Etchingham (7 minutes from Merryweathers) and Wadhurst (12 minutes) stations to/from London Charing Cross, taking approximately 1 hour. Local taxis are available but will need to be booked in advance. We are situated next to the A21 which can be busy at times. We are confident that you will have a memorable get-away together.
Check out our guide book at the bottom of this page to see our favourite venues and activities suitable for both children and adults including amazing walks and cycle paths, local beaches, historic buildings and so much more. (YOU WILL NEED TO USE THE + AND - BUTTONS ON THE LEFT HAND SIDE OF THE MAP TO SEE THESE MORE CLEARLY)
We had a fantastic time at Merryweathers. We were 13 adults and 4 kids. It is perfect size for large groups. All rooms are a decent size and plenty of bathrooms. Worth checking floor plan on layout. It has a well equipped kitchen and another smaller kitchen downstairs. Lovely grounds and very helpful host. Would recommend George Inn nearby for pub lunch (and curry house in robertsbridge)
Paul
2016-11-28T00:00:00Z
We wanted a house to host a pre wedding party and sleep over 20. The house is close to the A21 and was ideal for us. The main living space was perfect for communal dinners and relaxing. The views from the balconies added to the feeling of space. We had food delivered just after we arrived. Worked well. No real issues except some minor plumbing issues with hot water in one room. No shortage of cooking 'gear' and good attention to detail over recycling. We don't often hire large houses so can't comment (or compare) on cost but it was ideal for what we needed and the sun shone for the wedding as well.
Alastair
2017-04-03T00:00:00Z
Amazing house and gardens was a life saver for us as we were due to camp with ten kids in the worst rain. A bonus was that they really have thought of everything. Thanks for accommodating us at short notice. We'll be back if they'll have us!
Jacqui
2015-08-26T00:00:00Z
Liz was an excellent host! - Excellent communication, very accommodating, friendly and couldn't do enough for you. Would highly recommend Merryweathers. Excellent facilities - especially the in-house chef and a lovely place to stay!! We all thoroughly enjoyed ourselves!
Karen
2016-04-06T00:00:00Z
Beautiful house, very spacious and functional. Liz was very helpful in helping me organise the weekend. There are plenty of activities to keep you busy for a week... I wish we had more time in the region! We will come back!
Valerie
2015-10-13T00:00:00Z
Liz ia great host - great communications before arrival and lovely warm welcome on the day! The accomodation is even better in person than shown in the pictures - the space is fabulous and just perfect for a group like ours. The location is excellent and we were lucky enough to have wonderful weather - bright and cold for some great dog walks nearby. We also decided to take up the offer of having our Saturday night catered for us by a chef Liz recommend - what a genius idea! We couldn't have asked for a better chef/host and meal - it was amazing. Overall I would highly recommend Liz and this accommodation and I would definitely use them again.
Jeannette
2016-01-19T00:00:00Z
Beautiful house and grounds which proved to be the perfect setting for hosting our small and intimate wedding reception in the garden. We hired a marquee and Liz was fantastic the whole way through, helping with any questions or queries we had and was open and honest throughout. Our guests who stayed in the house loved it and we have had nothing but amazing reviews. the photos we have of our stay are truest stunning.
Bryony
2016-08-02T00:00:00Z
The house was easy to find, easy to stay in and hard to leave. We received a personal welcome from John, (owners father), who went through the very informative house manual. The house was exactly as described - it was clean, modern, luxurious but was also extremely homely. There were 20 in our party - from 7 months to 87 years - and everyone had a comfortable and enjoyable stay. Facilities in Merryweathers were great - a fabulous sound system, great TV, Wifi and enough DVDs for a very rainy weekend! The quality of the bedrooms, bedding and bathroom facilities were excellent. The kitchen was idiot proof, with state of the art white goods and every utensil required - it was home from home. Car parking was ample - at one point there were eight cars parked outside. Our only regret was that because of the time of year and the weather, we were unable to enjoy the fantastic garden and surrounding area. We look forward to returning during better weather. The owner, Liz couldn't have been more helpful and I would recommend a stay at Merryweathers.
Peter
2016-02-08T00:00:00Z
ประเภทห้อง
บ้าน/อพาร์ทเมนท์ทั้งหลัง
---
ประเภทที่พัก
บ้าน
---
พักได้
16
---
ห้องนอน
Flimwell, England, สหราชอาณาจักร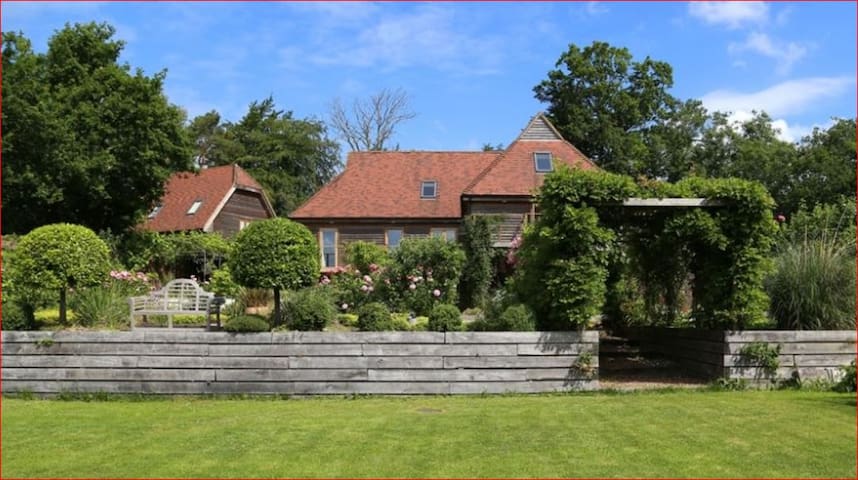 Unsere Wohnung im ersten Stock verfügt über ein geräumiges Schlafzimmer mit Doppelbett und eine Küchenzeile / Wohnbereich mit einer ausziehbaren Schlafcouch. Es hat eine kleine Terrasse ontop unserer homegrown chesnut Treppe, wo Sie über unsere 17 Morgen Land aussehen kann. Bitte beachten Sie, dass der Pool so nicht immer verfügbar ist bitte bei der Buchung fragen, ob Sie den Pool während Ihres Aufenthaltes nutzen möchten.
La casa corrisponde alla descrizione dell'annuncio, ma non ci siamo trovati bene perché non erano stata fatta alcuna pulizia. C'era uno strofinaccio con residui di cibo e grasso in cucina, un bicchiere con un fondo di vino riposto nell'armadio. Il letto della camera aveva capelli nelle lenzuola e c'erano peli e capelli sparsi nella vasca da bagno. Ho provato con i bambini a far funzionare il lettore dvd fornito con una grande quantità di dvd a disposizione, siccome non riuscivo ho mandato un sms a Sarah per chiedere come fare. La risposta è stata: "Il lettore dvd è stato lasciato da un ospite e probabilmente non funziona, sono certa che potrai trovare qualcosa da guardare su Sky". Non ho trovato, nel complesso, un'accoglienza molto amichevole. La piscina è bella ed è comodo il fatto che sia coperta, la casa è in un bel posto.
Laura
2016-08-14T00:00:00Z
Great value flat in a wonderful location. There is so much to do in this gorgeous part of the world and some really great places to eat. The flat is modern and cosy and has everything you may need for a short break away. It was a pleasure to meet Sarah and her lovely children and nieces who made us and our 2 little girls feel very welcome in the stunning setting of their home. Thank you so much - it was just the escape from London that we needed.
Alexia
2016-08-01T00:00:00Z
Lovely apartment with everything our family of four needed for a few days. Host was really helpful in responding to questions etc. We loved the pool!! Beautiful area to visit with lots to do
DebandPete
2016-06-04T00:00:00Z
Un logement très agréable situé dans la campagne anglaise. Tout juste à 1h de route du tunnel sous la manche, je conseille vivement au Français ce logement. La maison est agréable, bien entretenue et en prime vous aurez accès à une piscine intérieure.
Jérôme
2016-07-21T00:00:00Z
Sarah was an excellent host providing information about local hotspots and places to visit over the duration of our stay. The apartment was perfect for me and my other half and exactly as advertised, very clean and well equipped. We had full use of the private gym which was also just as shown on Airbnb. It was our anniversary and Sarah even had a bottle of complimentary prosecco waiting for us when we arrived - a very kind and much appreciated gesture! Great location too, would recommend to anyone and will definitely be booking again!
Charlotte
2016-11-27T00:00:00Z
its a nice cosy place, well positioned for trips in the area. its laid back, which we like. don't rely on your satnav, read the instructions (we flew past it in the dark).
Amanda
2017-03-05T00:00:00Z
Great facilities (pool/ gym). Made very welcome. Nice apartment. Beautiful part of Sussex. Great local pubs with VERY sunny pub gardens to watch the sunset in. Only downside was the broken door which we asked hosts to fix but didn't hear anything. Had to leave the place unlocked when we went out which was annoying.
Leigh
2016-07-28T00:00:00Z
The apartment was located in a Lovely area (in the AONB) close to Bodiam castle. My daughter loved the goats on site and we enjoyed the fresh air, a great getaway from London. Beautiful flat. Host was very responsive to our needs.
yixin
2016-05-31T00:00:00Z
ประเภทห้อง
บ้าน/อพาร์ทเมนท์ทั้งหลัง
---
ประเภทที่พัก
อพาร์ทเมนท์
---
พักได้
4
---
ห้องนอน
Robertsbridge, East Sussex, สหราชอาณาจักร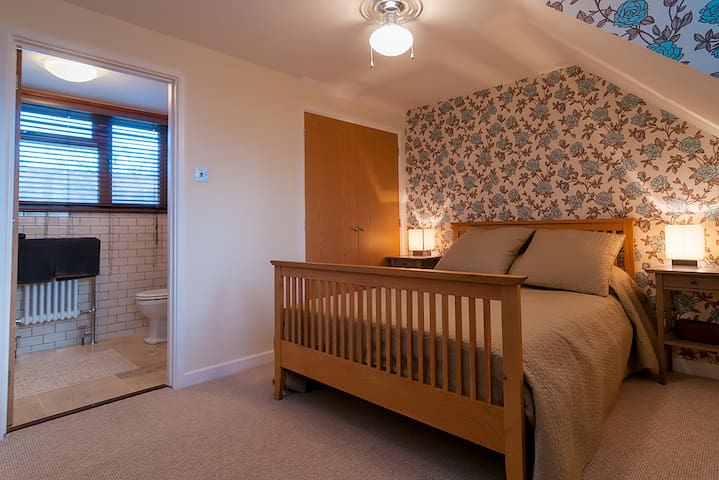 The Parlour er en ti minutters gåtur til Robertsbridge, pubber og main line station. Det har en vidunderlig sydvendt udsigt. The Parlour giver niveaufri adgang post egnet til mennesker med handicap. Dens moderne design og møbler tilbyder komfortabel clean living. Ingen udgift er blevet sparet på denne kostalden konvertering. Mit sted er godt for par, forretningsrejsende og familier (med børn).
The Parlour Parlor er for nylig blevet omdannet til en høj standard, der giver adgang niveau post velegnet til fire personer, der tilbyder to soveværelser med dobbeltsenge, man har en super king size seng og vådrum egnede mennesker med handicap og herunder kørestole, det andet soveværelse har en konge size seng med en suite vådrum, med gulvvarme i hele bygningen. Luksus håndklæder leveres og hvid bomuld sengetøj, hårtørrer og strygefaciliteter. The Parlour har et fuldt udstyret køkken med dobbelt ovn, induktion komfur, opvaskemaskine, vaskemaskine, mikroovn, kedel og brødrister, alt hvad du behøver for at tilberede en fuld julemiddagen. De levende område har en brændeovn, Internet WIFI med smart TV. Der er fuld gulvvarme overalt. Der er dejlige sydlig udsigt og en vestvendt terrasse giver privatliv til at slappe af og nyde en BBQ.
Robertsbridge er en stor landsby i East Sussex i det civile sogn Salehurst & Robertsbridge og ligger omkring 12 miles nord for Hastings. Det 14. og 15. århundrede synes at have været særlig velstående og har efterladt en arv af mange bindingsværkshuse i landsbyen centrum. Robertsbridge, skylder sin eksistens til grundlæggelsen af et cistercienserkloster i det 12. århundrede. Fremragende forbindelser til London og Hastings med en hovedledning station 10 minutters gang fra The Parlour og mejeriet. Kent og East Sussex jernbane køre damptog mellem nær ved landsbyen Bodiam til den elegante købstad Tenterden. For damptog entusiast Robertsbridge har sin ene Rother Valley Railway understøtter 2/3 mil af jernbanesporet. Grå-Nicolls beslutningstagere af de berømte cricket bats fremstilling i centrum af vores landsby. Vi er velsignet med mange nationale Trust og English Heritage ejendomme med i 10 til 30 minutters kørsel herunder Bodiam Slot, Battle Abby 1066 land, Batemans hjemsted for Rudyard Kipling, Scotney Slot, Herstmonceux Slot og observatorium. Robertsbridge ligger i et område med en enestående naturskønhed. Det er en bistade for den aktive med et væld gangstier uden at behøve en bil, herunder flere ture til nærliggende landsby pubber og restauranter. Bedgebury Pinetum er åben for vandrere, cyklister og ryttere. Go-App er også på Bedgebury. Bewl Vand understøtter 13 miles af vandre og cykle tarmkanalen. Den antikke by Rye med sine brostensbelagte gader og charmerende kroer og te værelser er under 30 minutters kørsel, dette er et must for enhver besøgende. Den pulserende by Battle, som var stedet for 'Slaget ved Hastings William The Conquer 1066' har et væld af uafhængige butikker og bestemt værd en spadseretur langs dens rejst fortove. Cinque havneby Hastings berømt for sin boheme gamle bydel har stadig en kommerciel bøg landing fiskerflåde. Den smukke South Downs kan tilgås fra Eastbourne 40 minutter væk var du kan gå South Down måde.
Lovely clean easy place to use .
sarah
2017-02-13T00:00:00Z
Great accommodation: really really comfy beds and the whole place has been fitted out to a very high standard
Robert
2017-03-19T00:00:00Z
Host was very helpful and accommodating when we checked in. The place was very clean and we loved the heated flooring. Kids also loved the horses and it was a nice 'home away from home'. It was the perfect location for our needs and worked out great for us!
Chantelle
2017-01-30T00:00:00Z
The place was lovely, just as expected, Louise kindly showed us around even though we arrived late. The Underfloor heating was lovely and it was really nice for our 14 month old to run around on one level. Amazing huge bed was so great at the end of the day!
Tristan
2016-11-28T00:00:00Z
ประเภทห้อง
บ้าน/อพาร์ทเมนท์ทั้งหลัง
---
ประเภทที่พัก
บ้าน
---
พักได้
4
---
ห้องนอน
Robertsbridge, England, สหราชอาณาจักร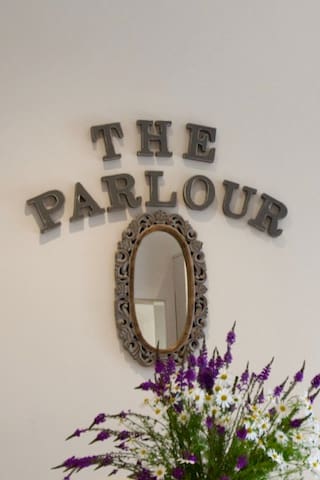 Enjoy the warmth and comfort of Oasthouse Loft while looking out at the wonderful views across the wonderful gardens and fields
Look out from the Oasthouse Loft onto spectacular 360 degree views of stunning Sussex countryside. Located on a working farm, the Loft sleeps up to four and is just a 15min drive from the Kent/Sussex coast. Peaceful, beautiful, and super-comfortable in all seasons. The Loft is a modern conversion with one double bedroom, plus a double sofabed in the open-plan living area. Light and airy with incredible bird's eye views on all sides, the Loft remains snug and cosy thanks to a wood-burning stove. The kitchen is fully equipped and a welcome pack of basic essentials is provided upon arrival. We can also offer a welcome meal (at extra cost) if ordered in advance. Explore our farm and the local area on foot, or borrow our two mountain bikes if you'd like to go further afield. Also feel free to use our boules court whenever you like. You will have access to your own section of garden with table and chairs. There is ample parking. And if you need a washing machine please just ask. Feel free to join us feeding the animals on the farm. Or, if it's peace and quiet you're after we'll leave you to enjoy your long lie-ins and appreciate the landscape. We live in the house next door so are on hand at all times if you need us. Northiam is on the Kent/Sussex border and is an area of traditional pastureland, woods and rivers leading down to the nearby South Coast. The area is brimming with spectacular National Trust properties, historic homes and gardens. There is also the East Sussex Steam Railway, the pretty market town of Tenterden, the traditional fishing town of Hastings, the medieval smuggler's town of Rye and the famous 1066 battlefields from the Battle of Hastings. The Oasthouse Loft is in a fairly remote but beautiful spot so ideally you will need a car to get there. We are a 20 minute drive from Robertsbridge train station, it's a 1hr 15 minute train journey from London and the nearest airport, Gatwick, is 1hr 25mins away.
This was our first experience with AirBnB - And we couldn't have been happier with our stay at Ooasthouse Loft! Jan-Ernst and Vanessa were extremely welcoming, making sure we had all we need and happy to chat, and also happy to leave us to relax and come and go as we pleased. The loft itself is fantastic, just the right size for two people, extremely well laid out (including a dishwasher and the fantastic wood-burner). Fresh bread was waiting for us on arrival, and we even had the chance to meet the goats! There are some great walks in the area - this spot is ideal to just unwind and relax, away from the rush of the city.
Jamie
2014-11-15T00:00:00Z
Excellent hosts! Highly recommend staying here. Beautiful country side views, excellent facilities. We were made to feel very welcome and even had a birthday cake and card which was a nice surprise! I would stay here again and again.
Emmanuel
2016-03-21T00:00:00Z
Our stay at the Oasthouse Loft was very peaceful, quiet and pleasant. The loft was really clean, the beds were good and the hosts were very friendly and welcoming but gave us enough privacy. I needed to be in the area for work and took my mother for company. We enjoyed Rye, Lewes and several gardens that are very nearby. I can highly recommend the loft for friends or couples.
Yvonne
2014-04-06T00:00:00Z
Its a beautiful little house near the farm. The accommodation was perfect. One thing i would say it's that if you are a couple you can use the sofa bed in the living room but if not its very small so i will suggest this appartement for 3 peoples max or 2 couples. The area is great and there is a beautiful town call Rye only 6 miles from the apartment that everybody should go.
Hugo and Marion
2015-01-04T00:00:00Z
We had a lovely stay with a very warm welcome. The gardens are beautiful and we loved meeting the goats! The loft was well furnished and clean. We really recommend it!
Helen
2016-04-09T00:00:00Z
Our family stayed for a few days in the Lofthouse late August 2013. The days were sunny and warm and the farmland peaceful and beautiful. We have two children aged 8 and 6 who enjoyed running around the grassy areas, feeding the goats, taking hay to the horses on Jan-Ernst's quad bike!!! We visited some historical sites closeby during the day and came back in time for the children to help feed the animals. This was a special time with great memories. The Lofthouse is modern, comfortable and very clean. The shower is lovely! There are plenty of info books and a map of the area. We arrived to find some goodies - homemade jam, a loaf, milk and eggs which were well received. Jan-Ernst and Vanessa made us very welcome and feel at ease straight away. If you are taking a holiday in this area then do consider this lovely farm. If we want to return to holiday in the area again then we will be seeing if there is space here for us! Already we have recommended this to some local friends. The Grants
Carla
2013-08-31T00:00:00Z
We had a wonderful break at the last house loft. Jan Ernst and Vanessa were both so welcoming and the loft was exactly as described. We had a wonderful time visiting the local areas and Jan Ernst gave us lots of great ideas of places to visit. This accomadtion is in a stunning location and the hosts were both so welcoming. Thank you for a wonderful stay we look forward to visiting again in the summer.
Mark
2016-01-25T00:00:00Z
We had a wonderful time out in the beautiful East Sussex countryside! It was the perfect antidote to busy, stressful London. Thanks to Jan-Ernst and Vanessa for making our stay so special. They left dog biscuits for bobby and books and toys for our son Oscar. We really enjoyed cuddling their baby goats and the loft was so lovely & comfortable. It was really well equipped, clean and cosy. We'll definitely come back to visit them and recommend the place to all our friends!
Susan
2015-03-08T00:00:00Z
ประเภทห้อง
บ้าน/อพาร์ทเมนท์ทั้งหลัง
---
ประเภทที่พัก
อพาร์ทเมนท์
---
พักได้
4
---
ห้องนอน
Northiam, สหราชอาณาจักร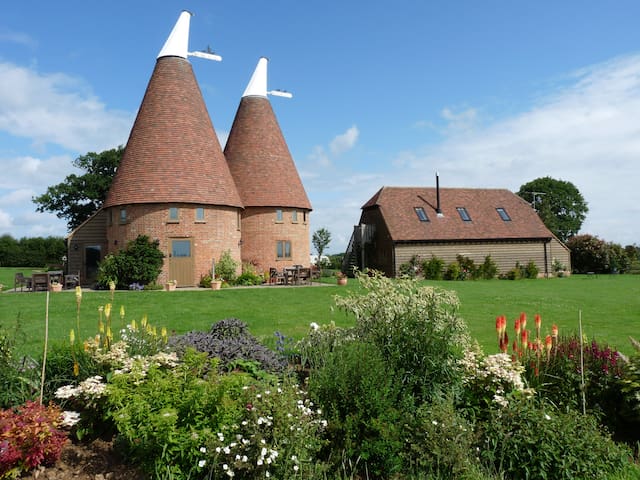 Quirky detached weather boarded cottage nestled in a rural lane in Kent, the Garden of England, with Benenden village nearby with its local pubs, cricket green and local church. Private garden with outside casual dining table and chairs/parasol. 2/3 beds, real log fires in reception room/wood burner. Books and games. All mod cons "home from home" feel. Breakfast/sunroom with coffee station with "Nespresso" coffee machine. Luxurious bedding
Quintessentially cottage in rural lane with 3 bedrooms, large kitchen with wood burner. Cosy lounge with sofa bed and glowing open fire, flat screen TV with BT YouView channels, free wifi and ipod docking station. Sun room with table or x6 with patio doors out to sun decking and steps leading down to patio for al fresco dining and lawn with decked bbq area. Garden table, chairs and parasols. Kitchen with retro fridge/freezer, washing machine and dishwasher. Cottage Belfast sink and electric "Aga" style Esse cooker. Parking space for 3 cars. A real gem in the hamlet of Iden Green with easy access to National Trust houses, Tenterden village with quaint antique shops, coffee bars and village pubs plus Waitrose, Crew Clothing, Orvis and many local independent shops. Benenden village is half a mile away with superb local pub with great food, village green with church and village shop. Lovely walks for your dogs, local golf course and village butchers and florist. Nearby Cranbrook boasts a windmill and more boutique outlets. Local wineries are a short drive away as is the ancient town of Rye and beaches within half an hour drive south.
The cottage is in an idyllic country setting in quintessentially English hamlet close to a village within a friendly neighbourhood.
We adored our stay at Ashenden. Dee couldn't have made us feel more welcome or comfortable. It really is the perfect cosy cottage. We loved tramping over the fields to The Bull in Benenden and lighting the log fire in the evenings. Thank you Dee!
Arabella
2016-01-31T00:00:00Z
The host canceled this reservation 59 days before arrival. This is an automated posting.
Rusty
2016-12-27T00:00:00Z
Very cute cottage with everything we needed to be comfortable, including plenty of laundry things. The cottage is in a small village well located for exploring Kent, Surrey and Sussex with a car. There is a great pub and small store in the nearby village of Benenden and supermarkets etc within a short drive. Dee was a great host and we appreciated the thoughtful welcome basket and card. We would happily stay again, thank you Dee!
Carly
2016-07-26T00:00:00Z
Lovely quaint cottage in beautiful Kent countryside. Ashenden had everything we needed for our winter stay. I'm sure it would be even better in the summer! We would definitely stay here again.
Joanne
2017-02-23T00:00:00Z
I loved my stay at Dee's place. The cottage is cute and wonderfully equipped and the location in the Kentish countryside is just magical. Dee is a gracious hostess that helped make the trip easy, comfortable and lots of fun.
Ruth
2015-12-09T00:00:00Z
It was the perfect cottage for our family. My husband, my mom and our 17 month old toddler were very comfortable there. The house and little back garden worked very well with a small child. Dee kindly organized us both a travel cot and a high chair which was also really helpful. The beds and linen were comfortable and the kitchen has everything needed to cook (we cooked every night). Thanks so much to Dee for being so helpful and communicative leading up to our stay. And thanks you for leaving he fridge full of great food that really made us feel welcome. I would recommend this cottage to anyone wanting to rest in the English countryside. We went to the woodcock pub in walking distance which was also great in the garden for our toddler. Would just recommend guests who stay here have a car as there is no public transport close by and cabs get very expensive.
Ruth
2016-07-08T00:00:00Z
A lovely clean & comfortable cottage, a good base for days out. An easy check in procedure & the welcome basket was an unexpected treat. We were blessed with lovely weather so no need to light the fires & the storage heaters were more than adequate.
Tracie
2017-04-10T00:00:00Z
ประเภทห้อง
บ้าน/อพาร์ทเมนท์ทั้งหลัง
---
ประเภทที่พัก
บ้าน
---
พักได้
6
---
ห้องนอน
Nr. Cranbrook, Kent, สหราชอาณาจักร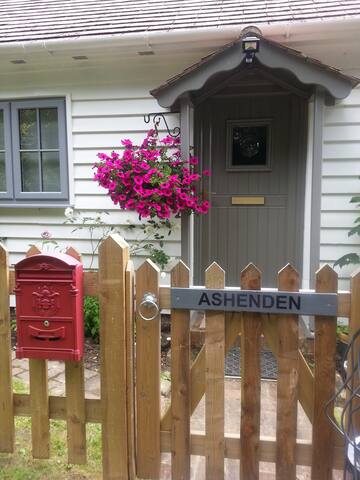 Hyggelig semi-deatached sommerhus omgivet af marker med fantastisk privat pyntet område med udsigt over den middelalderlige landsby Robertsbridge. Kun 5 minutters gang til landsbyen og 10mins gåtur til Mainline Station med tog til London og sydkyst.
Gemt væk med dejlig udsigt fra hvert værelse, men kun et par minutter fra den charmerende landsby. Hele hus til rådighed til dit brug. To soveværelser, et med king size seng og den anden med standard dobbelt. Dejligt køkken / spisestue med pyntede område fører væk fra køkkenet med dejlig udsigt til landsbyen. Off road parkering til 3 biler.
Nævnt i Domesday Book, Robertsbridge er en historisk landsby med en blanding af huse, hvoraf nogle går helt tilbage til C1400. Robertsbridge er inden for High Weald område af enestående naturskønhed og er et ideelt samlingspunkt for vandreture, cykling og sight-seeing. For blot at nævne nogle få, Bodiam Slot, Bateman s (Rudyard Kiplings hjem), Sissinghurst, Hastings Old Town, Royal Tunbridge Wells, Camber Sands og den antikke by Rye, Battle er alle inden for rækkevidde. Der er masser af gode lokale faciliteter alle inden for gåafstand, disse omfatter 3 barer, 2 nærbutikker, posthus, bageri med dejlig lille cafe, frisører, indisk restaurant, brugte boghandel, vintage butik. The George Pub, et par minutter walkaway har en god restaurant. Der er et par af gårdbutikker i den nærliggende landsby Salehurst som har en smuk 13. århundrede kirke og Halt pub Salehurst som er renowed for det fremragende mad.
We had a really enjoyable stay at Teresa's country cottage. The location was great for visiting Rye, chapel down vineyard and camber sands. The cottage was lovely, really nice design details throughout and super comfortable bed. We stayed with our 1 year old. Highly recommended and we would love to come back and stay again.
Melanie
2015-10-30T00:00:00Z
We stayed for two nights in Teresa's beautiful cottage in Robertsbridge. We were made to feel very welcome from the start. The cottage looks out on to fields and some of the village, it is very private so perfect if you are wanting to get away. We drove down to Rye and Camber which are quite close for a day trip. We found it to be a very warm and cosy cottage and a lovely stay, a really lovely visit. Thank you.
laura
2015-11-15T00:00:00Z
We had an absolutely wonderful stay in Teresa's beautiful home. She very kindly collected us from the station which was much appreciated. Her cottage is gorgeous and cosy, in a great location. Everything was absolutely perfect and hopefully we'll be back again soon!
Lou
2016-01-02T00:00:00Z
Charming cottage tucked away from the road. Teresa made us feel very welcome and the cottage had everything we needed. I would definitely stay here again if ever in this area
Lynn
2016-09-18T00:00:00Z
We enjoyed a wonderful weekend in Teresa's lovely home. She made us feel very welcome, and the house is delightfully furnished, and has a lovely garden with wonderful views of Robertsbridge. I wish we could've stayed longer to explore the lovely area. Everything was spotlessly clean, and we were very comfortable.
Valerie
2016-08-29T00:00:00Z
A truly lovely place to stay, very peaceful but everything is accessible, perfect for chilling out. Great owner, shows you round and then leaves you to settle, highly recommended
lesley
2016-04-04T00:00:00Z
The cottage is indeed charming and very comfortable- Teresa made sure we had everything we needed and was really very helpful before our arrival, going to the trouble of finding a travel cot for our baby. There are two nice double bedrooms with lovely soft bedlinen and towels. The kitchen was well equipped and Teresa had even left a nice bunch of flowers. The house was spotlessly clean. The views from the house are really super and it's a great place to relax and get away from the city. Highly recommended.
barbara
2016-06-28T00:00:00Z
We had a great stay at the cottage. Teresa was very welcoming and after showing us around the cottage we were given total privacy. The cottage itself is very homely and extremely well furnished and equipped with everything you can ask for. Also well located within the village and within walking distance of a couple of pubs and a local shop. We had a great stay.
Hiten
2015-11-08T00:00:00Z
ประเภทห้อง
บ้าน/อพาร์ทเมนท์ทั้งหลัง
---
ประเภทที่พัก
บ้าน
---
พักได้
4
---
ห้องนอน
Robertsbridge, England, สหราชอาณาจักร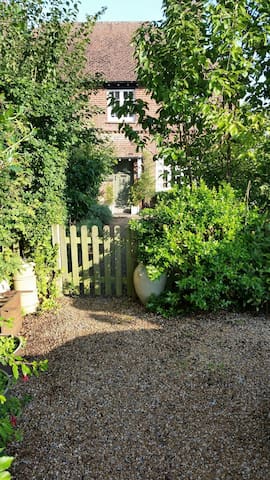 Close to Sissinghurst, Cranbrook and Staplehurst train to London one hour. Lots of great pubs within fifteen minute drive. Near Hempstead Forest for bike rides and walks. Beautiful rural but not isolated location. Small garden and additional patio area. Tennis court use by arrangement. Full Sky TV. Riding school next door. Local vineyards.
The master bedroom is downstairs with en-suite shower room. Upstairs is a twin room with en-suite bathroom. There is a patio area to the rear, overlooking tennis court and main house garden, and a lawned area to the front that comes with the cottage. There is a pond, but it is fenced in. You may access it if you wish. BBQ and chimenea.
The Garden of England. Sissinghurst Gardens nearby. Leeds Castle, Hever Castle and many other National Trust properties. The Three Chimneys at Biddenden, The Milkhouse at Sissinghurst, The Bull at Benenden, the Woodcock at Iden Green - all great places to eat. Michelin starred restaurant in Biddenden. Waitrose at Hawkhurst, Coop in Cranbrook. Less than an hour to the coast - Camber Sands a beautiful sandy beach. Historical Rye (half an hour) well worth a visit. Tenterden (15 mins) also, one of the Cinq Ports. Tunbridge wells half an hour away. Local award winning vineyards.
A great warm welcome from Samantha, with the personal touch, Samantha even greeted our son with a bag of sweets. A WOW property with so much to offer, great living area, open fire, high quality finish throughout, which extends to the high quality smaller things like linen, crockery and coffee maker all of which makes it feel like home from home. The area surrounding the property is beautiful and tranquil. We felt relaxed immediately and at home here. There is so much to do around the area and Samantha had gone to the trouble of finding out area's of interest to us before our arrival. Thank you for going the extra mile Samantha, we will definitely be passing your details onto our friends and family and have no hesitation in recommending this high quality property. We hope to stay with you in the future.
Gunu
2017-04-12T00:00:00Z
ประเภทห้อง
บ้าน/อพาร์ทเมนท์ทั้งหลัง
---
ประเภทที่พัก
บ้าน
---
พักได้
4
---
ห้องนอน
Cranbrook , Kent, สหราชอาณาจักร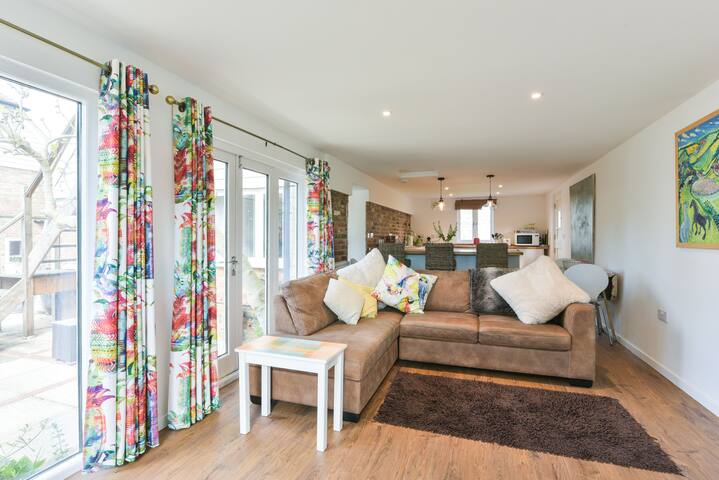 NEU für 2017 Eine in sich geschlossene, helle und luftige Raum mit gewölbter Decke und weit reichendem Blick über ein Gebiet von außergewöhnlicher natürlicher Schönheit. Ein moderner Anbau im Erdgeschoss zu unserem 18. Jahrhundert Bauernhaus, mit großer Dusche Bad, separater Eingang, Terrasse, Garten und Parkplatz. Viele historische Häuser, Schlösser, Gärten und Weinberge sind in der Nähe und die Küste ist nur 25 Minuten entfernt.
Eine schöne Gegend zu bekommen und zu erkunden! Ein paar der vielen Sehenswürdigkeiten in der Nähe sind: Bodiam Castle, Great Dixter (Christopher Lloyd), Scotney Castle, Sissinghurst Castle Garden (Vita Sackville-West), Bateman (Rudyard Kipling), Barsch Hill (Sarah Raven) und Pashley Manor. Die alten Städte Schlacht mit seiner berühmten Abtei, Rye, voller Kunst, Antiquitäten und Restaurants und Royal Tunbridge Wells. Besuchen Sie die Küste und genießen Sie die vielfältigen Erfahrungen der breiten Strände in Camber Sands, Hastings Altstadt, mit der Jerwood Galerie und neuen Pier, Beachy Head und den berühmten Seven Sisters oder kosmopolitische Brighton. Erleben Sie Bewl Wasser (Segeln, Wandern, Fahrradverleih), Bedgebury Pinetum (Wandern, Fahrradverleih), Bodiam Boating (Flussfahrt, Bootsverleih, Kajak), die Tenterden Steam Railway, einem der 9 Golfplätze im Umkreis von 12 Meilen oder besuchen Sie eines der die herrlichen Weinberge.
It was a delightful place to stay - a charming room looking out onto the large pond busy with ducks and geese and to the sheep in the field beyond and with a nice little sitting out area when the sun shone. Jane was the perfect hostess - all the information one might wish for was provided both about the facilities and places of interest to visit in the fine Kent weald together with slices of homemade cake on arrival and a very tasty, generous breakfast left for us in the fridge. All much appreciated. - Anne and Jonnie
Jonnie
2017-03-24T00:00:00Z
Jane and David are such delightful hosts and Rose Cottage has everything you could need; even an iron and toaster with a section that toasted pastries!
Dawn
2017-03-05T00:00:00Z
Great room, convenient breakfast, awesome shower room, friendly hosts, what more could we ask for?
Valerio
2017-02-12T00:00:00Z
Jane and David were excellent hosts. They collected us from the station (30-40 minutes walk away) so we didn't have to carry our luggage, and were more than happy to help at any opportunity. The cottage is exactly as described and has everything you could need. They also provided excellent continental breakfast, and even cake as we had a birthday whilst there. The town of Hastings near by was worth a visit and we had an enjoyable time hiking around the local area, visiting Bodiam castle. I would definitely recommend it to those looking for a quiet get away.
Vicky
2017-02-15T00:00:00Z
Before we arrived in Janes beautiful extension of her cottage in Sussex, Jane already went through a great deal of trouble to make the perfect dinner reservation for our anniversary. When we arrived she had made a lovely and delicious cake to start our celebration! So sweet. The extension has a fine queen sized bed with nice and soft white sheets. A perfect secluded large hotel room describes the feel of the location. Extra comes a view over a romantic pond to give you the perfect 'Englisch Sussex gardenish feel'. For breakfast: bread, butter, jam, milk, OJ, fresh fruit, and yoghurt. coffee (instant) and tea making facility's and a little fridge are available. The only thing we 'missed' was probably something savoury and/or warm (microwave?) for breakfast.
Juliette
2017-03-13T00:00:00Z
Impeccable hospitality and superb attention to detail from Jane. We had a wonderful stay: enjoyed the quiet location, the beautiful surroundings, the very comfortable accommodation, the walks on the doorstep, our meal at the local pub and the delicious breakfast which was prepared with much care! On our list of places to come back to! Thank you!
Elena
2017-02-26T00:00:00Z
Excellent séjour chez Jane, le lieu est absolument charmant. Accueil adorable
Anne-Charlotte
2017-02-17T00:00:00Z
What a beautiful spot to stop and rest in the midst of travels. Jane and David are so sweet and extend gracious hospitality. We hope to someday return to Rose Cottage!
Sarah
2017-03-17T00:00:00Z
ประเภทห้อง
บ้าน/อพาร์ทเมนท์ทั้งหลัง
---
ประเภทที่พัก
ที่พักพร้อมอาหารเช้า
---
พักได้
2
---
ห้องนอน
Robertsbridge, England, สหราชอาณาจักร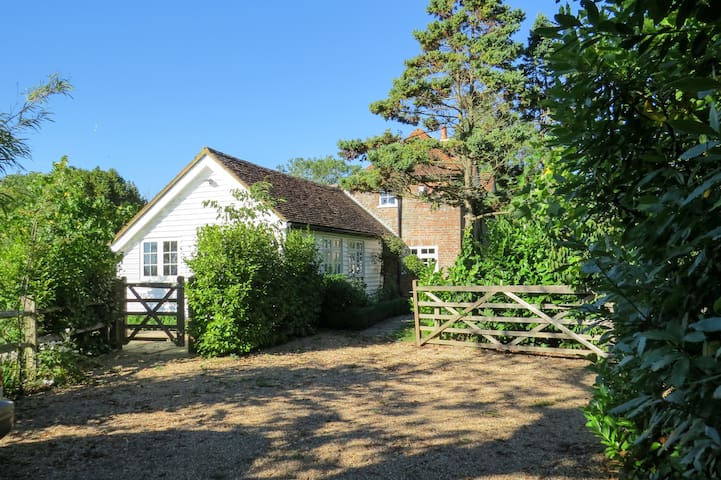 Nice countryside cottage. Near to historical sites and nice beaches.
Massimiliano
2016-09-05T00:00:00Z
We had such a wonderful stay in Sophie's barn. Sophie herself was very welcoming and the barn was well equipped and spotlessly clean. We went for four days to check out the area as a place to live, but glorious sunshine and so many amazing places to visit (Sissingshurst, Great Dixter, Rye, Camber Sands) meant it felt more like a summer holiday. The barn is in a very quiet country lane, and Benenden itself is a classic Kent village, with cricketers on the green, a lovely local pub and everything you could need. We are now back in London, relaxed and sun tanned (who knew?) and already missing the barn and especially Toffee the world's most affectionate dog. Thank you so much for such an enjoyable stay.
Claire
2016-07-09T00:00:00Z
ประเภทห้อง
บ้าน/อพาร์ทเมนท์ทั้งหลัง
---
ประเภทที่พัก
บ้าน
---
พักได้
4
---
ห้องนอน
Benenden, สหราชอาณาจักร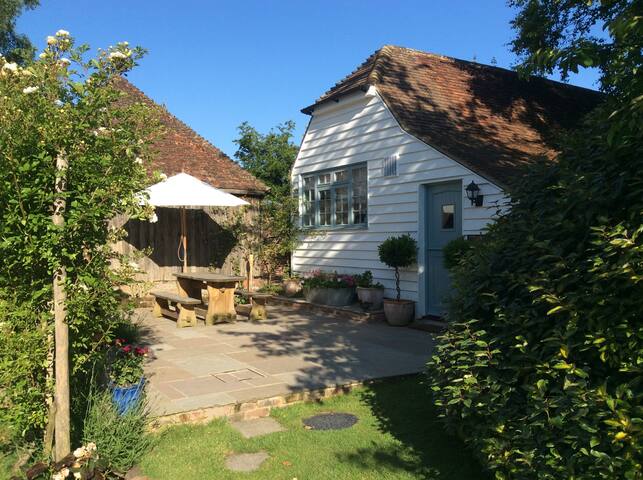 1

–

18

จาก

ที่พัก 90 รายการ
กรอกวันที่เพื่อดูการกำหนดราคาเต็ม มีค่าธรรมเนียมเพิ่มเติม อาจมีภาษีเพิ่ม