My 100 year old romantic cabin in the country is the perfect place to get away and find peace and serenity while also being only a 30 minute drive to Downtown Asheville. Rustic and charming in some ways. Modern and comfortable in others.
Rustic in some ways since its 100 years old and modern in others for comfort (central heating and air, nice paint, washer and dryer). The location is magnificently beautiful and peaceful with no light pollution at night and even a fire pit in the back yard that you can use if its not wild fire season. To get the real peaceful nature vibe, I don't have a TV. But I have wifi, if you want to watch netflix on your laptop or tablet.
Green and gorgeous with the sound of a near by running stream and my neighbors chickens, roosters and cows. A family of wild Turkeys visit often and there is no light pollution at night. There is also very little noise, because were at a dead end and only a few cars pass by per day. Take a walk to the end of the street and back and get some exercise too. We are 15 minutes to Lake Lure and 30 minutes to downtown Asheville!
This was an amazing get a away place tucked away in the mountains. Quite and peaceful. Would defiantly stay again. Lori was welcoming and was available to answer any questions we had.
Tim Lisa
2016-11-14T00:00:00Z
Lori is a lovely host, who was easy to communicate with and flexible with our check in time. The house is lovely and the surroundings are stunning.
Sara
2016-10-10T00:00:00Z
The host canceled this reservation the day before arrival. This is an automated posting.
Scott
2016-09-01T00:00:00Z
I truly enjoyed staying here! Location was perfect! The house is on a very quiet road where almost no cars pass by, but if you need to shop or dine out there are plenty of options on 15 min drive. The house was prepared perfectly for our convenience and check in was without issues. Lory was there to greet us and make sure we have everything needed to enjoy the stay! I would be definitely back
Monika
2017-04-02T00:00:00Z
Lori was away when we arrived but responded immediately to any questions we had. The cabin and surrounding area is gorgeous. A perfect place to kick back and relax. The cabin itself was clean with modern heating and air to make it super cozy. There is no TV but trust me, you won't need one. Her very large iMac is available to use with high speed internet and wifi for your devices. We would recommend this to anyone looking to relax and soak in all Fletcher and Asheville have to offer.
Clay
2016-10-23T00:00:00Z
Lori was very quick to respond to any questions we had. We went to visit Asheville and also to just relax after a busy Christmas. There's an Ingles 15 minutes away so although you feel secluded, you're close to stores if you need something. Downtown asheville was exactly 34 minutes away- so easy to unwind or be downtown whichever you're looking for. best of both worlds!
Jana
2016-12-31T00:00:00Z
ประเภทห้อง
บ้าน/อพาร์ทเมนท์ทั้งหลัง
---
ประเภทที่พัก
บ้าน
---
พักได้
3
---
ห้องนอน
Fletcher, นอร์ทแคโรไลนา, สหรัฐอเมริกา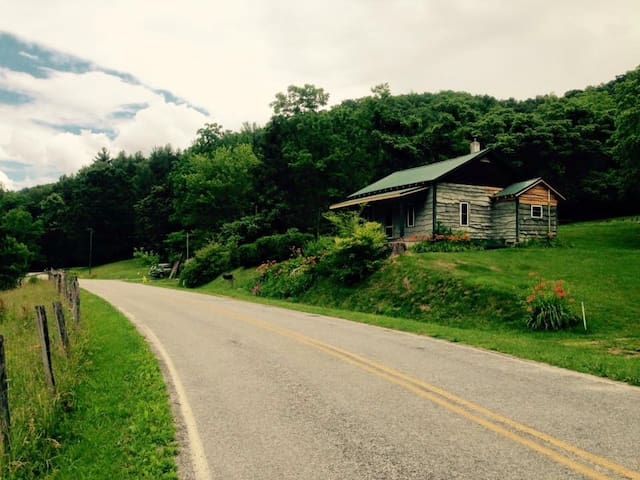 Experience rural life. Escape the city (36 minutes from downtown Asheville). Sleep soundly in organic bedding + non toxic environment. Free organic tea or coffee. Beautiful barn turned into a cozy home.
Non-toxic cleaners used. Access to two guest rooms, plus your own bathroom. Bedroom #1 equipped with three single beds (great for kids). Bedroom #2 equipped with a queen bed and pull out single bed. The private guest rooms and bathroom are on the main living level where the host family lives. You'll experience Asheville like a rural local.
We're on a dead-end road out in the country so it's nice and quiet (and dark). On a clear night, you can see both dippers as well as many constellations. However, we're just 15 minutes from the grocery store and only 36 minutes from downtown Asheville or 30 minutes to Hendersonville.
Rebekah and her family were friendly and helpful, all questions were answered and some very good tips given. The place was as described so there were no surprises. It's definitely a good place to stop while exploring the Blue Ridge Parkway and all the beautiful waterfalls!
Tea
2015-10-25T00:00:00Z
This was such a fun Airbnb experience!!! If you are looking for a unique experience this is it. Whether you are looking to learn a little bit about farming or just observe it you will have a delightful time. The children were adorable and met us as we pulled up. They brought us to the farmhouse so we could check in. The Rhodes are so easy to talk to and hang out with. I was really interested to hear about their special cow milk that doesn't contain the A1 protein most cows milk have. I was able to enjoy cream in my tea and the home made yogurt with breakfast. The breakfast big and delicious. The bed was super comfortable. I had a hard time leaving and could have sat there all day and talked to Rebekah and Justin. I would definitely stay with them again.
Julie and Casey
2015-10-18T00:00:00Z
Rebekah gave clear and detailed directions to the farm and we were welcomed with a cute sign outside. Our room and bathroom were clean and inviting (and the waters and chocolate were a nice touch!) The Rhodes family has the gift of hospitality and we felt very comfortable in their home. We loved walking around outside, seeing the gorgeous views, experiencing their farm operation and spending time with their family. We felt like we were staying with friends and their kiddos were the sweetest. The bed was super comfortable, breakfast was delicious and we wished we were able to stay more than one night. We would definitely recommend their home for a peaceful and inviting stay and we hope we get the opportunity to visit again soon. Staying here really enhanced our trip and was a great first Airbnb experience.
Angela
2015-10-02T00:00:00Z
The host canceled this reservation 41 days before arrival. This is an automated posting.
Stefanie
2016-09-08T00:00:00Z
We really enjoyed staying with Rebekah and family. The listing was accurately described- a lovely, comfortable room with a private bath next door. She made us feel totally welcome and included some special little goodies in the room for my daughter- so thoughtful! Breakfast was really nice too! We hope to go back again!
John
2015-10-03T00:00:00Z
Host was very welcoming upon meeting. They gave us a tour and offered some ideas on places to see in the area. This is the perfect place for a family stay as they provided books and toys in our room for my son. Anything that we needed they offered. The breakfast was adjusted authority l according to our preferences. My son even loved the farm freshness of the food. My husband helped with farm chores. He said he really enjoyed it and learned a lot. The farm was so peaceful, it's a wonderful place to relax. I miss it!
Leloni
2015-08-23T00:00:00Z
We just had an incredible stay at the Holler House with the impeccable hospitality of the Rhodes family. Their home is a real gem - cozy and tidy with a great rustic farm house feel. The guest bed was super comfortable! In the morning I got up to help Justin with some chores and he showed me around their farm and taught me all kinds of cool tips and tricks for raising chickens and gardening. We had an amazing homemade breakfast with almost every part of it coming fresh from their farm. Rebekah and Justin have four amazing children and we got to hang out with the whole family after breakfast and I got educated on the finer points of dinosaurs and Legos by the boys. Thanks guys! I would recommend staying at the Holler House to anyone. The next time we're in Asheville I know that we will! Thank you for a great experience!
Chad
2015-11-22T00:00:00Z
We love the country home! thanks for being cozy and caring it means allot to us when people are down to earth happy loving families !:) sending much thanks
Makila, Harmony and Emmalua Wind
2015-10-28T00:00:00Z
ประเภทห้อง
ห้องส่วนตัว
---
ประเภทที่พัก
บ้าน
---
พักได้
6
---
ห้องนอน
Fletcher, นอร์ทแคโรไลนา, สหรัฐอเมริกา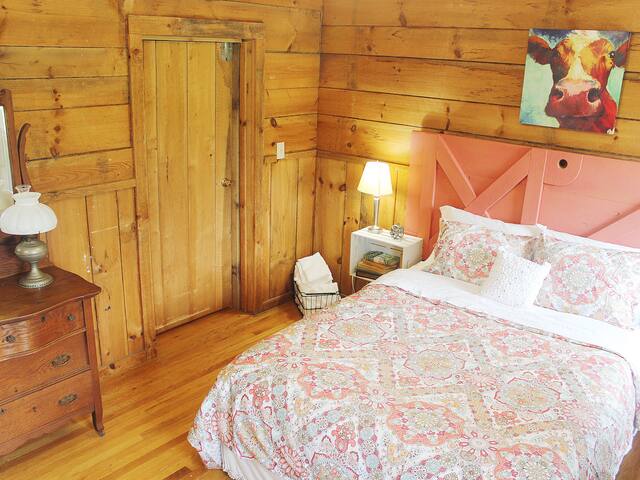 If you are looking for a great place to escape; this is it, Mountain Majesty! Mountain views, gorgeous sunsets, large decks, luxury furniture and plenty of room to spread out. 3 living areas, a cooks kitchen and tree house dining.
This is a slice of heaven! Beautiful views every season! Come relax and enjoy this secluded property among the trees. 3500 elevation and plenty of acres to hike, explore and enjoy. Why stay in the mountains and not enjoy exquisite long range views from every window. Beautiful sunsets every night give visitors a breathtaking experience from a 3100 ft. elevation. Nestled on a mountain between Hendersonville, Asheville and Lake Lure; this luxurious mountain retreat is conveniently located only 20 minutes from their downtown areas. From the moment you walk into this incredible escape; you will appreciate the elegantly appointed features including vaulted ceilings, hardwood/slate flooring, rare riverbed granite countertops and locally crafted mountain laurel railings throughout the main level. The open floorplan is designed to gather friends and family around the floor-to-ceiling stone fireplace for good conversation and connection while enjoying the 6 foot tall window views of the mountain ranges all around. The TV viewing room is behind closed (or open) doors and boasts a Bose system, 48' Samsung TV, wireless internet and comfy, oversized chairs and ottomans for relaxing with the remote. Also available in this large room is a large desk and credenza. Start your day with breakfast in the tree house dining area, perched high up in the woods and adjacent to the custom kitchen. Views all around the room along with a beaded wood ceiling give an open feeling in addition to the door leading to the expansive outside deck. The main level deck is perfect for watching the magnificent sunsets. You will feel as if you can reach out and touch the sun as it is setting directly in front of you. With a gas line into the grill and lots of seating on the deck; enjoy dinner and conversation with your loved ones. The main level is home to the master suite; an oversized king bedroom custom crafted by artisans in the area define the luxury part of the home. Bathe in the jetted bathtub or shower in the cave while viewing the foliage outdoors. Take a trip down stairs to the lower level and you will be met with high ceilings and a feeling of warmth. The expansive lower deck is off the family room through two sets of French doors at either side of the fireplace. This gathering room is furnished in casual, comfortable sofas and perfect for watching your favorite programs on TV or DVD. A quiet, comfy bed room fit for a queen is strategically located to the right of the family room. Wake up to beautiful mountain views and enjoy the pillow top queen bed that is so cozy you won't want to leave it or enjoy reading across the room on a sleek and comfortable armless chair. The bathroom hosts a beautiful uniquely designed garden tub and an exceptionally large shower. Plus, all toilets in this home are privately enclosed. Take advantage of the large bathtub that's big enough for several kids or a romantic couple. The perfect place for kids is found in the spacious third bedroom; i.e. bunk house! This room is so large that it comfortably sleeps 7 and is set up for families who want to be together playing, watching videos, dressing up and games. There are 2 sets of bunk beds (lower bunks are full size) and a canopied day bed. A pack n play and 2 highchairs are also on site. This home is guaranteed to give families and friends a vacation full of memories they will never forget!
8 acres of trees is the neighborhood. This home is far enough from neighbors to ensure privacy.
We received quick responses after our booking and also to any follow up questions. The information received was accurate and the house is beautiful.
Cregg
2016-09-25T00:00:00Z
Listing was accurate. Had a great time and what a beautiful home. Neighborhood left a lot to be desired but only on the drive up and down the driveway.
Keith
2016-08-29T00:00:00Z
This house was great! The deck was fantastic as were the common areas including the multiple TV areas and kitchen. The space was clean and decorated nicely. Would definitely stay again!
Sean
2016-09-05T00:00:00Z
ประเภทห้อง
บ้าน/อพาร์ทเมนท์ทั้งหลัง
---
ประเภทที่พัก
บ้าน
---
พักได้
10
---
ห้องนอน
Fletcher, นอร์ทแคโรไลนา, สหรัฐอเมริกา
My place is close to (Halfway between Asheville and Hendersonville) 1/2 mile from Asheville airport. Downtown Asheville, 20 minutes from house, is an extremely popular tourist destination. Lots of great food, beverages, street musicians, antique stores. BILTMORE ESTATE and Winery Premier destination for most visitors. Where the largest mansion in North America resides--tours daily. HENDERSONVILLE Is known for its apple orchards, picking and festival. Sliding Rock, water falls, etc.
Newly refurnished 3 bedrooms/2 full bathroom. Half acre of greenery. Backyard surrounded by pine trees creating a living green wall. Back deck with grill. Screened in front porch. Living area with gas log fireplace, TV, WIFI and DVD player.
ASHEVILLE, NC Downtown Asheville is 20 minutes from house. Downtown Asheville is an extremely popular tourist destination. Lots of great food, beverages and people-watching. Local flavor makes downtown seem like a great big open-aired mall with street musicians. Antique stores, specialty shops, import/export, ethnic, and variety of apparel shops. Festivals all year round from small to BIG, where the entire downtown area turns into a venue for fun. Fall is a very popular time for visitors. When the leaves begin to turn colors, the entire surrounding mountains become golden yellow, red, & orange. Great time to get in some hikes to see the wonderful views. BILTMORE ESTATE Premier destination for most visitors. The Biltmore Estate and Winery, where the largest mansion in North America resides--tours daily. Many folks spend days on the Estate exploring the many things to do there. Restaurants, horses, trails, 4-wheel drive track, gardens, hotel and winery with tastings and tours. The estate starts its Christmas wonderland as of Nov. 1st. Every room is decorated for the period of the time. The Christmas at the Biltmore is a 'must see' event. BREVARD AND HENDERSONVILLE Both these communities are popular destinations. Hendersonville is known for its apple orchards, picking and festival. Brevard is located right next to the Pisgah National Forest and the lush Davidson River Valler where Sliding Rock and Looking Glass Falls are located. Brevard is also know for their local performances. Both of these towns have downtown areas with many shops and restaurants. OTHER POPULAR DESTINATIONS The Folk Arts Center on the Blue Ridge Parkway, The illustrious Grove Park Inn, Several farmer's markets, Mt. Mitchell, Mt. Pisgah, Grandfather Mountain, Cold Mountain, Black Mountiain, Antiques, Lake Lure, Linville Gorge, Bat Cave, and so much more!
Great little house that is cozy and quaint with restaurants and shopping right down the road!
Bethany
2016-11-18T00:00:00Z
ประเภทห้อง
บ้าน/อพาร์ทเมนท์ทั้งหลัง
---
ประเภทที่พัก
บ้าน
---
พักได้
6
---
ห้องนอน
Fletcher, นอร์ทแคโรไลนา, สหรัฐอเมริกา
Graceful Heart Cottage is a sanctuary home away from the hustle and bustle of major city life and the general populace. The cottage is situated on 2.25 magical acres with no street lights...see the stars! Enjoy Nature, Nurturance, and Laughter.
Graceful Heart Cottage is a special place to retreat, have sanctuary from the infractions of the world, and be a place where Nature, Four leggeds, and Two leggeds can play peacefully.
This cottage is located on a street with very few other dwellings, and the road ends at a mountain cove. There are fields, pastures with horses, and a running stream along the walk down the road.
Spacious cottage. Wonderful sleeping room on upper levels with views at tree level. Also, the upper deck is a great place for breakfast and fresh air.
ken
2017-03-27T00:00:00Z
Grace was prompt to communicate with us and the place was exactly as described. A sweet little retreat in the mountains!
Erin
2015-10-12T00:00:00Z
Great host. I got in late and she was very accommodating. Really fantastic little cottage.
David
2015-10-01T00:00:00Z
My husband and I were looking for a place that would be fun and comfortable for us and our two big dogs. Grace's cottage was perfect! The yard was large and we could watch them playing outside from any room in the house which was important to us because our husky is an escape artist! The area was spacious and secure with toys everywhere. The home was beautiful with everything we needed. We even enjoyed some of the board games in the closet. We would definitely come back and stay again the next time we go hiking in the area with our dogs!
Victoria
2016-12-23T00:00:00Z
Perfect location for a busy trip with my dog. He had all the room to run around he needed, and the house was cozy, clean and well stocked.
Christa
2016-12-26T00:00:00Z
My husband and I stayed here over Thanksgiving. We loved that we were able to bring our dog, and the cottage was beautiful! We enjoyed the deck with the mountain views, had plenty of space, and utilized the kitchen quite a bit. We would definitely consider staying here again!
Alexandra
2015-11-29T00:00:00Z
We thoroughly enjoyed our stay at Grace's beautiful cottage! It's situated right beside her house but it is very private. She has a large yard for our dogs to play around in. She's very friendly and one of the nicest host we ever met! The place is very well kept and we would definitely recommend to family and friends!
Leechian
2016-10-02T00:00:00Z
Great idyllic location. Cute cottage. Lots of awesome trails within driving distance.
Paul
2015-08-03T00:00:00Z
ประเภทห้อง
บ้าน/อพาร์ทเมนท์ทั้งหลัง
---
ประเภทที่พัก
บ้าน
---
พักได้
4
---
ห้องนอน
Fletcher, นอร์ทแคโรไลนา, สหรัฐอเมริกา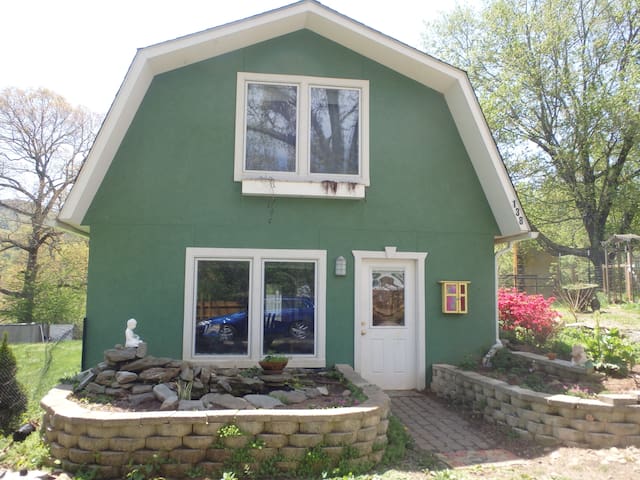 Private ranch-style home on 9 acres of rolling hills nestled in the Blue Ridge Mountains. Views w/ spectacular outdoor space. Fenced in yard for dogs & kids, creek, and barn. Farm fresh eggs available upon request. Fully equipped large kitchen and dining area for entertainment. Cable / WiFi. 20 min. to Asheville, 15 min. to Hendersonville, 10 min. to Airport. 5 min to I-26. Hikers/Bikers Paradise. Horseback riding and apple-picking (fall) nearby. Pets OK $35 a pet per stay.
We purchased this home because it has a retreat-like quality. Calming, quiet, and filled with the nature. Although the property is private and "country-like", it is still very close to amenities. Located 15 minutes from many attractions in the Asheville / Hendersonville / Saluda area.
The house is located in the county on a private lot. Subdivision with walking path located within 1/8 mile from the house.
Jaime and Candice's home was amazing. There were five adults and dogs in our crew, and the space was perfect. It was a beautiful, 15-20 minute drive into Asheville and not far from other scenic places. We went to the DuPont Forest and checked out Bridal Veil Falls on a nice six mile hike... it was a dream vacation. Since we were there over Christmas, I wanted to do some serious baking and cooking, and the house was fully loaded with stand mixer, stock pots, blender, etc. I went to nearby Fletcher Park every morning to jog while my sister walked her dog around the lovely park- complete with a dog park, playground, baseball fields and both paved and trail running terrain. The hobby farm aspect of their property was really cool too. We enjoyed admiring the two donkeys, two goats and chickens from up on the hill. Both Jaime and Candice were very accessible the few times I had questions about where things were. I can't wait to visit again and stay at their home.
Audrey
2016-12-26T00:00:00Z
Candice and Jaime went out of their way to make us feel welcome. Their communication regarding directions was outstanding, and when we met them, they were extremely friendly and helpful, providing tips on local hikes and restaurants.
Matt
2016-10-18T00:00:00Z
Candice was amazing! She met us at the home and showed us all around. Everything was even better than expected! The mountain setting is beautiful, the three separate bedrooms and two bathrooms were perfect for four girls getting away for a long weekend! The kitchen was ideal for cooking and visiting! The outdoor spaces were incredibly welcoming! Thank you for your amazing hospitality we had an absolutely wonderful long weekend!
Karen
2016-10-03T00:00:00Z
Our stay was AMAZING! The house was impeccably clean and had plenty of space for our group of four to stretch our legs. The views of the mountains and farmland were gorgeous- we got a stellar sunrise the first morning. Lots of room for our labrador to run around- and it was completely fenced in. Home was centrally located to make trips north to downtown Asheville as well as south to Brevard and hiking in the Pisgah National Forest. Candice was very responsive and provided us with farm-fresh eggs. A great place for a long weekend getaway!
Ashley
2017-03-19T00:00:00Z
My partner and I had a wonderful time at Jaime and Candice's mountain ranch and the listing was as described, very beautiful area with lots of space. The hosts greeted us and gave us a nice tour of the house and yard area and they made themselves available for questions that we might have later during our stay. We would gladly stay here again when visiting the Asheville area!
Kyle
2016-08-22T00:00:00Z
Candice and Jamie were great hosts. The communication was timely and helpful. The house was spotless and welcoming. The driveway is a bit challenging but so worth it. They were also really welcoming to my dog, and having a fenced in area for her was great! Thanks for a great visit. I recommend staying at Candice and Jamie's place if you are looking for a quiet mountain retreat!
Margaret
2016-10-24T00:00:00Z
We truly enjoyed our stay at this family & pet friendly home. Jaime & Candice were very welcoming & provided us a very thorough tour of their fantastic home. They were in constant communication with us all the way up to the arrival date, & throughout our stay to make sure that everything went well. Our daughter appreciated the barn tour & the farm fresh eggs were a nice touch. Highly recommend this place.
Edwin
2016-08-08T00:00:00Z
Jamie and Candice were very accommodating and great host. They were very easy to communicate with and greeted us upon arrival at the home. Their place was as advertised, the views were amazing and house was awesome! I would highly recommend staying at this place if you are looking for mountain getaway close to Asheville. The views and the place is well worth the 25 min drive to get to Asheville. Everything was clean and in order upon our arrival, not to mention the fresh farm eggs! My Fiance and I really enjoyed our stay along with our dog charlie. Def will be putting this one on my favorite list to stay at again.
Scott
2016-07-31T00:00:00Z
ประเภทห้อง
บ้าน/อพาร์ทเมนท์ทั้งหลัง
---
ประเภทที่พัก
บ้าน
---
พักได้
6
---
ห้องนอน
Fletcher, นอร์ทแคโรไลนา, สหรัฐอเมริกา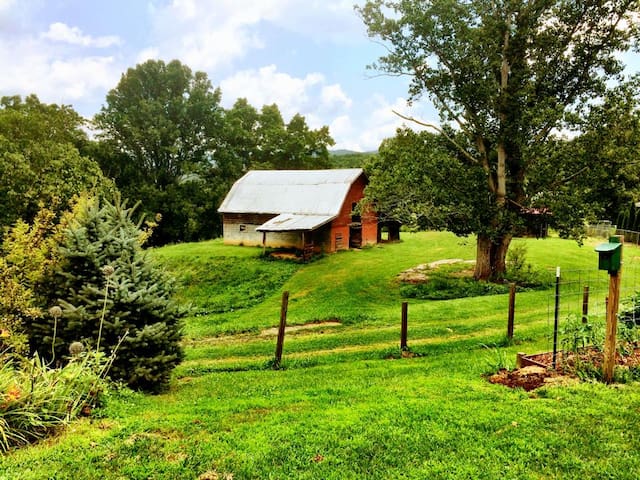 A little bit industrial loft, a little bit rustic retreat, this modern country farmhouse guesthouse is perfect for a couple, with or without a child in tow. Open-concept living/dining/kitchen with polished concrete floors and tall, wood-beamed ceilings. Immaculate. Beautifully finished and furnished, down to luxurious 400TC 100% cotton linens and towels. This guesthouse is straight out of 'Country Living.' On ten acres in a truly pastoral neighborhood just south of Asheville. Secluded and nestled in the woods, yet flooded with natural light. Completely private, fenced rose and boxwood garden provides outdoor lounging, dining and fire-siding. Hot water tap in the garden for hillbilly hot-tubbing (kids only!). Green & Allergen-free features: Low or No-VOC paints used throughout. Organic, unscented cleaning and laundry products used exclusively. Natural fiber rugs, upholstery and window treatments. Slip-covered upholstery, frequently laundered. No pets of any kind ever inside the home. AC with top-end filter. Fresh organic and/or local treats only stocked for your enjoyment. Quick access to Asheville (20 minutes to downtown). Ten minutes to the Blue Ridge Parkway hiking trail heads. Renowned road and mountain biking literally right out your door. Premium DirecTV package includes HBO. Family is on the property, out-of-site, but close enough if you need a restaurant recommendation! Traveling with kid(s)? We've got a twin (murphy) bed in the living room and a smaller rollaway bed that can be set up anywhere, plus indoor and outdoor toys for all ages. Drop us a line and we'll prepare for his or her arrival. Kids on the spectrum are especially welcome!
A great place to spend our first anniversary! Everything was wonderful (including the champagne, delicious fresh cream, and fresh eggs Johanna left for us in the fridge). We actually never saw Johanna, but were greeted by her pups everyday which always gave us a smile! I would definitely recommend this home for a cozy getaway!
Courtney
2015-07-04T00:00:00Z
Johanna is truly the 'host with the most'- this house is sensational. My wife and I were looking last minute for a place to spend our weekend, and Johanna graciously worked with us- very fast communicator, concise, and was even willing to drop what she was doing that Friday afternoon and begin preparing the place for our arrival (which was to be 3hrs later!). She provided us with eggs from her chickens-who live onsite- and fresh cream. Now to the best part, the house. You simply won't find a more beautiful little space to spend a weekend with your wife in this section of the mountains. Having spent a good amount of time in construction of homes for the more opulent tastes over the years, I was pleased to find the kitchen was outfitted with simple but new appliances, lovely countertops, and a wonderfully functional island workspace for meal prep. The bathroom featured a roomy shower, and the fixtures were all of the highest quality. The 'Johanna aesthetic' - beautiful, minimal, open, colorful- made us feel right at home. Long story short- book this place, you wont regret it!
Timothy
2015-04-27T00:00:00Z
What a delight it is to turn into the winding driveway and see the beautiful home and landscape ahead. Upon opening the door I was delighted to see that the accommodations were even better than I imagined. The apartment was immaculate, spacious and extremely comfortable. There are too many delightful touches to list all but my favorites included a well-equipped kitchen (perfect for a foodie), a spectacular view to wake to each day, a private patio and a heavenly bed for a great night's sleep. The ample supply of farm fresh cream and interesting books, and the close proximity to Asheville's nightlife were all unexpected surprises. Johanna's flair for decorating was commented upon on several occasions as we marveled at how well all the old and new items came together. The "no scent" rule is such a plus and for this allergy sufferer there was not even a sniffle during my stay. I was thrilled to see three friendly dogs who were happy to have my attention outside and welcomed me back upon each return to the house. I look forward to a return visit soon.
Julie
2015-10-27T00:00:00Z
The place was extremely beautiful! If you are a fan of shabby chic decor, you will absolutely love the decorative style of this modern country farmhouse! The bed is amazingly comfortable, and the surrounding areas offers lots to do! During our stay we enjoyed the resuraunts in Asheville, the cinemas in the Biltmore area, went hiking to the Roaring Fork Falls in Yancey, and held baby chickadees at the Hickory Nut Gap Farm in Fairview. We lounged by the fire on our private patio in the evenings, and in the morning we ate fresh baked blueberry muffins and organic orange juice and fruit all provided by our generous host! I would definately recommend staying here! We had a great time! Leah
Leah
2012-10-15T00:00:00Z
We had a fabulous stay at the Farmhouse, even getting snowed in for a couple of days! Johanna was a very gracious host, her place was very clean and you can tell she put a lot of thought into every little detail, from the fresh farm eggs and cream to the amazing cupcakes that we found upon our arrival. We were very pleased with our stay and would definitely recommend this place to anyone looking for an Asheville getaway without the hustle of the city. Oh, and did I mention that view! Wow!!
Brad
2016-01-26T00:00:00Z
This was our second visit to Johanna's beautiful home, and it definitely won't be our last. This place is everything you would like in a listing- spacious, well-decorated, clean- and it's situated in a gorgeous valley with peaceful views galore. Johanna is a joy to work with, and is a very thoughtful host. Book with confidence!
Timothy
2016-05-03T00:00:00Z
The reservation was canceled 41 days before arrival. This is an automated posting.
Shanna
2015-02-28T00:00:00Z
We loved this place and thoroughly enjoyed our stay at the Modern, Green Country Farmhouse. The host were absolutely amazing- offering tons of suggestions on where to eat and things to do. The place was very clean, with fresh appliances and modern decorating. The outside patio with bistro table and fire pit were great! I loved the the view from the bedroom- waking up to Fall trees and fresh air- amazing! I would definitely stay here again and I would recommended this place to anyone.
Katrina
2012-10-22T00:00:00Z
ประเภทห้อง
บ้าน/อพาร์ทเมนท์ทั้งหลัง
---
ประเภทที่พัก
บ้าน
---
พักได้
5
---
ห้องนอน
Fletcher, นอร์ทแคโรไลนา, สหรัฐอเมริกา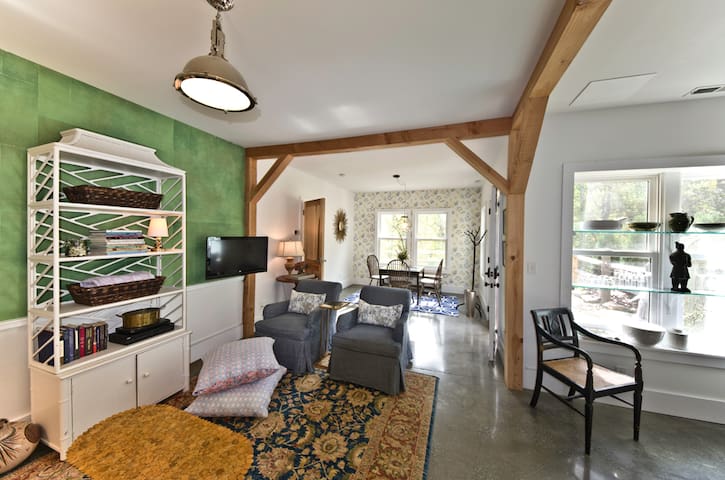 Enjoy your getaway in the comfort of this mountain home. Approach the home on a beautiful winding gravel road that passes old barns, ponds, and orchards, & at the end you find your getaway home w/a Treehouse feeling.. set on the side of a mountain.
A large full length covered front porch that overlooks the forest welcomes you to this private and secluded home. As you enter, you will see the living room has ample seating, a 40" HDTV and dish satellite TV. A well appointed kitchen with island has all you need to cook, make coffee, popcorn, or blend a smoothie... Everything you should need can be found in cabinets. Within the home are large bedroom spaces & cozy common areas that are warm and inviting. No one else will be on the premises... but we live close by (4 miles away) and are here for you if you need us for any reason. The outside areas are wonderful any time of year, rain or shine. It's also a great place for families with young children, older folks as well as groups and friends getting together to enjoy this special area! The back yard has a park style charcoal grill and a fire pit along side the ground level deck. Have fun & enjoy the WIFI and board games. Or, head outside to the deck for some grilling or roast some marshmallows on a campfire over the fire pit. The full length rocking chair covered front porch will allow you to enjoy morning coffee & the mountain air any season, any weather, or time of day. Feel free to head up the short path to the ridge and take in the quiet natural area with seasonal mountain views. Along side the home you can enjoy the covered hammock area, too. Two hammocks and a swinging chair. The mountain house is nestled on the side of a mountain on 2 acres of private land, yet less than 15 miles to downtown Asheville.
Just a few miles from the Eastern Continental Divide. You'll pass by a pond, an old orchard, and a couple barns. Before winding up the road. Virtually secluded, and privately nestled on a mountainside. This home is centrally located in the Cane Creek area of Buncombe county. You will be less than 15 miles from Asheville, Airport, Biltmore Estate, Chimney Rock State Park ,Breweries, Orange Peel, River Arts District, Blue Ridge Parkway, Folk Art Center, Arboretum, Grove Park Inn, Civic Center, French Broad River... The Cane Creek Recreation Park is 1.5 miles from the home. There you will find a seasonal public pool and soccer field.
Lovely home and friendly hosts!
Lamyria
2016-12-26T00:00:00Z
This is a home away from home. Very welcoming. Lots of little touches to make your stay comfortable. They even put up a Christmas tree. We did not want to leave. The Local Joint just down the road a bit was delicious and worth the wait. It was a lovely home.
Melanie
2016-12-11T00:00:00Z
Host was very responsive and welcoming. Good communication about arrival and access to the house was a breeze. Personalized welcome gifts for my kids was above and beyond and little touches like that were present throughout the stay. My kids are already asking when we can go back!!! Thanks so much
Brian
2016-11-09T00:00:00Z
Kamy & Bob made sure we were set up with all the necessary information before we even left home, and when we arrived at the house everything was provided for us including farm fresh eggs from their chickens, which was so thoughtful! The house was perfect for a weekend in the mountains and was only 20 minutes from downtown Asheville. The house itself was tucked away in the woods so we felt like we were at a secluded mountain home but just down the driveway there were plenty of family houses and even with it just being us 3 girls, we felt completely comfortable. Kamy & Bob were so helpful with answering any and all questions we had and you could tell they had put a lot of thought and love into making the house perfect for our stay. Before we even went to bed the first night we were already talking about when we could come back and stay in the Mountain House.
Erin
2016-07-17T00:00:00Z
I was really impressed with the communication before we ever made it to Kamy & Bob's place. Their home was just what we expected and more. We enjoyed using the front porch and backyard area to just hang out and relax when we weren't out on the road enjoying the sights around Asheveille. Loved having the option to grill out or use the kitchen while we were there too. We had lots of comfortable space for our stay. The location was perfect for us. Having a place that has privacy, but still close enough to the city was more than I had hoped for. Your home is nestled in a beautiful spot. Thanks so much for sharing it with us!
Jan
2016-09-26T00:00:00Z
Kamy was warm, welcoming and great at communicating. The house was wonderful with all the amenities we needed, a great porch with a view, a basket of snacks and close enough to Asheville that when we could easily run back to the house for nap time in the midst of our excursions. We'll definitely be back.
Audrey
2016-10-23T00:00:00Z
Fantastic house in the mountains off a gravel road that makes you feel like you're getting the real experience. It was easy to get to, GPS was accurate & the road is well maintained. It was in a great location near Asheville, Chimney Rock, plenty of hiking and waterfalls. It was perfect for our family - 4 kids used camping hammocks under the protected area, the rest of us slept inside! There's also a small campsite up on the ridge. There was WiFi & satellite TV in all the bedrooms even. Everything was very clean, Kamy & Bob were very responsive and helpful, we LOVED it! We will be back again, it was only 4 hours from Charleston, SC!
Ginny
2016-08-15T00:00:00Z
Kamy and Bob are the perfect hosts. They communicated well with us as soon as our booking was confirmed. The house was great for us and fit our family of 7 perfectly. The home was better than the pictures and felt so cozy. Kamy even left snacks for us which was a nice touch. Kamy was so sweet and accommodating! I can't wait to visit Asheville again and stay at their lovely home.
Samira
2016-11-13T00:00:00Z
ประเภทห้อง
บ้าน/อพาร์ทเมนท์ทั้งหลัง
---
ประเภทที่พัก
บ้าน
---
พักได้
6
---
ห้องนอน
Fletcher, นอร์ทแคโรไลนา, สหรัฐอเมริกา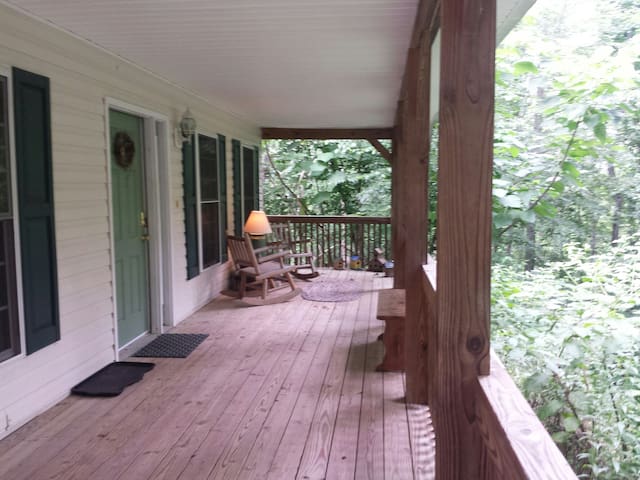 LOCATION LOCATION LOCATION! Ideally between eclectic Asheville and quaint, charming Hendersonville. Near I26, Asheville Regional Airport, WNC AG Center, restaurants, shopping, Blue Ridge Mountain views, awesome hiking trails.You'll love our quiet, neat neighborhood, and the welcoming warmth and deep comfort permeating each room of the Windsor Forest Inn. And now winter discounted rates!
You will have the top floor with over 1000 square feet. Spacious!With two separate bedrooms and 2 separate full baths. The master bedroom's bed is a massive 4 poster. Guests say it gave them one of the best night's sleep EVER!(away from home). PLUS the very special relaxing room with the gas burning log stove. Where guests gather to drink their favorite beverage, reheat food from meals out the day before, fix sandwiches,watchTV, visit their IPads. Amenities abound like half and half cream for your coffee, condiments in the small fridge, several bottles of bottled water, French Roast locally roasted coffee, microwave, coffee maker, sink, wine glasses, Hawaiian sugar packets, napkins, plates , dinnerware. And a gift from me to you to take home or enjoy while you are here.
We have a beautiful local park for walking, bicycling etc. The exquisite Sierra Nevada is 3 miles away-a must to visit!. Will take your breath away. Awesome food and beer. This is a quiet neighborhood. Retired and self employed live on our street. Two families have lively kids who love to play outside with lots of laughter.
This is a really nice place. Spacious and tidy. The little dog is really cute
Yifei
2017-02-07T00:00:00Z
We had a great stay, it was our home away from home. Cissy was such a kind hearted and warming person. Made sure we had everything we needed. Her house had plenty of room and charm. The location was perfect for everything we wanted to do. Minutes from breweries, the city and shopping. Cissy was a great host and if you get the chance, stay with her and enjoy her charming home and heart!! Thank you so much for everything!!
Jenna
2016-12-22T00:00:00Z
Big house! Comfortable and tidy place to stay! Great experience! Cissy is friendly!
joice
2017-03-08T00:00:00Z
Staying with Cissy was the best airbnb experience we have ever had. So much space, comfort and TLC by Cissy. I can only highly recommend her home to all those that are looking for a lovely, immaculate place with the loveliest of hosts. Thank you, Cissy, we will be back many more times.
filiz
2017-01-10T00:00:00Z
This was a great place to stay, clean and tidy. The rooms are spacious and bathrooms clean. The common area has a microwave, small fridge, and coffee machine. Cissy was a wonderful host, responded quickly to enquiries and was available for questions during our stay. She even provided us with an amazing local pound cake, coffee, and water. Her dogs Zeke and Sara are friendly and nice, she keeps them downstairs. The place was located centrally to all the places we wanted to visit - Asheville, Dupont State Forest, and Pisgah National Forest, and Chimney Rock. We had a wonderful stay!
M
2017-03-18T00:00:00Z
Spotlessly clean, private, lots of room and close to everything we wanted to do. The perfect place for us girls to get away. Thank you for opening up your home to us and giving us the space to reconnect. Highly recommend Cissy's place if you need somewhere to stay in Asheville.
jill
2017-03-12T00:00:00Z
Thank you so much for sharing your home with us. We had everything we needed for a comfortable stay - with lots of room:) at your place. We were able to settle in, put our things away and just enjoy your place when we weren't out exploring Asheville.
Jan
2017-01-02T00:00:00Z
Cissy's place was very nice in a very nice neighborhood. All the homes in the area were very nice, her home is close to the airport and just a short drive to Asheville and the Biltmore. Cissy is a wonderful lady and was a total joy to be around. Her home was very clean and she is very accommodating. We will definitely stay with her again if we get back to Asheville.
William
2016-11-27T00:00:00Z
ประเภทห้อง
บ้าน/อพาร์ทเมนท์ทั้งหลัง
---
ประเภทที่พัก
บ้าน
---
พักได้
4
---
ห้องนอน
Fletcher, นอร์ทแคโรไลนา, สหรัฐอเมริกา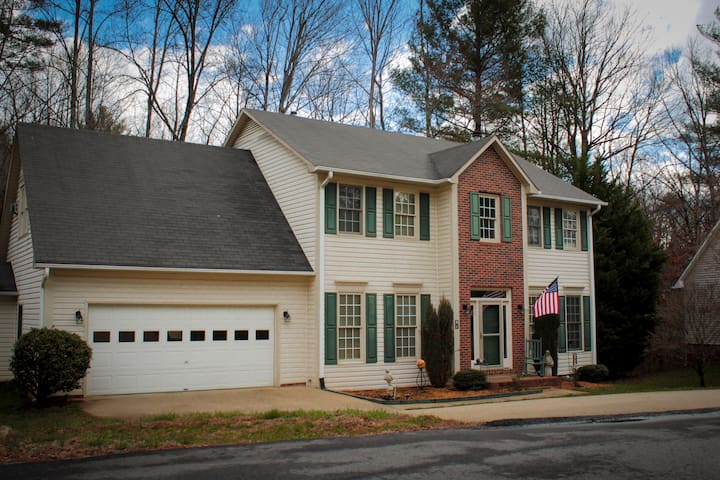 My place is perfect for couples, families, big groups, and furry friends (pets). Spectacular place for weddings, family reunions, & corporate retreats!
The house and surrounding area is beautiful. Only about 10-15 minutes to downtown Asheville, less to the Biltmore and some surrounding area. House is big with lots of good areas to spend time in. Great for a group of couples or family get together.
Wade
2016-11-20T00:00:00Z
We had a wonderful long weekend stay at the Hart House! The house had more than enough space for our group of 14, plenty of beds and bedrooms, and the common area space around the kitchen/dining/living room area accommodated us well during meal times and when we were all together just hanging out. The location was great, just about 20 minutes outside of downtown Asheville and tucked away back on some quiet country roads. The house was beautiful and well stocked with kitchen supplies, linens, paper products and anything you might need for a comfortable stay. Mary and Amoreena were very organized with their communications on check in/out procedures, as well as instructions and suggestions during our stay. Thanks again!!
Kelly
2017-03-27T00:00:00Z
The Hart House was perfect for our family gathering. The home was beautiful and had everything we needed for a weekend away. The set up downstairs was wonderful for our large family and each person had a place to sit comfortably. We want to come back again!
Kelly
2017-03-05T00:00:00Z
ประเภทห้อง
บ้าน/อพาร์ทเมนท์ทั้งหลัง
---
ประเภทที่พัก
บ้าน
---
พักได้
16
---
ห้องนอน
Fletcher, นอร์ทแคโรไลนา, สหรัฐอเมริกา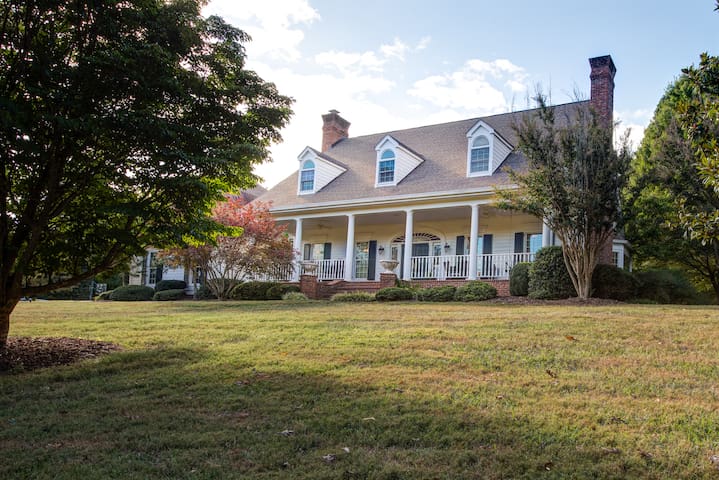 Just 10--15 minutes from downtown Asheville!!! Come enjoy this 3 bedroom, 2 bath house with full amenities. Located on an acre of property in a very private and popular area of Fairview. Split BR design with open living/dining/ kitchen areas. These are pictures are from before. The entire house has been gutted and is new on the inside. Situated on a fantastic lot with landscaped decking and outdoor areas with large accessible shed/outbuilding/workshop.
ประเภทห้อง
บ้าน/อพาร์ทเมนท์ทั้งหลัง
---
ประเภทที่พัก
บ้าน
---
พักได้
6
---
ห้องนอน
Fletcher, นอร์ทแคโรไลนา, สหรัฐอเมริกา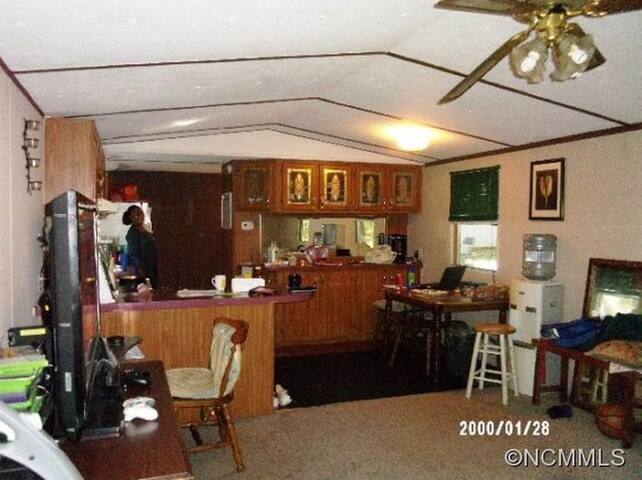 You will be sharing our home in a quiet neighborhood near the AVL airport, Sierra Nevada, and Pisgah NF. It is 20 min to Asheville, Hendersonville, or Brevard. No pets. Non-smokers only. You will have our spare bedroom & bathroom. Self-catered breakfast, kitchen privileges, garage storage. No airport service provided. Use fragrances sparingly as they are hard to get rid of for the next guest. Park in the asphalt pullout. Front door is around to the LEFT of the garage. Lockbox on doorknob.
Park in the asphalt pullout. The house is at an angle on the lot so you have to go around the LEFT side of the garage to get to the front door. The key is in the lockbox on the doorknob inside the storm door. You will be in our guest bedroom/bath. The office and laundry are also in this area so we occasionally need to enter the area during your visit. The kitchen is adjoining, so you will hear us in the mornings, about 6:30 on weekdays. Coffee and breakfast foods (cereal, yogurt, toast, eggs, etc.) are available and I can cook you something if I am there or you are welcome to use the kitchen and cook your own breakfast. We prefer not to provide airport transportation but please contact us if there are no taxis when you arrive late at night. We don't want you stuck over there. It is not safe to walk here from the airport as there is no sidewalk on the interstate overpass bridge.
Our neighborhood is mostly ranch style houses on large lots. We have white squirrels, so take a walk around the block and see how many you can count. We are very close to the airport, WNC Agricultural Center, and Sierra Nevada Brewing. We are only a few blocks from Blue Ghost Brewing. We are central to mountain biking/hiking at Pisgah NF, Bent Creek, and Dupont SF.
Robin was a great host! The room was perfectly accommodating, clean and private just as promised. Robin was easy to get in contact with an very flexible with our schedule when arriving. She provided directions for hiking and even cooked us homemade biscuits for breakfast one morning! Overall this was a great airbnb experience that I would recommend to others.
Elizabeth
2016-10-16T00:00:00Z
Robin and David made us feel at home in their immaculate home. The room is comfortable and off a private hallway with its own bathroom--a really nice setup. In addition, Robin invited us to use their kitchen and living room; we were just too much on the run to even take advantage of that! Robin and David are friendly and they know everything about outdoor adventure in the area (hiking, climbing, biking, kayaking) if you stay longer and have more time than we did. She also provides continental breakfast--or cooked breakfast when she's home and available.
Jody
2016-04-12T00:00:00Z
Robin has a lovely and cozy home in a beautiful area. The room was very clean, the bathroom too. She welcomed us and made us feel comfortable. The bed was very comfy. Highly recommend Robin for your stay.
Hunter
2016-11-12T00:00:00Z
My 2-day stay was great and location was perfect for my time spent in Hendersonville and Asheville. I really liked the way the space (bedroom and bath) was located within the home and was next to the kitchen area. Bedroom/Bath were very clean and well kept and even though the home is convenient to I-26 and airport, it is quiet as if you are in a rural setting. Robin and David were wonderful in communication and very accommodating to make sure all was well. I would highly recommend.
KC
2016-04-05T00:00:00Z
Easy in and out. Made to feel like a friend upon arrival.
melyssa
2016-08-18T00:00:00Z
Robin was the perfect host! Very nice though we arrived later than initially expected. They offered us coffee and breakfast and even gave us suggestions of things to do and see on the rest of our trip. We definitely would stay with them again. Their neighborhood is very nice and we got to see white squirrels!
Jennifer
2016-03-21T00:00:00Z
Had a great experience with Robin and David. They were so accommodating and welcoming with our brief stay. They made us feel right at home, along with offering valuable recommendations and a home-cooked breakfast. The bed made for a great night's sleep and the private bathroom is newly renovated making for a very pleasant experience overall.
Nick
2016-11-13T00:00:00Z
Robin and her husband were both very friendly and accommodating. Quick and easy communication, and the room and bathroom were both well equipped and very clean. Great stay
Taylor
2016-10-10T00:00:00Z
ประเภทห้อง
ห้องส่วนตัว
---
ประเภทที่พัก
บ้าน
---
พักได้
2
---
ห้องนอน
Fletcher, นอร์ทแคโรไลนา, สหรัฐอเมริกา
View breathtaking mountains from our home! We live in a quiet neighborhood, centrally located between Asheville and Hendersonville, 25 minutes in either direction. Let us be your hosts!
Our ranch style home is very welcoming! We live in a quiet rural neighborhood surrounded by farms and views of the beautiful mountains! All year-around the mountains are spectacular! Fall-time is breathtaking, you don't want to miss seeing the fall leaves! We are centrally located between Asheville and Hendersonville, 13 miles from each downtown, a 25 minute drive in either direction. We are about 5 miles from the WNC Agriculture Center which hosts the Mountain State Fair. The North Carolina Arboretum is 13 miles away. Anytime is a great time to visit the Biltmore house, the Grove Park Inn, see the waterfalls in Brevard, and explore the Blue Ridge Parkway. These are just a few of the highlights you can enjoy while you stay with us! Be sure to see our pictures to give you some ideas of the fun you can have! It is best to have a car to drive to the nearby cities. There is public transit and Uber taxi is available in our area. We are about 10-15 minutes from the Asheville airport. If available, for a nominal fee we can pick you up from the airport and help you catch your flight when your stay is over. Our home offers a loving atmosphere, a peaceful environment and a relaxing, cozy bedroom. This private immaculate bedroom has great sunlight and room darkening curtains for bedtime. The shared full size bathroom is in the same hallway as the bedroom, just a few feet away. There are extra pillows and blankets in the bedroom and extra storage space in the dresser and closet. You are welcome to use washcloths and towels in the linen closet. The common areas include the living room, dining room, and kitchen. The kitchen has a *destined area for our Airbnb guests. The cabinet is stocked with coffee, tea and condiments! The counter has a coffee maker, toaster and a blender for shakes and smoothies. Please feel free to help yourself! *See the pictures in this listing. We do not have a TV in the bedroom, nor do we have cable. However we do have a TV in the living room, with surround sound for movie viewing only. If you enjoy playing board games or cards, we have a nice selection for you! WIFI is available for our guests. You are welcome to enjoy the backyard by sitting on the deck or relaxing in the hammock near the creek! Our neighborhood has a walking trail and open fields for recreation, if you want to exercise. We will follow your lead, if you want interaction or your privacy. Please don't hesitate to ask questions. We will do our best to make you feel comfortable during your stay. (URL HIDDEN)***IDs will be checked.*** *Please have your ID out and ready to be viewed, upon arrival. Check in is at 3 pm or later and check out is at 10 am. If you need more flexibility with these times, please let us know. Welcome to our cozy home!
We live in a quiet rural neighborhood surrounded by farms and beautiful mountains! We are centrally located between Asheville and Hendersonville! We welcome you to our cozy home!
I thoroughly enjoyed my stay in Denise's home. It truly felt like home and Denise went above and beyond to ensure that I was comfortable. Furthermore the home was quiet, peaceful, and thoroughly relaxing. Denise and her husband are wonderful people and I offer my highest recommendation to stay with them.
Paul
2016-07-22T00:00:00Z
We felt very welcomed for our first AirBnB stay ever. You feel a little awkward walking into a strangers home for the first time, but they made us feel right at home! Very clean and cozy.
Ryan
2016-11-12T00:00:00Z
Very nice place, spacious, clean, and great amenities. Denise is super-accommodating and responds promptly to queries.
James Clayton
2016-11-15T00:00:00Z
This was my first Airbnb experience and was such a positive one. The description was spot on, in a nice well kept, quiet neighborhood. The room and home accommodations were impeccably clean, comfortable and tastefully decorated. Denise and Pat are very pleasant and hospitable hosts. I hope to be able to stay with them again in the near future.
Fred
2015-08-28T00:00:00Z
Denise and Pat warmly welcomed us into their home. They were very helpful providing information on the Asheville area. We were able to use their laundry facilities. Our room/bathroom were very clean. We had a very enjoyable stay.
Steve
2015-06-16T00:00:00Z
Very nice home with mountain views as described. It is in a neighborhood, but that wasn't really a surprise as that seems apparent from the pictures. Wonderful host, we felt really encouraged by staying with these fellow believers.
Kelton
2015-10-31T00:00:00Z
Denise and Pat were very hospitable and accommodating. Their lovely home was perfect for my short stay in Fletcher. It was very clean, cool, and comfortable. I loved all of the little touches and details they put into my stay. It felt very welcoming. I would definitely stay here again!
Joey
2015-07-19T00:00:00Z
Denise was great! Very accommodating, she worked with my late arrival time since I was driving from DC. Will definitely stay again when in the area! -Mariah
Mariah
2016-07-10T00:00:00Z
ประเภทห้อง
ห้องส่วนตัว
---
ประเภทที่พัก
บ้าน
---
พักได้
2
---
ห้องนอน
Fletcher, นอร์ทแคโรไลนา, สหรัฐอเมริกา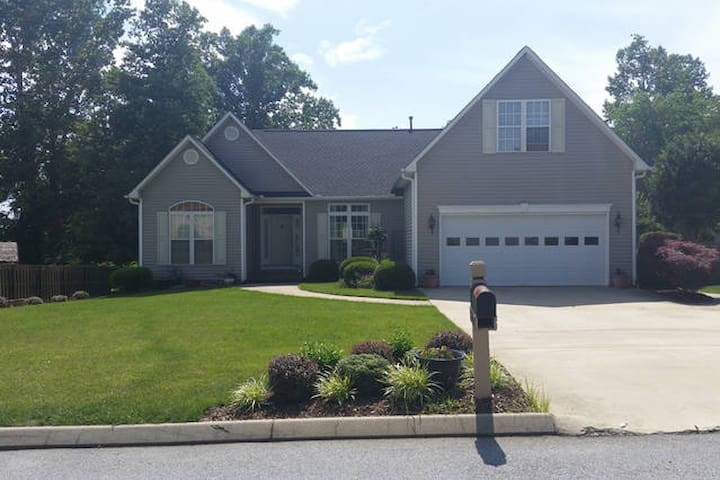 Our house is super homey. Its just the two of us and we are trying to help people out who are visiting asheville we can tell you all about it! Super chill quiet place away from all the hustle and bustle. Come stay! :)
It's ours. That's what makes it special. Everything in this house represents a significant part of us and our journey. :)
Very quiet and peaceful. You don't hear very many cars, and Warren Wilson College is located down the road and has SPECTACULAR views of the mountains/sunset, as well as many hiking trails and bodies of water and you can see all the animals as you drive by! Plus there's a pretty awesome view from my front porch. :)
ประเภทห้อง
ห้องส่วนตัว
---
ประเภทที่พัก
บ้าน
---
พักได้
2
---
ห้องนอน
แอชวิลล์, นอร์ทแคโรไลนา, สหรัฐอเมริกา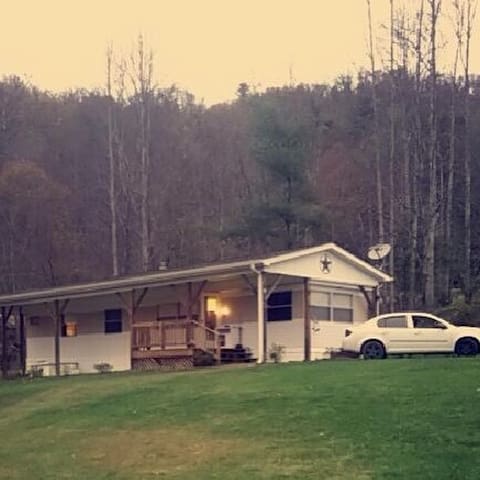 Beautiful, safe, quiet neighborhood of single family homes. Very clean furnished bedroom with private bathroom. 5 min drive from Asheville Airport, 10 min drive from Blue Ridge Parkway, and 20 min drive from Biltmore Estate. Our space is suitable for solo travelers, couples, and business travelers.
ประเภทห้อง
ห้องส่วนตัว
---
ประเภทที่พัก
บ้าน
---
พักได้
2
---
ห้องนอน
Fletcher, นอร์ทแคโรไลนา, สหรัฐอเมริกา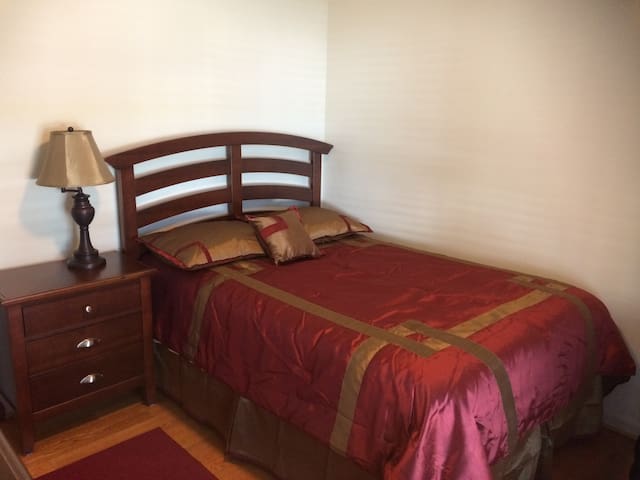 5 mins to airport, 10 mins to parkway entrance, 15 minutes to downtown straight shot. Private little forest. You have your own private floor, bedroom, bathroom, kitchen and living room with separate entrance. One Queen Bed and a sofa, so total fit 3 people.
Newly furnished Spacious one bedroom apartment in a nice quiet subdivision. Brick house. One acre land. Private entry to the unit. Lots of parking space. Extremely convenient, South Asheville/Fletcher, off Hendersonville Road and highway I- 26 , walking distance to restaurants and grocery shopping.
Middle high class neighbor hood.
Into the wild! Private and secluded in the woods. I never met my host but we did text. Just a little attention and this place will be worth it.
Aerin
2016-06-14T00:00:00Z
Great place. Great host.
James
2017-02-13T00:00:00Z
Ellen's house is an awesome place to stay- the entire basement is its own little apartment with kitchen, living area, and bathroom. There is a separate entrance to it so I didn't have to worry about bothering Ellen when we came and went. The place was very clean and organized, and she even set out water and coffee supplies for us in the morning. Highly recommend staying here!
Kate
2016-05-30T00:00:00Z
Ellen was very responsive. Her place was in a great location. It was a straight shot to the Biltmore Castle and other local attractions. This was my first experience with Airbnb and I was a little concerned. When I arrived at the location her mother was moving about upstairs, she even walked to my car but never came to meet us. It was hard to get comfortable knowing we were in a strangers home and neither of them would meet us. This may be an Airbnb thing. There was a photo of a washer and dryer included in the listing that the host later confirmed it was not in the "verbiage" so it was not available for use. Secondly, the refrigerator only had a small top shelf to use which was okay but we could not open the refrigerator due to the horrid odor. You could tell the restroom had not been cleaned as there was a layer of hair and dirt on the sink, floor and bathtub. This made us curious if the bed sheets were ever cleaned. Overall the rest of the place was fairly clean. Our first night there, we requested the heat to be turned on and being fully dressed with a comforter we were still very cold. (This coming from someone who is very hot natured) The listing also stated that it was an additional $10 a night to add a guest after two guest were booked. Ellen originally tried to charge us $50 for an additional person (after having 3 booked). When I pointed out that the listing stated $10 she charged my baby sitter $30 for two nights(when her listing said it would be a total of $20, and we had to accommodate sleeping space) .We were advised to leave the money at the top of the steps, again never meeting the host. There is no large walk in closet in the bedroom . Over all for the price it was a great stay. Easy to commute to our destinations and Ellen was okay with us checking in prior to her listed check in time if we wanted to. The space was very spacious and comfortable.
Lindsay
2017-03-19T00:00:00Z
The room is more like an apartment or in-law suite. Perfect for a couple wanting a little getaway. If I needed anything Ellen was very responsive. I hope to stay there again very soon.
Jackie
2016-12-27T00:00:00Z
Ellen's place looked exactly like it does in the pictures. Wasn't there much except at night to sleep. We had a very pleasant stay! I would recommend trying to arrive during the day, because at night it was a little difficult in figuring out where to park, but would definitely stay there again!
Jordan
2016-06-20T00:00:00Z
Ellen was accommodating and a nice hostess. Her place was clean and inviting.
Marcella
2016-06-05T00:00:00Z
Ellen's place was great! She was super helpful and the private room was great since it was separate.
Helen
2016-06-27T00:00:00Z
ประเภทห้อง
ห้องส่วนตัว
---
ประเภทที่พัก
บ้าน
---
พักได้
3
---
ห้องนอน
Fletcher, นอร์ทแคโรไลนา, สหรัฐอเมริกา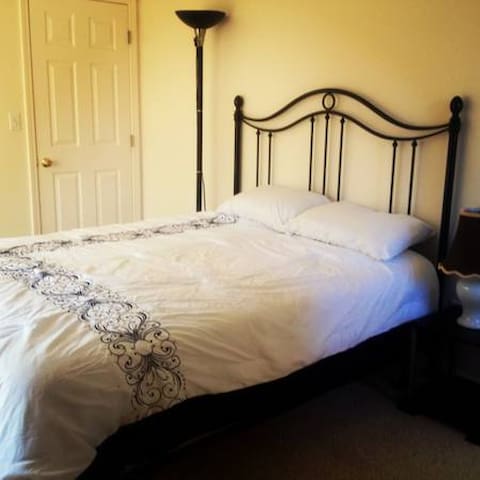 Take in the city and countryside by day while relaxing in one of the most peaceful areas just 15min outside the city; Fairview, South Asheville & near Chimney Rock/Lake Lure. Private living area, entrance, porch.
Close to downtown with incredible views and privacy - what you want from a mountain getaway! We are an energetic young marrid couple with a very sweet and lovable dog, named after the man in black, Cash. Originally from the Western part of NYS we love Ashevlle and the surrounding area and are happy to share our home and some of our favorite restaurants, hiking trails and more with you. Picture your own entrance to our fully finished 1100 sq' basement. The bedroom is very roomy with a small love seat and oversized chair and ottoman, a king sized bed with pillow top mattress, empty closet and dresser to unpack and feel at home and a small desk to work or journal from. The large Living area has wrap around sofa and flat screen TV where you could sleep another person on the large sofa or on an air mattress. Something for everyone with another oversized chair for reading, a foosball table, yoga mat, bosu ball and a few medicine balls. You will have a full bath with stand up shower. We provide you with sheets, towels, blankets, pillows and toiletries to be sure you feel at home. Did we mention your own porch complete with incredible long range mountain views and rocking chairs? A double hammock to relax in and some woods out back for your quiet enjoyment? Unplug and unwind You will have to walk down the garden path and then up the stairs to the deck to reach your entrance.
Quite and secluded dead end street, great for taking a walk or jog. Long range views and peace and quiet.
We arrived late at night. Our host made sure we found their address alright. We found enough bedding for our kids to use on the couch. The view from the bedroom was beautiful. The neighborhood was very nice. We enjoyed our morning walks. Although there is no kitchen we were allowed to bring our camping stove and that worked out well. It was a very convenient location. Close enough to Ashville and local attractions.
Lizette
2016-09-05T00:00:00Z
Terrific hosts.
Steven
2016-08-08T00:00:00Z
This was our first AirBnB experience and as such, we didn't really know what to expect, but we were very pleasantly surprised. The listing is 100% accurate. The views from the space, including the porch are gorgeous and really make you feel like you're away from it all, but at the same time the location is not far from the Blueridge Parkway or Asheville itself. Besides the roof of a house down below, you can't see any other houses or roads. The space is huge, packed with amenities (most of which we didn't even have time to take advantage of like the fire pit), and gives you a real at home kinda feeling. Danielle made sure to give us ideas on things to do while we were in the area and although time didn't allow, every thing she said looked like a great deal of fun (next time!). And of course I have to mention their adorable dog Cash. The size of a bear with the gentleness of a lamb. Overall, whether you're a first time AirBnB'er or seasoned and just looking for a place to relax, I would highly recommend staying here and next time we vacation in the area, we know where to come!
Nathan
2016-10-17T00:00:00Z
The host canceled this reservation the day before arrival. This is an automated posting.
William
2016-06-16T00:00:00Z
This was a great experience. More then enough room for my family of three. Beautiful setting just close enough to Asheville. We could not have asked for better hosts! Very knowledgeable about the are and very happy to help make your vacation the best one possible! Thanks!!!
Justin
2016-05-31T00:00:00Z
The house is just as described. It is located in a very quiet street and offers spacious rooms and breath taking view. I will stay there again for sure.
Louise
2016-06-27T00:00:00Z
Danielle's home was beautiful, clean, and comfortable with an amazing view! This was a fantastic first-time experience with using Airbnb. There were plenty of extra blankets, pillows, and towels, and even a Nespresso machine, which was much appreciated. Danielle was also kind enough to provide us with graham crackers and marshmallows upon hearing that we were interested in using their fire pit. All four of us agreed that this was overall a wonderful and enjoyable experience. Thank you!
Stephanie
2016-07-03T00:00:00Z
"It is so loudly quiet." - My Wife Danielle's listing was every bit of heaven. My wife and I absolutely loved it. We arrived really late due to multiple airport delays and she was still very accommodating despite it being so late. Our biggest regret with traveling this past weekend to Asheville, NC is not actually spending more time at Danielle's place. It was a very large area for the price, and the views were nothing short of heavenly. They had a hammock and fire pit ready to go. Even brought the wood down to the fire pit if we decided to use it. It felt like you were right at home. Secluded location yet close to Asheville (15 min drive). The scenery in the area is stunning. Some of the best drives i've had so far. For Breakfast make sure you go to the Local Joint nearby- its so good! The only thing you have to do at this property is absolutely watch your step. The walk path can be tricky at night (hence why she prefers you check in prior to nightfall) but she does have some lighting at night they keep on for you. In conclusion, if you are looking to get away from the hustle and bustle of the city, this is your answer!
Brandon
2016-10-30T00:00:00Z
ประเภทห้อง
ห้องส่วนตัว
---
ประเภทที่พัก
บ้าน
---
พักได้
4
---
ห้องนอน
Fletcher, นอร์ทแคโรไลนา, สหรัฐอเมริกา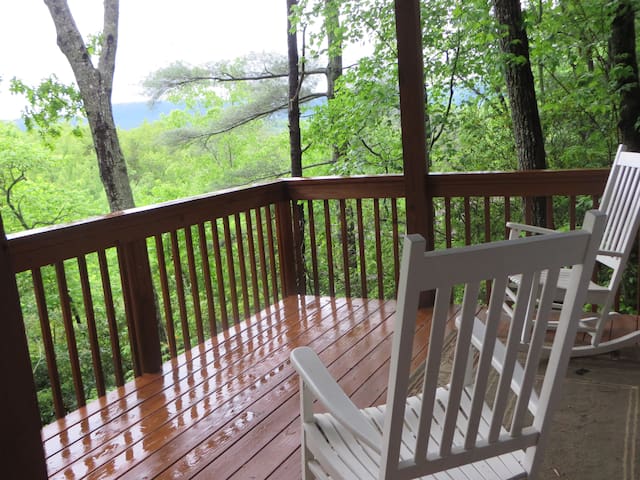 New 3/2 home within walking distance to downtown / trendy West Asheville. Your space includes use of the deck with views, washer/dryer, wifi, central a/c. We are a christian couple with a dog and we wish to provide you with the best stay possible.
Great space in new home. We have central heat and air conditioning, smokin hot wifi, and a central location. Walk to many of the trendy West Asheville Restaurants and Venues. Raft down the French Broad River or spend an evening relaxing on the deck.
Will was a very generous guy who was always willing to help us out. He gave my friend and I a ride into town in the morning and offered to make us coffee. He was also very professional. Although will was older than my friend and I her still was able to easily talk with us. He also accepted us last minute which was a huge help. The house itself was a great structure but he was still in the process of fixing the house up that he built himself.
Nathan
2015-06-22T00:00:00Z
Will and Charlene were very gracious, considerate hosts! We had a very comfortable stay.
Zoe
2016-10-09T00:00:00Z
ประเภทห้อง
ห้องส่วนตัว
---
ประเภทที่พัก
บ้าน
---
พักได้
2
---
ห้องนอน
แอชวิลล์, นอร์ทแคโรไลนา, สหรัฐอเมริกา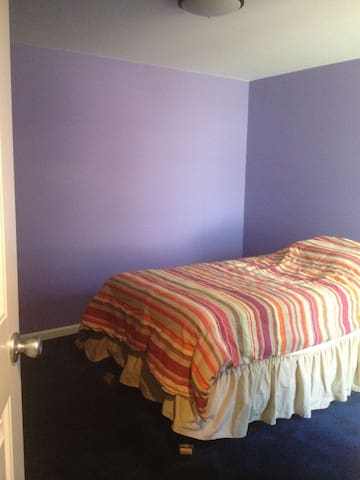 1

–

18

จาก

300+ บ้านให้เช่า
กรอกวันที่เพื่อดูการกำหนดราคาเต็ม มีค่าธรรมเนียมเพิ่มเติม อาจมีภาษีเพิ่ม