เรามีห้องนอนเตียงคู่ในบ้านที่ทันสมัยใน Thamesmead กรีนิชตะวันออกเฉียงใต้ของกรุงลอนดอน เราเป็นเจ้าของบ้านและต้องการที่จะให้คนโอกาสที่จะอยู่ที่ไหนสักแห่งที่จะเข้าพักในราคาที่เหมาะสม คุณจะมีของตัวเองในห้องนอนส่วนตัวของคุณคู่ (เตียงขนาดคิงไซส์), ห้องน้ำส่วนตัวและใช้ร่วมกันห้องครัว / ห้องอาหาร ใช้เรือนกระจกสำหรับการพักผ่อนและการดูทีวีหรือวิดีโอ บ้านนอกจากนี้ยังมีการเชื่อมต่อไร้สาย Wi เครื่องซักผ้าและเครื่องอบผ้า เรามีสวนที่น่าพอใจมากที่จะใช้ใน "วันที่มีแดด" + บาร์บีคิว อยู่บริเวณใกล้เคียงมีป้ายรถเมล์กับรถเมล์ที่ไปที่วูลวิชสำหรับร้านค้า High Street (10 นาที) O2 ที่ (20 นาที) และสวนกรีนิช (30 นาที) กรีนนิชยังมีจำนวนมากขึ้นเพื่อให้ผู้เข้าชมรวมทั้งพิพิธภัณฑ์หัตถกรรมที่มีชื่อเสียงและตลาดโบราณ, ร้านอาหาร, ร้านอาหารและผับหลายเก่าที่มีชื่อเสียง บ้านมองเห็นวิวทะเลสาบเพื่อให้มันเป็นอย่างเงียบสงบ เราเป็นผู้เดินเพียง 10 นาทีไปซูเปอร์มาร์เก็ตหรือคุณอาจจะผูกปมลิฟท์กับเราเมื่อเราไป! ผู้ชายสองคนที่เงียบสงบ แต่ง่ายมากที่จะร่วมกับ ไม่สูบบุหรี่
ทะเลสาบที่เงียบสงบและเงียบสงบ
La estancia fue muy buena, Robert y Antonio fueron muy buenos anfitriones, preocupados porque nuestra estancia fuera lo más confortable posible. Lo único malo es la ubicación, si vas poco días pierdes bastante tiempo en ir y venir del centro de Londres, sin embargo, merece la pena porque la estancia no pudo ser mejor!!! Muy recomendado si quieres estar cómodo y en un lugar agradable!!! Robert y Antonio no pueden ser mejores!!!
Noemí
2017-01-31T00:00:00Z
This air bnb is THE best!!! The hosts are super fun, easy to talk to and their hospitality is out of this world! They even drove us to the trainstation, so that we didn't have to take the bus with all our lugage! We will definetly book them again! :)
birte
2017-03-21T00:00:00Z
Robert and Antonio, thank you very much for your nice touch. You were very helpful! when we came, you picked us up from the rail station. Always when we had questions, you were very patient and explained every thing:) I recommend every one to stay at Robert's house! You would feel as if you were at home. It gives you a very warm feeling! Guys, when I come again to London, I will only book your house:) thank you very much for the nice stay:) best regards, Melly&Ghasso
Melanie
2016-05-10T00:00:00Z
The hosts were amazing. Very friendly and explained everything very well. They even picked us up from the bus stop. The appartment has some amazing interior decorations, with anything you really need for your stay. We've had some great conversations as well during the stay while drinking tea at night at the kitchen. I'm not sure what else I have to put in here, the stay was just great and there were no complaints on my side.
Kyman
2014-10-27T00:00:00Z
Hi All, My daughter and I were in London for five days. I have to say that Robert and Antonio are very friendly and helpful with everything. We spent a few of the evenings together, which had a very positive and friendly atmosphere. They suggested many nice places in London that we visited (btw: they were right, these places were beautiful :)). The house was very clean, including our room, bathroom, living room - simply said excellent! We didn't have any problems. I can strongly recommend it. I'm sure that if we will visit London again, then I will call them firstly. :) Honza and Lucka
jan
2015-03-31T00:00:00Z
La habitación y la casa son tal y como describen y tal y como se ve en las fotos. Una casa acogedora y realmente preciosa. Ellos son encantadores, tal y como dicen todos los comentarios. A pesar de que no hablamos mucho inglés, ha sido un placer hablar con ellos. Nos lo han puesto todo fácil e incluso nos encontramos guías de viaje en la habitación, además de informarnos ellos mismos de todo el transporte que pudimos necesitar. ¡100% recomendable!
May
2015-11-29T00:00:00Z
Our staying with Robert and Antonio was an amazing experience. The treatment they gave us was far beyond what we expected. We had some great time together doing dinner and chatting. They definitely deserve the title of superhosts as they go beyond their duties to make you feel home.
Lorran
2016-11-08T00:00:00Z
We had such a wonderful time in Robert and Antonio's home in London. The house and our room and bathroom were wonderful!! Everything was perfectly clean!! It was like staying at a 5 star hotel but at a very reasonable price. Roberto, Antonio, and Mariela are very kind people, and we had a great time with them!! We highly recommend you to stay with them, you will have a wonderful time!! We would definitely stay again with them on our next trip to London. Highly recommended!!!
Florencia
2015-11-16T00:00:00Z
ประเภทห้อง
ห้องส่วนตัว
---
ประเภทที่พัก
บ้าน
---
พักได้
2
---
ห้องนอน
ลอนดอน, สหราชอาณาจักร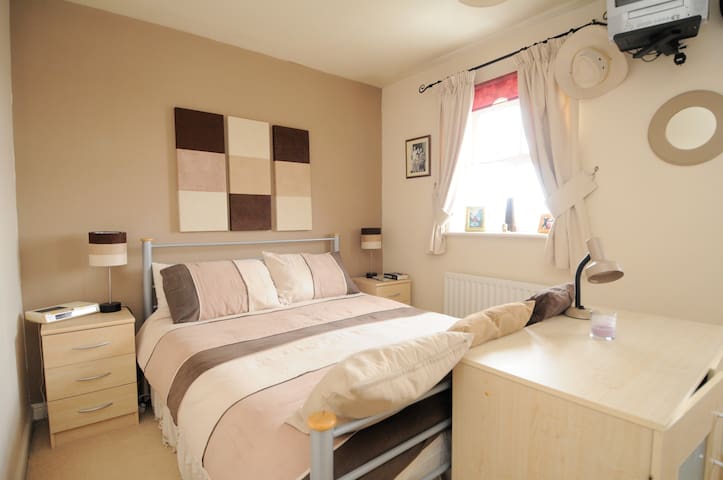 Welcome to our beautiful bright double room in a great area with easy access to central London. Ideal for families, couples or solo travelers. Check-in times can vary Popular Choice Free fast WiFi Hosted by professional couple Large wall mounted TV
Our house is clean, tidy and welcoming with a fantastic garden, fully equipped kitchen and living area. Lots of character, relaxing, peaceful and convenient for Central London. During the winter time we have a classic double wood-burning stove. The train takes 25 minutes to central London giving our house excellent proximity to the city center. Transport (including fast train to center) available on the Oyster Card. Super-cosy spacious room with large wall mounted TV. A home from home. Bienvenue à Londres ! Willkommen in London ! Bienvenido a Londres ! Welkom in Londen ! 欢迎来到伦敦! ロンドンへようこそ! Добро пожаловать в Лондон ! Some of our reviews: - "Andy and Chantal are amazing hosts. They were nice and extremely helpful whenever we had any questions. The house is wonderful. Everything was as described." "Can't recommend this place highly enough! Andy and Chantal's home is beautiful and super cozy. It's only a couple minutes by bus to the train station; for the price, it's an awesome place to explore London from. We loved it here!" "We spent a week in London with our 12-year old daughter. Andy and Chantal are experienced and welcoming hosts, we felt right at home. Getting from their house to London with public transportation is not a problem, buses to and from St Mary Cray station run at regular intervals. We enjoyed staying in a quiet residential area, away from the frenzy of London City in the evening. Thanks to Andy & Chantal for a great stay!" "Andy was flexible and helpful, and the room was perfect. I enjoyed my short stay there"
Brilliant location near the lovely town of Chislehurst and a short distance from St. Mary's Cray train station providing an easy trip to central London. Situated in Kent, known as "the garden of England" you will find plenty of green space, parks and nature reserves here. Great for families, couples or solo travellers. Away from the hustle and bustle but a short hop into central London. We are in a safe suburban area where you can actually sleep at night! A perfect base to explore South East London.
Andy was flexible and helpful, and the room was perfect. I enjoyed my short stay there
Mark
2014-12-11T00:00:00Z
Nous avons passé un très bon séjour. Très bien accueillis, Andy et Chantal respectent l'intimité des invités tout en étant chaleureux à chaque rencontre. Le quartier est paisible et il est relativement simple de rejoindre le centre de Londres en transport en commun.
Mikaël
2016-04-12T00:00:00Z
Stayed there for one night. Really enjoyed my stay at Andys place. Nice quiet area and very easy to get into downtown London. Highly recommended.
Lena
2015-10-04T00:00:00Z
We had a good experience with airbnb. What we agreed its completely done. I will use airbnb in next travel.
primoz
2015-05-13T00:00:00Z
Andy & Chantal were perfect hosts. Thoroughly enjoyed my stay!
Chantel
2016-11-25T00:00:00Z
Absolutely beautiful house, clean and tidy. Andy was away but Chantel his wife was lovely and accommodating. Orpington is a beautiful town and not too far from London. Great for a nice weekend away! Highly recommend!
Megan
2016-05-30T00:00:00Z
We arrived close to 10pm the first night of our stay. Andy was very welcoming and friendly. He explained everything well and his house and room were very clean. The place was a little farther away from London than we thought so when you stay be sure to give a little extra time for transportation. We were always a little later than we thought in the evening so we never saw Andy again. We left very early on our last day and felt bad because we left the air mattress inflated fearing the electric deflation would wake him. Our only issue was that there were bed bugs. We mentioned it to Andy and he apologized and assured us that it would be taken care of immediately, which is all you can ask.
Jason
2016-10-06T00:00:00Z
Le logement est conforme à la description, la chambre est spacieuse. Nous sommes à 20 min de train de Londres Victoria ce qui est pratique pour les déplacements à Londres. Concernant les hôtes, ils nous ont évités pendant nos 3 jours chez eux donc pas facile de donner un avis sur eux. Nous n'étions pas très à l'aise. Contrairement à la description, Chantal ne parle pas Français. Le logement est situé dans un quartier résidentiel et le stationnement se fait le long du trottoir devant les maisons. En bref, bien pour la maison et la situation mais aucun échange avec les hôtes ce qui est bien dommage.
Damien
2015-08-11T00:00:00Z
ประเภทห้อง
ห้องส่วนตัว
---
ประเภทที่พัก
บ้าน
---
พักได้
3
---
ห้องนอน
Orpington, เกรเทอร์ลอนดอน, สหราชอาณาจักร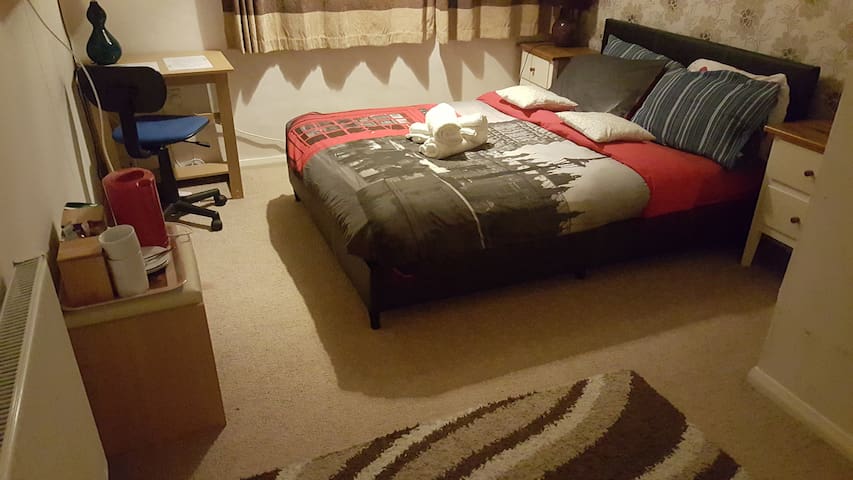 Lovely room with double bed & treats :) Unlimited WiFi and free car parking space. 3 mins walk to the train station. Ideal for travellers looking to explore London/visitors to ExCel centre. £10 extra per night for guests. I am a highly experienced airbnb host.
Room with double bed in 2 bed flat in Docklands, 2/3 minutes walk to the nearest train station. Ideal for travellers looking for a low cost base from which to explore London or visitors to the nearby ExCel centre. Only £10 extra for a guest. Free unlimited WiFi! I have hosted over 200 happy guests :) All guests get a personal welcome and flat tour on arrival. Please make sure you read all the information on this page to make the most of your visit and to know what to expect. THE ROOM Room comes with complementary fruit basket and extra goodies. The room has central heating and a wardrobe and desk with drawers for your use. Towels, hair dryer, umbrella, international plug adapters, phone charging plug and a hot water bottle are also provided. Shampoo/soap/toothpaste etc are available in the bathroom for your use if required - help yourself. If you want a chair for the desk please help yourself from the living room. Unfortunately I can not accept bookings for guests with young children. Maximum 2 people sleeping in the room. OTHER FACILITIES Guests have full access to the bathroom, kitchen and living room throughout their stay. The flat has just been extensively refurbished, with wooden floors in the lounge/kitchen and carpeted bedrooms. The flat has all mod cons - washing machine, cooker, shower, TV, free unlimited wireless internet, microwave, entry system etc. Other features include large lounge with open plan kitchen and fish tank. The block of flats has a large shared garden and has a gardener/cleaner visit once a week. There is a large park 5 minutes away with free tennis courts, football/rugby pitches and ideal for running. Car parking space available - let me know if you need when you book as I will need to organise a permit. NEIGHBOURHOOD Located in the Cyprus area of the Docklands. Quiet, friendly, safe, comfortable and leafy green residential area. 2/3 mins walk to the nearest tube station (Cyprus on the DLR line) and less than 30 mins travel into Central London with the bonus of great views on the DLR - no crowded tube journeys here - and trains every 4/5 minutes. There is a small supermarket less than 1 minute walk away, large supermarket (ASDA) within 10 minutes walk. For eating out nearby there is a takeaway 3/4 minutes walk away, the Reach pub is a 5 minute walk away and Brewers Fayre 8 minutes walk. FAQs - are towels provided? Yes - are international plug adaptors provided? Yes - what travelcard Zone are you in? Zone 3, 3 minutes walk to the station. - can I watch TV? Yes. All facilities are available for use by guests. - how far are you from Central London? Central London can be reached in around 30 minutes via the train network. - are spaces shared? Your bedroom is private but I also live here so other spaces are shared. - is breakfast provided? No. Guests are welcome to use the kitchen and take tea/coffee/milk and other basic items but no food is provided. There is a shop 1 minute walk away for all your food needs. REVIEWS I have hosted over 200 guests from around the world and have consistently received very positive reviews and I am committed to maintaining high ratings. Most of my guests have been either: tourists visiting central London, visitors to the ExCel centre, travellers using London City airport or students/workers at the nearby University of East London. Please read my reviews for how other guests have enjoyed their stay :) 5 out of 5 stars received for Accuracy, Communication, Cleanliness, Check In and Value. "I could not imagine a better host, and the experience put many fine hotels to shame." "All in all my best AirBnB experience to date. Thanks again for the stay Richard!" "Great experience, friendly host, comfortable room." "The room, and other facilities were exactly as described, comfortable double bed in a clean room with access to a bathroom toilet and kitchen all of which were clean and as described." "Great experience, friendly host, comfortable room. Very convenient place..." "Thanks Richard for an awesome stay! Your place was very comfortable and clean. An easy train ride from the city, it was great value." "Richard was courteous, and the accommodation was exactly what we expected, clean and comfortable."
Cyprus is a quiet, leafy green, residential part of the London Docklands, located just a few hundred metres from the Royal Docks, around 25/30 minutes from central London and 5 minutes by train from the ExCel conference centre.
Me and my friend stayed at Richards appartments for 10 days. It was great! Richard have very comfortable and clean flat. Room was cozy and with everything we need. Richard give to us personal key for the flat, that was comfortable for us, bcz we stay in the center of London till midnight. Also nice that in this area traffic is good! I highly recomend Richards flat to stay =))
Olga
2014-10-04T00:00:00Z
Very convenient. First time on DLR but highly impressed! Very clean and lovely room. Accurate description. Richard could not do enough for me. I highly recommend this venue and I would use it again without reservation.
Susan
2016-10-23T00:00:00Z
Richard è una persona cortese, disponibile e discreta. Ottimo host e piacevole accoglienza.
Pierluigi
2015-01-25T00:00:00Z
Richard made us feel very welcome. His place was very clean and he was nice, yet gave us our space. He even gave us fruit as well as directions when needed. We would stay with him again.
Alana
2015-07-18T00:00:00Z
The room is in a periphery area, but near to bus stop and DLR station. Even if it is close to the city airport, I have had no problems during the night. Richard is kind and easy going. The room was tidy and clean. Good wi-fi connection. And a basket of fruit for the host!
Tommaso
2015-01-31T00:00:00Z
He was very nice, the food basket was a nice touch as well.
Ákos
2016-10-11T00:00:00Z
Thank you very much for your hospitality over the last week, I felt extremely welcome and everything was as described and better. I will definitely try and stay again in the future
Caroline
2015-04-18T00:00:00Z
I had a very good experience, Richard was very helpful regarding the most important sight seeing, the house was clean offered basket of fruits, the house location is perfect, I recommend Richard's as perfect stay
Ahmad
2016-04-01T00:00:00Z
ประเภทห้อง
ห้องส่วนตัว
---
ประเภทที่พัก
อพาร์ทเมนท์
---
พักได้
2
---
ห้องนอน
ลอนดอน, สหราชอาณาจักร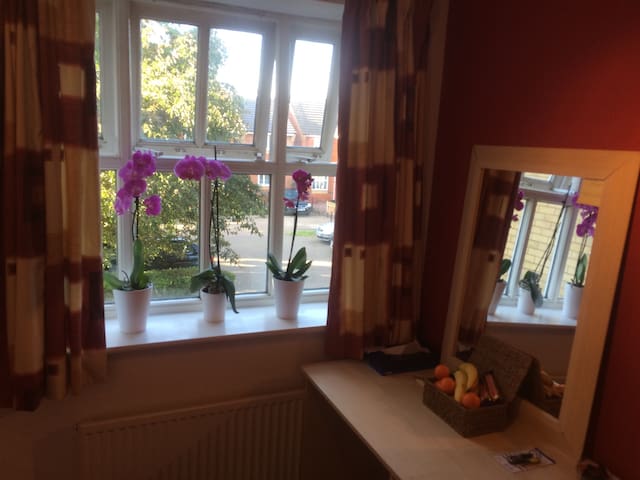 Set in Bexleyheath, with great transport links, accessible from the A2 or M25 main road, or via Bexleyheath Train Station. A few minutes walk from historical landmarks of 'Danson Park' and 'Red House' and walking distance from town centre.
I live in a nice, quiet neighbourhood.
We had a lovely stay in Charlotte's place. It was a cosy little self contained apartment. It was about 20 minutes walk from the nearest station. Our stay here was very nice and we would recommend.
Jasmine
2016-09-28T00:00:00Z
Très bonne expérience dans le logement de Charlotte. Très propre, bien équipé, parfait pour un séjour plus ou moins long. Charlotte et son mari sont très accueillants et très disponibles. Le quartier est résidentiel et calme, parfait pour se reposer après une journée de marche dans Londres. Il faudra tout de même compter 40min à 1h porte à porte pour aller dans le centre de Londres. La ligne de train fini relativement tard avec des derniers départ autour de minuit / 1h du matin à partir de la station Victoria.
Pierre-Yves
2015-10-01T00:00:00Z
Honnêtement, j'ai passé un super séjour. L'appartement est bien situé, il est spacieux et idéal pour un couple de 2 personnes. Il y a tout, frigo, grille - pain, four, micro-ondes, télé, fer à repasser etc... Les hôtes sont disponibles et si comme moi vous êtes français, le mari parle français ce qui aide beaucoup. Un moment on avait chaud, il nous a donné un ventilateur directement donc il est réactif. Je vous recommande cette appartement pour une expérience airbnb surtout qu'en train, on est pas loin du centre ville.
Jean Michel
2016-05-11T00:00:00Z
We actually did not get to meet Charlotte, because we spent all our days in the city, but we really enjoyed our stay. The studio had everything we needed, plus the location was amazing - not far enough from city centre to easly get there by public transport, but far enough for it to be not as busy and loud. Would definetely stay there again!
Uvis
2015-10-24T00:00:00Z
Charlotte was very friendly and helpful. The stay was pleasant. The place was a roomy studio with a full kitchen and it's own front door which was an added bonus. You need to get the taxi,bus or drive to the town. Some local shops were in walking distance. Everything you need for a comfortable stay for one or two people with a well equipped kitchen. Everything was as advertised.
Audrey
2017-03-10T00:00:00Z
Le studio de Charlotte est idéal pour un couple qui souhaite visiter Londres. Nous avons passé un agréable séjour. Merci.
claudine
2016-04-16T00:00:00Z
La casa si trova in Bexleyheat un bel paesino vicino a Londra. Molto tranquillo ma si può trovare proprio di tutto ci sono molti supermercati, gelaterie ristoranti un bel centro commerciale e un bel parco con il un bel lago per gli amanti della canoa. Per quanto riguarda la casa è un bel monolocale con un bagno spazioso. Il monolocale è dotato di tutto ciò che potrà servirvi. La signora è davvero gentilissima si è preoccupata di tutto nei minimi dettagli ci ha fatto trovare tutte le cartine per i mezzi, ci ha fornito un adattatore ed è sempre stata molto disponibile con noi. Consigliato
Sara
2016-07-27T00:00:00Z
Charlotte was a perfect host. I enjoyed my stay.
Nosa
2016-09-05T00:00:00Z
ประเภทห้อง
บ้าน/อพาร์ทเมนท์ทั้งหลัง
---
ประเภทที่พัก
อพาร์ทเมนท์
---
พักได้
2
---
ห้องนอน
Bexleyheath, สหราชอาณาจักร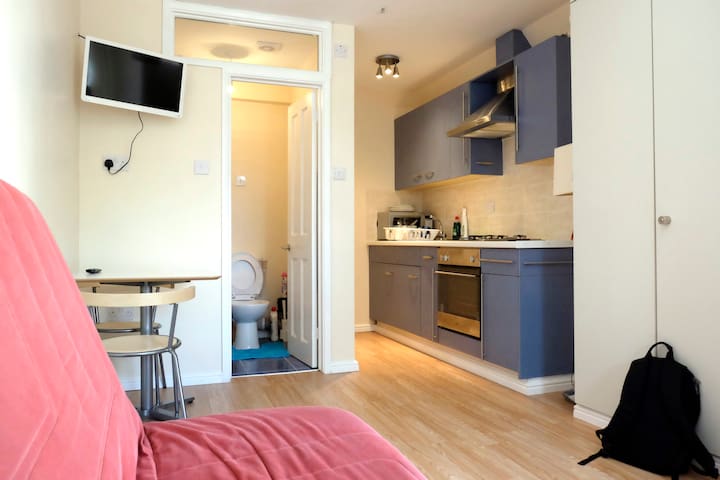 Double room with its own toilet and amazing views over the Thames. WiFi and breakfast is included in the price and you are welcome to have dinner at no extra cost. It is ideal for travellers looking to make the most out of London from a riverside area
Double room with its own toilet and amazing views over the river Thames.WiFi and breakfast is included in the price and you are welcome to have dinner at no extra cost. The room is in a two bedroom flat on the seventh floor. Off street parking available at no extra cost. The room Accommodates two people on a king sized bed. The bedroom has a wardrobe, desk and tv. The toilet is for exclusive use of the guests. Breakfast Apple or orange juice, toast, home-made cake, selection of fresh fruit, tea and coffee, cereal, milk and yoghurt. Dinner At no extra cost you are welcome to have dinner with us if you wish. All food is homemade, steak and kidney pie, fish pie, shepherd's pie, chicken Caesar salad, fish and chips, soup of the day, chicken curry, slow cooked pork cheeks and different cakes for dessert. Please note that this is complementary and I will not be able to accommodate any special food requests. If you prefer you are welcome to use the kitchen to prepare your own meal. Rates Price for one night = £38 for one person £63 for two Price per week= £230 for one person, £380 for two Price per month = £850 for one person, £1,550 for two. Please note that Airbnb will add service their fee on top of this. Please note that there will be no check in after 10pm as I work very early in the morning. Deposit Please note that there will be a £60 deposit. This is to cover the cost of replacing the keys, or for any damage to the house.
It is ideal for travellers looking to make the most out of London from a riverside Location. The Thames Clipper Pier is only 5 minutes away. The river Thames clipper offers you an unforgettable trip to central London. Situated at Royal Artillery Quays next to historic Royal Arsenal. It is 20 minutes from London city airport. If you are not tempted to take the Thames clipper the Docklands Light Railway (DLR) and the Train station are about 15 mins away. Restaurants The Dial Arch Curry Asia The Great Harry (pub) Nando's KFC Wimpy's Supermarkets Tesco Sainsbury's M & S Lidl Local Attractions Firepower Museum - Royal Artillery Museum Greenwich Heritage Centre Thames Barrier Visitors Centre O2 Arena/Millennium Dome/Emirates Air Line
The VERY BEST AirBnB I have stayed in - EVER! David came and met me and guided me to his apartment when I got a wee bit lost. He and Fernando made me feel like I was part of their family. From a 'full English breakfast' to some of the most delicious dinners ever, to great suggestions and guidance in getting around the city, to having the choice of fabulous river bus or the DLR only a short walk away, this location is perfect! Most definitely a Five ***** location and 'must rent' for anyone staying in London!
ReAnn
2015-08-22T00:00:00Z
It has been a real pleasure to be in Fernando and David's house. They are so nice and make the stay really nice. The room is also great, and the views of the Thamesis are just amazing. I would not heasitate to repeate when I go again to London. And if you heasitate because it looks so far from the center, transport system in London works just fine. And they cook really good also :-) As I said, a real pleasure.
Mariano
2016-03-29T00:00:00Z
Staying at David and Fernando's apartment is like being on holiday-relaxing, warm friendly and homely. You cant get much better. No wonder it is a great place to stay. Tea and coffee whenever you want and help yourself to breakfast. They are perfect hosts. The apartment is modern with own bathroom and spacious bedroom with fantastic views of the Thames and on street parking. Definite hit with me and I am a critical reviewer!!
Andy
2016-04-29T00:00:00Z
David and Fernando were amazing hosts -- treating me like family and offering excellent advice and suggestions for London. David is an amazing cook as well and cooked up a geat steak and kidney pie along with a wonderful English breakfast. All in all, their AirBnB exceeded any and all expectations. As for the flat, it was clean and comfortable with an amazing view of the Thames. The location itself is on the east side of the city, seemingly inconvenient, but the metro, DLR, and Thames ferry (the Clipper) are easily within walking distance to get you downtown quickly. I would have stayed longer if I could have. Highly recommended! Thank you both for the great stay!
Arthur
2015-08-12T00:00:00Z
I had a very pleasant stay indeed. I was made very welcome. David made me a delicious meal in the evening and we had really good conversation. Everything was as described on Airbnb. I would most certainly stay again.
Janet
2016-02-21T00:00:00Z
David is a perfect host, he was absolutely perfect. Very nice flat a little out of London. Everything was as expected and would absolutely suggest David's flat to other visitors.
Stefano
2015-11-16T00:00:00Z
I arrived very late but David was most gracious about it and although I was only there for a quick overnight stay the appartment was comfortable and clean and the views of the London skyline stunning.
Remy
2015-06-05T00:00:00Z
David and Fernando were lovely hosts. After navigating the tubes for hours, by the time we arrived I was exhausted and weepy but David made me feel right at home and I immediately felt better. Their food is excellent and their company even better! Their apartment is lovely and the view of the Thames is breathtaking. When staying here, I cannot stress enough, take the Clipper to get to central London. So much less stressful than the tube and the stop to board it is very close to the apartment. Also the journey is beautiful! Don't forget to explore Woolwich Aresenal while you're there as well!
Sara
2016-06-07T00:00:00Z
ประเภทห้อง
ห้องส่วนตัว
---
ประเภทที่พัก
อพาร์ทเมนท์
---
พักได้
2
---
ห้องนอน
ลอนดอน, สหราชอาณาจักร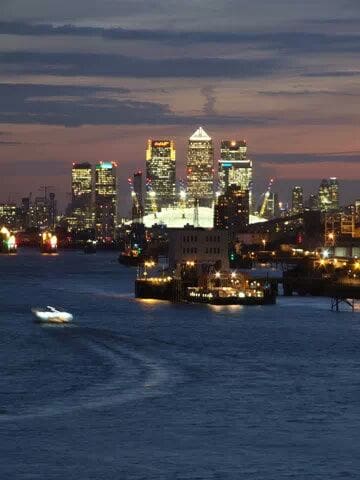 Welcome to London. You will get your own En-suite bedroom with a double bed, with own private bathroom. Kitchen and living room are shared. TV available in your room. Zone 1 is reachable in 20 mins, and the station is only 3 minutes far from flat. Near ExCel London and London City airport Secure Car Parking available. Charges apply.
เพลิดเพลินไปกับห้องพักของท่านทีวีด้วย Chromecast และในห้องนั่งเล่น, Xbox One S ด้วยจำนวนมากของเกม บริการที่จอดรถและเรามีสองตัวเลือก: - ใต้ดินรักษาความปลอดภัยที่จอดรถที่มีอ่าวส่วนตัวของคุณเอง - ที่จอดรถด้านนอก เสียค่าใช้จ่าย เหมาะสำหรับกิจกรรมการถ่ายภาพหรือใช้ในเชิงพาณิชย์ที่มีภาษีคิดค่าบริการ A + คืนหนึ่งจากการให้เช่า
Although I didn't personally meet Michael He made sure my stay in his beautiful apartment was fantastic Very private surroundings and remarkable views Lovely clean room and washroom facilities Easy to reach and walking distance from the local transport service into central London Highly recommended
Danny
2016-10-09T00:00:00Z
Another great stay at this fantastic apartment. Great location and facilities.
Mandip
2016-11-30T00:00:00Z
On the plus side, this is a very spacious bedroom with its own en-suite bathroom. Lovely and clean and a wonderful view of the water from both your room and the living area. Wifi is free and fast too. The flat is just a few minutes walk from Gallions Reach DLR and a local stop which is open all hours is seconds from the front door. The only negative thing related to checking in and leaving the car. The listing only gives you the general area of where the flat is, not a flat number or even a postcode. I had to ask for these and then was confusingly told to ring when I got to the postcode and await keys etc! When I was travelling down to London Michael asked me to get there half an hour earlier which I was able to do and then had to wait outside for 10 minutes before he arrived. The parking is underground and very secure BUT (and it's a big BUT) I was almost made to feel like a child when I was reminded repeatedly (and I mean a lot of times) that I mustn't lose the keys, the garage fob or the parking permit and whilst Michael kindly let me leave my car in the garage until late on Sunday afternoon after I'd checked out, I asked to leave my driving licence as some sort of surety! I've never had that in any Airbnb stay before and it seemed to me that if there are trust issues, Airbnb may not be the right environment for Michael to host his flat. I don't want to put a dampener on it as it's amazingly great value for money but the check-in confusion and having to hand over my driving licence (or a passport etc.) spoilt it a little.
Paul
2016-11-20T00:00:00Z
Perfect for London Excel, lovely flat.
Nicola
2016-11-18T00:00:00Z
Funny and nice young couple and clean cosy warm private flat. It will be your best choice ever.
Mirror
2016-12-02T00:00:00Z
Friendly greeting, nice people, great flat and comfortable.
Ian
2016-10-13T00:00:00Z
Great hosts!! Our stay was very nice and Michael made it easy for us. The location was great for riding the Tube into the City Center.
AJ
2017-03-19T00:00:00Z
Great room great bloke
Robert
2017-02-15T00:00:00Z
ประเภทห้อง
ห้องส่วนตัว
---
ประเภทที่พัก
อพาร์ทเมนท์
---
พักได้
4
---
ห้องนอน
ลอนดอน, England, สหราชอาณาจักร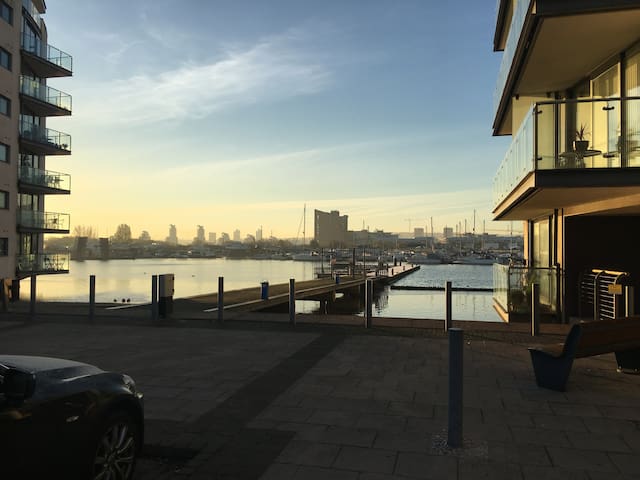 Within a short walk of 8 olypmic events in the great location of Blackheath. Tons of great resturants and travel links nearby too! One double room to rent in recently refurbished flat with two locals who will be happy to show you around and give you tips (if you want them!) or leave you to make your self at home. Garden, kitchen, TV/entertainment access.
ประเภทห้อง
ห้องส่วนตัว
---
ประเภทที่พัก
อพาร์ทเมนท์
---
พักได้
2
---
ห้องนอน
ลอนดอน, England, สหราชอาณาจักร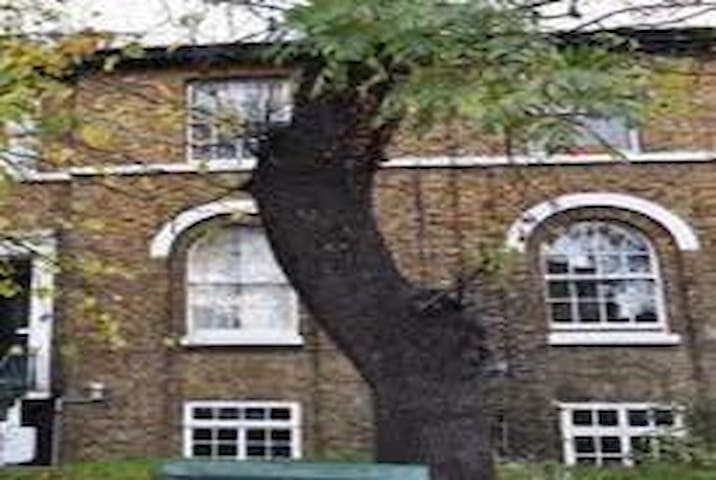 Tastefully furnished double Bedroom available for various lengths of stay. With own bathroom, including bath and shower. My place is close to restaurants & dinning. A convenient location, set in a modern development. It is in a quiet area with a nice friendly atmosphere. The location is perfect for all your needs, with Bluewater shopping centre a few minutes drive away. Easy access to Dartford Town Centre, M25, A2 and train station a short walk away.
Spacious Room, Exclusive bathroom with utilities and free access to kitchen and utensils
Quiet and modern
Lovely host and great place close to town.
Mary
2017-03-12T00:00:00Z
Irene is a nice host she has a sparkling house well communicated, clean, she is a helpful and serviceable person. really kind and her son is a little gentleman, can't wait to stay again by her place. I highly reccomend it!
Daniel
2017-03-14T00:00:00Z
Nice place, nice host, nice home... Just perfect!! I highly recommend it!
Jose
2017-04-04T00:00:00Z
Irene was very friendly and helpful. She made me feel very welcome and relaxed. I wouldn't hesitate in recommending her place or staying there again. Thanks.
Keith
2017-03-16T00:00:00Z
Room as declared, very clean and quiet, friendly host, lovely neighborhood, very good located for central Dartford and west hill.
Rafael
2017-03-27T00:00:00Z
Irene is a lovely host, she is very friendly and helpful (and her son is lovely too). The room its perfect, the bed it's huge and very comfortable and the bathroom its also espacious. The place it's close to 2 supermarkets and also it's close to Dartford Station. It takes 10 min to get to the center. I highly recommend it!
Jose
2017-04-02T00:00:00Z
ประเภทห้อง
ห้องส่วนตัว
---
ประเภทที่พัก
อพาร์ทเมนท์
---
พักได้
2
---
ห้องนอน
Dartford, England, สหราชอาณาจักร
My place is close to great views. My place is good for couples, solo adventurers, and business travellers.
Victorire is a lovely host. Her flat is immaculate and clean and tidy. The toilet is beautiful:) There is easy parking. Victorire was very accommodating with all my numerous requests:)) Definitely recommend her place and I will most definitely stay again. Thank you Victorire.
Kishani
2017-03-03T00:00:00Z
Victoire was very friendly and welcoming. I'd recommend staying with her to anyone.
Rachel
2017-03-16T00:00:00Z
Good accommodation. Nice property.
Jason
2017-02-10T00:00:00Z
Good host. Immaculately clean apartment.
Elizabeth
2017-02-19T00:00:00Z
Best host in the world! Great location and would def recommend to all my friends
Abdul
2017-03-30T00:00:00Z
Nice place, nice host
Emmanuel
2016-12-11T00:00:00Z
ประเภทห้อง
ห้องส่วนตัว
---
ประเภทที่พัก
อพาร์ทเมนท์
---
พักได้
2
---
ห้องนอน
Dartford, England, สหราชอาณาจักร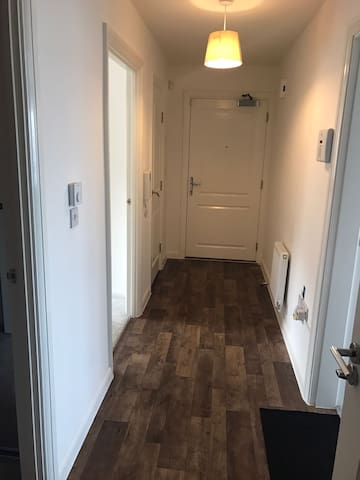 Double room available
ประเภทห้อง
ห้องส่วนตัว
---
ประเภทที่พัก
บ้าน
---
พักได้
2
---
ห้องนอน
Dartford, England, สหราชอาณาจักร
My place is close to Blue Water Shopping Centre (Europe's leading retail and shopping centre), less than an hour train ride into central London, M25 easy access for travel to and from airports such as Gatwick and Heathrow. You'll love my place because of the quiet, family-friendly environment yet still within proximity to leisure and activities . My place is good for couples, solo adventurers, and business travellers.
It was a lovely,clean and comfortable place to stay. Sharon keeps a beautiful house.I had a delightful sleep. It was easily accessible and parking was not a problem. Sharon was a lovely person and would stay with her again if the opportunity arose. She went out of the way to wait up for me as I arrived very late at night.
Kishani
2016-08-25T00:00:00Z
Sharon was an excellent host and was very friendly. I would definitely stay here again. The location was very convenient for us and Sharon was very responsive to our questions and contact in the days leading up to the booking.
Merryn
2016-08-30T00:00:00Z
Sharon dispelled all my concerns about staying in a room in a private home as she was an excellent host. She made me feel welcomed in her beautiful home & I look forward to other stays with Her.
Itohan
2016-12-13T00:00:00Z
Sharon is a good host who let me keep myself to myself. The room was nice and clean and the bathroom was stunning, note that there is not a shower. Easy walk into town and to the theatre where I was working. Nice quiet neighbourhood and free allocated parking space.
Scott
2017-01-21T00:00:00Z
Sharon's place was very clean and the room was nicely decorated and well equipped. Sharon was a very good host, she was helpful and we recommend her.
Christiane & Sylvia
2017-01-16T00:00:00Z
Eager to had been here... Very nice house, with all comforts... Very nice host, very flexible and polite! 13 minutes by walk far from dartford trainstation ... SUPERSUGGESTED!
Miky
2016-08-23T00:00:00Z
Friendly host. Great communication. Very accommodating and cheery. Wpukd stay again
Alison
2017-01-11T00:00:00Z
Great space, a little peace of heaven. Perfect for couples, lovely room, great bathroom, and the most important thing, amazing, wonderful, and fantastic person. Thank you so much sharon
André
2017-03-26T00:00:00Z
ประเภทห้อง
ห้องส่วนตัว
---
ประเภทที่พัก
บ้าน
---
พักได้
2
---
ห้องนอน
Dartford, England, สหราชอาณาจักร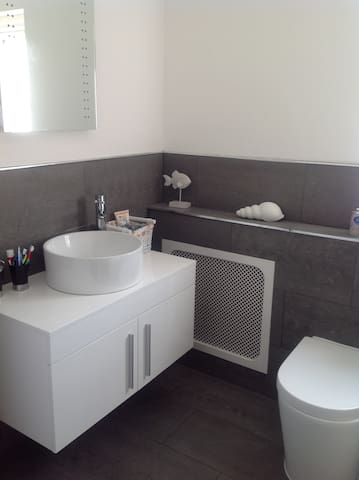 Beautiful bungalow in Dartford, just 35 min away from central London. The house has two bedrooms, one is a double and the other with Sofa bed which pulls out to a double. The house is gorgeous, cozy and warm in the winter and light and bright in the summer. The house has a modern style and is very clean.
ประเภทห้อง
บ้าน/อพาร์ทเมนท์ทั้งหลัง
---
ประเภทที่พัก
บังกะโล
---
พักได้
5
---
ห้องนอน
Dartford, England, สหราชอาณาจักร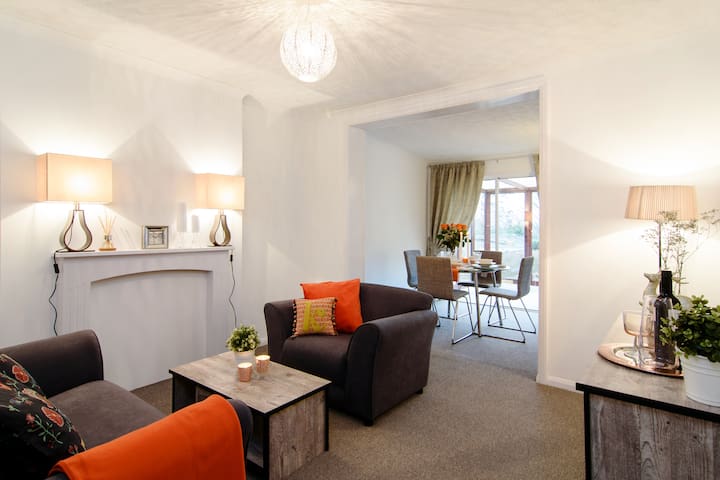 A private double bedroom in our 2 bed flat. Located in a quiet new build development in Dartford. A 2 minute drive from junction 1A on the M25. Buses to Bluewater and Dartford Train Station take just 10 minutes and the stop is located right outside. We have our own en suite so the main bathroom would be yours to use. Your room has a TV and is furnished with a chest of drawers and clothes rail. Fibre optic broadband and Sky TV available.
The Bridge Development has a quiet, almost village-like feel. It has one small Nisa convenience store and a great coffee shop. If you fancy a walk you can stroll up to the Thames or even around the local lakes.
Great home lovely couple ,good location.Would highly recommend.
Bernadette
2017-03-26T00:00:00Z
Very good value for money and the hosts are very warm and welcoming
Ian
2017-02-24T00:00:00Z
High level of comfort with personal bathroom, perfect welcoming hosts!!
Laura
2017-03-09T00:00:00Z
Excellent room and apartment with great hosts!
Kashif
2017-02-09T00:00:00Z
Sam and Lois have a great flat and were lovely hosts. Enjoyed my stay with them.
Kashif
2017-02-03T00:00:00Z
ประเภทห้อง
ห้องส่วนตัว
---
ประเภทที่พัก
อพาร์ทเมนท์
---
พักได้
2
---
ห้องนอน
Dartford, Kent, สหราชอาณาจักร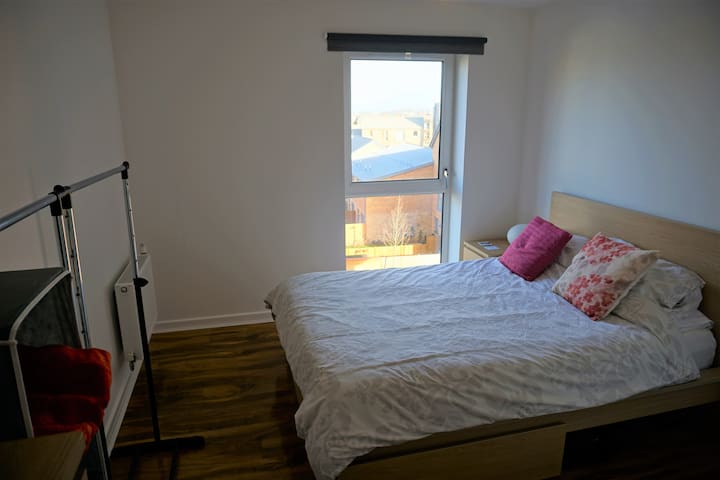 My place is close to restaurants and dining and great views. You'll love my place because of the location, the views, the outdoors space, and the ambiance. My place is good for solo adventurers and business travellers.
Very friendly and uncomplicated host.
Mathias
2017-02-06T00:00:00Z
New place, large bedroom with a fantastic shower. Lovely host.
Sean
2016-12-07T00:00:00Z
The host canceled this reservation the day before arrival. This is an automated posting.
Andrew
2016-10-02T00:00:00Z
Lovely, comfortable room. Funmbi was very helpful and welcoming.
Lynsey
2017-03-28T00:00:00Z
ประเภทห้อง
ห้องส่วนตัว
---
ประเภทที่พัก
อพาร์ทเมนท์
---
พักได้
1
---
ห้องนอน
Dartford, England, สหราชอาณาจักร
Double room with TV / Single room available in spacious friendly house in a nice quiet road. Minutes away from a bar and shops and 10 minutes walk to Crayford station, 45 minutes to Central London.
Charlotte was an absolutely delightful host. Checking in was easy and the room was exactly as advertised. Everything was clean and she provided us with towels and toiletries. The location was walking distance to a store and just a 2 minute drive to the train station. Charlotte was very friendly and her dog Coco is adorable. Would definitely recommend staying here!!
Marcella
2016-12-30T00:00:00Z
ประเภทห้อง
ห้องส่วนตัว
---
ประเภทที่พัก
บ้าน
---
พักได้
3
---
ห้องนอน
Dartford, England, สหราชอาณาจักร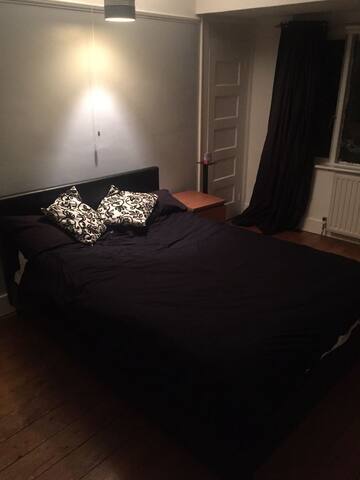 Beautiful newly renovated ground floor bedroom for one person in modern town house. Room has hanging rail, dressing table, TV (tv ariel connection isn't great- has smart box though) and mirror. A towel is provided during your stay.
Everything in the bedroom is new (apart from the purple cushions!) in August 2016. The bed is a single day bed with new Egyptian Cotton bedding.
I only stayed for literally 10 hours as it was a last minute booking, but the host was very accommodating and friendly. Pictures were accurate, room was very clean and comfortable. I would recommend this room to friends, and will use this room again if I need accommodation in that area. Cheers!!
Kevin
2016-08-17T00:00:00Z
The host canceled this reservation 13 days before arrival. This is an automated posting.
John
2016-11-21T00:00:00Z
Wonderful stay with wonderful people!!
Mandy
2016-11-13T00:00:00Z
ประเภทห้อง
ห้องส่วนตัว
---
ประเภทที่พัก
บ้าน
---
พักได้
1
---
ห้องนอน
Dartford, England, สหราชอาณาจักร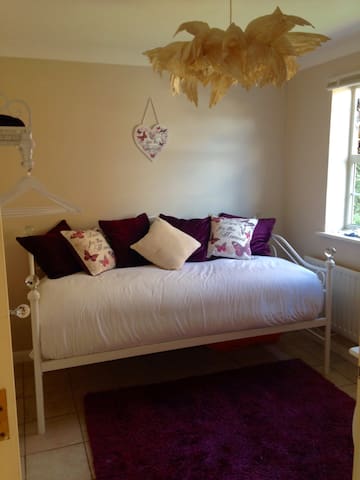 A single bedroom with desk and hand basin. Family bathroom adjacent. Dartford is handy for London, Blue Water, the coast (Dover) and Ebbsfleet. There is a splendid large heath within 10 minutes walk from our front door, excellent for walks and picnicking. It would be an ideal location for a businessman visiting the area for a few days, or something similar.
ประเภทห้อง
ห้องส่วนตัว
---
ประเภทที่พัก
บ้าน
---
พักได้
1
---
ห้องนอน
Dartford, England, สหราชอาณาจักร
A great bedroom to rent in London home. This fully furnished house includes unlimited WiFi, cable TV (including full Sky Sports package and US cable channels), washing machine, guaranteed parking if needed (off-street), as well as fully furnished kitchen, living room and conservatory and garden to share. The bedroom for rent is fully furnished with a double bed, lots of empty shelving and storage space and has an in-room TV and DVD player. Plus, all utility bills covered. Rent is £308 per week, or £1,200 per month. ($500 per week, or $1,850 per month) The station is a 5 minute walk from Grove Park train station. By public transport it it is 30 minutes from central London (Charing Cross, Waterloo and Cannon Street stations). By car it is 70 minutes away from Heathrow Airport and about 50 minutes from Gatwick Airport.
ประเภทห้อง
ห้องส่วนตัว
---
ประเภทที่พัก
บ้าน
---
พักได้
1
---
ห้องนอน
บรอมลีย์, สหราชอาณาจักร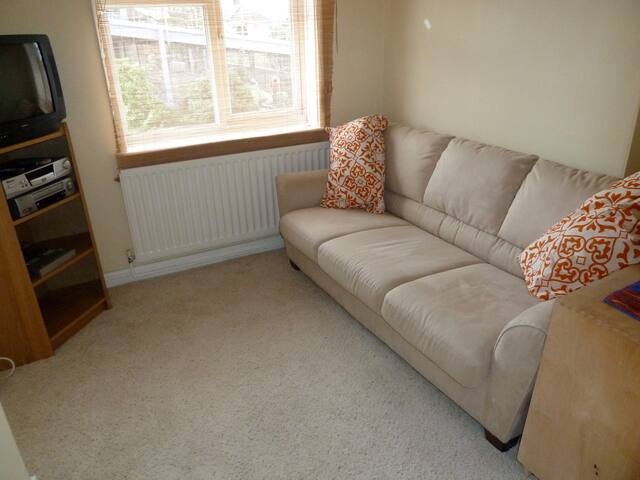 กรอกวันที่เพื่อดูการกำหนดราคาเต็ม มีค่าธรรมเนียมเพิ่มเติม อาจมีภาษีเพิ่ม