A spacious and cosy one bedroom apartment with kitchenette. Enjoy the proximity of the surf of iconic Bells Beach whilst listening to kookaburras, galahs, cockatoos and magpies and (perhaps) watching our family of wild kangaroos in the front paddock. You will have your own entrance, bathroom, kitchenette and separate sitting room and there is even an outside shower for washing off after the beach. There is a double sofa-bed in the sitting-room.
Claire's place was in a great location..close to the venue we attended and fantastic Bells Beach. Check in was easy. Lovely quiet spot. Great value.
Jo Anne
2017-03-18T00:00:00Z
Fantastic place for a quiet get away! Claire has been fantastic and also respected our privacy during the stay. It was clean and comfortable. I recommend others who want a quiet yet close by to the beach accomodation! Torquay was only a 10 minute drive by car.
Ivan
2017-03-05T00:00:00Z
Absolutely perfect for what we needed for the night. Excellent communication and very easy to check yourself in.
Cam
2017-02-25T00:00:00Z
We had a fantastic stay at Claire's! It is advertised as a private room but it's more like a little cottage with a bedroom, kitchen, bathroom and little lounge room. Communicating with Claire is super easy as she replies straight away. The place is very clean and Claire even provided us with some fruit, biscuits, tea and coffee. Highly recommend to stay here!
Lisa
2017-03-13T00:00:00Z
Great place in a lovely location, not far to amazing Point Addis and also the beach. Claire was great with communication and flexible with check in and check out times. The place was clean and cosy, we had a great stay and wish we could've stayed longer.
Christine
2017-02-11T00:00:00Z
Lovely little apartment pretty close to Bells Beach. We are very happy. Thanks Claire!
Dan
2017-02-13T00:00:00Z
We had a lovely stay at Claire's. Accommodation was clean and comfortable and communication from Claire was great. Short drive to Bells Beach and breakfast places in Torquey. Would recommend!
Damien
2017-02-19T00:00:00Z
ประเภทห้อง
บ้าน/อพาร์ทเมนท์ทั้งหลัง
---
ประเภทที่พัก
อพาร์ทเมนท์
---
พักได้
4
---
ห้องนอน
Bells Beach, วิกตอเรีย, ออสเตรเลีย
Situated on a stunning secluded block near famous Bells Beach is this fully self-contained apartment located on the lower floor of this architecturally designed homestead. The apartment is ideal for those seeking to escape the city for a weekend, to reconnect to nature and the stunning surf coast at the end of our road. The apartment has its own entrance and contains two bedrooms (sleeping a total of five).
The space is a self contained unit on the bottom floor of our beach property. It had its own living room, kitchette, bathroom and two generous bedrooms. It also has undercover parking and its own discrete entrance.
ประเภทห้อง
บ้าน/อพาร์ทเมนท์ทั้งหลัง
---
ประเภทที่พัก
อพาร์ทเมนท์
---
พักได้
4
---
ห้องนอน
Bells Beach, วิกตอเรีย, ออสเตรเลีย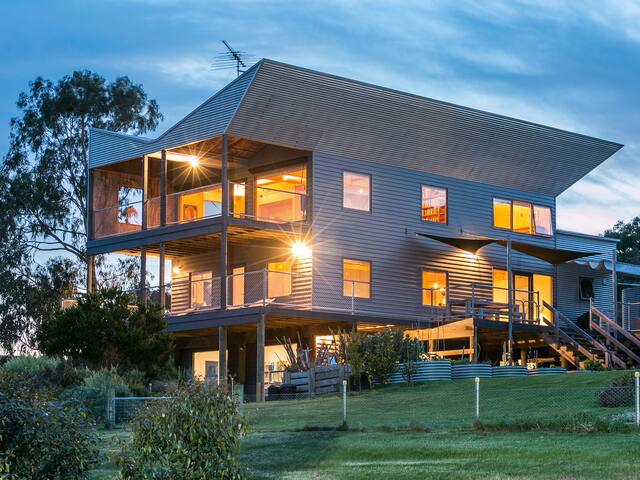 Charming self contained attached apartment . seperate entrance with 1 newly renovated bedroom and ensuite . Upstairs lounge room with high ceilings great beach feel, sea views and kitchenette including bar fridge microwave tea and coffee facilities and toaster outdoor decking . Close to beach (800 metres ) in quiet court location carport/garage parking.
Guests will enjoy brand new renovated bathroom and bedroom . Upstairs large bright and light space with high ceilings With heating and air conditioning . No cooking facilities .
The best thing about this location is it's just a quick walk (800 metres to whites beach) or 2 minute drive to all beaches and super markets and to central Torquay .
ประเภทห้อง
บ้าน/อพาร์ทเมนท์ทั้งหลัง
---
ประเภทที่พัก
อพาร์ทเมนท์
---
พักได้
2
---
ห้องนอน
ทอร์คีย์, วิกตอเรีย, ออสเตรเลีย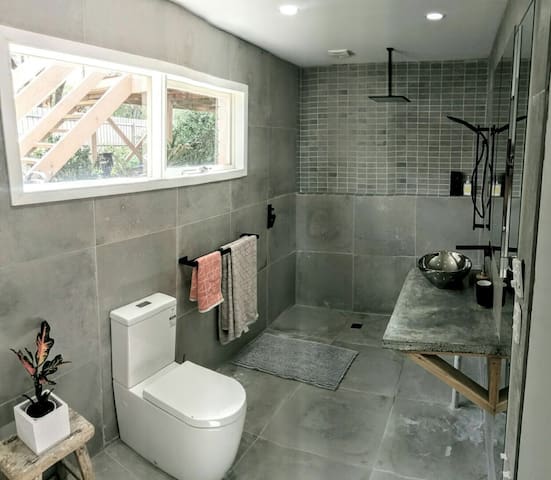 My place is close to Spring Creek Reserve, playground, BMX track, walking/bike paths to foreshore reserve, Torquay and Jan Juc beaches. You'll love my place because of the quiet location with a bushy outlook. The nature reserve and walking path along Spring Creek to the beach and town centre is a real bonus. You will enjoy the privacy of your own entrance, kitchenette,living room, outdoor space, barbeque and garden. My place is good for singles and couples. Not suitable for young children.
The appartement was clean and spacious, we enjoy our time there even if we did'nt meet Michele. Thanks for sharing your house with us!
Marissa
2016-11-29T00:00:00Z
We thoroughly enjoyed our stay at Michele's place. She was the perfect host, very friendly and open to any questions we had. Her home had everything we could have asked for, we particularly liked having maps and brochures for the area.
Claudia
2017-01-28T00:00:00Z
Very good apartment, extreamly clean and cozy,we love it so much! Michele is very nice:)
Ocean
2017-03-30T00:00:00Z
Lovely place to stay! So easy and good communication! Thank you!
Jack
2016-12-10T00:00:00Z
Great value and great location to get to Torquay beach and town and Great Ocean Rd. Lovely new big space with an outside sunny area to have breakfast in the morn before you start your busy day - by the way it was great Michele offered milk/yoghurt/muesli etc as well. Thanks Michele. It was a great base for for my 2 night stay I had a car for the Great Ocean Rd but it's an easy leisurely walk to town as well though the path and nature reserve. Michele was great and easy to talk with and little fluffy peppi was happy to great me too :)
Sandra
2016-10-11T00:00:00Z
Private. Clean. Well appointed Michelle provides all we needed for a restful happy peaceful break. Great walking tracks to explore the beauty of the area. Would stay again. Lovely.
Carolyn
2016-12-04T00:00:00Z
This is a great place to chill out and unwind away from the city. We stayed for two months and used it for a home away from home on weekends. Can't recommend it enough. We also very much appreciated the fresh veggies from the garden that our hosts provided.
Kelly and Romney
2017-03-25T00:00:00Z
Was great place to stay. Very happy.
Rachael
2016-12-18T00:00:00Z
ประเภทห้อง
บ้าน/อพาร์ทเมนท์ทั้งหลัง
---
ประเภทที่พัก
อพาร์ทเมนท์
---
พักได้
4
---
ห้องนอน
ทอร์คีย์, วิกตอเรีย, ออสเตรเลีย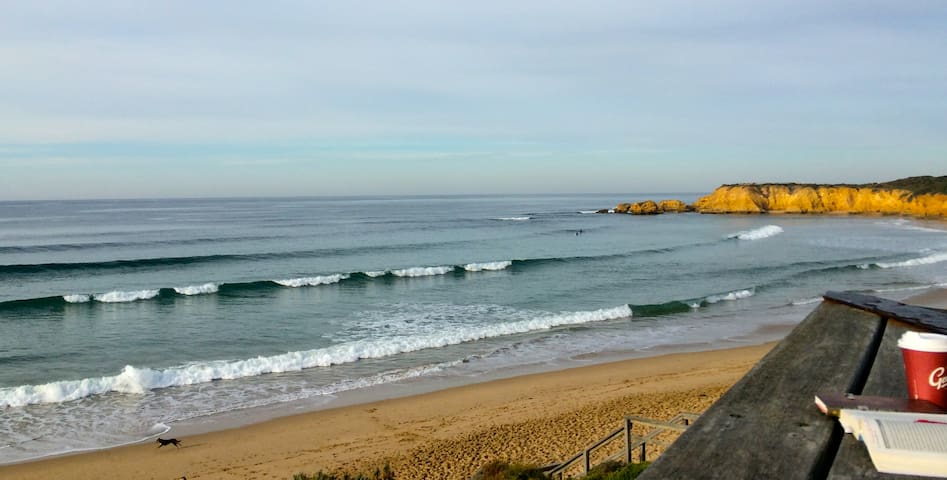 Boston on the Beach is a one bedroom apartment in our beautiful home in Torquay. It is a short stroll away from the Torquay beaches, Gilbert St. shopping centre, cafes, restaurants, supermarkets and public transport.
As you will have sole use of our complete upstairs area including bedroom, bathroom, lounge, kitchenette and balcony, you will have plenty of privacy. The only thing you will be sharing is the front door! The accommodation is strictly for a maximum of two people. It is not suitable for people with babies or children accompanying them. We live downstairs and should you have any needs or concerns, we will be available to help. Please note: we don't provide breakfast. Our house is a five minute walk to cafes, restaurants, bakeries and supermarkets. There are so many great places to have breakfast! If you wish to have breakfast in the apartment, we do provide tea, plunger and instant coffee, sugar, milk, a kettle, a toaster and a sandwich press.
Torquay is the heart of the Surf Coast and is the official start of the iconic Great Ocean Road. We have the best beaches in the known universe! Our house is in the middle of town, but tucked away in a quiet street. We love the fact that we don't have to get in a car to go to the beach, the supermarket or any of the many restaurants and cafes. It's all just there!
From the moment we booked our stay, Mick and Louise were responsive and extremely helpful. Upon arrival, we were warmly welcomed and introduced to our beautiful sleeping quarters. We had the entire upstairs to our ourselves, which included a bedroom, full bathroom, balcony, kitchenette and living room space with television and wifi! The apartment is new, clean, comfy, quiet and conveniently located. We were able to enjoy a quick walk into town and the beach. Lovely and safe area! Mick and Louise, however made our stay very memorable and enjoyable. They were friendly and entertaining hosts. We would highly recommend to anyone spending time in Torquay at their wonderful accommodation.
Kalia
2014-04-22T00:00:00Z
I had such a lovely stay, pity it was so short. The location is great, just a short walk to the shops and beach. The upstairs area has all that you need and is very clean and tidy.
Kelly
2015-12-07T00:00:00Z
Fantastic place and fabulous host! Thank you Mick for the wonderful hospitality and great communication pre stay. This was our first air bnb experience and you made is as simple as pleasant as we could have hoped. We had a wonderful time and loved the apartment set up. Very comfortable and we'll decorated! Thank you for all the local recommendations too!
Rachel
2015-12-10T00:00:00Z
A lovely place to spend a few nights to explore Torquay. Michael was very accomidating and friendly. Located perfectly near the center of town and close to the beach. I highly recommend staying here.
Lee
2016-03-08T00:00:00Z
Very nice house with comfortable and beautiful decoration, we only stayed there for 1 night and left in the early morning, the wave could be heard from balcony, good location to drop by before going to great ocean road.
Jinhua
2015-03-30T00:00:00Z
Wow - what a brilliant stay we had with Michael and Louise! Torquay is a great place to stay, lots of nice restaurants and more coffee shops than we knew what to do with!The place itself was amazing, we had a whole floor to ourselves, which was spotless, spacious and beautifully done - this is a really lovely place to stay and we didn't want to leave! What made it even better though was the tailored travel advice for the great ocean road that Louise was kind enough to sit down with us and take us through. It meant we had a brilliant few days travelling on from Torquay! Could not recommend this airbnb highly enough.
Sara
2014-10-01T00:00:00Z
We had a really great stay. Awesome spot was very easy to get around to shops and cafes. Very well kept and neat apartment.
Sean
2016-05-16T00:00:00Z
From the moment we arrived Michael and Louise made us feel really welcome providing all the local knowledge we required and more. Louise also provided a great summary of places to see on the great ocean road. Apartment was just as described and within easy walking distance of the centre and the beach. Had a meal at the local Thai which was also very good. Mark and Caroline
David
2015-12-20T00:00:00Z
ประเภทห้อง
ห้องส่วนตัว
---
ประเภทที่พัก
อพาร์ทเมนท์
---
พักได้
2
---
ห้องนอน
ทอร์คีย์, วิกตอเรีย, ออสเตรเลีย
This beautiful top floor apartment is the perfect place to relax and getaway to the beach. Stunning ocean views from the living area and bedroom you don't even have to leave the house to feel like you're at the beach! Close to shops, cafes, beaches.
This house is split into two apartments. The downstairs apartment is also rented out and the whole house is available for guests to book if there is a big group.
Located in a nice quiet court, with friendly neighbours.
We loved the apartment, it was really cosy - loved the vibrant colours used to adorn the house. Shari was very friendly, welcoming and responsive to our queries. The apartment has a remarkable location , centrally located near the city centre and the beach ; making our stay a very enjoyable and exciting one !
Muhammad
2016-01-11T00:00:00Z
Alles war in bester Ordnung. Super Aussicht, viel Platz und ein bequemes Bett. Gerne wieder!
Michi
2016-12-19T00:00:00Z
Great views ! Good locale and lovely inside! But unfortunately had noisy inconsiderate people staying down stairs that arrived at 1030pm and spoke loadly keeping me awake ...
julian
2016-03-05T00:00:00Z
The apartment was lovely - had everything we needed, was light, had a nice sea breeze in the afternoons. It was a great set up. The bed was comfortable. The place was beautifully presented.
Sue
2016-01-18T00:00:00Z
Great and very roomy apartment for two people. Comfortable with plenty of amenities. Hayley, Shari's sister, who prepared the apartment for our arrival was lovely, extremely friendly and welcoming.
Keven
2016-04-01T00:00:00Z
Great place and very private! The view on the balcony was a huge bonus!
Danny
2017-01-12T00:00:00Z
My boyfriend and I stayed at Shari's place for 3 days so we could attend a near by wedding. We absolutely loved it. Her place is clean, cute, bright and sunny and in a great location. As we've never been to Aus before we had no idea what to expect in Torquay - Shari's accommodations were the perfect introduction to this adorable, perfect little town. We ate dinner on the balcony while we watched the sunset and enjoyed relaxing in the living room when the sunshine poured in on the afternoons. Perfect start to our Australia trip. Highly recommended!
Jacqueline
2017-01-01T00:00:00Z
Great little apartment, with awesome views of the beach. Short walk to the beach, shops, cafes, restaurants and bars. Couldn't have asked for a better spot to enjoy some r & r. Thanks Shari.
Scott
2017-02-13T00:00:00Z
ประเภทห้อง
บ้าน/อพาร์ทเมนท์ทั้งหลัง
---
ประเภทที่พัก
อพาร์ทเมนท์
---
พักได้
2
---
ห้องนอน
ทอร์คีย์, วิกตอเรีย, ออสเตรเลีย
A beaut 2 storey apartment which has 4 bedrooms , 3 ensuites sleeping 8 people comfortably with & 2 onsite car spots located in the centre of old Torquay. With a huge balcony is perfect for outdoor entertaining too, overlooks Taylor Park and the ocean. A fully equipped kitchen, large flat screen TV, gas fireplace. A 2 min walk to beach, restaurants & shops or the RSL Club. Our charges are for the apartment usage, rather than the number of guests.
3 x large queen bedrooms with walk-in robes and ensuites 1 x double bedroom with a small private deck 3 x bathrooms serving each queen size bedroom All bed linen and internal use bath and hand towels are provided. 1 x powder room on the main level 1 x laundry, with front loader washing machine, iron and ironing board Kitchen with large fridge, electric oven, 5 burner gas hob, microwave, all cooking utensils, glasses, cutlery, and chinaware Meals area accommodates 8 people. Large Balcony with 8 seater outdoor setting, 2 sun lounges + sun umbrella Weber Q barbecue, under continuous mains gas (ie -no bottle required)
Host made me feel very welcome. Greeted us and told us about Torquay. Location of his apt is soo good. No car needed. Kids loved it. He had books for kids as well. Will most likely book again, and recommend it to anyone.
ahmad
2016-04-06T00:00:00Z
Joe and his wife were very warm and welcoming from the moment we made the booking. Sent us very detailed direction to the apartment which were helpful. They were very flexible with our arrival time as well. The location was perfect...close to the beach, restaurants and supermarkets. The apartment was as described....kitchen was equipped with all the modcons. Beds were comfortable and the ensuites were a bonus.
lily
2016-03-31T00:00:00Z
Joe was such a wonderful host. The apartment was just amazing very spacious and great layout, we had our whole family staying for the weekend and everyone had their own space. We would recommend Joe's apartment to anyone wanting a great holiday and close to all local amenities at Torquay.
Louise
2016-05-24T00:00:00Z
Gave lots of info and the house was a perfect size for 8 people in winter!
Hannah
2016-06-14T00:00:00Z
Great place, perfect location, would recommend for families :)
Belinda
2017-01-12T00:00:00Z
Very comfortable apartment, clean, roomy and within easy walking distance to beach, shops, etc. Will stay here again.
Clair
2017-01-21T00:00:00Z
Great Place, friendly and easy going host, terrific spot - we may be back again one day - Thanks Joe
Anthony
2017-03-12T00:00:00Z
This house is exceptionally appointed with everything you would need in the kitchen, entertainment and very comfortable bedrooms. The location is superb for lots of activities in the Torquay area. The patio had great views of the full moon! Joe is very great host with good recommendations of things to do in the area.
anne
2017-03-20T00:00:00Z
ประเภทห้อง
บ้าน/อพาร์ทเมนท์ทั้งหลัง
---
ประเภทที่พัก
อพาร์ทเมนท์
---
พักได้
8
---
ห้องนอน
ทอร์คีย์, วิกตอเรีย, ออสเตรเลีย
It's a stunning location! Excellent Facilities. Feels like home! Set among landscaped gardens, it offers spacious, quality accommodation, located across the road from the beach and only minutes stroll to Torquay's cafe precinct.
We really enjoyed our stay here. The location is fantastic - just next to the beach and a short walk to the cafes etc. The apartment itself was great - with plenty of space, clean and comfortable. We would definitely recommend staying here.
Matthew
2016-01-27T00:00:00Z
Brooke was friendly and our stay was terrific. Everything was really nice and the location was fantastic.
Melissa
2016-10-18T00:00:00Z
Great experience, will come again for sure.
Huibo
2015-12-21T00:00:00Z
Brooke greeted us as planed, she is a very bubbly positive person with a very nice smile. The property was as exactly described, modern clean and spacious located within a complex it felt safe and secure.
Irene
2015-11-04T00:00:00Z
Great place with good facilities right accross from the beach. Brooke also left a note of the eateries the locals hit and this was awesome to know where to go!
Bree
2016-11-16T00:00:00Z
Brooke's penthouse was beautiful! Exactly as described in the listing. Beds were comfortable, and the master bedroom was insane. She was very helpful with suggesting a few places to go out at night. Would happily come back again. Thanks heaps :)
Beth
2016-02-29T00:00:00Z
We had a great stay at this Torquay apartment. Brooke was a great host and we will be back.
Nick
2016-12-20T00:00:00Z
ประเภทห้อง
บ้าน/อพาร์ทเมนท์ทั้งหลัง
---
ประเภทที่พัก
อพาร์ทเมนท์
---
พักได้
6
---
ห้องนอน
ทอร์คีย์, วิกตอเรีย, ออสเตรเลีย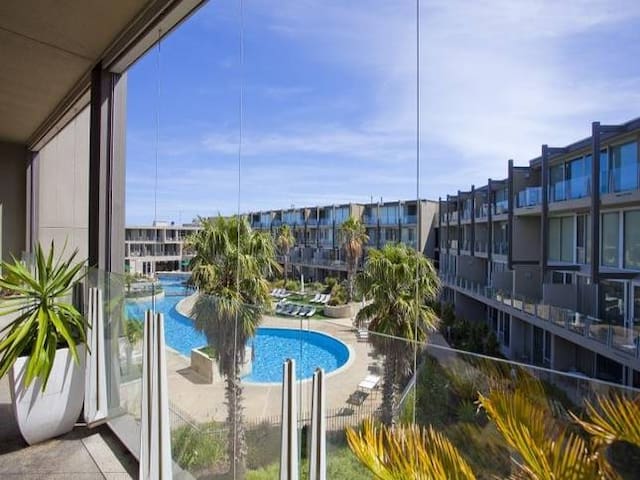 BEACH SIDE LOCATION Heavenly Location .Enter via your private staircase to the one bedroom apartment, where you will enjoy a restorative time away in wonderful Torquay. Only a 2 minute walk to Whites Beach, and 100 metres to the Sands Golf Resort .
Your upstairs apartment has a large bathroom with bath and shower, a functional kitchenette with sink, microwave and fridge and a separate lounge with a dining table. We always leave a surprise for guests in the fridge and one for your dog if you are travelling with your fluffy canine! The lounge has a large TV Foxtel, and a stereo for music lovers. All you need for that relaxing getaway. The apartment has a split system and electric blanket for those cold winter evenings. The apartment also has its own balcony for those who enjoy sitting outdoors.
Our fabulous location, sees a glimpse of the dunes, as we are situated only a 2 minute walk to the popular Whites Beach. (Dog lovers it is leash free). DOG HEAVEN is how our visiting pups describe their stay ! We can provide bowls and bedding if required Turning left 100 metres from your door, you will find The Sand's Golf Resort where you can enjoy a light snack, buffet breakfast or dine in the dining room. Or simply pop over there for a coffee,beer or wine. The heated pool and gymnasium is also available for a fee. Now, turn to the right and you can find The Wyndham. A longer hike by foot but extremely close for a Endota day spa experience, or dinner at the newly formed Surf Coast Hotel, or simply, have a refreshment at the bar. Bass Drive has a growing reputation for being a well sought after street, so we are very happy to share this great location with you.
Private, clean and cozy apartment in a beautiful neighbourhood! The perfect place for a getaway in Torquay and so much better than a hotel! We would highly recommend Jule's apartment to everyone who is looking for a nice accommodation in Torquay. We loved it!
Sabrina
2016-04-26T00:00:00Z
This airbnb absolutely deserves its outstanding rating, prompt easy communication with hosts, a friendly welcome, and that's even before I saw inside. The whole place is tastefully decorated and very clean, it is well heated and has a split system for cooling. Beds have electric blankets for those chilly nights, it's like they've thought of everything you could possibly need.  A few tasty things are there for your breakfast, and a kitchenette available for any purchases you make. Electronics are well and truly taken care of, the large TV has foxtel and there is also a sound system and wi-fi.  Most importantly, it is a genuinely dog friendly house. My large exuberant side kick was welcomed with open arms, and a bed quickly found after I had rudely forgotten his. He was able to sleep in the apartment, and absolutely loved his runs to the beach a very quick 2-3 minute walk away.  From complimentary touches, beer & wine on arrival and little chocolates hiding on the pillows, to the spacious well thought out space, it was an absolute pleasure. 
Alice
2016-08-04T00:00:00Z
This place is lovely. The hosts have thought of every little thing to meet your needs and they are such lovely and kind hosts.I could not recommend this listing more highly.
Bronwyn
2016-08-24T00:00:00Z
Excellent, well presented,clean apartment, everything you require is there. Close to the beach, we enjoyed our stay. It was so easy to come and go as you pleased. Our dog enjoyed his stay too and loved the beach. Highly recommend this apartment for your stay and Jule's your host was excellent and replied to my messages promptly. Sad to leave the walks on the beach and the fresh air, but had to get back to reality, otherwise were quite happy to stay longer.
Lisa
2016-11-20T00:00:00Z
Great little place in a great location. Very comfy and Jules was lovely and welcoming. We also brought our dog who had a ball with the other two resident dogs ! Would stay again for sure
Evan
2016-10-09T00:00:00Z
Lovely hosts, lovely accomodation, great community contacts.
Robyn
2017-03-26T00:00:00Z
Very nice and clean apartment and great location. Will definitely choose it again next time to Torquay!
Jessie
2016-10-04T00:00:00Z
Jules' place was cosy and welcoming, a lovely place to spend time in as it felt like a home away from home. Quiet location only a few blocks from the beach- I would definitely stay here again
Claire
2016-10-30T00:00:00Z
ประเภทห้อง
ห้องส่วนตัว
---
ประเภทที่พัก
อพาร์ทเมนท์
---
พักได้
2
---
ห้องนอน
ทอร์คีย์, วิกตอเรีย, ออสเตรเลีย
This beautifully appointed 3 bedroom downstairs apartment in our own home is fully self contained and ready for you to enjoy. Arriving through your own private entry way you will find 3 bedrooms, 2 with queen beds, the other with 2 single beds, perfect for couples and families alike. A lovely living room complete with new 55" TV, which overlooks a relaxing private garden, with BBQ, outdoor setting and gorgeous Balinese Day Bed. And only a short 4 minute stroll to beautiful Whites Beach,
Everything you need to make your stay comfortable is included in this property. Arriving by your private side entry, you will find a Balinese themed garden, complete with your own BBQ, outdoor setting and huge day bed to relax on the back terrace. You will enter into a lovely living room, complete with brand new 55" TV and reverse cycle air conditioning. A beautiful spacious modern bathroom and kitchenette, with fridge and microwave complete the apartment. We live upstairs with our very friendly dog, but guests will have the entire self contained apartment and back garden to themselves. And because you are on holiday all linen and towels are supplied. All this is located within 400 metres from the beach and 2 km from all the cafes and great restaurants in town. This property includes: Reverse cycle air conditioning New 55" Smart TV BBQ and Outdoor Setting Beautiful Balinese Day Bed Free Wifi Kitchenette with microwave, fridge, kettle, toaster, all utensils etc. Coffee, tea and kitchen basics all supplied All quality linen and towels supplied Shampoos, soaps Hair Dryer Outdoor Shower
Our house is in a very quiet and friendly neighbourhood, away from the hustle and bustle of the town, which is just 2 km away. Still very close for the cafes, restaurants, supermarkets and shopping. Beautiful Whites Beach is just a 4 minute stroll away, and there are numerous walking/cycling paths nearby. Only 400 metres to The Sands Golf Club and Peppers Restuarant. 1.2 km to the Wyndham Resort, where you can indulge in a spa treatment or dine at the Esplanade Restaurant. Close to other golf clubs including RACV and 13th Beach golf courses. Enjoy long relaxing beach walks. Walk along the beach side walking track to the heart of Torquay just 2 km away, where there is an abundance of gorgeous cafes, restaurants, bars and boutique stores. We are in the ideal location for visiting the Great Ocean Road, the local wineries, the Otways, and other beaches including Bells Beach.
Pam was an amazing host. The place is just gorgeous and we wished we could have stayed longer. It's a short walk to the beach and local cafe's and shops. Loved staying here and would recommend it highly.
Nicole
2017-02-19T00:00:00Z
Everything as advertised, a quiet Balinese styled slice of heaven in the quieter part of idyllic Torquay.
Nick
2017-02-25T00:00:00Z
Perfect!
Louis
2017-02-11T00:00:00Z
Great place to stay. Very nice family and very hospitable. We enjoyed our stay.
Nicolas
2017-04-04T00:00:00Z
Spotlessly clean and comfortable and very quiet location.
Deborah
2017-04-01T00:00:00Z
Photos don't do this place justice spacious and comfortable well equipped kitchenette and barby. We were three single people staying there and had plenty of rooms. Comfy beds and high quality linen and towels. Hosts were lovely very helpful. Short walk to beach and 2kms into town. Would definitely stay here again
Fiona
2017-03-18T00:00:00Z
A lovely home to stay, in a quiet residential street. Located underneath the owner's home but our privacy was respected. Their dog is lovely but stays upstairs with them. A short walk to the beach and a drive into town to the shops, cafes and central beach.
Karen
2017-03-16T00:00:00Z
My family and I enjoyed a lovely few days at Golden Sands. The place was as described, clean and accommodating.
Jessica
2017-01-04T00:00:00Z
ประเภทห้อง
บ้าน/อพาร์ทเมนท์ทั้งหลัง
---
ประเภทที่พัก
อพาร์ทเมนท์
---
พักได้
6
---
ห้องนอน
ทอร์คีย์, วิกตอเรีย, ออสเตรเลีย
Above private residence, very private 1 bedroom apartment with pull-out sofa. Large Bathroom with large shower and stone bathtub. Gas jets for cooking, private balcony with BBQ. All you need for a easy stay. A short walk to shopping centre and beach.
Jen was very welcoming, introducing herself and talking about the property. Giving me tips on good beach spots to visit and local places to eat. The apartment was perfect, everything you need and was very clean. Would definitely stay again.
Daniel
2016-04-29T00:00:00Z
Thanks Jen for being great friendly host. Torquay is a great stop on Great Ocean Rd. The place had all the amentities you need, plenty of space for 2 people, very clean, very handy location walkable to shops and town centre. Would stay again.
Yen
2016-06-16T00:00:00Z
A great place to stay! Modern, cosy, very clean accommodation that is close to restaurants, shops and the beach. Jen is a great, friendly host. Recommended!
joe
2016-12-15T00:00:00Z
We LOVED Jen's place - I wish I could move in here it was so lovely :) Everything was near new and perfectly clean, she provides everything that you need and some little treats too. We were so happy when we arrived, this is an absolute bargain! Can't wait to return in summer.
Alexandra
2016-08-01T00:00:00Z
The host canceled this reservation 7 days before arrival. This is an automated posting.
Brian
2017-01-23T00:00:00Z
A little gem, thanks Jen.
John
2016-10-08T00:00:00Z
We loved this place. Jen is SO friendly and welcoming, nothing was too much trouble and the apartment is so clean and beautiful. Walking distance to everything you could possibly need, most importantly the beach!!! The bath is incredible. I would stay here again and again!
Lizzie
2016-08-20T00:00:00Z
Jennifer was a fantastic host and contacted me to make sure everything was ok and the unit was perfect. The description was spot on, great location, wonderful modern accommodation.
Jennifer
2016-04-26T00:00:00Z
ประเภทห้อง
บ้าน/อพาร์ทเมนท์ทั้งหลัง
---
ประเภทที่พัก
อพาร์ทเมนท์
---
พักได้
4
---
ห้องนอน
ทอร์คีย์, วิกตอเรีย, ออสเตรเลีย
Great unit within walking distance to buses, shops and surf beach, [10 minutes]. Has a new queen matress with all you need to enjoy all the surf coast has to offer.
MarieAnne is the best. I stayed there for 3 months and it was home from home. Great location, ideal for shops, walks and beach, yet quiet (next doors dog needs putting down though) and comfortable. Would definitely go back if I'm down that way again.
Roger
2017-02-28T00:00:00Z
ประเภทห้อง
บ้าน/อพาร์ทเมนท์ทั้งหลัง
---
ประเภทที่พัก
อพาร์ทเมนท์
---
พักได้
1
---
ห้องนอน
ทอร์คีย์, วิกตอเรีย, ออสเตรเลีย
Located at Beachfront Resort Torquay, right across from the beach this deluxe apartment is ideal for one couple. Full kitchen & laundry. Access to all resort facilities including outdoor & indoor pools, gym, day spa restaurants, bar & cafe
Located at Beachfront Resort Torquay, right across from the beach this deluxe apartment is ideal for one couple. Full use of all resort facilities including outdoor & indoor pools, full gym, day spa restaurants, bars & cafe. Sleeping two - four guests with 1xQueen & 1xDbl sofa for children only. Full kitchen & laundry, TV and great resort relaxation. Available all year round for holiday rental or Corporate short term lease.
Surf Coast Holiday Rentals, on the Surf Coast in Victoria offers sensational holiday rental properties in the heart of Australia's surfing capital. Situated only an hours drive from Melbourne City, Torquay is also 15 minutes from Geelong, Victoria's second largest city, as well as being at the start of the Great Ocean Road. Anglesea is a great family hideaway location. This popular tourist destination offers a very lay back coastal lifestyle with world renowned beaches on your doorstep. There is plenty to do in Torquay & Anglesea including clean beaches to swim, great restaurants & café's as well as the best clothing shopping on the Surf Coast so make sure you allow enough time to see all the sights! Whether you prefer family holiday, golf trip or short stay Surf Coast Holiday Rentals allows you the freedom and flexibility to spread out and relax to enjoy your stay however you choose ...
My husband and I enjoyed a relaxing weekend (Saturday and Sunday night) at this 1-bedroom apartment. The complex itself is a mix of apartments and hotel rooms – quite a labyrinth to find the best way in and out – but we soon got the hang of it. While the hotel was busy on Saturday night our apartment was away from the noise of the bar area. We would definitely stay here again, the location to the beach is great (just cross the road) and secure parking is available under the complex. There is an indoor and outdoor swimming pool plus a tennis court. Our apartment was spacious and had a large balcony and tv in lounge area and also in the bedroom. The kitchenette was more than enough for our needs. We also had a Sunday lunch in the friendly restaurant with a view of the coast. It was easy to collect the key and drop back to Caitlin at the Surf Coast Holiday office plus we were provided with all the information we needed on a print out.
melanie
2016-02-08T00:00:00Z
Great place to stay. The kids especially enjoyed the swimming pool.
Tracey
2017-04-01T00:00:00Z
Staff at booking office were good and accommodating to the problem we experienced. (Allocated to the wrong type of room, having booked an apartment. Had we not been committed to staying in Torquay cos we had travelled so far to get there, we would have taken he full refund that was offered and left. The room was very poor. Dirty, and very old couch / armchair. Bugs. Needs painting! Bathroom needs maintenance. No balcony furniture. Tiny tv with very basic public channels. No wifi, Foxtel connection etc. Would happily pay for these but they were just unavailable. Would not book through airbnb again cos if it's bad they can't fix it.
Paul
2017-02-04T00:00:00Z
Great location. Beach view.
Shana
2017-02-14T00:00:00Z
Great location, easy walking distance to Torquay restaurants and shops. Excellent amenities on site (swimming pools, tennis court, restaurant, etc)
Tracy
2017-02-28T00:00:00Z
Had a wonderful weekend away would recommend to anyone!
Taylah
2016-11-27T00:00:00Z
Had a fantastic weekend stay in the spacious 1 bedroom apartment. Great location across the road from the beach, fantastic facilities in the resort. Would highly recommend to anyone who wants a relaxing get away!
Mark
2016-11-12T00:00:00Z
ประเภทห้อง
บ้าน/อพาร์ทเมนท์ทั้งหลัง
---
ประเภทที่พัก
อพาร์ทเมนท์
---
พักได้
2
---
ห้องนอน
ทอร์คีย์, วิกตอเรีย, ออสเตรเลีย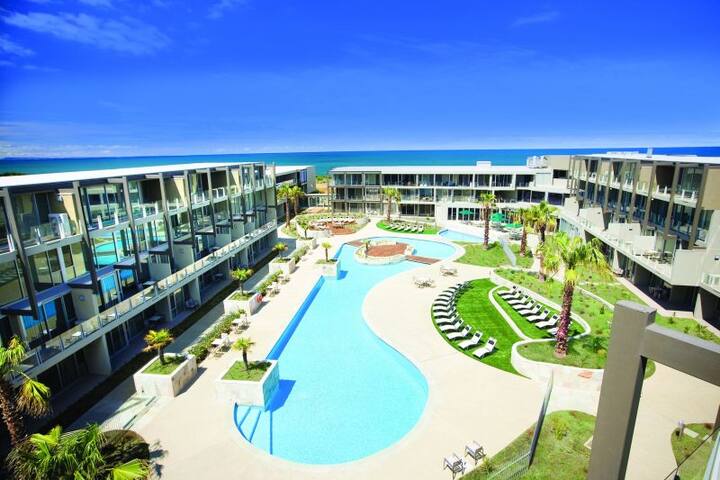 You'll love my place because it has the best beaches and walking tracks and is at the start of the Great Ocean Road. Enjoy shops, dining at restaurants, craft beer and live bands all within five minutes walk. Enjoy the changing light over the sea, views of ships passing by, whales, seals and dolphins if you're lucky and surfers. Bells beach, famous for it's surf competitions 10 minutes or a coastal walk there starts at the front door!. My place is good for couples and solo adventurers.
(If you only need 2 nights only booking contact us and we will consider a special arrangement depending upon cleaning availability etc..)(URL HIDDEN)very cosy 1 bedroom holiday apartment on the first floor of a double story complex of only 2 x 5 units. The unit is in the middle so is quite private. It faces the ocean and the back balcony has views over fishermans beach and across the road is another back beach Cosy Corner. The unit and facilities and provisions stored and refrigerated and BBQ you are welcome to use. There are many books and CD s to enjoy.
Sounds and smells of the Sea and relaxed walking everywhere neighborhood. There are permanent residents in the other units who keep an eye on things. Out the front of your rental it can get busy in high summer - the mornings and evenings are the best times.
Extremely happy with our stay, effort was put into making the place clean and comforatable. Great view from living room and bedroom - all expectations were met.
Caroline and Aliesha
2017-03-05T00:00:00Z
Excellent location close to surf beach and cosy corner!
Sam
2017-01-07T00:00:00Z
Great little apartment just meters from Torquay beach. Cosy and neat inside with everything you need for a good weekend get away.
Ricardo
2016-12-28T00:00:00Z
We had a great long long weekend at Dales place. Super close to the beach and walking distance to the shops. Will definitely stay here again. Chris.
Chris
2017-02-11T00:00:00Z
Dale's place was unbelievable. The location is incredible, literally across the road from the beach. Very short walk from cafes and restaurants. The apartment itself is perfect, equipped with everything one could possibly need. Thoroughly enjoyed our stay. 10/10
Xavier
2017-01-12T00:00:00Z
Dale's place was great! It was super cozy, clean and is in an amazing location - right across from the beach! To top it off we got some delicious wine and chocolate on arrival as well. Highly recommended :)
Meghan
2017-02-01T00:00:00Z
Great sea views !
Enda
2017-01-24T00:00:00Z
Great spot to catch some waves!
Simon
2017-02-20T00:00:00Z
ประเภทห้อง
บ้าน/อพาร์ทเมนท์ทั้งหลัง
---
ประเภทที่พัก
อพาร์ทเมนท์
---
พักได้
2
---
ห้องนอน
ทอร์คีย์, วิกตอเรีย, ออสเตรเลีย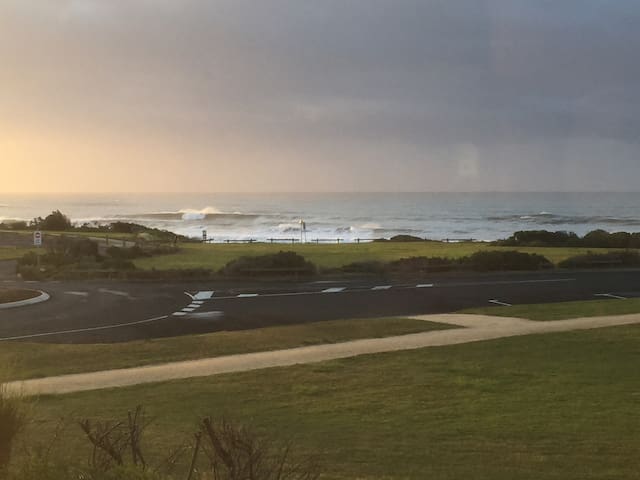 Private secluded luxury suite, perfect for couples Quiet street 50 metres from the beach. Extra beds and bedrooms available by arrangement On golf course opposite beach Jacuzzi Walking distance to restaurant and bar No pets Smoke free zone inside
Private suite includes a Queen Bed with fold out single bed and ensuite including free standing bath. TV, fan and heating. Maximum of 3 guests for this suite, extra bedrooms are available on request at $200 per room. Also a luxurious private lounge area with large TV, a kitchenette with Microwave, large fridge, dishwasher and weber barbeque on deck
Our property is nestled in the dunes backing onto the Sands golf course, 50 metres from the beach in a quiet cul-de-sac. There are 3 kms of biking and walking tracks into Torquay A short stroll away is Hanners restaurant and bar Huge selection of restaurants, bars, tapas bars await you in Torquay Wineries, galleries, markets and paragliding also all close by.
Absoloutley perfect for a private get away.
annie
2017-02-19T00:00:00Z
Had an amazing stay at Mandy and Neil's beautiful home in Torquay. Everything in the room was impeccable, down to the smallest details. Could not speak more highly of the accomodation, location and amazing hospitality Mandee provided. Would highly recommend to anybody who wants a nice getaway, lavish
Diego
2016-11-19T00:00:00Z
Wow wow wow. That's the main thing we want to say. Mandee thank you for letting us share your home. The place is amazing and so clean. We loved everything about it, from the spa down to the decor. It was lovely meeting you and having nell for company. Will definitely be back
Linda
2017-03-16T00:00:00Z
One of the nicest places and host you will meet :) loved every minute here and will definitely be back
andrew
2016-09-18T00:00:00Z
Mandee was a great host, making us feel very welcome. The accommodation was amazing! We thoroughly enjoyed our stay and would highly recommended it to anyone looking for an escape along the Great Ocean Road, especially for groups looking at a wellness stay/yoga retreat as these are also offered at this accommodation by Brooke, Mandees daughter. We will definately be recommending others to stay here and am even contemplating returning for a yoga retreat. Absolutely stunning!
david
2016-08-17T00:00:00Z
The place is immaculate and modern. The decor is exceptionally detailed and the outdoor areas are something else. Mandee was a great host. Perfect place to relax.
Matthew
2016-12-22T00:00:00Z
Thanks Mandee for a great stay in your beautiful place.
paul
2017-03-01T00:00:00Z
If you are looking for a quiet and beautiful place to stay just a few minutes away from central Torquay, then this place is for you. I couldn't have been happier with the location and my host Mandee. The space she provided in her wonderful house is nothing short of fantastic. The pictures don't really do it justice. Everything is extremely well kept and perfect for that quiet weekend away.
Shawn
2016-12-10T00:00:00Z
ประเภทห้อง
ห้องส่วนตัว
---
ประเภทที่พัก
อพาร์ทเมนท์
---
พักได้
3
---
ห้องนอน
ทอร์คีย์, วิกตอเรีย, ออสเตรเลีย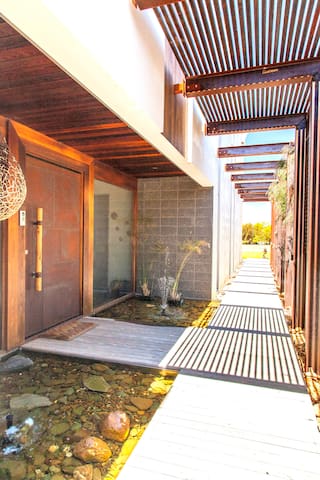 At our Whitewater Apartment you have the comfort of a modern 2 bedroom apartment, open plan kitchen/living area, balcony, great for relaxing and having a BBQ. It's within 15-min walk of Surf World Museum, 1.7 km (1.1 mi) from Torquay Golf Club and10 min walk to the beach.
We are in the heart of this popular beach town. With supermarkets, shops and restaurants within walking distance. The main beach is only just a short walk. Only 15 mins drive to the iconic Bells Beach, which hosts the Rip Curl Pro at Easter plus also being the gateway to the Great Ocean Road Torquay is the perfect getaway.
We love the relaxed feel that holidaying at the beach gives you. Torquay is the gateway to the Great Ocean Road and it's beautiful views. With great shops and surf outlets there is always something to do if the weather is cold. The Surfcoast is beautiful all year round. The coastline and forest is ready to explore.
Debbie was great in meeting earlier for key pick up. As we were a little early. The place is central to all your needs and is very comfortable. We will definitely look to staying here again. Thanks.
Kathy
2016-01-27T00:00:00Z
Debbie was very friendly and made us feel very welcome. The apartment was modern, well equipped and perfect for our family which included 2 young children. Although it was a little dusty. We were very disappointed that the air-con was not working during our stay. This was an important criteria for us when searching for accomodation. Debbie was very honest and upfront about the problems with the air con upon arrival and was able to find a tradie to check it. Unfortunately it could not be repaired during our stay. Debbie was very apologetic and showed concern for our comfort. The apartment's location was in the Torquay Village Shopping Centre which offered convenience. It was several blocks walk to the beach. Overall, we had a great stay.
Franca
2016-01-13T00:00:00Z
Thank you Debbie your apartment was perfect better actually than the photos! So clean and comfortable! Lovely place and you and your husband were so kind that we did have a great time! We really would like to come back. The location is perfect! Nobody should doubt about staying at your place!
Majo
2016-01-06T00:00:00Z
Debbie was a great host and an excellent communicator. She was there to great us on arrival and is very friendly and accomodating. The apartment is very new, with a beach outlook and only a 5 minute walk to central Torquay and the beach. The apartments have a shopping centre at the back which is ultra convenient for anything you will need. All mod cons. The kids loved the bunk beds. We were at the beach every day. Highly recommended for a beach getaway.
Paul
2015-10-04T00:00:00Z
Great apartment centrally located in Torquay. Next to supermarket and short stroll to shops and beach. Modern and well equipped apartment with seaview. Perfect for family with two kids. Debbie was very helpful throughout our stay and provided useful tips for local activities etc. Would definitely recommend Torquay and Debbie's apartment.
Joakim
2016-01-31T00:00:00Z
Debbie was a lovely host, and extremely accommodating - she even allowed us to check in several hours early. The apartment was gorgeous and comfortable, not to mention fabulously located. Thank you so much Debbie, we shall definitely be returning!
Jordana
2016-01-22T00:00:00Z
Debbie responds well to any queries
Mark
2016-09-27T00:00:00Z
Great central location. Debbie was was a great help with information about local attractions and activities. The apartment was very clean and modern. Only a short walk to shops, cafes and the beach. Perfect location!
Peter
2016-01-17T00:00:00Z
ประเภทห้อง
บ้าน/อพาร์ทเมนท์ทั้งหลัง
---
ประเภทที่พัก
อพาร์ทเมนท์
---
พักได้
5
---
ห้องนอน
ทอร์คีย์, วิกตอเรีย, ออสเตรเลีย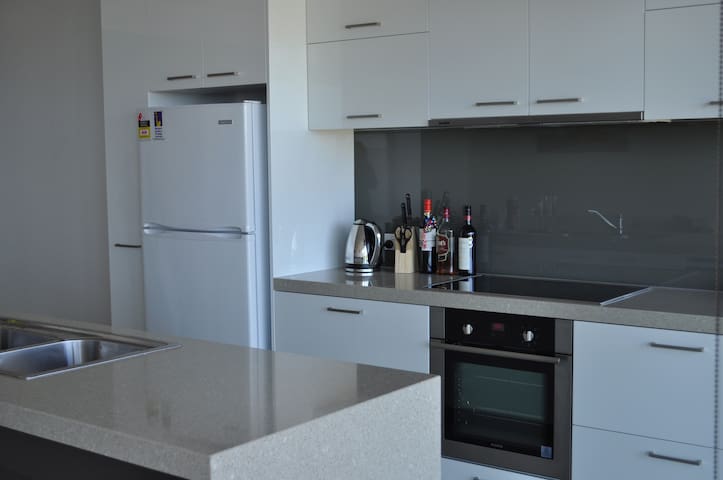 Best of Both Worlds. Resort living in a privately owned Apartment. Modern Light filled apartment with floor to ceiling glass providing uninterrupted views of Deep Creek reserve and Block Out Blinds fitted for your privacy. As a quest you'll not only have the luxury of a private apartment but you also feel as though you are at a resort hotel as you checkin at the front desk.
The Apartment is Equiped With : - Fully Equipped Kitchen - 55 inch LED TV in the living room - 2 Bedrooms both with Plush Queen Beds - Master with Full En-Suite - 32 inch LED TV wall mounted in both Bedrooms - Contemporary Furniture Throughout - 3rd Queen Bed pulls out from Couch - Private Balcony - 6 Place Outdoor Setting - Onsite BBQ facilities - DVD Player - Portacot and High Chair - BYO Beach Towels - Linen, Bath Towels and Toiletries Provided on Arrival.
Ed's apartment is really lovely, was very comfortable. The beds are amazing. The fact that it's part of the Wyndum Resort was a bonus as we were able to use the pool and other amenities. It's about a 15 min walk to the town centre where the shops cafes and restaurants are. I would definitely stay here again.
Venessa
2017-03-13T00:00:00Z
Great accommodation, very good location, excellent facilities. Enjoyed our stay!
Jodie
2017-03-18T00:00:00Z
Fantastic 2 bedroom apartment with everything you need. We were a family of 5 and there was plenty of room. It is a great complex and you check in just like a hotel guest so no chasing around for keys. I highly recommend Ed's place for a family getaway.
Joseph
2016-10-15T00:00:00Z
Beautiful private apartment with lovely bush views. Great facilities with plenty to do even when weather isn't suitable for the beach. Spacious outdoor area, great for relaxing with a book. Enjoyed the morning walks along the beach track with beautiful views. Checking in was easy and would highly recommend.
Connie
2017-01-21T00:00:00Z
ประเภทห้อง
บ้าน/อพาร์ทเมนท์ทั้งหลัง
---
ประเภทที่พัก
อพาร์ทเมนท์
---
พักได้
6
---
ห้องนอน
ทอร์คีย์, วิกตอเรีย, ออสเตรเลีย
Aurora is a new, furnished and comfortable ground floor apartment in our home. We live upstairs and guests have their own bedroom(s), lounge/kitchen, laundry and bathroom downstairs. There's an outdoor setting complete with BBQ and a lush garden to enjoy. Ideal for a couple's get away weekend or a great holiday in famous Torquay on the Surf Coast.
A lovely, clean place which is a short, easy drive to the centre of Torquay. Colleen is a welcoming host and I wish we had more time to spend there.
Carly
2017-03-04T00:00:00Z
We were warmly welcomed and the communication was fantastic! Our girls loved the outdoor shower! The apartment was clean, light filled and comfortable. Thankyou I hope to come again.
Karryne
2017-03-19T00:00:00Z
Such a great place to stay. Great location, great host, super clean and a brilliant garden!
Jo
2017-03-13T00:00:00Z
We loved colleen's beautiful home and garden. The apartment style area was perfect for our one night stay for the Otway classic Bike ride. We were also able to shower and change when we got back which was just wonderful. Thankyou Colleen. We will definitely recommend to family and friends.
Kaye
2017-03-17T00:00:00Z
The house was great and very close to Torquay beach. Colleen and her husband are very friendly and helped us with all our needs including buying a new BBQ stand for us. Highly recommended!
Sayem
2017-03-11T00:00:00Z
Nice house, great location, very clean and friendly host.
Magesh
2017-02-18T00:00:00Z
ประเภทห้อง
บ้าน/อพาร์ทเมนท์ทั้งหลัง
---
ประเภทที่พัก
อพาร์ทเมนท์
---
พักได้
4
---
ห้องนอน
ทอร์คีย์, วิกตอเรีย, ออสเตรเลีย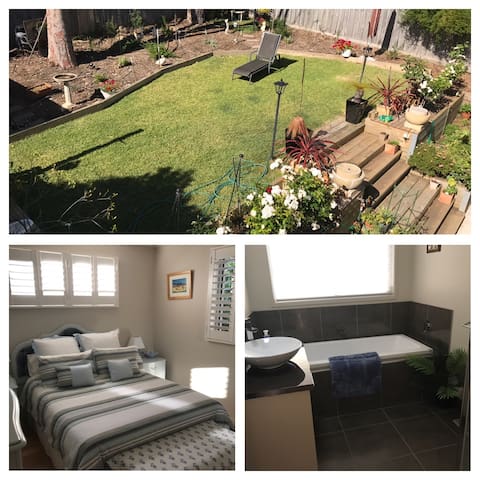 1

–

18

จาก

98 อพาร์ทเมนท์ให้เช่า
กรอกวันที่เพื่อดูการกำหนดราคาเต็ม มีค่าธรรมเนียมเพิ่มเติม อาจมีภาษีเพิ่ม