House in the historic center of Beja, five minutes walk from the main monuments and places of interest (Castle Museum, Queen D ª Leonor, Casa das Artes Jorge Vieira, Misericordia Church, Church of Santa Maria ...) as well as the best restaurants and bars. Our house has 2 bedrooms with double bed and sofa bed in the lounge (if they ask arrange cot) bathroom with shower, kitchen with all the essentials for preparing meals and Patio The house is ideal for those seeking to know the Beja walking. If you ask us we indicate the best places to buy regional products, to go out...
A casa é constituída por dois quartos, cada um com uma cama de casal, e uma sala com um sofá cama. Num dos quartos há ainda um berço. A casa está super-bem decorada e é francamente gira. Não podia ser mais central. Ideal para quem quer conhecer Beja e arredores.
Luisa
2016-03-07T00:00:00Z
Gospodarze byli bardzo mili, gościnni, czekało na nas lokalne wino, ser i chlebek. Mieszkanie było takie jak w ofercie, bardzo przestronne i naprawdę oryginalne i autentyczne - ściany z kamienia, dekoracje z lokalnych materiałów i w lokalnym stylu. Dla kogoś przyzwyczajonego do ogrzewania w zimie/przedwiośniu - może być w mieszkaniu chłodno. Jest kaloryfer i piecyk, ale takiej przestrzeni nie ogrzeje. No ale jak autentyczność to autentyczność:)
Grzegorz
2016-03-19T00:00:00Z
Não conhecemos o José Pedro, mas a Isabel recebeu-nos muito bem e deixou-nos umas ofertas de boas vindas muito saborosas. A casa é muito gira, mesmo no centro da cidade de Beja e tem espaços exteriores muito agradáveis.
Susana
2015-08-23T00:00:00Z
We had a wonderful stay at Jose's apartment. When we arrived (losted) Jose met us and showed us the way. He even took some time time to show us a round a few blocks IE- where to park, where to get food- which restos to check out in walking distance. Their place was like stepping into an anthropology store catalogue shoot, throw rugs and hand made trinkets along with vintage pieces decorated the space. Spacious and well equipped the place was perfect for our family of 4. They were nice enough to set up a crib for our 8 month old baby too. Even though there was no air conditioning, the place stayed cool and we never felt over heated inside. We enjoyed our stay there and I would highly recommend their place to stay in Beja.
Marni
2015-07-01T00:00:00Z
Behulpzaam, droeg bagage naar binnen, vertelde honderduit over Beja, zocht met ons parkeerplaats voor auto, had wijn, brood en kaar klaarstaan; kortom een gastvrij onthaal
ton
2016-06-08T00:00:00Z
We had a very nice stay in the heart of Beja. José and his wife were very nice and flexible and welcomed us to the their house even though we booked at the very last minute. A great old house that was recently renovated, with plenty of space. I'll most certainly be back.
Jasper
2014-07-01T00:00:00Z
We absolutely enjoyed our two-day stay at José' beautiful flat in Beja. In fact, after leaving we did regret not staying for a little longer. The flat is a perfect place to relax with two terraces, a big living room and a beautiful large kitchen. José and his wife did a wonderful job restoring the old town house, and in addition, they make fantastic hosts! Thank you for a very nice stay!
Anne Lærke
2014-07-08T00:00:00Z
Jose met us from the station and drove us straight to the apartment. It is so cute and very relaxing. We loved the rustic vibe and being able to completely switch off. Jose gave us a quick tour of Beja - a lovely little town great for exploring. If you want to escape then this apartment and town is the place!
Claire
2015-09-28T00:00:00Z
ประเภทห้อง
บ้าน/อพาร์ทเมนท์ทั้งหลัง
---
ประเภทที่พัก
อพาร์ทเมนท์
---
พักได้
4
---
ห้องนอน
Beja, Beja, โปรตุเกส
Min bolig lægger tæt på Beja, restauranter og spisesteder, offentlig transport. Du vil elske min bolig på grund af hyggen og udsigterne. Min bolig er god til par, soleeventyrere og forretningsrejsende.
Monte do Gafanhoto was a very positive experience. We loved the quiet and relaxed atmosphere of the Monte. The studio is enough for two people. It has plenty of storage space and has the necessary cooking facilities for two. It's nice and comfortable. The snack area could be more comfortable. The table has no leg room on the side of the chairs. Some all round cleaning aspects can be improved, as well. The pool is literally steps away and the whole outer space is very inviting, with hammocks and lounge chairs, inviting for an afternoon of pure relaxation. A little more is heard besides silence and nature. It's a great place to rest and still be near the city of Beja. By car, in a few minutes, we are in the center of the city.
Carolina
2016-08-25T00:00:00Z
La demeure Monte Do Gafanhoto est en pleine campagne, l'arrivée se fait entre 2 haies de lauriers roses, la première impression est agréable. Un petit parking gravillonnée devant un groupe de petits studios. Nous sommes accueilli par une souriante jeune personne. Très bon accueil ! Une vrai piscine fait face à notre studio spacieux et bien équipé. Un regret malgré tout c'est l'absence de climatisation (les températures à cette époque dépasse les 40 degrés). Cette dernière remarque n'enlève rien au plaisir que nous avons eu à séjourner à Monte Do Gafanhoto, d'autant plus que pour le prix très raisonnable nous avions un panier très fourni pour notre petit déjeuner. Une étape que nous recommandons vivement.
Alain
2016-09-06T00:00:00Z
ประเภทห้อง
ห้องส่วนตัว
---
ประเภทที่พัก
อพาร์ทเมนท์
---
พักได้
2
---
ห้องนอน
Beja, Beja, โปรตุเกส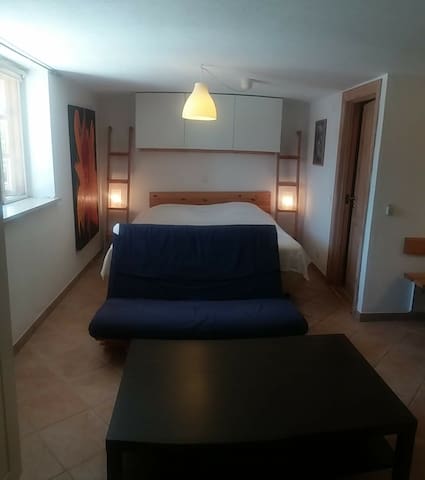 Experience a unique decoration inspired in our flowers and country side vegetation along with typical bedrooms + kitchen appliances. You'll be surprised by the nicely painted bedroom walls and the beautiful trees in the external área. Accomodates 6.
Maria was a great host. She went over and above, picking us up from the train station, the Internet didn't connect on our arrival, she worked on the problem till it was fixed even made alternate plans if she couldn't fix it. The apartment was lovely, with everything we needed, very clean and tidy and lovely little homely touches!
Vaiva
2015-09-12T00:00:00Z
Maria is very helpful and friendly host - she speaks & writes English very well. The appartment is bigger than we expected from the pictures - which was actually quite nice, and the terrace is comfortable as well, with a view overlooking the nearby rooftops. It was clean and well equipped. The appartment is close to the city center (walking distance) & super markets. We had a good time in Beja, at the appartment, at the big outdoor public swimming pool and having dinner at "Adega de 25 do Abril".
Maria Louise
2015-07-28T00:00:00Z
A Maria estava a recuperar de uma intervenção cirúrgica, então, fomos levados à casa por uma senhora muito simpática que, infelizmente, não me recordo o nome, só a simpatia. Em casa fomos recebidos por um ambiente cuidado e muitos detalhes deliciosos. Vamos regressar a Beja em breve e já temos um sítio para ficar. Aconselhamos vivamente a estadia na casa do Aurélio e da Maria quando forem a Beja.
Fernando & Pilar
2015-09-28T00:00:00Z
Très bel appartement décoré avec goût, très grand et proche de toutes commodités à pied. Très bien équipé avec lave linge, cafetière ect... Piscine municipale à proximité pour les grands et les petits.
Erwan
2015-07-31T00:00:00Z
ประเภทห้อง
บ้าน/อพาร์ทเมนท์ทั้งหลัง
---
ประเภทที่พัก
อพาร์ทเมนท์
---
พักได้
5
---
ห้องนอน
Beja, Beja, โปรตุเกส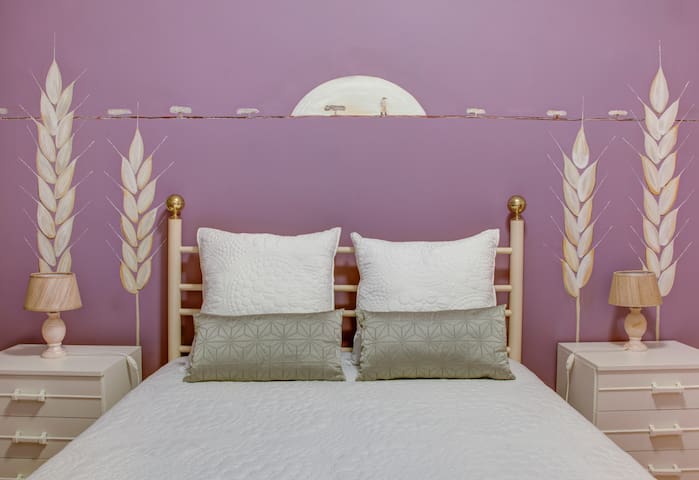 Cosy first flour apartment, 83 m2, stairs access only, it has what it needs to help you discover the secrets of Beja and its surroundings.
Feel free to use all our appliances, read our books and play with our boardgames. Make yourself at home!
Museums, restaurants, bars, etc. at walking distance.
The host canceled this reservation 66 days before arrival. This is an automated posting.
antonio
2017-02-20T00:00:00Z
This is a nice place in the heart of Beja. Maria took all the time to explain the facilities. The place is nice and clean and Maria is very flexible regarding the check-in and check-out, which worked very well for our working schedule. There are three bedrooms, which are nice and clean with good beds. There's a fast internet connection which was very useful for our work. She is preparing a second apartment next door and since we had to sleep during day and work during night she asked the workers to begin a week later! Very generous of her. Maria, thank you for a pleasant stay in your apartment.
Jasper
2014-11-15T00:00:00Z
ประเภทห้อง
บ้าน/อพาร์ทเมนท์ทั้งหลัง
---
ประเภทที่พัก
อพาร์ทเมนท์
---
พักได้
5
---
ห้องนอน
Beja, Beja District, โปรตุเกส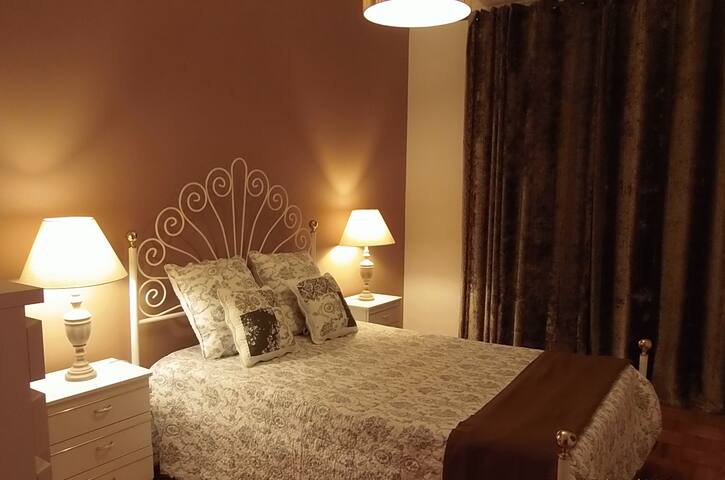 Our apartment is the best place to stay while discovering the treasures of our city. We have a fully equipped kitchen where you can prepare your meals, and we'll be happy to help you with any tips needed on the best restaurants,bars,monuments to visit etc
The Space is comfortable and spacious in a calm street close to the Park and the monuments.
Bom acolhimento, senti-me como em casa ! A casa é muito asseada e acolhedora ! Experiência a repetir e recomendar ! Good reception, I felt like I was at home ! The house is very clean, friendly ! Experience to repeat and recommend!
Pat
2016-08-25T00:00:00Z
Awesome apartment right next to the center. Everything was very clean and perfect. Carlos was very communicative via mail because he himself was out of town. His super nice family showed us the apartment and left very good recommendations for restaurants.
Philipp
2016-08-14T00:00:00Z
A casa do Carlos corresponde exactamente ao que está no anúncio. É simples e cómodo. Fica bem localizado. O Carlos foi prestável e a comunicação foi fácil.
Susana
2016-08-29T00:00:00Z
Casa espaçosa, limpa e com (URL HIDDEN) muita centralidade. E simpática (o café soube mesmo bem)...
anibal
2016-10-26T00:00:00Z
The apartament was perfectly clean and much more spacious than on the pictures. The owners helpful and friendly. Very close from the center and near of shops and with the restaurant in front. I recomand it without second thoughts :)
Ula
2016-09-23T00:00:00Z
We had a lovely stay in Beja. Carlos' mother and sister welcomed us at our arrival. Everything fits the description, and Carlos is always ready to help us if needed. Staying in Beja has been a good choice: its location allowed us to spend time on the south coast and to visit Beja, Evora and a few other cities. We recommand this place.
Pauline
2016-07-27T00:00:00Z
Simpatiquíssimos apesar da hora tardia a que chegamos, casa limpa e bem arranjada. Obrigado pela estadia.
Ricardo
2016-10-09T00:00:00Z
ประเภทห้อง
บ้าน/อพาร์ทเมนท์ทั้งหลัง
---
ประเภทที่พัก
อพาร์ทเมนท์
---
พักได้
3
---
ห้องนอน
Beja, Beja, โปรตุเกส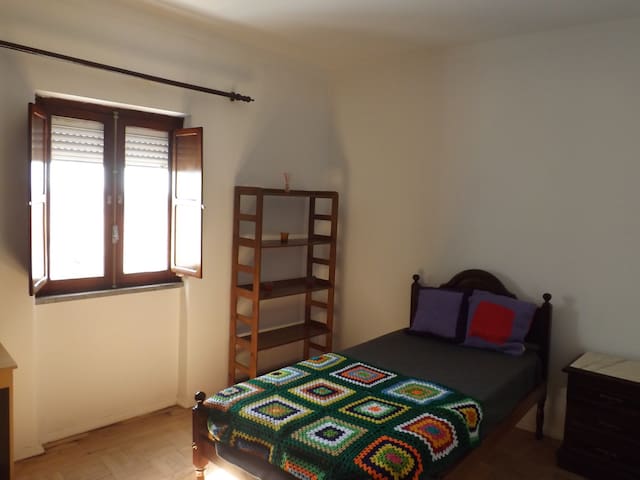 A minha casa fica na maior freguesia Rural do concelho de Évora, pero da gruta do escoural, cromelec dos almendres, anta do Zambujeiro. Há ligação de transporte público para évora, Beja, Lisboa. Perto da vila histórica onde pela 1.ªa vez, há 500 anos, se dividiu o mundo entre Portugal e Espanha. tenho internet 24h e TV por satélite. Gosto de receber e cozinhar para muita gente! Tal como todos os alentejanos!
ประเภทห้อง
ห้องส่วนตัว
---
ประเภทที่พัก
อพาร์ทเมนท์
---
พักได้
1
---
ห้องนอน
Beja, Beja, โปรตุเกส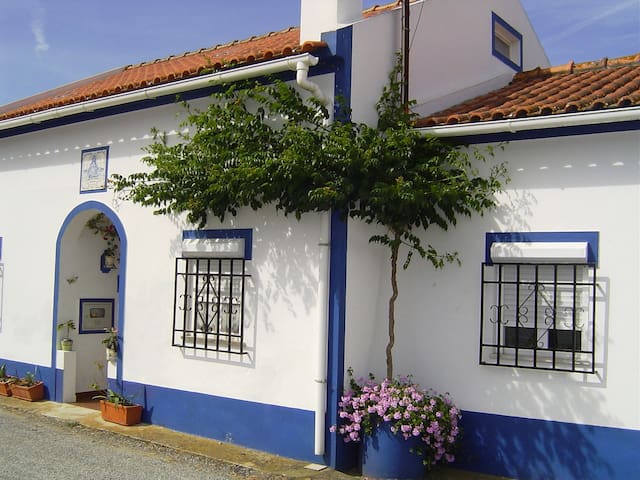 The house is a new house, but also our marriage room, formaldehyde free, clean and tidy, living facilities equipped, also provide you free parking. It is a high quality commodity, mobile broadband telecommunications, to meet all aspects of your daily life
ประเภทห้อง
ห้องส่วนตัว
---
ประเภทที่พัก
อพาร์ทเมนท์
---
พักได้
2
---
ห้องนอน
Vila de Frades, 贝雅区, โปรตุเกส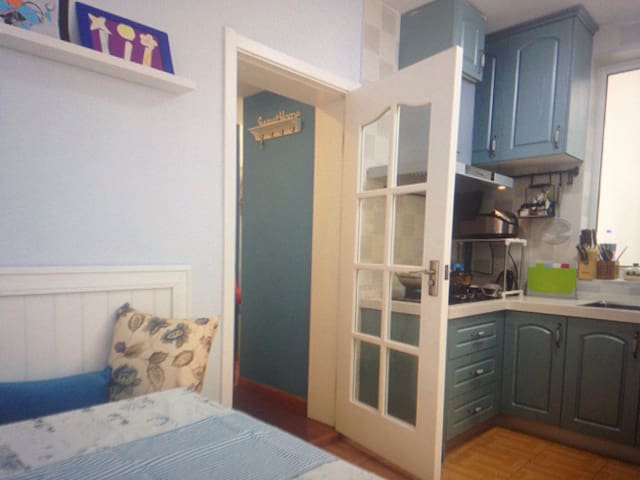 Os apartamentos de plano aberto têm uma kitchenette com um fogão e uma área de estar com sofás coloridos que podem ser convertidos em camas extras . Estão equipados com aquecimento e decorados com cores brilhantes e abrem para a zona da Piscina
Apartamento Terra Um espaço tranquilo integrado na Natureza. Alojamento em monte alentejano, perto da vila histórica de Alcáçovas. Está a 20mn de Évora e de Montemor-o-Novo, a 1h 30mn de Lisboa e a 45mn da Praia da Comporta. Apartamento composto por sala comum com kitchenette, quarto duplo e casa de banho privada. Tem capacidade máxima para quatro pessoas. O acesso à piscina é livre e directo. GPS: (PHONE NUMBER HIDDEN)" N 8º 09` 26.23" W
ประเภทห้อง
บ้าน/อพาร์ทเมนท์ทั้งหลัง
---
ประเภทที่พัก
อพาร์ทเมนท์
---
พักได้
4
---
ห้องนอน
Viana do Alentejo, Évora District, โปรตุเกส
Staying at my apartment will give you the opportunity to get to know Siza Vieira architecture from the 70's, related to the SAAL project. It is close to the city center (15 minutes walk), inserted in a green garden and close to the main historical and cultural attractions.
There's a big terrace with panoramic view over the neighbourhood and the historical center, and a balcony with table and chairs, where you can have your meals of relax at the end of the afternoon. The kitchen is fully equipped. There's a living room with fire stove, a separate working area and bathroom. You can either stay at a single bedroom, a double bedroom or have the whole place for yourself. The price shown is for the single bedroom. PLEASE CONTACT ME IN ADVANCE FOR THE PRICES OF THE OTHER OPTIONS.
Adorámos! Voltaremos mais vezes! Sentimo-nos em casa!
Liliana
2017-03-22T00:00:00Z
ประเภทห้อง
บ้าน/อพาร์ทเมนท์ทั้งหลัง
---
ประเภทที่พัก
อพาร์ทเมนท์
---
พักได้
4
---
ห้องนอน
Malagueira, Évora, โปรตุเกส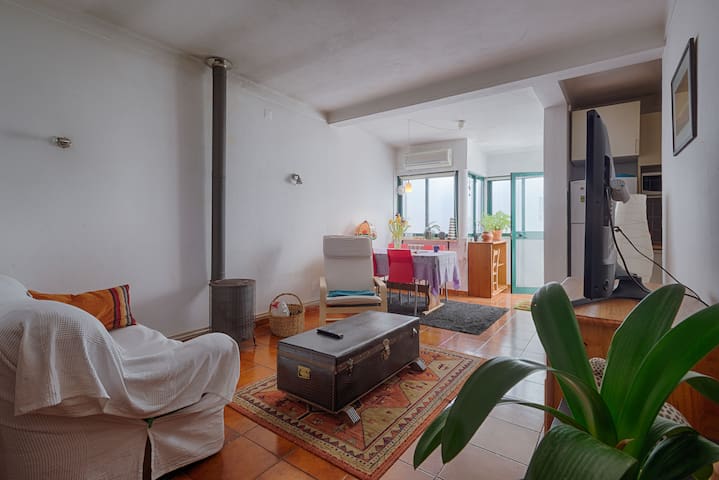 Cozy one bedroom apartment, just 1 minute walking from Praça do Giraldo, the main square in Évora, where the tourist office is located. From TeJo house you can adventure through the streets of the UNESCO World Heritage Site.
We will be waiting at your arrival, and we will have maps and guides with the best proposals to enjoy the city and the region. In TeJo house you will have the opportunity to experience living like a local citizen (Eborense): • buy goods in the neighbor grocery store; • buy fresh bread every morning; • buy fresh vegetables, fruit, meat and fish at the local market. The central location allows you to live in an historical place, full of monuments, museums, restaurants, shops and wine bars. You can reach by car to leave your luggage. The breakfast is included, as well as Wifi and TV. The apartment has a small kitchen, living room with 2 sofa beds, one bedroom with a double bed and one bathroom. We have a baby bed available by request, please ask us if you need it. We will be available to help you during your stay with anything you might need.
The Tejo House has a great location in Évora's historic center: you can reach by car, and park it near the place, and it's only 1 minute walking from Praça do Giraldo (city main square). Around your apartment you will find pastry-shops, grocery stores, restaurants, pharmacies, local market, wine bars and shops, etc. A Tejo House tem uma localização perfeita no centro histórico de Évora: pode chegar de carro e estacionar perto, e está a 1 minuto a pé da Praça do Giraldo (a praça principal de Évora). Perto do apartamento irá encontrar pastelarias, mercearias, restaurantes, farmácias, o mercado municipal, wine bars e lojas.
ประเภทห้อง
บ้าน/อพาร์ทเมนท์ทั้งหลัง
---
ประเภทที่พัก
อพาร์ทเมนท์
---
พักได้
4
---
ห้องนอน
Évora, Évora, โปรตุเกส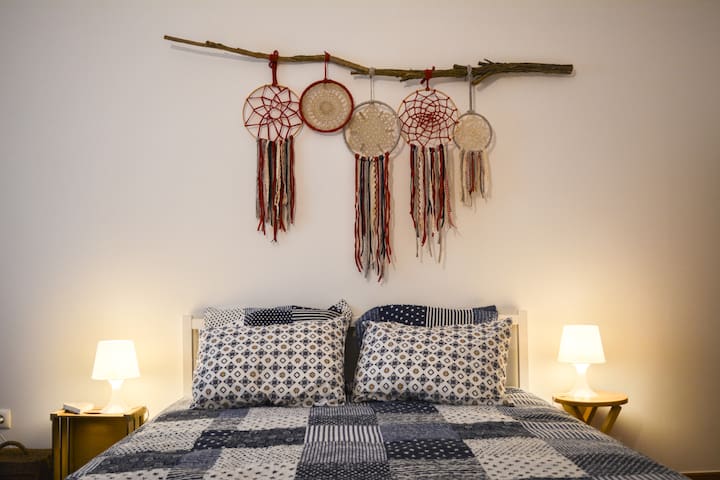 Clean and comfortable apartment on a working farm surrounded by open countryside but close to Garvao village.
The stay on Jan& Simon's farm was exactly what we had hoped for. A clean and cozy house with privacy, an incredible view over the lovely pool and having a BBQ under a starry nightsky. It's the perfect spot for anyone who wants to forget all worries for a while.
Armella
2016-10-02T00:00:00Z
this is the most wonderful place - high up on a hill with amazing views and the cleanest freshest air I've ever breathed - on a working farm with lots of different animals around (I was lucky enough to be there during lambing) - and I woke up to the sound of the sheep bells. Fantastic hosts.
Zoe
2016-11-02T00:00:00Z
This was the greatest Airbnb experience we've had so far, and we've had some. Jan was very kind on receiving us late in the evening, she came to show us the way by car - you'll need one to move about. The place is on a top of a hill, it's very calm and beautiful, the sheeps and other animals bring their farm flavor and our 6-year-old loved to take care of the lambs. Big pool is a great plus during the hot days and BBQ is perfect to grill some fresh fish for the evenings. The hosts are a wonderful couple with whom we enjoyed chatting a lot, although we had our privacy at all times. They took care of everything for us like family members, even thou they worked long days on the farm. They even bought a new blender to make baby food, and sheets we're changed ones during our two week stay. I highly recommend this place specially for families with children, who wish to spend relaxed vacations and live like the locals. Thank you so much for your hospitality and kindness, Jan & Simon!
Petra
2016-10-19T00:00:00Z
The host canceled this reservation 6 days before arrival. This is an automated posting.
Alexandre
2016-07-01T00:00:00Z
Great location , nice and clean surroundings. large swimming pool with clear water and stunning views . Very friendly and attentive hosts. Ideal for relaxing and sunbathing. Optima localização, espaço envolvente agradável e limpo. Piscina grande com água límpida e com uma vista deslumbrante. Anfitriões muito simpáticos e atenciosos. Ideal para relaxar e apanhar sol.
Tiago e Vania
2016-09-19T00:00:00Z
S'était une très belle expérience dans un endroit magnifique et calme. La maison est entourée de nature et d'animaux, dépaysement total. Petit conseil : n'hésitez pas à admirer une fois la nuit tombées, les étoiles, vue à 360° sur le ciel ;-)
Magali
2016-08-28T00:00:00Z
A lovely villa in a secluded location but with the main Faro/Lisbon train line 5 minutes away by car or a bit longer by foot. Great location for a bit of exploring as not far to the west coast and Cape St Vincent and Monchique easily reachable for a day out. We had a day in Lisbon and now want to go for a weekend! We had wanted somewhere just off the beaten track without any need for nightlife or the entertainment you can get along the coast so for us a perfect spot to read and chill out in some March sunshine.
Eamon
2017-03-23T00:00:00Z
This is a fantastic place if you want to be in a rural setting. I loved it! I was made to feel very welcome and yet felt it was all very private. There was food in the fridge when I arrived. Both Simon and Jan welcomed me and told me to make sure to ask if I needed anything. The pool was wonderfully, sparkingly clean. I couldn't really have asked for anything more. Thank you!!!
jane
2016-07-25T00:00:00Z
ประเภทห้อง
บ้าน/อพาร์ทเมนท์ทั้งหลัง
---
ประเภทที่พัก
อพาร์ทเมนท์
---
พักได้
6
---
ห้องนอน
Garvão, Beja, โปรตุเกส
Simpático Apartamento renovado para 3 pessoas, com capacidade máxima de 5 pessoas, ideal para famílias. Espaço completamente equipado ,sala com tv, cozinha com utensílios e máquina de lavar roupa e microondas. Zona calma junto ao miradouro.
Casa típica alentejana. Ideal para aqueles que apreciam a natureza e a necessidade de descansar ou para se inspirar . Têm vizinhos. Ideal para caminhadas / BTT e observação de aves . No Rio Guadiana você pode ir à pesca, canoagem , natação e percursos de barco .
Chambre d'hôtes très mignonne et très calme. Le staff est très agréable et on se sent vite à la maison. En face d'un restaurant du même propriétaire qui offre une vue incroyable sur le chateau.
Bruno et Audrey
2016-08-08T00:00:00Z
Nice and pleasant place in beautiful settings.
Clement
2016-10-20T00:00:00Z
Really nice house with an astonishing view over Mertola. 15 minutes walk to the village from Casa Amarela. Our host was helpful and his staff was very kind and social. Don't miss the breakfast (must be ordered in advance) at the restaurant that is located in the same house. They are also open for dinner/cocktails Wednesday - Sunday.
Johan
2016-07-07T00:00:00Z
The appartment is nice, and it is easy to park the car. It is located in front of Mertola, on the other side of the river. Outside the appartment, we have a great view on Mertola !
Mickael
2016-05-12T00:00:00Z
The Casa da Tia Amalia is across the river from the village of Mertola with terrific views of the town especially at night from the adjacent restaurant. We ate in the restaurant both nights and also had the breakfast. Great food and very reasonable. Despite the closeness of the restaurant and bar there was no noise to disturb our sleep. We would definitely stay here again.
Richard
2016-10-15T00:00:00Z
Apartamento Casa Amarela is a very charming place right by the river of Mertola. Hosts were very welcoming and shared with us some tips of restaurants, bars and what to visit around Mertola. We also had dinner at their place which is by far the best restaurant in town. Breakfast was also very good. We enjoyed our stay with them and I recommend this place to everyone.
Juliette
2015-06-28T00:00:00Z
Avons aimé l'authenticité de ce logement (climatisé) situé face au village de Mertola.
Annick
2016-05-22T00:00:00Z
The apartment is on the other side of the river/town but that's perfect because you have a beautifull view! The apartment is cosy and nice decorated. We felt welcome when we arrived, the onwers where very friendly. There's a possibilty to have breakfast naerby the apartment and other restaurants are nearby. We had a wonderfull time!
Arthur
2016-04-30T00:00:00Z
ประเภทห้อง
บ้าน/อพาร์ทเมนท์ทั้งหลัง
---
ประเภทที่พัก
อพาร์ทเมนท์
---
พักได้
5
---
ห้องนอน
Mértola, Beja, โปรตุเกส
The house is a new house, but also our marriage room, formaldehyde free, clean and tidy, living facilities equipped, also provide you free parking. It is a high quality commodity, mobile broadband telecommunications, to meet all aspects of your daily life
ประเภทห้อง
ห้องส่วนตัว
---
ประเภทที่พัก
อพาร์ทเมนท์
---
พักได้
2
---
ห้องนอน
贝雅, 贝雅区, โปรตุเกส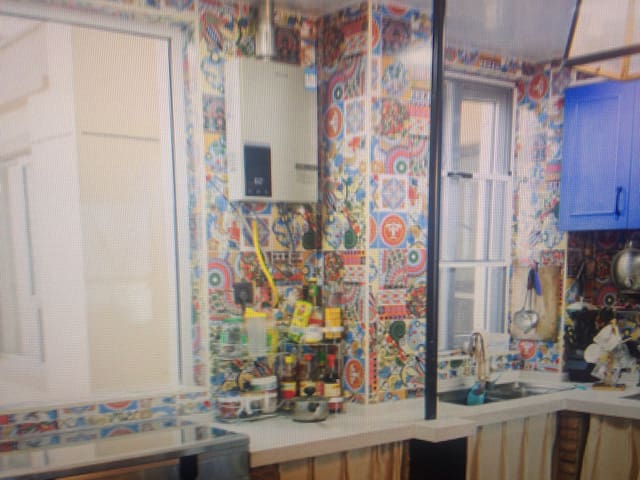 In the historic center this charming apartment is set in an old carpentry, next to one of the most interesting monuments of the city (Silver Water Aqueduct, XVI century). The 68-square-meters apartment underwent a recent architectural restoration project, that respects the preexisting construction features, such as the vaulted ceilings and the old well, just at the entrance.
It is a ground floor apartment in an ancient building, in a very quiet street, within walking distance of all Évora must-see spots. It is also close to little supermarkets, bakeries, coffee shops and restaurants, what ensures an easy stay and allows the experience of local life. This apartment is ideal for until four people (bed + sofa bed). It is one bedroom apartment with a patio, kitchen, bathroom and living/dinning room. The bedroom has a double bed and a closet. The bathroom is complete with shower. The kitchen is fully equipped with everything you could possibly need to have a relaxed stay. The patio is the heart of the house, a little place of serenity, every spring visited by a couple of swallows that chose this place to nest. You can lay on the bed and observe the hard work of feeding hungry chicks.
A very quiet neighborhood in an ancient quarter crossed by the ancient aqueduct. It´s close to the main sites of tourist interest (the cathedral, roman temple, main square (Praça do Giraldo) etc) and about 5 minutes from free parking.
Maria was very accomodating of our late arrival to Evora. We thoroughly enjoyed our break from a busy travel schedule around Portugal to stay in her beautiful apartment. Her apartment is newly renovated, contempary in design with lovely white washed walls and a delightfull little garden. The apartment was well equiped and within the city walls, walking distance to all the major attractions of Evora. We would highly recommend this airbnb
Sally
2016-10-23T00:00:00Z
Maria is a great hostess and her place is spectacular! Great location, apartments, decor, everything was perfect, thank you!
Mabei
2016-08-17T00:00:00Z
Excellent place in Evora. It was within the city walls which is nice because everywhere we wanted to go was just a short walk. The pictures don't actually do this apartment justice. It's quite spacious and very comfortable. The little patio is located in the middle of the apartment, giving both the bedroom and the kitchen a source of bright natural light. Definitely a home away from home kind of stay. I would recommend this over any of the other places in Evora I saw on Airbnb. Maria is also laid back and very accommodating. Definitely stay here!
Amanda
2016-09-02T00:00:00Z
Maria was a great host. She gave us an early check in and arranged a cab for us the day we were leaving. The apartment was completely redone with new appliances, furniture, etc. and extremely clean.The bedroom was very quiet and comfortable. Great base to explore Evora from.
Ingrid
2016-09-24T00:00:00Z
Maria's apartment is very nice, extremely clean and confortable. It's located in the old part of evora but it's easy to find it and to park nearby. absolutely reccomended!Maria has been very kind allowing us to check in at 10 pm. Thanks!!
Cristina
2016-08-23T00:00:00Z
Maria was a lovely host, her apartment very conveniently located and spotlessly clean and very tranquil. It all added to our most pleasant stay in evora.
Yvonne und Andreas
2017-03-30T00:00:00Z
We loved everything! Thanks, Maria.
Joana
2016-12-09T00:00:00Z
O apartamento é muito bem localizado e corresponde às fotos e informações disponibilizadas pela proprietária.
Caio
2017-01-01T00:00:00Z
ประเภทห้อง
บ้าน/อพาร์ทเมนท์ทั้งหลัง
---
ประเภทที่พัก
อพาร์ทเมนท์
---
พักได้
4
---
ห้องนอน
Évora, Évora, โปรตุเกส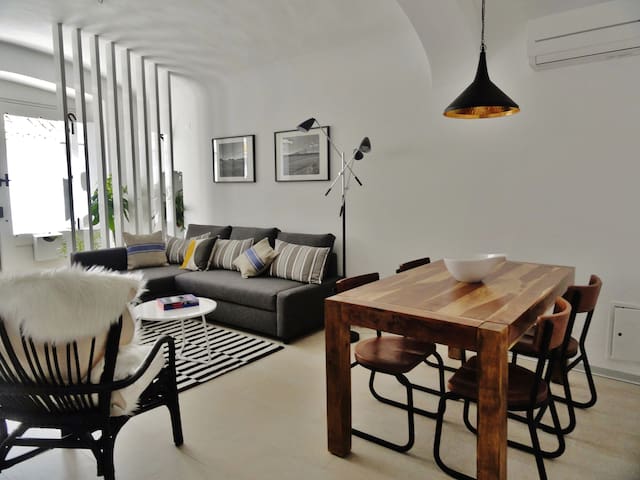 Casa das Damas is located on a small road about 100 meters from the Geraldo Square, central square of the city of Évora. The house is equipped and ready to receive 3 guests, contain 2 bedrooms, one double and one single. Wi-Fi
ประเภทห้อง
บ้าน/อพาร์ทเมนท์ทั้งหลัง
---
ประเภทที่พัก
อพาร์ทเมนท์
---
พักได้
3
---
ห้องนอน
Évora, Évora, โปรตุเกส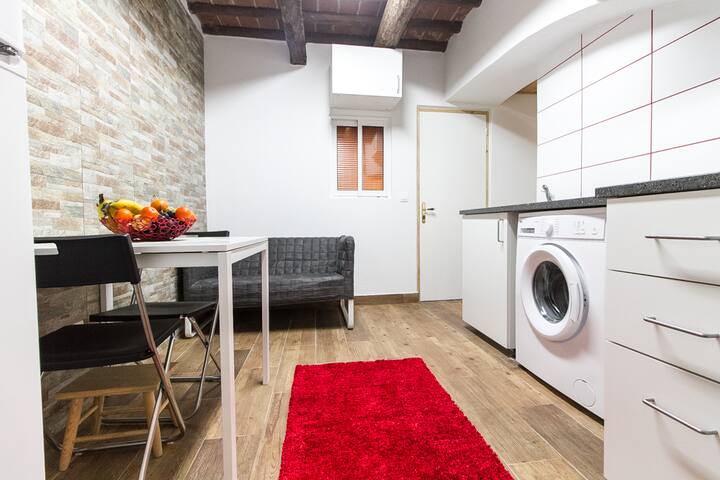 This apartment is located on the historical center of Évora, at a walking distance of the Roman Temple of Évora, the Igreja de São Francisco which features Gothic and baroque architecture and the skeleton-adorned Chapel of Bones. It is also nearby Praça do Giraldo, the city's main square, Évora's aqueduct and numerous museums including: Museu de Évora and Forum Eugénio de Almeida. It is also possible to find some supermarkets and restaurants near the apartment.
ประเภทห้อง
บ้าน/อพาร์ทเมนท์ทั้งหลัง
---
ประเภทที่พัก
อพาร์ทเมนท์
---
พักได้
4
---
ห้องนอน
Évora, Évora, โปรตุเกส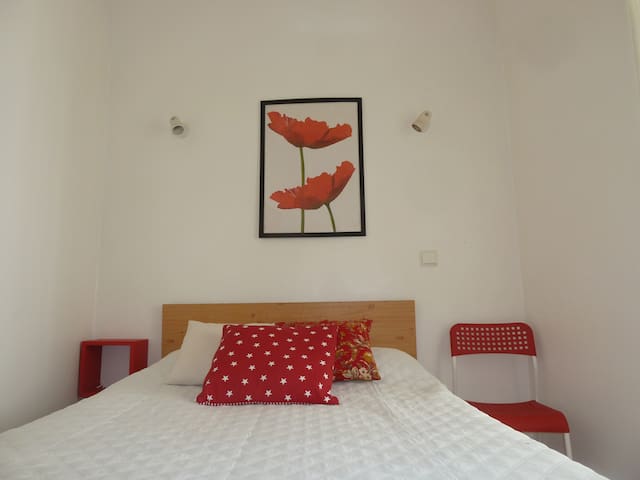 Casa acolhedora situada no Centro Histórico, junto ao centenário Teatro Garcia de Resende, a 4 minutos a pé da Praça do Giraldo, a praça principal da cidade. Cosy house located in the Historic Center, near the centenary Teatro Garcia de Resende, 4 minutes walk from the Giraldo Square, the main square of the city.
Dispõe de 1 quarto com cama de casal, sala com sofá (cama extra 1 pessoa) cozinha completamente equipada e WC. Berço para crianças até 3/4 anos ( grátis ) It has 1 bedroom with double bed, living room with a couch (extra bed for 1 person), fully equipped kitchen and WC. Cot for children until 3/4 years (free)
A casa está localizada perto dos principais monumentos (Templo Romano, Museu de Évora, Biblioteca Pública, Igreja da Sé, Capela dos Ossos, Palácio D. Manuel, etc) e da vida cultural e nocturna da cidade. Perto poderá também encontrar pequenas mercearias, restaurantes e cafés. The house is near the main monuments (Templo Romano, Biblioteca Pública, Museu de Évora, Igreja da Sé, Capela dos Ossos, Palácio D. Manuel etc.) and from cultural and night life of the city. Nearby you can also find small grocery stores, restaurants and cafes.
The apartment is comfortable, very clean and nicely situated for exploring Evora. Maria was a dream host and went above and beyond to make me comfortable. I would definitely stay again.
Kathleen
2017-03-20T00:00:00Z
Maria war sehr freundlich und total zuvorkommend. Die Wohnung liegt sehr schön zentral in der Altstadt.
Annika
2017-03-09T00:00:00Z
A simple, clean and cosy apartment within the old city and a short walk to the centre of things.
Paul
2017-03-24T00:00:00Z
Extraordinário, melhor que nas fotos. Excelente a simpatia, disponibilidade e atenção por parte de quem nos acolhe. Uma referência que vem trazer qualidade e enobrece a estadia em Évora.
Rui
2017-03-01T00:00:00Z
A Maria teve connosco um acolhimento e simpatia formidáveis.
Celia
2017-03-12T00:00:00Z
A nossa estadia foi óptima, fomos recebidos com muita disponibilidade e amabilidade por parte da nossa anfitriã Maria. A casa é muito central, podemos visitar toda a cidade a pé a partir dela, apesar de pequena é funcional e muito acolhedora. Recomendamos vivamente!
Teresa
2017-02-05T00:00:00Z
A lovely flat. Complete uncomplicated and friendly Hosting. I would love to come back.
Maik
2017-03-31T00:00:00Z
ประเภทห้อง
บ้าน/อพาร์ทเมนท์ทั้งหลัง
---
ประเภทที่พัก
อพาร์ทเมนท์
---
พักได้
3
---
ห้องนอน
Évora, Évora, โปรตุเกส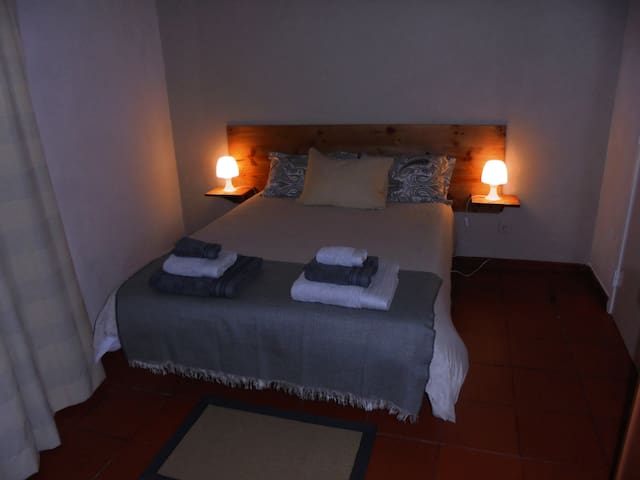 Ideal to romance in Alentejo...
Romance House In Alentejo - the time Just Stop in this House
ประเภทห้อง
บ้าน/อพาร์ทเมนท์ทั้งหลัง
---
ประเภทที่พัก
อพาร์ทเมนท์
---
พักได้
3
---
ห้องนอน
Vidigueira, Beja, โปรตุเกส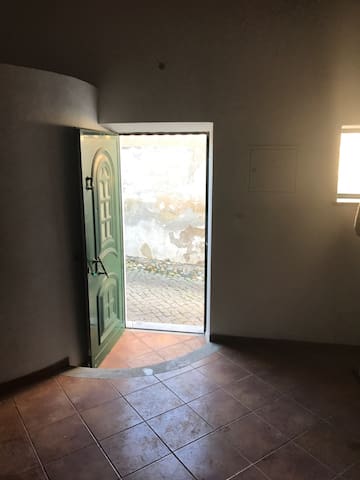 Beja - Airbnb
:
เฉลี่ย

4.57

จาก

5

ดาวจาก

169

รีวิวผู้เข้าพัก
1

–

18

จาก

90 อพาร์ทเมนท์ให้เช่า
กรอกวันที่เพื่อดูการกำหนดราคาเต็ม มีค่าธรรมเนียมเพิ่มเติม อาจมีภาษีเพิ่ม