Grote kamer met eigen badkamer en douche en een prachtig uitzicht over Iqaluit en Frobisher Bay. Gelegen in een rustige omgeving, op loopafstand van het centrum. Een geweldige plek voor stelletjes, solo avonturiers, en zakelijke reizigers op zoek naar Iqaluit ervaren.
Everything was smooth and easy. And the place has a beautiful view (as described). Didn't spend much time there, but Kristine and her family went out of their way to make me feel welcome whenever I was there. Highly recommended!
Matt
2016-10-30T00:00:00Z
Kristine was extremely welcoming and went out of her way to make me feel at home and like part of her family. I could not have imagined a better way to discover Iqaluit for the first time. The house is lovely and welcoming, with beautiful views on the bay. The room is very cosy and has a desk and a long chair; the room is nicer and larger than it appears in the pictures on Airbnb, I was pleasantly surprised. I would strongly recommend Kristine's place to anyone traveling to Iqaluit, it was a wonderful experience and one that I am sure to repeat on my next trip to Nunavut. Thank you!
Audra
2016-09-30T00:00:00Z
The large room at Kristine's has a killer view, private bathroom and is very private and cozy. There's a little fridge stocked with some food, juice, a kettle, coffee maker, lots of storage and really comfy bed. Internet access is provided. Plus access to living/dining room and kitchen. Kristine and her kids are very friendly and welcoming. The house is a bit of a hike from town but walkable or cabs are easy. It's worth it for the views!
susan
2016-11-24T00:00:00Z
A clean and private space with coffee and access to a small fridge. Super hospitality in a nice neighbourhood with a great view!
Anne
2016-10-18T00:00:00Z
Kristine's home, and family, are both beautiful. The home is super clean and organized and very comfortable. Beautiful views from every room as the house sits atop a hill overlooking town and Frobisher Bay. Everything is within walking distance however taxis are readily accessible and very affordable if you prefer not to walk. Kristine went above and beyond to make us feel welcomed and right at home. I would recommend Kristine's home to anyone for their stay in Iqaluit.
Heidi
2016-11-28T00:00:00Z
The house was really beautiful and so was my room. I loved the view from the room. The host answered to all my questions, she made me feel like at home.
Irena
2016-10-25T00:00:00Z
Great place! Great view! Great people! I will definitely stay there again whenever I am in Iqaluit.
Scott
2017-04-06T00:00:00Z
I had a lovely stay at Kristine's place. The rental area had a beautiful view of Iqaluit, and they were very welcoming while allowing for privacy.
Laura
2017-03-23T00:00:00Z
ประเภทห้อง
ห้องส่วนตัว
---
ประเภทที่พัก
บ้าน
---
พักได้
2
---
ห้องนอน
Iqaluit, Nunavut, แคนาดา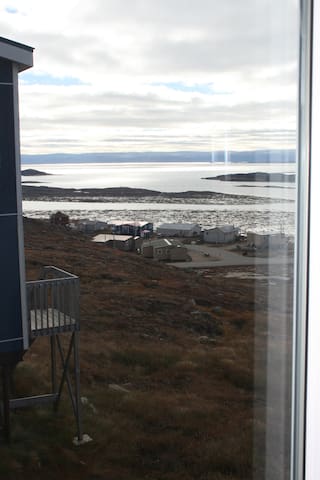 We loved Joelle's place! The bedrooms are very confortable, the rooms are large et really nice. Joelle was very flexible , and attentive. I can't recommend this place enough!
Maéva
2017-03-10T00:00:00Z
Joelle is amazing. I spent a week at her lovely home in March. Apex is a bit of a drive from town, but I never regretted it. She made me feel welcome from the minute I touched down in Iqaluit, and showed me around town. I'm so glad I ended up staying with Joelle instead of the overpriced hotels in town.
Mark
2014-03-31T00:00:00Z
I'm so glad I stayed with Joelle, she is a friendly and cheerful person and an accommodating and welcoming host. Joelle picked me up at the airport and showed me around town. I spent most of my time in Iqaluit working but when I had free time Joelle invited me to different events and activities so I got to experience the local life as well. Thr house is well-maintained. The room is in an excellent condition, clean and with nice artwork. I was glad to have access to the kitchen and be able to cook once in a while.
Alina
2017-02-24T00:00:00Z
ประเภทห้อง
ห้องส่วนตัว
---
ประเภทที่พัก
บ้าน
---
พักได้
4
---
ห้องนอน
Iqaluit, Nunavut, แคนาดา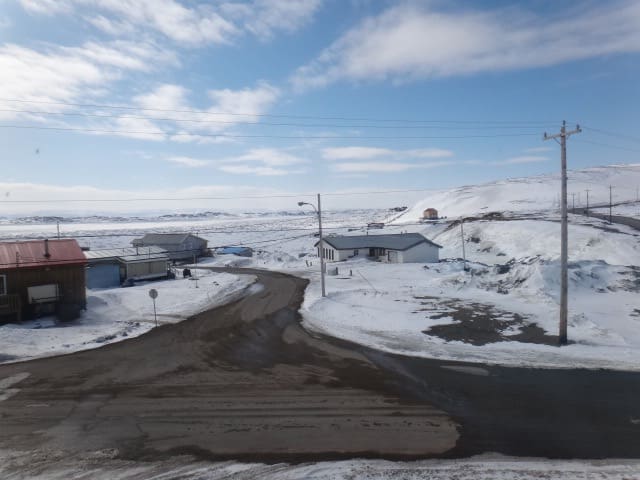 Ellen and Chris are so nice and helpful. They made us feel like one of the family. They are extremely knowledgable about Inuit culture and history and about the whole Nunavut area. Their place is beautiful and clean with a wonderful view of the whole city. The room is very spacious with a ensuite bath. The mattress is the best that we have ever slept on. My husband wants to replace our bed with one like theirs. The house is located on a plateau above the city and it is a ten, fifteen minute walk down the tundra to the center of the town. The photos of their place are accurate as shown except the bedroom looks much better than in the photo. We would stay there again.
jeannette
2016-09-22T00:00:00Z
Ellen and her husband were absolutely the best hosts! These folks were pretty awesome. We just spent the night in town to catch the connecting flight in the morning. Ellen picked us up at the airport and welcomed us to their beautiful home that had a great view of Iqaluit. Their home was clean and nicely decorated. They even made a delicious dinner for us (we were too tired from traveling to even think about food - I was just going to make instant noodles at the most!). Breakfast was also very pleasant and Ellen drove us back to the airport while touring us around town. My best airbnb experience to date!
Danica
2014-03-16T00:00:00Z
I had an incredible time with Chris and Ellen. They made my trip to Iqaluit very special. They have a beautiful house and were incredibly warm and welcoming. They provided insightful information about the community, showed me around and gave me space to enjoy my time up North. They are incredible hosts and people. Such a pleasure and joy to have met them and spent some time with these two great hosts. Thank you again, Ellen and Chris!!
Anne
2013-11-18T00:00:00Z
Ellen and Chris were fabulous hosts and the accommodations were exactly what I expected and hoped for. They were very welcoming and warm. Would definitely stay here again!
Holly
2014-06-24T00:00:00Z
The reservation was canceled 69 days before arrival. This is an automated posting.
Andrew
2015-01-24T00:00:00Z
We could not say more about how lovey our time was with Ellen and Chris - they made us feel completely welcome, and at home. Their place is beautiful with an amazing view - we can't wait to come back again! Thank so much. Anne and Noah
Anne
2016-10-30T00:00:00Z
Unfortunately we did not get to meet Ellen and Chris but Ellen was still a lovely hostess. She had everything ready for our arrival and was available via phone for any of our questions. She was so welcoming when we spoke. The house was beautiful and clean with an incredible view. Ellen's decorating was so homey with so many lovely touches and art pieces local to the area. The house was about a 10 min walk to downtown.
Erin
2016-10-01T00:00:00Z
Ellen and Chris are lovely, kind and generous hosts, who go out of their way to make sure that you're comfortable and to help you navigate Iqaluit. Their home is beautiful, and the room provided is spacious with great facilities. The home is walking distance to downtown Iqaluit, so it's very easy to get around.
Kareena
2014-10-10T00:00:00Z
ประเภทห้อง
ห้องส่วนตัว
---
ประเภทที่พัก
บ้าน
---
พักได้
2
---
ห้องนอน
Iqaluit, Nunavut, แคนาดา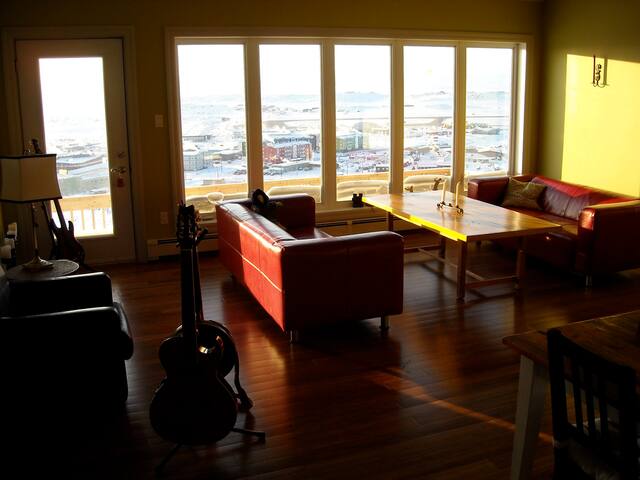 Superbe vue sur la baie de Frobisher. Il peut accueillir jusqu'à 5 personnes, 2 chambres avec lits doubles et un canapé-lit dans le salon. Toutefois, s'il vous plaît noter et assurez-vous de nous demander si nous sommes là: si oui seulement 1 wa chambre double est disponible.
Nous pouvons louer toute notre maison quand nous sommes loin pour les vacances ou le travail OU 1 chambre et un canapé-lit quand nous sommes à la maison. faire S'il vous plaît assurez-vous de nous demander quand vous demandiez pour voir si nous sommes à la maison ou non. Notre maison est dans une grande partie de la ville et offre une vue directement sur la baie de Frobisher. Son une maison de style bungalow avec 2 chambres et un bureau et une salle de séjour et cuisine ouverte. Entièrement meublé avec espace pour garer 3 voitures si nécessaire. Notre maison est située dans Tundra Ridge, qui est à environ 10-15 min à pied de "centre-ville". Il est un moyen rapide de commodité d'arrêt magasin juste autour du coin pour l'épicerie rapide, le café (Tim Hortons) ou de gaz.
crête Tundra est situé à proximité de l'école intermédiaire et l'école primaire, notre maison est située dans une rue assez calme avec une vue magnifique. Accès facile à la toundra arctique, hiver arène de jeux et arrêt rapide. Non loin du centre-ville, vous pouvez marcher à prendre un taxi très facilement.
Rosanne and Vincent made me feel very welcome. They made feel as if I was home from home. They gave me full access to the kitchen and and gave me rides around town. They also provided me with more appropriate warm cold weather gear. (Without this I would have been confined to indoors all the time)
David
2016-04-08T00:00:00Z
Very clean, easy to contact the host with any questions and concerns, wonderful view of the bay, the accommodation was exactly as described by the host. We had a HOO-t!
Andrew
2015-12-21T00:00:00Z
Our host was nice and welcoming. The house was beautiful and the view was great. I would for sure recommend future travelers to stay here when they get a chance to come to Iqaluit.
Tina
2016-03-05T00:00:00Z
After unexpectedly finding an airBnB in Iqaluit we were pleasantly surprised by the accommodations when we arrived. The place was very spacious, clean, and had a very warm feel! Rosanne and Vincent were always available to answer any of our questions and went out of their way to supply us with tourism information and point out the ins and outs of Iqaluit. We would definitely stay there again! Thanks for the accommodations!
Matt
2016-02-21T00:00:00Z
ประเภทห้อง
บ้าน/อพาร์ทเมนท์ทั้งหลัง
---
ประเภทที่พัก
บ้าน
---
พักได้
5
---
ห้องนอน
Iqaluit, Nunavut, แคนาดา
Arctic Ocean - Airbnb
:
เฉลี่ย

5

จาก

5

ดาวจาก

42

รีวิวผู้เข้าพัก
กรอกวันที่เพื่อดูการกำหนดราคาเต็ม มีค่าธรรมเนียมเพิ่มเติม อาจมีภาษีเพิ่ม