Stylish Country property for rent in Arcos de la Frontera, Andalusia, Spain. This stylish cortijo is nicely built around a large courtyard with water feature and is located on a finca of 7.7 hectares.
Stylish Country property for rent in Arcos de la Frontera, Andalusia, Spain. This stylish cortijo is nicely built around a large courtyard with water feature and is located on a finca of 7.7 hectares.
Arcos de la Frontera est situé dans la province de Cadix, en Andalousie, l'une des plus belles régions d'Espagne, réputée pour son ensoleillement, ses traditions et la beauté de ses paysages. Arcos est l'un des plus beaux villages blancs (pueblos blancos) de la Sierra de Cadix, perché sur un éperon rocheux dominant les collines environnantes.
Remote & quiet, very nice house, most suited for spring/summer/autumn stays (winter can be a little bit chilly). Beautiful view and very tastefully decorated. All facilities present.
Anneleen
2017-03-04T00:00:00Z
We had a memorable stay in this peaceful and charming cortijo near Arcos de la Frontera. The property was as described in the listing, well equipped, spacious, confortable, quiet,... with a fantastic view over the fields surrounding Arcos. Communication with the host was flawless, Garance arranged everything to make our stay enjoyable. We definitely recommend this airbnb property.
natalie
2016-07-10T00:00:00Z
The cortijo is beautiful and indeed very stylish! The pictures are accurate and give a good representation of how the house looks like in reality. There is plenty of room, including two large separate bedrooms (with bathrooms) in separate areas. The house itself includes a lovely kitchen with all necessary equipment and another bedroom with bathroom. The view from the house and the pool is spectacular. The location is perfect; lots of privacy and within 15 minutes (drive by car) you are in the centre of Arcos de la Frontera; within 25 minutes you are in the centre of Jerez de la Frontera. Before we arrived Garance provided us with all the details of the house. Garance was very easy to contact and replied instantly the (spare) moments we had a question. And to the delight of our son the WIFI is also very good!
karin
2016-05-07T00:00:00Z
Absolutely fantastic stay! Such a beautiful house...a courtyard opening up to a swimming pool and rolling hills. The house is really well equipped and, with three bedrooms set across the courtyard, it has the perfect combination of privacy and communal spaces. The roof terrace is especially lovely. Garance was a great host and, while we didn't get a chance to meet, she was extremely helpful in terms of logistics and advising us on the local area etc. We will definitely come back!!
Pim
2016-06-15T00:00:00Z
ประเภทห้อง
บ้าน/อพาร์ทเมนท์ทั้งหลัง
---
ประเภทที่พัก
บ้าน
---
พักได้
6
---
ห้องนอน
Arcos de la Frontera, อันดาลูซีอา, สเปน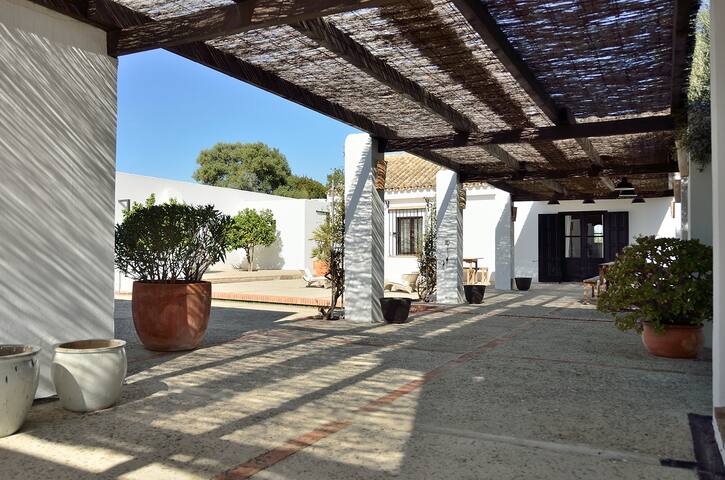 Authentic architecture in a historic village. Completely renovated with three double rooms plus spare twin, patio and roof terrace. Located in the heart of the old town, it's a few minutes walk from the main square and local bars and restaurants.
The house was originally one of Spain's first public granaries in the 17th century. Now completely renovated, with three double bedrooms plus one spare room with two single beds, it sleeps eight easily. Owner speaks English, French, Spanish.
Located in the heart of the old town, it's a few minutes walk from the main square and local bars and restaurants. Many of the processions of local fiestas pass directly in front of the house, providing a great place to watch the festivities. Perched on top of a limestone cliff, Arcos de la Frontera is one of the most striking villages in Spain. Its whitewashed houses and stone churches wind upwards into the old town, stopping abruptly as the sheer cliff face dramatically plunges down to the valley of the river Guadalete below. Arcos has some of the most spectacular fiestas running throughout the year, a traditional Spanish experience: flamenco, sherry, tapas and long warm evenings. There is also a nearby golf course, and lake where you can sail.
La casa espectacular y el dueño siempre atento y dispuesto a resolver incidencias
Alvaro
2016-01-03T00:00:00Z
Arcos is a magical, small, hilltop town, not at all packed with tourists (at least in January) and within an hour or less drive to many other interesting places in the region (Grazalema, Jerez, etc.). The charming narrow streets and passageways offer hours of exploring and spectacular views of the surrounding countryside at every turn. Mark's place is located in the heart of the historic district, very close to great cafes and restaurants (we loved Taverna Jovenes Flamencos and Bar Carcel and the little cafe just next to the church for coffee and toast in the morning) and the historic home, with its high ceilings and stone walls, has been beautifully renovated. The decor is simple but elegant and the kitchen very well equipped. Arcos is chilly in the winter, but the fireplace was well-stocked with wood, and each room has its own heater. We stayed with our two children (3 &6) and they loved feeling like we were in a real castle, but the iron spiral staircase leading to the second floor was difficult for our youngest to navigate on his own. We didn't take advantage of the patio because it was cool and shady but I'm sure it would be a blessing in the warmer months. Parking (as others have warned) is difficult as is navigating the very narrow streets of the old town in a car. We opted to park at the bottom of the hill in the newer section of town and walk up - it's a steep 10 minute climb that was challenging for our older family members (70+) and our youngest child. My daughter says, "We definitely recommend the place to others who would like to go there!"
Erin
2017-01-12T00:00:00Z
Fantastic house which is every bit as great as the pictures indicate! We did not know the area from before, but Arcos de la Frontera proved to be a charming town, and the area within about one to one and a half hour drive from Arcos, in all directions, can offer a wide variety of different activities and sights of top class. We have spent a great holiday! Communication with Mark has been impeccable both in advance of and during the stay. He replies precisely and informatively without delay. A good host! We give our strongest recommendations!
Reidar
2016-10-16T00:00:00Z
Fantastic, well restored house right in the heart of Arcos de la Frontera. It doesn't get any better than this. The house offers lots of space and has a great atmosphere. The air conditioning in every room makes the house very comfortable. Absolutely recommendable if you plan a visit to Arcos. The house by itself is probably even worth the trip to Arcos.
Mels
2016-08-10T00:00:00Z
On arrival at Mark's beautiful house in the old town of Arcos de la Frontera for our sons wedding to a local girl in June 2016, we were extremely pleased, with both the house itself, and its location, as perfectly described by Mark. We had no trouble in contacting Beatriz, the housekeeper, who lives just down the street and she met us promptly to hand over the keys to the house. The house itself is very spacious and is equipped with everything you need for your stay. Beautifully decorated by our host, this house is great, especially if you are entertaining or just want to enjoy the tasteful surroundings. Tapas restaurants and bars are only a minutes walk up the narrow street and a little shop opposite is handy for essentials. As we had friends for the wedding staying at Los Olivos, the hotel kindly let us park our car in their car park as a special concession and we paid them 8 euros a day for this benefit. However, as Mark has suggested, using the local car park is the best idea as one of our guests had a parking ticket for out staying the two hour limit in the square at The Parador. It was great fun passing family and friends who were staying in other locations in the village, sitting outside the local bars and taking in the atmosphere, eating tapas and stopping to chat or meet for drinks. We were brave on a few occasions and drove through the old town but it's very narrow. The lake just outside the town is a lovely place to visit and has a hotel where you can enjoy drinks and take in the view of Arcos from afar. It has a small man made beach where you can swim and kayak and was very quiet when we visited. We are now in Savilla taking in the sites but are already missing our stay in Arcos de la Frontera and will certainly be contacting Mark through Airbnb to book our next stay.
Sonia
2016-06-06T00:00:00Z
This is honestly the nicest house on AirBnB I have stayed in. The pictures and description do not do it justice. It is located right in the centre of the town a stones throw from the restaurants and the house itself is huge. All modern facilities and perfectly clean
Ben
2016-06-28T00:00:00Z
Hola, la experiencia ha sido fantastica, la casa esta muy bien cuidada, no falta detalle y la decoracion y las instalaciones son muy buenas. Ademas es muy amplia para estar confortable. Hemos pasado un fin de semana genial
MANUEL
2016-04-25T00:00:00Z
Three of us stayed at this property for a week. what a stunning building. The photographs do not do it justice. The property has been beautifully restored. The property has two floors. on the ground floor there is a good size lounge with TV and DVD player. There us also a log fire which I imagine would be great for the winter. The kitchen is a good size and a separate dining area, though we rarely used it due to the numerous restaurants in the town!. Upstairs there are three good size double bedrooms. one room has an amazing sunken bath! There is a small seating area as well as a roof terrace with a large table and chairs. All rooms have AC which was a welcome relief from the heat. There is a large selection of books. The house is in an excellent location, there are many restaurants close by serving great tapas. Local people were very friendly. There is a walking tour of the town which starts from Tourist Information Office, or a map is available if you don't want to join the tour. The roads in Arcos are quite narrow and suits smaller vehicles. There are two car parks, one at the bottom in the new town, which is 24 hours, €50 a week. There is a shuttle bus service which runs from the bottom in new town and stops just past property, €0.90. The local bus station is a ten minute walk with buses going to Cadiz and Jerez. We really enjoyed our trip and would highly recommend the property and the owner.
Kay
2016-09-11T00:00:00Z
ประเภทห้อง
บ้าน/อพาร์ทเมนท์ทั้งหลัง
---
ประเภทที่พัก
บ้าน
---
พักได้
8
---
ห้องนอน
Arcos de la Frontera, อันดาลูซีอา, สเปน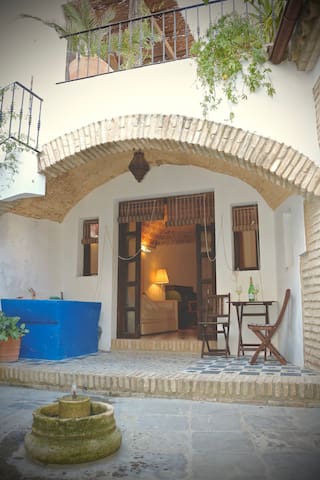 Casa con encanto, completamente restaurada en el corazón de Arcos de la Frontera, con vistas a la Sierra de Cádiz y el embalse de Arcos. La casa está preparada para recibir hasta 4 personas; habitación con cama matrimonial, salón luminoso con sofá-cama doble, baño completo y aseo, patio andaluz.Tiene una terraza equipada con cocina y todo el menaje necesario para hacer de sus desayunos y comidas una experiencia placentera. Servicio de limpieza y de lavandería a disposición.
Casa Alnnasari es una casita acogedora y bien ubicada en el centro de Arcos de la Frontera. A escasos metros de la Iglesia de San Pedro reúne las condiciones de hacer de su estancia algo excepcional. La terraza y sus vistas marcan la diferencia. Un espacio para disfrutar plenamente de las bondades de este hermoso pueblo.
Este barrio de Arcos, donde viven los oriundos de este lugar, es poco conocido en el círculo turístico, lo que lo hace aún más atractivo. Un barrio tranquilo donde podrá sentirse como uno más de Arcos de la Frontera.
Casita encantadora en pleno centro de Arcos, Sheila a estado disponible para nosotros en todo momento, aunque no hemos necesitado nada porque todo estaba perfecto.
M. Carmen
2016-12-28T00:00:00Z
Nice place. Amazing patio view (although north facing so not a lot of sun). Lots of room and 2 bathrooms! A little noisy as bedroom faces the street (although on second level so not too bad). Street is quiet except the occasional moped 'pinning it' up-hill. Do not recommend driving through old-town to get there unless you have a really tiny car. We almost got our car stuck (and I thought we already had a small car). So park lower down the hill (5 min walk) and Sheila will tell you where there's free parking.
Daniel
2017-01-27T00:00:00Z
La casa es muy organizada, limpia y integrada a el entorno. Esta muy cerca de los puntos de interés de Arcos. Hay una terraza con cocina con vistas estupendas!
Tereza
2017-02-19T00:00:00Z
We had a great stay in Arcos. Lots of fun driving a little city car around on the narrow streets. The space is perfect. Well thought out with very cheerful colors throughout. Tea in the morning on the terrace was magical.
Hans
2016-11-25T00:00:00Z
ประเภทห้อง
บ้าน/อพาร์ทเมนท์ทั้งหลัง
---
ประเภทที่พัก
บ้าน
---
พักได้
4
---
ห้องนอน
Arcos de la Frontera, แอนดาลูเซีย, สเปน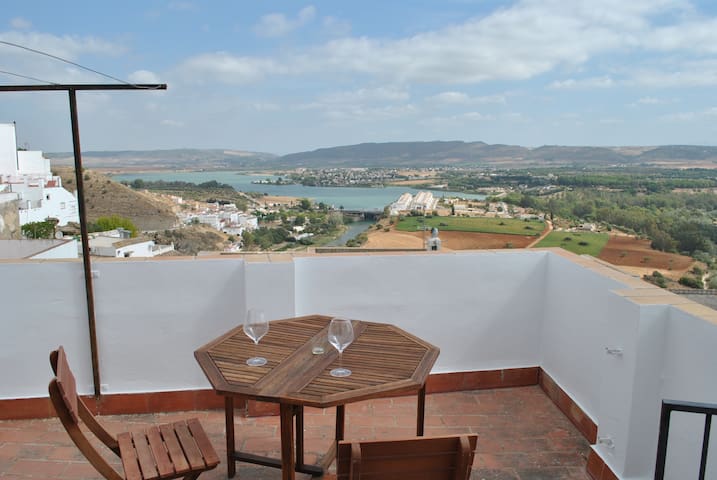 Comfortable, intimate and with its rustic touch the room is located in the historic center of the town of Arcos de la Frontera. It accommodates up to two guests and is located just a few steps from the tourist office.Comfortable, intimate and with its rustic touch the room is located in the historic center of the town of Arcos de la Frontera. It accommodates up to two guests and is located very close from the tourist office.
Consiste en una habitación con cama doble y un pequeño baño interior. Es una habitación luminosa con ventana al exterior, en una zona tranquila y céntrica del casco histórico de Arcos de la Frontera. La habitación tiene acceso independiente.
Mi apartamento se encuentra en un barrio tranquilo, que invita a descansar y a relajarse, disfrutando de la zona más bella de Arcos de la Frontera.
ประเภทห้อง
ห้องส่วนตัว
---
ประเภทที่พัก
บ้าน
---
พักได้
2
---
ห้องนอน
Arcos de la Frontera, อันดาลูซีอา, สเปน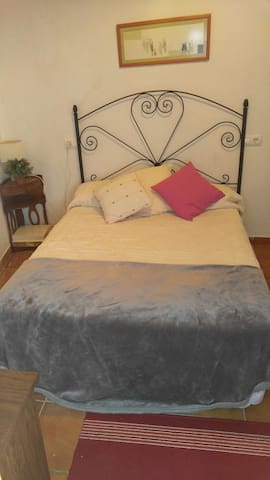 Light and airy with top spec kitchen, three double bedrooms, 2 bathrooms . A large living- dining area and an extra mezzanine chill out floor . Decking and established garden with glorious swimming pool, outside dining and secure parking .
A modern airy open house in one of the most traditional villages in Spain within east reach of Seville Cadiz Jerez. A wonderful mixture of old and new
The neighbourhood is by the lake in Arcos within walking distance of the lake and local shops and restaurants. It is modern and easy in that it is accessible and with all amenities. However under two kilometres away and accessible by local bus or taxi, there is the most amazing white village- pueblo blanco- hanging off the mountain top which was declared a national heritage site in 1967. Walking up its narrow roads with overhanging whitewashed buildings and magnificent cathedral, you could be excused for thinking you were back in the 1700's. Tucked away in these magnificent buildings are some of the best local tapas bars you could expect to find. Couple that with genuine friendship and hospitality offered by the locals and it is an unforgettable experience. Seville is within an hour and a quarter's reach by car, and Jerez, town of sherry, is only 20 minutes away and with a local bus if you did not want to drive. At the end of the sight seeing and touring of these cities, rest and chill in the cool shade of the lovely gardens at the villa or cool down with a dip in the pool.
We came at Lynn's villa for the second time. I think I can say it now, it is my best Airbnb experience. Communication with Lynn & Rafi is perfect. The villa has improved compared to last year with wifi etc... I recommend this place at 100%. Thumbs up and can wait to be back there !
Kevin
2016-07-24T00:00:00Z
Lynn was a fantastic host. Anytime we had to contact her, she replied within an hour at the most. She resolved any problems we had (only minor ones). The area is really quiet and there is a supermarket and bar that serves amazing tapas less than 10 minutes walk away. Arcos town is only a 10 minute drive and there are larger supermarkets and a selection of really good restaurants and bars. We would recommend a village called Espera for an evening stroll and dinner.
Amy
2016-08-19T00:00:00Z
Le logement n'est pas assez bien décrit ;-) car la maison est vraiment très bien. Les chambres sont très confortables, la maison était très propre également. C'est parfait pour un séjour tourisme car le jardin donne envie de s'y reposer pour une bonne sieste au bord de la piscine. J'avais envie d'y rester en partant et c'est le plus important. La maison se trouve dans un quartier résidentiel et calme de Arcos de la Frontera proche du lac.
Marc
2016-04-26T00:00:00Z
La casa es muy cómoda y la piscina de gran tamaño, el trato con Rafi ha sido estupendo, nos facilitó un secador de pelo y en todo momento fue amable y cordial. La casa es absolutamente recomendable
malu
2015-06-28T00:00:00Z
We had a perfect time at the villa, it is beautiful! The BBQ outside and the pool gave us a really relaxed time at the end of the day. The neighbourhood is nice and you stay between the locals, it takes a 10 minute drive to the village. Our friends raced at Jerez motortrack and that is a twenty minute drive (beautiful scenery). The women who will give the key is very friendly and helpful. The bathroom at one of the bedrooms was just pure luxery. A very pleasent stay
Eveline
2015-05-12T00:00:00Z
La casa nos ha encantado. Ha superado nuestras expectativas! Parece ideal para épocas de sol y calor por la piscina pero para una estancia invernal nos ha dado un resultado estupendo. La zona en la que está permite fácil acceso tanto a las rutas de senderismo de Los Alcornocales como a zonas de costa como Sanlucar de Barrameda. Y con el tiempo que hace en el sur pudimos disfrutar de la barbacoa que hay en el porche. Lynn ha sido muy atenta en el contacto por mensajes cuando reservamos y su contacto en Arcos muy amable a nuestra llegada. Los únicos peros son que el agua caliente va regular y que la casa no tiene red de wifi. En global la relación calidad-precio es buena. Procuraremos repetir!
Juan Carlos
2016-01-03T00:00:00Z
La estancia en la casa fué genial.Mucho mejor incluso de lo que esperábamos encontrar. La piscina es estupenda y tiene un porche muy agradable para leer, comer o simplemente relajarse. La cocina muy grande y completa y en general , nos ha parecido una casa con una estupenda decoración y una gran luminosidad. Hay un centro comercial a 2 minutos en coche con todo lo necesario. Agradecerle a Rafi su amabilidad en la llegada, pues tardamos un poco más de lo acordado y nos estuvo esperando, indicándonos cómo llegar.
Andrés
2016-08-24T00:00:00Z
We had a lovely week at Lynn's villa. The best thing is the pool and garden- the poll is BIG so you can actually swim, and the terrace is great to eat out in. Everything is clean and new, lots of towels and bedding. Rafi and Antonio live nearby and are terrifically helpful- no English so get out your phrase book. It's in a suburban location but a short walk from a good shop and there's a lakeside bar nearby; best for hanging around at home and trips in the car to Jerez ( half an hour) and Arcos ( 5 mins).
Meredith
2015-08-26T00:00:00Z
ประเภทห้อง
บ้าน/อพาร์ทเมนท์ทั้งหลัง
---
ประเภทที่พัก
บ้าน
---
พักได้
6
---
ห้องนอน
Arcos de la Frontera, อันดาลูซีอา, สเปน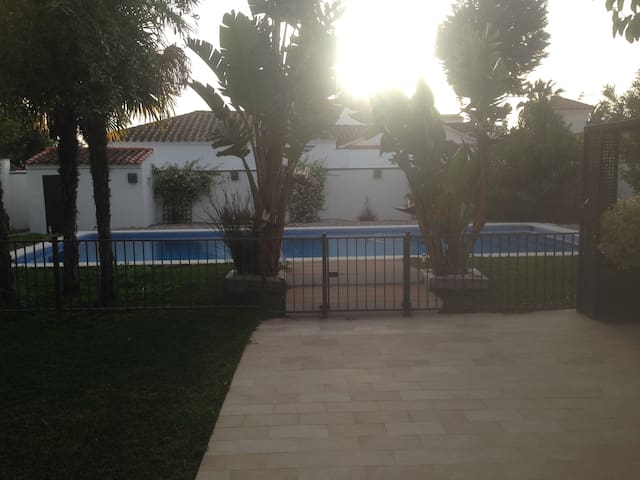 Esta situada en el centro de la provincia, entre la sierra de Cádiz y las maravillosas playas gaditanas. La casa es comoda y bien comunicada. Ademas estais en una finca de 2,5 hectareas de uso exclusivo aislados y a solo 500 metros del pueblo.
La casa esta completisima de todo para hacer una estancia más comida y agradable.
la casa esta a escasos 400 m del pueblo, pero en una zona tranquila con la denominación de paraje natural. Tenéis un sendero que pasa por la puerta de la finca y que continua a lo largo del río que linda con la finca.
ประเภทห้อง
บ้าน/อพาร์ทเมนท์ทั้งหลัง
---
ประเภทที่พัก
บ้าน
---
พักได้
16
---
ห้องนอน
Arcos de la Frontera, อันดาลูซีอา, สเปน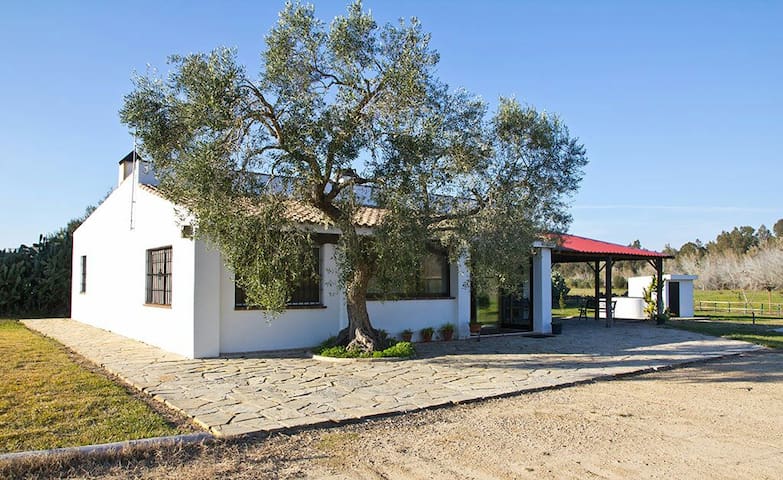 Casa típica andaluza, y con mucha historia, la vivienda consta de dos pisos, pero el piso que se alquila es el de abajo, que cuenta con tres habitaciones y salón con 2 sofas, los techos son de 4 metros de alto, con tallas de madera, reformado hace poco, conservando el estilo andaluz, cuenta con ventanas de climalit, da a un patio andaluz interior, la decoración con muebles antiguos y restaurados es muy original. Esta en una calle muy céntrica, cerca del casco antiguo. No se permiten mascotas.
ประเภทห้อง
บ้าน/อพาร์ทเมนท์ทั้งหลัง
---
ประเภทที่พัก
บ้าน
---
พักได้
7
---
ห้องนอน
Arcos de la Frontera, อันดาลูซีอา, สเปน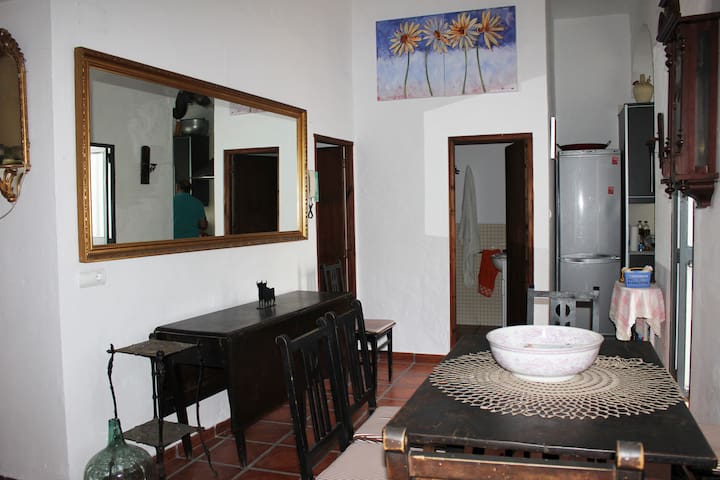 Very comfortable, very quiet, air conditioned. Large double bed. Room opens out onto stunning roof terrace with spectacular views.
Property known as 'Casa Campana', functioning as a guest house since 2005. Dates to 14th century and has many original features, including a Roman memorial stone and a Celtic carving. Downstairs there is a large interior Andalusian patio ideal for relaxing, book reading, contemplating. The property is on a typical narrow street and overlooks many of the traditional town processions and festivities. Nearby: a cafe, souvenir shops, a series of local bars for tapas, and restaurants serving local specialities. Within 5 minutes' walking, a castle, a basilica, a church, a chapel, a convent, 2 museums. The old quarter of Arcos de la Frontera has a very special atmosphere! Arcos is the perfect base from which to explore the cities of Jerez (30 mins), Cádiz (40 minutes) and Seville (1 hour). Other points of interest include the Sierra de Grazalema mountain range (20 minutes) and the Costa de la Luz (30 minutes) with some of the best beaches in all of Europe. Average daily temperatures in Arcos range from 33 degrees celsius in Summer to 18 degrees celsius in Winter. 300 days of sunshine per year!
Jim was an attentive host and communicated promptly. He gave us clear directions for the local bus to the old quarter and very good restaurant suggestions! He made sure we were happy and laughing the entire time! We loved his welcoming energy and his terrace was our favorite spot to enjoy a glass of wine, do yoga and enjoy the beautiful views of Arcos.
Jocelyn
2015-04-29T00:00:00Z
Una casa muy agradable, la puesta de sol desde la terraza es sencillamente perfecta :) Y gracias a las recomendaciones de Jim cenamos y desayunamos genial en Arcos... un lugar hermoso que merece la pena conocer. Repetiría!
Henar
2014-09-22T00:00:00Z
Leider konnten wir die Reise nicht antreten da wir den Flug verpasst hatten. Die Kommunikation mit Jim im voraus hat sehr gut funktioniert. Aufgrund der kurzfristigen Absage konnte uns das Geld leider nicht erstattet werden.
Ines
2015-06-03T00:00:00Z
Charming accomodations at the top of the hill in the most historic part of the city. Warm and friendly host. Comfortable, clean and spacious room. Patio with an awesome view. We only wished we could have stayed longer.
Mary & Richard
2014-06-02T00:00:00Z
The room with private shower was located in the middle of everything. It was very well dimensioned and had everything including several roof top balconies where an amazing view of arcos and sun setting ( an rising) and a overwhelming view of the landscape around could be taken. Jim was very supportive in helping us with luggage, information where to go etc. he helped find a good doctor when I gut a heavy cold and was always looking to make arcos a unforgettable experience. I can highly recommend this location an Jim and hope next time to be in a condition - no cold any more - to be able to enjoy even more.
Dieter
2015-04-02T00:00:00Z
Jim made us feel so at home, we didn't want to leave. His flat is perfectly situated in town. You don't get better. The previous reviews on the view from Jim's terrace, are no exaggeration! We'll definitely be back. Its such a pity we only had one night before flying out of Spain. Otherwise we would have stayed a week. Thanks Jim, for sharing your house with us, and for the upgrade too! I can whole heartedly recommend Jim's place to anybody wanting to live in history. Cheers, David and Ros
David
2014-09-27T00:00:00Z
Casa Campana is located in the heart of the old city center of Arcos de Frontera. Jim provided us with clear directions to a free parking location nearby. Jim and his family are friendly and welcoming people. The double room is well decorated and has a separate bathroom. It has a beautiful rooftop terrace with an amazing view over the city and the lake. I would recommend staying here.
Lieke
2014-10-06T00:00:00Z
Magnifique ville et lieux. La terrasse est a couper le souffle au couché de soleil! Jim est très accueillant et de bon conseil.
Robin
2014-09-10T00:00:00Z
ประเภทห้อง
ห้องส่วนตัว
---
ประเภทที่พัก
บ้าน
---
พักได้
2
---
ห้องนอน
Arcos De La Frontera, แอนดาลูเซีย, สเปน
Spectacular home in Arcos de la Frontera, with jetty for departures canoeing, wakeboarding, fishing ... For 14 people. Full equipped. Pool, barbecue, bar, chill out minimum 7 day rental. We organize events and excursions.
An idyllic location, with private pier, possibility to practice Wakeboard boat, canoes, fishing, events, excursions, tourist routes, etc. Video of the house on the following link: (URL HIDDEN)
Truly amazing house and beautiful location. It was perfect for our family Christmas/ birthday celebrations. Plenty to do for the children, kayaking, pool, table tennis and table football. Lots of space for 12 people without feeling on top of one another. We are definately going back.
Dorcas
2015-12-28T00:00:00Z
This house is amazing. The terrace, the pool, the kayaks, the pool table, the spacious rooms and the incredible view of Arcos de la Frontera make for an unforgettable stay. Genaro was an excellent host; he met us at the property to show us around and came to see us off at the end. In between he left us to enjoy the house and was available on the phone if we needed anything.
David
2016-08-13T00:00:00Z
Lovely house, Genaro very friendly and helpful. Very nice location.
Joe
2015-08-30T00:00:00Z
La casa es como en la foto. El barrio genial.Genaro muy amable. Repetiremos seguro. Muchas gracias por todo.
Carmen
2015-11-16T00:00:00Z
Genaro explains us very well at the beginning the functioning of the house. He was also available if anything needed. We had a wonderful time in the house, more than we excepected. The wooden hunt is great with a fantastic view on Arcos. There are lots of activities to do, we had lots of funs. We absolutely recommend this house, you only can get great memories. Thank you very much Genaro
antoine
2015-07-06T00:00:00Z
Como bien dice el titulo, una casa espectacular. Gana mucho más en persona que en fotos. El trato con Genaro fue encantador, debido a su confianza y servicios. A la casa no le falta detalle, se podría hacer una convivencia relajada y llena de ocios sin salir de ella. Mi evaluación general es, que pienso volver.
Borja
2016-04-25T00:00:00Z
Een werkelijk fantastisch huis voorzien van alle gemakken. Prachtige ligging aan het meer van Arcos waarin je ook fantastisch kan zwemmen en vissen. Een fantastisch terras en zwembad met uitgebreide relaxmogelijkheden en een buitenbar. Een eigen aanlegsteiger bij het huis, en we mochten de kano's gebruiken om het meer op te gaan. Fantastische vakantie gehad op deze uitgelezen plek. Ook het nabij gelegen plaatsje Arcos is erg leuk qua winkeltjes en Terrassen. Een uurtje rijden naar de zuid-kust waar je heerlijk kunt zwemmen en surfen. Cadiz, Jerez de la Frontera en Sevilla bezocht. Omgeving is dus ook fantastisch.
Wil
2014-08-03T00:00:00Z
Celebré mi cumpleaños en casa de Genaro y resultó un éxito, a pesar de que el tiempo no acompañó. La casa es cómoda y esta bien equipada.Buen acceso y las vistas espectaculares,hasta con nubes y lluvia. Genaro es un gran anfitrión,serio y puntual e hizo todo lo posible para que todo resultara bien. Sin duda para recomendar!!, yo por mi parte ,si puedo, para repetir!!!
Mar
2016-10-24T00:00:00Z
ประเภทห้อง
บ้าน/อพาร์ทเมนท์ทั้งหลัง
---
ประเภทที่พัก
บ้าน
---
พักได้
14
---
ห้องนอน
Arcos de la frontera, แอนดาลูเซีย, สเปน
Beautiful views... looking over the lake and mountains. .. old town the other way... Quiet and independent. .. with shower and wash basin and ....toilet outside room...
ประเภทห้อง
ห้องส่วนตัว
---
ประเภทที่พัก
บ้าน
---
พักได้
2
---
ห้องนอน
Arcos de la Frontera, อันดาลูซีอา, สเปน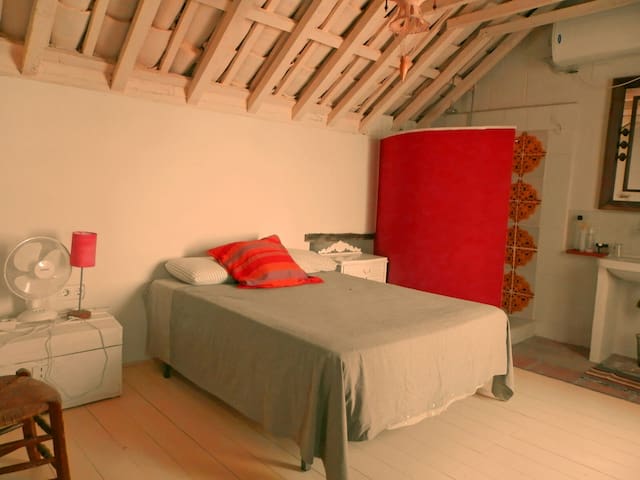 Casa El Mochuelo is a typical old white town house which has been remodeled by local artist. It is a 2 storey house with mezzanine. On the ground floor you will find a full bathroom with washing machine, a full kitchen and a dinning room, On the first floor are, living room with a 3,8mt high ceiling , a bedroom with a queen size bed. (couch can be turned into two extra beds for children) , the second bedroom is on the mezzanine also has a queen size bed. Very quiet and well located.
Casa El Mochuelo sits by the gate to the Historical Old White Town quarters, just a block away from the historical centre. The house itself is a 200 and some old typical and remodeled house embeded in the "stone masons quarters" which later became the "Cantaores" (Famenco singers quarters), now a quiet traditional neighbourhood.
The surroundings are safe well lit at night, you will be at walking distance from the historical centre and commerce. The streets are named after the famous cantaores or flamenco singers and sometimes you may hear the strum of a guitar, this neighbourhood is known as "Los Caños Verdes" and has always been home or the simple yet friendly andalucian working class.
Patricia is one of the bests hosts we have ever encountered - not just on air bnb, but in our entire lives. We left her house in los Arcos wanting only to have had more opportunity to know her. Her house is a magical place where we actually fantasized about living, and now I feel we will always look to her examples and the little details that made our stay so special for when we start our own Airbnb (like picking us up from the bus station, having a bottle of cool water for us, and genuinely making us feel like we were he most important people in her life on the day of our arrival). She is the perfect host and we wish we could have only stayed longer. She really made us feel not like guests, but like close friends she hadnt seen in a long time. We only wish we could rate her higher! Thanks again Patricia for everything!
Brandon and Laurel
2016-06-27T00:00:00Z
Patricia was great to deal with and very quick to respond. She is full of local knowledge which was appreciated. A very quaint apartment with everything you could need. The fans were sufficient enough to keep us cool throughout the night. The village is really beautiful and we were there when they had a festival of San Miguel so it was very lively. Supermarket is close, wifi excellent. Cannot fault this Airbnb! Very homely place. Not a good place for someone who has difficulty with stairs as the bedroom is upstairs, but we had no problem with it. The parking can be tricky as it is limited but free and the streets are narrow but Patricia guided us through this and it all went well!!
Cathy
2016-09-29T00:00:00Z
Living in a 200 years old modern cozy home you feel like be part of a history. Patricia is a great host. Very fast response and prepare the house in details. We love it!
Miao
2017-03-20T00:00:00Z
Una experiencia muy buena, Patricia super amable y la casa una maravilla, las camas cómodas y todo muy limpio y organizado. Repetiría sin duda!!
Africa
2017-01-07T00:00:00Z
Pros: Cozy, comfortable, and beautifully decorated townhouse. Wonderful place to hangout and just relex. Feels like home vs a rental. You find something interesting everywhere you look. Patricia was very responsive. Cons: Three levels of stairs in townhouse and steep climb from parking to apartment and from apartment to central Arcos. Not an issue for us (good exercise), but would be for physically challenged or out of shape. Note: Arcos is built on a hill, so you are going up or down constantly.
Ed
2016-12-02T00:00:00Z
Arcos is a beautiful town and Patricia was the perfect host. She met us at the bus station and gave us a tour of the town pointing out historical sites as well as walking trails in the countryside. The home is very comfortable with lots of personal touches. It does have 2 flights of stairs with the bathroom on the first floor. We loved the second floor sitting area. We were within walking distance of everything including two of the best restaurants we have encountered, Jovenes Flemenco and Bar La Cercel. Would highly recommend.
Kathryn
2015-12-02T00:00:00Z
Buen sitio, limpio, central y la dueña muy cercana
jimena
2017-02-08T00:00:00Z
Great host. Patricia and his son are amazing and very nice. The place is very beautiful and the house is great and quiet.
Thomas
2016-04-25T00:00:00Z
ประเภทห้อง
บ้าน/อพาร์ทเมนท์ทั้งหลัง
---
ประเภทที่พัก
บ้าน
---
พักได้
5
---
ห้องนอน
Arcos de la Frontera, อันดาลูซีอา, สเปน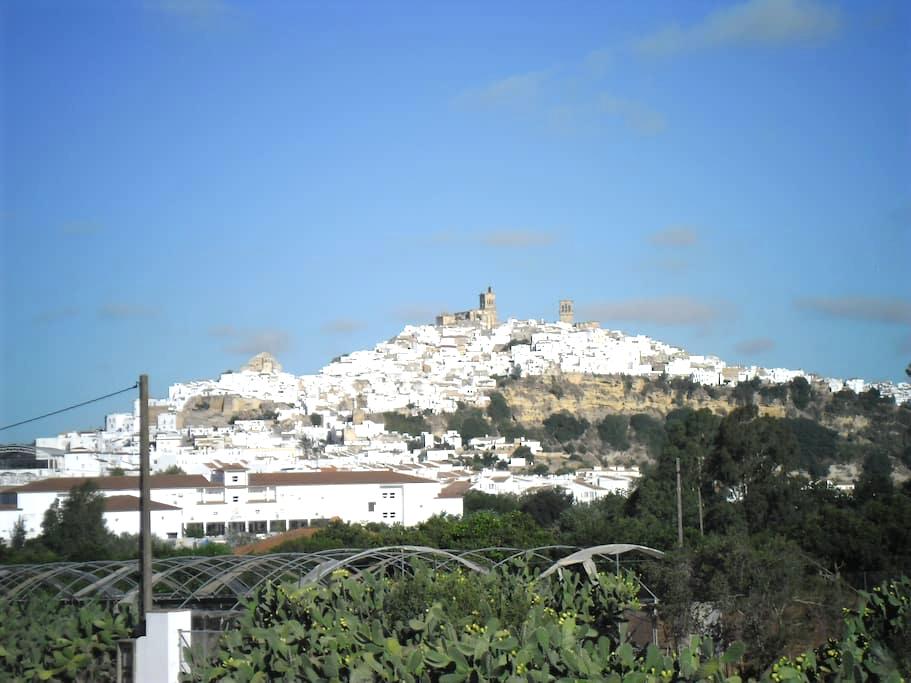 Give us the pleasure to be your hosts. We have private bedrooms with en suite bathroom, acclimatised, with small fridge and private terrace with magnificent views of the countryside and the lovely village of Arcos de la Frontera. Meals aren`t included but we can provided breakfast or dinner for an extra cost. You can arrange that prior to arrival.
Rural Atmosphere at only 5 minutes from the village. Very close (30 min) from Jerez and its airport. Very well connected to the mountains and the beach. Breakfast can be included for an extra charge if requested in advance. We also offer traditional Andalusian cuisine lessons (in Spanish and English) and facilitate various activities and visits of tourist and gastronomical interest nearby. We can provide shuttle service. We receive you in our house. Free parking inside the estate.
Our home is in a rural area surrounded by small landowners who cultivate their vegetable gardens. The best thing about this area is the peace and quiet of country life, well connected to the urban environment
La estancia, el trato, los consejos gastronómicos y turísticos, la habitación y sobre todo la pareja Almudena y Juan han sido insuperables. Recomendable al 100% y repetiremos seguro
Jose
2016-08-15T00:00:00Z
Cortijo ou château... Endroit tout à fait charmant où nous avons logé avec beaucoup de bonheur. Nous avons "nos appartements", c'est-à-dire, notre espace à nous: chambre spatieuse et confortable, salle de bain neuve et terrasse avec vue sur Arcos de la Frontera. Nos hôtes ont été très accueillants, chaleureux et d'une grande gentillesse! Nous avons eu la possibilité de prendre le petit-déjeuner sur place. Vivement recommandé!!
Diane-Andrée
2015-07-06T00:00:00Z
The host canceled this reservation 73 days before arrival. This is an automated posting.
marc
2015-07-01T00:00:00Z
We were made to feel very welcome and Juan Antonio's Cortijo is exactly as described. The accommodation is very comfortable and of a very high standard. We enjoyed delicious breakfasts and dinner following a cookery class, which are optional extras.
Sally
2016-07-09T00:00:00Z
This place was great - Juan and Almudena are born hosts! The sunset is the best - So is the food made by them which is a must try. The mojito we had after dinner was the best I had during my 5.5 years living in Spain now.
Daan
2015-04-01T00:00:00Z
We are very grateful to Almu and Juan. The house is in great location with beautiful views. It's in traditional style but equipped with modern facilities and heating (important in winter!). You feel very welcomed and I strongly recommend to have dinner, it's best home-made food you can get. The highlight of our trip to Andalucia!
Elena
2015-01-09T00:00:00Z
Disfrutamos mucho de la estancia en el cortijo de Juan,muy agradable y discreto.muy recomendable
Jose
2015-02-08T00:00:00Z
We spent 4 days in Juan and Almu's beautiful home, and everything was perfect :) Clearly the best place were we stayed during our trip in Andalousia! The house and the room were just as in the pictures. The house has a good location as it is close to Arcos (with the view on the town), 1h from Cadiz and 1h30 from Ronda. Almu speaks perfect English and Juan speaks great French as well. They were both extremely welcoming and helpful which made our stay even more pleasant. We tried Almu's cooking on our first night and ended up eating there every night as the food was excellent (the best of our stay!) and they made us feel at home. We would definitely recommend this place to anyone wanting to visit Andalousia.
Christelle
2014-11-10T00:00:00Z
ประเภทห้อง
ห้องส่วนตัว
---
ประเภทที่พัก
บ้าน
---
พักได้
2
---
ห้องนอน
Arcos de la Frontera, แอนดาลูเซีย, สเปน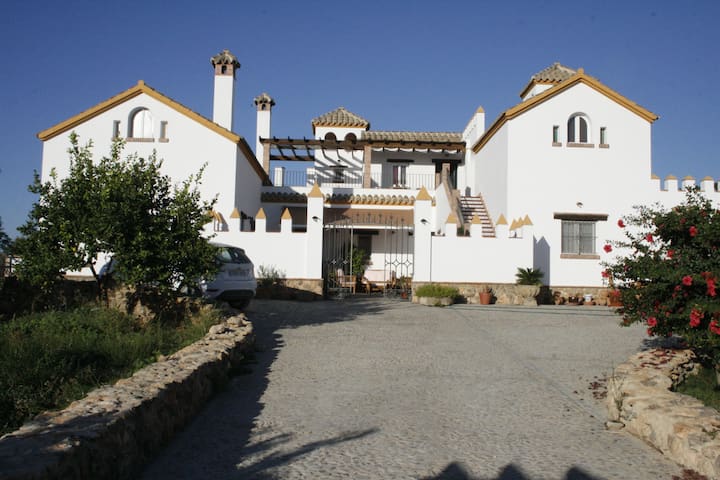 Estupendo piso completamente reformado en el centro de Arcos dispone de 3 habitaciones, 2 baños, cocina, salon y terraza. Además está a 20 minutos por autovía de jerez de la fra. Y a 25 minutos del aeropuerto
Piso exterior, muy soleado, especial para conocer el pueblo, todo muy cerca, bancos, comercios, zonas de ocio, monumentos, etc.. Los huéspedes pueden consultar todo lo referente al pueblo, lugares de interés, donde comer o tapear, que visitar de la zona, etc. Es un pueblo tranquilo y muy turístico, siempre habrá alguien por la calle que te regale una sonrisa, además de su hospitalidad!, sus casas son todas blancas y relucientes!! Desde la ubicación de la vivienda puedes ir andando a todos los lugares de interés, pasear por las lindas calles y tomar una tapa en el casco antiguo!!
Es un pueblo tranquilo y muy turístico, siempre habrá alguien por la calle que te regale una sonrisa, además de su hospitalidad!, sus casas son todas blancas y relucientes!!
The reservation was canceled 11 days before arrival. This is an automated posting.
Irene
2015-02-10T00:00:00Z
ประเภทห้อง
บ้าน/อพาร์ทเมนท์ทั้งหลัง
---
ประเภทที่พัก
บ้าน
---
พักได้
6
---
ห้องนอน
Arcos de la Frontera, อันดาลูซีอา, สเปน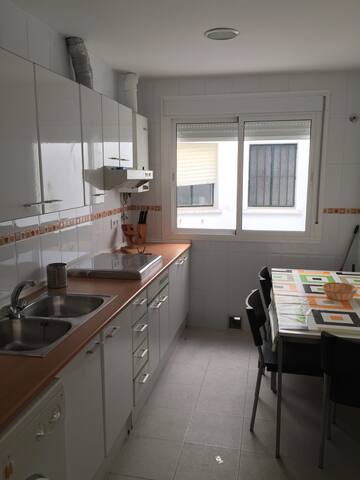 Arcos de la Frontera er en av de vakreste hvite byene i Andalucia. De hvite husene klynger seg fast til klippen som reiser seg dramatisk opp fra slettelandskapet, og huset er skapt for gode dager med venner og familie. Nyt sol, sherry, flamenco mm.
Arcos de la Frontera er en av de vakreste hvite byene i hjertet av det tradisjonsrike Andalucia. De hvite husene klynger seg fast til en klippe som reiser seg dramatisk opp fra det bølgende slettelandskapet med olivenlunder og vinåkre. I de trange gatene i gamlebyen er det et rolig og sjarmerende folkeliv på de mange tapasbarene og restaurantene. Parkering i gaten. Ofte ledig i nærheten av huset. Siden Arcos ligger i hjertet av Andalusia er det et godt utgangspunkt for å utforske området. Jerez er 20 minutters kjøretur unna, Cadiz 40 minutter, Sevilla en time, Tarifa halvannen. I tillegg er det mange fine strender langs kyststripen fra Cadiz og opp mot grensen til Portugal. Samt hvite byer, som Sierra de la Sahara og Grasalema, i fjellene en halvtimes kjøretur innover i landet fra Arcos.
Jeg får ikke nok av utsikten fra taket. (Paradis for fuglekikkere.) Og jeg elsker å gå i de trange, bratte gatene i gamlebyen og høre alle lydene fra byen og kikke inn i patioer og ende opp på en tapasbar eller på terassen på Hotell Parador. Rundt byen, langs elven går det en gangvei som er fin for turer og jogging. (Når det ikke er for varmt.) Ved innsjøen ligger det et Hotell El Mollinero, med stort basseng og god lunsj. Naboen vår Paca kan virke litt brysk, men er verdens snilleste.
Hanne's house is really really nice ! The decoration is beautiful, cosy and the house is very comfortable, well equipped with an amazing view . It's easy to walk to the historic old town. Michel is very friendly and was very helpful to greet us, drive us to the house with all the luggage. He welcomed us with a nice bottle of local wine and olives. Everything was perfect and we really enjoyed our stay in Arcos! Thank you so much!
Sandrine
2016-03-04T00:00:00Z
Hanne made us feel welcome and provided comprehensive & helpful notes. She put us in touch with Michel who met us and went out of his way to help us find the house and get our luggage there. The house is superbly perched on the hill with breathtaking views and is well equipped with everything we needed (as described). This was our favourite airbnb stay in Spain due the character and location of the house. Its not fancy but we found ourselves content to stay inside and enjoy the ambiance. Worth noting; its not feasible to park too near the house, although we found parking 5 minutes away.
ingrid
2016-01-09T00:00:00Z
The apartment was lovely with a nice view. Very comfortable, it was perfect to relax a few days. The city of Arcos is also very quiet and people leaving around are really kind.
Mathieu
2015-08-14T00:00:00Z
Nice house with a lot of room and a beautiful view. Apperently it was not used for a while as it smelled mouldy the first days and it was not clean. The village of Arcos is nice to discover and there is a lot to see in the surroundings, like the pueblos blancos and the presas. Making appointment for the key transfer was easy and punctional. The house was well equipped and there was WiFi. The roof terrace was very nice but hot! The is a lime tree under the balcony and we used it!
Jan Karel
2015-05-04T00:00:00Z
Hanne's apartment is very spacious, tastefully appointed and light. It looks even better than on the pictures! Contrary to other foreign landlords in the region, she did not overdo the "Ikea factor" and even the pieces of furniture that come from the Jérez store are new and carefully chosen. She has added some local touches that are quite discreet and classy. The terrace is a great plus to the apartment too. However, there is a factor that spoils all the charm (and unfortunately for Hanne she cannot do anything about it): the roosters and the dogs. The apartment is on the edge of the cliff, hence the spectacular views. But it also overlooks what can be simply described as a "poultry favela", ie a string of about 200 m wide (probably illegal) shacks / hen houses, complete with roosters and dogs on a short leash - supposed to watch the hens I guess. Which means that 10 meters below your bedroom you have four or five dogs barking all night and a dozen of roosters crowing incessantly from 6am until midday. Having to put up with these loud animals day in day out is quite annoying to say the least, and for us this noise pollution unfortunately just ruined what is otherwise a perfectly lovely Andalucian apartment.
Vincent
2016-08-16T00:00:00Z
We had a really good time in Arcos. It's an old house but with all the facilities. The view is amazing, the bathroom and kitchen are in good condition. The housekeeper, Michel treated us so well. Definitely, worth it.
Jaime
2016-04-25T00:00:00Z
Very pleasant house in Arcos, on the city wall with views over the fields. We loved the open kitchen with big table and our evenings were warm and cosy due to the wood stove. We will always remember the big Ikea X-mas star radiating warmth and light (we try to find one second hand now for our own place). On sunny days the roof terrace will bring extra pleasures. Michel welcomed us with wine and olives, drove our luggage, explained how things work and was always available for support. We highly recommend this place!
Jore
2016-02-14T00:00:00Z
We had a wonderful stay in Arcos at Hannes House. We stayed for 4 weeks from the end of december to january and we were really lucky with the weather, always sunny and about 13-15°. But you really need wood to heat the oven when the sun is gone. The description of Hannes was totally fine. Its enough space to sleep with 6 people in the house for a little while (maybe a week). I think you totally fine with 4 people for a longer stay. Since we were just 2 we had plenty of space! A large beautiful roof-top provides you a nice view and we were able to sunbathe even in january. Arcos is a nice little town -the house is on the "top" of the hill where the oldtown of arcos is placed. So you need to be fit or rent a car/moto to get to the supermarket . It's a quiet little town - the perfect place to spend really quiet holidays. We used it to learn and study in sunny Andalucia.
Benjamin
2015-01-19T00:00:00Z
ประเภทห้อง
บ้าน/อพาร์ทเมนท์ทั้งหลัง
---
ประเภทที่พัก
บ้าน
---
พักได้
6
---
ห้องนอน
Arcos de la Frontera, แอนดาลูเซีย, สเปน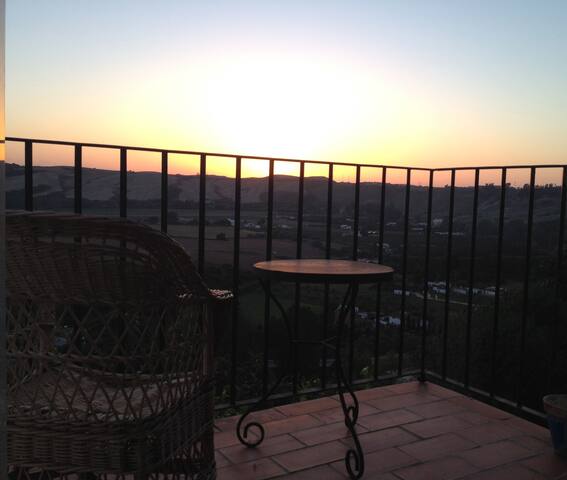 Casa de campo junto al campo de golf donde podrá disfrutar de estupendos días de tranquilidad. Casa totalmente amueblada, 4 habitaciones (dos con cama de matrimonio y dos con tres camas individuales), cocina-salón totalmente equipados, chimenea y aire acondicionado. Dos porches y piscina, barbacoa y baño. Min 2 noches
ประเภทห้อง
บ้าน/อพาร์ทเมนท์ทั้งหลัง
---
ประเภทที่พัก
บ้าน
---
พักได้
12
---
ห้องนอน
Arcos de la Frontera, AL, สเปน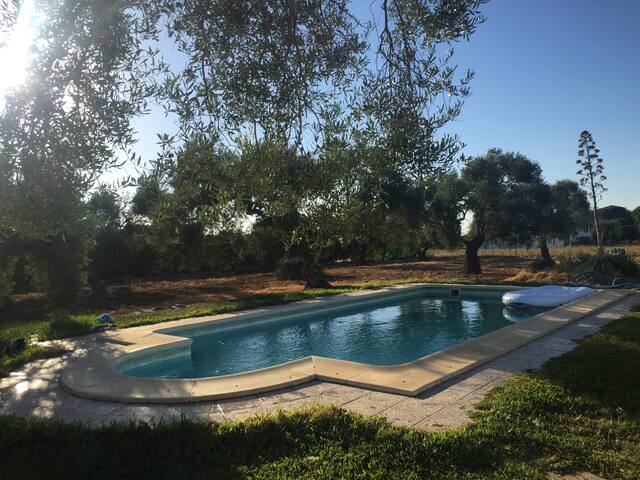 Los adosados son apartamentos familiares con dos dormitorios cada uno con sus baños y una amplia terraza con unas magníficas vistas al campo de golf. Dispone además de una piscina comunitaria
Beautiful place to stay. Great layout and decor. Everything was provided that was necessary for a short stay. Great access to communal swimming pool and resort. More importantly near a beautiful town with great places to explore and have local food.
Nisha
2016-08-30T00:00:00Z
Fantástico y muy recomendable. Todo se corresponde tal cual viene publicado en las fotos
Andrés
2016-03-28T00:00:00Z
The place is gorgeous and amazing. Everything clean and easy to locate thanks to our host.
Rui
2016-08-25T00:00:00Z
Supero las expectativas con creces , lujoso , limpio y equipado. Tranquilo y el emplazamiento para conocer los pueblos blancos de Andalucia.
Mohamed
2016-07-25T00:00:00Z
Estupendo chalet adosado tal y como figura en el anuncio. Muy confortable y grande. El entorno muy tranquilo. Juana María y Maribel estuvieron disponibles en todo momento. Muy recomendable.
Rocío
2016-09-18T00:00:00Z
Todo perfecto. Un lugar muy bonito para pasar un fin de semana. Muy agradable y familiar. La casa perfecta. Lo hemos pasado muy bien.
Juan
2016-06-20T00:00:00Z
Genial,todo genial. Cuando abrimos la puerta de la casa y vimos como era...pensamos que se habían equivocado,a pesar de ver las fotos,n o le hacen justicia. Si quieres visitar como hicimos nosotros la ruta de los pueblos blancos es un sitio ideal. El desayuno y las cenas casi en el mismo campo de golf,inolvidable.
Ana
2016-11-01T00:00:00Z
ประเภทห้อง
บ้าน/อพาร์ทเมนท์ทั้งหลัง
---
ประเภทที่พัก
บ้าน
---
พักได้
4
---
ห้องนอน
Arcos de la Frontera, อันดาลูซีอา, สเปน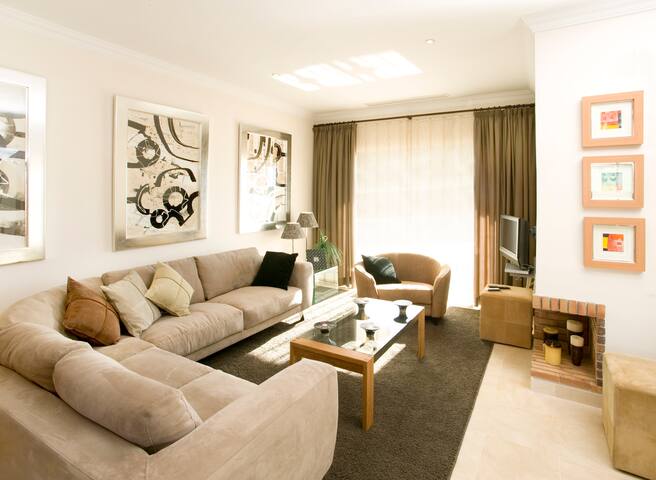 Lugares de interés: el centro de la ciudad y arte y cultura. Te va a encantar mi lugar debido a la ubicación, las zonas exteriores, el ambiente, y la gente. Mi alojamiento es bueno para parejas, aventureros, viajeros de negocios, familias (con hijos), y mascotas.
ประเภทห้อง
บ้าน/อพาร์ทเมนท์ทั้งหลัง
---
ประเภทที่พัก
บ้าน
---
พักได้
3
---
ห้องนอน
Arcos de la Frontera, แอนดาลูเซีย, สเปน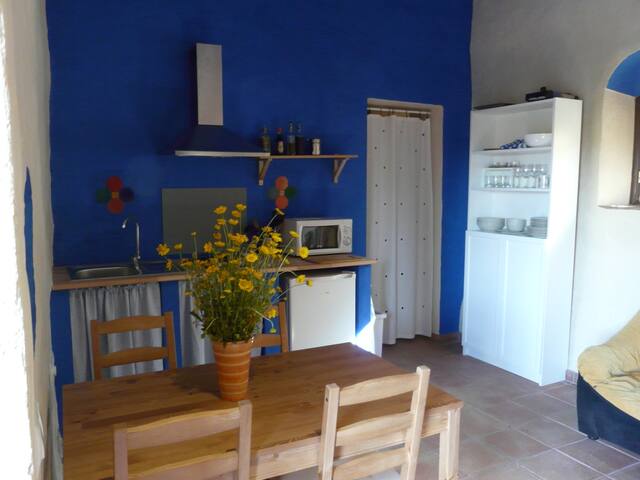 Lugares de interés: restaurantes y comida, actividades en familia, vida nocturna, y transporte público. Te va a encantar mi espacio por la gente, el ambiente, las zonas exteriores, la luz, y El barrio. Mi alojamiento es bueno para parejas, aventureros, y viajeros de negocios.
ประเภทห้อง
ห้องส่วนตัว
---
ประเภทที่พัก
บ้าน
---
พักได้
2
---
ห้องนอน
Arcos de la Frontera, อันดาลูซีอา, สเปน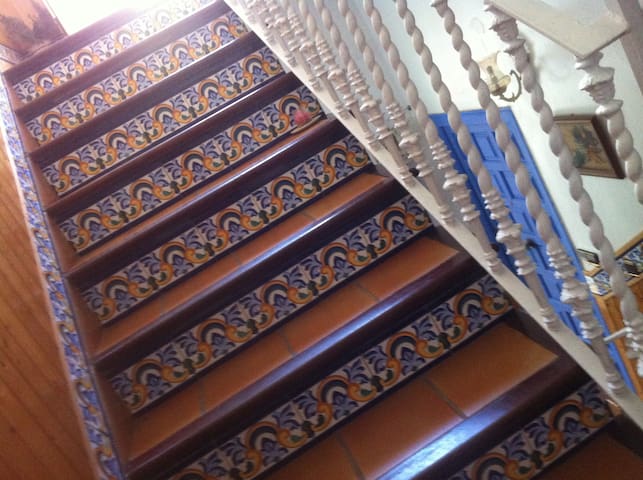 กรอกวันที่เพื่อดูการกำหนดราคาเต็ม มีค่าธรรมเนียมเพิ่มเติม อาจมีภาษีเพิ่ม