Velmi prostorný pokoj w / plná vana, full bed & bonus "studovna" v samostatném rodinném domě. Velký pracovní stůl s vysokou zadní židle na kolečkách, WI-FI vybavená / Mini-Lednice, Keurig a mikrovlnná trouba. Ovoce / káva / občerstvení / Rádio / povlečení k dispozici.
Vlastní vchod s osobním klávesnice čtyři (4) číselný kód pro vstup a zamykání do vnějšího prostředí.
Klidný zralý obec.
Brenda was a wonderful host, she was very sweet and really made our stay in Pennsylvania that much more memorable. The room was super neat and clean and so private we felt that it was its own apartment. We had a completely separate shower right off the bedroom and our own entrance to the room. Parking was made simple with use of her driveway. The room was in a quiet suburban neighborhood and close to Philadelphia center. Overall we couldn't have had a better stay and would strongly recommend anyone looking to stay in the Philadelphia area to book with Brenda.
Jorieke
2015-08-14T00:00:00Z
My daughter and I had a fantastic experience at Brenda's home. It was everything that we needed and more -- neat, clean, easy to find, comfortable, and in proximity of where we needed to be in the Delco area. Brenda was pleasant to talk to over the phone and let us know what to expect and how to reach her, if it became necessary. She also left out snacks, which we really appreciated, even though we never did partake. Our stay was only one night, but we felt so at home that we didn't want to leave! BTW, many have mentioned Brenda's cat, whom we felt was a bonus, since we are animal lovers. Kitty kept us company when we arrived, and she graciously left us alone when it came to sleeping by closing the door.
Atiya
2016-05-18T00:00:00Z
Brenda was a wonderful host with a spacious, private room and bathroom. We very much enjoyed our stay and loved being able to come and go from the private entrance. The bed was very comfortable and Brenda made sure we had everything we needed including a coffee pot, coffee, bagels, juice and fresh fruit. Brenda's place is a gem in the DELCO area! We will definitely stay here again! Thank you, Brenda, for your hospitality!
Kiersten
2016-01-12T00:00:00Z
Me and my wife arrived at the house later than we expected. Brenda gave us a very warm welcome and showed us our room and made us familiar with everything. The room was very beautiful and exactly as listed on the website. Love the small extra study room that is very peaceful. Brenda was very caring and went one step ahead and put small and healthy snacks and a lot of juices (which will be very helpful :) ). The area was calm and serene within the reach of many stores. We will definitely recommend this stay and would love to go back.
Nikhil
2016-04-11T00:00:00Z
Brenda was an amazing host. She was always so kind, friendly, and helpful. Her generosity included letting me use the washing machine, toiletries, and towels. The room was very spacious, clean, and comfortable to live in.
Kenneth
2016-07-22T00:00:00Z
Brenda is a very warm and welcoming host. She kept in contact days prior to our arrival and throughout the stay. Her knowledge of her neighborhood and Philly overall led us to some exciting places and great restaurants. The quiet neighborhood was just the right distance from the city center, especially with the local train stop being less than 5min away!
Courtney
2015-09-08T00:00:00Z
Very comfortable place to stay, very clean, we've stayed many times and no complaints!
Destiny
2017-02-05T00:00:00Z
I unfortunately didn't have a chance to meet Brenda during our one-night trip, but was very pleased with everything was booking, communication, and the space.
Kyle
2016-10-09T00:00:00Z
ประเภทห้อง
ห้องส่วนตัว
---
ประเภทที่พัก
บ้าน
---
พักได้
2
---
ห้องนอน
Aldan, เพนซิลเวเนีย, สหรัฐอเมริกา
Наша тихая спальня с ванной расположен на третьем этаже.
Наш дом является уникальным викторианской построен в 1880 году у вас будет третий этаж к себе (вы можете также избрать забронировать оба доступных номеров в третьем этаже викторианского люкс).
Алдан представляет собой заманчивую жилой пригород Филадельфии, расположенный между Лансдаун и Спрингфилд. Мы удобно расположены рядом с аэропортом, университетский город, и Swarthmore. Перегородками в 102 вагонетки и медиа-Elwyn поезд блоки прочь. Uber и Lyft легко обеспечить в этой области.
Olivia was a great host. It was a pleasure staying with her. I highly recommend staying with Olivia.
Marcin
2017-04-08T00:00:00Z
A very warm welcome by host. Everything was perfect. We feel homely at the place and also loved by cats.
Parminder
2016-11-01T00:00:00Z
Olivia was an amazing host! I gave her 5 stars across the board. From the second we walked in she was completely welcoming making sure I had everything I needed and even making breakfast in the morning for us which was a great surprise! The room is spacious and beautiful with a private bathroom. I would without a doubt recommend staying here. She was completely receptive and welcoming from the second I met her.
Bryan
2016-10-24T00:00:00Z
If in town this is the place to stay! Great experience!!
Ashley
2017-01-01T00:00:00Z
ประเภทห้อง
ห้องส่วนตัว
---
ประเภทที่พัก
บ้าน
---
พักได้
2
---
ห้องนอน
Aldan, เพนซิลเวเนีย, สหรัฐอเมริกา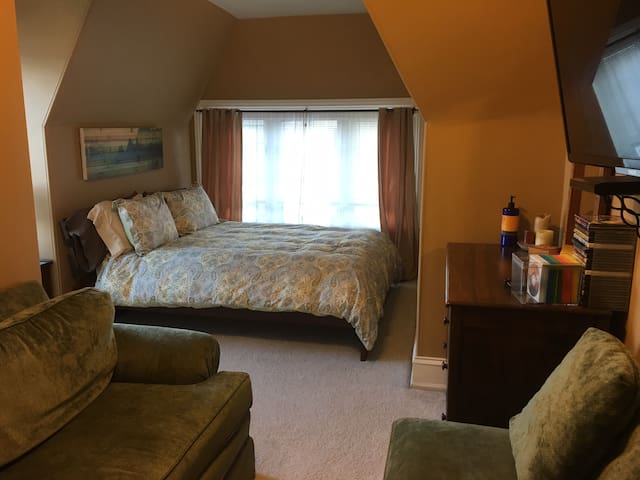 Private Bedroom with access to Private Den
ประเภทห้อง
ห้องส่วนตัว
---
ประเภทที่พัก
บ้าน
---
พักได้
2
---
ห้องนอน
Lansdowne, เพนซิลเวเนีย, สหรัฐอเมริกา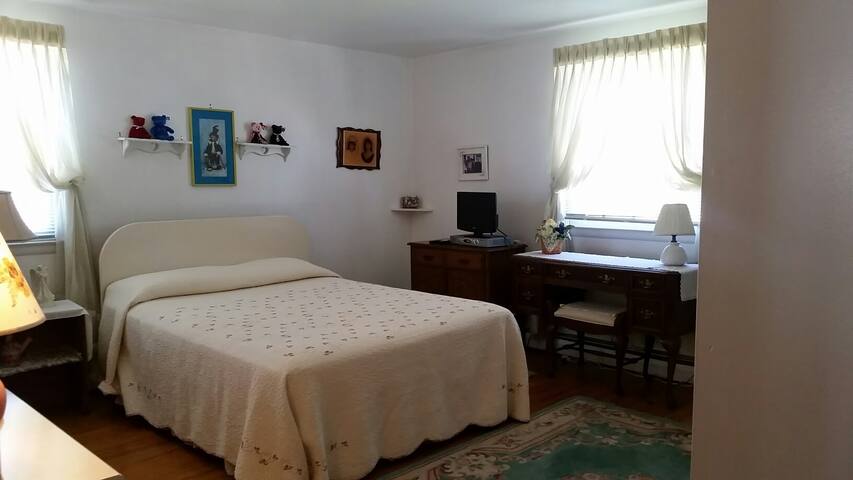 Přijďte pobyt v našem bydliště téměř úplně obklopen stromy, které vám ten pocit uvolnění, které jste hledali. S rohovou místnosti budete cítit, že jste opustil svůj svět za sebou. V sousedství s dlouhou životností obyvateli se budete cítit pohodlně, bezpečně a mohli se projít tichými ulicemi pustit stresu během dne.
Místnost je soukromý pokoj v prvním patře společně s čistým, vstřícný koupel jen nohy pryč. V pokoji je pevně v plné velikosti postel s čisté bavlny, čerstvé přikrývky a načechranými polštáři spolu se slušným velikosti šatníku, takže nebudete muset žít z pytle během svého pobytu.
Tento diamant v drsném sousedství je zalesněná plocha pozemku uprostřed prosperující podnikatelské sféry. Obklopen nákupy, veřejné dopravy a restaurací, je tu něco pro každého.
Vicky and Eugene have a very wonderful place . They were welcoming when I arrived and they were very accommodating during my stay . The room and bad were clean and the atmosphere was quiet and relaxed . I would definitely reccommend Eugene and Vicky for anyone wanting to unwind after a busy day .
vladimir
2016-11-01T00:00:00Z
Wonderful place, great shower pressure and hot water! Great location near Baltimore Pike and the many restaurants there.
Thomas
2017-01-11T00:00:00Z
All was so easy, from communication to check in to location to enjoying the hosts company and enjoying our own private time in their home. Incredibly respectful and gracious individuals! I would stay again in a heartbeat! They even made us breakfast the morning we were leaving!! It couldn't have been better.
Karen
2017-03-26T00:00:00Z
Eugene was quick to respond and was accommodating to any alterations we made to the reservation at the last minute. Vicky is a great host who showed us around the house and made us feel right at home. Gabby, their pit bull was equally welcoming. Vicky is a friendly person and we had a great time chatting with her. They have a nice, cozy place with a patio overlooking the neighborhood. The bedroom is nice and warm and self sufficient for 2. The bathroom is clean and well equipped with all the amenities. A warm, delicious breakfast was a cherry on the cake. I would recommend this place to anyone looking for an accommodation near Philly .
Sanskar
2016-10-27T00:00:00Z
My second time staying with Eugene & Vicki. I truly enjoy staying there. Very friendly, easily accessible to public transit: 3 blocks from the Primos Regional Rail station, 2 blocks from the 107 bus, 3/4 a mile away from the 102 trolley.
Courtney
2017-02-27T00:00:00Z
Truly accommodating, conveniently located on the SEPTA Line, trolley line & Bus Route. I felt like I was home & safe. The hosts are genuinely friendly & you can't help but love Gabby too.
Courtney
2016-11-14T00:00:00Z
I felt almost like a member of the family in this very welcoming, friendly home. The host even texted me that I had left something behind which I was able to retrieve. Great visit, great home!!
Cheryl
2016-12-08T00:00:00Z
This is a safe and comfortable environment. The family is very friendly and accommodating. The dog is friendly and well trained. I was glad to have a car but the public trans is a healthy walk if you don't mind. I am originally from the area and found this to be a central location for the business I needed to conduct.
Judie
2017-02-04T00:00:00Z
ประเภทห้อง
ห้องส่วนตัว
---
ประเภทที่พัก
บ้าน
---
พักได้
2
---
ห้องนอน
Clifton Heights, เพนซิลเวเนีย, สหรัฐอเมริกา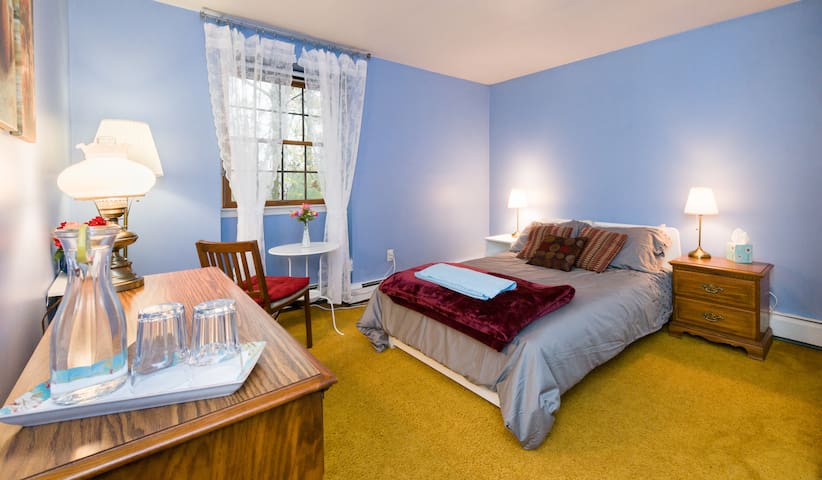 Thank you for hosting me! I was a great time staying at your place. I appreciate that you picked me up and sent me off to the train station.
William
2016-12-28T00:00:00Z
Simple, good price
Silvio
2017-01-29T00:00:00Z
Michelle was a kind and respectful host. Noise was never an issue in the house. The room is as advertised in the pictures and was clean. The cats don't go into the room, but they are in other places in the house. They are friendly cats.
Geralyn
2016-11-19T00:00:00Z
ประเภทห้อง
ห้องส่วนตัว
---
ประเภทที่พัก
บ้าน
---
พักได้
1
---
ห้องนอน
Aldan, เพนซิลเวเนีย, สหรัฐอเมริกา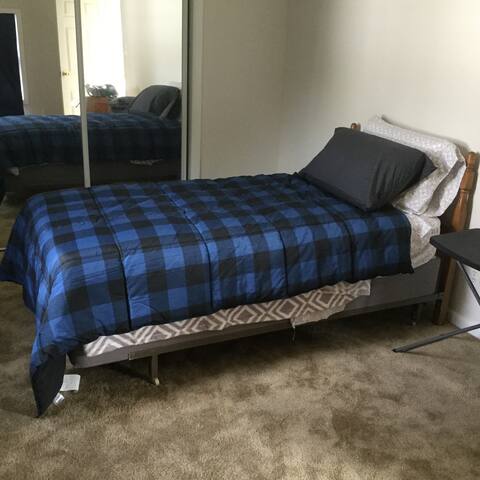 Small, relaxed home with three cats. The room has a door you can close: no lock. Single day bed with a pull out trundle bed; making it an optional two bed room. Access to living room, bathroom and laundry. Wifi avail. Residential neighborhood with easy drive to airport or 1 mile walk to regional rail service. Bus route nearby.
Quiet, family friendly.
The place was easy to find. Very close to the airport. The room was nice and cozy. Check in and check out was very easy. Patti has a great place to share with very understanding and down to earth personality. I will recommend this to everybody who is looking for a easy access to the airport for a reasonable price. I will definitely stay again.
Minu
2016-11-19T00:00:00Z
My stay was fantastic! Patti could not have been a better host. Instantly made me feel comfortable, like I had known her for years. Her place was perfect, very cool cats... I was extremely comfortable. I know where I am staying when I visit Philly again! :)
Art
2016-12-10T00:00:00Z
The host canceled this reservation 66 days before arrival. This is an automated posting.
Peter 俊鹏
2017-02-07T00:00:00Z
Patti's place was perfect and cosy for a late night layover, very close to the airport and comfortable. We really appreciated being able to check in late at night, and Patti was so sweet, we felt at home! Thanks again :)
Lauren
2017-03-05T00:00:00Z
Excellent!.. Patti is more then accommodating. She is extremely friendly and very courteous. She offered us drinks upon arrival and even had a nice care package in the room (soap, shampoo, bottled water and other goodies). The WiFi connection is great here. Once again our stay here was perfect!
Jessica
2016-12-28T00:00:00Z
ประเภทห้อง
ห้องส่วนตัว
---
ประเภทที่พัก
บ้าน
---
พักได้
3
---
ห้องนอน
Glenolden, เพนซิลเวเนีย, สหรัฐอเมริกา
Notre maison est une maison individuelle dans la banlieue de Philadelphie. Notre maison se trouve à 5 minutes d'un train avec un accès facile à la ville et situé dans un quartier calme avec des voisins amicaux. Il est un plan d'étage ouvert, donc la cuisine est juste à côté de l'espace salon. Nous avons un maître avec un grand lit et une chambre avec un lit double. Nous avons un chiot, donc nous sommes ouverts à accueillir ceux qui voyagent avec des animaux. Nous sommes disponibles si vous avez besoin de nous et espérons que notre maison est un bon moyen pour vous!
Notre quartier est calme et assez petit. Tout le monde est très amical et accepter. Il y a beaucoup de chiens dans notre quartier, donc si vous voyagez avec un chiot cet endroit est bon pour vous!
ประเภทห้อง
บ้าน/อพาร์ทเมนท์ทั้งหลัง
---
ประเภทที่พัก
บ้าน
---
พักได้
3
---
ห้องนอน
Clifton Heights, เพนซิลเวเนีย, สหรัฐอเมริกา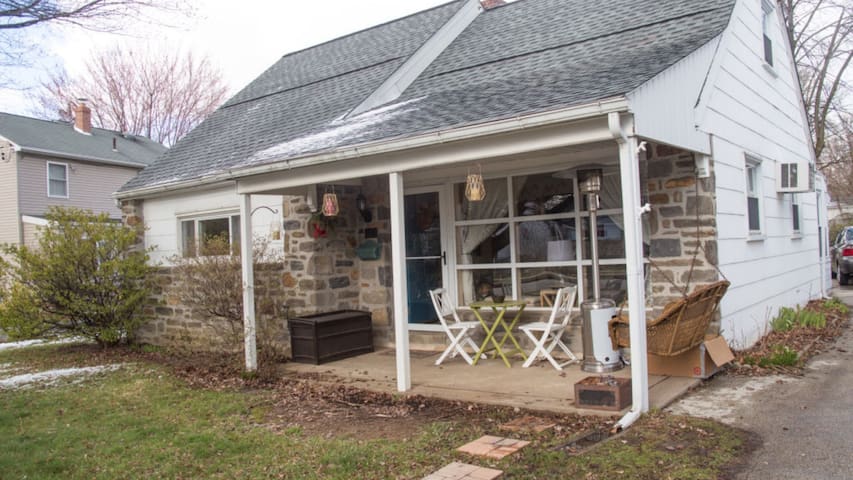 Charming single home in beautiful Lansdowne 10 miles west of Philadelphia in a quiet residential area. Ideal for Professional Couple & Family. Just steps to Library and Train Station to Philadelphia. 10-min ride to University of PA, Drexel, HUP & Children Hospitals. 15- min to Temple Univ and Center City Philadelphia attractions. 15-min ride to Swarthmore/Media. Also, 5 minutes drive to Mercy Fitzgerald Hospital. Available for weekly and longer stays only.
Charming 4-bedroom Colonial nestled among dogwood and other trees down a quite residential road. The covered front Porch takes you into a center Hall with a bright Living room on the right, Dining room on the left, on to a cozy Den with Fireplace, bookcases and desk. Sliders to Patio and pretty backyard. Powder room and bright eat-in Kitchen w/exit to the Driveway. Upstairs to 4 Bedrooms: large Master with spacious closet and full Bathroom w/shower, 3 other bright Bedrooms share ceramic tile Hall Bath. Plenty of closet space and pull-down stairs to a large lighted attic. Hardwood floors throughout! The high Basement is freshly painted with Laundry facility, newer gas Furnace and Central air. Located in a magical private location. FULLY FURNISHED. Plenty of Parking in long driveway and large detached Garage. Truly, just walk in, smile and enjoy.
Quiet residential neighborhood of single homes in the small suburban township of Lansdowne.
Great house, great area! Would definitely stay here again.
Taylor
2016-09-07T00:00:00Z
ประเภทห้อง
บ้าน/อพาร์ทเมนท์ทั้งหลัง
---
ประเภทที่พัก
บ้าน
---
พักได้
5
---
ห้องนอน
Lansdowne, เพนซิลเวเนีย, สหรัฐอเมริกา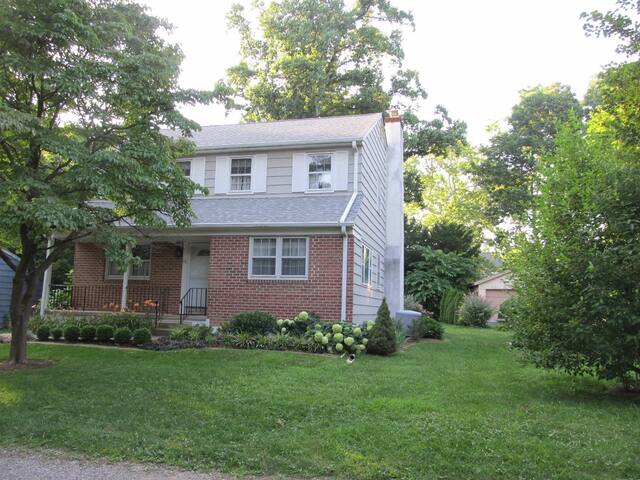 This small room is perfect for the visitor looking to save money while staying in a beautiful home! It has all the basics anyone might need. Bed, end table, little shelf. Shared bathroom if other guests are on the 3rd floor
This room has the basic things needed for an overnight stay. A twin sized bed, an end table, a chair and a bookshelf. This room is small but mighty!
This home is only 15 minutes from the airport and 20 minutes from center city Philadelphia but when you are here you can go outside and see a herd of 22 deer. I have walked into my front yard some mornings and I have a blue heron visiting my koi pond..that can be good and bad! Lansdowne is primarily residential with a commercial center near the original railroad stop. Lansdowne is a lively community. An eclectic mix of retailers comprises its commercial corridors, with shops ranging from antiques to health food, books, musical instruments, clothing, an award winning cafe, and produce stands.
This is a beautiful big house with the swimming pool and the nice yard. The room is small and clean exactly as described. Deborah is very nice and friendly . I enjoyed my stay alot.
Ran & Yelena
2016-09-14T00:00:00Z
My three month stay at Debbie's house was quite memorable and a rich experience. Her home is full of character and her yard/garden is beautiful and serene. The room I stayed in was small, as advertised, and just what I needed. The best part of staying there was the companionship and laughter shared with Debbie and the other guests over shared meals and going out. It was much more than just a place to come home to and sleep. Debbie is very welcoming, fun, good hearted, and giving. The dogs, Lulu and Ruby, are sweet and hard not to get attached to or give treats to (um, not that I ever did that!). If you are in the area come stay. It is hard to fathom you will find a better place to stay.
Morris
2016-08-23T00:00:00Z
Had a wonderful 2 weeks stay at Deborah's house. She is an amazing host and a wonderful person. She made me feel at home. The place is exactly as described in the listing. No surprises. The room was bright and the bed was very comfortable. Entire place was neat and clean and the house was beautiful.The place is in a safe neighborhood with driveway parking which is difficult to find in philly. It is just 20 mins away from center city by train. The train station is nearby. I had a daily commute to my office in center city. I would definitely recommend staying with Deborah for both long and short term. Thanks Deborah i really appreciate your hospitality.
Saket
2016-12-09T00:00:00Z
Room is small but clean, quiet and comfortable. Deborah is a wonderful and accommodating host with a beautiful home. The neighborhood is quiet and tucked back away from traffic and city npise but you are only a short distance from everything you could possibly need. If ever in the area again I will seek out Deborah on Airbnb before all else
Stephen
2017-02-22T00:00:00Z
Ms Deborah, her friends who were also staying in different rooms were all very kind, friendly and loving people. They invited me for the delicious dinner, gave my coffee and muffin for breakfast and bottled water to go. The house was clean The room was a bit small but works if you are there for a short stay. Her dog Lucy is adorable. The house was clean and has splendid old architectural feel to it. I would recommend everyone to visit her in case you are around and need a home away from home.
Shruti
2016-11-22T00:00:00Z
Deborah is a great host. I enjoyed spending the weekend in her beautiful home. She was very hospitable and even provided breakfast. The neighborhood was safe and I felt comfortable going out at night. I would book her again in the future.
Sonya
2016-11-21T00:00:00Z
Stayed here for about 4 weeks. Deborah is a very kind and gracious host. The room is small but cozy as advertised. The room does not have a heat but she provides a space heater and the room is small so it warms up fast and did not pose a problem in the winter. I am a medical student and was rotating at crozer keystone family medicine. It was very close commute to Delaware county memorial hospital, Springfield and upper Darby areas. The location was safe and parking convenient in the driveway. If you are looking for a family type environment with guests and a host who looks out for you, this location is highly reccommended!
Nene
2017-01-07T00:00:00Z
The room is not such big but including bath room, all the place are very clean and comfortable. Ms. Deborah is very nice and kind.
Zhou
2017-02-16T00:00:00Z
ประเภทห้อง
ห้องส่วนตัว
---
ประเภทที่พัก
บ้าน
---
พักได้
1
---
ห้องนอน
Lansdowne, เพนซิลเวเนีย, สหรัฐอเมริกา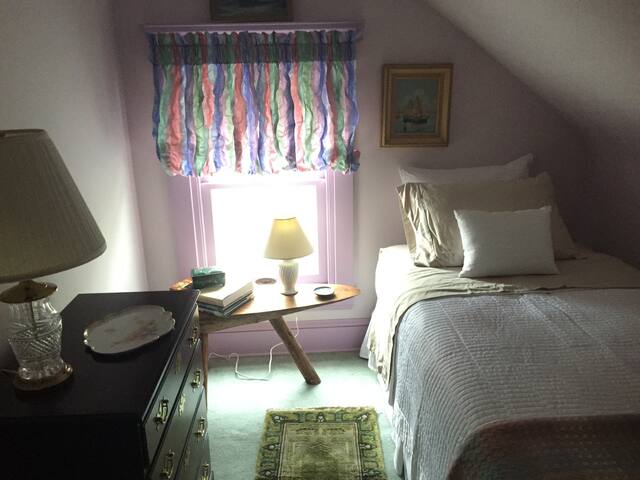 Apreciar a serenidade de um bairro tranquilo, a poucos minutos de qualquer destino que você deseja. Desfrute da arquitectura única da nossa pequena casa e ambiente excepcionalmente limpo. Nossa morada torna-se seu lar doce lar, como você é feito confortável com tudo que você precisa em sua jornada.
Desfrute de um loft sótão aconchegante como o seu quarto em um moderno "pequena casa".
A nossa localização é perfeitamente situado entre muitas atracções locais, incluindo um 10-20 minutos de carro para o seguinte ... City Center Filadélfia, Springfield Mall, Swarthmore College, Newtown Square e do Aeroporto de PHL, para citar alguns. Nossa casa duplo está localizado em um bairro residencial, à direita de Baltimore Pike, portanto, dando-lhe acesso fácil aos lugares mencionados anteriormente. Nós temos uma estação de incêndio localizado a poucos quarteirões de distância, por isso, de vez em quando vamos ouvir as sirenes. Você vai ter um lugar de estacionamento privado ao lado da casa, bem como a abundância de estacionamento na rua, se necessário.
Gabrielle and Sean have a very nice, cheerful, clean space that my sister and I stayed at while attending a family event. It was centrally located to family and event location, and easy to get to main road to find stores. It is in a quaint (not fancy), quiet neighborhood, except for the occasional fire whistle. They are a sweet couple, and I connected in conversation right away. I had read the house rules in advance, so was in agreement on turning off stuff to save electricity, etc. It is how I do it in my own home. Clean sheets and towels, some snacks and fresh fruit, plus we could put our own food on a shelf in fridge. Sis and I like cats, so the pet cat was not an issue. I loved his company and playing. If you are not a cat person, you may not be thrilled. My sis and I may use this spot again for other family stuff as it comes up.
Sandra
2016-06-20T00:00:00Z
Gabriella, Sean, and Jasper are really nice and great hosts! Their place is very cozy! They had refreshments waiting for us at check in and breakfast options (cereal, bagels and cream cheese, yogurt) for the morning. They let us know about the house and the area then left us so we could relax. My husband and I had an excellent time here. We were just in the area for one night as we travelled back home to New York. It was an awesome place to hangout and chill. Jasper is super friendly and hung out with us too. Thanks for a great little retreat, Gabriella and Sean!
Jessica
2016-08-01T00:00:00Z
Home came as-advertised. Quaint, cute and had everything you need. Owner was kind enough to bake some banana bread for us, which we devoured for breakfast the next day. Bed was super comfortable as well. Book this place with confidence. Thanks!
Dan
2016-10-09T00:00:00Z
I flew in alone to run a Marathon in Philly and I was quite impressed with the place. This house is covenviently located, in a nice neighborhood, and within a block from heavy rail to city center. An uber ride costs next to nothing to anywhere. I had brief interaction with Gabrielle and Sean, but when I did, they exhibited nothing but hearts of gold. Great People.
Andrew
2016-11-20T00:00:00Z
Gabrielle & Sean's house was nice and cozy. They definitely keep the house under the best condition. It was clean and organized. We had everything we needed in the house, and we enjoyed the stay. I'm more than happy to come back again for them.
Yisheng
2016-06-06T00:00:00Z
So glad that we chose to stay here instead of a hotel! Sean and Gabrielle go the extra mile to make their guests feel at home and they were so kind and helpful to us before, during, and at the end of our stay. And their cat is adorable and friendly!
Arit
2016-09-06T00:00:00Z
Sean & Gabrielle's house is a great place to stay! The house was very nice, cozy and clean, we had everything we needed there (and the breakfast was also included which is a very nice addition to the overall pleasant experience). Sean was very responsive and helpful. My daughter got so attached to Jasper (the cat) that she did not want to leave.
Alexander
2016-10-16T00:00:00Z
A real find! My daughter and I were touring colleges in the area and this little house was perfect for us. It was conveniently located, adorably decorated, and hosted by the sweetest couple you've ever met. Make sure GPS plugs in the right town as there's an identical address one town over.
Jennifer
2016-07-01T00:00:00Z
ประเภทห้อง
บ้าน/อพาร์ทเมนท์ทั้งหลัง
---
ประเภทที่พัก
บ้าน
---
พักได้
3
---
ห้องนอน
Clifton Heights, เพนซิลเวเนีย, สหรัฐอเมริกา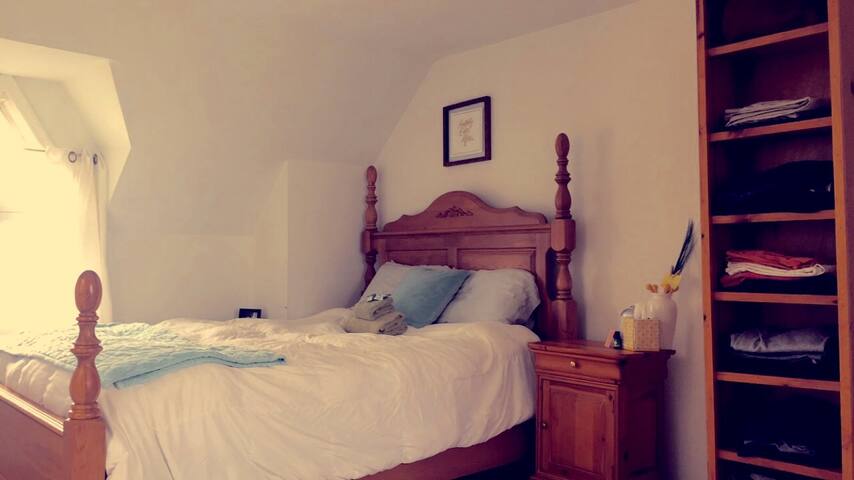 My place is close to Center City Philadelphia ( 6 miles)and close to public transportation . You'll love my place because of the people and the ambiance. My place is good for couples, solo adventurers, business travelers, families. My husband and I do live here, but you'll have privacy.
We have to bedrooms with queen beds, wall-mounted television, couch or chair and closets. There is a full bath that will be only yours. You can use the kitchen upon request and the refrigerator/freezer fit you need to. We are very close to the airport, train station and center city Philadelphia. We have wifi and cable television.
The host was very welcoming and accommodating. She made our family feel welcome and made it very simple for us to come and go. We felt that the home was very clean and the description online was accurate. The location was great and the neighborhood felt very safe. Overall, we had an excellent experience.
Steven
2016-09-18T00:00:00Z
Sara and her husband are two wonderful people who made me feel very welcome in their lovely home. I only wish I was able to stay a little longer and get to know them more. I thank them for their hospitality.
Joseph
2016-10-02T00:00:00Z
Very accurate, safe location, lovely home, very clean.
Nicole
2016-09-29T00:00:00Z
Sara and Jim were the Absolute best Hosts ,Making our overnight Trip Care free and we felt very Welcome! I'd Recommend the stay to anyone 5stars
Dan
2016-11-06T00:00:00Z
Sara's home is awesome. She received us at night, welcomed and showed us around. Although we only spent one night there, we really felt like if we were at home. Bedrooms are big and comfortable, and her house is really nice. Philadelphia's historic center is only 15 minutes away. Sara was very friendly and welcoming. It's impossible to be in a better place, If we ever come back we will be in Sara's place for sure! Also, her dog is lovely!!!!!!
Carles
2016-11-13T00:00:00Z
Sara was incredibly generous helping me navigate logistics of getting to my interview in the city. Clean, comfortable room with a great host.
Cory
2016-11-12T00:00:00Z
Good, wonderful!
Fang
2016-11-10T00:00:00Z
Sara and her husband are lovely hosts. Beds were very comfortable, rooms spacious, everything clean. Just a great stay overall. Convenient location if you have a car. If you're an animal person, you'll lover her hilarious dog and friendly cat. Thanks for a great stay!
Susan
2017-01-05T00:00:00Z
ประเภทห้อง
ห้องส่วนตัว
---
ประเภทที่พัก
บ้าน
---
พักได้
5
---
ห้องนอน
Lansdowne, เพนซิลเวเนีย, สหรัฐอเมริกา
3bdrm acogedor 1 BTH adosado en una calle agradable arbolado familia sólo unos pasos de transporte público. Aparcamiento disponible en la parte delantera y trasera de la casa. Perfecto para cualquier familia.
Cómodo
idónea para niños
ประเภทห้อง
บ้าน/อพาร์ทเมนท์ทั้งหลัง
---
ประเภทที่พัก
บ้าน
---
พักได้
8
---
ห้องนอน
Drexel Hill, เพนซิลเวเนีย, สหรัฐอเมริกา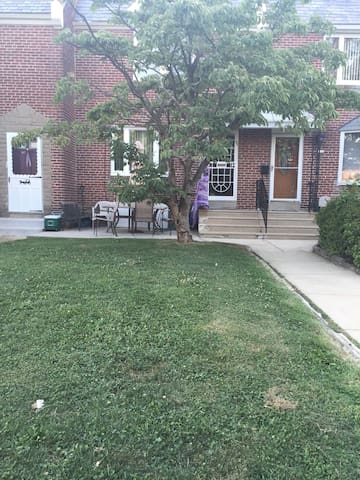 My place is close to Public transportation. Two train stations are located in Lansdowne, in addition, access to buses, taxis, trolleys and Uber. Easy train ride into Philadelphia to tour the city's attractions. Also located close to Chester, Montgomery and Lancaster counties. Convenient to Movie theaters, shopping and coffee shops.. My place is good for couples, solo adventurers, and business travelers.
Everything was lovely Dorothy was wonderful my husband and I stayed at her home for just a few days while we had been moving into our new place she was very sweet and kind . We enjoyed ourselves and her house is absolutely beautiful !
Dajah
2017-04-12T00:00:00Z
Dorothy's house was the best stay ever. I truly recommended her place. The house was always clean and welcoming. Dorothy made it her businuess to help you feel at home. Her hosptiality can not be described with only words you would have to experience it yourself. The neighbor was nice, safe, and quiet. There are a lot of stores near by and public transportations was very accessible. I stayed there for three months and I have grown to care for Mrs. Dorothy like a grandmother.
chantal
2017-04-10T00:00:00Z
ประเภทห้อง
ห้องส่วนตัว
---
ประเภทที่พัก
บ้าน
---
พักได้
4
---
ห้องนอน
Lansdowne, เพนซิลเวเนีย, สหรัฐอเมริกา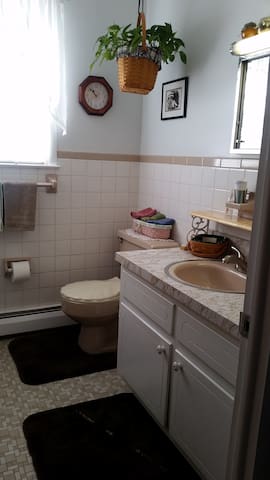 Private, quiet 2-bedroom space on third floor of our 100-year-old family home, with use of shared bath, kitchen and deck. Located in the quaint town of Lansdowne, just a short 15-minute train ride from Center City Philadelphia, and station is less than 1 mile from our home. Perfect place to stay if you want the sights and excitement of Philadelphia but a nice quiet place to stay in the evenings.
Quiet, comfortable 2-bedroom space: 1 king bed in one room and 1 queen bed in the second room, both private spaces. Sleeps 4. Free parking for up to 2 cars. Our 100-year-old Dutch Colonial home includes access to the kitchen and deck.
Quaint, small town with restaurants, shopping and a Saturday farmer's market within walking distance. Conveniently close to University City, Center City and Philadelphia attractions. Easy 10-minute walk to train station.
The rooms and house are absolutely wonderful. It's spacious, quiet and peaceful. The host and family were super welcoming and made us feel right at home. The neighborhood was very quiet with a handful of cafes, restaurants and thrift shops. There aren't many activities within the neighborhood but it's a nice town to visit.
Natalya
2016-08-25T00:00:00Z
Lovely cozy bedrooms are exactly the same as what you see in the pictures. Great view of backyard, prefer eating outside on the deck. Hosts keep the entire house clean and tidy. They're friendly and thoughtful. I enjoy the stay here.
Zhoumiao
2016-09-19T00:00:00Z
Ginny was fantastic! My two girl friends and I were from out of town for a local music festival so we only needed a place to crash for the weekend. As first time users, we were incredibly pleased with how welcoming her and her family were. The separate upper floor with two rooms were perfect for us regarding cleanliness, privacy, and easy access. She provided us with household instructions, towels, a coffee maker and even the mini shampoo/conditioner bottles. My friends and I wish we got to see more of Ginny and her family but overall, we were incredibly satisfied with our stay and how reliable communication was. It was also only about a 20 minute ride to downtown Philadelphia, so I highly recommend her place if you're ever in the area. Thank you again, Ginny!
Colleen
2016-09-06T00:00:00Z
ประเภทห้อง
ห้องส่วนตัว
---
ประเภทที่พัก
บ้าน
---
พักได้
4
---
ห้องนอน
Lansdowne, เพนซิลเวเนีย, สหรัฐอเมริกา
Maizon was a great host, very accommodating even on short notice. He was also very understanding about my arrival time, he made me feel comfortable and at ease. Location was perfect for my visit. Room is exactly as shown in the picture. I would definitely recommend staying here and would also do so again.
Timi
2015-12-22T00:00:00Z
I needed a place to stay after a long flight and this room was perfect for a few hours of sleep. The host answered all my questions via text in a very timely manner.
Bethany
2016-05-01T00:00:00Z
Had a Peaceful stay
Induja
2017-01-10T00:00:00Z
I stayed at Mazino's home for one night due to a nearby interview. I was exceptionally pleased with the accommodations, and had a pleasurable experience. The location was quiet at night ensuring a good night's rest. I wasn't able to meet Mazino in person, but he answered all my questions via text in a very timely manner.
jonny
2015-10-27T00:00:00Z
Thank you Mazino for making my stay comfortable ....
Sweta
2015-12-15T00:00:00Z
Mazino's place was perfect for me. I was in town for a residency interview. The hospital was half a mile from his place, so I was able to walk to my interview in the morning, pretty walk and it helped calm the nerves :) Nice bed with a desk and lots of hangers to use in the closet. I appreciated having a place to put my stuff in the bathroom. Much thanks to Mazino for picking me up from the Darby Transportation Center. It was really easy for me to catch a bus to Philadelphia from the Transportation Center.
Wendy
2016-11-15T00:00:00Z
Mazino was awesome. Very welcoming, flexible and accommodating. Had a stay that couldn't have been better! Zero complaints
Kathryn
2015-05-15T00:00:00Z
Great host has a great spirit
camilla
2016-05-16T00:00:00Z
ประเภทห้อง
ห้องส่วนตัว
---
ประเภทที่พัก
บ้าน
---
พักได้
1
---
ห้องนอน
Darby, เพนซิลเวเนีย, สหรัฐอเมริกา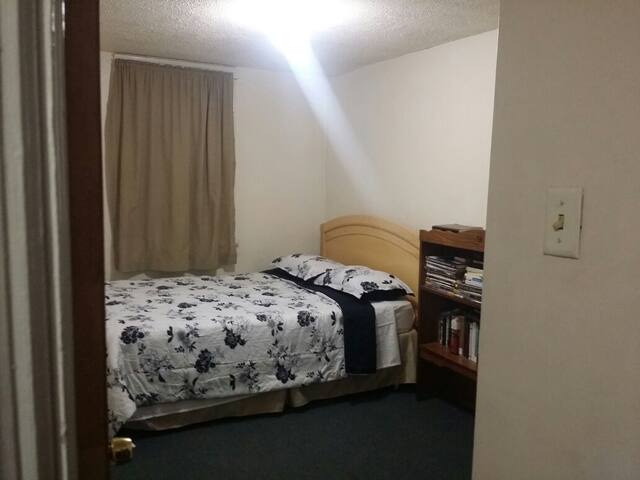 ประเภทห้อง
บ้าน/อพาร์ทเมนท์ทั้งหลัง
---
ประเภทที่พัก
บ้าน
---
พักได้
10
---
ห้องนอน
Clifton Heights, เพนซิลเวเนีย, สหรัฐอเมริกา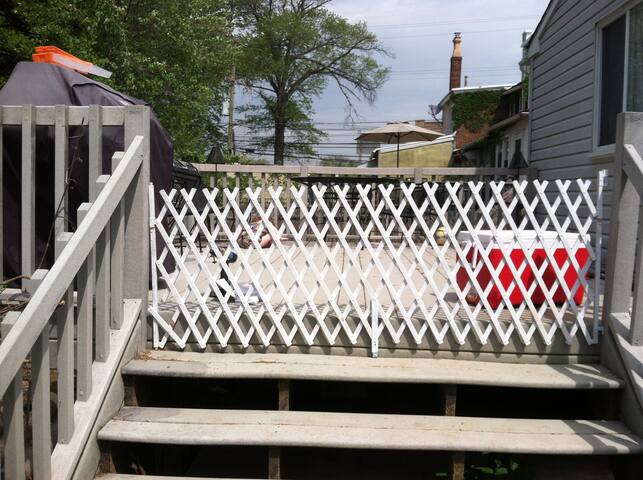 Sehr ruhige sichere familienfreundliche Gemeinde! Urlaub mit Hund, rauchfrei. Haus ist komplett eingerichtet, viele kostenlose Parkplätze, Wärme, Warmwasser, TV-Kabel, Wi-Fi enthalten. 3 Blocks von Septa Wagen entfernt. Praktisch Abstand von Wawa & Fresh Grocer
GESAMTE LOVELY zweistöckigen Haus ganz für sich auf ruhigen Cul-del-sac zu vermieten. . . Dieses Haus verfügt über eine 2 PKW-Stellplatz, neu renovierte Küche, 3 Schlafzimmer und 1 neu renoviertes Bad sowie ein Schlafsofa. Hartholz alle im ganzen Haus Boden. Es liegt in einer sicheren Gegend in der Nähe verschiedener Schulen, Bibliotheken, Parks und Spielplätze befinden. Es ist auch günstig in der Nähe von Einkaufszentren, Supermärkte, Restaurants, etc. (Wawa um die Ecke) Eine gute Anbindung an die Innenstadt Zentrum der Stadt Philadelphia mit nur einer 20-minütigen Fahrt mit den öffentlichen Verkehrsmitteln ist ebenfalls verfügbar. Die Septa Trolley-Haltestelle ist nur zwei Blocks entfernt von der Tür. * Das Rauchen ist nur auf der Veranda erlaubt, die mit ein paar Stühle, Feuerstelle Tisch und Gasgrill zur Verfügung gestellt wird. Es ist unsere Zufriedenheit zu Ihnen wie zu Hause fühlen, so lassen Sie uns bitte von zusätzlichen Anfragen wissen !! Ich mag persönlich den einfachen Transport in die Stadt und ich genieße die Ruhe, wenn ich meine Hausaufgaben / Studie in diesem Haus zu tun. Sichere Nachbarschaft für einen Lauf in den Morgen zu gehen. Es ist ein irisches Restaurant "Hibernian", Ich mag mein Frühstück zu haben, und ich empfehle es Ihnen hoch. In der Nacht Ich mag reden, essen mit meinen Freunden auf der Terrasse, wo wir ein Lagerfeuer machen können und den reichen Duft Ofen genießen. Auch paar Blocks von der Station ist ein WAWA und über die Straße gibt es einen lokalen Bauernmarkt super frisch mit tollen Preisen.
Ich mag persönlich die leichten Transport in die Stadt und die Ruhe des Geistes zu genießen, wenn ich meine Hausaufgaben Studie in diesem Haus zu tun. Out für einen Lauf am Morgen und nach dem Duschen. Es ist ein irisches Restaurant HIBERNIAN, Ich mag mein Frühstück zu haben. In der Nacht Ich mag reden, essen mit meinen Freunden auf der Terrasse, wo wir ein Lagerfeuer machen können und den reichen Duft Ofen genießen. Auch paar Blocks von der Station ist ein WAWA und an der Frontseite ein super frische Lebensmittel Lebensmittelgeschäft.
The place was very nice, just as described and depicted. It was extremely clean. We would strongly recommend. We had a very comfortable stay.
David
2012-10-29T00:00:00Z
We came from abroad to admit a patient to The Children's Hospital of Philadelphia. So we needed a clean and cozy place for our patient whenever he became an outpatient. This is not five star, but the place was EXCELLENT. The hosts were very helpful whenever we needed their assistance ... God bless them. We'd definitely recommend our host and their home to anyone.
Abdullah
2013-01-31T00:00:00Z
Kitty went out of her way to make certain our expectations were met. We added to our group in the last week and she was very open to our change of plans. We appreciated having a full kitchen, air conditioning, and a good transfer location for transportation to downtown Philly.
Mike
2016-07-31T00:00:00Z
It was SO homey and comfortable. I stayed for 2 days during the Made In America festival and really enjoyed it. Ketty was very sweet and responsive. I recommend this home! :)
CATHARINE
2015-09-08T00:00:00Z
I booked this fairly last minute, and was very pleased with the prompt communication. Our trip was great. It is always nice to have a full home to relax in. The house is very comfortabe, and having a place to park every night was a huge help too. The location is good for exploring Philly and the surrounding areas. Thanks Ketty & Sheyla!
Denise
2013-04-06T00:00:00Z
We like the house a lot. It is clean and tidy. And its decoration is personal and unique. The experience is much better than staying in a typical hotel around the same price range.
Bo
2015-05-25T00:00:00Z
Ketty and Sheyla were responsive and available. We had a pleasant time staying at their house. All was clean and furnished with everything we needed. A nice, safe and sunny place, close to the City, to stay.
trisha
2012-11-24T00:00:00Z
Ketty & Sheyla's row home is in a charming neighborhood that I could have easily spent more time exploring. I stayed here with my wife and a couple friends, and there was more than enough room for all of us. We made bacon, eggs, and coffee each morning in the kitchen, and curled up on the couches to watch Jurassic Park at night. If we'd been able to stay longer, we surely would have fired up the grill and enjoyed the yard as well. All in all it was quite nice!
Crow & Bonnie
2013-04-15T00:00:00Z
ประเภทห้อง
บ้าน/อพาร์ทเมนท์ทั้งหลัง
---
ประเภทที่พัก
บ้าน
---
พักได้
5
---
ห้องนอน
Drexel Hill, เพนซิลเวเนีย, สหรัฐอเมริกา
My home is spacious with two living rooms, part of the common areas, a dinning room, and a kitchen where you can store food in our fridge in the first floor and it boasts 8 big bedrooms: four bedrooms in the third floor and four bedrooms in the second floor. Each floor has its own full bathroom. Your room is located in the third floor. There is a tv with cable connection in one of the living rooms. You are welcome to use the common areas where the tv is located.
Your bedroom, number 305, has a full size bed, a night stand with a lamp, a small desk with a chair, and an average size closet with hangers. There is air conditioning and heat in your room. The bathroom is in the same floor and your room includes towels for your use. You should bring your own toiletries. This is not a luxury room but it has the basic necessities for you to have a restful night.
There are several restaurants and bars nearby: Restaurants: (URL HIDDEN) Bars: (URL HIDDEN)
Overall we had a great stay at their beautiful home. We wanted to get out of the NYC for a bit and explore. At first, we were taken back by how far it is from the city but nothing an uber pool couldn't fix. Plus, our whole goal was to get out of the city! The area is absolutely beautiful and so is the house. It felt like a boarding home because the other rooms on the floor and how big the home was which was super cool. If staying in phili isn't a priority then I would say stay here because it's like you get the best of both worlds.
Malia
2016-11-13T00:00:00Z
Conveniently located to where I was working. Great check in with Nick. This is a very large, older home with hardwood floors, so sound carries a bit. Didn't bother me though.
Laura
2017-04-04T00:00:00Z
José and his husband were very kind and helpful. The room was nice and the home was beautiful. Bed was comfortable. Neighborhood was nice and quiet. I enjoyed my stay.
Jay
2016-10-24T00:00:00Z
José Francisco was an amazing host! He was very accommodating even tough we arrived late. His house was gorgeous, and we slept quite well. The location was centered to all our needs. We are very grateful to have been able to stay. Thank you once again for being so genuinely nice!
Daiana
2016-10-10T00:00:00Z
ประเภทห้อง
ห้องส่วนตัว
---
ประเภทที่พัก
บ้าน
---
พักได้
2
---
ห้องนอน
Upper Darby, เพนซิลเวเนีย, สหรัฐอเมริกา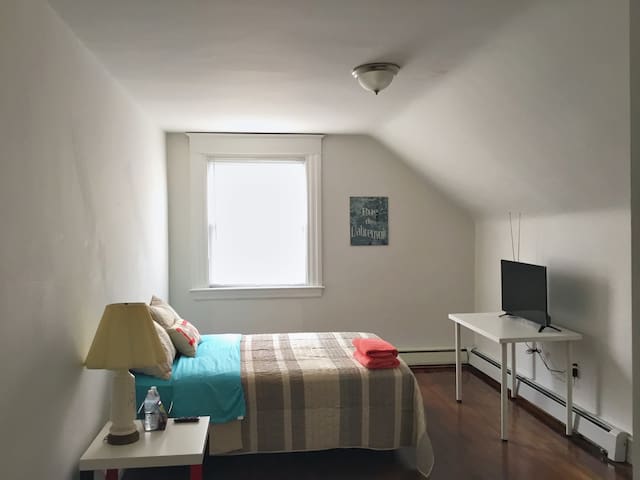 1

–

18

จาก

300+ บ้านให้เช่า
กรอกวันที่เพื่อดูการกำหนดราคาเต็ม มีค่าธรรมเนียมเพิ่มเติม อาจมีภาษีเพิ่ม