This private, cottage style space is newly remodeled, fully equipped kitchen & bath, sumptuous Marriott queen mattress, all in a rural like setting in town in an established neighborhood. Walking distance to Goldendale Observatory, hiking/mountain bike trails, & close to Maryhill.
High above the Columbia Gorge and set on the forested edge of the little town of Goldendale, WA, this newly remodeled cottage style space provides a cozy base from which to explore the charms of the region. Ample off street parking, fully equipped kitchen, and a sumptuous Marriott queen mattress ensure a stress free, relaxing stay. With the Maryhill attractions (museum, winery, fruit stands), St. John's Greek Orthodox monastery (Greek food), Columbia River and Cascade Mountain recreational opportunities all minutes away, as well as some great eats and treats in town, there is plenty to do.
Rural like but still in an established neighborhood with chickens on property and goats on adjoining property. Deer, quail, and wild turkeys are often seen. The property has many very large ponderosa pine. In the winter will be heard and sometimes seen the resident great horned owls.
Best ever. Gail was so gracious and more than accommodating to my two-year-old and I. The cottage was clean, spacious, and had everything you could need. We will be back!
Stephanie
2016-08-29T00:00:00Z
We were very happy with the cottage. We arrived late Friday night and Gail was there to welcome us. The directions were clear that Gail emailed to me. There was road construction near the house but Gail gave us understandable detour instructions. The cottage was very clean and comfortable. There were muffins and fruit ready for breakfast. We did not need anything during our stay. The cottage is very close to downtown and also not far from the Observatory which we did not get to go to this time except during the day just to see the area. I would definitely recommend this place if you are looking to stay in the area.
Jimmy
2015-10-25T00:00:00Z
Short stay this go round. I can't get over how welcoming they are. Looking forward to my next stay already. Feels like home.
Wesley
2016-03-25T00:00:00Z
Gail is a very accommodating and helpful host! We are so happy we stumbled upon Gail's studio! A Quiet location, you can here a pin drop at night! Freestanding studio, a remodeled detached garage area across the drive from the main house which is situated on small acreage in an established neighborhood. Everything was brand new and clean as a whistle, fresh smelling, kitchen well stocked with all we needed. This location is a bit off the beaten track but we enjoyed the beautiful drive from Hood River(we drove up the on the North side of the Columbia appx 1 hr.) past wineries, Kite sailing,Columbia views and rolling hills. The drive was worth the great value and quiet, folksy location. Next time we may try to visit the Observatory in Goldendale, a rare Dark Sky park. A great location for the wayward traveler going through the Gorge, The Dalles or central-eastern Washington! Gail's husband treated us with home dried pears from their garden, a nice touch. Will definitely plan to stay here again.
Jill
2015-09-22T00:00:00Z
The cottage was just perfect. It was EXCEPTIONALLY clean, spotless, had plenty of room to unpack and spread out, had all the kitchen equipment we needed, and was tastefully decorated. Gail was super available and responsive - especially since we didn't request our booking until late Thursday evening for Saturday evening arrival. The cottage is quite private and set back from the quiet road. There was a nice neighborhood street to walk the dogs - plus they have a huge back yard. We went to the 8:30 pm "show" at the observatory in Goldendale and were blown away by the quality and experience overall. It was fascinating and we learned so much about space. While you're there, we highly recommend working that into your trip. Maryhill museum was interesting, but didn't knock our socks off. We didn't have time to explore much else as we spent most of our time in the gorge. Can't go wrong with this cottage if you're in the gorge area! We'll be back for sure.
Leanne
2016-07-11T00:00:00Z
A wonderful place to stay to explore the area. Very quiet and comfy. Gail even took us to the trail to show us where it started behind their home. The Townhouse Restaurant was great for breakfast/lunch and the Glass Onion for dinner! Also a great thrift store downtown. Would definitely come back and highly recommend to others, plus dogs are welcome!
Pat
2016-09-22T00:00:00Z
Gail and her special space are the best of the best. You couldn't find a better space to stay in for Air B&B. It is wonderful. Fabulous. Private. Fully equipped. Thoughtful touches everywhere. In short, the best of the best. Highly recommended !
Rose
2017-03-19T00:00:00Z
Gail made us feel welcome from the get-go and was easy to work with. The cottage was very nice... comfortable and well equipped. We enjoyed our stay there.
John
2015-10-30T00:00:00Z
ประเภทห้อง
บ้าน/อพาร์ทเมนท์ทั้งหลัง
---
ประเภทที่พัก
อพาร์ทเมนท์
---
พักได้
2
---
ห้องนอน
Goldendale, วอชิงตัน, สหรัฐอเมริกา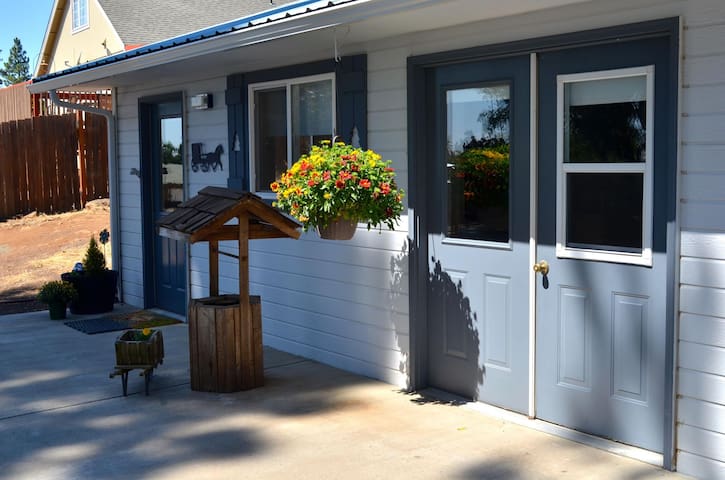 Quiet court yard for evening of grilling, visiting, watching wild life. Apartment is fully furnished. Enjoy the local history, old church nearby, many old tractors and trucks for viewing, museum only 9 miles away and 2 miles to Oregon Raceway Park.
Our apartment is a mother-in-law apartment attached to our home. It is fully wheel chair accessible. Everything is one level so perfect for wheel chairs and walkers also a roll in shower. Private entrance and parking space. We have a court yard with running pond where the fish swim lazily all day long. Enjoy sitting there and reading a good book.
Local park and many old buildings in town unique picture opportunities we are 2 miles from the Oregon Raceway park that is usually running on the weekends
Bonne's place is great- it's large, clean and has a nice koi pond in front of it. We plan to stay again. Bonne and Roger gave us a warm welcome. I recommend visiting nearby Deschutes River Falls while you are in the area.
Mike
2016-10-19T00:00:00Z
Bonne was a wonderful host welcoming us with home baked goods and home grown strawberries and tomatos. The apartment is very large and nicely appointed. The bed was comfortable. The shower worked great. The kitched was well stocked. And everything was very clean. Bonne was very clear her place is in a remote area so you need to arrive with a full tank of gas and your own food for preparation during your stay. This is one of the best places we have stayed and would recommend it highly to other travelers.
James
2015-09-03T00:00:00Z
This was truly a wonderful stay. We had a very long day, and were met by a very polite and friendly Roger, who showed us around the large and well appointed mother in law apartment. There are two showers, a lovely large master bedroom, and a pullout comfy couch, as well as a well appointed kitchen and grill. The koi pond was a treat, and we loved the welcome spirit of the home. Thank you, Bonne, for the sweet note and delicious cookies!! We can't wait to visit you again!
Hilary
2016-07-11T00:00:00Z
An unexpected gem of apartment found in our way from Portland. The place was way bigger than in pictures, very comfortable, well equipped, peaceful and with a nice pond. A must stop for travellers passing by. Hosts really made us feel like home with their hospitality despite our late check-in. One of the best air BnB we've been for this reasonable price.
Pablo
2016-08-28T00:00:00Z
We arrived later in the evening after a long drive in. Bonnie & her husband were there to greet us. The apartment was much bigger than the photos looked, was spotless and very nice! We were especially pleased with the plate if home made cookies! I would recommend this location to anyone who is staying in the Grass Valley vicinity we only wish we could've stayed longer!
Julie
2016-07-25T00:00:00Z
This place is awesome, the hosts are so nice, I really enjoyed talking to Roger, such a nice couple, I was planning on staying here Saturday night, but had car trouble so they let me come Sunday night instead. Bonne was very helpful letting me choose when to come. Will definitely come again, great place to just unwind and relax.
Jeremy
2016-07-17T00:00:00Z
We had a terrific stay in grass valley. We were very warmly welcomed and felt very much at home away from home. We certainly plan on returning next year!
Michael
2016-09-04T00:00:00Z
Bonne was such a welcoming host - she had muffins and fresh watermelon waiting for us, and even had bubbles and toys for the kids! The apartment was so lovely AND air conditioned, which was a real treat in the 100 degree heat. I really appreciated how spacious the apartment was - there is plenty of room here which is convenient if you've been traveling a while and need a break from someone in your party - ha! Everything was clean and tidy and the kitchen was well stocked. There are two parks within five minutes of the house for the kiddos, and the diner downtown was pleasant with pie and ice cream.
Lindsey
2015-08-03T00:00:00Z
ประเภทห้อง
บ้าน/อพาร์ทเมนท์ทั้งหลัง
---
ประเภทที่พัก
อพาร์ทเมนท์
---
พักได้
4
---
ห้องนอน
กราสวัลเลย์, โอเรกอน, สหรัฐอเมริกา
The host canceled this reservation 230 days before arrival. This is an automated posting.
CJ
2017-01-01T00:00:00Z
ประเภทห้อง
บ้าน/อพาร์ทเมนท์ทั้งหลัง
---
ประเภทที่พัก
อพาร์ทเมนท์
---
พักได้
8
---
ห้องนอน
Heppner, โอเรกอน, สหรัฐอเมริกา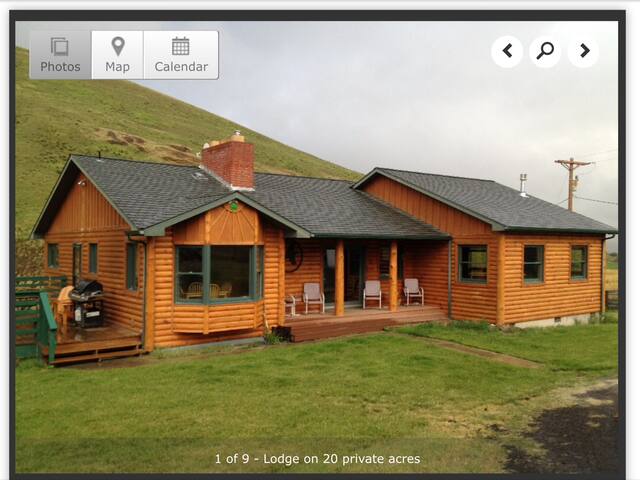 1

–

3

จาก

3 อพาร์ทเมนท์ให้เช่า
กรอกวันที่เพื่อดูการกำหนดราคาเต็ม มีค่าธรรมเนียมเพิ่มเติม อาจมีภาษีเพิ่ม