600 meter form the city center, overlooking the sea. Whole floor with bathroom, tv/video and wi-fi facilities included, bedroom and living room with private balcony is for you to enjoy and relax.You tube video available (search for Gelibolu airbnb)
Top floor in a luxury villa with four floors. private bathroom and shower. One living room and one bedroom (double bed). less than one km to the main town center and shops. There is no kitchen or cooking facilities on the floor. The accommodation is not near to Anzac monuments (60 Km) Vehicle required. Accommodation includes traditional Turkish Breakfast prepared from locally grown produce, home made preserves etc. Private TV and Wireless Internet connection.Your hosts are British&Turkish therefore speak both languages fluently. Payment on arrival, cash or Paypal payment methods accepted, equivalent Turkish/Euro/Sterling currency welcomed. Local buses to town center and main bus station is 2 km to the house. Second single bed available for a child for extra £25.- per night.
Everyone around our neighbourhood know us and we have that protection and comfort which existed years ago in Europe. To give example, sometimes we forget our front door key overnight and our neighbors put it in through the letter box. Sometimes we open our front door in the morning and find a basket of fruit by the door. How many of you can say it happens in your area?
My friend and I had a lovely stay here. The hosts were fantastic and very friendly! Kursat came to meet us on his bike when we arrived into town and couldn't find our way. He was also very kind in suggesting restaurants in the local area. His wife prepared us a very nice traditional breakfast and even a take away for the morning we had to leave early. The rooms were clean and the real plus feature of this place is the view. Watching the sunrise in gallipoli was on my bucket list and this was the perfect place to do it from.
caitlin
2014-04-24T00:00:00Z
Kursat and Paula are a very hospitable couple with a lovely house. Whilst it's a lot of money to stay with them I think it is worth it. They welcomed me with open arms despite a very last minute arrangement and after traveling on my motorbike from Istanbul on a hot day, the beer they opened for me on their amazing terrace was a godsent. Kursat knows everyone & everything around town and was very helpful with restaurant recommendations and pointing out done interesting places to visit on the other side of the peninsula. The Turkish breakfast Paula served with freshly baked breads was fantastic and with a view on the Dardanelles it's unforgettable. I'll will go back with my girlfriend if I get a chance. They're selling their house but for my sake I hope that takes a bit longer :-) strongly recommended !
Michel
2014-08-18T00:00:00Z
Amazing view from the very clean and well appointed third level terrace. The description and photos are completely accurate. Loved every part of the accommodation. We spent little time on our level however as the best part of the visit was meeting and enjoying the company of our hosts Paula and Kursat in their part of the terrace. They looked after us from start to leaving. Not only were they great hosts we now consider Paula and Kursat lifelong friends.
Duane
2015-04-26T00:00:00Z
We had a very comfortable stay here. Our hosts were very hospitable and the house was lovely. It was a bit difficult to find but Kursat came out on his bicycle to guide us when we got lost!
effric
2013-09-21T00:00:00Z
ประเภทห้อง
บ้าน/อพาร์ทเมนท์ทั้งหลัง
---
ประเภทที่พัก
วิลล่า
---
พักได้
2
---
ห้องนอน
Gelibolu, Çanakkale, ตุรกี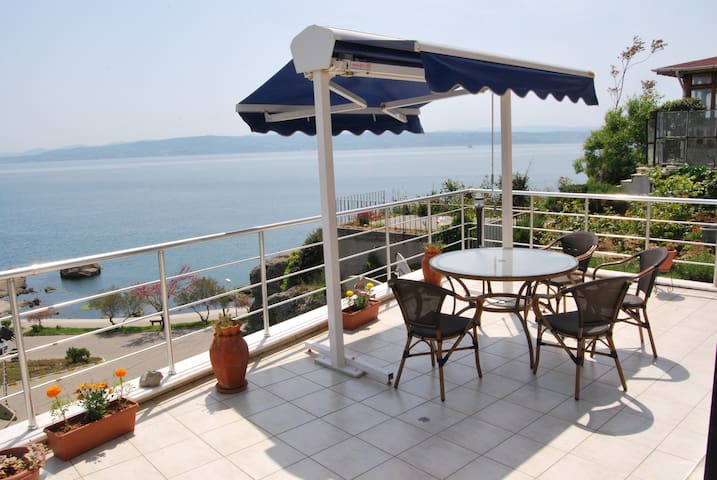 Eşsiz deniz manzarası ile terasında güneşin doğuşunu izleyebileceğiniz eski Rum evleri ile bezeli şirin Eriklice köyünü zeytin ağaçları içerisinde yürüyerek ziyaret edebileceğiniz siz ve sevdikleriniz için huzurlu ve sakin bir tatil sizleri bekliyor
10 adet odamızda 20 kişi rahatlıkla konaklayabilir. Terası, bahçesi ve salonu, ayrıca mutfağı özel gün ve kutlamalarında kullanabilirsiniz...
İstanbul'a en yakın Yamaç Paraşütü Alanı (Uçmakdere), dalış sahaları ve sörf yapabileceğiniz Türkiye deki en uzun sahil şeridi olan mavi bayraklı Şarköy ilçesinde haftasonları yada dilediğiniz zamanlarda konaklayabileceğiniz şirin bir villa... Deniz(6) yada zeytinlikler(4) manzaralı toplam 10 odadan dilediğinizi seçebilirsiniz.
ประเภทห้อง
ห้องส่วนตัว
---
ประเภทที่พัก
วิลล่า
---
พักได้
2
---
ห้องนอน
Eriklice Köyü, Tekirdağ, ตุรกี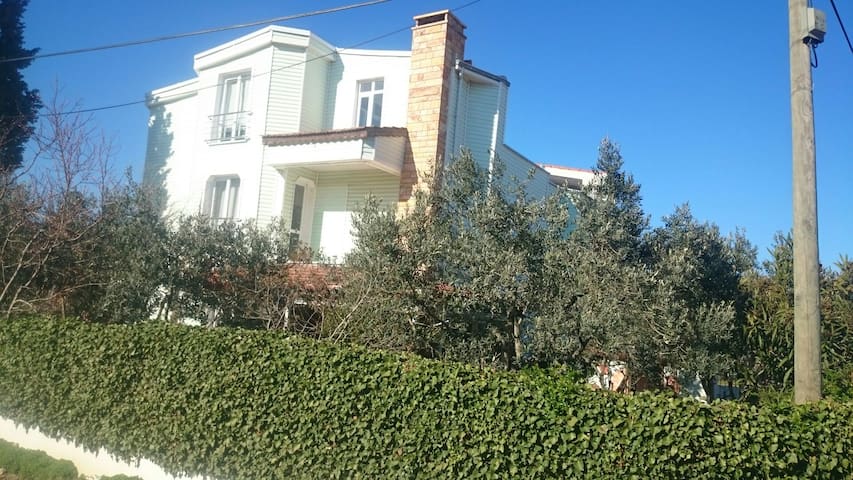 TEKİRDAĞ ŞARKÖY Mürefte you will ENJOY A PERFECT HOLIDAY ACCOMMODATION 2 BEGONYA VILLA by our villa, COMMON POOL OUR SITE VOICE AMONG BIRDS sun will find peace
******* From afar EYES WITH EAST NEAR INTERNAL INTERNAL your minimum 3 DAYS WITH ACCOMMODATION VILLA ******* * TEKİRDAĞ 96 km, 225 km DISTANCE * ISTANBUL ŞARKÖY CENTRAL 12 KM AWAY * * BUS GARAGE CENTRAL 750 meters to 600 meters on the PROXIMITY PROXIMITY * Migros, 101 AND SHOPPING BAZAAR AND MARKET FOR Mürefte the PROXIMITY is 750 meters. * DELTA Villas are in ALL ROOMS WITH POSITION AT SEA ISLAND AND 100 METERS IS the RELATIONSHIP Marmara from GELİBOLU AVŞA ISLAND UP TO OPEN SEA VIEW. Our villa is the SEEING THE OTHER HAND, vineyards and olive groves TEKİR DAG AND SKIRT. * VILLA our 6 TURNING AREA ON OLIVE AND PINE TREES BETWEEN KURULUDUR.B the SIDE TEKİRDAĞ MOUNTAINS AIR the OTHER PARTY will FEEL your Marmara Sea iodine smell the fresh air of the Liver, chirp that can relax in the peaceful tranquil CONDITIONS INSIDE, FOR A PEACEFUL your FAMILY VACATION YOU MAKE. You CHILDREN PLAYGROUNDS IN CONFIDENCE GAME to our playing your tea, coffee YOU BY THE SEA AND AGAINST DWI SILENCE AND RESIDENTS ENJOY LIFE HAVE to be able to. * VILLA our 140 m2 Our SWIMMING POOL AND CHILDREN BEAN SCENE AT THE BEGINNING Our POOL POOL POOL SNACK Our BARIA ALSO AVAILABLE. * A one-pot FOR ADULT PLAYGROUND IS AVAILABLE FOR A CHILDREN AND BASKETBALL MINI FOOTBALL MINI GOLF VOLLEYBALL COURT HAS is. . * Our VILLA PROXIMITY BEACH 100 METERS AVAILABLE. SEA SAND IN THIS AREA IS ONLY HERE. * VILLA our HALL AND BALCONY ROOMS AVAILABLE sea and mountain views .., * Ground Floor Terrace: Sunbath area, and a private bahçedetay are: (6 people table and chairs, 4 person sitting area, 1 Piece Swing, Barbecue, 1 hammock. * Cuisine: Modern American kitchen (ground floor) Details: Fridge, dishwasher , oven, 4 January (built-in), the hot water in the kitchen, 8 seater dining sets, pans, saucepans, cutlery and so on. * Living Room: Sea View (6-door wide-angle ground Floor) Details: Sitting group, Satellite TV, 4-seater dining table, WC & Bathroom Sink., * 1st Bedroom Family Bedroom, Sea View (1st Floor) Details: Double bed, nightstand, closet, bathroom toilet balcony overlooking the sea. * 2.nd Room Family Bedroom, Sea View (1st Floor) Details: 1 double bed, 1 single bed, closet, nightstand, common WC & Bathroom * 3rd Bedroom Family Bedroom, Sea View (1st Floor) Details: 4 single beds, closet, dresser, nightstand, 2 pcs seat, common WC & bathroom, balcony overlooking the sea. * 4 Bedroom Family bed room. Garden View (Ground Floor) 1 2 kşilik bed * Villa will be delivered clean, with clean sheets and duvet 11 people. RELIABLE A HAPPY HOLIDAY ADDRESS THAT HIS FAMILY ENVIRONMENT 2 VILLAS JOINT KULLANDIGIM of our villa we charter our OUTDOOR SWIMMING POOL WILL BE AT LEAST 3 NIGHTS FIG. Our villa is PROXIMITY TO THE SEA 150 STEP. Our HOUSE IS AVAILABLE DO NOT TAKE ANY ITEMS ONLY your suitcase is ENOUGH.
Able to protect its natural beauties Murefte SITE IS A VERY OLD WINE HISTORY GEZEBİLİR.BAG to UZANIR.ŞARAP REVIEW THE WINE PRODUCTION FACTORY can be corrupted TIME. OLIVE HARVEST DURING HARVEST OLIVE OIL to join the GENUINE FACTORY THE OLIVE AND SABUNU in your oil you can visit the ALABİLİRSİNİZ.YÖRE TWO WINE MUSEUM. You HAVE to the insatiable TAD RESTOURANT in FRESH FISH AND VICINITY ET. It CAN GET GROWING SEASONAL FRUITS AND VEGETABLE GARDEN in the KÖYLÜLERMİZ. WATERMELON WATERMELON IN PARTICULAR from the CAN EAT DURING THE HOOK VILLAGE HAS TASTE The Tekirdag. CHERRY CHERRY SEASON Mürefte of the TAD will not FORGET KİRAZLI of the VILLAGE.
Evry things was amazing the villa , pool , sea view, garden , .. also Mr. Muhlis. Only the way from istanbul to villa Longer than I imagined like 3:30 hours
Fahad
2015-06-14T00:00:00Z
ประเภทห้อง
บ้าน/อพาร์ทเมนท์ทั้งหลัง
---
ประเภทที่พัก
วิลล่า
---
พักได้
10
---
ห้องนอน
Mürefte, Tekirdag / Tekirdağ / Şarköy / Mürefte, ตุรกี
TEKİRDAĞ, ŞARKÖY MÜREFTE'DE BEGONVİL VİLLAMIZDA KONAKLAYARAK MÜKEMMEL BİR TATİLİN TADINI ÇIKARACAKSINIZ. 2 VİLLALI SİTEMİZİN ORTAK HAVUZUNDA GÜNEŞLENEREK KUŞ SESLERİ ARASINDA HUZURU BULACAKSINIZ.
******* GÖZLERDEN UZAKLARDA DOGA İLE İÇ İÇE YAKINLARINIZ İLE BİRLİKTE MİNUMUM 3 GÜNLÜK KONAKLAMALI KİRALIK VİLLA******* *TEKİRDAĞ'A 96 KM, İSTANBUL'A 225 KM MESAFEDE *ŞARKÖY MERKEZE 12 KM MESAFEDE * MERKEZE 750 METRE YAKINLIKTA *OTOBÜS GARAJINA 600 METRE YAKINLIKTADIR *MİGROS, A 101 VE ALIŞVERİŞ İÇİN MÜREFTE ÇARŞISI VE PAZARINA 750 METRE YAKINLIKTADIR. *DELTA VİLLALARI'NDA TÜM ODALARIMIZ KONUM İTİBARI İLE DENİZE 100 METRE YAKINLIKTA OLUP MARMARA ADASI VE AVŞA ADASINDAN GELİBOLU AÇIKLARINA KADAR DENİZ MANZARALIDIR. VİLLALARIMIZ DİĞER YANDAN TEKİR DAGLARI VE ETEKLERİNDE ÜZÜM BAGLARI VE ZEYTİNLİKLERİ GÖRMEKTEDİR. *VİLLALARIMIZ 6 DÖNÜM ALAN ÜZERİNE ZEYTİN VE ÇAM AGAÇLARI ARASINDA KURULUDUR.BİR YANDAN TEKİRDAĞLARIN DAĞ HAVASINI DİĞER TARAFTAN MARMARA DENİZİ'NİN İYOT KOKULU TERTEMİZ HAVASINI CİĞERLERİNİZDE HİSSEDECEK, KUŞ CIVILTILARI İÇERSİNDE HUZURLU SESSİZ SAKİN BİR ORTAMDA DİNLENEBİLECEK, AİLENİZLE HUZURLU BİR TATİL YAPACAKSINIZ. ÇOCUKLARINIZ OYUN BAHÇEMİZDE GÜVEN İÇERİSİNDE OYUNLARINI OYNARKEN SİZ ÇAYINIZI KAHVENİZİ YAPARAK DENİZE VE DAGLARA KARŞI SESSİZLİĞİN VE SAKİN BİR HAYATIN TADINA VARABİLECEKSİNİZ. *VİLLLALARIMIZDA 140 M2 BÜYÜKLÜGÜNDE FASULYE GÖRÜNÜMLÜ YÜZME HAVUZUMUZ VE COCUK HAVUZUMUZ AYRICA HAVUZ BAŞINDA POOL SNACK BARIMIZ MEVCUTTUR. *ÇOCUKLARIMIZ İÇİN BİR ÇOCUK OYUN PARKI MEVCUT OLUP BÜYÜKLER İÇİN TEK POTALI BİR BASKETBOL VE MİNİ VOLEYBOL FUTBOL MİNİ GOLF OYUN SAHAMIZ VARDIR . . *VİLLALARIMIZIN 100 METRE YAKINLIKTA PLAJI MEVCUTTUR. DENİZ BU BÖLGEDE SADECE BURADA KUMDUR. *VİLLALARIMIZDAKİ SALON VE ODALARIMIZDA DENİZ VE DAG MANZARALI BALKON MEVCUTTUR.. , *Zemin Katı Terası: Güneşlenme alanı, ve Özel bahçeDetayları : ( 6 Kişilik masa ve sandalye, 4 Kişilik oturma grubu, 1 Adet salıncak, Barbekü,1 Hamak. *Mutfak : Modern Amerikan Mutfak (zemin katta)Detayları : Buz dolabı, Bulaşık makinesi, Fırın, 4'lü Ocak (ankastre), Mutfakta sıcak su, 8 kişilik yemek takımı, Tava, Tencereler, Çatal bıçak vb. *Salon : Deniz manzaralı (6 kapılı geniş açılı zemin Katta) Detayları : Oturma grubu, Uydu TV, 4 kişilik yemek masası, WC&Banyo Lavabo bulunmaktadır., *1.Yatak Odası : Aile Yatak Odası, Deniz manzaralı (1. Katta) Detayları : Çift kişilik yatak,komidin,Elbise dolabı, WC Banyo Deniz manzaralı balkon. *2.Yatak Odası : Aile Yatak Odası, Deniz manzaralı (1. Katta)Detayları :1 Çift kişilik yatak ,1 tek kişilik yatak, Elbise dolabı, Komidin, ortak wc & Banyo *3.Yatak Odası : Aile Yatak Odası, Deniz manzaralı (1.Katta)Detayları : 4 Adet tek kişilik yatak, Elbise dolabı,Şifonyer, Komidin, 2 Adet koltuk,ortak WC&Banyo, Deniz manzaralı balkon. *4 Yatak Odası : Aile yatak Odası. Bahçe manzaralı (Giriş Katında) 1 adet 2 kşilik yatak *Villa size temiz teslim edilip,11 kişilik temiz çarşaf ve nevresim takımı bulunmaktadır. GÜVENİLİR MUTLU BİR TATİLİN ADRESİ AİLE ORTAMININ BULUNDUĞU 2 VİLLANIN ORTAK KULLANDIGI AÇIK YÜZME HAVUZUMUZDA VİLLALARIMIZI EN AZ 3 GECE OLACAK ŞEKİLDE KİRALAMAKTAYIZ. VİLLALARIMIZ DENİZE 150 ADIM YAKINLIKTADIR . EVİMİZDE HER TÜRLÜ EŞYA MEVCUT OLUP SADECE BAVULUNUZU ALMANIZ YETERLİDİR. GÜNLÜK KİRALAMADA VİLLALARIMIZIN DOLULUK ORANLARINA GÖRE GİRİŞ SAATİ 14.00 ÇIKIŞ SAATİ 10.00 DIR
MÜREFTE DOGAL GÜZELLİKLERİNİ KORUYABİLMİŞ BİR YERLEŞİM YERİ OLUP ŞARAPÇILIK ÇOK ESKİ TARİHLERE UZANIR.ŞARAP FABRİKALARINI GEZEBİLİR.BAG BOZUM ZAMANINDA ŞARAP YAPIMINI İNCELEYEBİLİR. ZEYTİN HASAT DÖNEMİNDE ZEYTİN HASADINA KATILIP YAG FABRİKALARINDAN HAKİKİ ZEYTİN YAGINIZI VE SABUNUNUZU ALABİLİRSİNİZ.YÖREDE BULUNAN İKİ ŞARAP MÜZESİNİ GEZEBİLİRSİNİZ. RESTOURANTLARDA TAZE BALIK VE YÖRENİN ETLERİNİN DOYUMSUZ TADINA VARABİLİRSİNİZ. BAHÇELERDE YETİŞEN MEVSİMLİK SEBZE VE MEYVALARI KÖYLÜLERMİZDEN ALABİLİRSİNİZ. BİLHASSA KARPUZ DÖNEMİNDE TEKİRDAĞIN ÇENGEL KÖYÜNE HAS LEZZETTEKİ KARPUZLARDAN YİYEBİLİRSİNİZ . KİRAZ MEVSİMİNDE MÜREFTENİN KÖYLERİNDEN KİRAZLININ KİRAZININ TADINI UNUTAMAYACAKSINIZ.
ALLES WAR SUPER! KANN NUR EMPFEHLEN!
Vedat
2015-09-11T00:00:00Z
ประเภทห้อง
บ้าน/อพาร์ทเมนท์ทั้งหลัง
---
ประเภทที่พัก
วิลล่า
---
พักได้
9
---
ห้องนอน
Mürefte, Tekirdağ, ตุรกี
denizi ve doğayı burdan baska iç içe nerde yaşayabilirsiniz?
ประเภทห้อง
บ้าน/อพาร์ทเมนท์ทั้งหลัง
---
ประเภทที่พัก
วิลล่า
---
พักได้
6
---
ห้องนอน
Gökçetepe, Edirne Province, ตุรกี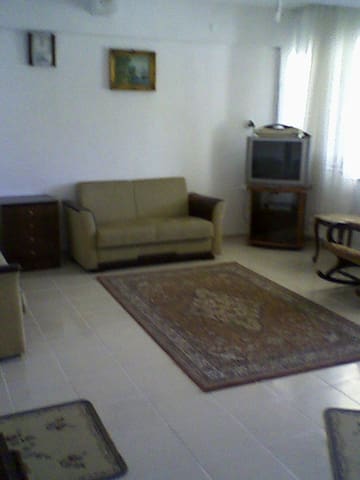 กรอกวันที่เพื่อดูการกำหนดราคาเต็ม มีค่าธรรมเนียมเพิ่มเติม อาจมีภาษีเพิ่ม