Ferry Port, beside the Bosphorus View
ประเภทห้อง
ห้องส่วนตัว
---
ประเภทที่พัก
อพาร์ทเมนท์
---
พักได้
2
---
ห้องนอน
Üsküdar, อิสตันบูล, ตุรกี
Penthouse Studio Daire, boyut artı Boğaz'ın 180 derece Gün batımı manzaralı 40m2 Teras ve Barbekü ile 40 m2 kapalı Terrace 40m2. Apartman: Çift Kişilik Yatak / Kanepe, Kablolu TV, iki koltuk, özel W / C-tuvalet, duş, lavabo, saç kurutma makinesi, kahve makinesi, internet bağlantısı, dört koltuk Bar, Buzdolabı, Fırın / Cook üst, Su Kettle, tencere, tabak ile mutfak , yemekler, sofra, vb .. İstanbul! İstanbul! Sultan Ahmet Camii (Blue Mosque), Ayasofya (Ayasofya Müzesi), Topkapı Sarayı, Eminönü, Sirkeci (ulaşım merkezi), Haliç suyolu, Galata Kulesi, Güneyden Kuzeye Taksim-manzaraları izleyebilirsiniz. Günbatımının muhteşem! gözlerinizin önünde Ottaman İmparatorluğu, Bizantium ihtişam! her noktasına sadece birkaç dakika bakkaliye, mağazalar, kafeler, toprak ve su ulaşım içinde. Düz iki Uluslararası Havalimanları arasında yer alır! Eğer daha fazla bilgi veya önerileriniz varsa, bana ulaşmaktan çekinmeyin. Ben yardım ve soruları cevaplamak için en kısa sürede size geri alacak.
simply great place to stay as referred by my friends
Mohammed
2016-09-23T00:00:00Z
We stayed for 4 days in Alis apartment. It had the most amazing view over Bospherous and a comfy bed. No noise from the neighbours or the street. The apartment is on the 4th floor and has a really safe door Near the apartment there are many bakeries and a few food stores like Migros and also some other shops, hairdresser, barber, yufkaci and so on. Easy access to taxis, dolmus(recommend using these) and buses. In the apartment there is a waterboiler and all the basic things you need. Ali is a great host, shows you anything you like and where the transport leaves from and so on. We didnt need that much help but Im sure he wouldnt hesitate helping with anyting you need. Ps still no blinds, i uaually sleep in a completely dark room, strangely i was not bothered at all :)
Ane
2013-10-09T00:00:00Z
The place is amazing, the view over the Bosphorus strait is just spectacular. You gonna love taking ships to cross the strait on the daily basis. As a the Harem port is 10 min walk from the place (including a lot of stairs though). It must be wonderful to sit and work or relax on that gorgeous balcony during summer. I'll take this place any day again, Ali is a great host as well, he will introduce you to the entire neighborhood.
Hamed
2017-01-06T00:00:00Z
This is a great place. Ali is such a good host! He even toured me around and introduced me to all the shops and restaurants nearby :). The room is good and the terrace is amazing. Especially if the weather is good you will enjoy this a lot :)
Frank
2017-03-12T00:00:00Z
The place is just like shown in the pictures. It has a magnificent view of the historical peninsula of Istanbul with great Bosphorous just in front of you. Ali and His brother helped us and they were really gentle. It is going to be our place whenever we will be in Istanbul with my gf. I totally recommend the place for couples who will be visiting Istanbul
Erol
2016-04-12T00:00:00Z
This is a very good two-person flat with a wonderful balcony and view. Ali is a kind and thoughtful host, friendly and intelligent. Highly recommended.
William
2015-06-18T00:00:00Z
Ali is a helpful host and a very nice person. The flat is decorated in Turkish style with a beautiful view on the European side. Well-equipped with a very comfortable bed. We recommend and greeting Ali. Joanna & Marek from Warsaw.
Joanna
2014-10-16T00:00:00Z
Ein traumhafter Ausblick und ein sehr netter Gastgeber. Die Wohnung war schlicht und sauber, und die kleinen Mängel wie das fehlende Warmwasser in der Küche (zum Duschen gibt es Warmwasser) hat uns angesichts des herrlichen Panorama-Ausblicks auf Old-Istanbul und den Bosporus kaum interessiert. Obwohl die Wohnung auf der asiatischen Seite steht, war es einfacher mit der Fähre (10 Minuten zu Fuß von der Wohnung zur Fähre) direkt nach europäischer Seite Istanbuls (old city) zu gelangen: Ein ganz anderes Erlebnis als wenn wir auf der europäischen Seite wären und mit Taxi durch dichte Verkehr dorthin fahren wollten. Wir haben uns während unseres Aufenthalts sehr wohl gefühlt und waren Abends sehr früh zurück in der Wohnung und haben unsere Tequila-Orange Cocktail mit Blick auf Bosporus und Old-City in der Nacht genossen.
Shahram
2016-02-23T00:00:00Z
ประเภทห้อง
บ้าน/อพาร์ทเมนท์ทั้งหลัง
---
ประเภทที่พัก
อพาร์ทเมนท์
---
พักได้
2
---
ห้องนอน
อิสตันบูล, อิสตันบูล, ตุรกี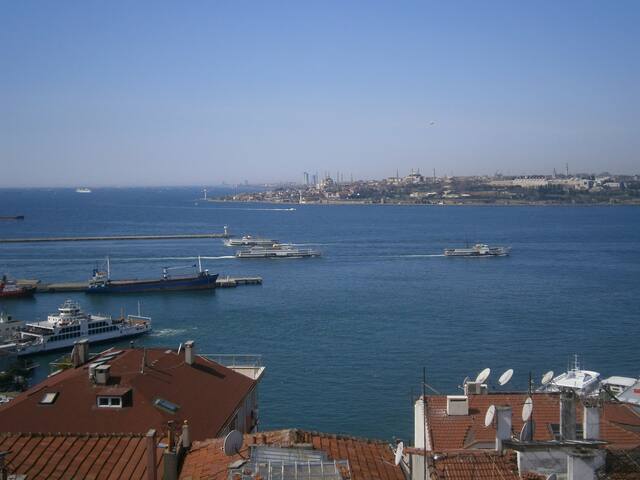 Welcome if you want to stay at a cozy flat in the center of Istanbul. The neighborhood is safe and close to attractions.Transportation is easy. There are many markets,restaurants in the neighborhood.3 min walk to the most famous Street of Istanbul .
Hello, I am 28 years old female, graduated from Bogazici University and working now.. My flat is in Taksim, center of the city, which is a convenient district 3 minutes walking distance to Taksim Square, the center of touristic attraction and nightlife in Istanbul. Metro station: 3 min walk Bus station: 4 min walk Tram Station "Fındıklı": 5 min walk Old city: 15 min Istiklal Street: 3 min walk Easy to access to other touristic areas of Istanbul. You can directly take tram to g oto Sultanahmet area where historical things are. Blue Mosque, Hagia Sofia, Cistern, Grand Bazaar, Spice Bazaar is 15 min. away by bus or tram. You can also walk from here to those places. It's also close to Nisantasi, (15 minutes walk) a chic, famous neighborhood for shopping and dining. It takes 5 min walk to go to the sea coast, Bosphorus and enjoy the nice weather. IT takes about 5 minutes to walk to Dilmer Language Center. Istiklal Street is 3 minutes away. University transportation is easy. Bogazici University, Galatasaray University, Bilgi University, Istanbul Teknik University. Shopping and transportation is really easy in the neighborhood. My neighborhood is very central, safe and there are many small shops restaurants and cafes bars . There are exchange offices too. It is a very lively neighborhood but at the same time quiet in our street. There is a mixture of local life and tourists in this neighborhood. It is a safe place. The flat has 3 bedrooms, 1 living room, 1 kitchen, 1 bathroom and a balcony. There might be other guests staying in the other rooms. It's a newly decorated, cute and cozy flat ... The room has a single bed, drawers and nighttable. It takes sunlight. If you'd like to stay more people, please ask me. The flat is on the 3rd floor and all rooms and kitchen are sunny. **There is an unlimited wireless internet connection, refrigerator, washing machine, oven, kitchen appliances.. **There's 24/7 hot water and heating by natural gas combi. **Clean sheets, towels and blankets will be provided. **Breakfast with cereal and tea/coffee is provided. Other than that, you can feel free to use the fridge and kitchen tools to keep and make your own food at any time. I speak Turkish, English and a little Spanish. I have maps and guide books that you can use during your trip. I can give recommendations about your trip and will be glad to help you with it. I will be happy to welcome you, if you want to feel the local Turkish life and close to the touristic areas... best wishes, Ceylan
Ceylan is very friendly and helpful. The room and apartment are clean and as described. It was good to have plenty of power points and a set of drawers to store items. I enjoyed my stay. Istanbul is an inspirational amazing place.
Glenda
2015-05-22T00:00:00Z
Ceylan is a warm and welcoming host, very friendly and helpful. The room was cozy and perfect for a lone traveller like myself. It was a great experience!
Yutai
2016-02-09T00:00:00Z
这是一次不错的住宿体验,房子离塔克西姆广场和独立大街都很近,交通方便。因为晚上的航班,到达时已是凌晨一点多,房东不但一直等我,在身体不适的情况下还帮我抬行李,非常感谢!
qingyang
2015-10-25T00:00:00Z
Clean and tidy place, was as advertised and well located. My host was helpful and pointed me in the right direction for things to do.
Louis
2014-08-05T00:00:00Z
Ceylan's place is very convenient to Taksim, and she was a helpful host. I would recommend her place to others.
Tony
2016-09-01T00:00:00Z
Everything was just perfect. Next time for sure again:-) Thank you so much Ceylan! Best Regards Vedat
Vedat
2015-11-29T00:00:00Z
Ceylan is a great host and her flat is awsome. It's at superb location, equipped with everything you need and feels like a second home you can relax in after an adventurous day in Istanbul. Since the flat has multiple rooms, you'll have the chance to meet other travellers from around the world! I highly recommend staying at Ceylan's place!
Philipp
2015-09-15T00:00:00Z
Ceylan was a wonderful host, the apartment was clean and exactly as described. A nice way to see the surrounding area of Taksim, and not difficult to get into the old city, though is a bit of a walk. Highly recommend!!
Marta
2015-04-01T00:00:00Z
ประเภทห้อง
ห้องส่วนตัว
---
ประเภทที่พัก
อพาร์ทเมนท์
---
พักได้
1
---
ห้องนอน
Beyoğlu, อิสตันบูล, ตุรกี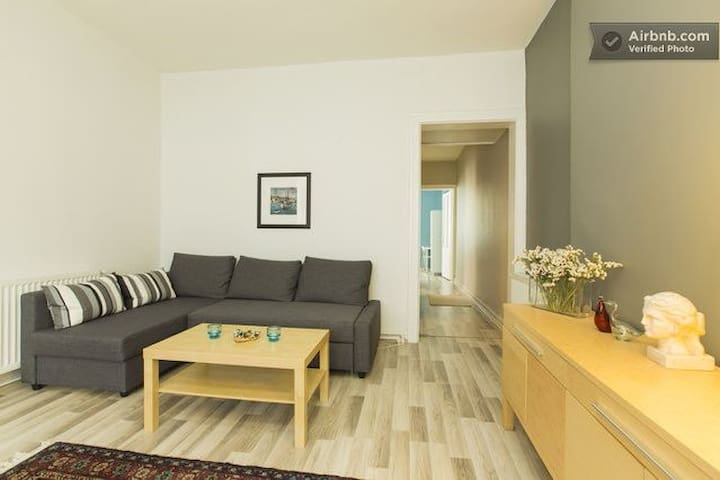 Hello, We are multicultural easygoing international couple who has traveling experiences and willing to welcome people and keep them happy at the end of the day. Our home is in a walking distance to Uskudar where you can find old town ,ordinary lifestyle of people and historical places such as ; Maiden Tower , Mihrimar Sultan Mosque , Feti Pasa Grove. Kadıkoy 5 , Besiktas 10 , Taksim & Sultanahmet is 20 minutes far from our home. Our neighboured is safe and pieceful. We hope to see you =).
Our home is a in a walking distance to Uskudar center where you can catch up ferries to ; Besiktas, Eminönü then easy access to Taksim or Sultanahmet.Ferries moves in each 5 minutes and arrives to Europen side around 8 minutes.Also our location is in a walk distance to seashore and Maiden Tower . Kadıkoy is 4-5 minutes away by public transports from our home.
We live very close to Uskudar center and seashore with 5 minutes of walk.Our location has quite easy access to Kadıköy, Sultanahmet, Besiktas,Taksim and Eminönü. Basicly we are in the middle of everything with big advantage of option to avoid traffic .
Wonderful place near to everywhere (Kadıköy, Üsküdar, Eminönü etc.) the hosts are very kind and nice people. There is nothing much to say just a wonderful place.. :)
Ömer
2016-10-08T00:00:00Z
After staying three days with Oytun, I decided to stay more until the end of my trip. The place is good and cozy plus a central location. I would definitely recommend Oytun and his house. This is just pure sense of hospitality. I was very lucky to have the chance of staying with him and his kind girlfriend.
Leonardo
2016-09-09T00:00:00Z
The apartment is central.Hosts were kind and warm people.I would highly recommend them to you.
uğur
2017-03-31T00:00:00Z
Hosts were very kind and friendly. Even though I arrived at late night because of flight delay, Oytun came to pick up me. They were always take caring of me that where I was today and where I would be tommorow. The soup they gave to me on dinner was very tasty and could feel kindness. It was great time to interact with hosts. Hosts gave concrete direction to pickup place and touring places. Also to the airport when I get flight to my next trip. Fully recommend to visit here when u r looking for place to live in Istanbul.
Hyeonjin
2017-01-05T00:00:00Z
The apartment was very clean and comfortable. The hosts were very friendly.
Felix
2017-03-05T00:00:00Z
Oytun picked us up from the nearby station and also offered to show us around. It was a great stay and I would definitely recommend him as a perfect host.
Sheraz
2016-12-29T00:00:00Z
Oytun came and picked me up from my location. A gentle and friendly man, smiling all the time and very easy to communicate, and he helped me with my luggage. His house was just 10 minutes away from Kadikoy where the nightlife spots and also, public transportation located. Plus, buses and minibuses are passing every minute from the street behind his house which was a great advantage for me, so I didn't have to walk too much to get where I want. The room was cosy, and immaculate with new sheets and smelling good. Bathroom and the whole house was clean too. I highly recommend this property with its calm environment full of trees and warm people.
Leonardo
2016-09-01T00:00:00Z
The room itself is fine, as well as the facilities. Their apartment is central yet, in a calm area. What made the stay amazing is that Nour and Oytun have been the most caring hosts ever. When it comes to running the extra mile, they've been running an extra marathon. They would have delicious food ready upon me returning 'home' during my intern and on the weekends we would have a jolly good time going out together. They have been amazing hosts and I would gladly recommend them to you too!
Marleen
2016-12-24T00:00:00Z
ประเภทห้อง
ห้องส่วนตัว
---
ประเภทที่พัก
อพาร์ทเมนท์
---
พักได้
1
---
ห้องนอน
Üsküdar, อิสตันบูล, ตุรกี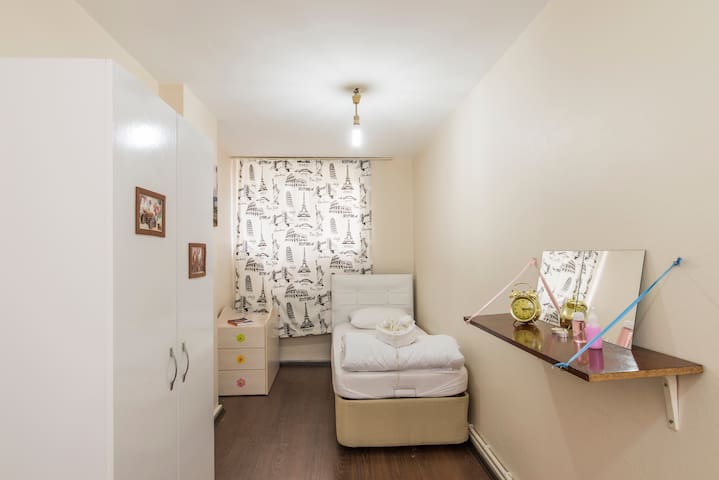 Our private place is on the 3rd floor of our coffee shop, Just Coffee, which is one the most popular and central spot on 24 hours living street in Beşiktaş. Our place's clean, safe and quiet at the same time. We will serve you free breakfast (coffee+croissant/sandwich) during your stay. Easy to access to ferry, buses and other pulic transportations by walk. It takes about 5-20 mins to Taksim, Ortaköy, Kadıköy, Kabataş. Our spot is close to many nice cafes, restaurants & pubs.
Beşiktaş is a unique quarter of İstanbul, being a part of the ancient city. It is the great mix of old and new; a modern experience in the hystorical town.
Beşiktaş is very central and our place is close to main bus station and also to the ferries with which you can easily go to the Asia side of İstanbul and visit popular places like Kadıköy or Kuzguncuk.
Simply perfect - nothing more to say!
Jacob
2016-12-10T00:00:00Z
Carefully-designed-IKEA-furnished private room which is three stories upstairs of a coffee shop, we loved the design. Very clean and neat. Not very quiet though if you are looking for a spacious place. The avenue where the suit is overlooking is pretty noisy. Perfect place if you are a coffee lover. Our hostess Münevver was very helpful in solving our problems. She owns both coffee shops downstairs. Highly recommended if you are a world explorer and want to stay in Istanbul for a week!
Okan
2016-12-29T00:00:00Z
Beautiful flat, very thoughtfully furnished with all kinds of extras from projectors to spare towels and hair-driers that made it feel extra homely. It's on a party street, so there's always a background throb of noise from downstairs, but it didn't bother us at all. It's a relatively small place, but it was perfect for just two people. Munu and her colleagues were very helpful, and her cafe downstairs was the perfect place to start the day with a coffee and breakfast or do a bit of work on our laptops. The cafe's upstairs room was often full of students working, and we'd have joined them if we'd had more work to do. The wifi was ok, but it sometimes took a while to connect when the cafe was very full. Nice lively area with plenty of bars, restaurants, coffee shops and a market, and easy to get from there to everywhere we wanted to go.
Thomas
2016-12-05T00:00:00Z
This place is a gem in the heart of Besiktas. Munu was great in communicating with us and her team took good care of us. If you are looking for a safe and comfortable spot from which to discover the city, go for it :) The place has everything you need and noise levels are absolutely fine, despite the cafe downstairs.
Ayscha
2017-04-02T00:00:00Z
Munevver's place is accurate to the photos. It is a lovely and very comfortable place for one or two people. Amenities and details such as having good quality towels and other extras make staying there that much nicer. For location it can't be beat, being at the heart of Besiktas. Munevver was quick to respond to messages, and with the flat over her coffee shop, it is easy to communicate if one needed anything. This is a great place to stay if you're in the area. There is one possible drawback and that is the noise of urban nightlife. This didn't bother me at all but if you're not comfortable with restaurant, cafe and street noise, I doubt you'd be happy. Otherwise, I can completely recommend this Munevver's suite. Looking forward to coming back.
Anthony
2017-01-16T00:00:00Z
We stayed at Münevver's place above the coffeeshop in Beşiktaş for 4 nights in November and the apartment was wonderful in every way – it was clean, comfortable, well-equipped, and the location was perfect: just above a cool coffeeshop and a short walk to the bus stop/Kabataş tram stop. It would be a perfect place for younger professional or academic travelers since both the apartment and the cafe have good places for working (the wifi was generally good except when the cafe was filled with other people using it). It might not be the best place for travelers who prefer a completely quiet, isolated location, as the street noise is unavoidable when the windows are open, and reduces to a low murmur during the day when they are closed. Nevertheless, I would definitely stay here again. Münü and her colleagues at the coffeeshop were gracious, hospitable, and kind, and the experience with them made for a perfect first visit to İstanbul. Sağol!
Bill
2016-11-29T00:00:00Z
Mükemmel ev sahipliği ve rahat bir konaklama, teşekkürler
Gokce
2017-01-21T00:00:00Z
Modern and cool designed place. Great central location above a hip coffee shop. Münü is a really nice host! I personally loved being at the heart of Besiktas close to Restaurants and Pubs, where you can feel (and hear) life vibrating :)
Julian
2017-02-05T00:00:00Z
ประเภทห้อง
บ้าน/อพาร์ทเมนท์ทั้งหลัง
---
ประเภทที่พัก
อพาร์ทเมนท์
---
พักได้
2
---
ห้องนอน
Beşiktaş, อิสตันบูล, ตุรกี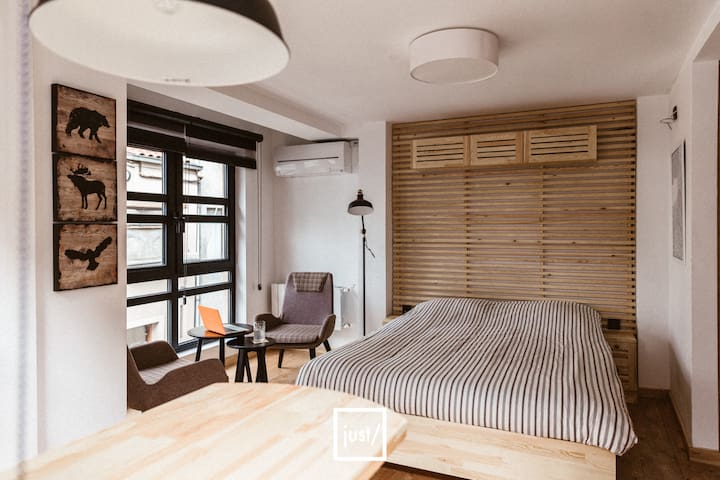 I am renting my newly decorated flat. It is 55 m2, 1+0 studio apartment with open plan kitchen. It has a great location. Being right in the middle of Besiktas Abbasaga.
centered placed, lovely people ,student area, nicely dinner and breakfast places, coffee shops
ประเภทห้อง
บ้าน/อพาร์ทเมนท์ทั้งหลัง
---
ประเภทที่พัก
อพาร์ทเมนท์
---
พักได้
2
---
ห้องนอน
Beşiktaş, อิสตันบูล, ตุรกี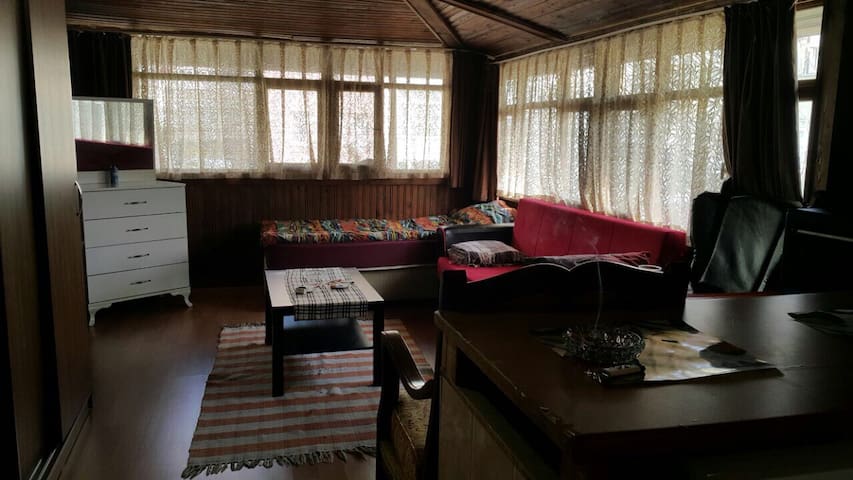 1 bedroom+1 living room very charming luxury apartment with private entrance. Terrace with a Bosphorus view. Fully equipped kitchen. Big comfortable bathroom with bathtub, washing mashine. Towels, linens provided. 2 double 1 single beds. Wifi.
Kuzguncuk, Uskudar, Istanbul
Kuzguncuk is one of the most cosmopolitan historical villages of Istanbul located at the Bosphorus in the Asian side of Istanbul. This very charming neighbourhood is popular among Istanbul intelligentsia and has a colorful character of residents and visitors.
I can't recommend this place enough. I visited with my daughter and had a fantastic stay. The views of the Bosphorus are breath-taking, and it really is a home from home. I know Istanbul well, and Kuzguncuk is one of my favourite neighbourhoods. It is very charming and friendly and, despite being part of a big city, manages to maintain a village feel. There are great restaurants and cafes nearby, and it is easy to get around by ferry from Uskudar (just a short taxi ride away), which makes it very convenient and means you can avoid the famed Istanbul traffic. It is so much better using this as a base to visit the sights, than staying amidst the hustle and bustle of the old town. Gazi was a perfect host, and did everything possible to make our stay pleasant. Highly recommended!
Joanna
2015-08-14T00:00:00Z
Amazing hospitality, great view, clean and well organized. I had a great time in there.
Faisal
2015-10-30T00:00:00Z
I enjoyed staying at Gazi's place. It was removed from the busyness of Istanbul and in a quiet neighborhood. It is very accessible by public transport and a trip to 'the other side' does not take long. Lots of eateries in the neighborhood, as well as historic buildings and the beautiful Bosporus. Gazi's place was as pictured and everything worked. Gazi was very friendly and an excellent communicator. I would recommend Gazi's place.
Sarah
2017-03-08T00:00:00Z
was the second time that I was a guest of Mr. Gazi and this time everything was perfect
Giuseppe
2017-03-23T00:00:00Z
the flats is very nice and from the terace there is a splendid view on the Bosforos. All is clean and confortable
BRUNA
2017-02-26T00:00:00Z
Gazi's place is in a very cute neighbourhood, on the Asia side, but reasonably accessible to the Europe side. Loved the local fruit-seller and Kuzgun's Cafe. Really non-touristy spot that had the feel of an old neighbourhood, where locals all know each other. Also, it's quiet at night, which for Istanbul isn't always a given. Gazi met us at a shop nearby and provided us with some gorgeous fresh fruit and a tour of the flat. It's accessible up a hill and then some rickety stairs, so it's not recommended for any mobility-impaired travellers. At the top of the hill and stairs, the view was gorgeous – really peaceful. The terrace is covered so you can sit outside in the rain, and there are outdoor chairs + table. The flat was well equipped and wifi was fast and uninterrupted. A few quibbles: the bed was a sort of futon-type low bed, which was moderately comfortable but not ideal for us. There was also a damp smell in the house and one wall had a mould problem – I think this is something Gazi will be dealing with, but if you are mould-sensitive or have allergies, this may not be a good fit. The bedroom is quite small too, so if you are two people or have a lot of stuff, it could feel cramped. But for one person or two travelling light, it was just fine.
Sara
2015-05-04T00:00:00Z
A wonderful apartment and a wonderful host. The place was spick-and-span, the furniture good as new, and the light - especially in the evening - heavenly. The name of the apartment is well deserved! Gazi was an extremely solicitous host, generous with his time, quick to respond to my requests, and full of good advice on nearby restaurants. Thanks for everything!
Helen
2016-09-12T00:00:00Z
Ev sahibimiz Gazi Bey umduğumuzun çok ötesinde süper ve sıcak bir ev sahipliği yaptı. Kuzguncuk'ta bir evde bulunması gereken tüm gereksinim maddeleri ve ev eşyalarının bulunduğu mükemmel bir evde kaldık. Eve yerleştiğimiz ilk günden itibaren de, Gazi Bey herhangi bir ihtiyacımız olup, olmadığı konusunda gerek telefon gerekse ziyaret ederek bizlerle ilgilendi. Kuzguncuk'a ilk yerleştiğimiz gün, semti ve semtte bulunan tüm restaurant, kafe ve benzeri yerleri tanıtarak bulunduğumuz yere kısa sürede uyum sağlamamıza yardımcı olan Gazi bey için mükemmel bir ev sahibi diyebilirim.
Enver
2014-09-23T00:00:00Z
ประเภทห้อง
บ้าน/อพาร์ทเมนท์ทั้งหลัง
---
ประเภทที่พัก
อพาร์ทเมนท์
---
พักได้
5
---
ห้องนอน
อิสตันบูล, อิสตันบูล, ตุรกี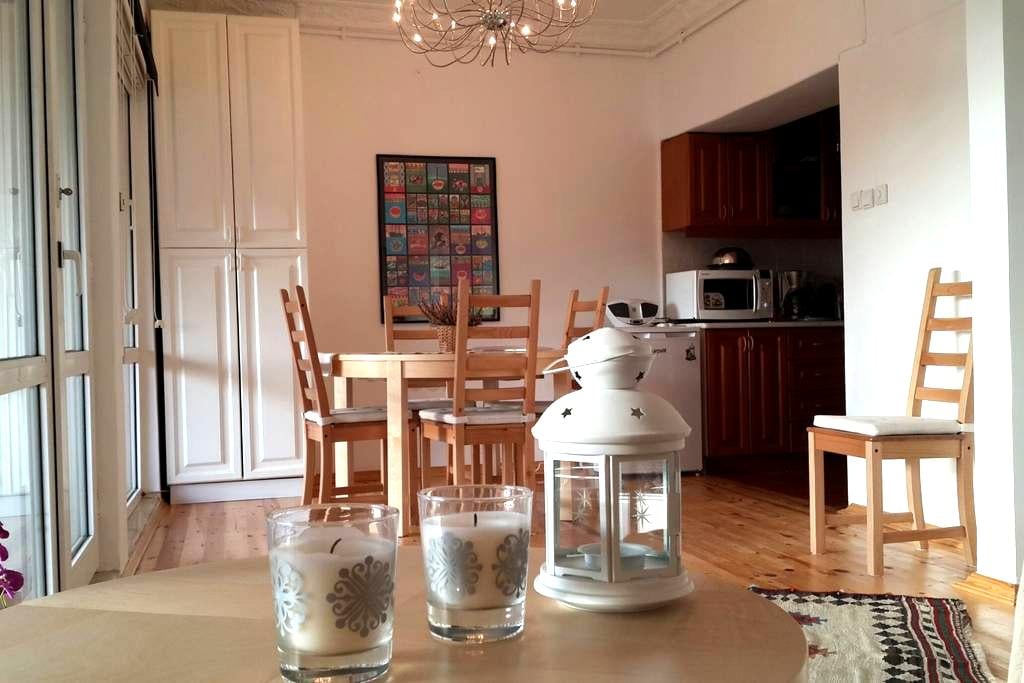 İts small but cosy if you like to do lots of thing in istanbul if you need hurry to see many places... This fits to you. İts on entrance floor and easily go and make short visit around the city.
Hi everyone :) My house is located in Beşiktaş district, which is one of the largest and most lively center in Istanbul. The old greek house is newly renovated and has its own character. You can find almost anything within walking distance. Public transits only 2 minutes by walk. Hundreds of Restaurants and cafes about 5 munites by walk. It is close to the other centers of İstanbul like the Historical Peninsula, Taksim Square, Beyoglu, Cihangir, Galata, Karaköy and even to Asian Part... You can go Beşiktaş port 5 minute by walk then you can take a boat ("VAPUR" in turkish) to go Kadiköy or Üsküdar about 15-20 minutes... Also major universities located around here so you can see a lots of young and lively people on the streets. You can reach the coast in 5 minutes by foot and take a walk by the magnificent Bosphorus. You will have hard time deciding what to eat and which ones to make favorite as there are lots of varieties; representing everything you heard about the Turkish cuisine and more. Your apartment is on 2nd floor. Its vintage look and its own terrace, bathroom with shower, air conditioner, wifi and TV. One double bed in my apartment. All bills (heating, water, electricity and wireless internet) are included in the price. See you in İstanbul :) Beşiktaş You will have your own bathroom and bedroom. If you want you can use (share) washing machine and mini kitchened... but please leave clean after you. Please lock your door and leave outside door close when you go out. You can always call or text me on ((PHONE NUMBER HIDDEN)) or you can write on airbnb. I am not good on emails sometimes :) i am working daytimes so i might not see you on high season sometimes... Apologise for this :( but you can reach me anytime :) There are plenty of cafes, restaurant, pubs and breakfast places just 2 minutes walking distances... You shuld try specially "raki" with eating fish on dinner and you can pick "serpme" on breakfast option :) There is bus station just 5 minutes walking distance. You can go taksim about 5 minutes by taxi 10 minutes by bus. Also you can go kabatas its only 1 stop and take a tram to go historical peninsula... Or you can walk 5 minutes to take a boat "vapur" to go asian part If you want you can walk longaway to bosphorus Enjoy your stay in istanbul. Please write your reviews to airbnb if you enjoy your stay. :) If you not enjoyed from something send me direct mesage i will try to make it better your next stay in my place :)
There are plenty of cafes, restaurant, pubs and breakfast places just 2 minutes walking distances... You shuld try specially "raki" with eating fish on dinner and you can pick "serpme" on breakfast option :)
We had a good stay here. The bed is very small (I am 1.84m and both my head and feet were off either end) as well as the room. However, if you aren't doing anything more than sleeping there, it is a great, quiet, location close to boats, trains, taxis, restaurants, people, etc.
Matt
2017-03-27T00:00:00Z
ประเภทห้อง
บ้าน/อพาร์ทเมนท์ทั้งหลัง
---
ประเภทที่พัก
อพาร์ทเมนท์
---
พักได้
2
---
ห้องนอน
İstanbul , อิสตันบูล, ตุรกี
The house is in the city center and close to all transportation. İt has a big garden which is special to you with an entrance from living room. Would like to welcome you.
The whole house is for rent. The place is in Beşiktaş Grand Bazaar, a safe neighborhood where mainly locals live. It is 5 minutes to the closest ferry to Asian side, 10 minutes to Taksim, 10 minutes to Nişantaşı and 10 minutes to Ortaköy!It is also close to the main conference complex of İstanbul at Harbiye and the bussiness zone Levent. **The house is spacious,cute garden(with swing:), a big living room, a bathroom and a bed room. it has all the technical facilities like: -Free WiFi internet access -Kitchen with pots, dishes and glasses -Microwave, oven, dishwasher and refrigerator -Washing machine and drying machine -Flat screen TV & DVD player -A big living room - ** Garden is special for you, enters only from living room - ** There is a couch in living room that could turn into a comfortable double size bed.(the brown couch opens like the red one) - there is water purification system so you can drink tap water My husband is a musician and an actor and I am a landscape archhitecture.We would like to welcome you in our home.You can ask anything, I would like to help you.
Pürün and Anil have a fantastic place to stay in. I originally requested to stay in their place a few weeks, as I was working out in Istanbul on a Freelance basis. As my work got extended, Pürün and Anil were so accomodating in letting me rent out the place for longer and longer. I felt guilty for keeping them out of such a wonderful place! It's in the very lively neighbourhood of Besiktas, but far enough away from the hussle & bussle to be really affected. I really loved the place because it has a wonderful garden/patio area (that I unfortunatley didn't get to use much because of the heavy snow and cold weather recently) and because I love to cook - and they had a wonderful kitchen/lounge area. I would highly recommend the place to anyone, unless it clashes with when I would like to stay, because I'm confident that I would love to go back there.
Dewi
2016-02-01T00:00:00Z
The host canceled this reservation 22 days before arrival. This is an automated posting.
Mathias
2016-04-13T00:00:00Z
Had a blast experience at Pürün's place. Location is great, you are just 10-15 min away to Karaköy, Taksim. Internet is relatively fast and private garden is perfect for working at night.
Emre
2016-08-20T00:00:00Z
Purun's place was fantastic! I stayed there with my boyfriend for about 5 days. Within 24 hours we felt comfortable navigating the bustling neighborhood (though the apartment itself is on a remarkably quiet street) and taught ourselves the easy walking route down to the ferry on the Bosphorus. There are tons of little markets, shops, cafes, and pide/börek places very nearby. The apartment was clean, bright, nicely decorated just like in the photos, and everything in working order -- though it was a bit hard to warm the apartment up, as we were visiting in February and it is a basement unit. Unfortunately, we didn't get to meet Purun and her husband in person, but Purun was quick to reply to all my questions via e-mail. She also gave us her neighbor's phone number (he met us at check-in) which put our minds at ease. We would happily stay there again, and we'd happily host Purun and her husband if they ever find themselves in the Washington DC area.
McKinley
2013-02-22T00:00:00Z
Nice place in basement of building with a little courtyard in the back. The washer and dryer saved us big time, as we had been traveling for weeks before we showed up. Both hosts were quite nice and responsive. Only minor issue was that the apt smelled and felt a bit damp after a couple days of rain before we arrived. There were a few cats in the courtyard, but as animal lovers this was no problem.
Jess & Chad
2012-10-10T00:00:00Z
The handover went smooth, Pürün was flexible so there was not issue. The apartment is nice, and has the hosts personal touch.
Rune Dige
2016-10-16T00:00:00Z
Check in and communication was good. We were given the wrong phone number for the check in at first, but that was quickly resolved. Furniture was a bit shaky and the bed sofa didn't work properly, but these were also minor issues. Should be listed as an apartment though. Only major problem was that we didn't have any wifi during our whole stat, which unfortunately is one of the most important aspects of communication. Other than that we had a nice stay for a really good price without any communication issues.
Richard
2017-02-27T00:00:00Z
Herşey çok güzeldi... Hiçbir sıkıntı yaşamadık. Evin konumu muhteşem. Beşiktaş merkeze, taksime, tramvaya kısacası heryere ulaşmak çok kolay. Pürün de süper bir ev sahibi...
Sinan
2015-10-26T00:00:00Z
ประเภทห้อง
บ้าน/อพาร์ทเมนท์ทั้งหลัง
---
ประเภทที่พัก
อพาร์ทเมนท์
---
พักได้
4
---
ห้องนอน
อิสตันบูล, อิสตันบูล, ตุรกี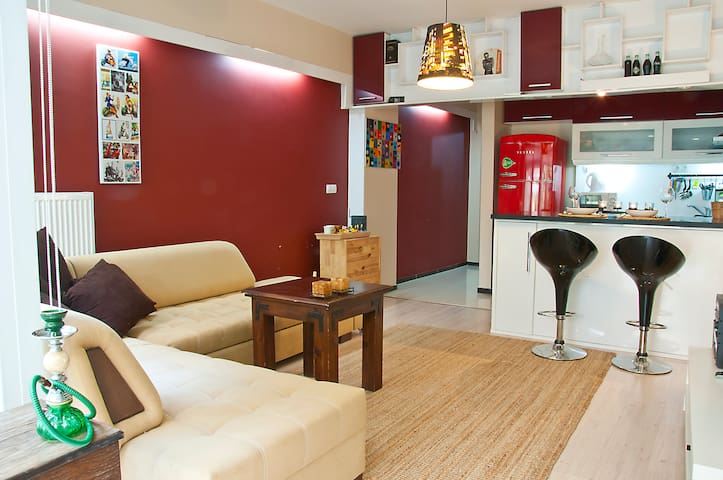 You will find yourself in peace if you choose to stay in this flat as you'll enjoy the sound of seagulls, smell of the marvelous sea Bosphorus and city lights. The apartment is only a 2 minute walk to bus and taxi stations. You could visit historical Armenian and Dimitrios Rum churches down the street.
It's a very clean and quiet place with an amazing view. Hakime is a great host, she responds very quickly and is very helpful. We really enjoyed our stay at her place.
aysen
2016-10-16T00:00:00Z
Hakime has a lovely place, with a fantastic view in an old authentic wooden house. A fantastic view over the Bosporus, but at the same time located in a quiet neighborhood. The place is easily reachable by bus, and it is easy to go to the center of the city! Furthermore, the flat is very clean, cosy and has everything you need. I would recommend this place to everyone who is looking for a peaceful stay in istanbul!
Jens
2016-10-09T00:00:00Z
Great unique spot in Istanbul. Taking the bus from Taksim was straightforward. Certainly a bit challenging stairway , so travel light! Hakime was very communicative and flexible .. I had a number of unexpected delays and she was very understanding in altering my check in dates. Spectacular view which really made the place ... Just watching the activity in the bosphorus was a great pleasure. The neighbors were very friendly. We had a great stay!
Adam
2016-09-15T00:00:00Z
I had a very pleasant stay at Hakime's apartment. The place has a distinguished view of the Bosphorus which is quire rare to find for this price range. It's on the upper floor of a wooden old house where a nice fig three grows inside the building. The open kitchen has almost everything one may need to prepare different meals, and all works fine. Since it's quite a bright house, it might be a bit too warm during hot summer days in Istanbul, but there is a ventilator that helps to chill a bit. Since this is a very old house, there is no elevator and one should take steep stairs to access the house, which might be troublesome for people having trouble with their knees or legs. The house is located at Kurucesme, which is one of the fanciest and most peaceful neighbourhoods in the Bosphorus. It's possible to shop for all your needs in the neighbourhood, and there is both a public bus stop and taxi station nearby the house. I am grateful to Hakime for arranging a wonderful stay for me, and definitely recommend her place.
Nadir
2016-08-22T00:00:00Z
I and my 9 year old son had a fabulous stay at Hakime's apartment. We liked the place so much that we extended our stay by a day. The place was exactly as described, very clean, airy, cosy and with a wonderful view of the Bosphorus. The bed was very comfortable, the kitchen had all the appliances, utensils etc. one would need to cook meals. The large screen TV worked great, the internet was fast and the portable ventilator provided relief from the summer heat. My only regret is that I didn't get a chance to meet Hakime as she was away on vacation during our stay but she has excellent communication skills and answered all questions promptly. Her delightful neighbor Nastaran provided us with the keys and was very helpful to make our stay memorable and comfortable. The apartment is on the top floor of a historic, wooden building that has a tree growing inside of it! There are two steep stairs so best to be carrying backpacks or small suitcases. It takes four minutes to walk from the Bosphorus shore to the apartment and there is a large Migros market as well as many stores and restaurants in the area. Bus stop to catch a ride to the rest of Istanbul is immediately to the left as you come down the hill. Galatasaray Island, also known as Su Ada, is only a few minutes of a private, free boat ride away and has excellent restaurants and a large swimming pool that my son couldn't get enough of... Admission fee to the pool is a bit expensive but the elegant atmosphere and attentive staff are well worth the experience. Overall, I highly recommend staying at Hakime's peaceful apartment in the wooden house if you enjoy great views and magnificent sun rises, being secluded yet close enough to the city and appreciate the hospitality of a thoughtful host who makes you feel that your comfort is important to her.
Joseph
2016-07-09T00:00:00Z
The view was perfect, the desk was positioned brilliantly which enabled me to get my work done, and the Internet was fast and reliable. The neighbour's were cool, the apartment was exactly what u needed, and if I could have stayed longer, I definitely would have. :) thank you
James
2016-07-27T00:00:00Z
ประเภทห้อง
บ้าน/อพาร์ทเมนท์ทั้งหลัง
---
ประเภทที่พัก
อพาร์ทเมนท์
---
พักได้
3
---
ห้องนอน
Beşiktaş, อิสตันบูล, ตุรกี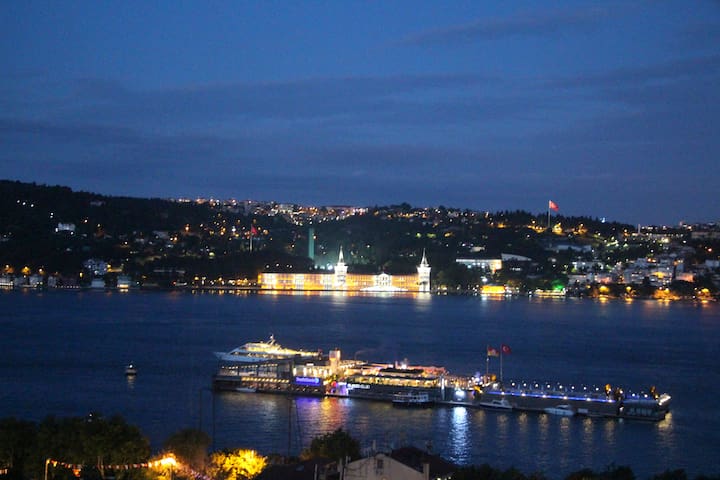 Welcome to our best flat. It's located 2 min. from Taksim Square on a quiet street in Cihangir. It's a 3 min. walk from the metro station and everything you need is very nearby. You will feel very comfortable here. Our place is 70sqm with terrace.
It's a newly renovated 1 bedroom apartment with a beautiful terrace. It's located on a quiet street in the Cihangir area. It's a sunny and peaceful apartment. The apartment is stylish and all of the furniture and appliances are new. It has 2 lovely terraces, one in the front (with a beautiful dining space and an umbrella) and one at the back side. It's on the 4th floor without an elevator. We can accommodate up to 4 people. Two in the bedroom on a real double bed and two on the pull-out couch in the living room. Our apartment has air conditioning, a washing machine, dryer, dish washer, dvd player with 5+1 sound system, central heating, hair dryer, iron, WIFI Internet and Satellite TV. The location is amazing, very central and close to a supermarket, many restaurants, bars, Taksim Square and a metro station and tram station. There are many foreigners and ex-pats in the neighborhood as well as locals. You will feel very safe and comfortable in the area. It's very easy to reach and finding the apartment is effortless. There are taxis everywhere as well as a bus and metro station two minutes away and tram station is five minutes away. This is the center where it all happens and you will immediately realize you have found the perfect place.
There are many restaurants, bars and cafes in the area. I recommend Smyrna Cafe, Whitemill, 5. Kat, Otto Cihangir, Mükellef, 360 Restaurant, Karakoy Lokantası. Our Flat is very close to Istiklal Caddesi, Taksim Square, Cihangir Area, Galata Tower and Karakoy Area that you can find wonderful places.
Wonderful warm home and great atmosphere in the heart of Istanbul!
Farah
2016-01-28T00:00:00Z
Highly recommended! Wir hatten die Wohnung für eine Woche gebucht. Es war eine tolle Zeit. Die Lage ist phantastisch und die Wohnung hat wirklich alles, was man braucht. Von der vorderen Terrasse aus kann man den Bosporus sehen, Möven segeln ruhig über dem Haus, es ist wirklich schön. Trotz der Nähe zur Istiklal Cad. ist es so ruhig, dass man sehr gut ausspannen kann. Die Kommunikation mit den Gastgebern ist hervorragend. Hast Du Fragen, werden diese umgehend beantwortet. Berna, Verda and Melih, we thank you a lot that we could stay at your place and wish you all the best!
Arndt
2017-01-27T00:00:00Z
Even better than on the pictures. The apartment is cozy, spacious and provides all things you might need. It's very clean. Berna id wonderful host, all details of our staying was thought through even before we asked about something. Though we got a bit lost while looking for the apartment, the rest of our stay was wonderful. Thank you!
Galina
2017-02-22T00:00:00Z
My stay at Verda's apartment near Taksim Square in Istanbul was more than I expected and well worth the price. Literally, everything in the apartment is brand new as it has just been newly remodeled. It's only a block and a half from Taksim Square, so access to the Beyoglu neighborhood is excellent and at Taksim you can take either the Metro, or the Funicular to the Tram and be in Sultanahmet in no more than 25 minutes. You can also catch the dolmus (van shuttle) down to Besiktas from the square, and the bus to the airport is only a couple blocks from the square. Verda was very responsive to my questions and eager to make my stay a comfortable one. The only limitation I can report is that the walk up to Taksim is steep (like much of Istanbul), and the stairs up to the fourth floor apartment are also steep. For anyone with limited mobility this location would not be an ideal choice. All in all Verda's apartment was an excellent choice for me and I would definitely stay there again.
Jeff
2015-10-16T00:00:00Z
Definitely a very nice place to stay in Istanbul. The hosts are extremely responsive and helpful, you feel guided from airport to the doorstep, in real time ! The flat is comfortable, cosy, modern and well equipped. The area is great for anyone who knows Istanbul ;-)
Josselin
2016-02-08T00:00:00Z
Fantastic clean and modern apartment close to Taksim Square... A great location to base our stay in Istanbul... Our hosts were very helpful, polite, and friendly. It was a pleasure to meet. Would definitely stay here again and recommend this place to others. Thank you!
Damien
2015-12-03T00:00:00Z
My husband and I had a fantastic stay with Berna family, her sister Verda welcomed us warmly with clear instructions and good recommendation of places to go and where to eat. The apartment is beyond our expectation, clean, modern, comfortable and close to everywhere. Definitely will stay next time visiting Istanbul. Highly recommended.
Emily
2015-10-28T00:00:00Z
It was a wonderful experience for our short stay in istanbul. The unit has almost everything brand new and its also centrally located. Host was excellent in communication as well! Highly recommended!
Matt
2016-07-14T00:00:00Z
ประเภทห้อง
บ้าน/อพาร์ทเมนท์ทั้งหลัง
---
ประเภทที่พัก
อพาร์ทเมนท์
---
พักได้
4
---
ห้องนอน
istanbul, อิสตันบูล, ตุรกี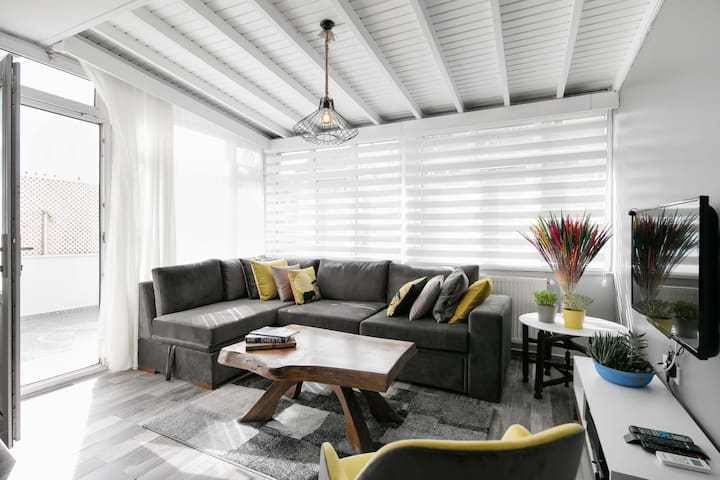 Welcome if you want to stay at a cozy flat with local experience.:) It is in the center of Istanbul.The neighborhood is safe and close to attractions.Transportation is easy. I will help you always.
Welcome if you want to stay at a cozy flat with local experience.:) It is in the center of Istanbul.The neighborhood is safe and close to attractions.Transportation is easy. I will help you My flat is in Taksim, center of the city, which is a convenient district 3 minutes walking distance to Taksim Square, the center of touristic attraction and nightlife in Istanbul. Metro station: 3 min walk Bus station: 4 min walk Tram Station "Fındıklı": 5 min walk Old city: 15 min Istiklal Street: 3 min walk Easy to access to other touristic areas of Istanbul. You can directly take tram to go to Sultanahmet area where historical things are. Blue Mosque, Hagia Sofia, Cistern, Grand Bazaar, Spice Bazaar is 15 min. away by bus or tram. You can also walk from here to those places. It's also close to Nisantasi, (15 minutes walk) a chic, famous neighborhood for shopping and dining. It takes 5 min walk to go to the sea coast, Bosphorus and enjoy the nice weather. IT takes about 5 minutes to walk to Dilmer Language Center. Istiklal Street is 3 minutes away.  University transportation is easy. Bogazici University, Galatasaray University, Bilgi University, Istanbul Teknik University. Shopping and transportation is really easy in the neighborhood. My neighborhood is very central, safe and there are many small shops restaurants and cafes bars. There are exchange offices too. It is a very lively neighborhood but at the same time quiet in our street. It is 3 minutes walk away from Istiklal Street. There is a mixture of local life and tourists in this neighborhood.
I was so comfy and happy at Nia ' s home! Easy walking to Taksim yet quiet and calm for sleeping. Nihat is a kind host and I will stay there again. Thanks for a perfect time.
the Birdhouse
2015-05-19T00:00:00Z
Nihat was great. Very nice guy and made me feel at home! Apartment location could was great! right by Taksim and Istiklal street yet in a very quite corner.
Suhail
2015-05-10T00:00:00Z
Nihat is a great person - very friendly, easygoing and open-minded. Communication with him is smooth and prompt. He is flexible and always willing to help. The place is centrally located, and still on a quiet street. It is super tidy and clean. There are a lot of shopping opportunities around and eateries, and basically the life is going 24/7. Very much recommended location, place and host!
Doncho
2016-04-25T00:00:00Z
Nihat did his utmost to make me feel home, safe and entertained. He went out of his way to provide whatever I needed and made sure I was taken care of at any time. He is sweet, caring and generous.
Stéphane
2015-01-05T00:00:00Z
Merci à Nihat pour sa gentillesse et son accueil. La chambre très propre et confortable avec tout les accessoires utiles pour passer un bon séjours, mème un petit balcon!
Didier
2016-06-19T00:00:00Z
Nihat was one of the most welcoming people I have ever stayed with. He not only made sure the room and apartment was perfect, but he also went out of his way to point me in the right direction of the things I wanted to see and do. I couldn't have asked for a better experience than staying with Nihat. Also, the location is so close to all the action of Taksim and very close to all the landmarks in Old Town.
Scott
2015-05-30T00:00:00Z
I recommend staying at Nihat's place. He was polite, friendly and accommodating. And it's very central.
Stefanos
2016-05-19T00:00:00Z
Nihat made me feel very welcome. Communication was great and the location of his apartment is very central for exploring Istanbul.
Guy
2015-01-31T00:00:00Z
ประเภทห้อง
ห้องส่วนตัว
---
ประเภทที่พัก
อพาร์ทเมนท์
---
พักได้
1
---
ห้องนอน
Cihangir / Taksim, Istanbul , Beyoğlu, ตุรกี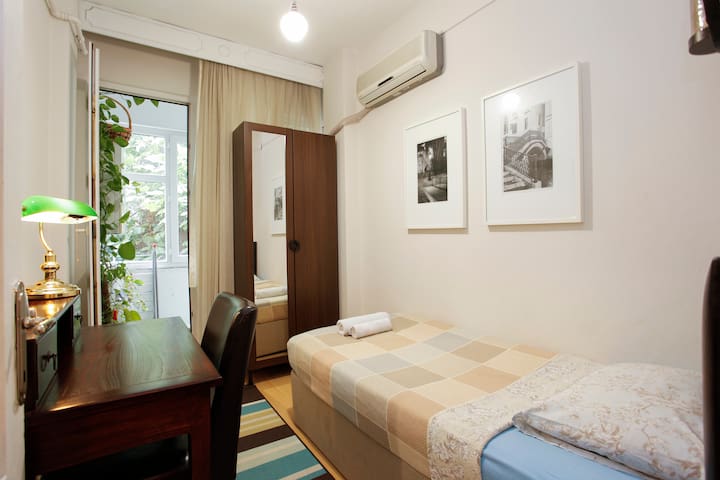 Central location.Safe street.Relayable naigberhood.Near mini market and fruit shop.Quıet environment.Clean bed.Comfortable sleep.
This is a lovely little studio a stones throw from Taksim Square. I booked the wrong day but Safa kindly let us stay anyway (though the price went up a fair bit). I'd recommend this studio to those coming to stay in Istanbul.
Kerry
2017-04-08T00:00:00Z
Safa Bey çok ilgili bir ev sahibi hiç bir sıkıntı yaşamadık kendisi bize her konuda yardımcı oldu teşekkür ederiz
Tolga
2017-03-26T00:00:00Z
Safa was really helpful and easy going home was good and comfortable I will recommend him as your host
Seray
2017-04-07T00:00:00Z
Nice studio, good location
Thomas
2017-03-17T00:00:00Z
ประเภทห้อง
บ้าน/อพาร์ทเมนท์ทั้งหลัง
---
ประเภทที่พัก
อพาร์ทเมนท์
---
พักได้
2
---
ห้องนอน
İstanbul/Cihangir/Taksim, อิสตันบูล, ตุรกี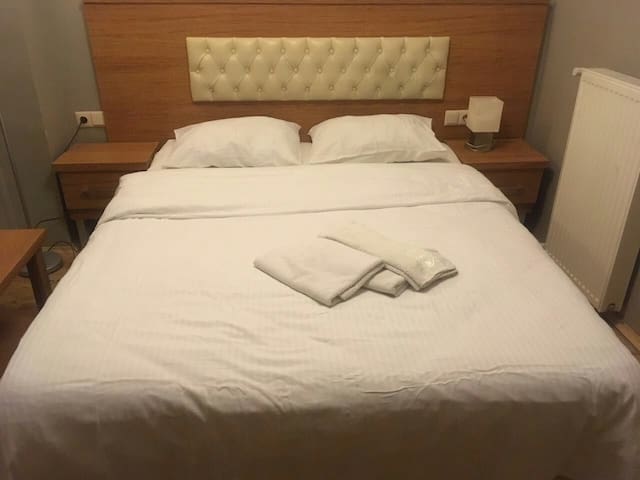 Beşiktaş daire, Ihlamurdere Street.Newly dekore edilmiş ve restore döşenmiş 80m2, tam tesisler modern banyo Beşiktaş merkezi ve Boğaz shore.Spacious oturma odası ve yemek alanı, modern mutfak bir beş dakikalık yürüme mesafesinde 2 floor.Flat ve 2 wc.
Sadece 5 dakika, alışveriş, restoranlar, kafeler, barlar, gece kulüpleri ve onun yığınlarının ile Beşiktaş merkezine yürümek. Bir ulaşım merkezi, kolayca ve hızlı bir şekilde kentin önemli noktaları ve tüm konumlar için otobüs, minibüs veya taksi ile buradan seyahat edebilirsiniz. sahilde iskele tarihi yarımada, ya da Karadeniz Boğaz kadar çabuk Asya tarafına karşısında götürecek hem kamu hem de özel feribot tekneler vardır. ve Beşiktaş yakın ulaşım menşeli Tek modları Taksim, onun ünlü yürüyüş yönlü cadde İstiklal, Cihangir, ünlü Galat kulesi ile Galata'nın tarihi merkezinin Bohem mahalle, şehir merkezine hızlı bir şekilde, Karaköy liman bölgesi straddling sizi taşıyacak Marmara Denizi ve sarayları, camileri ve tarihi hamam bolluğu ile daha sonra Old city şehirde yemek ve en iyi yer olarak bilinir Haliç. kuzey Kısa geziler Ortaköy, açık restoran için bir sığınak ve ardından Bebek, Türkiye'nin en zengin ve ünlü akıldan çıkmayan bir yer trendy getirecektir. Ülkenin önde gelen üniversitelerinden bazılarına yakın olan yakınlığı Beşiktaş şey 24 saat oluyor canlı ve dinamik bir kültür ve eğlence merkezi yapar.
Beşiktaş, aynı zamanda bir ihtiyaç duyduğu hemen her şey için imkanları vardır, sadece İstanbul'un güvenli mahalle biridir. Pek çok dükkan sabaha kadar açık
The place was exactly as in the pictures. It was a great place to visit, the hosts were very attentive and helpful and helped made my stay very enjoyable. The location is great, in a very lively neighborhood with very easy access to anywhere in the city. I had a great time>
Thanasis
2016-04-26T00:00:00Z
The apartment is newly refurbished, cozy, clean and warm. The kitchen is fully equipped so it is a pleasure to cook there. There are a big washing machine and dryer, perfect for long stays. The double bed is quality and (URL HIDDEN) well as the sofa! :) The apt is in Besiktas main street, with plenty of cafes, restaurants, shops and markets just few minutes walking. The area is a perfect location and it is easy to reach almost everywhere. Rukiye is helpfull and a good host. We really enjoyed our 13 nights stay and will surely want to stay there again! Thank you Rukiye!
Carolina
2016-02-14T00:00:00Z
We had one of our best experience in this cozy and comfortable house. Everything is close to this nice place and the hosts were absolutely helpful . We really have enjoyed cooking in the well equipped tiny kitchen in 10 days. Definitely will come back again with some friends.
Mani and Azi
2016-01-24T00:00:00Z
I have stayed in Mr. Şenol's flat for 5 nights and it was truly a great experience.He was very kind and helpful host. The location of the flat is excellent. It is safe and very quiet, yet 2 -3 mins walk away from the lively parts of Istanbul such as Besiktas. I would strongly recommend this place and I shall return. Şenol bey ve eşi Rukiye hanım çok kibar ve çok yardımcı insanlar.Evin lokasyonu çok güzel Beşiktaş çarşıya 1-2 dakika yürüme mesafesinde.Evin tüm eşyaları yeni ve evin içi çok güzel döşenmiş.Bu semtte birçok evde kaldım ve hiç birinde bukadar memnun olmamıştım .Bir daha ki seyahatimde kesinlikle bu evde kalacağım.
Ersan
2016-01-10T00:00:00Z
Appartement très bien situé (proche du littoral) dans une rue vivante avec tout les restaurants et café à proximité. Les transports en commun sont à 10min à pied (bus bateaux taxi...) rien à dire je recommande.
Mohamed
2017-04-02T00:00:00Z
In a nutshell; this place is excellent by all means. Rukiye and Senol are very attentive and open to communication. I didn't have any problem during my one-month stay but I am hundred percent sure that they would do their best to solve such a problem if one would occur. everything in the flat is as exactly the same as seen in the photos. Location of the flat is heart of Istanbul (for me) yet the surrounding is quiet enough. One just needs a single step out of the building to reach any facilities such as cafes, restaurants, markets, pharmacies etc etc. Although there are plenty of options for meals nearby, the flat itself has very well equipped kitchen where you can enjoy cooking yourself. Wifi internet is very fast and available in every corner of the flat. I would definitely recommend this flat not only for leisure but also business stay as well. I would like to thank Rukiye and Senol very much for being great hosts.
Dina&Bora
2016-11-23T00:00:00Z
Great apartment, great location, I will certainly try to come back to that again when in Istanbul.
Thanasis
2016-09-03T00:00:00Z
Was located in a great area. The apartment was all clean and nice. I would totally recommend this place!
Merv
2017-02-19T00:00:00Z
ประเภทห้อง
บ้าน/อพาร์ทเมนท์ทั้งหลัง
---
ประเภทที่พัก
อพาร์ทเมนท์
---
พักได้
4
---
ห้องนอน
Beşiktaş, อิสตันบูล, ตุรกี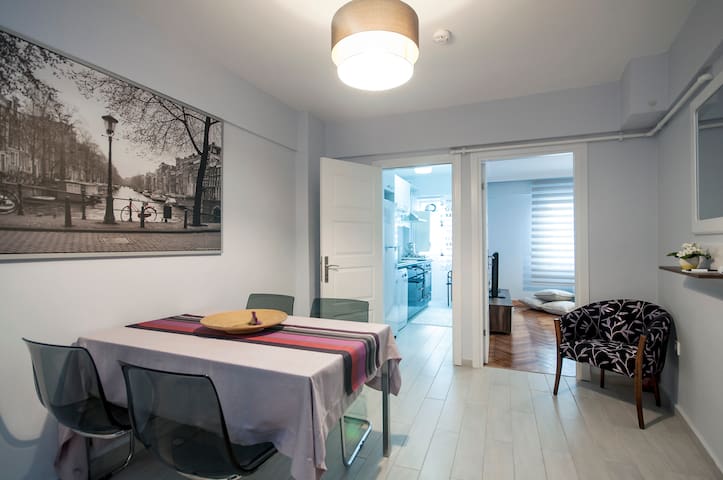 The living room has an stunning view which will make your mornings and nights unforgettable. The apartment is located in the heart of Üsküdar. Public transportation such as train, bus and ferryboat are only 2 minutes by walking.
If you are looking for a modern, clean and luxury apartment, this will be the best choice for you. This apartment has a brilliant Bosphorus view and its fully furnished. The living room is spacious and has a gorgeous view on the Bosporus. The bathroom provides a big Jacuzzi. Two out of three bedrooms are nursery rooms with children beds, but an adult can perfectly fit in those beds. The location of the apartment is right in the middle of the heart of Istanbul. Furthermore its located on the Asian part of Istanbul -Üsküdar. The area of the apartment is quiet and secure. Public transportation such as the train (Marmaray), bus, taxi and the ferryboat are literally 5 minutes by walking. You can take the ferry boat or the Marmaray for crossing the Bosporus. This will save you a lot of time, since traffic is an huge issue in Istanbul. Places like Taksim, Besiktas, Ortakoey, Eminönü, the Grand Bazaar and many others are easy and fast to reach.
I've not much to say, except that apartment is far better than it looks on pictures. Perfect condition, location, and host. You may just sit near the huge window and overlook Bosporus and European part of Istanbul for many hours, during day time or even better at night. Look of European part is better than look of Asian part, if you consider Bosporus looking apartment. Abdu provided great support of our stay. The location is great, you can take boat trips to European part or old-city right from the pier next to the apartment, it just takes 10-15 minutes of great time looking at Istanbul from the sea. Using Istanbul card, as part of public transport system. Good shop with groceries is very close, Mado cafe with great ice-cream is just 2 minutes by walk, with terrace overlooking the sea. Will definitely come back to Abdu. Also highly recommended for families - there is a good walking path alongside the sea with kids playgrounds.
Dmitry
2016-05-23T00:00:00Z
Gorgeous views over the Bosforos ))) a very clean and nice place with stunning views ... Everything went perfect ))
Francisco
2017-02-27T00:00:00Z
The trip in Istanbul is so nice and the stay by Abdu's house is also wonderful. Abdu's father gives us the key and shows us around. He even gives us many suggestions about our journey. He is always friendly and helpful. The house is also furnitured with everything we need. Thanks a lot.
Zhizhuo
2015-12-21T00:00:00Z
Lovely apartment with one of the best views in Istanbul! Very convenient. Right in the centre of Uskudar close to ferries and station for Marmaray tunnel. We just wish we could have stayed longer!
Martin
2016-10-11T00:00:00Z
We had the our best Christmas and New Year celebration staying at Abdu's place. Beautiful view facing the water and the European side. Lots of shops near by to get your groceries done and restaurants have a good meal. The apartment is very well equipped and very cozy. We simply did not want to get out as it was a very comfortable environment inside the flat. We were very happy to have found this sweet gem in the heart of Istanbul's Asian Side. I would highly recommend this flat to anyone. And you will not be sorry. <3 this place!!!
Maria
2017-01-02T00:00:00Z
Abdu was an excellent host and the apartment was exactly as described. We were provided with everything we needed for a great stay, and when we did have questions about the apartment, Abdu always answered promptly and helpfully. As you can tell from the pictures, the apartment itself has a stunning view of the Bosphorus — even more stunning in person, if it can be believed. The location is as close as you can possibly be to the major transportation options (train, ferry, bus) that take you anywhere in Istanbul. However, the neighborhood that the apartment is in, Üsküdar, is wonderful in itself.
Javier
2016-02-27T00:00:00Z
Abdu's apartment is wonderful and charming. It is close to the ferries, train, buses and everything else, including shopping. Our driver had tough time finding it, so make sure you have maps or instructions before you arrive. But when we return to Istanbul next year, we cannot think of any other place but this apartment. It is a dream-like place. You can sit all day and watch the Bosphorus, the people and the European side. Abdu was also very helpful, as well as his mother who received us. We recommend it highly.
Wael
2016-06-04T00:00:00Z
Unser Aufenthalt in Abdus Wohnung war sehr schön und leider zu kurz! Der Ausblick auf den Bosporus ist einfach sagenhaft und obwohl die Wohnung auf der asiatischen Seite liegt, kann ich sie nur weiter empfehlen, da alle Anbindung, wie Fähre, Metro etc direkt vorm Haus sind und man alle Sehenswürdigkeiten gut erreichen kann. Abdus Vater ist sehr freundlich und entgegenkommend und auch Abdu war immer erreichbar. Immer wieder gerne, lieben Dank!
Merjem
2015-01-01T00:00:00Z
ประเภทห้อง
บ้าน/อพาร์ทเมนท์ทั้งหลัง
---
ประเภทที่พัก
อพาร์ทเมนท์
---
พักได้
4
---
ห้องนอน
อิสตันบูล, อิสตันบูล, ตุรกี
My Locations near: Ciragan Palace, Feria Lokantasi, Cooked Breakfast & Burger, Besiktas Bazaar - Bazaar, Polo sugar pastry Taksim Ortakoy. You'll love my place so that: people, environment, outdoor, neighborhood and light. Place couples, solo adventures, the business trip, families (children), large groups and feathered friends (pets) are suitable for.
it was really comfortable for my bf to stay over and party around the area!big house wiz living room and bedroom,pretty cozy!
Amanda
2017-02-09T00:00:00Z
Mekan çok merkezi, kahvaltıcılar sokağında. Gayet temiz, bir-iki gece kalmak için uygun. Ancak mekanda el havlusu ve içme suyu olmaması, çıkış saati 12:00 gözükürken 11:00'de artık çıkmalısınız diye temizlikçi kadının kapıya dayanması, gönderilen adresin yan apartmanın adresi olmasından dolayı gece 2'de kapıda kaldığımı sanmam gibi ufak tefek sorunlar yaşadım. Yine de toplam değerlendirmemi çok olumsuz etkilemiyor bunlar; keza mekanın temiz ve merkezi oluşu benim için ana belirleyici unsurdu. Serhat'ın telefonda direkt senli benli tarza geçmesini yadırgamazsanız iyi çocuk, sıkıntı olduğunda kolay ulaşılıyor ve yardımcı oluyor. Yine ihtiyaç duysam kalmak isteyeceğim bir mekan.
Aycan
2016-09-04T00:00:00Z
Nice clean and simple . Good location
Eran
2016-10-21T00:00:00Z
ประเภทห้อง
บ้าน/อพาร์ทเมนท์ทั้งหลัง
---
ประเภทที่พัก
อพาร์ทเมนท์
---
พักได้
4
---
ห้องนอน
Beşiktaş, อิสตันบูล, ตุรกี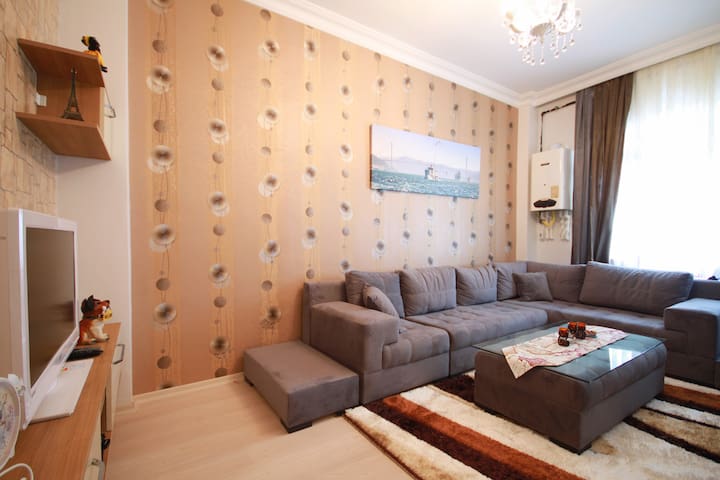 The room is cozy. it has heating system for the winter and will have air condition for summer.. The flat is on the first floor. The bed and everything in the room is new.
The most unique part for this room is that it has a queen size bed; it has a window facing the bosphorus canal... It also have a cupboard; All furniture are new. It has mirror from Ikea and 2 chairs for sitting. It also has romantic lights and nice wall picture that can be lighted.
Cihangir is an amazing neighborhood. It is extra safe and very clean. There are a lot of restaurants and everything you might need. You can find people walking in the streets till 4AM
We had a wonderful stay. Two blocks away from Taksim Square. The other people staying there were nice and helpful, even going out of their way to help us carry luggage and show us where to purchase train tickets. Overall, I would recommend it.
Jonathan
2014-12-24T00:00:00Z
Room was clean. Clean everything you need. In a good position
Drew
2015-08-08T00:00:00Z
Very good host, would recommend
Qadeer
2016-03-22T00:00:00Z
This was our firs Airbnb experience and for sure we will use Airbnb again. The room was as on he picture and clean, the apartment is located 5 min away from Taksim square and 5 min to tram line which goes to old town. Faisal was a great host, whatever we asked him, he helped us and recommend us good places to visit. Thanks again and maybe we visit you again in summer when there will be no snow :)
Uros
2015-02-14T00:00:00Z
perfect ınformatıon and easy to fınd
Marc
2015-04-26T00:00:00Z
Great location and very clean apartment. About 15 min walk from the bus that goes to the airport and a 5-10 min walk to taksim square. Faisal's friend was very flexible regarding our check out time and plans. Thanks!
Melanie
2015-07-21T00:00:00Z
Faisal and Ghassan were fantastic hosts. Ghassan greeted us at check-in and assured we were always comfortable. He responded immediately to our texts when he was away and gave us great recommendations of places to go. Faisal arrived later on and we loved our short chats with him in the mornings. The location is perfect - easy, 5 minute walking distance to both Taxim and Findikli-MSU stations as well as the Bosphorus. The bed is comfortable and the room looks even better than it does in the pictures - there is a large window behind the curtain. Cozy and convenient, it was just right for us! A note to light sleepers: an entourage of pidgeons, mourning doves and other avian creatures will sound first thing in the morning because of proximity to the sea.
Enghui + Lauren
2015-05-23T00:00:00Z
Es war alles so wie beschrieben. Perfekte Lage, freundlicher Gastgeber. Sauberes Zimmer und dazu noch ein Wohnzimmer mit einer bequemen Couch. Wir waren sehr zufrieden!
Gunther
2015-12-12T00:00:00Z
ประเภทห้อง
ห้องส่วนตัว
---
ประเภทที่พัก
อพาร์ทเมนท์
---
พักได้
2
---
ห้องนอน
อิสตันบูล, อิสตันบูล, ตุรกี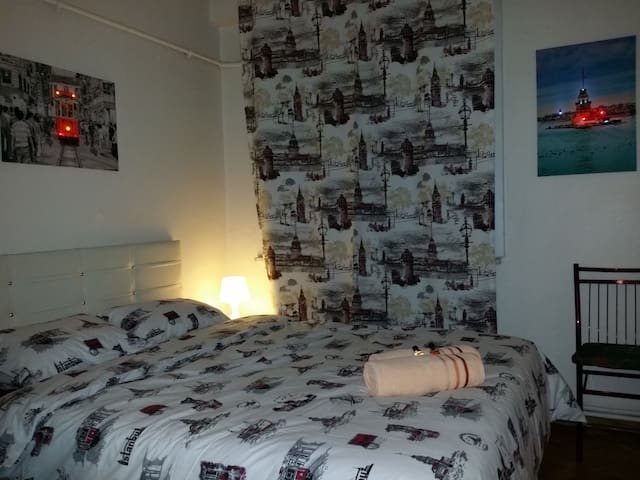 Welcome! If you come to Istanbul , you can prefer to this nice, comfortable and safe room. It so close to everywhere such as Eminönü,Taksim, Kadıköy, Besiktaş,Bosphorus and also If you like pub, bar etc., you can come back to room easily at night.
Near the Bosphorus, Maiden's Tower and so closed to Historical place (Topkapı Palace, Dolmabahçe Palace, Taksim, Beyoğlu, Kadıköy etc) . 7/24 ferry, metrobus, bus... easy and comfortable travel..
Filiz est très accueillante et prête à rendre service. Elle a toujours fait attention à ce que mon séjour se déroule bien. L'appartement de Filiz est dans un quartier tranquille mais proche de l'embarcadère pour rejoindre la rive européenne de l'autre côté du Bosphore. Je conseille cette adresse à ceux qui souhaitent passer un séjour à Istanbul dans un quartier typique sans être trop touristique. Séjour très agréable.
Gurvan
2017-04-05T00:00:00Z
filiz is very welcoming person, I stayed at her place for a week and she provided me with everything I asked for. She's really friendly and helpful and she even woke up at 3am and dropped near at bus station when I left to go to the airport!. The location is good, it's near everything like train station,buses and (boats). I really had fun for a week there and Filiz made everything easier for me so thanks to her.
Real Don
2016-06-03T00:00:00Z
I had a great stay at Feliz's apartment in Istanbul. Her apartment is in Üsküdar, on the Asian side of the Bosphorus. She was a great hostess and helped me with advice and directions (and lent me her istanbulkart) of how to get around the city and was understanding when I came and went at odd hours. She also tried to contact me when there was a bombing when I was out in the city. Note: she has a friendly cat in case you are allergic. If you want a place to stay in Üsküdar, her place is a great option.
Philip
2016-12-11T00:00:00Z
My stay at Filiz's place was much more than I expected. Her place was very clean, I had access to her large living room, kitchen, bathroom and her balcony with an amazing view of the Bosphorus. She made me feel at home and it was, in fact, like having an entire apartment in Istanbul. Filiz was very kind and friendly and she went out of her way to help me with anything I needed. Her thoughtful communication from way before my stay up until the end made me feel welcome and safe. The location is amazing: only a few minutes walk to the Bosphorus and the famous Maiden Tower, and a 10 minute walk to Uskudar, one of Istanbul's oldest neighborhoods. It was very easy for me to go wherever I wanted using public transportation. If you want to be close to the city's many centers but also want a true Istanbul neighborhood feel, this is the place to stay. I plan to return again and again! Thank you Filiz, you're the best!!
Sanem
2016-09-07T00:00:00Z
I was in Istanbul for a research trip for around 2 weeks and had a very comfortable stay in Filiz's flat in Üsküdar. The area is nice with the sea close by and many restaurants along the coast. Also the ferry station and underground station are only a 15min walk away. Filiz is a great host and offered me support and advice about how to get around town whenever I needed it. Her hospitality and the cleanliness of the flat are the two things that really stand out!
Christopher
2016-07-27T00:00:00Z
The host canceled this reservation 15 days before arrival. This is an automated posting.
RUNLI
2017-03-30T00:00:00Z
Great host and good place for solo travelers to Istanbul. Supercool location with everything nearby. Famous Mado Cafe and Simit just below on the main street. Also sea side view is extraordinary. Just perfect place to be at.
Vinav
2016-10-12T00:00:00Z
Location : it is 5 min. to marmaray metro station , ferry boats port and bus station. And close to sea side Transportation: very easy to use. For bus: routes to every location in Asian side. Ferry boat: to sirkiçi, Eminonu and Beşiktaş. Marmaray metro : European side. Filiz is joyful , helpful and quite lady. She helped me a lot to get my destinations. She gave me the keys of flat doors and the apartmen and access to the kitchen , toilet and other rooms . The apartment is very cozy not too big not small.I was acting like I were in my home. We had a lot of discussions in different subjects and drank çay :). My last day she took my by her car to harem port. Really I'm missing these days. Thank you filiz
Mohamed
2016-10-22T00:00:00Z
ประเภทห้อง
ห้องส่วนตัว
---
ประเภทที่พัก
อพาร์ทเมนท์
---
พักได้
2
---
ห้องนอน
Üsküdar, อิสตันบูล, ตุรกี