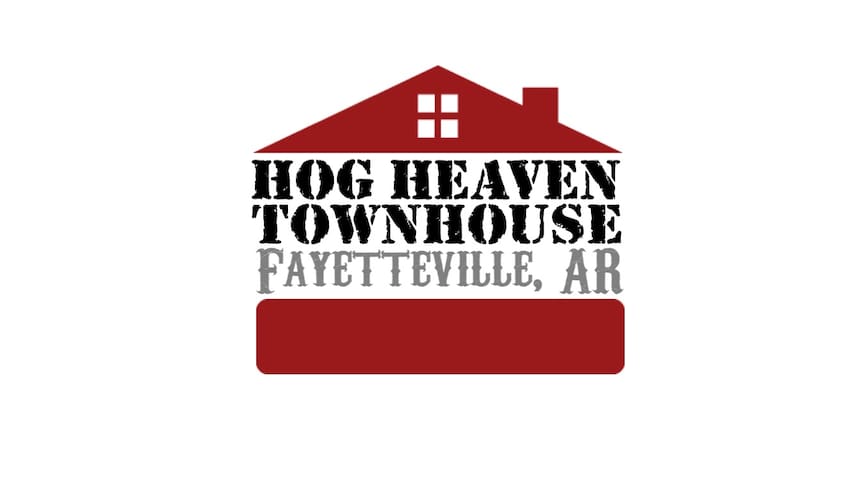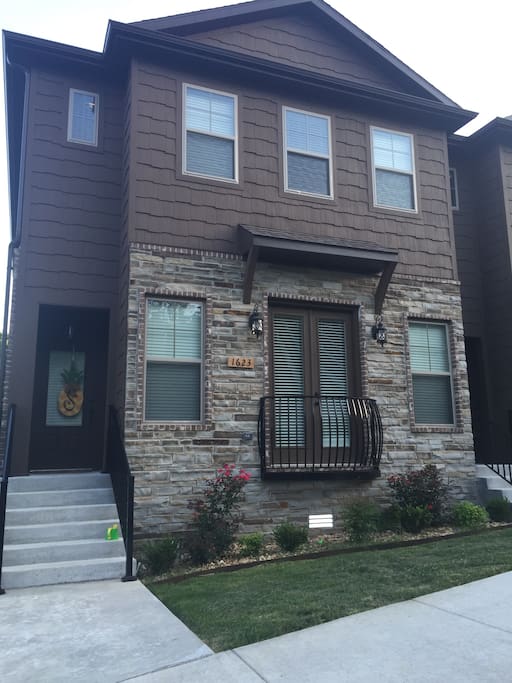 Hog Heaven Townhouse - Sleeps 10!
Enjoy being close to U of A campus, as well as convenient to all that Fayetteville and Northwest Arkansas have to offer! Walk to football games, basketball games, even the baseball stadium! Also only one mile from I-49!
We can't wait to host you in Hog Heaven!
ที่พัก
Welcome to Hog Heaven Townhouse!
Built in 2014, this townhouse is sure to meet all of your needs, whether staying in town for business or pleasure!
Located only a few blocks from both Bud Walton Arena and Razorback Stadium, it would be hard to find anything closer to campus! Included in your stay is parking for four cars (two in garage and two on driveway). There is a small fenced-in area, perfect for kids to play catch while waiting to go to the big game! There is also a small backyard that could be used for tailgating.
Upon entering the townhome, you will find no detail overlooked! The main floor has an open living room, dining area and kitchen, with meal seating for at least 8 people. The large screen television in the living room has DirecTV as well as access to Netflix. Open the beautiful patio doors to enjoy the amazing Fayetteville breeze! The kitchen is well-appointed with granite countertops, a gas range, and a large fridge. The large pantry is sure to impress and has plenty of room for all of your tailgating or other needs. There is a nice half-bath on the main floor as well. Down the hall you will find a laundry room with HE washer and dryer. Lastly, you will find an amazing master suite, complete with Tempurpedic Mattress, walk-in closet, soaking tub, and huge shower. Also has a large wall-mounted TV.
Up the stairs you will find three additional bedrooms. The first bedroom has a full over full bunk bed to sleep up to four, along with its own bathroom and a walk-in closet. Perfect for the kids or any guest who wants a little extra room! Down the hall are two more bedrooms, each with a queen bed. Each of these bedrooms has a large closet, mountain views, and its own water closet. These bedrooms share a tub/shower.
The garage also has a wall-mounted TV so that you can enjoy music or TV while tailgating or enjoying the outdoors.
You will be so close to campus activities that you won't need parking passes! And a campus bus stop is close as well! As for the rest of Fayetteville, you are only 1.5 miles from the heart of Dickson Street, and one mile from I-49, which offers quick access to the rest of Northwest Arkansas, such as Devils Den State Park and Crystal Bridges Museum.
STAY, PARK, and TAILGATE all in one place!
Available for rental year-round, not just for football games.
Rentals only to adults over age 25.
ผู้เข้าพักใช้อะไรได้บ้าง
Hog Heaven Townhouse is 2000 square feet, plus a two-car garage.
การสื่อสารกับผู้เข้าพัก
Hog Heaven Townhouse is not otherwise occupied unless rented. The owners live in town and are generally available if needs arise.
---
ที่พักนี้มีสิ่งอำนวยความสะดวกการเดินทางที่สำคัญ
---
---
ไม่เหมาะสำหรับสัตว์เลี้ยง
เช็คอินได้ทุกเวลาหลัง 16:00
เช็คอินด้วยตัวเองโดยใช้ keypad
"Hog Heaven Townhouse" Reservation Deposit and Rental Payments:
All reservations must be made by an adult 25 years or older with a valid credit card or checking account. This adult MUST be staying in the Property for the duration of the rental period (hereinafter referred to as the "Renter"). Rental is not permitted for unchaperoned parties or groups of vacationing students. Such Renters will be subject to immediate eviction and forfeiture of all rental and processing fees, and taxes.
Rentals are subject to Fayetteville, Arkansas, state and local taxes. At the time of this publication, tax rate is 13.75%.
Cancellation of Reservations:
Cancellations will be processed and monies refunded if made within the first seven (7) days of the booking date. There will be a $100 non-refundable reservation processing fee, a $75 cancellation fee, and taxes on those amounts charged to process any cancellation and will be deducted from the initial deposit/payment. Pursuant to the section below, no refund will be made for reservations cancelled after the first seven (7) days of the booking date.
Travel Protection Insurance:
Please recognize that we will not issue refunds for cancellations, regardless of the reason. Any and all cancellation refunds would be paid to the Renter by a travel insurance carrier, if you choose to purchase insurance. AGAIN, NO REFUNDS WILL BE GIVEN, SO THE RENTER SHOULD LOOK TO INSURANCE TO PROTECT AGAINST CONTINGENCIES. Cancellations, late arrivals, or early departures for any reason will not result in any refund or reduction of rental payments or deposits from us. We do not offer travel insurance, so you will need to seek this out on your own if you are interest.
Security Deposit/Use and Occupancy:
A deposit in the amount of $350 is collected from each Renter at the time the reservation is made ("Security Deposit"). In accordance with the other requirements of this section, the Renter is responsible for all loss and damage to Hog Heaven Townhome (hereafter, "Property") caused by the Renter, the Renter's family and guests, and all other visitors allowed on the property by the Renter or the Renter's family and guests. The Property is inspected each week at check out, and any damage or missing items are reported to the Property Owner. The cost to repair or replace any damaged or missing items will be deducted from the Security Deposit. If damage exceeds $350, Renter agrees to reimburse Property Owners for excess amount within 14 days by credit card, check, or money order. Insufficient funds fee of $50 applies to any returned checks.
Linen/Housekeeping Service:
The Property will be cleaned to quality standards prior to your arrival and after your departure. You will be responsible for cleaning during your stay and for leaving the Property in good condition at check-out. We respectfully request your consideration in the proper care of the Property; please treat the Property with the care you would show your own property. We consider you to be our guest.
Laundry facilities are available on Property. The house will be stocked with a starter supply of trash liners, toilet paper, and dishwasher soap. Extra items needed are the responsibility of the Renter. Bed and bath linens are furnished and are not to be removed from the Property.
All items in the house should not be removed from the house at any time. Any items found missing at check-out will be replaced by the owner and the cost will be deducted from the Security Deposit. If cost of replacement exceeds $350 or contributes to the Security Deposit being exhausted, Renter agrees to reimburse Property Owners for excess amount within 14 days.
Pets:
Pets ARE NOT allowed in the Property. If evidence of a pet is found inside the Property or on the premises, you will be vacated immediately with no refund of any payments. If evidence of a pet is found, additional fees may be assessed for cleaning, disinfecting and professional flea treatment and deducted from the Security Deposit. In the event that these additional fees exceed the $350 Security Deposit, Renter will be required to reimburse Property Owners for excess amount within 14 days.
Smoking:
Smoking is STRICTLY PROHIBITED inside the townhouse. If evidence of smoking is found inside the Property, you will be vacated immediately with no refund of rental payments. Additional fees will be assessed for cleaning and will be deducted from your security deposit. If additional cleaning fees exceed $350 or contribute to the Security Deposit being exhausted, Renter agrees to reimburse Property Owners for excess amount within 14 days.
Family Oriented Vacation Properties:
Reservations will not be given to unchaperoned vacationing students or any other individuals under the age of twenty five (25) without a responsible parent or guardian. The parent(s) or guardians must occupy the rental Property during the entire confirmed rental period.
Reservations must be made and confirmed by an adult over the age of twenty five (25). Violaters will be evicted and all rental payments and deposits will be forfeited.
Occupancy Guidelines:
The maximum number of overnight guests is 13 for this house. That number is based on the home's ability to safely and comfortably accommodate our guests. If the maximum occupancy is exceeded, you will be asked to comply with the limitation or vacate the Property, forfeiting all rental payments.
The Property shall be used and occupied only by the individual person listed as "Renter" in this Agreement and by no other persons except for the Renter's family or invited guests. Renter shall not assign this Rental Agreement without prior written consent of the Property Owner. Renter shall not abandon or vacate the Property during the agreed upon rental period without first notifying the Property Owner. The property shall be used for residential purposes only. In no event shall the Property be used in any of the following manners or for any of the following purposes: (a) any illegal usage in violation of any laws, codes, or ordinances of the local, state, or federal authorities, (b) any manner which creates or permits a nuisance or trespass, (c) any manner which violates or increases the rate of insurance on the Property, (d) any manner which produces, reproduces or transmits sounds which are audible outside the property, (e) any manner which emits an odor outside the Property, or (f) any hazardous or wasteful activity. While on the Property, Renter shall not engage in or permit any drug-related criminal activity, or engage in or permit any activity that endangers the health or safety of others or engage in or permit any activity that is, in the Property Owner's sole judgment, otherwise injurious to the Property or to neighboring residents. Instances of such conduct shall include, but not limited to, Renter's permitting any family member(s), guest(s), invitee(s), or other person(s) to occupy or use the Property, to use, manufacture, purchase, sell or otherwise distribute illegal drugs or illegal-drug related paraphernalia in or about the Property, or to conduct any of the prohibited uses listed above. The restrictions contained hereunder are material obligations under this Rental Agreement. For purposes of this section, Property Owner's receipt of complaints from local policing authorities, neighboring residents or neighboring property owners shall be evidence that Renter has violated the foregoing restrictions and Property Owner may, in its sole discretion, terminate this Rental Agreement as provided herein.
Renter further agrees to leave the Property in the same or better condition upon vacating the Property. Renter shall not make any alterations or improvements to, or pain, wallpaper, drill holes in, install antenna or phone outlets in, or deface or otherwise alter the Property, or any walls, fixtures, appliances or equipment owned by Property Owner. Renter will be held liable for damages or injuries caused by any alterations made to the Property without the Property Owner's approval. Renter shall not place on the Property any items which have not been specifically approved by Property Owner. Renter shall not remove any of the Property Owner's fixtures, appliances, or equipment from the Property for any reason. The damages may be deducted from the Security Deposit at the cost to return the property to its original state. If damages hereunder exceeds $350 or contribute to the Security Deposit being exhausted, Renter agrees to reimburse Property Owners for excess amount within 14 days. If there are no damages under this section or any other section in this Rental Agreement, the Security Deposit will be returned to the Renter within 14 days of check out.
You will be notified by the Property Owner or Manager of any known damage to the Property prior to your rental period. If you notice any damage upon check-in that was not disclosed to you, please notify the Property Owner or Property Manager immediately.
Property Furnishings, Equipment and Utilities:
The house has a fully equipped kitchen, 2 televisions, central heating and air-conditioning. We cannot guarantee these or other appliances will operate at 100% availability. We have maintenance contractors that we can call for repairs, and we will do our best to have malfunctions repaired as soon as possible. That being said, we cannot guarantee a specific time period in which repairs will be made. Renters are asked to call or text us immediately with problems. It should be noted that, due to our close proximity to the football stadium, texts and phone calls to our cell phone may be slow to go through when football games are in process. Outages will be reported immediately, and every effort will be made to have them restored as soon as possible.
Locked closets and cabinets are maintained by Property Owner for personal use. Please respect these areas.
No compensation will be given for temporary outage of electricity, gas, water, cable, or telephone service. The operation and maintenance of these utilities is out of our control.
Property Owner Disclosure:
Property Owner will not be held responsible for acts of theft, vandalism, or other damages to guests' personal property or items left at the vacation Property or in public areas. If an item has been accidentally left at the Property, please contact us as soon as possible (Adriana Stacey (PHONE NUMBER HIDDEN)) and we will try to locate and return the item(s). Shipping costs are the responsibility of the Renter.
Property Owner or its representatives may enter the premises at any reasonable time to make repairs or for inspection of Property. Property Owner will attempt to contact Renters regarding the need to enter the premises during rental period, so please make sure we have an appropriate mobile contact number for Renter. Property may not be sublet.
For security purposes there is a security alarm, as well as sensors on all doors. These sensors record every time a door is opened or closed, and for how long the door is left open. The Property Owner is able to access this security system remotely, although no video is recorded. In addition, the heat and air system can be accessed by the Property Owner remotely.
Parking:
Parking for Property is ONLY allowed in the garage (up to 2 vehicles) and in the driveway immediately behind the garage (up to 2 vehicles). No parking is allowed in front of the unit or on the common townhouse driveway behind the Property.
Check In/Check Out:
Check in begins at 4:00PM CST.
Check out is at noon CST. No exceptions unless approved in writing by Property Owner.
At the Property Owner's option, violaters may be charged a per diem rate, starting with a charge of ½ day, if late check out interferes with cleaning, scheduled repairs, or the next arrival. If damages caused by Renter directly or indirectly result in the loss of subsequent rental income to the Property Owner, Renter will be liable to the Property Owner for the amount of lost rental income. This amount will first be deducted from any remaining balance of the Security Deposit, then will result in charges of the current rental rate for the dates during which the Property was not able to be rented, taking into consideration holiday, event, and peak season rates.
RENTER ACKNOWLEDGEMENT IS ATTACHED HERETO AND INCORPORATED BY REFERENCE. THE RENTER'S ACKNOWLEDGEMENT MUST BE SIGNED. PLEASE RETURN A SIGNED COPY OF THIS DOCUMENT. PLEASE INITIAL EACH PAGE AND SIGN ON THE LAST PAGE AND RETURN TO ADRIANA (EMAIL HIDDEN) OR FAX TO ((PHONE NUMBER HIDDEN). PLEASE CONTACT ADRIANA AT ((PHONE NUMBER HIDDEN) PRIOR TO SENDING FAX. RESERVATIONS ARE NOT COMPLETE UNTIL DEPOSIT IS RECEIVED AND DOCUMENT IS SIGNED AND RETURNED.
Renter Acknowledgement:
I, the undersigned Renter, acknowledge that I have read this entire Rental Agreement in its entirety. I understand the terms and agree to be bound by the provisions herein. I also acknowledge and agree that the Property Owner and his/her agents shall not be liable for any loss, damage, injury, accident or delay which may be suffered by Renter, Renter's family, children, guests, invitees or licensees by reason of: (1) Renter's failure to fulfill any condition of this agreement; (2) Renter's failure to comply with any requirements imposed by any governmental authority; (3) Any judgment, lien, or other encumbrance filed against the rented Property as a result of Renter's actions; or (4) the negligent acts or omissions of the Property Owner or any of his/her agents.
In consideration of being permitted to rent and occupy the Property, the guests (defined herein to include the Renter, his or her family members, agents, successors and assigns) do hereby (i) covenant not to sue Stacey Commercial Realty, LLC, its officers, directors, employees, agents, successors and assigns, or any person acting under its authority (hereinafter collectively referred to as "Releasees") and (ii) fully and finally release and discharge Releasees from any and all claims, demands, causes of action, lawsuits, sums of money, damages, liabilities, indemnities and judgments of any kind or nature whatsoever, including, without limitation, any claim for personal injury and/or death, AND INCLUDING, BUT NOT LIMITED TO, ANY SUCH CLAIMS WHICH MIGHT ARISE FROM ANY NEGLIGENT ACT OR OMISSION OF RELEASEES, that guests have ever had or may now or in the future ever have against any Releasees by reason of, arising out of, or in connection with the rental of the Property.

_____________________________________________(URL HIDDEN) ____________________
Renter signatureDate signed

______________________________________________ _____________________
Renter nameCheck in date

_____________________________________________(URL HIDDEN) _____________________
Renter address, city, state, zipCheck out date

Renter cell phone number and service provider: __________________________________
---
สำรวจตัวเลือกอื่นๆ ในและรอบ ฟาแยตวิลล์
ที่พักมากขึ้นใน ฟาแยตวิลล์: