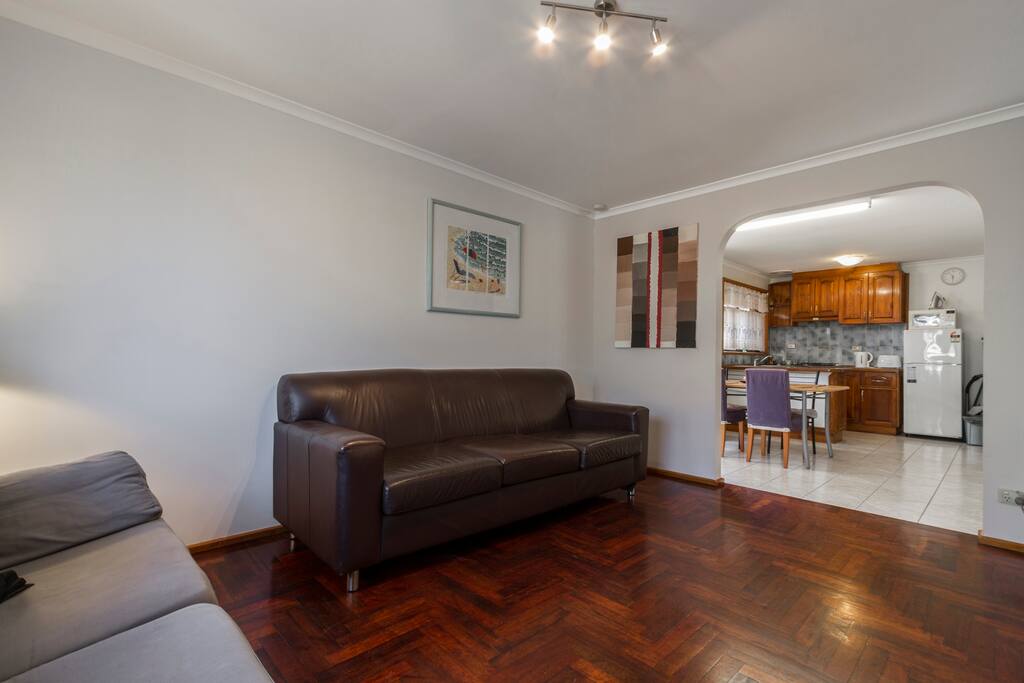 House-Only 9 MINS to Melbourne CBD!
Ideal for 2 couples, a family or 4 & maximum of 6 people.
- Conveniently located base for seeing Melb
- 9mins (7km) to Melbourne City CBD)
- Close to public transport and car parking available
- Open plan living dining
- All rooms painted 8 weeks ago
ที่พัก
Open plan living/dining and kitchen allows for sociable times in this great value house.
- Large master bedroom
- Double bedroom with 2 single beds.
- Toilet separate from bathroom
- Real wood floors throughout
- $30 per person per night after 4 people.
ผู้เข้าพักใช้อะไรได้บ้าง
You have private use of the whole house.
การสื่อสารกับผู้เข้าพัก
We fell in love with Melbourne when we came here and never left. We are very happy to proudly tell you about our home city and make your stay as smooth and enjoyable as possible.
You never know....you may not want to leave either!
สิ่งอื่นที่ควรรู้
Please note the address. The house is located on a 4-lane street (2 lanes either way). It can be busy during the day, but quietens at night time.
There is no gate over the driveway, so small children must be supervised in the front yard. Also if you need absolute silence to sleep, please consider the above carefully before booking.
---
---
พื้นที่ที่ใช้ร่วมกัน
1 โซฟา
---
เช็คอินได้ทุกเวลาหลัง 14:00
We expect you to respect the house as you would expect if we were a guest staying in your home. Most people are wonderful, but if you are the 1% that are thinking of not being respectful and decent, you had better read all the following very carefully:
*Key pick-up:* Key pick-up is from CBD Melbourne. Please telephone on the business day before the check-in date to arrange key pick-up.
*Keys:* Apartment comes with 2 full sets of keys and, if applicable, a remote for parking access. You agree to notify us immediately if you find there are not at least 2 full sets of keys and, if applicable, a parking remote. In the event, you return the house to us without the above, you agree to pay $300 to cover key / parking remote replacement.
*Check-in time*: Check-in is from 2pm. Note, we make every effort to ensure the house is prepared for check-in by 2pm. However, unfortunately from time to time exiting tenants fail to comply with the requirement to check-out by 10am. Where this occurs, as a matter of practical reality we may need to delay the check-in time to allow time to properly prepare the house after the late check-out.
*After Hours Check-in*: Our phones are turned off after 8pm. If you think you may be arriving after 8pm, you must notify us of this in advance so we know to keep our after hours phone on. Unless you have arranged for a late check-in, we will not be responsible if you have difficulties checking in after 8pm.
*Check-out time*: Before 10am.
*After Hours Availability*: We are contactable for emergencies on Saturdays, Sundays and public holidays from 9am to 9pm and on weekdays from 6pm to 9pm. We are not contactable between 9pm to 9am each day.
*Luggage*: As we do not have a physical reception, we are not able to store luggage for you prior to your check-in time or after you check-out if there is another guest booked that day.
*GST*: There is no GST component - our supplies are input taxed.
*E-mail correspondence*: If you have provided an e-mail address as part of booking an apartment, you are deemed to have received any e.mail sent by us to that address. Sending an e-mail to that address is deemed proper notice by us.
*Someone parks in your parking spot*: As frustrating as this is, we have no control over the bad behaviour of others. We are not liable if someone does this. In the event this occurs, your best alternative is to place a note on their windscreen. Sorry!
*Cleaning during your stay*: The standard price does not include cleaning services during your stay. We can, however, arrange this for you. The cost to you is $150 per clean. This include full apartment clean and linen change.
*Damage*: You authorise us to recover from you any loss we incur as a consequence of damage caused by you or your guests to the apartment or the furnishings in it. If you have provided credit card details to us, you authorise us to deduct up to $1,000 from your credit card for this purpose.
*Parties*: You are ABSOLUTELY PROHIBITED FROM HOLDING ANY TYPE OF PARTY, OR ANY LOUD GATHERING, IN THE HOUSE, EVEN A SMALL PARTY, OR A SMALL LOUD GATHERING ("DISRUPTIVE BEHAVIOUR"). You acknowledge that you are aware that Disruptive Behaviour will seriously disrupt other persons, especially those occupying other neighbouring houses. You agree that, if you hold any type of party, or any loud gathering, in the house, even a small party, or a small loud gathering:
(1) you will immediately be evicted from the house without any entitlement to any refund of any amount paid in respect of your accommodation, including for any period after the date of your eviction;
(2) you authorise us to immediately deduct up to $1,500 from any credit card the details of which you have provided to us for the purposes of deducting any other amount in respect of your accommodation;
(3) you will not take any step to challenge the deduction referred to in number (2) above via the issuer of the card, other otherwise;
(4) you will owe to us a debt of $6,500 less any amount we deduct from your credit card under (2) above which you will pay to a bank account nominated by us in full within two weeks of the date the Disruptive Behaviour occurs;
(5) if you fail to pay the debt referred to in (4) above within the time frame referred to in that clause, we will, without question, instigate legal proceedings against you to recover the amount; and
(6) the $6,500 referred to above is a GENUINE PRE-ESTIMATE of the loss we will incur if you hold any type of party, or any loud gathering, in the apartment, even a small party, or a small loud gathering, including mainly the loss which will result from the damage the Disruptive Behaviour does to our reputation among our other guests, the occupiers of other houses, neighbours, and local Council and our ability to continue conducting our business via the house having regard to action which might be taken against us by any one, or more, of the above mentioned persons either as a consequence of your Disruptive Behaviour on its own, or as a consequence of your Disruptive Behaviour taken in conjunction with other Disruptive Behaviour which has occurred previously to your Disruptive Behaviour, or which may occur in the future.
*Consideration of other tenants*: In consideration of other tenants, you must not make excessive noise in the apartment or public areas. The above penalties (1) - (5) apply.
*Utilities*: Utilities are included in the rental rate. However, you must ensure that all lights, air-conditioners and heaters are turned off when you are not in the apartment.
*Internet access*: We provide internet access for $7 per day by WiFi.
However, although we provide the maximum possible package with our Mobile WiFi, the maximum possible package still have significant download limits due the fact the connection is provided via a wireless signal. The limits will in no way restrict general web browsing, e.mailing, etc. However, they cannot be used for downloading movies and other large files.
If you opt for a mobile WiFi pocket, you agree;
(1) to a download limit equal to 200MB multiplied by the number of days you have rented the card for, e.g., a 7 day rental has a total download limit of 100MB multiplied by 7, i.e., 1,4GIG; and
(2) that you will pay to us: (a) 20c per MB downloaded in excess of the above limit; and (b) $250 if the card is not returned to us, or is returned damaged.
You should not use WiFi pockets to download movies, music etc. If you do any of these, you will most certainly exceed the download limit and incur the charge described above, which may require you to pay hundreds of dollars.
Make sure you disable automatic downloads for Windows, Microsoft, etc.
Do not leave the internet connected while you are not using your computer.
Be careful - If you have ever previously used your computer to download movies via a Bit Torrent program, the program may activate while you are connected to the internet (even if you are not aware that it is active) allowing others to download from your computer. This will most certainly cause you to incur the excess download charge described above.
If, for any reason, we are unable to supply internet, eg, for a technical reason to do with the provider who supplies internet to us, or due to a fault with our equipment, we will do everything we can to provide you with internet access as quickly as we can. However, will not be liable for any loss you incur as a consequence of not being connected. We will refund to you the amount you have paid for internet on those days when the internet was not available. You will not be entitled to any refund of your booking fee as a consequence of not having internet during your stay.
*House becomes not available*: In the very unlikely event an house you have booked becomes unavailable, we will take every step to notify you as early as possible and discuss any possible alternatives.
*Cleaning*: You must leave the apartment in a clean and tidy condition. Failure to do so may result in an additional cleaning fee beyond the exit cleaning fee of $60.
*Smoking*: Smoking is NOT permitted in the house but is permitted on the balcony. If you smoke in the house, you authorise us to deduct from your credit card or otherwise recover from you, $110 to apply towards having the furnishings deodorised.
*Access*: You agree that, although unlikely, we may need to access the house from time to time during your stay, eg, to attend to repairs (if necessary), or to show the house to prospective purchasers (under Australian law, the owner of a property is entitled to access the property for the purposes of showing the property to prospective purchasers on 24 hours notice). You agree that we may provide your mobile telephone number so that persons needing to access the house can arrange access with you directly.
*Repairs, state of house etc*: We will endeavour to ensure that all appliances etc. in the house are working properly, there is not damage to the house and the house is clean. If you notify us of a faulty appliance, or the house is not clean, or of something wrong with the house, we will take all reasonable steps to have the fault corrected as soon as possible. Where you notify us after hours, we will endevour to have the fault corrected as soon as possible on the recommencement of business hours. The existence of a faulty appliance or another issue with the house will not entitle you to any discount on the booking fee. In the event of a fault in the common area, eg, we will try to rectify as soon as possible. However, the existence of the fault will not entitle you to any discount on the booking fee.
*Exclusion of liability*: You agree we are in no way liable for any damage caused to you or your goods by a fault with the building, whether the damage is caused in the common area, or in the house, eg, by water coming into the house from the common area.
*Acts of god*: If your house is made unavailable as a consequence of an act of god, eg, a flood, you will not be entitled to a refund of your booking fee. You should ensure you are covered for this by your travel insurance.
*Don't leave valuables in the house*: Please don't leave valuables in your house. We will not be liable for any loss you incur as a consequence of someone stealing your valuables from your apartment.
*Don't leave valuables in your car*: Please don't leave valuables in your car. We will not be liable for any loss you incur as a consequence of your car being broken into.
*Extra beds*: Where we provide an extra bed, depending on the which house you are in, it will be a foldaway bed, a trundle bed, or a foam mattress. It will not be the same as the other beds.
*Telephones*: We do not provide telephones in the house. Please keep this in mind if you will be traveling without a phone.
*Furnishings*: The furnishings are of good quality brands and routinely inspected for damage.
*Air conditioners*: A portable air conditioner can be provided on request.
*Notice of last day:* You hereby given notice that you check-out date is the date noted in your booking confirmation.
*Jurisdiction* This contract between us is governed by the law of Victoria and you agree that you irrevocably and unconditionally submit to the non exclusive jurisdiction of the relevant state of Australia
---
Ben was a great host, welcoming, friendly and helpful. He generously provided us with bedding and towels. The place was very clean and Ben also left us with some basics (bread, milk, fruit). It was easy to find a cab into the city due to it being located on a main road. This is something to consider if you are a light sleeper. Overall a lovely experience.
---
Ben was very welcoming and attendant, going out of his way to meet us at the property after the plane was delayed; providing some bedding and towels; stocking the fridge with a few basics; and, sourcing an iron for my business shirt the next day. The property had clearly been well cleaned before our arrival. The property is on a busy road which should be taken into account if you are a light sleeper, otherwise well located for the freeway and buses.
---
สำรวจตัวเลือกอื่นๆ ในและรอบ Yarraville
ที่พักมากขึ้นใน Yarraville: