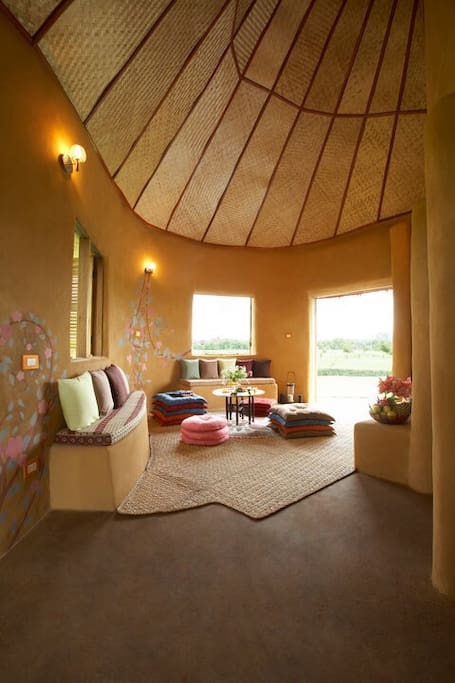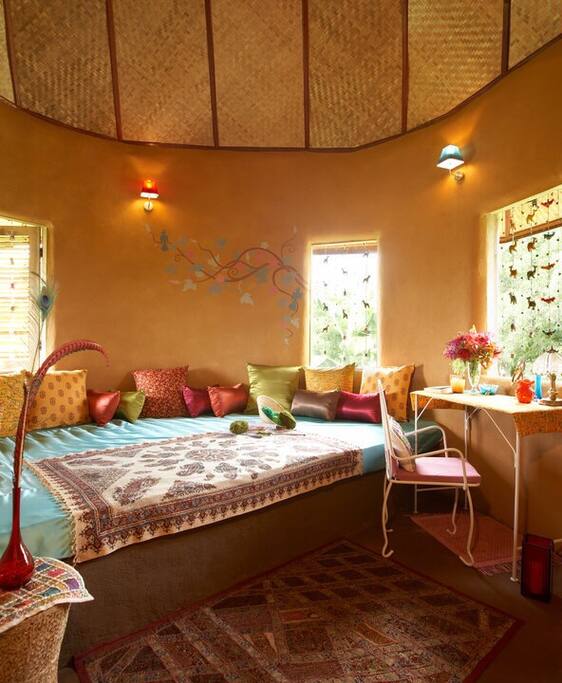 เกี่ยวกับที่พักนี้
Our clay-home is located in a small village in PHAYAO, a small province of the North of Thailand. You will enjoy staying with local people, clean food and activities that bring you to the new great experience.
---
ยินดีต้อนรับ: สัตว์เลี้ยงบางชนิด
ประเภทห้อง: บ้าน/อพาร์ทเมนท์ทั้งหลัง
---
---
---
Our clay-home is located in a small village in PHAYAO, a small province of the North of Thailand. You will enjoy staying with local people, clean food and activities that bring you to the new great experience.
the house was made by clay. there is an ancient knowledge to balance whatever season is, the inside is only comfy.
not only comfortable clay house, you will meet a humble house-designed by Noraset Chayavan- where you are going to meet my folk harvest their organic garden. You can have Thai Massage at home.
during the breakfast time. Gardening time and dinner time.
our community is a Thai-Lua tribe and also a safe village. we have Ka-La-Mae, Traditional home made Thai style coconut caramel.
We are 5 km. from Bus station and we can provide you bicycles.
we also provide lots of agricultural products in the name of Khum Lung Dee. Please visit us at (website hidden) : khum lung dee.
Kamlang Dee stands for two meanings.
One is Balance. the other, Strength.
Since 2006, our folks back home in a small valley village up north had a minor career shifted. At the time when most of their friends were retiring, they decided to start all over again. This time by investing into their own backyard. A piece of land no larger than 4 acres, little by little, with hearts and hands, the land turned into field of dream.
Kamlang Dee is the outcome of the new journey. The jasmine rice grown naturally after its yearly interval. A collaboration of nature and human, with the balance of earth, water, wind and fire, together with tender, love and care, free from any kind of toxic chemical, the land turned deepest green, filled with rice enriched in taste, touch and scent, the source foundation of well being and strength.
Like the old saying, "You can't go wrong with what you love". Certainly, supplying organic rice from a tiny rice field wouldn't make them the richest couple around. But, if you happened to pass by a small village in that hilly province of Phayao, you might hear laughters from a distance behind one of those hills. Chances are they're our folks, just going take care of Kamlang Dee Farm.
---
no drug, no smoking inside and take off shoes before entering the house.
---
ปานกลาง
ยกเลิกก่อนเดินทางมากกว่า 5 วัน รับเงินคืนเต็มจำนวน รวมทั้งค่าบริการ
---
---
My mother and I went and stayed at Bee's place for 3 days and it was without a doubt the highlight of our trip in Thailand! We have learned so much from Bee's family and their way of living. They were so generous, warm, genuine and the epitome of thai hospitality. My mother learned to cook from Bee's mom, we rode bikes in the rice fields nearby, we shared meals with Bee's large family and so much LOVE was shared!!!
---
Bee is really a great host. Her parents are very friendly and they treat you like you are part of the family. If you are open for new experience, you could catch opportunities to learn how the locals living their lives which I'm certain it will be a memory hard to forget. The food is really authentic. You could even pick a fresh vegetable from an organic garden in Bee's parent house next door. The place is also kids friendly and I'm sure this will be one of their memorable experience!
---
Staying in the clay house was indeed a unique experience. The place is pristine, nestled in between paddy fields. It is ideal for people who wants a break from the concrete jungle. We travelled by road to the clay house from Bangkok. Though it was slightly difficult to reach the place using our navigation, our host, Ms.Bee helped us navigate. The clay house is beautiful, well ventilated with cool breeze flowing through the windows and doors. The interiors are done very well with lot of attention to the details. The furniture is nice and relaxing. More importantly, Bee, with her friendly and helpful nature, made it a very memorable holiday for us. Her entire family was very welcoming and hospitable, we were allowed to use their bikes, to enter their kitchen and learn Thai cooking. The local dished cooked by Bee's mom were delicious and we were supplied with fresh fruits all through our stay. Bee took extra efforts to bring home an expert to cook and demonstrate a local delicacy for dinner. She took us on a trip to a nearby royal project cultivating vegetables. Our son made friends with Bee's cousins and enjoyed catching crabs from the paddy fields and playing with them. Thanks to Bee he had a most memorable holiday with many Thai friends, and he cherishes their friendship even after return. We all felt that we were part of Bee's family and are happy that we chose to stay at clay house.
---
This is THE amazing place I've ever booked via Airbnb. Perfect location in the middle of rice paddy, giving wonderful view of surroundings Unique design and decorations of the house, just like a quiet and sweet home. Bee is very friendly and helpful, so are her parents. We really appreciate all they did to give us a comfortable stay.
---
只是因为在airbnb上多看了你一眼,便立马因为这座clay house变更了行程计划。 这座白天被稻田环绕,夜晚被满天星星笼罩的clay house,给了我两个早晨的不同景致。 关于这座房子的一切都是最local最泰式的,从建筑工艺到屋内装置,从院子里随处可采摘的蔬菜香料到烹饪方式,从屋主及家人迎接的微笑到离别的拥抱。 另外不得不说一件事,在离开当天我们才得知,屋主Bee的爸爸在我们到达头两天发生了很严重的accident,所以只能临时由不会说英文的妈妈和在中学教英语的侄女Tech接替照顾我们的任务,我不知道她们不能去医院照看亲人还要微笑应对我们各种要求及操心我们早餐时的心情,但这一趟泰北乡村土屋之行,是我所经历最泰式最地道的泰国之旅。 另外提示:1️如直接点开airbnb手机版页面上的地图, map找不到地址,而Apple map直接导航进一片稻田,而且相差十几公里。正确做法是:输入Baan Saun Khum Lung Dee(帕尧府清堪县)即可。2️距离住址20几公里的 rai ruen rom organic fram有着270度环形视野的开阔餐厅,看夕阳位置绝佳,农场的经营理念及建筑设计绝对令人耳目一新。以上,拿走不谢~
---
กรุงเทพ, ไทย

·

เข้าร่วมตั้งแต่ มีนาคม 2015
อัตราการตอบกลับ:
100%
เวลาตอบ:
ภายใน 2-3 ชั่วโมง
คุณจะได้รับข้อมูลเกี่ยวกับที่ตั้งอย่างละเอียดเมื่อเจ้าของที่พักยืนยันการจอง
สำรวจตัวเลือกอื่นๆ ในและรอบ CHIANG KHAM
ที่พักมากขึ้นใน CHIANG KHAM: