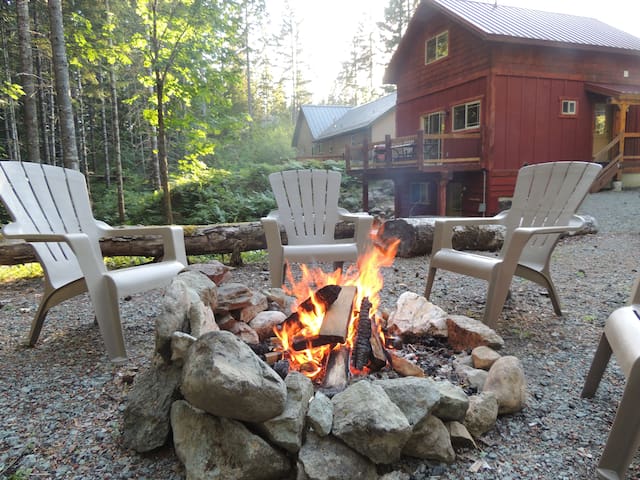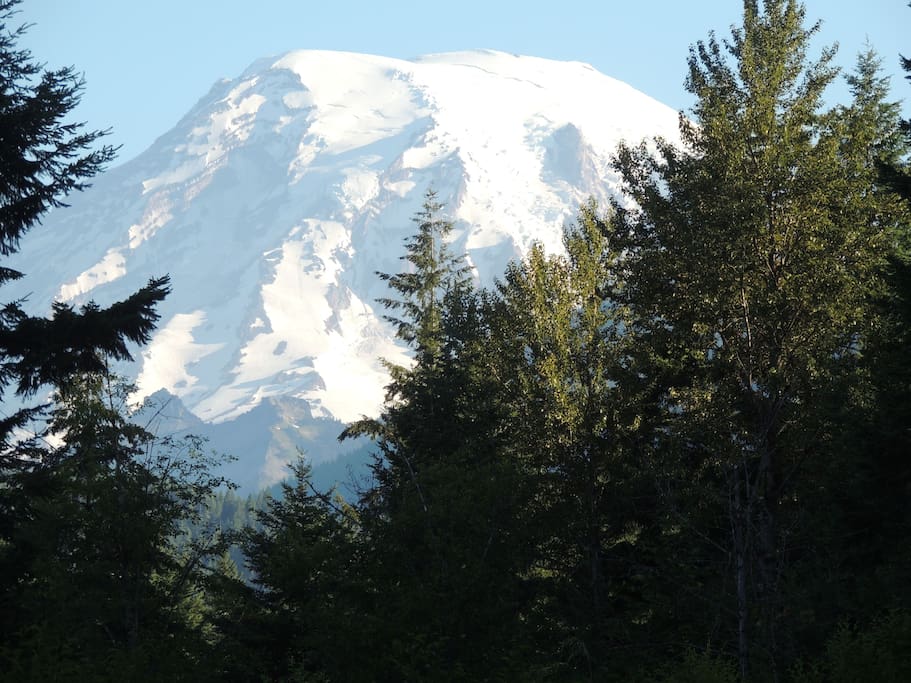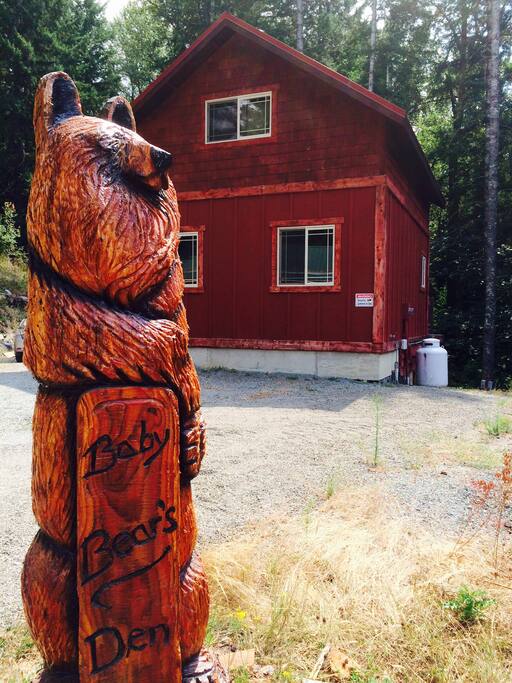 Newly constructed, cozy cabin with 50-jet hot tub under the stars. Cabin is situated near Mt. Rainier National Park/White Pass Ski Area. Within walking distance to Packwood's downtown shops. Perfect Romance hideout. Prices include Wa. Lodging taxes.
---
ประเภทห้อง: บ้าน/อพาร์ทเมนท์ทั้งหลัง
---
---
คนเพิ่ม: $25 / คืน ถ้าเข้าพักเกิน 4 คน
เงินประกันความเสียหาย: $300
ราคาช่วงวันหยุดสุดสัปดาห์: $189 / คืน
สื่อสารผ่าน Airbnb เท่านั้น
เพื่อเป็นการปกป้องการชำระเงินของคุณ อย่าโอนเงินหรือติดต่อสื่อสารผ่านช่องทางอื่นที่ไม่ใช่เว็บไซต์หรือแอพ Airbnb
เรียนรู้เพิ่มเติม
---
CHECK-IN (4:00 PM) PROCEDURES & REMINDERS:

1. Remove ski, mud, and hiking boots or heavy shoes in the downstairs entrance. We have also provided a coat rack for all wet or muddy outer wear (i.e. coats, ski pants, scarves, hats, etc.)
2. All skis, poles and snow boards should be stored down stairs, in the area where the washer and dryer are. Ski/board waxing should only take place in this area (bring your own rags for this purpose). Do not use cabin towels, linens, or rags!
3. NO smoking IN the house! Ash trays are provided on the back deck. Be sure all doors and window are closed when smoking..
4. NO open flame devices (candles, oil lamps or incense)! Evidence of these, will cause the loss of your security deposit.
5. NO pets allowed IN or ON the home's property! There is plenty of local wildlife to enjoy during your stay.
6. Do NOT dispose of grease or any garbage down the sinks. We do NOT have a garbage disposal.
7. Do NOT use wash cloths, bath or hand towels for mascara removal, or any type of cleaning that will result in stains (i.e. cleaning dirt/mud, pitch, grease, or tar removal off shoes, etc.).
8. Do NOT remove any blankets, throws, sheets, rags or towels from the home or its property for any reason. If you plan activities away from the property that need these items (i.e. swimming, boating, picnics, etc.), be sure to bring your own! Do NOT take blankets outside for any reason, especially around the fire pit.
9. NO SEXUAL ENHANCEMENT cream/oils/ointments & massage oils are permitted IN or ON bedding and furniture. Linens and fabrics require multiple treatments and repeated laundering, which is excessive, and not covered by your cleaning deposit. If your visit requires the use of such items, please BRING and USE your own bedding (NEVER remove the mattress pad cover)! If we find our linens with these products on them, we will withhold the cost of replacement from your security deposit.
10. Bathrooms: THIS IS IMPORTANT!!!
Our cabin is on a septic system. That means the only things that can be flushed in the toilets are what your body deposits and toilet paper. A septic system is totally different than a regular city sewer system and requires a little more care to ensure it continues to work. DO NOT flush diapers, feminine products (including sanitary napkins, tampons, or applicators), excessive amounts of toilet paper, or grease. If these items are put into the toilet, it will cause the septic system to stop functioning……which leads us to the NOT dump grease into the sink. Please find a suitable container to put grease drippings into and dispose into the trash. We know these requests sound like we are being hard-nosed about this, but a good working septic system will make your stay nicer and for those who follow you.
11. The heater is set to 62 degrees for all hours of the day. To boost the heat to the desired level, press the up arrow buttons until the desired temperature is found, then press the "Hold" button on the left side of the thermostat. This will "hold" the temperature to the setting you desired. If you could please press the "Run" key on the left side of the thermostat when you leave the premises, that will return the temperature to 62 degrees. This will help us with our utility bills and keep rental costs down . There currently is not Air Conditioning in our home. Opening the upstairs windows will pull cooler air from the basement if one opens a window in the basement.
13. The home has a HOT WATER ON DEMAND SYSTEM. For hot water, turn faucet all the way to hot. Once hot water begins to flow, back it off very slowly with single-handle faucet, or add cold with double-handle faucets. If you add too quickly, you will get cold water only. If this happens, turn it off completely off, wait a few seconds and start the process again. You will get used to it.
14. We have city water, and the pressure is poor. Dishes in the DISHWASHER MUST be scraped and rinsed well before putting them in the dishwasher. We do not have a garbage disposal! It is best not to run the dishwasher when water is being used for other purposes. Again, DO NOT pour grease down the sink. Put in a separate container and place in the trash. Dish washer detergent is under the sink. Fill the compartment for the soap and close the door. There are still some books and decorations within easy reach of babies and toddlers. Please put these items out of reach, and return them when you leave.
15. We are not responsible for lost, stolen or abandoned articles. There will be a $30.00 plus shipping & handling fee required for returned items.

CHECK OUT (11:00 AM) PROCEDURE:

Laundry: If the comforter, blankets or pillows have been soiled, please leave a note for housekeeping so they can take appropriate action. Start a load of towels (preferably the heavy colored beach towels). Place all remaining wet wash cloths and towels (except colored beach towels) in the laundry tub(s) located in the basement near the washer and dryer.
Kitchen: The kitchen should be returned to the same condition in which you found. ALL surfaces should be washed including: stove, its drip pans, counters, table, high chair (if used), and cupboard faces (if necessary).
Dishes/Dishwasher: Load and run before you leave (housekeeping will empty and return dishes to their proper locations. All hand wash dishes should be clean, dried and put away. Be certain casserole dishes and oven racks have no baked on food (RESIST the temptation to cook pizza on the oven rack – a pizza stone, pan or cookie sheet has been provided). Pots/pans and their lids should be scrubbed (no grease, food or scorching - inside or out). There is an hourly charge if we find them in this condition.
Refrigerator: Remove all unused food (except condiments) from refrigerator and freezer.
Garbage: Collect all trash throughout the house (kitchen, bathroom, and bedrooms, etc.) and remove to the small, wooden-fenced enclosure across the street from the cabin before you leave. Don't forget to police the outside for litter including: food/candy wrappers, gum, cans, bottles, bottle caps, boxes, bags, nut shells and cigarette butts (please empty ash trays outside, not inside the cabin), etc.
Thermostat: Please press "run" on the thermostat to set the temp at 62 degrees.
Lights/fans: Turn off all overhead and exhaust fans and lights, except exterior light by the back door.
Windows and Doors: Close and lock all windows and doors, and exit through the same door you entered with the electronic door opener.
Miscellaneous: If you used binoculars, books, movies, cards, games or puzzles, replace them in their original containers, and put them back where you found them.

You DO NOT need to dust, sweep, mop, vacuum, scrub bathrooms, remove sheets or make beds. That's what you paid the cleaning fee for.


Hot Tub Warnings

Remember, there are certain health risks associated with hot tub use, especially if you are elderly, have heart problems, under 12 years of age, or pregnant, so use at your own risk.

In ALL situations, hydration is a requirement for hot tub use. Drinking advanced electrolyte replacement water is also recommended before and after hot tub use. If you fall in the following categories (consult your physician before use)Insensitivity to HeaPregnanc Fever
Cardiovascular ConditionMenstruatio Children
Alcohol / Alcohol AbusJoint InjurThe Elderly
ImplantPacemaker / DefibrillatoMedications
Chronic Condition Hemophiliacs / Individuals Prone to Bleeding
Diseases Associated With A
Reduced Ability To Sweat Or Perspire

The hot tub is an expensive piece of equipment intended for your pleasure, but evidence of breaking the rules (e.g. food of any kind, food wrappers, spilled liquids, or marks/stains) is cause for losing your security deposit.

HOT TUB USE
We recently discovered locals had been using our hot tub between renters, so we added locks. The hot tub is locked with a padlock and cable. To unlock, the key is located to the left of the exit door of the basement level. Once the cable is unlocked, there is no need to thread it through the handles of the hot tub cover prior to opening the cover. Just simply lift the cover and the cable will move with the cover. Once you have the front half of the cover open, move to one side of the tub and pull up on the bar to fully open the cover. If you lose the hot tub key, there will be a $35 replacement charge taken out of your security deposit. Make sure to return the key to the holder inside the downstairs door.
The temperature of the hot tub is 102 degrees. We find that this temperature is a comfortable setting to allow a good, relaxing stay in the tub without having to "cool off" frequently. The system has a timer on it, so if you stay in for a long period (be careful in how long you stay in!), the jets may shut off. Just simply press the Jet 1 or Jet 2 button to restart circulation. All the Air/Water Jets and other control knobs are labeled for your convenience. When you are done using the tub, please put the cover back on. The mechanism makes it really easy to put the cover back on.
Remember, there are certain health risks associated with hot tubs, especially if you are elderly, have heart problems, under 12 years of age, or pregnant, so use at your own risk. The following rules are posted on the refrigerator at the Baby Bear's Den Cabin.
1. No scented oils or fragrances please . . . allergies.
2. Do not use hot tub in lieu of bathing, shower first.
3. Rinse your feet if not wearing flip flops (hose next to back door) before entering hot tub.
4. No one 18 or younger is permitted in the hot tub without an adult in the tub AT ALL TIMES! Children must be completely toilet trained and out of diapers.*
5. Absolutely no sex or nude bathing in the hot tub . . . neighbors! Ours beds are cozy!
6. No Food or Drink in or around hot tub!! Please stay hydrated – drink before and after each session.
7. Manufacturer recommends no longer than 30 minute sessions.
8. Hooks for towels are provided on the side of the house just outside the back door.
9. After session dry feet before entering cabin. TILE IS SLIPPERY WHEN WETDiapered and young children are NOT allowed in the hot tub! They are at risk! The core body temperature of children rises much faster than adults. This occurs due to a higher metabolic rate per body mass, limited circulatory adaptation to increased cardiac demands and the inability to regulate body temperature by sweating, and their sensitive skin is less tolerant of the chemicals needed to keep water levels balanced. Also, they put others at risk by urinating or defecating in the water
Again, the hot tub should NOT be used in lieu of a bath or shower. Please have your whole party shower before using the hot tub, and be certain to take FLIP FLOPS or something for your feet so you can get in and out without getting gravel inside the hot tub. There is a hose next to the back door that can be used to rinse your feet if you forget foot wear.

FIRE PIT
1. Matches – In the kitchen nook window.
2. Wood – under back deck. Kindling not provided.
3. Do not leave fire unattended. Hose by hot tub.

B-B-Q
We have provided a charcoal BBQ (charcoal not provided). We find that the EasyLight BBQ briquettes are the best (the IGA carries them in Packwood).

TELEVISION
The television in the front room is a "Smart TV"; meaning that it will automatically log itself onto the internet when it is turned on. There is an existing Netflix account on the TV, but is the very basic Netflix package. Using the remote, you can also log in to Amazon, Hulu and other on-line TV services (as well as using your own Netflix account). This TV remembers everything, so if you log into your account, and if it gives you the option to save your password, it is recommended for you to NOT save your password. If your password is saved, any renter/owner that uses the TV after you will be able to use your account. If the TV does save your password, upon departure, log into your account with your own web device and change the password.

Disclaimer: The Internet/Web service to Packwood has limited bandwidth when there are a lot of people visiting the area, which can lead to slow speeds and buffering of your programs. We have provided the highest speed internet that is available in the area and have updated our router to a highly rated version. If you have issues with the speed of service, it is due to the bandwidth of our provider and thus, is beyond our control.

In addition to WEB TV, local channels (Portland/Seattle) are currently unavailable.
LOFT DAY BED
This bed can be slept on as a twin bed or pulled out (the drawer unit pulls out) into a double bed. Do not separate the two halves because it will break (it cannot support even the weight of a child when separated).
---
---
เครื่องตรวจจับคาร์บอนมอนอกไซด์
---
---
พอร์ตแลนด์, โอเรกอน, สหรัฐอเมริกา
เข้าร่วมตั้งแต่ มิถุนายน 2015
We are a couple who enjoy life and spending time with friends and family. We bought our cabin because we enjoy Packwood, Mt Rainier National Park, and skiing. The cabin is considered a "retreat" for us away from the "busyness" of life in Portland. We enjoy the things it offers: peaceful surroundings, hiking, wildlife, and scenery; things that are very important to us.
ภาษา:
English
สำรวจตัวเลือกอื่นๆ ในและรอบ Packwood
ที่พักมากขึ้นใน Packwood: