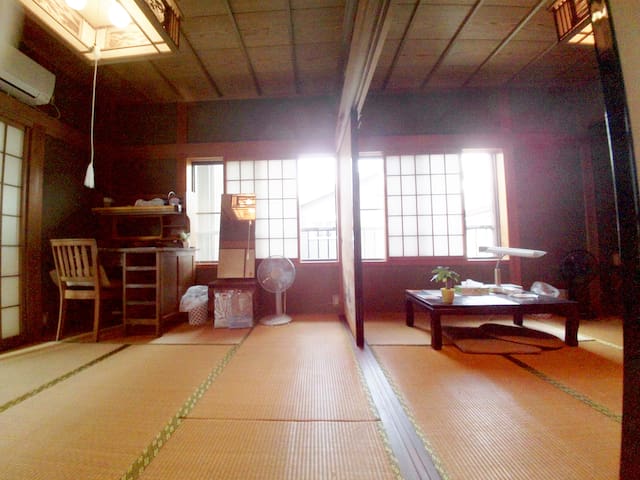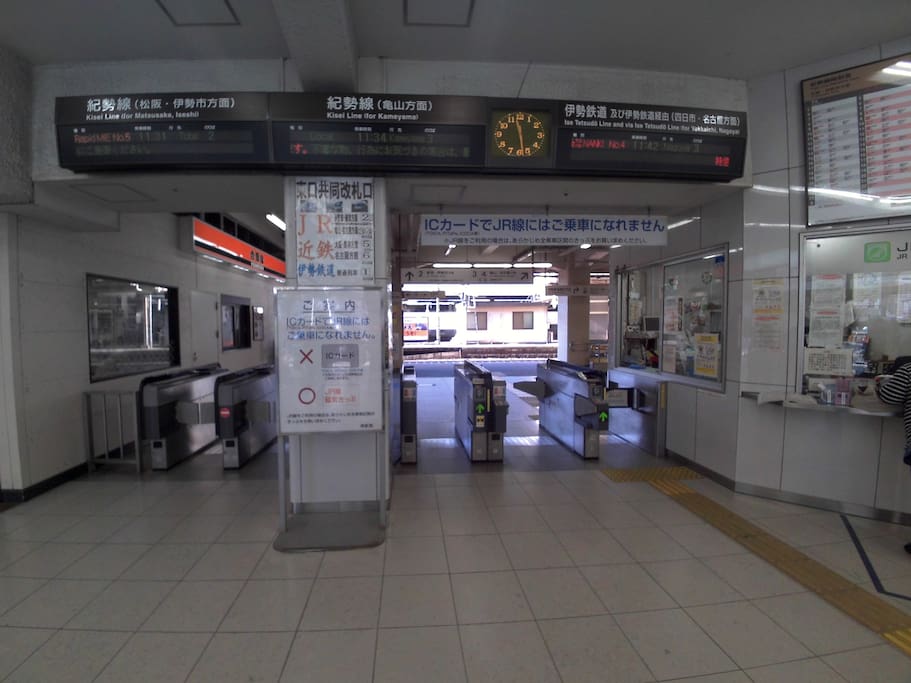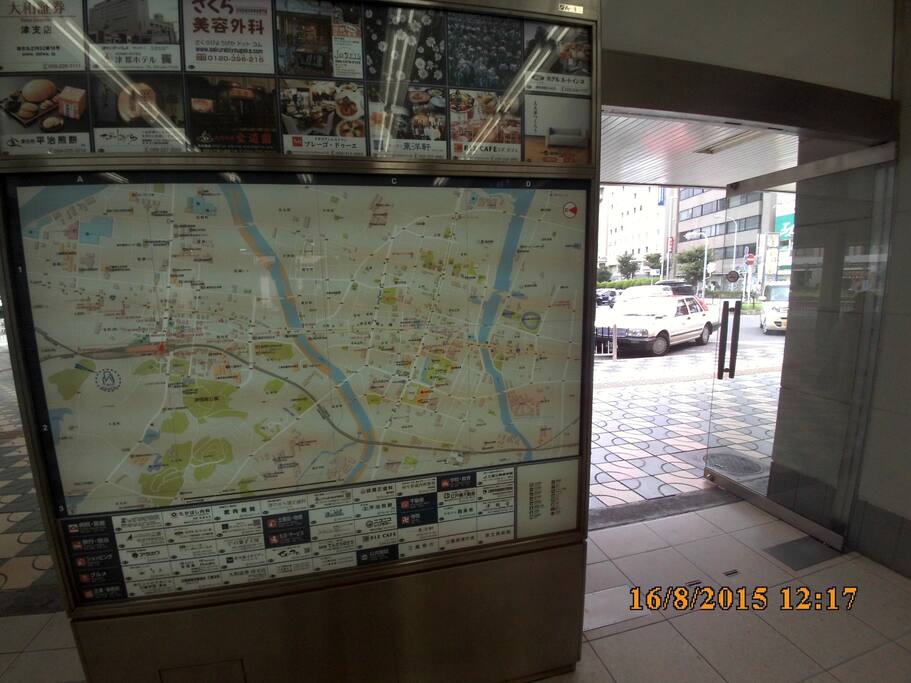 3min walk from Tsu stn; WiFi usable 津駅から徒歩3分 &WiFi
3min walk from Tsu stn; WiFi usable 津駅から徒歩3分 &WiFi
คุณสามารถมาถึงบ้านของฉันได้โดยเดิน 3 นาทีจาก t (s) u สถานีรถไฟ ห้องพักแบบดั้งเดิม 2 ห้องพร้อมด้วยทาทามิ + ฮันตัน WiFi โต๊ะทำงานเครื่องปรับอากาศกาต้มน้ำไฟฟ้าพัดลมกระจกยาวผ้าเช็ดตัวเตารีดไอน้ำเตารีดไอน้ำเครื่องเป่าผม
you can arrive to my house by 3 min-walk from t(s)u railway station. 2 traditional rooms with tatami+huton, WiFi, desks, aircon, electric kettle & fan, long mirror, face towel, steam iron+ironing boards, hair drier, card- and go-games, kotatu, sink.
ที่พัก
日本人予約希望者は日本語版を開いてください。
attention:
1) I CAN'T SUPPLY THE LATTER "B" OF AIRBN"B", BECAUSE I AM LIVING ALONE WITHOUT DOING COOKING EVEN FOR MYSELF. YOU CAN BUY ANY MEALS AT BENTOU SHOP ON THE 2ND FLOOR OF THE STATION OR "LAWSON", THE NEAREST CONVENIENCE STORE, WHICH HAVE BEEN DESCRIBED BELOW ACCOMPANYING WITH PHOTOS.
2) all descriptions of japanese proper nouns follow to the kunrei-siki (japanese government-designated) romanization system. the kunrei-siki differs from the hepburn system in the following examples:zi: ji, hu: fu, ti: chi, tu: tsu, tya: cha, tyu: chu, tye: che, tyo: cho, sya: sha, si: shi, syu: shu, sye: she, syo: sho. in addfition, the following units of political district names differ from english words: ken=prefecture and si=city. 在另一方面,提出了中国翻译由 the (SENSITIVE CONTENTS HIDDEN) translator 量身定做的,我无法判断其准确性。
请注意,以中国客人:
请仔细阅读中国语言小册子 (公益社团法人北海道观光振兴机构 发行(查询): 观光礼仪指南: 北海道旅行常识) 放在前室服务。它的描述也可以适用于这些其他非指定到北海道为在日本房屋,商店,和建筑物期望的行为的地方和在相邻道路和土地。尤其是年轻的中国女性:
请丢弃卫生巾经血成箱放在为此目的在厕所里。
********************************
you can use WiFi service in my house (after setting of your mobile phone or note PC, including code number input). if necessary, please ask me about the code number. a pocket WiFi is not available. on the other hand, many free WiFi places in the outside of my house have been described in detail in "The Neighborhood" article with some photos.
both rental rooms are on the upstairs and are traditional japanese tatami rooms. for sleeping, you use huton directly extended on tatamis. each of the rooms has a square size of 350x260 cm wide and 260 (ceiling) and 180 cm (lintel with grooves for sliding doors) height. i can accept four guests in maximum numbers at the same or partially same time. the back room have a standard desk and chair. the front room have a traditional japanese low desk with a size of 104 (L) X 61 (W) X32cm (H) and this low desk has a summer or winter type "zabuton (=literally, huton for sitting= cushion)" and no normal chair (a legless chair for exclusive use for the low desk can be used and please ask me.) both the desks have a fluorescent lamp each. a trash container has been placed in each room. women guests must not throw away their sanitary napkin in the trash container; do in the sanitary napkin box placed in the rest room.
you can use a microwave oven placed in the back room. you must use the oven only for drink such as tea and juice and not for a bentou. please take the bentou in the shop you bought it or in the international communication floor of the UST bldg.
you can use playing card-, go-, japanese traditional "hanahuda-card-," and UNO games placed on the low table in the front room.
a powder table with a long mirror has been placed in the back room only (see photo.) when you use this mirror, remove a cloth cover and cover again after use.
NOTICE:
when use the mirror, you must not comb your hairs in the room by using the mirror, because your falling hair very disturbs cleaning the tatamis and hutons. combing your hairs must be done in the outside of my house, e.g., rest rooms of the tu station or UST bldg. at present, i absolutely strictly inspect fallen hairs.
当使用镜子,你不能使用镜子,因为你掉落的头发很扰乱清理塌塌米和hutons梳理在房间里你的头发。梳理你的头发必须在我家外面来完成,例如,休息站或UST大厦的客房。目前,我绝对严格检查堕落的毛发。
two kimono-style night clothes have been placed in front of the mirror, ready for two guests.
two to four guests in the same night are normally limited to a family or friends. in the case of three to four guests, two or one guests can occupy one room. the reason of this condition is
that the guest of the back room can go downstairs by passing through the front room and also
that both two rooms have no locks (=room keys.)
[ENGLISH BROADCAST]
you can listen to an english broadcast of the american military radio (AFN= american forces network) at any radio stations located in japan and korea listed on the following site by using your note PC (or mopbile phone?) in your staying room:
(URL HIDDEN)
[HUNGER-HOOKING PIPE]
a pipe used for hooking a hanger for your clothes has been installed in a half-sized closet of the front room (see photo.)
[WASHING YOUR CLOTHES]
if you, who has stayed for three or more days, want to wash your clothes, refer to description "dry cleaning shop" in THE NEIGHBORHOOD, OVERVIEW、[LAUNDRETTE]
you can dry small clothes such as socks, underwears, and T-shirts, which you washed in the sink, on the veranda by using one of two drying tools, which have been described in THE SPACE. you can also use a steam iron and ironing boards shown in photos.
[CLOTHES-DRYING POLE]
you may use a CLOTHING DRYING POLE of the veranda outside (south) the back room. you may use two hanging-type drying tools, which have been placed on the top of a vacant bookcase in front of the front room and should be hooked on the laundry pole. you may use electric kettle, hair drier, and two tools, which have been placed on the bookcase, for drying a washed small thing. you may also use the vacant bookcase itself.
[REFRIGERATGOR and ICE CUBES]
you can use a refrigerator placed on the kitchen of my private room of downstairs by asking me. if you will want to use it, please ask me in the day before your arrival, because i am not using the refrigerator and its AC source has been switched off; switching-on is needed before the day of your arrival. in addition, if you want to use ICE CUBES, request me about making ice by using a CUBE tray ahead of time.
[AIR CONDITIONER]
seasonal room- or body-temperature can be regulated by an air conditioner installed in the back room. additional tools are described below.
1) in summer, you can use an electric fan placed in each of the two rooms.
2) in winter an electric "kotatu" is usable for warming your lower body and hands+arms on a tatami. if you want to use the kotatu, please ask me about the way at your arrilval to my house.
ผู้เข้าพักใช้อะไรได้บ้าง
1) ห้องสุขา (1) คุณสามารถใช้กระดาษที่นั่งแบบใช้แล้วทิ้งได้ (2) ปล่อยกระดาษชำระและกระดาษหุ้มที่นั่งที่คุณใช้ลงไปในโถสุขภัณฑ์ที่ปิดสนิทซึ่งคุณนั่งอยู่ กระดาษชำระญี่ปุ่นไม่เคยทำให้ท่อระบายน้ำเสีย 2) อ่างล้างจานขนาด 70 ซม. ตั้งอยู่ในห้องชั้นบนของพื้นไม้ด้านตะวันออกเพื่อล้างหน้า นอกจากนี้การเช็ดร่างกายร้อนและชื้นของคุณในฤดูร้อนภาษาญี่ปุ่นเป็นไปได้ด้วยผ้าเปียก ถ้าคุณไม่มีผ้าเช็ดตัวคุณอาจใช้มันถูกระงับไว้ที่ด้านหน้าของประตูของอ่างล้างจาน ..... ผ้าเช็ดตัวจะค่อนข้างแห้งโดยเช้าวันรุ่งขึ้น คุณสามารถใช้สบู่กระดาษทิชชูถ้วยกระดาษและกระดาษทิชชู่ได้อย่างอิสระซึ่งวางไว้บนแท่นวางติดกับอ่างล้างจาน คุณต้องโยนถ้วยกระดาษที่ใช้แล้วลงในถังขยะที่วางบนพื้น เมื่อคุณไม่มีแปรงสีฟัน + แปะคุณอาจใช้ยาสีฟันฟลูออรีนที่มีส่วนผสมของแปรง (มีประสิทธิภาพสำหรับโรคปริทันต์) หรือเป็นปกติ (ปิดผนึกพร้อมกับแปรง) ทั้งสองชิ้นวางอยู่บนขายึด แต่ผมขอแนะนำให้ใช้แปรงเท่านั้น ฉันเองทำเช่นนี้ทุกวันเพราะยาสีฟันให้ผู้ใช้มีผลไม่ดี (การขัดถูทางทันตกรรม)
1) toilet
(1) you can use a disposable seat-paper.
(2) release the toilet paper and seat-paper you used to the water-sealed sanitary bowl you are sitting. the japanese toilet paper never choke the sewage pipe.
2) 70cm-high sink located in the east wooden floor room of the upstairs, for washing your face. also, wiping your hot and humid body in japanese summers is possible by a wetted towel. if you have not the towel, you may use it suspended in front of the door of the sink.....the towel will fairly dry up by the next morning.
you can freely use a soap, tissue paper, paper cup, and toilet paper, which have been placed on a wire stand adjacent to the sink. you must throw the used paper cup in the trash container placed on the floor.
when you have not the toothbrush+paste, you may freely use either a fluorine gel-containing toothpaste (effective for periodontal disease) or normal one (sealed together with brush.) both have been placed on the wire stand. however, i recommend to use the brush only. i myself am doing so everyday, because the toothpaste gives a user a bad effect (dental abrasion.)
การสื่อสารกับผู้เข้าพัก
โดยทั่วไปคุณจะถูกทิ้งไว้ตามลำพังในบ้านของฉันเพราะคุณอาจจะเหนื่อยเมื่อมาถึง แต่ถ้าคุณต้องการฉันจะสนุกกับการสนทนากับคุณเกี่ยวกับหัวข้อต่างๆ ฉันให้ความช่วยเหลือแก่คุณเมื่อฉันสามารถทำได้หากคุณได้รับคำร้องขอก่อนเวลา 21:00 น. โปรดอย่าพยายามติดต่อฉันหลังจาก 21:00 น. โดยเฉพาะอย่างยิ่งผมยินดีต้อนรับผู้เชี่ยวชาญและนักศึกษาระดับปริญญาตรีและปริญญาตรีสาขาวิชาทั้งหมดรวมทั้งวิทยาศาสตร์วิศวกรรมศาสตร์และมนุษยศาสตร์เพราะการสนทนาอัจฉริยะเป็นไปได้
basically, you are left alone in my house, because you may be tired at arrival. but if you desire, i will enjoy a conversation with you about various topics.
i provide you any help when i can do it, if you made a request before 21:00. please don't try to contact with me after 21:00.
i particularly welcome experts and graduate and undergraduate students of all fields including science, engineering, and humanities, because intelligent conversations become possible.
สิ่งอื่นที่ควรรู้
check-in and out time: flexible, but please tell me about the approximate times before the day of your arrival.
at present, my bath room including a bathtub and shower is not usable.
you can use one of the following public bathhouses. i can lend you my two bicycles to go to the public bathhouse.
1) SAKURA-YU at a charge of only \200.
this public bathhouse is located in AIOI-TYOU 192 by 10-15 min walk from my house. No shower room and hot + warm baths only. i can provide you two bicycles free. if you request, i can provide serial 20 photos of the route from my house to SAKURA-YU as a compressed folder format. Because you may sweat in the way back even if you go to the public bath, using the public bath may becomes meaningless after all in hot and humid japanese summer.
phone: none (due to management by the tu municipal office)
usable in: 16:00-21:30 (limit time of paying the bathing charge)
parking: for many cars
closed: thursday
2) if failed to enter SAKURA-YU before 21:30, you can use another public bathhouse named SIKISIMA-YU located in OTOBE 23-20, with the distance of 30-minute walk from my house and 13-minute walk from SAKURA-YU.
charge: 380
phone: (PHONE NUMBER HIDDEN)
usable in: 15:30~22:30 (limit time of paying the bathing charge)
closed: wednesday
shower and sauna rooms: present
parking: seven cars in the left side (+many illegal sidewalk parking)
when you arrive at my house in the time between 21:00 and 22:00, you can use SIKISIMA-YU only. in this case, I can send you "Print Screen" image of the route as an attached file. the half of the route (between my house and the pedestrian crossing of highway 23) is same as that to SAKURA-YU.
**************************************
about a BAGGAGE with CASTERS:
please place it in the inside of the entrance or, if it is small, on a long wooden rest (on which 15 tourist guide leaflets treating tu-si and mie-ken have been placed) placed on the top of the staircase. BE CAREFUL about that the casters used for rolling on a ground cause highly probably an injury of wooden floors and staircase. IN FACT, although a guest wiped soil attached to casters before lifting the baggage to carry it in the room, the guest injured the wooden floor in front of the entrance in a long zigzag shape at the time of leaving my house by a careless manner. the color of the floor is dark and, in contrast, the injury is white to give it prominence as the result.
*************************************
you can use a printer and facsimille in the 2nd floor of the UST bldg.
emergency phone numbers unnecessary of dialing any other numbers: police 110, ambulance 119.
hospitals and other medical institutions: consult with me.
no supply of a breakfast and any other meals.
for meals, please refer to the restaurant info described below
(The Neighborhood).
japanese tap water is hygienic and everywhere drinkable.
中国的客户:日本的自来水是卫生和无处不在饮用。
no kitchen available in my house. i recommend you to use the bentou shop named Mino-misyou on the upstairs of the tu station bldg. in this shop, you can buy a bentou at a 20- or 50%-discounted price to sell the lunch at 330- to 600-yens at 6:30-7:30 p.m., every day. you can take the bentou up to 19:30, which you bought, in the shop after warming the bentou by using a microwave oven equipped in the shop. In addition, you can take free green tea by pouring it in a free paper-cup.
though you can also buy a bentou in Lawson, the bentou contains too much rice and it is unhealthy. please don't take the bentou in the rental room.
you may call in (PHONE NUMBER HIDDEN) (this is my fixed telephone; no mobile one) at your arrival to the front of the ticket gate of the east exit/entrance of the tu railway station and, then, i will go out my house to receive you. because there is it to an answering machine, the telephone, please leave a message. this condition is also applied to that of the case of using the Centrair air port+ferry+bus (to ride, go straight after getting off the ship without entering the port bldg; the terminus is the tu stn.) at port, there is a rent-a-car office.
when use an automobile, you can use one of the following three large coin parking spaces:
1) when you use "meitetu kyousyou tueki higasi" coin parking space located in 204, sakae-mati 3 needing only 20 steps from my house. photos of this parking space have been presented as Nos 64 to 66.
2) name: sankou tyuu-ing (tu-eki)
100 yens/ 60 min
max. 800 yens/ 24hours
capacity: 48 cars
place: hadokoro-tyou 399
(URL HIDDEN)
(URL HIDDEN)) you may call my fixed telephone number just after you arrive at the front of UST bldg's parking lots, which have been presented herewith as nos 62-64 photos.
when you leave my house, you can unlock the entrance door by yourself because the lock has a sliding system without using a key. simply, slide up the handle. at your leaving, i need not your greeting. in this case, please let me know your leaving time on the day (night) before.
when it rains in your leaving from my house, you can use one of four cheap viyl umbrellas ready for guest's emergency use, which can be discarded without returning.
---
---
คนเพิ่ม: $35 / คืน หลังผู้เข้าพักคนแรก
เงินประกันความเสียหาย: $276
สื่อสารผ่าน Airbnb เท่านั้น
เพื่อเป็นการปกป้องการชำระเงินของคุณ อย่าโอนเงินหรือติดต่อสื่อสารผ่านช่องทางอื่นที่ไม่ใช่เว็บไซต์หรือแอพ Airbnb
เรียนรู้เพิ่มเติม
---
พื้นที่ที่ใช้ร่วมกัน
5 เตียงเดี่ยว
---
ไม่มีงานสังสรรค์หรือเหตุการณ์
เวลาเช็คอินคือ 08:00 - 01:00 (วันถัดไป)
uipped in the rental (URL HIDDEN) following house rules were printed and has been placed on both desks of the rental rooms.
0) please take off your shoes in front of the wooden floor to lift your body up to the wooden floor. during your stay, you must put the shoes you took off on the approximately same above position and must not put the shoes on the back and any other places than those above-described, in order to avoid putting your foot on the dirty ground (soil) in the inside of the entrance.
请脱鞋的木地板前解除您的身体达到了木地板。您的逗留期间,你必须把你放在大致相同的上述立场脱下鞋子,不能把背部和任何其他地方比在为了上述的鞋,以避免把你的脚放在肮脏的地面(土壤)在入口的内侧。
1) you must NOT make a loud sound; please soft-footed walk in the room.
for the rest room, the most preferable is that you use it as early as possible.
不可以发出大声音。请悄悄地走进了房间。
请尽可能地早早地去厕所。
2) Turn off the lights and the air conditioner for energy saving, when you go out the house.
关灯和空调进行节能改造,当你出去的房子。
3) you must NOT comb any hairs in the room, because hair fallen by you very disturbs cleaning of the tatamis and hutons. combing your hairs must be done in the outside of my house, e.g., rest rooms of the station bldg or UST bldg.
你一定不能梳在房间的任何毛发,因为头发下跌了,你很扰乱清理塌塌米和hutons的。梳理你的头发必须在我家外面来完成,例如,在休息站大厦或UST大厦的客房。
4) after 21:00, NEVER call me or knock the door by staircase. any questions and confirmation must be made before 22:00.
在22:00时候以后绝对叫我,不可以敲门口里面的地板和与我的生活区域的境界门。和问题和确认,必须在22:00时候之前一切做。
5) absolutely and strictly NO smoking within my property.
不可以在我的所有地中吸烟。
6) when you go out the corridor from the rest room, you must take off sandals after keeping turning its back behind.
当你从厕所走出走廊,你必须保持背向身后之后,脱下凉鞋。
7) you must NOT open three adhesive tape-sealed doors in the rental rooms, which contain unused miscellaneous everyday things.
你(一方)收藏外租房的生活杂货,不可以把封了的门用胶布打开。
8) You must NOT send another person to the room which you borrowed.
不可以把他人装进你借了的房间。
9) When you leave the room, please leave in silence after putting articles such as USB memory, which I lent to you, on the shoe cupboard of the entrance.
当你离开一个房间出租,请把物品,如USB存储,我借给你门口的鞋柜后默默地离开。
10) a three-day (two night) or longer stay guest must NOT stay in my property between 10:00 (will be locked) and 18:00 (will be unlocked) in the day(s) after the first sleep. this condition is necessary to realize a fixed or reliable locking/ unlocking times also concerning to my opportunity of going out to do business. therefore, "guest's going-out in a time earlier than 10:00" is absolutely and inevitably important condition. therefore, all your members must follow this condition strictly.
2日(一晚)之上的逗留者(达)10:00(不可以在我的所有地里残留于上锁时刻-18:00(开锁时刻)。)为实现用来这个规定,我出去,做事情的上锁和和开锁的固定了或者能信赖的时刻需要。10:00前面的你(一方)的外出是绝对以及就不可避免来说重要的条件。因此,你以及那个同伴必须在严格保持这个规定。
************************************************
11) for seven days or longer stays, you must place the garbage in the fixed day and fixed place appointed by the tu municipal government. for details about garbage treatment, consult with me.
七天或以上的客人,您必须将垃圾中的固定日期和固定地点由涂市政府任命。关于垃圾处理详情,请咨询我。
12) in the case of two weeks or longer stay, you must agree with my room inspection at each seventh day; cleaning will be carried out by me, if necessary. when you will have made the room dirty, you must pay a charge for the service to a cleaning service company. this article is absolutely important to keep the room cleanly.
在两周或更长时间逗留的情况下,你必须同意我的房间检查在每个第七天;清洗将进行由我,如果有必要的。当你将所做的房间脏了,你必须支付费用的服务,清洁服务公司。这篇文章是绝对重要的是保持房间干净。
---
---
---
---
He made us feel welcome, he has put a lot of effort and thought into setting up the room. Night gowns, board games, wet tissues, perfumes and all. His room is a traditional Japanese room. Wooden carvings, Tatami mats, floor tables, Japanese dolls and sliding windows covered with paper. It is beautiful.
---
The room we stayed in was so beautiful and clean, it felt like we were staying in a ryokan! The place is also very close to the station and restaurants, and the lack of shower was no problem as there was a very nice bath house about 15 minutes walk away. Our host was very lovely to chat to and kept in contact to make sure we had all the information we needed for our stay.
---
i am a professor doctor with the height of 173 cm and the weight of 63 kg;
a marine botanist, accurately, phycologist (attention: not psychologist);
amateur radio station JA2EAJ;
a ryuukyuu archipelago-lover where made many surveys and collections of marine algae so far. i have two passports i used in US military government years of the ryuukyuus; and
grow a beard and mustache during a half year, every year.

my favorite music: baroque particularly of italian and telemann (whose 29 cd's i have,) US country music (i like radio station "CountryBear Oldies" on WMP internet radio,) gospel songs, UK and chinese national anthems, scotch, irish and english folksongs. i am singing some english songs of these genres in everyday life. my most frequently-singing song at present is "will the circle be unbroken," a US country song.

books i published: two japanese books concerning science paper-writing and "bad" japanese expression analysis; two 700pp english books on phycology and applied phycology as a single editor.

INTERNATIONAL ACADEMIC ACTIVITIES
International Academic Congress Organizer
1994: member of Organizing Committee, 5th Int. Phycological Soc. Meeting Held in Qingdao, China.

Invited Lecturer for International Academic Congresses
1992/ Match 23-29: Invited lecturer on Japanese technology of seaweed mariculture for Int. Workshop for Pertinent seaweed Resource Development Sub-Saharan Africa held in Windhoek, Namibia.
1989/ Apr2-8: Invited lecturer on Japanese technology of Seaweed mariculture for Int. Workshop on Cultivation of Seaweeds in Latin America held in Sao Paulo Univ., and funded by the International Foundation for Science in Stockholm.

Reviewer of Scientific Papers
1990: for Botanica Marina (Berlin) Reviewer of Research Fund.

Reviewer of a Research Fund
1989: International Science Foundation (Stockholm) for 1 million-dollar application of an assistant professor of Sao Paulo University.

Other activities
1990/ Sept3-8: Attendance to Int. Gelidium Workshop held in Santander, Spain.
1991/ Aug3~10: presentation of an isoelectric focusing study on some species of Gelidium at 5th Int. Seaweed Symposium held in Duke Univ.

AREAS OF EXPERTISE
1) marine botany
2) J-E technical translation particularly of patent specifications including teaching
3) Teaching logical Japanese writing and analysis of "bad" written Japanese.

PROMINENT DOMESTIC AND INTERNATIONAL SOCIAL ACTIVITIES
2004 to 2007:Committee member of Mie-ken Governmental Science Academy Conference
2001 April to 05 March: Tokyo Pharmaceutical University Sponsorship Party member
2000 March: member of the candidate selection committee for 12 million US$ provided by PEW Marine Environment Conservation Fund (New England)
1998 Dec: lecture and on-site operation for a boy to be sent by JICA to Maldives islands for teaching seaweed cultivation technique
1997 Aug to present: president, NPO Tropical Marine organisms Conservation Society.
ภาษา:
English, 日本語
สำรวจตัวเลือกอื่นๆ ในและรอบ Tsu-si, Hadokoro-tyou
ที่พักมากขึ้นใน Tsu-si, Hadokoro-tyou: