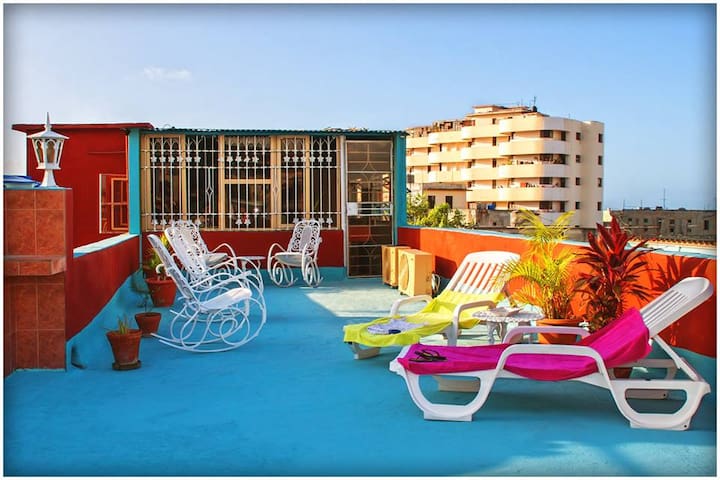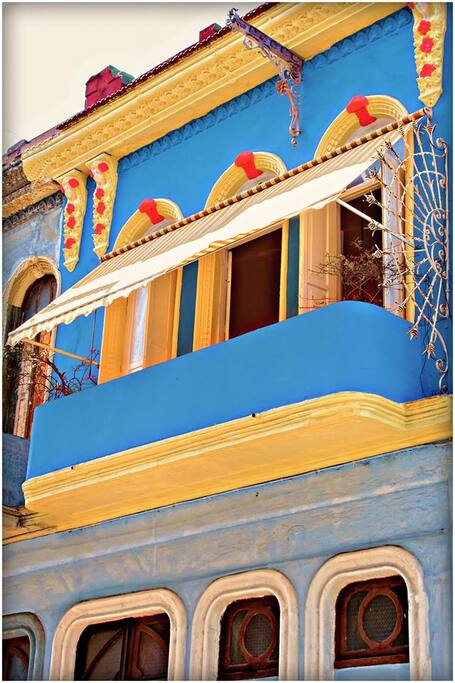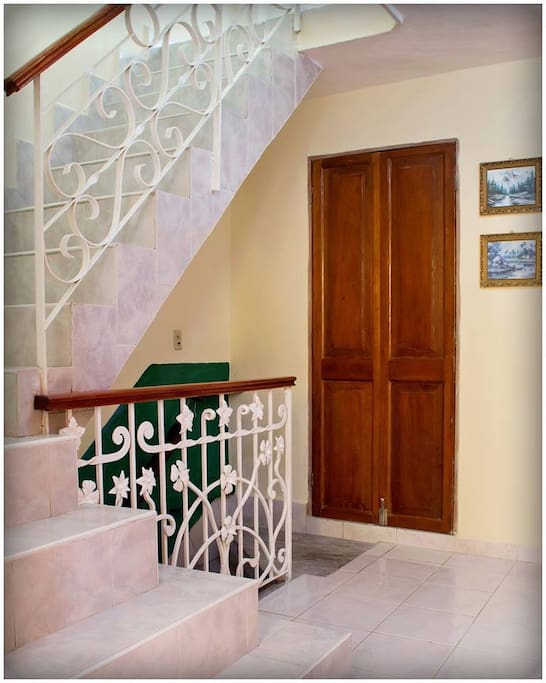 CONCORDIA HOSTEL. HYGIENE AND COMFORT.
CONCORDIA HOSTEL. HYGIENE AND COMFORT.
Concordia Hostel (HC), one of the best options in the heart of Havana. Privileged location, hygiene and comfort guaranteed, seriousness, professionalism and security in all services. Special prices for groups and students.
---
ประเภทห้อง: บ้าน/อพาร์ทเมนท์ทั้งหลัง
---
---
คนเพิ่ม: $19 / คืน ถ้าเข้าพักเกิน 8 คน
ราคาช่วงวันหยุดสุดสัปดาห์: $185 / คืน
สื่อสารผ่าน Airbnb เท่านั้น
เพื่อเป็นการปกป้องการชำระเงินของคุณ อย่าโอนเงินหรือติดต่อสื่อสารผ่านช่องทางอื่นที่ไม่ใช่เว็บไซต์หรือแอพ Airbnb
เรียนรู้เพิ่มเติม
---
พื้นที่ที่ใช้ร่วมกัน
1 เตียงเดี่ยว
---
Se permite fumar en la terraza.
Nadie más puede quedarse a dormir.
No se debe hacer ruido después de las 23:00 h.
En caso de utilizar la cocina deben lavar los platos y dejarlo todo limpio y recogido antes de salir de la casa o de lo contrario se cobrara un suplemento extra (5 cuc/diarios)
คุณยังต้องยอมรับ
ต้องขึ้นบันได - 2 pisos, uno grande y otro pequeño.
อาจมีเสียงรบกวน - Se puede escuchar en algún momento de los dias entre semana voces de niños y maestras en la mañana, pues hay una guarderia detrás de la casa,
ไม่มีที่จอดรถ - No recomendamos dejar el coche en la calle, pero hay un aparcamiento publico de un hospital a 4 cuadras de la casa que es muy barato
---
ปานกลาง
Cancel up to 5 days before your trip and get a full refund. Cancel within 5 days of your trip and the first night is non-refundable, but 50% of the cost for the remaining nights will be refunded.
---
---
---
I stayed with Yanet and Miguel two weeks ago for a birthday trip with a group of 7 of my friends. Yanet made our stay so much more welcoming and helpful. FYI, the family speaks mostly Spanish, so it was great that I had two friends with me who were able to translate for us when necessary. They were able to arrange transport to and from the airport for us, as well as during our stay to nearby places. The Malecon, the long strip where locals hang out, was a 10 minute walk from Lisset's place. We were greeted with a welcome cocktail and dinner. We also opted to have breakfast most mornings for a small extra fee. When we wanted to go to Veradero beach, they were able to arrange transport with snacks for everyone. Yanet was also very helpful with exchanging our dollars to cucs if and when we ran low. The only issue that comes to mind was some minor bathroom trouble when the toilets would clog. However, this seems like a common problem in Cuba. When they say don't throw paper in there, it is for that exact reason. If you abide by that, you should be fine. She was super sweet and very engaging. I would completely recommend staying here for your trip. It was well worth it!
---
This beautiful house is located in a very accessible location to old and modern Habana. It's commodities and attention from Lisset's cousin , Janet and her parents made our stay enjoyable and memorable. The location of the house has a short walk to the beautiful malecón and calle Hamel. A suggestion for the first evening , you can visit The Morro , it's a fortress with a museum where you can buy souvenirs and walk around until ,the 9pm evening show where they recreate the closure of the Port of Havana by firing a canon;This is an every day event. As mostly others have mentioned , "El biky" was a great deal and place to eat , it's a 4 blocks(American) walk but it's worth it, the attention and prices are very accesible. A note to American first time travelers: its best to exchange dollars to Euros , please do this in Cuba (cadeca) since my family and I thought it would be best to change it in NYC we loss a big amount and our money devaluated. After the euro conversion you have to convert it to CUC (currency used among tourist only ) and with the euro there's not much of a loss it,but it also depends on how the rate is for that day. Overall Lisett's house and family were superb and lovable , the house fulfilled our necessities and in a near future in my return to La Habana , I would definitely stay here again. Thanks Cuba for its culture and beautiful people, and tourists may you enjoy every minute of your stay as we did. :)
---
The place is nice however it's overpriced compared to the service and accommodations you get in most other Havana rentals (my husband and I have been coming to Havana for 9 years now, so we have some experience renting rooms and apartments like this). The apartment is also a bit far from old Havana, yet charges as if it were closer. We had inconsistent housekeeping service, especially on the last days of our trip where no one was paid to come clean the rooms nor bathrooms. I also feel I should mention breakfast was overpriced, 5cuc per person for fresh juice, fruit, and plain scrambled eggs with bread and coffee, which would cost 3cuc or less elsewhere. On the first day we had hot dogs served with our eggs but never again even tho the price of breakfast stayed the same. The customer service was poor in the sense that we had travel delays due to emergencies beyond our control yet the management made no effort to help us because we'd already paid up front, but we'd still expected more cleanliness considering how much we paid for the apartment per night and the fact that, unlike most rentals in Havana where each room has a bathroom, we had to share one bathroom between all 4 rooms...there's a second bathroom with poor water pressure on the roof floor, but often the water did not work in that bathroom. The roof was nice and some of the beds were comfortable. Some of the air conditioners were good though one rooms A/C was broken the whole time and not functioning well.
Estimada Sonia, lamentamos mucho que no haya quedado satisfecha y ante todo le pedimos disculpas por los inconvenientes que se hayan podido generar. Desafortunadamente a veces se presentan situaciones emergentes que nos impiden a los anfitriones poder darle la mejor respuesta y/o solución a un problema en un momento determinado, en este caso a su último mensaje respecto a la pérdida de su vuelo y su petición de si era posible devolverle el dinero de esa primera noche; ese mismo día yo estaba volando a la Habana donde el acceso a internet es bastante limitado y me dificultó la comunicación con la persona que se quedó a cargo de nuestra pagina durante mi viaje, de todos modos como bien le explicó mi prima Yanet para resolver ese problema y conseguir la devolución del dinero había que contactar con el servicio de atención al cliente de airbnb y eso no era posible hacerlo desde Cuba por tanto hasta que yo no regresara a España no podía ayudarla a solucionar su problema, pues los anfitriones no recibimos el dinero hasta unos días después de que el cliente ha llegado a la casa, en cualquier caso creo que era usted como cliente y usuaria de airbnb, la que debía haber contactado con ellos en el momento que se le fue el avión para informarle sobre su situación y que ellos hicieran las gestiones pertinentes para devolverle el dinero de esa primera noche (que según nuestra política de cancelación no era posible) y en ningún caso hacernos a nosotros responsables de una incidencia que no fue culpa nuestra. Es evidente que toda su evaluación ha estado condicionada por este incidente y es una pena que usted no haya reflejado en la misma las atenciones que tuvimos con su familia y la ayuda que le brindamos tanto para celebrar el cumpleaños de su pariente como para todo lo demás que nos solicitaron. Respecto al resto de sus quejas me gustaría aclarar que usted nunca dijo nada respecto a la presión de agua del segundo baño, ni a que había un aire acondicionado que no funcionaba bien; creo que de haber sido así probablmente se habrían quejado, pues nadie paga para dormir con calor y estar mal y no se queja, cuando sucede algo lo normal y lógico es que los clientes lo comuniquen para poder resolver el problema inmediatamente y evitar inconvenientes innecesarios. Me gustaría aclarar que hace menos de un año todos los aires acondicionados de la casa fueron sustituidos por nuevos splits, que funcionan perfectamente y no hacen ruido y que tenemos un sistema de kiwan que aumenta la presión de agua en todas las tuberías de la casa, es posible que usted en alguna ocasión olvidara conectar el interruptor del motor que lleva la presión a la ducha. Respecto a la limpieza es primera vez q nos hacen este señalamiento, es posible que algún día no haya sido óptima y le pedimos disculpas, pues coincidió que en esa semana hubo un desabastecimiento general de agua en toda Ciudad de la Habana que afectó a toda la población., incluyendo los hoteles 5 estrellas, estuvimos 4 días sin suministro de agua. Por supuesto nos sentimos muy apenados sobre esta situación pero lo único que podíamos hacer era ahorrar la poca agua que había para que no les faltara ni en la ducha ni en los servicios sanitarios. Respecto al desayuno nos gustaría precisar que 5 cuc es el precio que se cobra en la mayoría de las casas de alquiler de la Habana desde hace más de 20 años por un desayuno como el que le hemos ofrecido. Si lee con detenimiento nuestra página podrá comprobar que los perros calientes no están incluidos, por tanto debe considerarlo como una cortesía de la casa. Nuestro personal del hostal se esfuerza cada día por brindar un excelente servicio y de haber notado el más mínimo grado de insatisfacción al respecto, habría intentado corregirlo, pero ustedes nunca manifestaron disconformidad y realmente nunca nadie se ha quejado del desayuno, más bien todo lo contrario, por lo tanto es difícil adivinar. En cuanto al precio, seguimos el mercado, desde hace 2 años, después de la visita de Obama a Cuba y la apertura del turismo a USA, los precios han subido mucho, ya no son los de hace 9 años, principalmente en los hostales más antiguos como el nuestro, Centro Habana es actualmente uno de los municipios más demandados, precisamente por su localización central, entre la Habana vieja y la nueva (Vedado) que le permite desplazarse caminando a ambas partes de la ciudad. Al respecto también cabe mencionar que el precio de un alojamiento no se fija solo por su localización o cercanía al casco histórico, hay muchos otros aspectos que influyen (experiencia, confort, amabilidad del personal, limpieza, seguridad, índice de ocupación, temporada del año, etc.) Le agradecemos mucho que se haya tomado el tiempo para hacer la evaluación y tendremos en cuenta su opinión para continuar mejorando y no defraudar a los otros 40 y tantos clientes que han confiado en nosotros y que con sus excelentes evaluaciones nos han hecho ganar la categoría de superhost!!! Muchas gracias! Equipo de Hostal Concordia MH
---
We are a family og four: two parents and two teenagers, who stayed here this summer. We had such a great time in Havana! The hosts of this hostel were very nice and super helpful. They assisted us with everything from getting taxis, to phone-calls, etc. Cuba in July was a hot experience for us, coming from the North of Europe and not being used to the heat. Having air-conditioned rooms to cool off in really made a difference. The roof top terrace was a wonderful place to hang out at night, watching the life on the street. We had heard that the area was a bit sketchy, but we never felt unsafe in Centero Havana. The people we met everywhere were so nice and fun to talk to. Thanks to Lisset and her family for taking such good care of us.
---
Our stay was fantastic! The house was clean, and the rooftop was absolutely lovely. All the rooms were as advertised, and the AC was a life saviour during the days and nights. We opted in for the breakfast option, which was delicious and filling. The hosts were so helpful in organizing our taxis to the airport, and also giving us all sorts of recommendations in the area. The location of the house is quite central to Centro Habana, and it is within walking distance to Vedado, or some of the Centro Habana landmarks. We caught a collective taxi most of the time when we needed to get to Habana Vieja just because of the heat, but walking is definitely an option too. We highly recommend this property!
---
Miguel and Marylis were excellent hosts! Not only did they provide us with excellent and comfortable accommodations and help us with getting wifi, cigars, and other amenities, but they also helped us after we had left our Airbnb to arrange a money transfer from the United States for a friend who didn't bring enough money for the trip. Great people!
---
Hola, me llamo Lisset, soy cubana pero vivo en Madrid desde hace 10 años, donde trabajo como médico especialista en anestesiología y reanimación. Mis padres viven en Cuba y son en realidad los verdaderos anfitriones y encargados del negocio, aunque yo desde aquí intento apoyarlos y ayudarlos en todo lo que puedo. Ellos son un matrimonio de profesionales jubilados, que desde hace 15 años se dedican a alquilar su casa colonial de centro habana, cuya ubicación privilegiada en lo que es sin duda el corazón de la habana, te permitirá visitar los principales centro turisticos y culturales de la habana sin necesidad de tener que arrendar un carro o un taxi. La simpatía de mi madre (Marilys) y su habilidad para comunicarse en varios idiomas, así como culinarias de mi padre (Miguel), han hecho que durante todos estos años los clientes se hayan ido multiplicando y poco a poco, sin querer, nuestra casa se haya convertido en un pequeño hostal, donde podrás disfrutar de todas las comodidades de un hotel, mientras conoces a fondo el día a día del pueblo cubano. Si te decides a venir, te podemos recoger en el aeropuerto y también gestionarte excursiones a Varadero, Trinidad, Viñales y otros destinos turísticos de Cuba. Estaremos encantados de recibirte en nuestra casa y ayudarte a convertir tus vacaciones en Cuba en un sueño inolvidable.
ภาษา:
English, Español, Français, Italiano, Português
อัตราการตอบกลับ:
100%
เวลาตอบ:
ภายใน 2-3 ชั่วโมง
สำรวจตัวเลือกอื่นๆ ในและรอบ Centro habana.
ที่พักมากขึ้นใน Centro habana. :