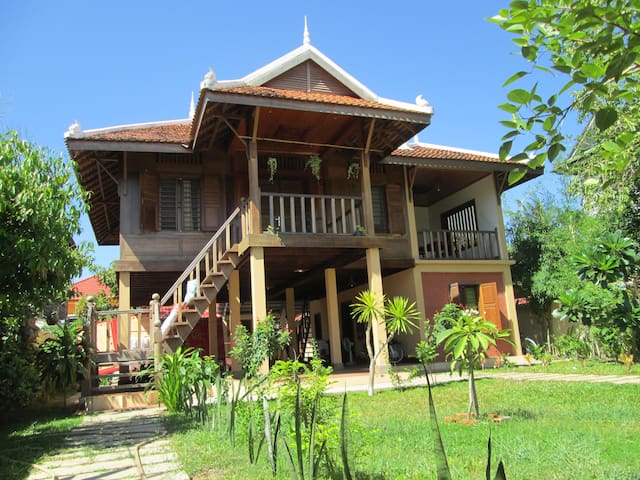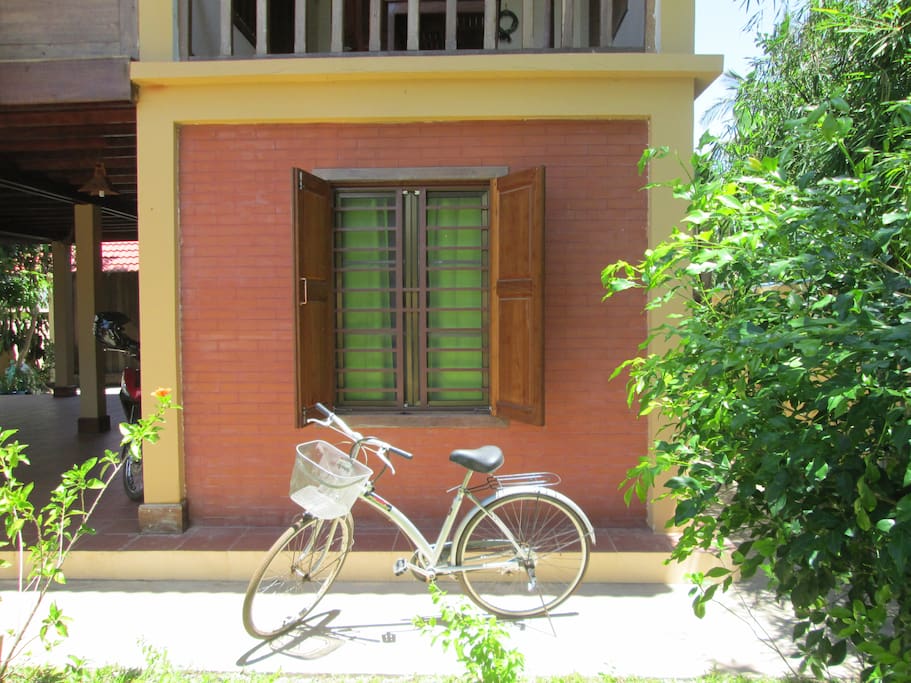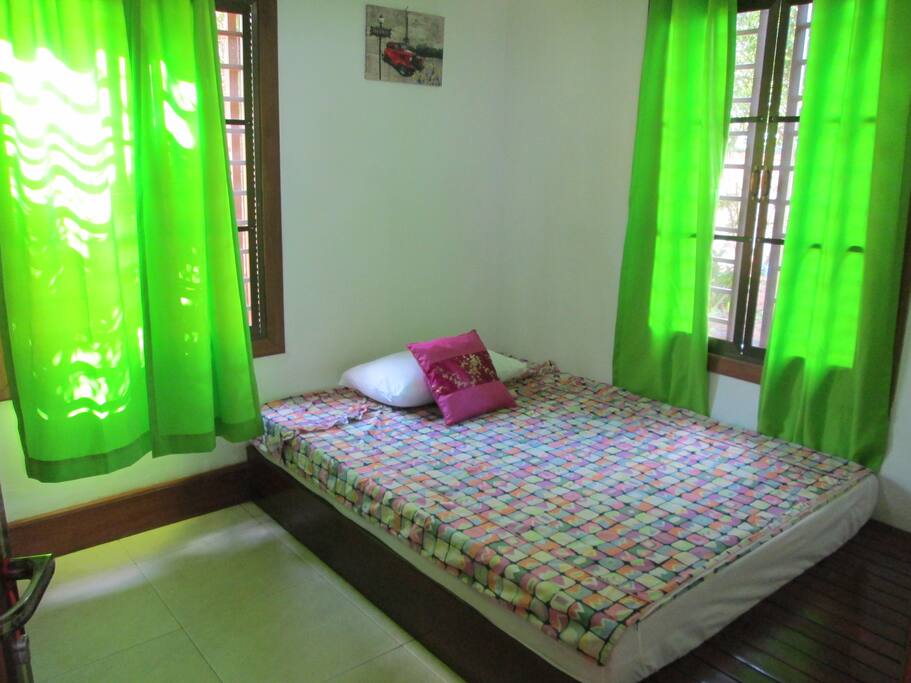 It is one of the rooms in the 5-room Cambodian Tradtional house , en suite bathroom, window(if you love fresh air) has a green Scenery of the garden, closer to Angkor wat and many other temples, and will be an authentic local experience.
---
Juan and Chenie were very fine hosts. They treated me iike a member of the family. Chenie does the cooking and Juan takes care of the business affairs. I had seen Angor Wat several times. But for those who want to see the sights of Siam Reap, Juan takes care of you with a tuk tuk escort there, and Pub Street, sunrise at 5 A.M at Angor Wat and wherever you want to go. I swim for exercise and Juan took me on his moto to a precious place near him where you can swim for only the cost of a drink such as coffee. Nice. We did go shopping for food and I loved shopping int he market where older ladies asked me how old I was and did not seem to believe I was 82 having had my birthday when I was there. Oh, I do speak Khmae enough to make people think I speak more than I do! One night I went with Juan to the hotel where he and Milissa, also a Filipiino, sing and play a piano like instrument for the patrons of the hotel. They are very popular at the hotel. Juan and I had several interesting talks as I will be going to the Philippines to give a few talks soon. He gave me some views from the ground up I will use. The home is open and very relaxing with hammocks, as good or better advertised. Chenie takes care of preschool children but comes home to prepare lunch. She is a very fine cook. The neighborhood is friendly but that is about it. There is nothing very near that you can walk to. But Chenie and Juan are super and the hospitality is, well as a I said, as though you were a member of the family. Jack Van Doren
---
We had a lovely one night stay with Juan but there are a few things you should know: Pros ** Juan is super responsive and reliable (eg we asked for and he arranged a good airport pickup with Sovann the Tuk Tuk driver) ** Juan and his gf are really nice; someone always is home ** The house and yard are big with five little rooms and an extra bathroom for your use in the back ** There is an AC unit and fan in the room (we stayed in the first floor front facing room) Considerations ** The water pressure is minimal so we couldn't shower but it came on suddenly in the middle of the night when sleeping ** The neighbors have two dogs that bark until about 2 am and another neighbor plays music until about 10pm so early morning wake ups to go to the temples for sunrise are tough ** There is no sink in the bathroom so you need to wash your hand with the bidet hose or shower faucet (also the bathroom is one big shower like in the photos and normal for Asian homes so always wet) ** There is nothing in walking distance of the location - you have to take a Tuk Tuk to get anywhere
---
Juan was an amazing host. I enjoyed the location because it was quiet and a nice place to relax. His friend Mara took us around the temples in a tuktuk and always had cold water available for us. He was also very responsive to anywhere we wanted to stop in between. The location was not too far away from town, or the temples. Definitely not walking distance but we had a tuktuk anyway. The rooms were small, but had everything you needed. I had some work to do and they were nice enough to let me use an adaptor to plug in my laptop. The only thing that was missing was toilet paper. Overall, great hospitality. They had an adorable dog, Jordan, that I enjoyed having around as well. I would recommend this place to my friends.
---
I had a wonderful stay at Juan's home. The location was in a residential neighborhood. The room was very comfortable. Juan made coffee every day and we were able to chat a lot about his passion, NBA basketball, as well as other subjects, as he is a very personable guy. His driver was at my disposal and when I decided to rent a bicycle in town, Juan himself took me to the bike rental location when his driver had a day off. I will definitely stay at Juan's home again, it was the perfect situation for my needs.
---
I love sports(Basketball), Music(guitar/ keyboard), stamps and postcards. love shades, handkerchief, basketball courts, caps and chocolates. i just scan book, dont read(trying to be one though), like country music. i love food cooked in coconut milk.
สำรวจตัวเลือกอื่นๆ ในและรอบ Krong Siem Reap
ที่พักมากขึ้นใน Krong Siem Reap: