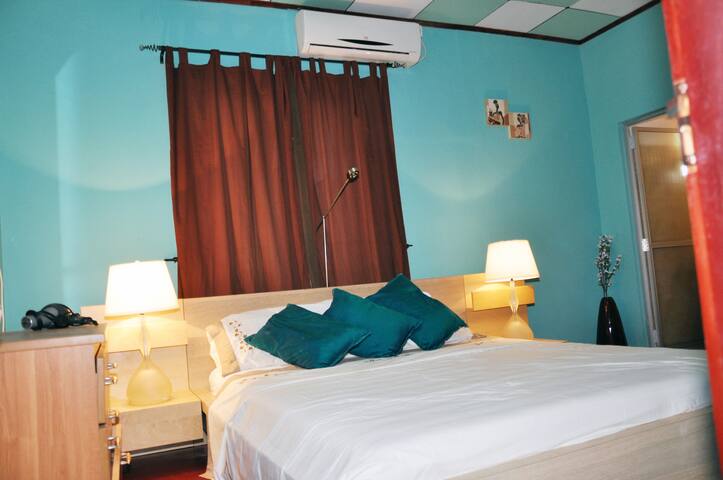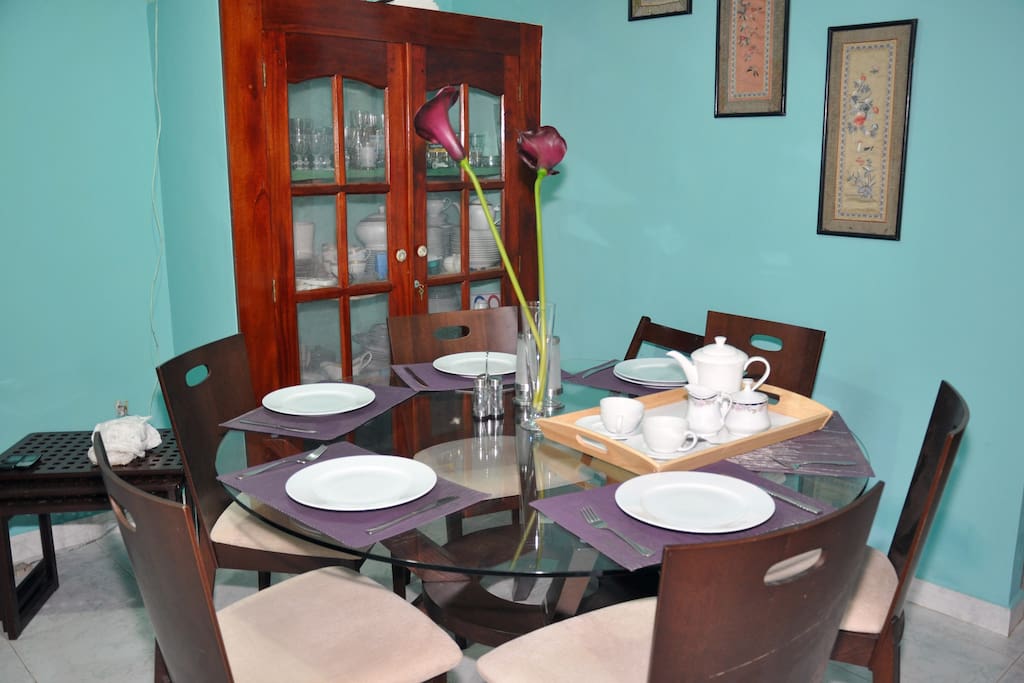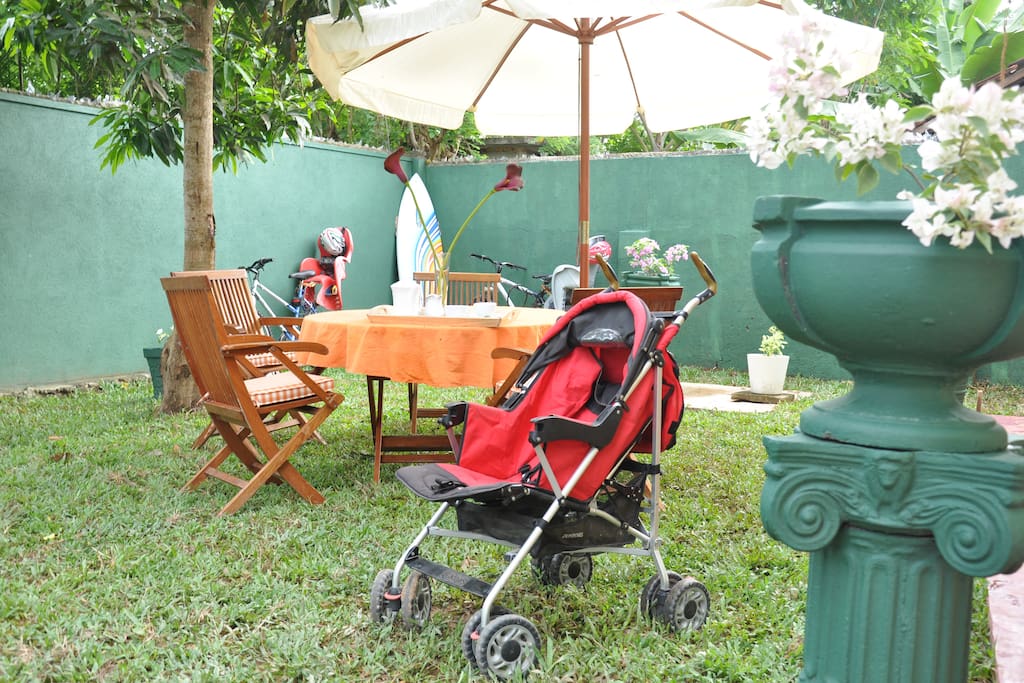 Calm and lovely place near to mirissa main beach and fishery harbor. Thia is a clean room with AC, hot water, comfortable bed and fan, attached bathroom. Freedom place to rest. Green garden and just 5min walk to mirissa beach and main road.
Delicious breakfast for two people included to the room rate. All you are welcome our nice place!
---
---
---
---
เครื่องตรวจจับคาร์บอนมอนอกไซด์
---
---
This listing is basically a guesthouse self-named as a "resort and spa", marketed as an airbnb, but in reality feels like you're staying at an overly finicky, financially desperate aunt's house who has hosted too many distant relatives all summer. We selected the room advertised as having air-conditioning because we wanted to use it. She also told us we can only use it at night and to not set the temperature below 22 degrees celsius, something not outlined in the house rules. While we were allowed to use it our first night (but didn't as it was cooler that night), we used the AC for a grand total of 1 hour the next afternoon (because we hadn't used it for even a minute the night before) before the proprietor turned it off for the second night, explaining that it's "too expensive." I wouldn't have booked this room which says has AC if we weren't allowed to use it. We added on an extra night simply because it was easier than finding another place and moving. We asked her to lower the prices as she told us we can no longer us the AC. She agreed to a lower price. Upon check-out, however, she demanded the same AC price even though we weren't able to use it. And it is HOT in that room! We argued with her in which she became flustered and finally agreed to the lower price but then demanded a "service charge" in cash. We asked her why and for what but she just muttered something we couldn't hear and gestured vaguely with her hands. Of course, this fee was not mentioned in the airbnb listing or at any other point during our stay. When I asked how to turn on the hot water (as it wasn't explained to us upon check-in) when she came into our room she tried to clean things up (some strewn about plastic bags) which I told her to leave because we were actually using them. She then noticed some sand in the bathtub and at this point told us to not get any sand in it as it can clog the pipes. While I (now) completely understand why, she made me feel like an ignorant child chastising me with a long explanation why sand is bad for the pipes. We don't come from a place where sand in pipes can be a problem; again this is something which should have been explained at check-in. Thereafter, she made us rinse our feet anytime we entered the house, a practice I didn't see here enforcing with other guests. Inevitably, sand will get on the floor as people generally come to Mirissa to enjoy the beach so we made sure to sweep the room before we left. The breakfast is as others described- simple 'omelet' and fruit and tea. A couple times while we were eating she began yelling at tourists passing by to come in to eat. They looked confused. She had also...
---
We stayed at Marina's place for two days. When we arrived the host was there and immediately showed us to the room. The room has a ventilation, a/c, nice bathroom and warm water as described. We were surprised to find some dirty towels in the bathroom (probably from previous guests) and the bed linen were not changed - the bed was dirty and full of sand. Since the bed didn't have a mosquito net and we couldn't keep our windows open, it was quite stuffy in the room. The breakfast was good but quite basic (omlet, some toast, butter, jam and tea). The host Marina was at the house most of the time and available for questions. However she was complaining alot about previous guests, which was quite uncomfortable. Overall I would say the house has good facilities and is comfortable enough.
---
Marinas place was very easy to find, she gave good directions and communication from the beginning was very good. Marina and her daughter were always around and available to help with things and explain things. The place is within easy walking distance to shops and delightful main beach where it is magical to sit and eat in the evenings. Marina and her daughter are excellent hosts, the place was clean and tidy, very good airconditioning and mosquito net over the bed. The room was small but adequate with good security and the shower room spacious with adequate hot water. It was easy to come and go any time. The wifi connection is good. Breakfast is adequate each morning and included in the very reasonable rates, we did initially have problems with flies which a strong fan soon sorted. We had good chats with both Marina and her daughter and some good humorous moments. I hope that farm is progressing well!!! Our much needed washing was also done for us. Yes this is a very well appointed family airbnb, close to amenities and adequately operated and we would certainly reccomend it as a safe, secure, quiet, and very reasonably priced place to stay if you are visiting Mirissa.
---
The hosts were very friendly and welcoming, the place cozy, nice breakfasts, good quality - price combination. Really enjoyed my stay!
---
We just had a amazing time at Marinas place! She and her daughter are so lovely and can cook so amazing! We felt like home! The rooms are shown as on the pictures and the neighborhood is great and everything is in walking distance. They also arranged a whale watching tour for us! Thank you so much for everything!!
---
I booked Marina's Resort for 3 nights (starting from New Year's Eve) a couple of days before arrival, and mentioned that I would need a room with two separate beds as I was going to stay there with a fellow solo-backpacker. Marina replied fairly quickly that it wouldn't be a problem so she would fix it as soon as we arrived. When we arrived, there was only one not-separable double bed in the room, but Marina and her daughter quickly added a single bed to our small room. I must say it was a quick fix but that left not much room in our limited space, so we were quite packed, so we didn't really get out our backpacks in three nights. Marina and her daughter were very friendly though, she herself spoke English, they served nice breakfast, arranged tickets for our whale-watching, and machin-washed our clothes before departure. The wifi and AC was functional and the towels were fresh and good. All in all good relative to the price.
---
I was born in mirissa, sri lanka. I know everything about this subject. I can provide you good and kind services. If you will come to mirissa, you can enjoy with nice beach, whales watching and surf. We are very kindly peoples. we can explain to about all things in here,
I can cook not only sri lankan foods but also western foods, I love read books,listen music, watch movies,
สำรวจตัวเลือกอื่นๆ ในและรอบ Mirissa