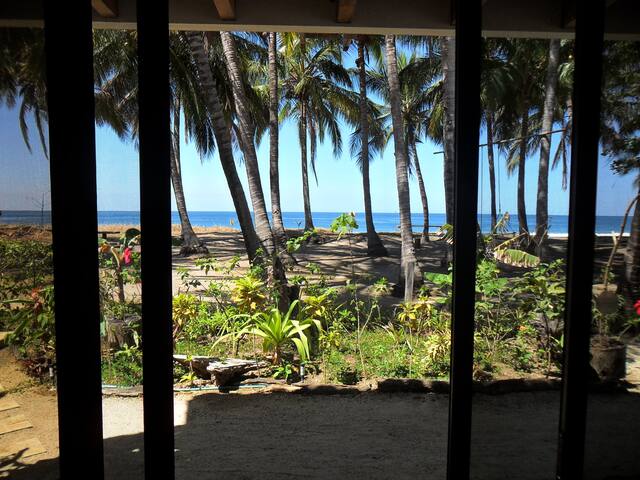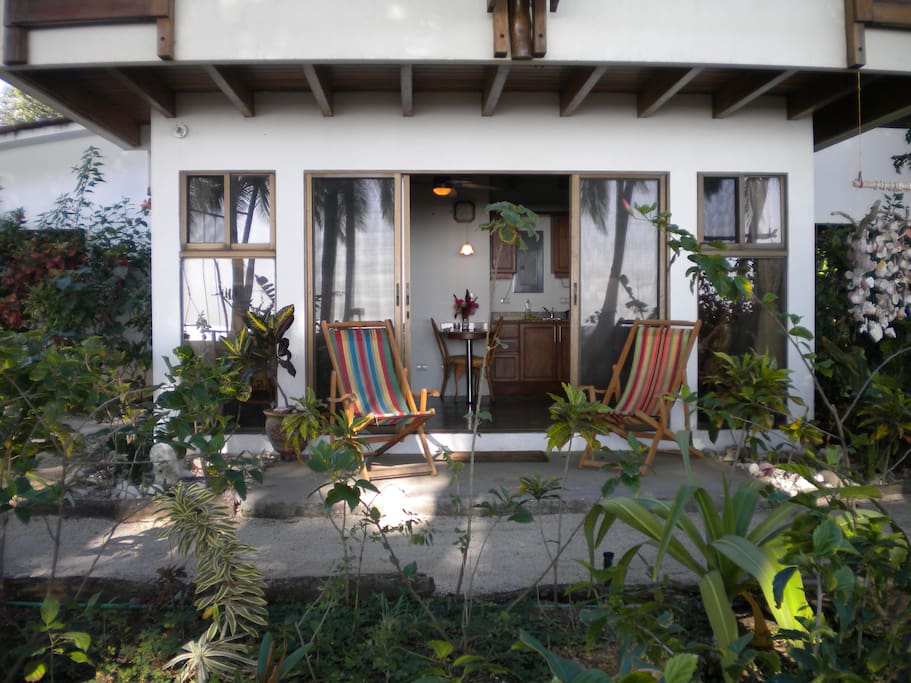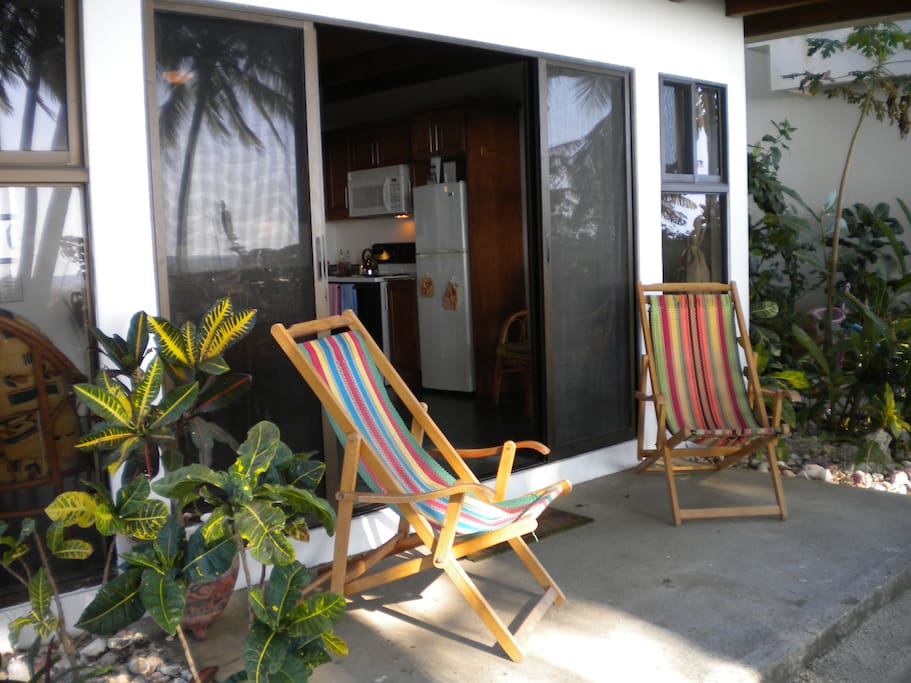 Plumita Pacifica, Costa Rica Paradise BEACH FRONT
The words in Spanish - Pura Vida - express best what I love about being here and how nice it is for me to be able to share it with my guests.
I'll be happy to communicate with you but not through airbnb because they do not honor my policies of deposit to reserve or cancellation. You can also find me on (SENSITIVE CONTENTS HIDDEN), (SENSITIVE CONTENTS HIDDEN), tripadvisor and findarentals. Or just type plumita pacifica costa rica into (SENSITIVE CONTENTS HIDDEN) and communicate directly via the email address you'll see on my website.
ที่พัก
Look to your left, look to your right and you'll see nothing but more pristine beach!
To read REVIEWS... there are some on AirBnB but if you want to read all the 4 and 5 star reviews just go to TripAdvisor and see all the 4 and 5 star reviews Plumita Pacifica has received!
Be right on a secluded, romantic beach in paradise!!! Click on the video that is on the home page of plumitapacifica ((URL HIDDEN) and you'll see what I mean.
Relax under the coconut palms or play in the surf. The beach slopes so gently in front of your apartment you can walk out past the breakers and still touch sand while enjoying the calm and warmth of the water. Or, if you're the adventuresome type, surf in one of Costa Rica's prime surf locations about 200 yards up the beach.
For your enjoyment and comfort a complete one bedroom apartment was created for people who want more out of life than a whirlwind tour of Costa Rica. Stroll on the beach, play and swim in the warm water, pick a coconut, get a nice tan, watch the pelicans fishing in the surf (maybe try it yourself), or just sit on your patio in a beautiful setting and relax to the lulling sounds of the ocean and be delighted by beautiful sunsets, flowers, and scenery.
The apartment is air conditioned, has lots of light, a complete and fully equipped kitchen, queen bed with elegant linens to snuggle into, a nice modern bathroom with marble counter tops and a big shower with a great shower head. Or use the outdoor shower after enjoying the beach.
But most importantly, a spectacular ocean view. Step outside and you are on the beach!
Activities abound in and around Playa Junquillal. You'll have an activity guide in your apartment to reference which will tell you about activities and restaurants, all within an easy walk.
In addition... Airbnb has informed me that by their rules you can not comply with my rules. My rules include the fact that I will not confirm a reservation until the guest has paid 50% of the total due for the entire time of their stay plus Costa Rica tax, which is 13%.
Further, Airbnb has no facility to calculate tax. They have a variety of other ways to make some specific charge but no way to simply calculate a percentage.
Therefore if you want to reserve this little piece of paradise I'll leave it to you to figure out how. For example, if you type plumita pacifica costa rica into (SENSITIVE CONTENTS HIDDEN) it will bring up my website where you'll see everything you need to make a decision.
I look forward to hearing from you.
ผู้เข้าพักใช้อะไรได้บ้าง
All of it! The whole beautiful beach upon which you may see only your footprints in the sand. The warm Pacific water to splash, play, swim, snorkel or surf in. Sunny days where the temperature ranges around 85% daily and the humidity is usually in the "normal" range. Fresh healing ocean breezes. Arrange for a massage in the shade of a coconut palm... or just enjoy the hammock. And all of this is just outside your door... no long walk to any of it... take the beach chairs or the lunges that come with your apartment in paradise and put them wherever you want... the shade, the sun, right at waters edge... wherever!
การสื่อสารกับผู้เข้าพัก
I live in the house right above your apartment in paradise... you don't even need to walk up the stairs. If you need something just call out my name (Gary... you'll see it with a photo of me on the plumitapacifica.... website).
I will even help you connect with the best tour service and tell you where the great restaurants are.
สิ่งอื่นที่ควรรู้
You can use U.S. cash, all major credit cards or local currency (colones). My advise is to exchange a few dollars for local right at the airport when you arrive... rule of thumb, since there are times that local is most convenient, about $20 per day.
---
---
คนเพิ่ม: $28 / คืน ถ้าเข้าพักเกิน 2 คน
สื่อสารผ่าน Airbnb เท่านั้น
เพื่อเป็นการปกป้องการชำระเงินของคุณ อย่าโอนเงินหรือติดต่อสื่อสารผ่านช่องทางอื่นที่ไม่ใช่เว็บไซต์หรือแอพ Airbnb
เรียนรู้เพิ่มเติม
---
I tell everyone that this house has only one rule and that is about the hammock... Anyone can use the hammock anytime... except for when I want it.
And about reviews... there are none on AirBnB (yet, because I'm too new) but if you want to read reviews just go to TripAdvisor and see all the 5 star reviews Plumita Pacifica has received!
คุณยังต้องยอมรับ
Dog(s) live in the house
---
---
Plumita is a special place on a beach that is already in its own league. The house is steps from the sand and has an area to relax under many palm trees. The kitchen is well stocked with utensils and cookware. My only issue was with booking. It would be much easier on the guest to contact him directly or go through another site like TripAdvisor.
---
Such a great experience! Gary was easy to reach regarding any questions and the apartment was exactly what we were looking for: comfortable, beachfront and secluded. Junquillal is one of our favorite beaches but before coming make sure to bring plenty of cash and to fill up your car with gas because many restaurants are cash only and the nearest gas stations and ATMs are in Tamarindo (about 35 min away). 100% recommended.
---
ซานตาครูซ, แคลิฟอร์เนีย, สหรัฐอเมริกา
เข้าร่วมตั้งแต่ มกราคม 2015
Introduction and Preliminary Comments (copied from the introduction to my book COSTA RICA on the CUSP... and if you read this you'll know me well enough to make a decision as to whether or not you want to know more or visit or... ?)

These are the journal entries I made as I happily continued my adventures in Costa Rica. They began in April of 2002. It is now 2011. They are not entered in chronological order and most don't have exact dates included. You'll see as you read along that dates are not important. And, this country being what it is, I'm sure they will continue as long as I am here to enjoy them.

If you live in any country other than the U.S. you may be able to relate and chuckle or shake your head in disbelief with me as you read along.

As time passed and the interesting experiences continued, I began to realize that every month I was creating at least one new journal entry. I had two thoughts about that. The first one was: what great fun and how interesting it is for a gringo, who is used to 60 + years of the stability and "normalcy" of U.S. living. As a friend of mine, who is originally from Germany but has lived here nearly 20 years, said recently "every day there is something… it's never boring here". The second thought was: this is normal for here! That means that everyone who comes here could write a journal. That explains why a certain percentage of gringos (definition: foreigners) stay only a couple years and then leave. One, for sure, needs to have the correct attitude to settle in and adjust to the culture and its rhythm.

Occasionally I run into a North American who has been living here a number of years but still doesn't speak the language (much). I usually ask how that's possible. Almost always the answer is because they are sequestered away in some "gated community" that has its own shopping area which they seldom leave and therefore English is primarily what's spoken there. Pity

Hmmmm… kind of reminds me of the people from other countries I would meet in California who had lived in the U.S. for many years but didn't speak much English.

So maybe not all gringos have as much fun as me. You have to just dive in and live it!

Why I have settled here, you might ask. The answer to that question is simple. Have you ever been to Hawaii? I have, many times. I love the place. The climate is perfect, it's beautiful, and if you live at the beach there, as I do here, there is no need for doors or windows other than for security reasons. Actually, I would have done in Hawaii what I did here but for one reason… Hawaii is simply out of my budget. I remember the very first time I went to Hawaii. I loved the temperature, the fresh air (you can't see it like in California), the humidity level, and the breezes and when I got to the hotel and walked up to the reception desk I was stunned! I realized I had not walked through a doorway! The reception area was completely open to the outside. I said to the clerk "you mean the temperature never changes enough to need walls?"

He gave me this look like "good grief, another stupid tourist" but kind of grunted a confirmation. That was when this raised in Alaska guy knew he had finally found home. When you're a kid in Alaska and during the winter you sometimes pray that when you die you'll go to hell so you can be warm… yes I actually did that! Even southern California, where I lived for many years after I escaped from Alaska at 16, is sometimes not warm enough.

Let me digress for a moment and give you a good visual of C.R. Here's how I describe it to people who have been to Hawaii. Put a blindfold on you, set you on my beach and you absolutely would not know you were not in Hawaii. The air temperature, humidity level and breezes are identical. Take the blindfold off and it's actually prettier than Hawaii. I say to people "you know how pretty all the pictures are of Hawaii? But then you get there and of course it's beautiful but not as pretty as the pictures because one can do great things with a camera. Well, Costa Rica actually looks like all the pictures you've seen of Hawaii". And to tell you the truth, now that I've had the opportunity to really explore C.R., all of the above is even an understatement. C.R. doesn't have the magnificent volcanic outcroppings like Hawaii because it's geologically older and so those radical formations have been softened over the eons, but considering that 25% of its land area is either national park or preserve, you get a pretty good idea that there is a lot of natural beauty here. And considering that 70% of the population lives in the greater San Jose area, that means that most of the country is rural and unspoiled (except for what some developers are doing).

This leads me to explain the title "Costa Rica on the Cusp". Over the last few years it seems that developers/investors have discovered the place. There is rampant, uncontrolled development going on so who knows how much longer we'll be able to use "unspoiled" in reference to C.R. It is truly on the cusp of major change.

But back to the main thrust of this introduction.

I initially came here just to check the place out. I had heard good things about C.R., someone said the girls were pretty and very friendly and I had an acquaintance here that lived in what at that time was a small beach town called Jaco. So I found a B&B on line, made a reservation and came to enjoy a couple weeks of vacation thinking I would do what most people do on vacation in a beach town.

But here's what happened immediately. I found the B&B (not an easy feat in a country that has no addresses). By the way, you'll read many times in the stories I have included here that I say C.R. has no addresses. In San Jose there are a few but they are so insignificant that not even the taxi drivers attempt to use them. All directions here are given by landmarks, for instance, 100 meters south and 200 meters west of hotel Castillo Divertido (that's my address). And often times the landmark no longer exists but the locals know where it was so it will still be used. Try to figure that one out if you're new to the country!


Anyway, they showed me to my room and invited me to come up to the 3rd floor, which was their residence, for some iced tea when I was done unpacking. I walked in and again was stunned! They had no walls! No exterior walls and no interior walls except around private areas. I said "my god, this tells me three things. The temperature never changes enough to need walls, you don't get hurricanes and you must not have a bug problem". They said "right". That was it. In my head I lived here! I actually spent the next two weeks visiting as many beach areas as I could. As a matter fact, the adventures you're about to read started with that very first trip.

I had the good fortune of discovering Costa Rica just before major changes were about to explode on the scene. As I recorded my experiences I was painfully/excitedly aware of the fact that the Costa Rica I fell in love with was on the cusp of a major transition. A transition from being an "emerging" country to a "developed" country.

I would not have the audacity to put a value judgment on the change. Some say the past was better, some say the future will be better, and the judgments put on "today" run the gamut of expletives from good to bad.

I will leave it to you to choose your expletive. For me I only know and accept that change is inevitable. Things either change or they die. That seems to be true for all organic life. And not being very politically involved I must refrain from assuming that my wishes/desires/actions would influence change in a particular direction. In fact I have met few people who know their ass from a hole in the ground politically. It seems we only know in retrospect and even then it is "arguable".

So this document is not put together in any particularly linear fashion. You can jump around from chapter to chapter reading any title that fascinates you. Each title is a story that occurred just as I have written it. They are in no way linked and as a matter of fact did not necessarily occur in the order in which I have presented them. Some occurred just shortly before I recorded them, some I pulled from my memory much later. They say truth is stranger than fiction and it can be more comical as well as you will see as you read on. There has been no need for me to elaborate, change or enhance any of the details contained in this collection. Truth is also more fun than fiction.

I have included a photo section and I wish I had known I would get into this the way I did. I would have taken more photos. But mostly the photos are before any major changes occurred, with the exception of the before and after of the road to Playa Junquillal.

I enjoy the luxury of the asphalt but I suspect it will also speed the rate of change in my area. Even before it was done it caused one of my favorite restaurants to move. The good news is it only moved a coupe hundred yards and they preserved its rustic look and open wood fire cooking area in the new location.



For which I was very glad because the woman who owns/runs the restaurant serves the best pork I've ever had (with the exception of a good lady friend in Ca. who does a magnificent thing with pork chops) because of the way she smokes it over the wood fire and then cooks it in who knows what kind of spices again over that open wood fire.

I have enjoyed living/recording my experiences greatly. I hope you enjoy reading them.

And just in case you're interested in seeing the "result" of all these experiences you can visit where there is not just a website but also an eight minute video that will give you a virtual tour.

ภาษา:
English, Español
สำรวจตัวเลือกอื่นๆ ในและรอบ Playa Junquillal
ที่พักมากขึ้นใน Playa Junquillal: