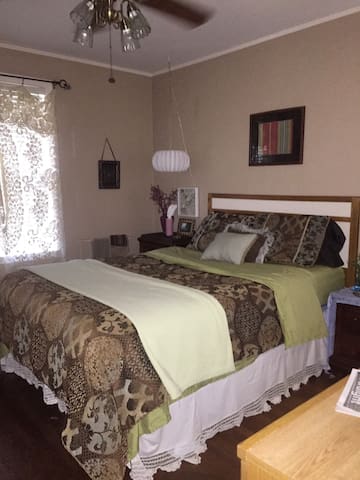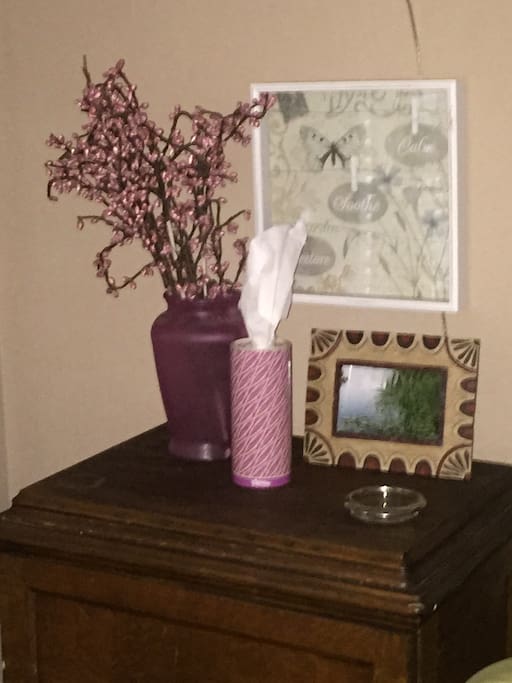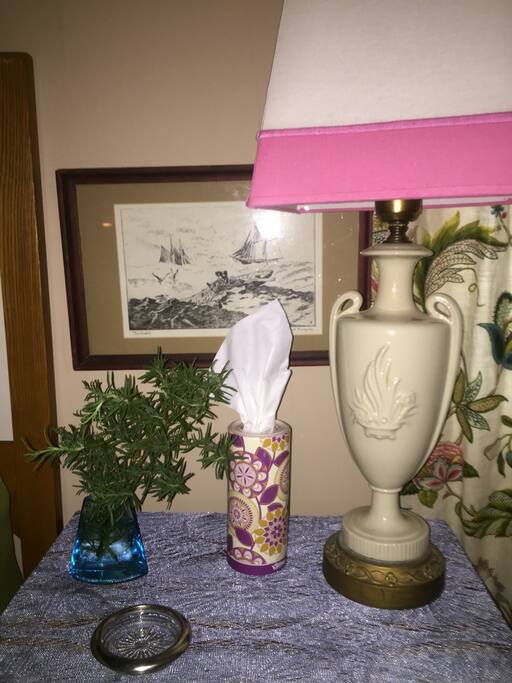 Ric's Room - Interns & Students Welcome
Ric's Room - Interns & Students Welcome
Chick & Turk's B&B's "Ric's Room" has a ceiling fan with light, 4 lamps, a queen bed, cedar closet, 3 storage pieces, wooden chair, comfy chair, 3 windows. Pen & paper, tissues, sweet treats, candles, house key, welcome letter, the latest weekly paper & house manual are in your room for your convenience.
ที่พัก
This is a family home, named "Chick & Turk's" because those were my grandparents' (Marge & Fred) nicknames. My mom & uncle grew up in this home (hence the room named "Ric" & the one named "Janie Marie.", & my grandmother lived here over 5 decades. She was a gardener, cook & host. She even used the home as a B&B long before the internet! I'm walking in her footsteps, & I'm carrying on the tradition of Southern Hospitality taught to me my whole life. The house was built in the 40s & the additions, "Fred's" room & "Bear's" room were added, by my grandfather who was an engineer, in the 50s. The house is old, & carries all the charm & kinks associated with old homes. I love the character; however, if "brand new" is your preference a different location might better suit you. For those of you who appreciate unique architecture & the quirks of an old home, you will adore Chick & Turk's!
ผู้เข้าพักใช้อะไรได้บ้าง
Guests can sit on the screened in front porch; relax in the living room; eat in the dining room; use the kitchen; enjoy the triple-lot backyard where there is a patio, summer house (sometimes rented out), an outdoor shower, grills, fire pit, outdoor furniture & a hammock. The only off limits space is occupied guest rooms & behind the red curtain in the dining room.
การสื่อสารกับผู้เข้าพัก
Sometimes minimal & sometimes we become the best of friends who socialize often. I'm available via message if not in person; however, I provide so much information online, in a welcome packet and on tags, labels & signs throughout the house that you'll rarely have a question I haven't already answered!
สิ่งอื่นที่ควรรู้
Everyone's welcome at Chick & Turk's B&B - I embrace diversity. I always have ice-cold sweet tea in the fridge, as I say "It's what we drink, y'all should too!" I've got romantic get-away specials, nonprofit discounts, semester rates & I'm open to bartering price in exchange for work done around the home. I welcome interns. My space is great for special events. Ask about using the B&B as a venue/event space! Everyone loves the firepit!
---
---
คนเพิ่ม: $15 / คืน หลังผู้เข้าพักคนแรก
ราคาช่วงวันหยุดสุดสัปดาห์: $50 / คืน
สื่อสารผ่าน Airbnb เท่านั้น
เพื่อเป็นการปกป้องการชำระเงินของคุณ อย่าโอนเงินหรือติดต่อสื่อสารผ่านช่องทางอื่นที่ไม่ใช่เว็บไซต์หรือแอพ Airbnb
เรียนรู้เพิ่มเติม
---
ไม่ปลอดภัยหรือไม่เหมาะกับเด็ก (0-12 ปี)
เช็คอินได้ทุกเวลาหลัง 16:00
Mandatory House Rules
Please Read!!!!!
-Hospitality:
EVERYONE is welcome at Chick & Turk's. We embrace diversity & build community. Be nice or stay somewhere else :-).
I take Southern Hospitality very seriously; & my goal is to exceed your expectations. Review your stay as you see fit; however, please consider when reviewing that:
Airbnb penalizes hosts for any rating that is below "5 stars." Guests shared they've rated their favorite Airbnbs "4 stars" & were shocked to learn the negative impact this has for the host's business. Also, tell me while you're here if something isn't up to standard – I can probably fix it.
In NO WAY am I asking you to rate me better than you feel I deserve; however, knowing this information might better inform your choice.
-Booking a Room:
-Please read the description of home, neighborhood, your room/bed & other useful info on Airbnb website as then you'll know if you will enjoy your experience.
-Check-in is 4pm or after & check-out is 10:00am or before. If you desire an early check-in or a late check-out, please ask. I'm as flexible as possible when I can be.
-Pre-Arrival:
-At least one day before trip provide me with an hour window of when you will arrive & the day of your trip please narrow that to a 30-minute window.
-Consider how often you'll stop on trip (bathroom breaks, food, sightseeing), time changes & other activities that affect your ETA (estimated time of arrival.)
-Immediately text or message me as soon as you're aware of any delays.
-Checking-In & Checking Out:
-Text or message me through Airbnb upon arrival as opposed to knocking on the door upon arrival.
-If you'll arrive at a time I can't welcome you, there is information on this site re: lock box instructions.
-General
-Clean up messes you make!!!!!!! (This is HUGE)
-Use/move items as needed; however, return pillows/blankets/furniture etc. to where u found them.
-Use coasters.
-Keep personal items in your room.
-I keep the house cool. Extra blankets, personal heaters, socks, scarves, etc. are available.
-Do not adjust the thermostat.
-If you want to get in touch with me msg me. Please don't yell for me or knock on my door. I keep odd hours but will respond ASAP.
-Alert me to things such as a broken toilet seat, a burst water pipe etc. so I can contact someone to repair.
-Please alert me if you break or damage something so we can work out fair compensation. Don't just hide it…yes, I've found MANY broken things hidden.
-Security
-ALWAYS lock black iron security door. (if you lose your house key it's a $10 replacement fee)
-Never lock white wooden door - or close it for that matter.
-Doors can be left unlocked while in backyard; however, for kitchen ensure screen door is locked, all 3 locks on kitchen door are locked & that the alarm is set while inside. The glass door should have screen locked, door locked, wooden stick in place & alarm set.
-Keep porch light on.
-Kitchen
-CLEAN UP AFTER YOURSELF!
-Clean up messes you make in kitchen. Wipe up crumbs after making toast, clean up your spills, wipe down stove after cooking, pick up food you drop. (Cleaning supplies under kitchen sink & bathroom sink)
-After using a dish cloth, napkin or hand towel place in laundry basket & replace dish rag & towel.
-Don't leave items on counter or dining table etc.
-Don't leave dirty dishes on kitchen counter, in ur room, outside or anywhere in the B&B except for in the dishwasher or in the right sink.
-Dirty dishes: when magnet on dishwasher indicates clean; rinse dishes in right sink where strainer is, empty contents of strainer in trash & put dishes in right sink. Leave left sink empty for people to wash their hands or fill a pot with water etc. When magnet indicates dirty, place dishes in dishwasher. If the magnet indicates clean & the red light is on the washer is running so don't open; however, if red light is off grab dishes from washer first.
-Don't hand wash dishes with the sponge. Do scrub dishes that won't come clean otherwise in dishwasher.
-Use stove fan when cooking.
-My Cats
-Don't let cats outside or leave doors open enabling them to escape & don't feed them.
-Don't call them fat. They're healthy according to my vet, & it would be like me coming to your house & calling your kids ugly. I realize people mean no harm; however, I find it offensive.
-Bathroom – PLEASE follow bathroom etiquette
-CLEAN UP AFTER YOURSELF - (Cleaning supplies under kitchen sink & bathroom sink)
-DON'T leave wet/dirty towels, wash cloths etc. in bathroom, instead put in hamper.
-Hang towels in your room to dry if you reuse, or put in brown wooden laundry hamper in dining room.
-Lower toilet seat after use.
-After showering pull curtains back to dry, & ensure liner is inside tub & curtain is outside of tub.
-Leave bathroom door open when not in use.
-If you make a mess in/on the toilet, please clean your mess – meaning if there are bodily fluids of any kind in bowl, on seat or anywhere on toilet CLEAN it up!
-Rinse sink & tub after using - nobody wants to shower with ur stray hairs or use a sink w/toothpaste or makeup residue.
-No personal items in shower (not even soap), on sink or anywhere except in your room or bathroom closet in a caddy (I can provide one.)
-Bathmat: if it's wet when you want to shower, feel free to grab a new one. If you do, place the one you remove in brown wooden laundry basket in dining room. Same for hand towels
-If you shed a hair please wipe up
-Cars (skip if u didn't drive)
-Park on the street
-Don't park in drive unless you've paid to do so.
-Don't leave valuables in your car.
-Shared Spaces (SKIP unless you're staying in a shared space)
-CLEAN UP AFTER YOURSELF
-"Couch Surfing at its Finest" (the twin bed/couch in living room), "Futon in Fred's Room", "Twin Bed in Fred's Room", "Top Bunk in Fred's Room", "Bottom Bunk in Fred's Room", "The Summerhouse" & "Have Tent? Will Travel" are the shared space rooms/listings.
-If you book a "shared space" area, expect other people to be coming & going & for the noise & light levels to be amplified.
-I've provided ample storage for all shared space guests so keep all of your items neatly stored.
-Long-Term guests (Read if your stay is 1 month or longer; otherwise, this section is optional)
-CLEAN UP AFTER YOURSELF
-Leave the room the way you found it; therefore, at the end of a long stay please sweep/vacuum/take out trash/wipe down surfaces etc. Long term guests staying one month or more are expected to leave their room as clean as they found it. In lieu of this the guest may opt to pay a $50 cash cleaning fee prior to departure.
-Long-term guests receive discounts as compared to people staying a few days. Therefore, I have higher expectations. If the kitchen trash is full, take it out to the green garbage can on side of house & replace liner, if dishes are clean put them away sometimes etc.
-Continue to follow house rules for the entirety of your stay. Don't be offended if I remind you about rules. The aesthetics, cleanliness & organization of C&T's is of paramount importance to me.
-Guests need to book their stay through Airbnb
-If you plan on leaving town during your stay, notify me of the dates.
-Don't stockpile C&T's towels & wash cloths in your room – place in hamper.
-Smoking (SKIP if you're not a smoker)
-No Smoking in the house
-Smoking is allowed outside & ash trays are on the front porch & in the backyard – empty ash trays after use
-Visitors/Guests of Guests (SKIP if you won't have visitors)
-You're welcome to have a friend stop by for a visit or tour. If you're in a private room, it's an additional $15 for each night you have a guest spend the night. If you wish to have a pallet built it's an additional $10. If you booked a shared space bed, your guest would simply need to book a different shared space bed through Airbnb.
-Payment in full is due prior to your guest's arrival, & I need to be notified of the dates.
-NEVER give a key to anyone who's not a member of your registered group.
-You're responsible for ensuring your visitors & overnight guests follow house rules. If your guest makes me uncomfortable, I'll ask him to leave & will not refund $.
-Pets (SKIP if you're not traveling with pets)
-I welcome travelers w/furry friends; but, my cats, Naxos & Sappho, don't share my enthusiasm. Therefore, I've got strict rules re: pets.
-Pets must stay in your private room at all times, unless you're taking pet outside. Dogs are welcome to run free in the triple lot backyard but, I'm not sure it's secure enough that a dog couldn't escape.
-Clean up after your pets both inside & outside including using a lint roller to remove pet hair from furniture & pillows etc., sweeping/mopping up any dirt/leaves/debris their paws track into the house, picking up poop from yard & placing in outside trash & thoroughly cleaning any accidents they have in house.
-DON'T let your pets roam the house (even on a leash) or even stand w/them anywhere but your room.
-Upon your departure if your pet has destroyed any property or you haven't adequately cleaned room & yard a $50 cash fee is required
คุณยังต้องยอมรับ
Some pet(s) live in the house
---
---
---
---
Heidi was very accommodating and took us in last minute which was greatly appreciated. She was very thorough upon check in and walked us through house rules and answered any questions we had. Almost everyone there was a traveler which made for interesting conversations on the front porch over the provided sweet tea and local brew.
---
I can't say enough of how much I enjoyed staying at Chick & Turks! I came as a long term guest for an optometry school rotation, and it was great. Heidi is welcoming and easy to get ahold of when needed. Her home is cozy and very nicely decorated. Ric's Room is fully furnished and had everything I needed, including a cute little chair in the corner that my kitty liked to sit at (to bird watch and all that). The best part is the front porch and spacious backyard; these spots are the best to enjoy on a nice sunny day, or even a stormy night (front porch has screen doors to keep out the rain). I spent a lot of time on the porch with my kitty, which is great because you can also sit and hang out with the other guests. I remember needing a sheet or blanket just to cover one of the chairs outside, and she was so quick to grab me one in a few seconds. That type of easy communitcation made Chick & Turks so enjoyable to stay at. If Heidi wasn't home, she'd respond to my texts usually within a few minutes. One of my favorite memories here was a house dinner and bonfire we had. Everyone had a great time eating, conversing, laughing by the fire; it was a real fun night getting to know whoever was in the house at the time. Another great thing was the proximity to all the parks, downtown area, and museums. Everything was within 5-15 minutes away if driving. Heidi also has a ton of recommendations of places to check out, and can even offer discounted prices for some! Ask her about it :) It's amazing how I thought I'd be coming to stay and meet a great host, but we've also become friends! We bonded over our love of kitties, jewelry, and tequila :) If I come back to Memphis, Heidi's will always be the first place I'll even think to book. You get way more than you pay for, and will definitely make new friends!!
---
My stay with Heidi was exactly as described and more comfortable than I expected. I was in town for work and I work night shift, so with it being a shared home naturally I was concerned but decided to give it a shot. I was able to sleep soundly and without so much as a single noise waking me up. Not to mention the bed was extremely comfy. The neighborhood is quiet and conveniently located as well. Heidi was not in town for my stay, so I was not able to meet her, but her friend/long term resident Latifa was beyond welcoming and helpful. Would definitely stay here again.
---
Heidi is extremely hospitable and will do anything she can to meet your expectations and needs. I was a long-term guest and she happily arranged something for me to allow me to do the things I normally do - manage much of my daily activities with my computer. I kept to myself most of the time and it is what worked for me, so I'm pretty minimal when it comes to my needs, but she prepared everything and even provides things you might have forgotten; towels, shampoo, body wash, conditioner, and the like. Just be courteous to the other guests and you will enjoy your stay in Memphis. She's very knowledgeable about the area so don't hesitate to ask for places to go to and see!
---
เจ้าของที่พักรายนี้มี 375 ความคิดเห็นสำหรับที่พักอื่น
ดูรีวิวอื่น
เมมฟิส, เทนเนสซี, สหรัฐอเมริกา
เข้าร่วมตั้งแต่ ธันวาคม 2014
Ask me about a ride from the airport, train or bus station!
Born in Memphis, I've also lived in NY, D.C., Minneapolis, Amelia Island, Atlanta & Colorado Springs. However; I always come home to my favorite city...Memphis! I consider myself a "Hospitality Host" because Southern hospitality is real to me, & my goal is to ensure every person who stays with me feels welcomed, comfortable & has all their needs met. Chick & Turk's B&B is my primary occupation (& I LOVE my job); however, I also teach part-time at the University of Memphis. My core values are forgiveness, justice & equality.
ภาษา:
English