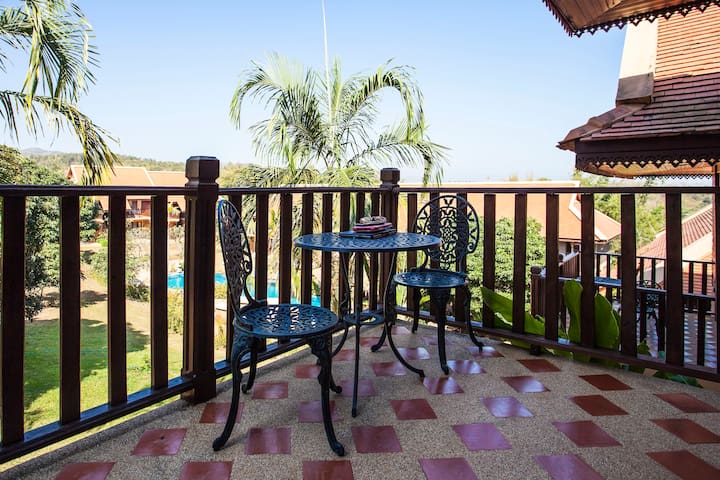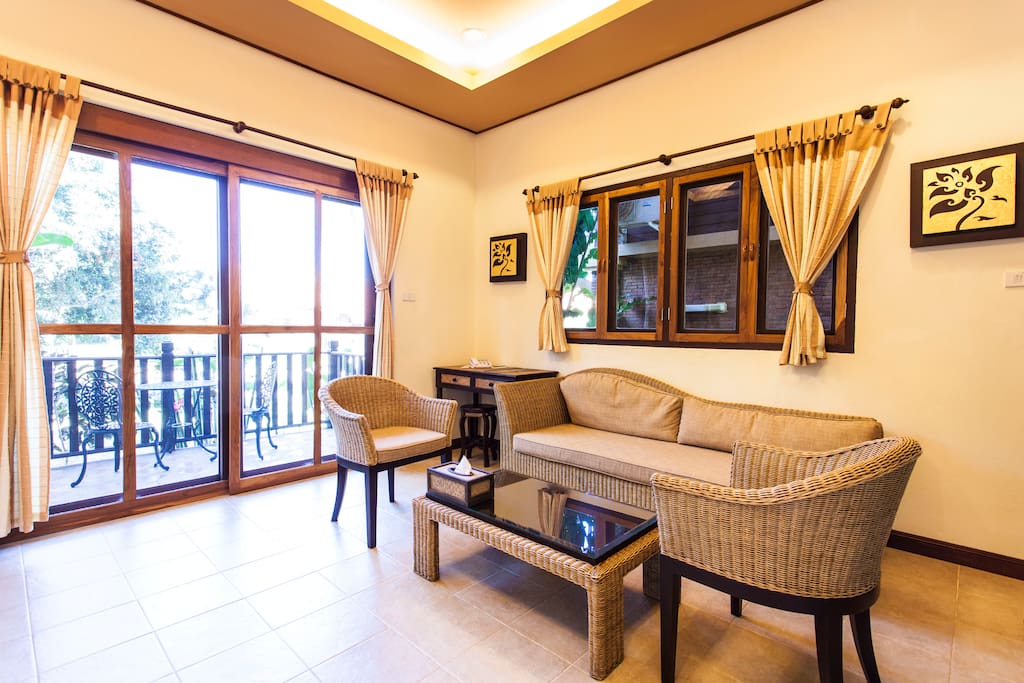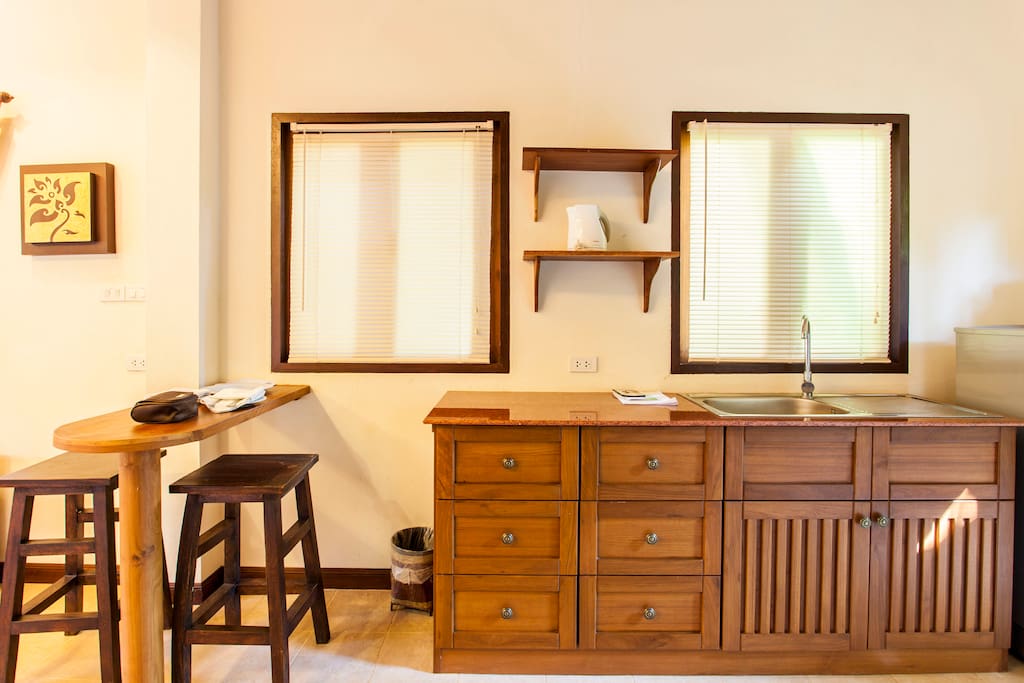 Beautiful Townhouse on a resort!
ทาวน์เฮาส์ส่วนตัวในรีทรีทสุดหรู 40 นาทีจากตัวเมืองเชียงใหม่มองเห็นสระว่ายน้ำ ห่างจากร้านอาหารศูนย์สบู่ดำและสปาเพียงไม่กี่ก้าว ราคารวมน้ำและไฟฟ้า
Private resort townhouse, on a luxury retreat, 40 mins from Chiang Mai City, overlooking the pool.
Steps from the onsite restaurant, detox centre, and spa.
Price includes water and electricity
ที่พัก
ทาวน์เฮ้าส์ 1 ห้องนอนที่มีชื่อเสียงระดับโลกที่ Pavana Resort, Chiang Mai โปรดทราบรีสอร์ทแห่งนี้ตั้งอยู่ในเขตแม่ริมเป็นระยะทาง 40 นาทีจากเมืองเชียงใหม่ รีสอร์ทมีชื่อเสียงด้านการดีท็อกซ์การฝึกโยคะและการล่าถอยอาหารดิบและอื่น ๆ อีกมากมายและมีพื้นที่กว่า 80,000 ตารางเมตรของบริเวณเนินเขาที่งดงามตระหง่าน สวรรค์อันแท้จริงสำหรับการพักผ่อนหย่อนใจ - สวนมะม่วงที่มีมนต์ขลังนาข้าวที่เขียวชอุ่มการจัดสวนที่แปลกใหม่และฟาร์มอินทรีย์ของสปาเอง สถาปัตยกรรมอันตระหง่านได้รับแรงบันดาลใจจากหลังคาสไตล์ไทยล้านนาภาคเหนือ สปาตั้งอยู่ในหุบเขาแม่ริมอันงดงามมองเห็นทิวทัศน์ของเทือกเขาอันงดงามและทิวทัศน์ตามธรรมชาติ บริเวณใกล้เคียงมีเขตรักษาพันธุ์สัตว์เสือและช้าง คุณสามารถทำซับหนังสัตว์, ขี่ช้าง, ล่องแก่ง, เดินป่าและกิจกรรมอื่น ๆ ในบริเวณใกล้เคียง เตียงขนาดคิงไซส์ ห้องนอนบนชั้น 21 "ทีวีและเพดานไทยดั้งเดิม ห้องน้ำชั้นบนพร้อมฝักบัวอาบน้ำแบบกระจก ห้องเก็บของบนชั้นพร้อมเครื่องซักผ้า ห้องนั่งเล่นชั้นล่างพร้อมโซฟาและทีวีขนาด 32 นิ้ว ห้องน้ำแขกผู้เข้าพักด้านล่าง ครัวอาหารดิบ (เครื่องปั่นเครื่องคั้นน้ำตู้เย็น) จานเล็กสำหรับทำอาหาร เตาอบ นอน 1-3 คน 85 ตร.ม. เมตร ทาวน์เฮาส์มีอินเทอร์เน็ตไร้สายติดตั้งระเบียงที่ปลอดภัยและชั้นบนและชั้นล่างมองเห็นสระว่ายน้ำและสวนหย่อม มันเป็นเพียงไม่กี่เมตรจากร้านอาหารในสถานที่ดีท็อกซ์ศูนย์ (ที่พวกเขาทำขึ้นเครื่องดื่มของคุณทั้งหมดถ้าคุณกำลังทำโปรแกรมใด ๆ ) และเพียงสะดุดจากประตูหน้าไปศาลานวดที่หรูหรากลางแจ้งที่ได้รับการฝึกฝนอย่างเต็มที่ therapists ปรนเปรอร่างกายของคุณสำหรับน้อยได้ตาม 10GBP ($ 12) ต่อชั่วโมง ศาลาโยคะอยู่ห่างจากประตูหน้าเพียงไม่กี่เมตร มีบริการรถรับส่งไปยังเมืองเชียงใหม่ 3 ครั้งต่อสัปดาห์เพื่อที่คุณจะได้พบกับตลาดที่น่าสนใจวัดวาอารามและทุกสิ่งทุกอย่างที่ทางเมืองมีให้ มีบริการรถแท็กซี่ส่วนตัวในสถานที่เพื่อนำคุณเข้าสู่เมืองเชียงใหม่สำหรับการช็อปปิ้งและเที่ยวชมสถานที่และยังมีบริการรถรับส่งสนามบินราคาถูก ทาวน์เฮ้าส์มีการทำความสะอาดและเตรียมพร้อมสำหรับการมาถึงของคุณและมีแพ็คเกจการทำความสะอาดที่แตกต่างกันให้เลือกซึ่งคุณต้องจ่ายในสถานที่สปา คุณสามารถเลือกที่จะทำความสะอาดบ้านได้ทุกวันหรือในช่วงเวลาที่คุณเลือกและคุณสามารถสลับระหว่างแพ็คเกจต่างๆได้ รวมถึงสาธารณูปโภค (น้ำและไฟฟ้า) ซึ่งไม่ปกติสำหรับเช่าในรีสอร์ทแห่งนี้ เมื่อคุณเช่าทาวน์เฮาส์ของคุณคุณสามารถใช้บริการสระว่ายน้ำวิ่งออกกำลังกายและออกกำลังกายกลางแจ้งได้ฟรี กิจกรรมอื่น ๆ ทั้งหมดเช่นโยคะชั้นเรียนทำสมาธิ ฯลฯ นอกจากนี้ยังมีบริการนวดที่รีสอร์ทซึ่งเป็นหน่วยงานที่แยกต่างหากไปยังที่อยู่อาศัย สนามบินที่ใกล้ที่สุด: เชียงใหม่ที่ 15 ไมล์ ส่วนนี้ของประเทศไทยมีอุณหภูมิปานกลางตลอดปีและภูมิประเทศที่สวยงามมากที่สุด บริเวณที่เขียวชอุ่มและเขียวขจีมีเพียง 65 ห้องและวิลล่า ชีวิตที่เงียบสงบที่ดีที่สุด คุณสามารถเข้าร่วมโครงการ Detox / Weight Loss Cleansing ที่มีชื่อเสียงหรือการพักผ่อนหลายประเภทรวมถึงการลดน้ำหนักอาหารดิบและโยคะ นอกจากนี้คุณยังสามารถเพลิดเพลินกับห้องอาหาร "Radiance" อันมีชื่อเสียงซึ่งมีทั้งอาหารมังสวิรัติมังสวิรัติอาหารดิบและอาหารเพื่อสุขภาพจากฟาร์มอินทรีย์ของเรา วิลล่าแห่งนี้ตั้งอยู่ติดกับสระว่ายน้ำน้ำจืด 1 ใน 2 ศาลานวดกลางแจ้งอันเงียบสงบที่ซึ่งคุณสามารถรับบริการนวดแผนไทยได้เต็มรูปแบบและห้องอาหารที่ให้บริการอาหารอินทรีย์ เติบโตขึ้นในฟาร์มอินทรีย์ของสปาเอง ร้านอาหาร Radiance เชี่ยวชาญด้านอาหารมังสวิรัติมังสวิรัติและอาหารดิบ ใช้ผักและผลไม้สดจากหมู่บ้านในท้องถิ่นรวมทั้งฟาร์มอินทรีย์ของรีสอร์ทในจังหวัดเชียงใหม่ เมนูมีทั้งอาหารจานอร่อยหลากสีน้ำผลไม้และเครื่องปั่น Radiance Restaurant ได้รับการยกย่องว่าเป็นหนึ่งใน 50 ร้านอาหารยอดนิยมในโลกโดยนิตยสารนานาชาติ Restaurant เดอะพาน่าพาน่ารีสอร์ทได้รับเลือกให้เป็นหนึ่งใน '10 Top Nutritionally Focused Resorts in Asia 'จากนิตยสาร AsiaSpa สิ่งอำนวยความสะดวกอื่น ๆ ของรีสอร์ท ได้แก่ Bamboo Spa พร้อมห้องอบไอน้ำแบบไทยซาวน่าแบบอินฟราเรด 2 ชุดบำบัดอายุรเวทนวดแผนไทยสระว่ายน้ำ 2 วงจรวงจรหลอดเลือดหัวใจกลางแจ้งสนามเทนนิสชั้นเรียนโยคะอาหารดิบและทุกวัน เรียนทำสมาธิฟรีที่ Cloud 9 Yoga Sala ด้วยมุมมอง 100 ไมล์ รีสอร์ทแห่งนี้อยู่ห่างจากเมืองเชียงใหม่เพียงไม่กี่นาทีซึ่งได้รับการโหวตให้เป็นอันดับที่ 2 ของ "เมืองที่ดีที่สุดในโลก" จากนิตยสาร Travel and Leisure นิตยสารท่องเที่ยวยอดนิยม การลงคะแนนเสียงมีพื้นฐานมาจาก: 1. สถานที่สำหรับเที่ยวชมความงามและความเขียวขจี 2. ศิลปะและวัฒนธรรม 3. อาหาร; 4. พื้นที่ช็อปปิ้ง; 5 ความเป็นมิตรของผู้คน 6. คุ้มค่าใช้จ่าย
Beautiful 1 bedroom townhouse on the world famous Pavana Resort,Chiang Mai.
PLEASE BE AWARE, THE RESORT IS ACTUALLY IN MAE RIM, WHICH IS A 40 MINUTE DRIVE FROM CHIANG MAI CITY.
The Resort is renowned for their detox, yoga and raw food retreats, amongst others, and is spread over 80,000 sq. meters of spectacular gently sloped hillside property. A veritable paradise for relaxation -- magical mango groves, lush rice paddies, exotic garden landscaping and the Spa's own organic farm. The majestic architecture is inspired by the northern Thai Lanna style rooflines.
The spa is located in gorgeous Mae Rim valley, overlooking spectacular mountains, and natural scenery.
Nearby there are tiger and elephant sanctuaries.
You can do zip lining, elephant trecking, white river rafting, hiking and many other activities nearby.
King-size bed
Upstairs bedroom with 21" TV and original Thai ceiling art
Upstairs bathroom with glass enclosed shower
Upstairs storage room with washing machine
Downstairs living room with sofa and 32" TV
Downstairs guest bathroom
Raw foods kitchen (blender, juicers, fridge)
Small hob for cooking
oven
Sleeps 1-3 persons
85 Sq. meters
Townhouse has wireless Internet is equipped with a safe and upstairs and downstairs balconies overlooking the swimming pool and landscaped gardens.
It is just a few metres away from the onsite restaurant, detox centre (where they make up all your drinks if you are doing any of the programs), and a mere stumble from the front door to the luxurious outdoor massage sala, where fully trained therapists pamper your body for as little as 10GBP ($12) per hour
The yoga sala is also just a few metres from the front door.
There is a shuttle bus service into Chiang Mai city 3 times a week, so you can hit the fantastic markets, temples, and everything else the city has to offer.
There is a personalized taxi service on site to take you into Chiang Mai City for shopping and sightseeing, and they also provide cheap airport transfers.
The townhouse is cleaned and prepared for your arrival, & there are different cleaning packages to choose from, that you pay for onsite, to the spa.
You can choose to have the villa cleaned daily, or at any interval you choose, and you can alternate between different packages.
Utilities(water and electricity) ARE INCLUDED, which is not typical for rentals on this resort.
When you rent my townhouse, you have free access to the pools, running track and outdoor gym.
All other activities, like yoga, meditation classes, massages etc are paid for at the resort, which is a separate entity to the residences
Nearest Airport : Chiang Mai at 15 Miles
This part of Thailand boasts the mildest year round temperatures and most unspoiled landscapes.
The grounds are lush and green with only 65 Rooms and Villas; tranquil living at it's finest. You can partake in the famous Detox/Weight Loss cleansing program or many types of Retreats including Weight Loss, Raw Food, and Yoga. You can also enjoy the famous "Radiance" Restaurant featuring Vegetarian, Vegan, Raw Food and Thai Healthy Cuisine from our Organic Farm.
If you just want a relaxing, tranquil break, this villa is located a right next to 1 of 2 pure water swimming pools, a beautiful serene outdoor massage sala, where you can get full body Thai massages for and the radiance restaurant which serves organic food grown on the spa's very own organic farm.
The Radiance Restaurant specializes in vegetarian, vegan and raw foods. It uses fresh fruits and vegetables from both the local village as well as the Resort's organic farm in Chiang Mai. The menu features a wide array of delicious, colorful dishes, juices and smoothies. Radiance Restaurant was hailed as one of the Top 50 Restaurants in the World by international magazine, Restaurant. The Pavana Resort was selected as one of the '10 Top Nutritionally Focused Resorts in Asia' by AsiaSpa Magazine.
Other amenities of the Resort include the Bamboo Spa with traditional Thai steam room, two Far Infrared Saunas, Ayurvedic treatments, Thai massage, as well as two swimming pools, outdoor cardio vascular circuit, a tennis court, Yoga classes, Raw Food classes and daily free meditation classes at Cloud 9 Yoga Sala, with 100 miles of views
The resort is just a short drive from Chiang Mai City which was voted #2 'World's Best City' 2010 by the readers of Travel and Leisure Magazine, the top travel magazine. The votes were based on: 1. Places for sightseeing, their beauty and greenery; 2. Arts and culture; 3. Food; 4. Shopping areas; 5. People's friendliness; 6. Value for money spent.
ผู้เข้าพักใช้อะไรได้บ้าง
ฟรีสระว่ายน้ำห้องออกกำลังกายกลางแจ้งและทางวิ่ง สิ่งอำนวยความสะดวกอื่น ๆ ทั้งหมดจ่ายแยกต่างหาก
Free access to pools, outdoor gym and running track.
All other amenities paid for seperately
การสื่อสารกับผู้เข้าพัก
ฉันจะไม่อยู่ในสถานที่ แต่ผู้จัดการ Lookwa จะออกจากคีย์สำหรับคุณในบ้านเพื่อการเช็คอินได้ง่ายไม่ว่าคุณจะมาถึงเวลาใด ถ้าคุณต้องการคนขับรถเพื่อรับคุณจากสนามบินและพาคุณตรงไปที่บ้าน (เนื่องจากรีสอร์ทไม่ใช่วิธีที่ง่ายที่สุดในการค้นหา) ฉันมีคนขับที่น่ารักซันนี่ซึ่งจะทำเช่นนั้นสำหรับ 800bht เพียงส่งข้อความถึงฉันรายละเอียดเที่ยวบินและจำนวนผู้โดยสารและเขาจะอยู่ที่นั่นพร้อมกับชื่อของคุณบนการ์ด! กรุณานำกุญแจกลับไปที่แผนกต้อนรับส่วนหน้าของรีสอร์ทเมื่อออกจากที่พักหรือหลังเลิกงาน จะมีค่าธรรมเนียม 500 ปอนด์สำหรับคีย์ที่หายไป
I will not be onsite, but the manager, Lookwa will leave the keys for you in the house, for easy check in, whatever time you arrive.
If you would like a driver to pick you up from the airport, & take you direct to the house, (As the resort is not the easiest to find),
I have a lovely driver, Sunny, who will do that for 800bht.
Just message me your flight details and number of passengers, and he'll be there with your name on a card!
Please return the key to the resort front desk on exit, or after hours, leave in the house.
There will be a 500bht fee for lost key.
---
---
คนเพิ่ม: ไม่มีค่าธรรมเนียม
เงินประกันความเสียหาย: $150
สื่อสารผ่าน Airbnb เท่านั้น
เพื่อเป็นการปกป้องการชำระเงินของคุณ อย่าโอนเงินหรือติดต่อสื่อสารผ่านช่องทางอื่นที่ไม่ใช่เว็บไซต์หรือแอพ Airbnb
เรียนรู้เพิ่มเติม
---
No smoking in the house please.
You will be charged for extra cleaning if you do!
Please respect the house, as you would your own.
That's all I ask!
---
---
---
เจ้าของที่พักรายนี้มี 33 ความคิดเห็นสำหรับที่พักอื่น
ดูรีวิวอื่น
From London, UK originally - I'm the one in the middle with the glasses in the pic!
I'm an entertainer by trade, and have travelled the world.
These 2 properties are in my favorite places on the planet!

สำรวจตัวเลือกอื่นๆ ในและรอบ Chiang Mai
ที่พักมากขึ้นใน Chiang Mai :