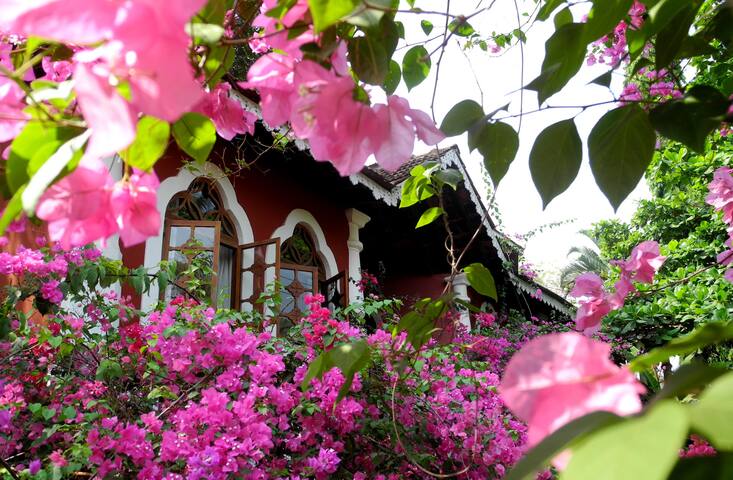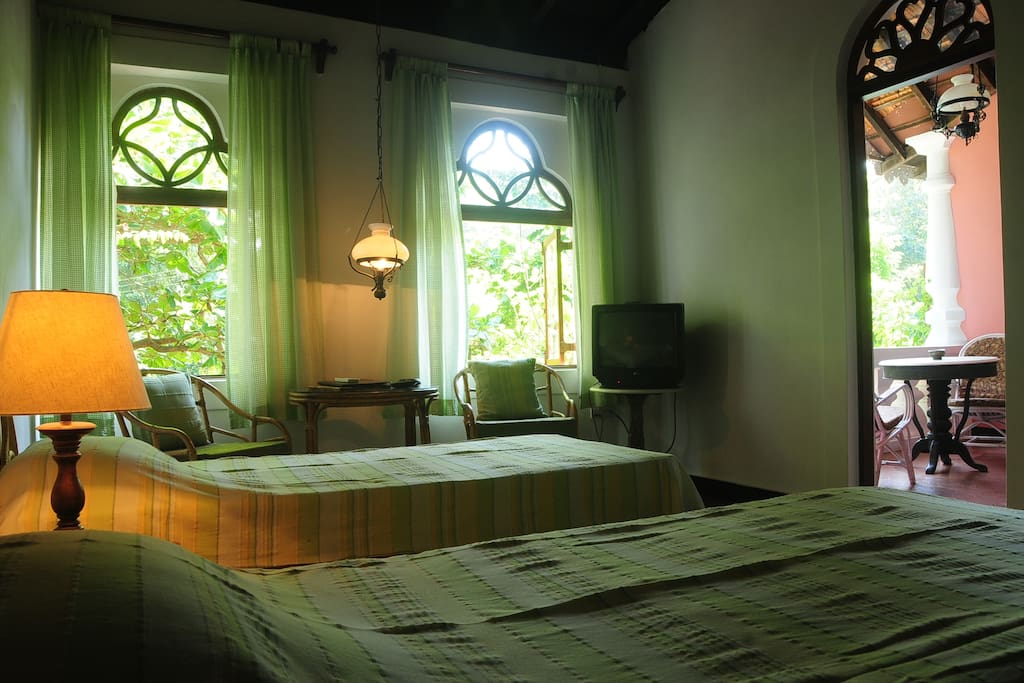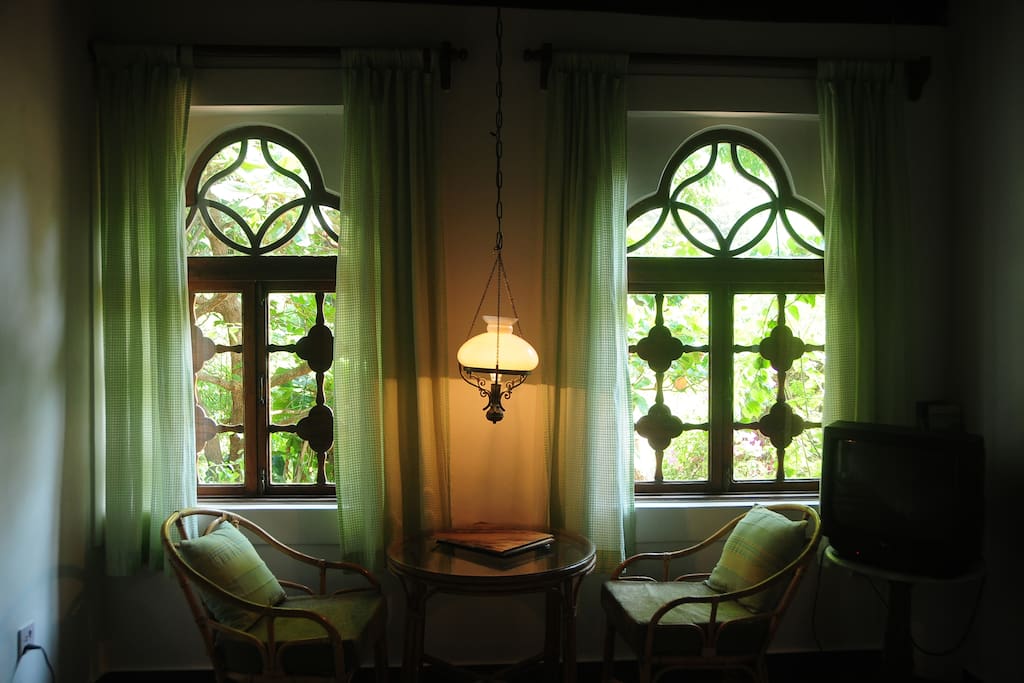 ที่พัก
About the property
A pair of cozy twin rooms set side by side, each with its own entrance. They are lovingly furnished with cane twin beds, antique wardrobes, and have en-suite bathrooms. Cable TV is installed to keep you informed and entertained, and the air conditioning will keep you cool.
The rooms share the same nicely shaded porch adorned by the mature bougainvilleas that give the rooms their name They can be rented individually or together.
Attractions and distance
The Bougainvillea rooms are the most reasonable option in the Marbella Guest House, a beautiful romantic Portuguese style mansion, where attention was paid to every detail. It is lovingly designed and furnished, and when the building was reconstructed in 1987 it would have been the first boutique establishment in Goa, but the term had yet to be coined.
Location – neighborhood description
The guest house is a beautiful romantic Portuguese style mansion, where attention was paid to every detail. It is lovingly designed and furnished, and when the building was reconstructed in 1987 it would have been the first boutique establishment in Goa, but the term had yet to be coined.
Amenities
•cable TV
•Wi-Fi
•Air-conditioning
There is a gourmet restaurant offering various styles of cuisine served in the lush green courtyard, in the privacy of your dining room or on your personal terrace. The chefs will be happy to oblige to any personal tastes or health requirements, and only residing guests are catered to, to maintain the peaceful ambience.
Check in Confirmation Required
Check out Confirmation Required
In case you want to venture out any further, we can arrange any type of transport for you: scooters, bikes, cars and jeeps for hire or a taxi if you prefer to be chauffeured. And the bus stop is also just a five minute walk away.
We are looking forward to welcoming you, and making it a most memorable stay.
Minimum booking for 3 Nights
---
มีที่จอดรถฟรีบริเวณที่พัก
---
เช็คอินได้ทุกเวลาหลัง 12:00
We don't really like to impose rules on anyone, as we started this place at a time when Goa was still a symbol of freedom, a place where hippies and other people who did not want to conform escaped to.
But evidently some structure is required:

Please don't smoke in bed especially under the mosquito nets. Ashtrays are provided, but we do appreciate it, if you take the smoke outside.

Please don't keep wet towels or laundry on the furniture. Clothes stands will be issued if required.

We are not really suitable for children under 12 years of age as we don't have any designated recreational area for them to let off their steam, neither do we have cots for the small ones. But if you think your child is the quiet type we can make an exception.

The house was also not really designed for people with physical handicaps, as there are lots of steps and split levels.

We have pets of our own, so it can become problematic accommodating other animals.

In general we like to keep it peaceful, so we would appreciate a certain consideration towards other guests, especially after 11pm.

Thanking you for your cooperation,
Dian & Susan
คุณยังต้องยอมรับ
Dog(s) และ cat(s) live in the house
---
---
This property is ideal to go to if you are looking to relax and enjoy the quite. While it is located not too far from the hub of action in North Goa, it ensure peace and great service in the most charming ways possible. The property is idyllic. The Portuguese bungalow is full of charm and character. It is replete with greenery that spreads around the property from it's courtyard. The food at the property is very good! Everything they cook is fresh and flavorful. Tucked away in a quite and very green lane near Fort Aguada, this place is a ten minutes walk to the beach. They provide transport for you to head out into town should you need it. But do go walking on the ridge right behind the bungalow. It promises amazing views. The route is lush green and entirely desolate, at least it was when i walked it, but supremely delightful. I walked the ridge to reach the ocean view and it was sheer serendipity. I wanted a relaxing and quite weekend away and that's exactly what i got. Would very likely visit again.
---
We had made a booking for three (URL HIDDEN) a beautiful property,very well kept,very close to Sinquerim beach. The only factor that spoilt the whole experience was that the manager Sajjan told us that bfast was not included in the room rent and it would be at an extra cost.When I showed him their listing on the phone which clearly showed free breakfast, he blamed it on Airbnb and said Airbnb had done it on their own!! Then I told him that I was an Airbnb host myself and I knew how listing works and asked him to open his listing on the computer and showed him the ticked box of breakfast,he merely unticked it and said he would speak to the owner and get back to us.But he never got back.We decided to eat our bfast out on the second day, not wanting an argument again.I had a talk with another manager( Raymond I think)on the second evening and he also said he would talk to the boss and get back, but again he also never got back!! On the third n the last day,while checking out early none of the managers were there,we had our bfast there itself and told the restaurant staff to speak to the manager or the owner about the charge.Ultimately they didn't charge us for the bfast, but it was an extremely unprofessional way of doing a business and a very very unpleasant start to our holiday.
---
We have just returned to the UK after our wonderful honeymoon to India. Without fear of contradiction, the highlight of our trip was our stay with Raymond and his staff at the Marbella Guest House. After the hustle of Mumbai, the perfect serenity of the MGH, was extremely welcome. Situated in a secluded location only several minutes walk to the lovely Candolim beach, the MGH is a stunning example of the Portuguese architecture you see in much of Goa. The leafy location, which has an abundance of wildlife (including beautiful birds and butterflies), was only a 30 minute (750 rupees) taxi ride from the train station in Thivim making it easily accessible. The manager, Raymond, is a star and is available most of the day to satisfy any of your needs but he is also supported by a superb staff of seven. Pascual and Ashok can rustle up some of the best food you will find in Goa and Nandu, Denzil, Sajjan and Karzan (on nights) will take care of your every need. The rooms, bedding and towels are spotless and this is much due to the care and attention of Leela who does a sterling job. They are like a family and I must say it was difficult not to feel a part of it ourselves. Do not hesitate to book the MGH as you will not regret it.
---
Its always a pleasure to stay at Marbella. Its quiet and the house is just gorgeous. The staff is friendly and the dogs and cats are adorable. We had a slight problem paying by card for our food bills and were asked to go to an ATM, but when we told them it was going to be difficult considering my friend was injured and we were not going to be able to walk the distance, the matter was resolved. All in all, would recommend it anyone who wishes to experience an old Goa charm, five minutes form the beach.
---
Seven nights at Marbella and we have to agree with all the prior positives comments. The guest house is positioned at the end of a lane and a casual 12 minute walk to the quietest part of the north Goan beach strip. Thank you to Ashok, Pascuale and the rest of the kitchen staff. Beautiful food made from raw ingredients in plain view from the very clean kitchen. Thank you to Sirrgin and Raymond attending to all of our needs and questions in a highly professional manner. Thank you to Leela for your smiles every morning. Lastly thank you to Rupert and Ruby. It took us a while to beleive the turn to the right and not the left was the correct option...thanks Rupert. PS no thanks to the cats. I don't remember them moving in 7 days
---
Hi,

My name is Dian. I settled down in Goa and bought this house in 1985 after already having developed a love for the place on previous childhood visits, when my German mother made sure I remained in touch with my Indian ancestry. After two years of intense renovation the place was finally ready to accommodate the first guests.
After a couple of years I decided to lease another house just ten minutes down the road to live in, where my love for music didn't compromise my visitors need for peace.

In 2005 I met the love of my life, Susan. She had been coming down from England regularly since 1993 and already felt at home in Goa. We married, and Our Guest House soon became her baby, adding her love for decoration to it.

We have a friendly team of ten taking care of the six rooms, some of them having been with us over 20 years. Susan regularly checks that everything is perfect, leaving me to more occasional visits, and plenty of time for my guitar.

Hoping to welcome you soon to lovely Goa,
Bye, Dian

สำรวจตัวเลือกอื่นๆ ในและรอบ กัว