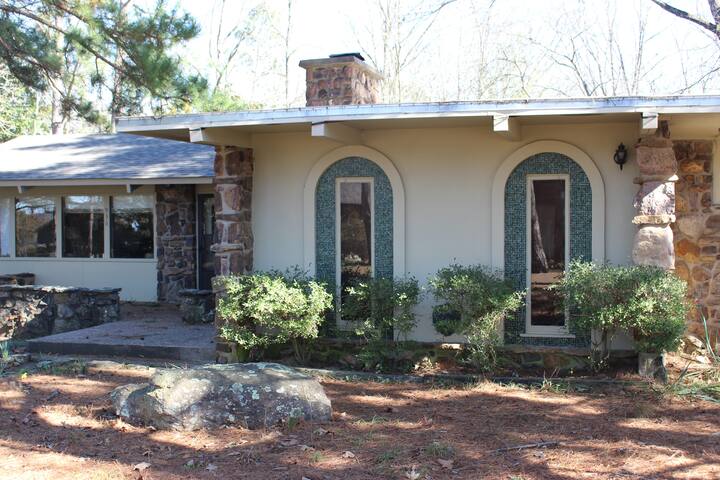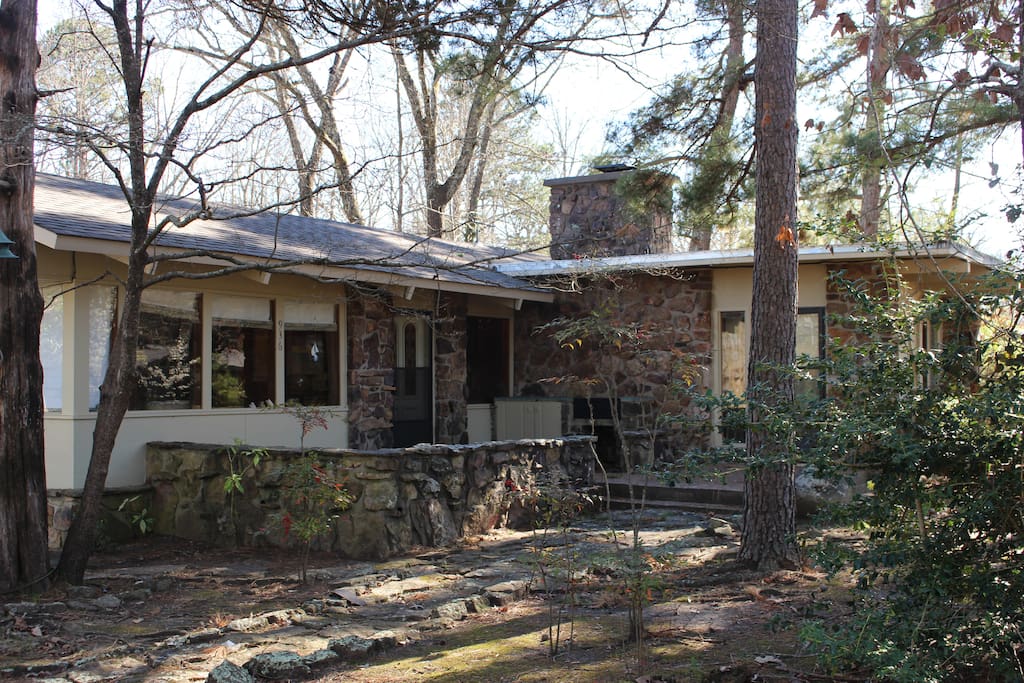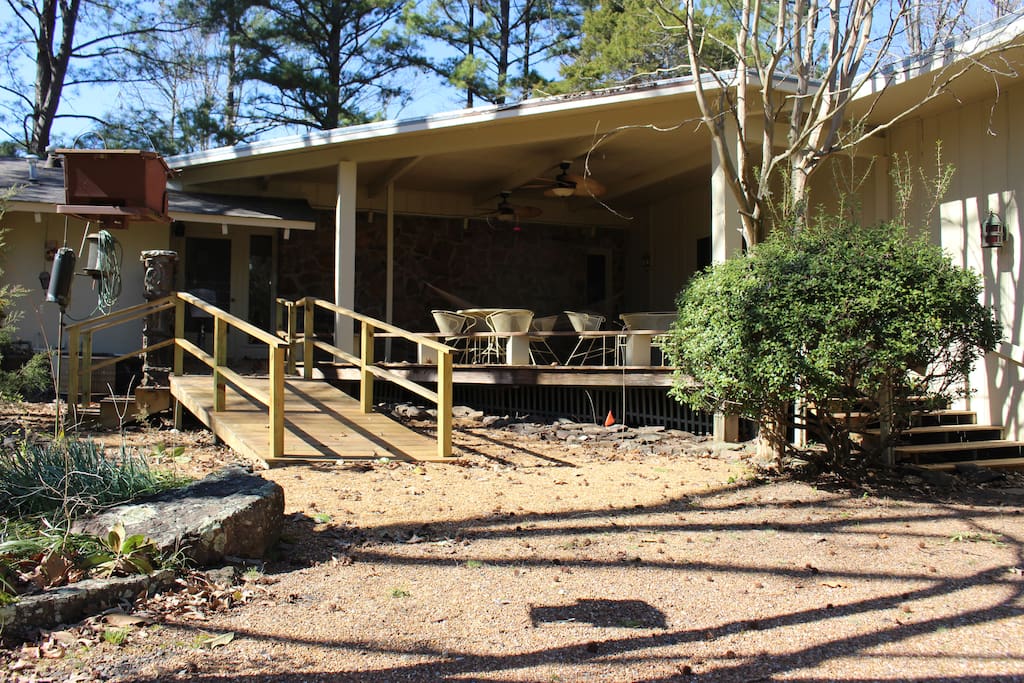 3 BR 3 BA Sleeps 10, Partial Handicap Access Home
3 BR 3 BA Sleeps 10, Partial Handicap Access Home
Spacious Sitting Room, Den, 3 BR 3 BA, Sleeps 10, Partially Handicapped Access Home
This fully furnished, large "retro" vintage home (think 'MAD MEN' style) is located in the exclusive and famed Eden Isle resort community on beautiful Greer's Ferry Lake just outside the charming town of Heber Springs AR which is located in the Ozark Mountains. A perfect spacious place to relax for any age group! this abode is a home, not just a house or cabin! (see further details under The space link below)
ที่พัก
There is also a leather recliner that has been raised to conform to a handicapped individual's needs. (Caveat: the handicapped individual would need to be able to use the walker to access the master bathroom, as the door is not wide enough for a wheel chair). However, this abode is a home, not just a house or cabin! The handicapped access to the home is not just for those that might want to rent it in their elder years, but a person(s) who might want to spend time in a beautiful serene environment and have a ramp to pull luggage and coolers from the car into the house. A large, covered porch deck on the back of the house has a secluded view from any neighbors, allows for watching early morning sunrises while you drink your coffee, but is shaded during the day and evening, permitting a relaxed atmosphere where stars shine like diamonds in the sky, as there are no interfering city lights.
Eden Isle Marina is only a block away, where boat & boating recreation rentals are available. The acclaimed Red Apple Inn and Country Club is just a few blocks away, offering golf, and dining options. Just 10 minutes away is the town of Heber Springs where movies, bowling, restaurants and shopping are all available (antiques too!). 15 minutes away is trout fishing on the Little Red River. This is the perfect place to relax with family and friends for a long weekend or several full weeks break from a hectic life set in a mild climate.
The home features 2 spacious living areas, which include a large den with ample seating and sofa bed and a large common sitting area with sofa bed. There are TV's in the Master bedroom, common sitting room (with a DVD player), den, and guest bedroom. There also is a stereo system with a DVD player for the living/den/kitchen/dining area, and the house has wireless Internet.
The home has 3 bedrooms, 3 full baths, and two pull out sofa beds. The master bedroom has a king sized bed, exercise bike, pants presser and private bath. The guest bedroom has a queen sized bed and a medium sized attached bunk bedroom (bunked twin beds) (which can be closed off from the guest bedroom via folding doors), and has a full bath attached to the guest quarters. There is also a full bath across the hall from the den. The home has comfortable beds to accommodate 6, however with the 1 queen sized sofa bed and 1 full sized sofa bed that can accommodate 2 each, that stretches the sleeping potential to 10.
The fully stocked kitchen is well appointed with a range/oven, dishwasher, microwave, coffee pot, Kitchen Aid mixer, food processor, bread machine, kitchen scales, toaster oven, blender and just about any item you might need, and is open to the main living areas. There is a dining table that seats 6-8 and ample room on the large, covered porch deck for "overflow" diners, which is accessible to both the kitchen and the master bed room, and is complete with a gas grill, iron furniture, a Pauley's Island hammock and a bench for additional seating which spans the width of the deck. There are 2 regular sized refrigerators/freezers and a separate laundry room.
A boat can be stored behind the house or slips are available for rent from the nearby Eden Isle Marina.
Property Type
• House
• 1900 Square feet
House Rules
• Max. occupancy 10
• Smoking allowed but not inside or on porches
• Children Welcome
• No Pets unless legally licensed service pets
• Will rent to family groups and responsible adults over the age of 25 only. We will not rent to prom groups, school graduation groups,fraternities or sororities or youth groups, with or without adult supervision. Non-Compliance is grounds for immediate eviction without refund.
• Accommodation type: vacation rental
Meals
• Guests Provide Their Own Meals
• Full service and fast food restaurants nearby
Suitability
• Wheelchair Accessible (however handicapped person must be able to use a walker to enter the master bath, as the door is not wide enough for a wheelchair). An adjustable walker with tray is provided for guest use.
Bedrooms:
• Bedroom 1: 1 king Master bedroom with private bath and handicapped commode
• Bedroom 2: 1 queen
• Bedroom 3: bunk room (twin bunk beds) adjoining bedroom 2, but can be closed off with doors
• All bedrooms have ceiling fans and small TVs and ample closet space.
Bathrooms: 3 Bathrooms
• Bathroom 1: toilet, vanity sink, shower (handicapped accessible, but with a walker)
• Bathroom 2: toilet, vanity, tub/ shower
• Bathroom 3: vanity, toilet, shower
• There are hair dryers and curling irons and electric curlers for guest use
Entertainment
• Books
• DVD Player
• Games
• Cable TV with Sports Package
• WIFI
• Stereo
• Televisions
THEME
• Away From It All
• Family
• Sports & Activities
Attractions
• Churches
• Festivals
• Library
• Marina
• Restaurants
• Red Apple Inn amenities
Local Services & Businesses
• ATM/Bank
• Groceries
• Hospital
• Laundromat
• Massage Therapist
• Medical Services
• The Eden Isle Marina has a Ships Store where boating items can be rented/purchased and snack items for purchase
Leisure Activities
• Antiquing
• Bird Watching
• Boating: (boats can be rented from the Marina)
• Photography
• Scenic Drives
• Shopping
• Walking
• Wildlife viewing
• Hammock for relaxing
Sports & Adventure Activities
• Cycling: (bikes can be rented from Sulphur Creek Outfitters in town)
• Fishing
• Fly Fishing
• Freshwater Fishing
• Golf
• Hiking
• Sailing (renter must provide boat)
• Water Skiing (skis may be rented from the Marina)
• Water Tubing (tubes can be rented from the Marina)
• Scuba Diving or Snorkeling (with your own equipment)
• Canoe, Kayak, and Paddleboard: (can be rented from Sulphur Creek Outfitters)
General
• Air Conditioning / Heating
• Clothes washer and Dryer
• Fireplace
• Carport
• Hair Dryers, curling irons and electric curlers
• Internet: The house has wireless Internet. The security code is provided
• Iron & Ironing Board
• Exercise Bicycle
• Pants Presser
• Linens Provided
• Bath Towels Provided
• Beach Towels Provided
• Parking
• Dining: the main table in the dining area will seat 8, plus there is ample seating on the large covered back porch
Kitchen
• Coffee Maker
• Dishes & Utensils
• Dishwasher
• Microwave
• Stove/oven
• Toaster oven
• 2 full sized refrigerators with freezers
• Food Processor
• Bread Machine
• Electric Mixer
• Electric Can Opener
• Blender
• Kitchen Scales
• Large variety of cookware
Outside
• Large covered porch with porch furniture, bench seating and a hammock
• Front porch
• Outdoor Gas Grill
Eden Isle Marina: ((PHONE NUMBER HIDDEN) • (EMAIL HIDDEN)
Sulphur Creek Outfitters: ((PHONE NUMBER HIDDEN))
Red Apple Inn: ((PHONE NUMBER HIDDEN))
ผู้เข้าพักใช้อะไรได้บ้าง
The entire home is available for access.
การสื่อสารกับผู้เข้าพัก
I would love for prospective guests to contact me first before renting. I can be reached at (PHONE NUMBER HIDDEN)
สิ่งอื่นที่ควรรู้
There is a Vacation Rental Lease Agreement that ABSOLUTELY MUST be viewed and signed by each renter. It is up to the person renting to make sure that all house rules are followed as outlined in the legal Rental agreement. This is required for booking. I must have the signature page signed and sent to me before I agree to your booking. This may be done via scanning it in and sending via email, or taking a picture of it and sending to me via email or text message. My fax is on the blink right now, so I think these are the easiest ways for the traveler. The last page is what you fill out upon departure, depicting what steps you completed in the departure rules, and should be signed and left on the kitchen counter for our housekeeper's review.
The Vacation Rental Lease Agreement is:
MAURY'S LAKEHOUSE ON EDEN ISLE
VACATION RENTAL LEASE AGREEMENT
PROPERTY OWNER RENTAL AGENT:
MAILING ADDRESS:
10 HOLMES STREET
NEWPORT, AR 72112
RENTAL AGENT: Elisabeth Curtner(PHONE NUMBER HIDDEN))
PLEASE CONTACT Elisabeth FOR MORE INFORMATION
Email: (EMAIL HIDDEN)
THIS THIS RENTAL AGREEMENT IS ENTERED INTO BY AND BETWEEN THE RENTER AND THE OWNER OF THIS PROPERTY. THIS AGREEMENT CONSTITUTES A CONTRACT BETWEEN THE RENTER AND THE OWNER. PLEASE READ THIS VACATION RENTAL LEASE AGREEMENT THOROUGHLY. ANY MONEY RECEIVED BY THE OWNER OR THE RENTAL AGENT FOR OCCUPANCY OF THIS VACATION PROPERTY INDICATES THE ACCEPTANCE OF THE TERMS AND CONDITIONS OF THIS VACATION RENTAL LEASE AGREEMENT. IT IS THE RESPONSIBILITY OF THE RENTERS TO BE FAMILIAR WITH ALL POLICIES WITHIN THIS AGREEMENT. THIS OCCUPANCY WILL BE IN THE FORM OF A VACATION RENTAL ONLY AND DOES NOT CONSTITUTE A PERMANENT OR PRIMARY RESIDENCE OR OTHER TENANCY. THERE WILL BE NO SUBLETTING OF THE PREMISES. ALL GUESTS MUST ABIDE BY THESE RULES. ONLY THE PERSON MAKING THE RESERVATION WILL BE SENT THE VACATION RENTAL LEASE AGREEMENT, THUS IT IS THEIR RESPONSIBILITY TO MAKE SURE EVERYONE IN THEIR PARTY IS ALSO AWARE OF THE RULES OF THIS AGREEMENT.
RENTAL PROPERTY PHYSICAL ADDRESS: 936 LAKELAND DRIVE, EDEN ISLE RESORT, HEBER SPRINGS, AR 72543
TERMS OF LEASE: A MINIMUM STAY OF 2 NIGHTS IS REQUIRED. THE RATE IS $195 PER NIGHT. THERE ARE DISCOUNTED RATES FOR WEEK OR MONTH RENTALS.
SALES TAX MUST BE CHARGED.
• CHECK-IN TIME IS 4 PM AND CHECK-OUT TIME IS 10:30 AM OR EARLIER SHARP.
• MAXIMUM OCCUPANCY: THE MAXIMUM NUMBER OF OVERNIGHT GUESTS FOR THIS PROPERTY IS LIMITED TO 10 PERSONS. IF RENTERS EXCEED THE MAXIMUM OCCUPANCY, RENTERS AND ANY AND ALL OF THEIR GUESTS ARE SUBJECT TO IMMEDIATE REMOVAL AND FORFEITURE OF THEIR SECURITY/DAMAGE DEPOSIT AND RENTAL PAYMENT.
• DEPARTURE RULES:
TO AVOID EXTRA CLEANING CHARGES APPLIED TO YOUR DAMAGE DEPOSIT, PLEASE MAKE SURE THAT THE LAKE HOUSE IS LEFT IN THE FOLLOWING CONDITION:
• TRASH: PLEASE TAKE ALL OF YOUR GARBAGE AND TRASH TO THE MAINTENANCE CENTER. AS YOU DRIVE OUT OF THE ENTRANCE TO EDEN ISLE, TAKE A RIGHT, THEN AN IMMEDIATE LEFT INTO THE MAINTENANCE YARD AND DISPOSE OF TRASH THERE. PLEASE DO NOT LEAVE ANY TRASH OR GARBAGE IN THE CAN IN THE CARPORT AS GARBAGE PICKUP IS ONLY ON MONDAYS, AND AT THE STREET; THE GARBAGE COLLECTOR DOES NOT COME INTO THE DRIVEWAY.
• KITCHEN: THE KITCHEN IS FULLY EQUIPPED WITH ALL KINDS OF APPLIANCES, COOKWARE, GLASSES, DISHES, UTENSILS, SPICES, ETC. PLEASE RINSE OFF ALL ITEMS BEFORE LOADING INTO THE DISHWASHER. MAKE SURE THE DISHWASHER HAS BEEN RUN AND ITEMS ARE CLEAN BEFORE YOU LEAVE. THERE WILL BE A FEW DISHWASHER CUBES UNDER THE KITCHEN SINK, BUT DEPENDING ON YOUR LENGTH OF STAY YOU MAY NEED TO PURCHASE MORE.
• BEDROOMS AND BATHS: PLEASE STRIP ALL USED BEDS AND SOFA BEDS AND PLACE LINENS (WITH EXCEPTION OF THE BEDSPREADS AND BLANKETS) IN FRONT OF THE WASHING MACHINE.
• FURNITURE ARRANGED AS YOU FOUND IT
• OUTSIDE AREA PICKED UP
• BOTH REFRIGERATORS WIPED OUT AND CLEANED. DO NOT LEAVE FOOD ITEMS IN THE REFRIGERATORS OR ANY FOOD BEHIND.
• THERE IS A DRYING RACK IN THE CLOSET (TO THE FAR LEFT) IN THE GUEST BEDROOM. SET THAT UP ON THE BACK PORCH DECK AND PLACE ALL DAMP OR WET BEACH TOWELS, BATH TOWELS, AND KITCHEN TOWELS LAID OUT ON IT. IF THERE ARE MORE TOWELS THAN THE RACK WILL ALLOW, LAY THEM OVER THE PORCH FURNITURE. DRY USED TOWELS MAY BE PLACED ON THE FLOOR OF THE LAUNDRY ROOM WITH THE USED BED LINENS.
• THERE ARE CUSHIONS FOR THE PORCH FURNITURE ON THE FLOOR OF THE HALL LINEN CLOSET. PUT THESE BACK IN THE CLOSET BEFORE DEPARTURE.
• COMPLETE DEPARTURE CHECKLIST.
• LAKE HOUSE IS LEFT IN A NEAT CONDITION
• ALL DOORS LOCKED, INCLUDING THE SLIDING GLASS DOOR FROM MASTER BEDROOM TO THE PORCH. THE SLIDING GLASS DOOR HAS AN ALUMINUM ROD IN THE TRACK AT THE BOTTOM OF THE RIGHT HAND DOOR, WHICH PREVENTS THE LEFT DOOR FROM OPENING. PLEASE PUT THE ROD BACK IN PLACE BEFORE DEPARTURE.
RESERVATIONS AND PAYMENTS: PREFERRED PAYMENT METHOD IS BY CREDIT CARD.
DAMAGE DEPOSIT: IN ADDITION TO RENT, YOUR BALANCE MAY INCLUDE A DAMAGE DEPOSIT MADE THROUGH AIRBNB'S RESOLUTION CENTER . IF SO, WE REQUIRE A DAMAGE DEPOSIT OF $250. ASSUMING NO DAMAGE HAS BEEN DONE OR THERE ARE NO EXCESSIVE CLEANING REQUIREMENTS, THERE WILL BE NO DAMAGE DEPOSIT. THIS DEPOSIT MAY BE USED TO COVER DAMAGES TO THE PROPERTY, INSUFFICIENT FUNDS CHECK, DISOBEYING PET/SMOKING RULES, EXCESSIVE CLEANING CHARGES, EXCESSIVE UTILITY CHARGES AND ANY OTHER UNUSUAL CHARGES RESULTING FROM YOUR STAY.
SERVICE FEE: A TRAVELER SERVICE FEE IS REQUIRED BY THE BOOKING AGENT. THIS PROTECTS THE TRAVELER FROM BEING STRANDED SHOULD SOMETHING GO WRONG WITH THE HOUSE RIGHT BEFORE THE RENTER GETS THERE. SHOULD THIS OCCUR, THE RENTER WILL BE PLACED IN ANOTHER SIMILAR FACILITY. IT ALSO ALLOWS FOR 24 HOUR PHONE SUPPORT BY THE BOOKING AGENT.
CLEANING FEE: A CLEANING FEE OF $100 IS ALSO REQUIRED TO BE PAID BY E-CHECK OR BY CREDIT CARD TO THE BOOKING AGENT.
NO PETS ARE ALLOWED – NO EXCEPTIONS EXCEPT FOR LEGALLY LICENSED SERVICE DOGS, UNLESS PRE-ARRANGEMENT HAS BEEN MADE VIA DIRECT CONTACT WITH THE OWNER.
SMOKING: NO SMOKING IS ALLOWED INSIDE THE HOUSE OR ON THE BACK OR FRONT PORCHES. ALL CIGARETTE AND/OR CIGAR BUTTS MUST BE PICKED UP AND DISPOSED OF IN A SAFE MANNER.
KEYS: THERE ARE NO KEYS. YOU WILL BE GIVEN A CODE FOR THE ELECTRONIC LOCK ON THE BACK PORCH DOOR, WHICH WILL BE CHANGED UPON YOUR DEPARTURE. PLEASE MAKE SURE YOU WRITE DOWN THE CODE. IT WILL BE YOUR RESPONSIBILITY TO KEEP UP WITH IT. THE FRONT AND DEN DOORS MUST BE LOCKED UPON DEPARTURE. THESE ARE "PUSH AND TURN" LOCKS AND DO NOT HAVE KEYS PROVIDED. THE SLIDING GLASS DOOR MUST ALSO BE LOCKED UPON DEPARTURE, AND THE ALUMINUM ROD REPLACED IN THE RIGHT DOOR BOTTOM TRAY.
CANCELLATION POLICY: THE CANCELLATION POLICY IS THE POLICY HELD BY THE BOOKING AGENT (AIRBNB)
ACCOMMODATIONS/OCCUPANCY: THE HOME FEATURES 2 SPACIOUS LIVING AREAS, WHICH INCLUDE A LARGE DEN WITH AMPLE SEATING AS WELL AS A LARGE COMMON SITTING AREA. THERE ARE TV'S IN THE MASTER BEDROOM, COMMON SITTING ROOM, DEN, AND GUEST BEDROOM. THERE ALSO IS A STEREO SYSTEM WITH A DVD PLAYER FOR THE LIVING/DEN/KITCHEN/DINING AREA, AND THE HOUSE HAS WIRELESS INTERNET. THE HOME HAS 2 BEDROOMS ALONG WITH A BUNK ROOM AND 3 FULL BATHS, AND TWO PULL OUT SOFA BEDS. THE MASTER BEDROOM HAS A KING BED AND PRIVATE BATH. THE GUEST BEDROOM HAS A QUEEN SIZED BED AND A MEDIUM SIZED ATTACHED BUNK ROOM (BUNKED TWIN BEDS) (WHICH CAN BE CLOSED OFF FROM THE GUEST BEDROOM VIA FOLDING DOORS), AND HAS A FULL BATH ATTACHED TO THE GUEST QUARTERS. THERE IS ALSO A FULL BATH ACROSS THE HALL FROM THE DEN. THE HOME HAS COMFORTABLE BEDS TO ACCOMMODATE 6, HOWEVER WITH ONE QUEEN SIZED SOFA BED AND ONE FULL SIZE SOFA BED THAT CAN ACCOMMODATE 2 EACH, THAT STRETCHES THE SLEEPING POTENTIAL TO 10.
RENTAL POLICY: THE OWNER IS VERY SERIOUS ABOUT MAINTAINING A FAMILY ATMOSPHERE FOR THE QUIET ENJOYMENT OF OUR GUESTS AND NEIGHBORS. THE OWNER WILL RENT TO FAMILY GROUPS AND RESPONSIBLE ADULTS OVER THE AGE OF 25 ONLY. ANY USE OF THE PROPERTY FOR PURPOSES OTHER THAN FAMILY VACATIONS MUST BE ADDRESSED AT THE TIME OF RESERVATION. THE OWNER WILL NOT RENT TO PROM GROUPS, SCHOOL GRADUATION GROUPS, FRATERNITIES OR SORORITIES, OR YOUTH GROUPS WITH OR WITHOUT ADULT SUPERVISION. NON-COMPLIANCE IS GROUNDS FOR IMMEDIATE EVICTION WITHOUT REFUND.
FIREWORKS: ABSOLUTELY NOT ALLOWED, EVEN ON THE FOURTH OF JULY WEEKEND. THERE IS A BEAUTIFUL FIREWORKS EXTRAVAGANZA WHICH IS PAIRED WITH A LOCAL RADIO STATION FOR ACCOMPANYING MUSIC THAT CAN BE VIEWED FROM THE MARINA OR OUT ON THE LAKE IF YOU HAVE ACCESS TO A BOAT.
FIREWOOD: DO NOT REMOVE ANY FIREWOOD FROM THE SURROUNDING WOODS OR FROM STACKS OF FIREWOOD ON OR NEAR THE PROPERTY.
THERMOSTATS: THERE ARE 2 THERMOSTATS: ONE IN MASTER BEDROOM AND ONE IN THE HALL ON THE WALL ACROSS FROM THE DEN. BOTH ARE EASY TO USE. PLEASE BE CONSERVATIVE ON TEMPERATURE, BUT BE COMFORTABLE. IN THE WARM MONTHS, RESET THE THERMOSTATS TO 80° AND IN THE COLD MONTHS, RESET THE THERMOSTATS TO 60° UPON DEPARTURE.
LAUNDRY ROOM: IF YOU DO ANY LAUNDRY WHILE HERE, PLEASE BRING YOUR OWN PREFERRED DETERGENT. DO NOT LEAVE WET TOWELS IN THE BATHROOMS, THE LAUNDRY ROOM, OR ON TOP OF THE WASHER OR DRYER.
TV'S: THERE IS A TV IN THE MASTER BEDROOM, ONE IN THE SITTING ROOM, ONE IN THE DEN, AND ONE IN THE GUEST BEDROOM. THERE IS A DVD PLAYER IN THE SITTING ROOM. BASIC CABLE TV SERVICE (PLUS SPORTS PACKAGE) IS PROVIDED.
WIFI: THE SSID (ACCOUNT NAME): (URL HIDDEN) CDCA 5G. PASSWORD TO WIFI IS G6SBSY(PHONE NUMBER HIDDEN). UNLAWFUL DOWNLOADS ARE PROHIBITED, AND YOU WILL BE NOTIFIED BY THE AUTHORITIES. IF YOU DOWNLOAD SOMETHING THAT IS A PAID FOR SERVICE (ON DEMAND, ETC) YOU WILL BE BILLED FOR THAT.
RENTER RESPONSIBILITIES: THE RENTER WILL BE RESPONSIBLE FOR PURCHASING ALL FOOD ITEMS, PAPER GOODS, DISHWASHING LIQUID, LAUNDRY DETERGENT AND DISHWASHER CUBES. PLEASE TAKE YOUR LEFTOVER FOOD HOME WITH YOU.
GENERAL: STARTER SUPPLIES OF TOILET TISSUE, PAPER TOWELS, SOAP AND TRASH BAGS ARE LEFT FOR YOUR USE. BE SURE TO BRING AN EXTRA SUPPLY. MAID SERVICE IS PROVIDED ONLY UPON DEPARTURE. WHILE THE BATHROOMS WILL BE STOCKED WITH STARTER SUPPLIES, PLEASE BRING WITH YOU SUCH PERSONAL ITEMS SUCH AS BATH SOAP, SHAMPOO, CONDITIONER, OR ANY OTHER PERSONAL TOILETRIES. THERE ARE HAIR DRYERS, CURLING IRONS AND HAIR STRAIGHTENERS IN SEVERAL OF THE BATHROOMS AND A SET OF ELECTRIC HAIR ROLLERS.
TELEPHONE: THERE IS NO PHONE IN THE HOUSE, YET CELL PHONES WORK QUITE NICELY.
PARKING: THERE IS AMPLE PARKING IN THE CARPORT AND CIRCULAR DRIVE BEHIND THE HOUSE. IF ANY ADDITIONAL PARKING IS NEEDED, PLEASE PARK ALONGSIDE THE HOUSE SO AS TO NOT BLOCK NEIGHBORS.
OFF LIMITS: THE LOCKED CLOSET IN THE MASTER BEDROOM IS OFF LIMITS TO RENTERS AND THEIR GUESTS. THIS IS FOR HOMEOWNER USE ONLY FOR STORAGE OF PERSONAL ITEMS. PLEASE MAKE SURE ALL GUESTS RESPECT THE OWNER'S ITEMS AND KEEP THIS AREA LOCKED AND OFF LIMITS.
BOATS: MAY BE RENTED FROM THE EDEN ISLE MARINA, OR IF YOU BRING YOUR OWN, CAN BE LAUNCHED FROM THE EDEN ISLE MARINA. THE MARINA HAS A SHIP'S STORE WHERE WATER CRAFT AND BOATING ACCESSORIES CAN BE RENTED. THEY ALSO HAVE ICE, SNACKS, AND PURCHASABLE ITEMS YOU MIGHT WANT WHILE ON THE LAKE. GAS PUMPS ARE ALSO A PLUS. PLEASE FOLLOW ALL CORP OF ENGINEERS REGULATIONS. THE OWNERS ARE NOT RESPONSIBLE FOR ANY DAMAGE TO BOATS OR OTHER EQUIPMENT.
REPAIRS: THE OWNER AND RENTAL AGENT MAKE EVERY EFFORT TO COMPLETE ROUTINE MAINTENANCE BEFORE YOUR ARRIVAL. HOWEVER, SERVICE RELATED PROBLEMS DO OCCUR. IN THE EVENT THEY DO, THE RENTER MUST NOTIFY THE OWNER OR RENTAL AGENT IMMEDIATELY AND THOSE PROBLEMS WILL BE TAKEN CARE OF AS SOON AS POSSIBLE. THE OWNER ASSUMES NO LIABILITY TO THE RENTER FOR SERVICE RELATED PROBLEMS AS ALL PRODUCTS HAVE A USEFUL LIFE AND BREAK DOWN OCCASIONALLY.
ACCESS: THE RENTER AGREES TO ALLOW ACCESS TO THE HOUSE AND PROPERTY TO THE OWNER AND HIS AGENTS UPON 24 HOURS' NOTICE BY TELEPHONE OR IN PERSON. AGENTS INCLUDE, BUT ARE NOT LIMITED TO: PLUMBERS, ELECTRICIANS, RENTAL COMPANIES, PEST INSPECTION, ETC. THE OWNER OR HIS RENTAL AGENT RESERVES THE RIGHT TO INSPECT THE PREMISES INTERIOR UPON 24 HOURS NOTICE TO THE RENTER. THE RENTER AGREES NOT TO DENY ACCESS. IF RENTER REFUSES TO ALLOW ACCESS TO OWNER OR ANY AGENT DESIGNATED BY THE OWNER, THE OWNER OR HIS RENTAL AGENT RESERVES THE RIGHT TO TERMINATE THE RENTER'S VACATION RENTAL AND THE RENTER AND ALL GUESTS WILL IMMEDIATELY VACATE THE PREMISES UPON DEMAND BY THE OWNER OR HIS RENTAL AGENT AND WILL FORFEIT THE RENTAL PAYMENT.
ILLEGAL DRUGS: UNDER NO CIRCUMSTANCES SHALL ANY ILLEGAL DRUGS BE ALLOWED ON THE PROPERTY. THE RENTER UNDERSTANDS THAT POSSESSION AND USE OF ANY SUCH SUBSTANCE IS GROUNDS FOR IMMEDIATE EVICTION AND FORFEITURE OF PAYMENT. THE RENTER FURTHER WAIVES ANY AND ALL RIGHTS TO RECOURSE AGAINST THE OWNER FOR ENFORCING THIS CLAUSE.
LIABILITY: THE RENTER AGREES TO ACCEPT LIABILITY FOR ANY DAMAGES TO THE PROPERTY (OTHER THAN NORMAL WEAR AND TEAR) BY RENTER OR RENTER'S GUESTS OR FAMILY, INCLUDING, BUT NOT LIMITED TO LANDSCAPING, MISUSE OF APPLIANCES, AND OR EQUIPMENT FURNISHED. IF DAMAGES ARE IN EXCESS OF THE DAMAGE DEPOSIT, THE RENTER AGREES TO REIMBURSE OWNER FOR COSTS INCURRED TO REPAIR OR REPLACE DAMAGED ITEMS.
LAWS: THE LAWS OF THE STATE OF ARKANSAS SHALL APPLY TO ALL TERMS UNDER THIS AGREEMENT. ANY DISPUTE UNDER THIS AGREEMENT SHALL BE VENUED IN CLEBURNE COUNTY, ARKANSAS. IT IS EXPRESSLY AGREED AND UNDERSTOOD THAT THIS LEASE SHALL NOT BE RECORDED IN THE COUNTY CLERK'S OFFICE.
SLEEPING CAPACITY/DISTURBANCES: THE RENTER AND ALL OTHER OCCUPANTS WILL BE REQUIRED TO VACATE THE PREMISES AND FORFEIT THE RENTAL FEE AND DAMAGE DEPOSIT FOR ANY OF THE FOLLOWING:
• OCCUPANCY EXCEEDING LIMITS SET
• USING THE PREMISES FOR ANY ILLEGAL ACTIVITY INCLUDING BUT NOT LIMITED TO THE SERVING OR CONSUMPTION OF ALCOHOLIC BEVERAGES BY OR TO PERSONS LESS THAN 21 YEARS OF AGE. THIS IS A DRY COUNTY. ADULTS, PLEASE BRING YOUR OWN ALCOHOLIC BEVERAGES.
• CAUSING DAMAGE TO THE PREMISES RENTED OR TO ANY OF THE NEIGHBORING PROPERTIES
• ANY OTHER ACT WHICH INTERFERES WITH NEIGHBORS' RIGHT TO QUIET ENJOYMENT OF THEIR PROPERTY
HOLD HARMLESS AND INDEMNITY: THE MAURY'S LAKE HOUSE OWNERS AND RENTAL AGENTS ASSUME NO LIABILITY FOR LOSS, DAMAGE OR INJURY TO PERSONS OR THEIR PERSONAL PROPERTY. OWNERS NOR THE RENTAL AGENTS ACCEPT LIABILITY FOR ANY LOSS OR DAMAGE CAUSED BY WEATHER CONDITIONS, NATURAL DISASTERS, OR OTHER REASONS BEYOND THEIR CONTROL.
ATTORNEY'S FEES & COSTS: IF THE OWNER EMPLOYS THE SERVICES OF AN ATTORNEY OR ATTORNEYS TO ENFORCE ANY CONDITIONS OF THIS RENTAL AGREEMENT, THE RENTER SHALL BE LIABLE TO THE OWNER FOR ATTORNEY'S FEES AND COSTS INCURRED BY THE OWNER.
TILE FLOORS, DECK AND OUTSIDE AREAS: THE RENTER HEREBY ACKNOWLEDGES THAT THE PROPERTY THEY HAVE RESERVED INCLUDED STAIRS, TILE FLOORS, AND A LARGE COVERED PORCH DECK. THE UNDERSIGNED IS FULLY AWARE THAT THESE SURFACES CAN BE DANGEROUS, AND CAN BE SLIPPERY WHEN WET, AND THAT INJURY IS LIKELY TO OCCUR TO ANYONE WHO IS NOT CAREFUL. RENTERS AND GUESTS SHOULD OBSERVE COMMON SAFETY RULES BY NOT RUNNING AND EXERCISE CAUTION WHEN USING THE DECK OR ANY OTHER AREA OF THE PROPERTY. TILE FLOORS SHOULD NOT BE USED WHEN WET OR WHEN CONTAMINATED WITH SLIPPERY SUBSTANCES. WITH FULL KNOWLEDGE OF THE ABOVE FACTS AND WARNINGS, THE UNDERSIGNED ACCEPTS AND ASSUMES ALL RISKS INVOLVED IN OR RELATED TO THE USE OF THE PROPERTY, ACKNOWLEDGES AND AGREES TO HOLD THE OWNER HARMLESS FROM ANY INJURIES TO THEM OR THEIR GUESTS.
WRITTEN EXCEPTIONS: ANY EXCEPTIONS TO THE ABOVE MENTIONED POLICIES MUST BE APPROVED IN WRITING IN ADVANCE.
DEPARTURE CHECKLIST: UPON DEPARTURE, THE DEPARTURE CHECKLIST, ATTACHED AS "EXHIBIT A" MUST BE COMPLETED AND LEFT ON THE KITCHEN COUNTER ABOVE THE DISHWASHER. THE DAMAGE REFUND WILL BE ISSUED AFTER THE OWNER OR RENTAL AGENT HAS RECEIVED THE CHECKLIST AND INSPECTED THE PROPERTY. IN ADDITION, PLEASE FEEL FREE TO LEAVE YOUR COMMENTS OR SUGGESTIONS IN OUR GUEST BOOK, WHICH IS LOCATED ON THE BACKSIDE OF THE KITCHEN COUNTER.
BREACH OF AGREEMENT: FAILURE TO COMPLY WITH ANY OF THE FOREGOING CLAUSES AND OVERALL RULES ESTABLISHED BY THE OWNER IN CONJUNCTION WITH AIRBNB'S POLICIES WILL SUBJECT YOU TO REMOVAL FROM THE RENTAL PROPERTY AND FORFEITURE OF ALL RENTAL PAYMENTS AND DAMAGE DEPOSIT. IF THE RENTER FAILS TO VACATE THE PREMISES AT THE END OF THE RENTAL PERIOD PRESCRIBED IN THIS AGREEMENT, THE RENTER SHALL BE CHARGED AND LIABLE TO THE OWNER FOR $195 PER DAY FOR EVERY DAY PAST THE DATE AND TIME SPECIFIED IN THIS AGREEMENT.
SURVIVAL: IF ANY OF THIS CLAUSE OR TERM IN THIS LEASE IS CONTRARY TO LAW, THE REMAINDER OF THE LEASE SHALL REMAIN IN FULL FORCE.

CERTIFICATION: THE MAXIMUM NUMBER OF PEOPLE STAYING OVERNIGHT AT MAURY'S LAKE HOUSE WILL BE ___________. NUMBER OF ADULTS________________(URL HIDDEN) NUMBER OF CHILDREN:_________________.
SERVICE DOG: YES______ NO______
YOUR GROUP WILL BE ARRIVING ON ___________________AND DEPARTING ON ______________________.

THE UNDERSIGNED HAS READ, FULLY UNDERSTANDS AND AGREES TO ABIDE BY THE VACATION RENTAL LEASE AGREEMENT SET FORTH BY THE PROPERTY OWNERS AND RENTAL AGENTS.
________________________________ __________________SIGNATURE DATE_________________
CELL PHONE NUMBER WE CAN REACH YOU BY WHILE YOU ARE ON THE LAKE OR OFF THE PROPERTY:
CELL # 1_______________________
CELL # 2_______________________
DRIVER'S LICENSE # _________________________
PERSONS TO CONTACT IN CASE OF EMERGENCY:
CONTACT #1:
NAME:_____________________________ PHONE NUMBER(S)_____________________________________
RELATIONSHIP TO RENTER: ______________________
CONTACT #2:
NAME:_____________________________ PHONE NUMBER(S)_____________________________________
RELATIONSHIP TO RENTER: ______________________
RENTER DEPARTURE CHECKLIST (EXHIBIT A)
PLEASE FILL OUT AND LEAVE ON THE KITCHEN COUNTER ABOVE DISHWASHER

Beds and sofa beds stripped of linens and placed in front of washing machine in laundry room
All garbage and trash taken to the maintenance center.
Dishwasher loaded and run (complete cycle) and checked that all items cleaned.
All damp or wet beach, bath and kitchen towels left on drying rack or porch furniture.
Furniture arranged as you found it.
Outside area picked up of any trash.
Both refrigerators emptied, wiped out and cleaned.
No food left behind.
Cushions for porch furniture put back in hall closet across from middle bathroom\
All doors locked, including sliding glass door in master bedroom, replacing rod in right door track at the bottom of the door.
Both thermostats set to 80° in warm months and 60° in colder months.
___________________________________
Renter's Signature
---
พื้นที่ที่ใช้ร่วมกัน
2 เตียงโซฟา
---
---
คนเพิ่ม: ไม่มีค่าธรรมเนียม
เงินประกันความเสียหาย: $250
สื่อสารผ่าน Airbnb เท่านั้น
เพื่อเป็นการปกป้องการชำระเงินของคุณ อย่าโอนเงินหรือติดต่อสื่อสารผ่านช่องทางอื่นที่ไม่ใช่เว็บไซต์หรือแอพ Airbnb
เรียนรู้เพิ่มเติม
---
ไม่มีงานสังสรรค์หรือเหตุการณ์
เวลาเช็คอินคือ 16:00 - 20:00
- See the Rental Agreement- required for booking. Pets: only licensed service animals are allowed, unless approved by the owner by verbal conversation.
---
---
เครื่องตรวจจับคาร์บอนมอนอกไซด์
---
ในวันศุกร์และวันเสาร์ จำนวนคืนขั้นต่ำคือ 2 คืน
---
This home doesn't have any reviews. If you stay here, your review will appear here.
สำรวจตัวเลือกอื่นๆ ในและรอบ Heber Springs
ที่พักมากขึ้นใน Heber Springs: