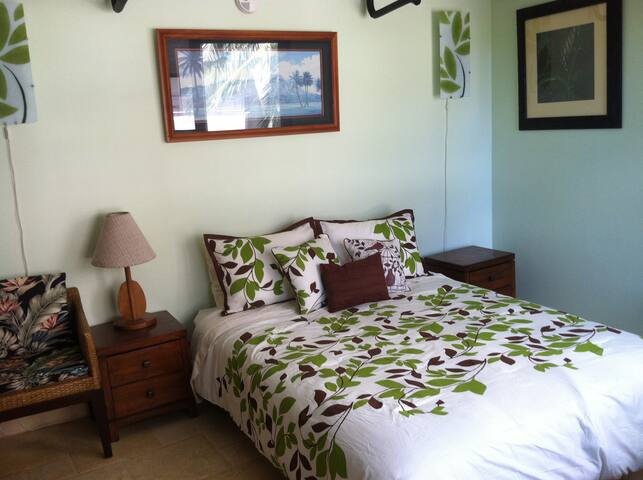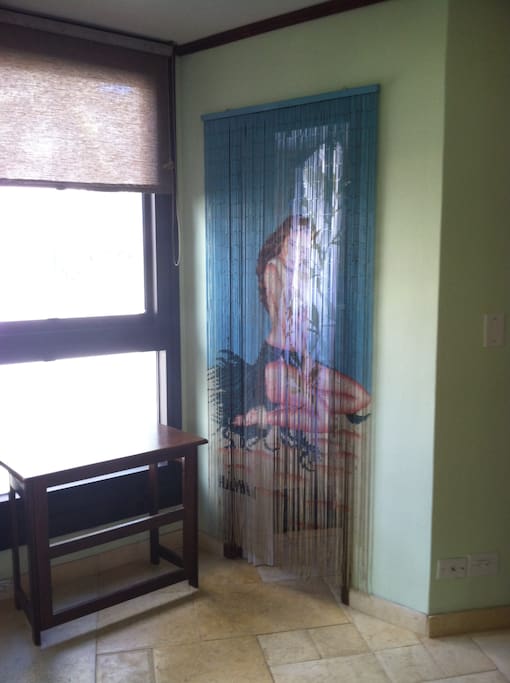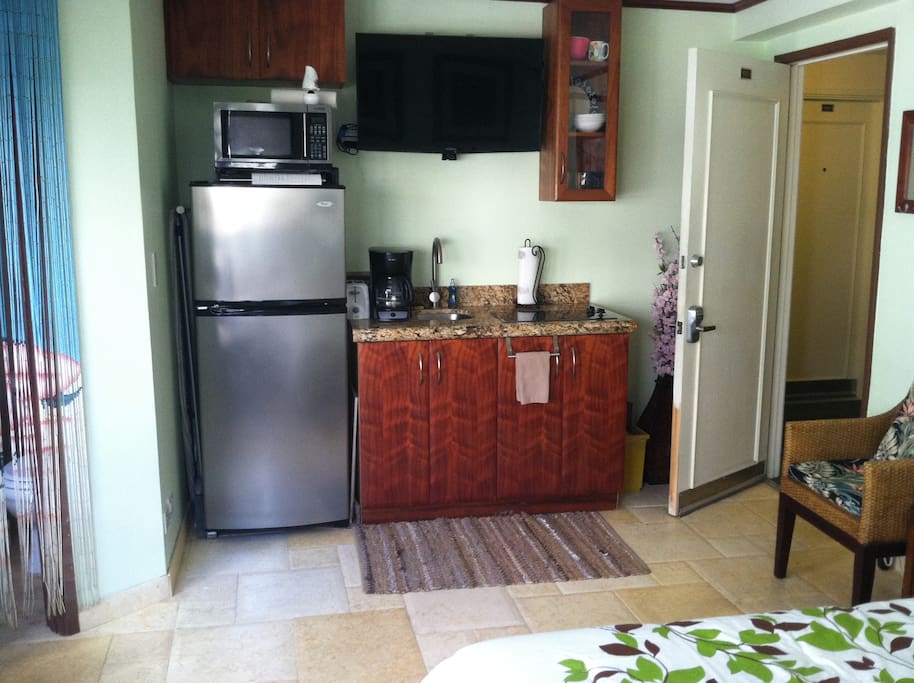 The Waikiki Grand boasts one of the best locations in Waikiki. With the world famous Waikiki Beach, the Honolulu Zoo, the Aquarium, Waikiki restaurants/shops and Diamond head literally at your door front - you couldn't hope for a better location.
ที่พัก
Note: Price INCLUDES a 13.96% General Excise/Travelers Accomodation tax (base rate $100 per night + 13.96% GE/TAT tax for Waikiki):
This fully furnished condo is equipped with:
- 1 brand new queen sized luxury firm bed
- A fully stocked kitchenette
- A full sized refrigerator/freezer
- Newly installed AC unit
- Free WI-fi
- A 40 inch LED TV
- Hanging surfboard rack
- Onsite laundry facilities
There is no parking included with the unit, parking is available first come first serve for $17 per day. Inquire at the front desk for availability. There is also a large parking lot across the street that offers parking for $1/hour. If you don't mind walking, there is also free street parking along the beach towards diamond head.
ผู้เข้าพักใช้อะไรได้บ้าง
Attached are additional check in details for the Waikiki Grand.
The day you arrive the keys to apartment will be at the front desk, check in time is at 3pm. The front desk will verify your ID and give you the keys - you will also be required to register at the front desk. You will need to call Clayton when you arrive so that he can do walk through with you over the phone.

There is sometimes some confusion because our condo is located within the hotel - but is privately owned.
Our studio condo is a private residence that is rented out as a vacation rental - as such, there is no daily maid service. We provide clean linens and towels when you arrive, but there is not any additional cleaning after you check in. There is one brand new queen sized bed. The security/damage deposit will only be deducted from if there is major damage to the apartment or if you cancel your reservation at the last minute - as long as you respect our property you should be fine. (We have never kept anyone's security deposit). The day you check out, the deposit will be refunded directly to your credit card (there may be a 3-5 business delay after we refund before the funds are deposited in your account).
A taxi from the airport should cost about $45, alternately you may call Waikiki shuttle (PHONE NUMBER HIDDEN) to coordinate a pick up at the airport (they only charge $12/person but they only pick up from the airport a few times per day)

When you leave just leave the keys hanging on the hook by the door (the front desk has misplaced them on a few occasions...) and call Clayton to let him know that you've checked out.

If you have any additional questions, please don't hesitate to email.
การสื่อสารกับผู้เข้าพัก
Previous Reviews from (SENSITIVE CONTENTS HIDDEN):
Anonymous said...
Mar 10, 2016
-
Great location!
Date of Stay
February 28, 2016
This is a great little place to stay. It's very close to the beach, the zoo and a majority of the pick up locations for excursions s shopping . This is a studio, so it's not big by any means. So that would be a downfall id say. Once you lay out your suitcases there isn't much room to move around. But we managed just fine. We didn't plan on staying in the room that much so this wasn't a problem for us. The bed was comfy and the place was clean. Perhaps could have done with a few more utensils. Bathroom was small but clean. The door lock was a little hard to work. But after a few days we got the hang of it. Also the pool was under renos while we were there. But that's no fault of Clayton and Eileen's. The residents of the hotel are very friendly and the front desk staff were always helpful. Overall I give it a thumbs up. The only reason it loses points for us was for space.

Shari S. said...
Mar 1, 2016
-
small but has what you need
Date of Stay
February 19, 2016
This is a very small studio apt. It has everything you need as far as cooking, and even had shampoo and conditioner left by the owners or someone before us. The only downside is that it is really small even for just two people. However I can't fault the owners because it is like the pictures showed it to be. We didn't spend hardly any time in the room so the size wasn't a big deal. The 10th floor patio has great views of diamond head and the beach. And it is only a 2 min. walk to the beach. I would recommend this place as long as you realize that it will be somewhat cramped if you plan to spend alot of time in the room. I will say that the owners returned my deposit promptly and were available if we needed them by text almost immediately. We also asked for a fan because we like to sleep with "white noise" and they graciously left one in the room for us so we didn't have to spend money to buy one. The air conditioner works great and cools the room quickly.
Lorraine said...
Feb 19, 2016
Not really luxury but nice
Date of Stay
February 2, 2016
We just got back from a wonderful two week stay here. It is a nice room in a very friendly hotel in a wonderful location. The bathroom definitely needs work, but the condo had everything you could need. There were beach mats, umbrella, snorkels all provided. The fridge was stocked with water which was a very nice thought. The bed is comfortable. We did not use the pool because it needed to be drained but the beach is so close and beautiful that we would not have used the pool anyway. The hotel staff were very friendly and helpful even though we are not actually their guests. The only issue was when we arrived. They have a security guard in at night and,after travelling 24 hours to get here, when I told him we were staying in a private condo, his first words were that has nothing to do with me. It was a bit off putting and upsetting to hear at midnight, but he did get the key when I told him where Eileen said it would be. This was our only negative experience. There are several people who live in the hotel and they were also very friendly. We had a very late night flight home, and when I asked Clayton if we could check out a bit later, he told us to leave whenever we wanted which gave us rhe whole day to enjoy. The condo is an amazing price for Waikiki and we will stay there again. It could be a bit cleaner, but I am anal about cleanliness. We were very happy with it overall. The sunset from the deck is fantastic. Thank you to Clayton and Eileen for this place.

Michael W. said...
Dec 6, 2015
Thanks for having us!
Date of Stay
Novemb(PHONE NUMBER HIDDEN)
We spent one week at this studio in November. The place is small, as is clearly stated in the description, but well equipped. Bath towels were provided, as was shampoo and conditioner, and beach mats. There was enough crockery, cutlery, and glassware. The bed was comfortable, and the air con worked -very- well. It wasn't especially, clean, however. In order to have space for the dishes to dry, we had to move the coffee pot and toaster out of the way and there were a lot of crumbs and miscellaneous underneath which we had to clean. The floor wasn't very clean and we chose to wear shoes in the room at all times. The wifi worked most of the time, and the laundry facilities were very helpful. It was a little strange not being able to use the A/C at the same time as the microwave, though, as it blows a fuse. The sundeck was where we had breakfast every morning, which overlooks the zoo. You can hear some interesting noises and watch the flamingos. The proximity to the beach, the convenience store, and coffee place is wonderful. Although there is no parking on site, there is free parking around the area if you look for it. We did not visit the pool because it looked as if it were in the shade most of the time. But who visits the pool when you've got the ocean right there?

Stilwell Y. said...
Nov 15, 2015
Awesome location, Great Stay!
Date of Stay
November 5, 2015
I was there with my gf from Nov 5th thru Nov 10th. it felt like the perfect location. The building is directly across from the Zoo but no noise at all. It's 1 block away from the Waikiki Beach, few blocks away from the main strip shopping. neat studio for a fraction of the hotel price. I can tell that Clayton and Eileen are great people, they gave me suggestions on what to do as it was my first time to hawaii ever. they greeted me around the time I landed and departure. It was a very pleasant stay. don't expect a super roomy and luxury place for this fantastic price. Remember, you're in hawaii to go out and enjoy the nature and only go home to sleep at night at a clean and quiet place. this is place to stay at, I would definitely come back. Thank you for sharing this place with us!
Recommended for: Sightseeing, Tourists without a Car, Adventure Seekers, Romantic Getaway
Kylie E. said...
Oct 8, 2015
Close to beach
Date of Stay
Septemb(PHONE NUMBER HIDDEN)
Nice place within walking distance to everything you need and close to bus line if you want to venture further out. Host called a couple times to make sure everything was ok and was helpful with any questions.
Breanne R. said...
Jul 31, 2015
Perfect location! Cute place
Date of Stay
July 20, 2015
This place was perfect for what my boyfriend and I were looking for! The location was wonderful! It's at the quieter end of the beach so we never felt crowded (even on the weekend when it was HOT). The room is the perfect size for two people, as long as you don't plan on spending the whole day inside... But you're in Hawaii so who would do that? The burger place downstairs was perfect for when we got back from a long day tour and it was very delicious! The front staff were wonderful! We checked out Sunday morning but our flight didn't leave till Sunday night so they let us keep our things behind the desk so we could still go to the beach and go shopping. The hotel is pet freindly so there was always cute dogs in the lobby. Also everything is weighing walking distance, we didn't have a car and could walk to everything in 5 mins. Even the restaurants at the far side are only a 10 min walk! We also booked excurstions and they all picked us up from either next door or the Aston right around the corner. All in all a wonderful place for a fantastic price, I would recommend this to any couple planning on visiting Honolulu.
Recommended for: People with Disabilities, Pet-friendly, Sightseeing, Girls Getaway, Tourists without a Car, Adventure Seekers, Age 55+, Romantic Getaway
Jakub B. said...
Jul 28, 2015
Location!
Date of Stay
July 8, 2015
Condo is very well located! It's a short walk to the beach, and even better is that it is at the end of the waikiki strip so to get out of the city seems to be easier than if we were more in the strip. Since we were on the side, there were also free parking spots near the zoo which was a nice touch since we didn't necessarily want to be paying $17/night for indoor parking. The condo building is clean, we have access to the pool (don't recall if listing mentioned it), and the staff at the front desk is friendly. The condo itself is small, but for the price we paid and comparing to others in Waikiki i think it's a fair deal. The bathroom could be nicer. For me was fine, but for my wife it took some getting used to which basically means she didn't look at the shower floor while showering. The bed was very comfortable, and it's nice to have a full size fridge. One other comment is we had issues with getting in the first night, there's two locks on the door and the one to use is the bottom one... something we didn't notice after travelling for 18 hours... Also, when calling Clayton he wouldn't answer the phone but would call back ASAP so that was fine. Finally, i liked that there was a beach umbrella and one body board, came in useful. I would recommend this place to others.
Edit your Response
Kingston C. said...
Jun 16, 2015
Awesome little condo
Date of Stay
June 3, 2015
Thank you Clayton and Eileen! These two are very lovely hosts who will answer all your vacation questions. They gave me a easy rundown of the place the day I arrived and were great and easily reachable throughout the week I was there. It is in a great location right across the zoo and just a 1 minute walk from the beach. Plus the 10th floor roofdeck had an amazing view. Parking for car rentals is fairly cheap too at only $17 a night, in comparison to the other hotels. Definitely recommend this place to anyone who is planning to visit waikiki!
RD said...
May 26, 2015
The best of Waikiki along with the serenity of the city park
Date of Stay
May 10, 2015
Clayton and Eileen were extremely easy to work with during our two week stay in Waikiki. Room was as expected (clean and close to beach) and had added touches that weren't expected such as paper products and toiletries. they even worked with us when we had our first flight cancelled and re-booked for following day. It was great having the beach only half a block away. Sun - the beach -paradise. What more could you ask for?
Tyson C. said...
May 2, 2015
Great Place for a Couple
Date of Stay
April 23, 2015
Owners were very helpful and easy to deal with. The location is nice and close to the beach. The studio is a nice place for two. I would recommend this place to anyone visiting Waikiki.
Stacey B. said...
Apr 19, 2015
Good Location
Date of Stay
April 9, 2015
If you're looking for a place close to the beach, then this place is for you. This place also has a great tenth floor balcony that has great views of Diamond Head and the beach. We found it very central and easy to access great restaurants, and walked everywhere. Even though the place was clean, and the bed was comfortable if you plan to do anything other than sleep here you might want to stay somewhere else, as it is a very tiny place however, it does the job. Also you are only given two bath towels so keep that in mind because who wants to be doing laundry on their vacation I certainly don't. Having a large fridge was handy for beer and left over food however, we did not use the cooking facilities as we felt the place was really too small to cook in. The toilet also had a mind of its own sometimes taking three or four times to flush and needing to be held down for quite some time to actually flush. We found that the concierge and front desk staff were not helpful as they did not seem to really know the area and activities and we ended up always asking the hotel next door. Overall, we had a great time and enjoyed our time in Hawaii but not sure if we would stay in such a small place next time I guess you get what you pay for.
DG said...
Mar 23, 2015
Great stay
Date of Stay
March 17, 2015
Clayton and Eileen! Thank you very much for your hospitality and for being so accommodating throughout the whole process. The condo was in the center of many great things. I especially loved that the beach was right across the street. We ended up just paying for parking per night, which is still very affordable compared to other hotels. It saved us the hassle of having to find street parking, which I know saves a lot of money. We just didn't want to bother. Aside from that, everything was provided, i.e., paper towels, toilet paper, soap, etc. Thank you again very much, Clayton and Eileen! Oh, the view from the 10th floor was gorgeous!
Lorraine b. said...
Mar 14, 2015
wakiki week
Date of Stay
March 4, 2015
This condo was clean and had all the things you need for a comfortable stay. The location is perfect...close to the beach and in walking distance of bus stops, convenience stores and good places to eat. The owners are very quick to respond and genuinely want your stay to be be enjoyable. The sundeck on the roof is a must for a gin and tonic while watching the sunset .
MG said...
Mar 4, 2015
Condo
Date of Stay
December 2, 2014
This unit will provide you all the necessities that you will need for your stay in Wiakiki. Location is A+, close to everything you desire in the Wiakiki area. Clayton and Eileen are wonderful hosts that go out of their way to ensure you are happy and comfortable. Would highly recommend. Mahalo
greg said...
Nov 24, 2014
-
LOCATION, LOCATION, LOCATION
Date of Stay
Novemb(PHONE NUMBER HIDDEN)
We had a great week in this ideally located Waikiki hotel residence near the beach and park. Excellent cooperation from a pleasant owner. A nicely decorated and equipped room. The sunsets on the roofdeck looking at Diamondhead and the ocean were unforgettable.
F said...
Nov 11, 2014
excellent
Date of Stay
Octob(PHONE NUMBER HIDDEN)
Excellent location for one or two adults. Everything is provided except the food and the are shops and places to eat next door. The beach is across the street. Impossible to find a better place for the price. The owners are extremely accommodating.
Max-Devin S. said...
Dec 12, 2014
Great Place, Great Owners...
Date of Stay
Octob(PHONE NUMBER HIDDEN)
The location was Great! Clean and Spacious! Full Kitchen and all the essentials for cooking and more. Only a 2 min walk to the the beach. Quiet and relaxing with minimal noise. I enjoyed everyday of my stay. The owners are very friendly and always reachable by phone. I would recommend this studio to all of my friends who visit Oahu.
Angela L. said...
Oct 17, 2014
Waikiki trip
Date of Stay
October 8, 2014
Great location, friendly hotel staff, fully stocked room with everything you need, comfy bed, ac is amazing. Only thing was the wifi did not work at in the room. Otherwise perfect for a couple to stay. Clayton and Eileen are awesome!!!!!
Danna G. said...
Oct 5, 2014
Great place to stay on the quieter end of Waikiki Beach
Date of Stay
Septemb(PHONE NUMBER HIDDEN)
The location of Clayton and Eileen's condo was ideal for me. It's at the end of Waikiki Beach so you escape some of the crowds, but you are still within 2 minutes walk to the beach--the less crowded part. The condo and building were clean. This is ideal place to stay when you just want the basics and not all the hullabaloo (or crowds) of the huge resorts.
camimaui said...
Oct 12, 2014
excellent saty
Date of Stay
Septemb(PHONE NUMBER HIDDEN)
excellent stay at this beautiful place. cozy , extra clean, comfortable, excellent location. owner clay is awesome, very nice, on top of everything. awesome stay we will definitely come back. thank u so much for all your help!!!!!!we loved it!!!!!!!!!!!!!
Melissa said...
Sep 1, 2014
The Grand
Date of Stay
August 2, 2014
Great apartment to stay in so close to the beach and beach park across the road. Very impressed with the upstairs deck wonderful anytime -day or night. Tidy place with friendly owners and staff in the building. Found the apartment quiet and well advertised. Didn't want to leave and hopefully will return.
Annette said...
Jul 18, 2014
Great Stay
Date of Stay
May 5, 2014
This apartment was awesome during my two week stay. The owners were helpful and as kind as can be. The apartment was clean and accommodating, I had everything I needed to cook, clean, and relax during my stay. The location is great, it was nice to be at the end of Waikiki where I could walk right to the beach, down the Waikiki strip, or over to the park across the street. The building that the apartment is in is well kept, and the front desk workers were polite and helpful with anything i asked about. I would defiantly recommended this apartment for anyone planning on staying in the Waikiki area.
Tim G. said...
Mar 28, 2014
Tim & Karin
Date of Stay
March 17, 2014
The location was great. South end of Waikiki beach,maybe 100 yards from beach, not beach front, no beach view but We didn't stay @ the room much. Great restaurants / Bars on our corner,and in the complex and around the area. It is a small room and We were there for a short time. If I were going to stay for a longer period of time I think I may look for a larger place to stay. I'm 61 and I like my space. This was OK for me.
Darren C said...
Mar 14, 2014
Cozy Condo on the edge of Waikiki
Date of Stay
February 25, 2014
The accommodations were exactly as expected. The room was cozy and provided everything we needed for our stay. The sundeck has a wonderful view and the elevators are very quick. The location is perfect if you want to feel like you are not in the city. Everything you may need is within short walking distance. Lulu's has an awesome breakfast. Perfect if you are on foot the whole time. I if you plan to have a rental car the entire time, you will struggle with parking however there is public parking within walking distance but you have to be flexible with your time. A good place to rent mopeds is a block away in the ally and those are easy to park just about anywhere. The windows were getting replaced right after we left which will enhance the condo. If there was one drawback it would be the noise from the ally during the morning garbage pickups that seem to happen every morning but this happens everywhere. Waikiki may be small but it is a city and the functions of a city rarely stop. Early mornings on the sundeck, drinking coffee was the most relaxing time and the morning animal noises from the zoo, which you have a wonderful view from above added to the tropical ambiance. The condo owners Clayton and Eileen were absolutely wonderful and did everything possible to accommodate us. Thank you both for our fantastic stay. I highly recommend this place for location and value. Perfect for couples of all ages.
Neal H. said...
Jan 14, 2014
Great place to stay with fantastic hosts
Date of Stay
January 11, 2014
I was fortunate enough to find this little hidden gem when setting up a last minute business trip to Honolulu in the height of tourist season. There was a small window of availability that I was able to squeeze into. This studio is small on size but huge on personality. It has everything you need, lots of windows, a great air conditioner, impeccably clean and a really comfortable bed. The owners have done a great job of efficiently using and decorating the space. One highlight for me was the towels. The BEST towels I have had in a hotel or condo. The other highlight was the host. I had some unusual flight issues and Clayton was super accomodating to me and went out of his way to make sure that I wasn't inconvenienced, even though the issues had nothing to do with him. Such a gracious and hospitable guy.
MaryAnn said...
Dec 12, 2013
Awesome Location and Great Condo!
Date of Stay
December 5, 2013
We really enjoyed our stay this past weekend. I found this condo on (SENSITIVE CONTENTS HIDDEN) so I was a little nervous about booking it but it turned out to be a great place to stay. The condo was very clean. It had everything we needed for our stay. The location is awesome. I would definitely stay here again.
samzman said...
Nov 29, 2013
Location, location, location
Date of Stay
Novemb(PHONE NUMBER HIDDEN)
Wonderful place, we highly recommend this place to all.
Donal A. said...
Nov 23, 2013
Great location
Date of Stay
November 1, 2013
This condo is located on the 5th floor of the Waikiki Grand hotel at the quite end of the Waikiki beach. The location is perfect for experiencing Waikiki especially if you do not intend on having a car. Condo was clean, has a comfortable bed, a great shower and good air con. We ended up not using the Kitchenette due to the convenience of food options close by. The wifi worked well in both the room and on the 10th floor balcony. Our laptop and tablet had no problems but our phones did not always pick up the signal that well. The hotel itself is well maintained. The elevators are very fast and the 10th floor has a fantastic balcony viewing down on Honolulu zoo and onto Diamond head. Chillin up here drinking a few Coronas at the end of the day was very relaxing. Tips: Get snorkelling gear, your one block from the beach where you can see tropical fish. You can walk 5 mins to Sans Souci for a quieter beach with better snorkelling and you can hop on the public bus to Hanauma Bay. Breakfast - Lulu's has a great, quick straight forward breakfast with great views. 5 mins walk you can have a cheap nice breakfast at Barefoot Beach Cafe. Lunch / Dinner - Teddy's Bigger Burgers are on the ground floor! Seriously good burgers. Thanks for providing us with a great Condo for our first Hawaii trip.
connie b. said...
Nov 1, 2013
-
Perfect Location in the Heart of Waikiki
Date of Stay
Octob(PHONE NUMBER HIDDEN)
We would definitely recommend staying here and if we return would love to do so again. It is small but the perfect space for 2. Very clean will all the basics and kitchen necessities. We were very happy.
Paulo said...
Oct 23, 2013
-
Waikiki base
Date of Stay
Octob(PHONE NUMBER HIDDEN)
Great location. Nice tidy apartment. Small but has everything we needed. Very happy with all aspects of Renting this apartment.
Eddie said...
Sep 20, 2013
Excellet space, clean, convenient and very well maintained
Date of Stay
Septemb(PHONE NUMBER HIDDEN)
I would highly recommend staying here and would gladly do so again without hesitation.
สิ่งอื่นที่ควรรู้
We are a small family starting our first business. As of now, this is our only property. We take a tremendous amount of pride in upkeeping our rental to the highest of standards. Because we do our own cleaning, we are able to keep the cleaning fees low. We live in Waikiki as well, so we are always close by to address any issues that may arise. The reviews speak for themselves, you will not be disappointed with your stay! We are a small family starting our first business. As of now, this is our only property. We take a tremendous amount of pride in upkeeping our rental to the highest of standards. Because we do our own cleaning, we are able to keep the cleaning fees low. We live in Waikiki as well, so we are always close by to address any issues that may arise. The reviews speak for themselves, you will not be disappointed with your stay!
---
---
คนเพิ่ม: ไม่มีค่าธรรมเนียม
เงินประกันความเสียหาย: $250
สื่อสารผ่าน Airbnb เท่านั้น
เพื่อเป็นการปกป้องการชำระเงินของคุณ อย่าโอนเงินหรือติดต่อสื่อสารผ่านช่องทางอื่นที่ไม่ใช่เว็บไซต์หรือแอพ Airbnb
เรียนรู้เพิ่มเติม
---
เช็คอินได้ทุกเวลาหลัง 15:00
RENTAL RULES
• Smoking is NOT allowed
• People other than those in the Guest party set forth above may not stay overnight in the property. Any other person in the property is the sole responsibility of Guest.
• All of the units are privately owned; the owners are not responsible for any accidents, injuries or illness that occurs while on the premises or its facilities. The Homeowners are not responsible for the loss of personal belongings or valuables of the guest. By accepting this reservation, it is
agreed that all guests are expressly assuming the risk of any harm arising from their use of the premises or others whom they invite to use the premise.
• Keep the property and all furnishings in good order
• Only use appliances for their intended uses
• Pets are NOT allowed
• Parking: see above
• Housekeeping: There is no daily housekeeping service. While linens and bath towels are included in the unit, daily maid service is not included in the rental rate. We suggest you bring beach towels. We do not permit towels or linens to be taken from the units.
• Storms:
If there is a storm or hurricane, no refunds will be given unless:
• The state or local authorities order mandatory evacuations in a "Tropical
Storm/Hurricane Warning area" and/or
• A "mandatory evacuation order has been given for the Tropical
Storm/Hurricane Warning" area of residence of a vacationing guest.
• The day that the authorities order a mandatory evacuation order in a "Tropical
Storm/Hurricane Warning," area, we will refund:
• Any unused portion of rent from a guest currently registered;
• Any unused portion of rent from a guest that is scheduled to arrive,
and wants to shorten the stay, to come in after the Hurricane Warning
is lifted; and
• Any advance rents collected or deposited for a reservation that is
scheduled to arrive during the "Hurricane Warning" period.
---
---
---
อัตราการตอบกลับ:
83%
เวลาตอบ:
ภายใน 2-3 ชั่วโมง
สำรวจตัวเลือกอื่นๆ ในและรอบ โฮโนลูลู
ที่พักมากขึ้นใน โฮโนลูลู: