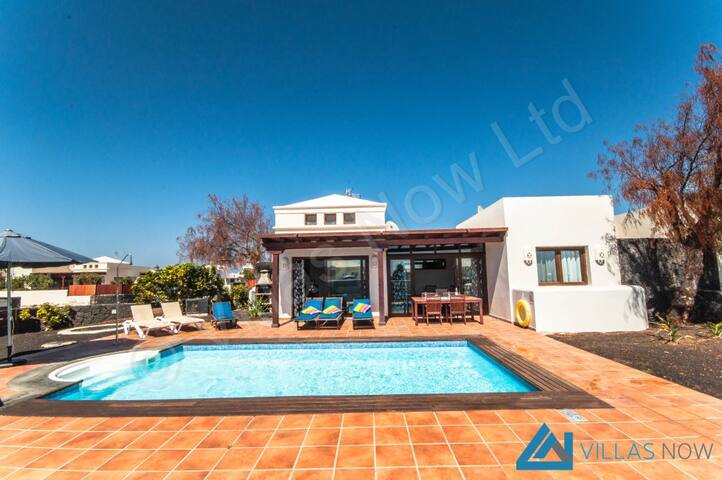 Villa independiente en Playa Blanca (Lanzarote). Jardín privado con bbq y piscina climatizada (opcional). Dos plantas bien equipadas, 4 dormitorios, wifi gratuito y zona de juegos (pingpong, Wii...). Se encuentra 10 min andando del centro y a 5 en coche de las playas de Papagayo.
Private villa at Playa Blanca (Lanzarote). Private garden with bbq and heated pool (optional). Two floors, four rooms, free Wi-Fi and games area (Pingpong, Wii...). It is located 10 minutes walking to the main town.
ที่พัก
Información General
Bienvenidos a Lanzarote y Bienvenidos a mi casa!
Si el trabajo me lo permite estaré encantado de recibiros personalmente. En caso contrario, aquí podréis encontrar toda la información necesaria para llegar y acceder a la villa.
Dirección: Calle Montaña Blanca nº5, Urbanización Las Arecas, Playa Blanca.
Podréis leer el nombre de la villa desde la carretera, se llama: Aquamarina 3.
Justo al lado de la puerta principal podréis encontrar una caja fuerte con las llaves de la casa. Tanto el código de la misma como el de la alarma, serán facilitados por el chat de Airbnb.
El código Wi-Fi lo podréis encontrar junto a la puerta principal, en el cuadro de luz. Si en algún momento este diese error, por favor, bajad los plomos de la casa y volvedlos a subir. El router está tras la pared y esa es la única manera de reiniciarlo.
Cosas a tener en cuenta con la piscina:
La funda es térmica, por lo que aconsejo que siempre esté cubierta con la misma cuando no se esté utilizando. Esto es muy importante a tener en cuenta sobre todo por la noches, cuando más se puede enfriar el agua.
Aunque se contrate la climatización de la piscina, si está no se cubre nunca, notaréis como la temperatura baja día a día.
Esta funda también evita que el agua se ensucie. Lanzarote es una isla con mucho viendo y es fácil que se ensucie si siempre está destapada.
Otro factor importante a tener en cuenta es la crema solar. Si se hace uso de la piscina justo después de ponerse crema, el agua de la misma puede volverse verde. No es peligroso, pero si incómodo. De paso recordar la importancia de protegerse del sol.
El técnico de la piscina está contratado para pasar una vez por semana a ponerla a punto. Si por el descuido personal de cualquier de los anteriores motivos se solicita una segunda limpieza semanal, deberá ser abonada aparte con un importe de 20€.
Servicios de los alrededores.
Tras salir de la urbanización, a mano izquierda, junto a una gran rotonda pintada en el suelo, podréis encontrar contenedores de basura. Haced uso de los mismos. Depositar basura en calles públicas será motivo de expulsión.
La playa más cercana es Playa Dorada, a 15 minutos andando en línea recta. La entrada a las playas de Papagayo están a escasos 3 minutos en coche.
El supermercado más cercano, Hiperdino, está junto a Playa Dorada. El Spar, el más grande de Playa Blanca, está a unos 20 minutos andando, junto a la parada de taxis en el pueblo.
En cuanto a restaurantes próximos, mis recomendaciones son las siguientes: Casa Brígida (Marina Rubicón), Casa Carlos (cerca de Papagayo), Italian Job (cc Papagayo), Asia (parada de taxis), El peregrino (bar de tapas), Chacho Burger (a domicilio) y Casa Emiliano (Femes).
De estar interesados por restaurantes alrededor de la isla, hacédmelo saber, soy un experto.
Espero que disfrutéis mucho de la estancia. Cualquier cosa que necesitéis para la casa, o de la isla, simplemente decídmelo, haré todo lo posible para cubrir vuestras necesidades y hacer de vuestras vacaciones un tiempo inolvidable.
Un saludo!
Joel.

-----------------------------------------------------------------------------------------------------

Welcome to Lanzarote and Welcome to my home!
If my work let me welcome you personally, I will. If not, here you can find all the necessary information.
Address: Calle Montaña Blanca nº6, Urbanización Las Arecas, Playa Blanca.
You will can read the name of the villa from the road. It is called: Aquamarina 2.
Just next to the main door, there is a safe with the keys inside. The keys and alarm codes will be provided by Airbnb chat.
The Wi-Fi code is noted next to the main door, on the general lights box. If it is not working properly, please turn off and then on the general light button in the lights box.
Important things for the pool:
The cover is a thermal one, so my advice is to have it covered always when you are not using it. That way, the wáter will turn hotter and will be cleaner. The most important time for this is during the night.
Other important thing is not using the pool just after put the solar cream on you body. Maybe the water is going to turn green. It is not dangerous, but inconfortable.
The technical is hired to clean the pool ones per week. If you need it more, it must be piad apart, 20€ per service.
Services around the villa.
Going out from the resident and turning left, next to a big painted round, you will find the containers. Leaving trush on the street is not legal, the police will be called.
The nearest beach is located just 15 minutes wallking from the villa, it is called Playa Dorada. Papagayo beaches entrance is just 3 minutes driving from the villa.
The nearest supermarket, Hiperdino, is located next to Playa Dorada. Spar, the biggest one in Playa Blanca, is 20 minutes walking, next to the taxi stop.
In reference to the best restaurants in Playa Blanca, I like the followings: Casa Brígida (Marina Rubicón), Casa Carlos (next to Papagayo), Italian Job (Papagayo shopping mall), Asia (taxi stop), El peregrino (tapas bar), Chacho Burger (to delivery) and Casa Emiliano (Femes).
If you want to know more restaurants around the island, please ask me, I am an expert.
I hope you enjoyed the stay a lot! Please contact me if you may need something for the house or around the island. I will do all the posible to cover your needs and make your stay an unforgettable time.
Regards!
Joel.
การสื่อสารกับผู้เข้าพัก
Estaré a su disposición todos los días de su estancia. Comenzando con una estupenda bienvenida y explicación de la casa. También les explicaré que visitar en la isla y buenos restaurantes donde poder comer. Además, daré información acerca de excursiones y servicios de Lanzarote, con posibilidad de reserva directa a través de mi. Mi teléfono estará siempre disponible para cualquier cosa que puedan necesitar durante su estancia.
I will be at your entire disposal during your stay, starting with a great welcome and explanation of the house. Also, I will explain you the island and good restaurants where you can eat. In addition , I will give information about tours and services of Lanzarote, with the possibility of direct booking through me. My phone is always available for anything you may need during your stay.
---
---
พื้นที่ที่ใช้ร่วมกัน
3 โซฟา
---
เช็คอินได้ทุกเวลาหลัง 15:00
1. Tratar la vivienda como propia / Take care about the house.
2. No fumar en el interior / Banned smoking indoor.
3. No matar mosquitos en la pared / Not kill mosquitoes on the walls.
4. Mascotas bajo petición (10€ por día) / Pets under request (10€ per day).
5. Posibilidad de servicio de limpieza durante estancia (15€/hora) / Possibility of cleaning service during stay (15€/hour).
6. Piscina climatizada (15€/día de estancia) / Heated pool (15€/day of stay)
7. Disponemos de cuna bajo petición / Cot under petition
8. Check-in: 15:00 / Check-out: 11:00 (Flexible bajo disponibilidad / Flexible under availability).
---
The villa works great for a family break. It's a stroll away from all of the amenities of Playa Blanca and the location itself is quiet and peaceful. Joel really goes over and above to make sure your stay is comfortable and enjoyable. We had very minor issues - broken lightbulb and a temperamental kettle. A quick message to Joel and both things were fixed within hours. We managed to leave one of our bags behind and he very kindly ensured that it was posted back to us in the U.K. A 5 star host.
---
Nuestra estancia en Aquamarina 3 fue espectacular. Desde la reserva siempre estuvimos en contacto con Joel, quien siempre respondió de forma rápida y acertada. La casa es increíble, en un barrio tranquilo pero con todo cerca. La playa esta a 10 minutos caminando y por cierto es espectacular, hay supermercados, bares y restaurantes para todos los gustos. La casa tiene todo lo necesario para pasar unas vacaciones espectaculares: piscina, grill, habitaciones amplias, mesa de ping pong y hasta wii. ..Por supuesto un wifi muy bueno. La cocina tiene todo lo necesario para estadías largas. Aunque hay aire (URL HIDDEN) casa es muy fresca. No conocimos a Joel pero dejo encargado a Rafael quien siempre estuvo pendiente de todo. Gracias Joel por permitirnos quedar en la casa. La recomendamos 100% y seguro volveremos.
Hola Herman, Me complace saber que han disfrutado de la villa durante sus vacaciones. Como bien comenta, la casa es perfecta para estancias vacacionales, gozando de buena ubicación y características. Siento no poder haber coincidido con Ustedes en persona, tuve que ausentarme de la isla un tiempo. Sin embargo, siempre hay alguien encargado, como Rafa, que está atento a cubrir las necesidades de nuestros huéspedes. Espero que decidan volver pronto, no duden en escribirme. Un saludo, Joel.
---
I arrived at the villa with my 3 grand children and a friend to find a cleaner and a workman still at the property. We were told we could check in early. When we arrived, curtains were off the curtain pole, the microwave was unsafe to use as it was melted underneath. There was a socket hanging off the wall with wires showing. The pool was dirty and not heated of which I paid €50 to heated. The outside area was unkept. The place was infested with ants, they key given was the wrong key, the patio door was unlockable. There were cigarette burns in the sofa, the shelf was hanging loose off the wall. The place was completely unsafe. And most of all, it was not the villa in the pictures, we were given a villa that we didn't book, he uses pictures of the villa across the road which we were lead to believe we had booked. We contacted Joel twice before we got through, he fixed some issues. However the microwave was not fixed, neither was the pool and the place was still covered with ants. We phoned him again and said these issues and explained it is not the villa we were lead to believe we booked. He said he could do nothing as he wasn't the owner and we would have to wait 1 more day for him to speak to the owner. This was not practical as the place was unsafe. We phoned airbnb, they asked for eveidence, this was sent to them. During this time we had to get out as we couldn't stay so we booked into a hotel in Playa Blanca. We were assigned a case manager who was very helpful, he contacted Joel who disputed the complaint, the case manager then showed him the pictures. Joel then didn't reply to him, so he set him a deadline to reply which he didn't meet. So we were issued a full refund by airbnb and we stayed in another hotel. However this shouldn't haven't happened, the refund takes a while to go into my bank so I had to spend a lot of money for accommodation. We wasted a whole day of our first day sorting this out. DO NOT BOOK WITH JOEL! This was a treat for my grandchildren, due to their traumatic year I wanted them to have a lovely holiday. This was ruined for them by Joel, they cried that they couldn't use the pool and wanted to enjoy their holiday. There was no sympathy from joel. I can not reccomend him whatsoever and feel he should not be on airbnb due to his dishonesty and just poor communication.
Hello everybody, This message is not for Julie, is for the rest of people who get scared with her words. Please trust me it is completely false. This woman from the arrival was looking for get back their money. She used as excuse that there were ants in the garden and the microwave was broken. I sent some minutes after our technician to check the things she said. It was true that there were some ants in the garden, this is a hot place and that normally happens; and the microwave works, but there was something melted from the previous guests (solved in few minutes). After that, she starting again looking for a money refund, but without sense. Next day Airbnb call me and show me three pictures: ants, the melted thing in the microwave and a broken plug (by themselves for sure because I checked the house before they came). I explained Airbnb what happened and they gave my the option of keep the stay, but I didn' accept it. I prefer to give back the money to these people to avoid they break more things in the house or give them a money refund for nothing. People with that behavior is better out of my house. Joel.
---
Tuvimos una estancia muy Agradable. La villa está muy chula. Muy espaciosa. Las habitaciones con armarios empotrados y aire acondicionado en la planta superior. La zona es muy tranquila y se puede ir dando un paseo a la playa más cercana, y a 5 min en coche de la entrada a Papagayo. Tuvimos algún que otro problema, pero el tiempo de respuesta ofrecido para solucionar los inconvenientes fue sobresaliente. El pcpal fue que la nevera no enfriaba. Y tuvimos que esperar 2 días hasta tener un frigo nuevo conectado y funcionando. Cosas mejorables: El jardín esta algo descuidado, y La piscina creo que le vendría bien pintarla, e iluminarla para poder disfrutarla mejor por la noche. Así como iluminar la terraza de piscina. De resto todo muy bien. Joel es un magnífico anfitrión.
Gracias por tus comentarios. Sobre el frigorífico respondimos a su sustitución lo antes posible teniendo en cuenta que la avería surgió en viernes y no fue fácil conseguir un porte. Sobre el jardín estamos planteando varias soluciones, como colocar césped artificial o un minigolf. La hierva natural nos está dando muchos problemas, sobre todo en verano, cuando sopla el viento del Sahara. Anotamos todas las sugerencias e intentaremos conseguir una Villas más actualizadas y agradables. Saludos, Joel.
---
Just got back from a fantastic 2 week stay at Joels place. Joel was very accommodating & let us check in early, when we arrived there were a couple of minor issues which Joel quickly got rectified by the maintenance team. We were 2 families totalling 7 and there was plenty of room for us all! Villa was exactly as described, only downside was that there is no air con downstairs but quick email to Joel & a fan was delivered! The villa is a 10 min walk to the Dorada beach and restaurants/shops. Will hopefully return again, thanks Joel for a great stay !!
---
La casa es increible. Estuvimos 7 amigos y pasamos una gran semana. La piscina, el pinpong, la limpieza y la casa en si de 10. El anfitrion muy comunicativo y amable, nos soluciono todo al momento. Las fotos y la descripcion veraces al 100%. Muy recomendable para pasar unas vacaciones perfectas en Lanzarote
---
We have just enjoyed a great stay at Joel's place, he was very accommodating letting us check in early and out later than the standard time. There were a few minor issues with the place which were addressed quickly by the maintenance team. The house was spotless and catered very well for our family which included 6 adults and 2 small children. The pool was great, only downside really was that the villa is a 30 minute walk to the beach (5 mins in the car). We had a great time and would recommend the villa. Many thanks
---
เจ้าของที่พักรายนี้มี 28 ความคิดเห็นสำหรับที่พักอื่น
ดูรีวิวอื่น
Soy una persona amable y responsable que trabaja en el mundo del hospedaje de lujo. Disfruto brindando un servicio exquisito a mis huéspedes y tratando que sus vacaciones se conviertan en un recuerdo inolvidable. Proporciono el mismo servicio en la casa, siempre al servicio de Us…
ภาษา:
English, Español
สำรวจตัวเลือกอื่นๆ ในและรอบ พลายา บลังก้า
ที่พักมากขึ้นใน พลายา บลังก้า: