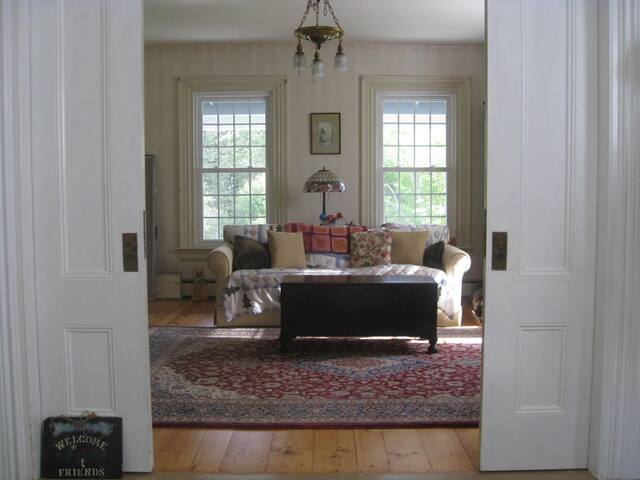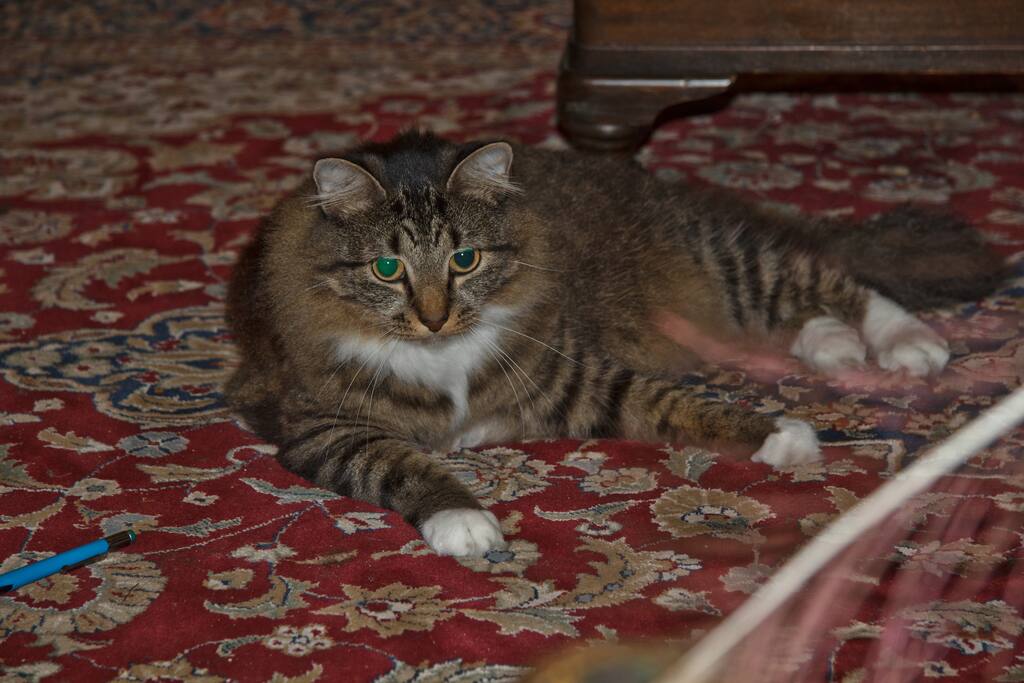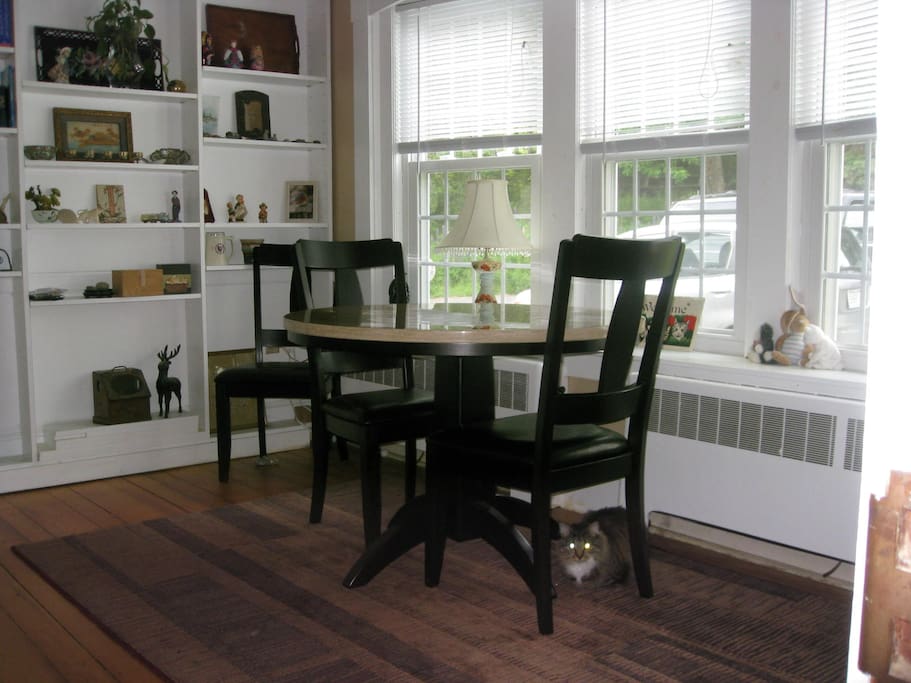 Acadia Nat'l Park Bedroom Suite
Join us in enchanting Maine! See soaring eagles, puffins, whales and seals. Hike, swim, warm yourself on granite rocks. Watch crashing waves and whales. Listen as moose walk softly in the moonlight. Awake rested. You'll think, "I could live here."
Sorry: Maine State Law requires an 8% tax to be collected from the guest PRIOR to arrival. Guests will be denied access to host property until tax is paid.
ที่พัก
If you find the calendar is full for the time you wish to come, please check out our second listing for a private apartment with its own entrance.
If you are cat lovers, welcome to our home!
Guests who stay inside the main house must be special people. Maggie Mae, our Maine Coon cat, is a vital member of our family. We also have rescued a new bright young Calico named Pumpkin. She has a stubborn streak and is still learning many things. We promised our kitties that all house guests would simply love them! If you don't fall into that category, please check out our second listing for the separate apartment.
As you enter the house, please do so quickly. Kitties are not allowed outside and Pumpkin is quick! The first room is a glorified mud room. Not to worry about shoes. We have a vacuum!
In front of you is the library where you are welcome to read, watch TV or gather for fun. The next room will be the dining room.
Our eat-in kitchen hours are from 6:30 am to 8:00 pm. The kitchen has a full refrigerator, electric stove and oven, microwave and Keurig coffee stand. You are welcome to store your personal groceries inside the refrigerator and use what you need in the kitchen cupboards. There is a dishwasher. Please pre-rinse your dishes before putting them inside the washer.
We are animal lovers and cannot bear the cooking of live lobsters, etc. It makes us very sad. So, please enjoy those pleasures in our local restaurants to which we will gladly direct you!
Please remember to turn the oven and stove top burners off when you are finished cooking. Some parts of our house date back to 1762, and we don't want to be the last owners!
There is a screened-in porch off the kitchen. The cats are allowed there. The door to the outer porch is never to be opened. It is a wonderful place to have morning coffee or to have a meal.
A game room is off the dining room. Lots of boards games, puzzles, cards and cribbage board is there for you to enjoy. A small sofa and a recliner invite you to snuggle down for a read.
At this time, we are not able to offer Guests laundry service.
From the dining room, please use the central staircase to go upstairs to your private room and bathroom. The back staircase is private. A white curtain at the top of the main staircase marks off the private area upstairs.
At the top of the stairs, turn left. And walk down the short hallway. Outside your room you will find a small refrigerator with freezer for your private use. Also a Keurig coffe machine, wine glasses, mugs, silverware, cutting board and a few coffee pods. Please buy your favorite coffee pods or bring them with you.
Inside your bedroom is a new queen-sized bed, a Canadian rocker, a recliner, a writing desk, flat screen TV, ceiling fan, and books and games. A basket of brochures is there also to help you discover things to do. There is also an air conditioner for humid or hot nights.
Wireless internet is always available.
All other rooms on the second floor are private.
Safety requires that when you leave the house, lock the door, make sure the water faucets are turned off, the commodes are not "running" and the kitchen appliances are off. We do not leave appliances running when we leave the house.
Our goal is that you comfortably enjoy our home. Take your shoes off and kick back, and enjoy your visit to Maine. If there is anything we can do to make your stay more memorable, please let me know!
การสื่อสารกับผู้เข้าพัก
As your Host, I welcome you to relax and enjoy my home as you would enjoy yours. Please enter public areas of the house in proper clothing attire.
สิ่งอื่นที่ควรรู้
Maggie Mae and Pumpkin's safety must be protected at all times. They are not permitted to be outside at all. Please make sure they are not locked behind a closed door, especially Pumpkin. Forgive them if they make mistakes like taking things that don't belong to them or if they have accidents in inconvenient places. They love to visit, especially in the night when you are sleeping. Pumpkin is hand shy and not sure she likes to be picked up. Maggie Mae is older and more assured of herself. She's a lover!
---
---
เงินประกันความเสียหาย: $100
สนับสนุนคำสัญญาเรื่องค่าจ้างที่พอเลี้ยงชีพ
สื่อสารผ่าน Airbnb เท่านั้น
เพื่อเป็นการปกป้องการชำระเงินของคุณ อย่าโอนเงินหรือติดต่อสื่อสารผ่านช่องทางอื่นที่ไม่ใช่เว็บไซต์หรือแอพ Airbnb
เรียนรู้เพิ่มเติม
---
ไม่เหมาะสำหรับสัตว์เลี้ยง
ไม่มีงานสังสรรค์หรือเหตุการณ์
ไม่ปลอดภัยหรือไม่เหมาะกับเด็ก (0-12 ปี)
เช็คอินได้ทุกเวลาหลัง 14:00
A photo ID is required before entering the house for the security of the hosts.
Airbnb has asked its Hosts to make the House Rules clear and to remind our Guests that the result of breaking the House Rules could result in a forfeiture of their security deposit. We have tried to insert a bit of humor as we outline the rules to you. Thanks!
The majority of our Guests are honorable, ethical and caring people. Your Hosts are gentle, honest folk who believe in the goodness of others. We delight in hospitality, and welcome travelers from all over the world. We respect others and want others to respect us. We love Airbnb and enjoy making new friends. That is why we open up our personal home to you.
Folks in Maine make most of their income during the summer season. Your Hosts are no exception. Every reservation is important to our bottom line, and each reservation determines how well we can survive our winters. We are not a hotel, which means we do not have a huge corporation behind us that can write off damages or loss of revenue.
We believe rules are guidelines. We believe reasonable folk appreciate rules so they don't stray off a path and inadvertently trample flowers in the garden. Rule exceptions are needed when unethical people act like wild bears in the woods and tread heedlessly anywhere they please. In our experience, these wild bears, disguised as Guests, hurt others needlessly. Unfortunately, we have run into a few of these rogue bears who think and act differently.
We live in a lovely, coastal community. Quiet and privacy are highly valued. Guests are expected to be peaceful, respectful and quiet. Do not invite others to join you on our property—ever! Please, no smoking anywhere on property or inside buildings. While there are no animals allowed in the apartment, please note that there is a Maine Coon cat and a young Calico cat in the house. If you are allergic to cats, please do not book with us in either listing as the laundry is done in the main house where kitties live. They would be sorry to be the cause of any problem.
A public laundry is nearby in Ellsworth, as are two major grocery chains. As the Hosts cannot provide the wide variety of beverages and goodies that Guests enjoy in their private homes, please pre-plan and bring with you whatever you like to eat or drink when you first awake in the morning.
Your Hosts try to provide you with extra paper towels, TP, light bulbs, plastic bags, and paper/plastic cutlery and tableware. Extra items like that are left for your benefit while you are still our guests. Unused items should be left for the wonderful guests who are arriving after you leave…unless you are a wild bear in disguise.
Your courtesy, ability to follow host rules and guidelines, willingness to act in a manner that demonstrates that you understand that renting our private home is an honor not a right will most likely give you a great guest rating from us.
Thank you for leaving behind any tour books and/or brochures from places of interest that you think someone else might enjoy. If you go somewhere and it was not a good experience, leave a note behind for the next guest. One of our guests left behind an Acadia National Park Guest Pass that still had some days left on it!
We recommend that you keep your car locked. All personal property, food and trash must be kept inside unless other arrangements have been made with your Host. We do not assume responsibility for Guest's missing, damaged or stolen personal property. If a Guest has an accident and Host property is damaged, please let your Host know as soon as possible. Things happen! However, if items are found to be broken or missing after the Guest leaves and there has been no explanation given, the Hosts will hold Guests responsible.
Excessive alcohol consumption or use of illicit drugs is prohibited and will result in a call to the state police. Also, weapons and/or firearms are not to be brought onto the property unless previously approved by the Host.
If you have been camping before you arrive here, you must not bring any flammable fluids, gases, or items onto the property. Our home was built in 1762 and is very dry. We know you do not want to inadvertently shorten or damage the history of our beautiful home! The fire department will be called if items are found.
Reasonable Guests will understand they need to enter the house when they first arrive before 8:00 Pm so they can be shown to their room and introduced to the house. Once you are settled in, your goings and comings are your business as long as they are respectfully quiet and safe. Guests, remember to follow the driving directions on your itinerary and do not rely on GPS. Maine has two GPS services. One service has our correct location. The other service will send you to another town across the Bay. Adherence to this will allow your Hosts to go to bed glad that their Guests are enjoying their vacation.
Rural Maine is very different from city life. Dark is very dark here. You will see stars in the sky. We don't have street lights or street signs. We do not have Good Samaritan road crews waiting up at night to rescue you. If Guests don't bring their itinerary and rely on GPS, they may get lost in dark, rural Maine. And wild animals are often found on roadsides. Have I gotten your hair standing on end yet? (URL HIDDEN) all good!
If you get lost, by all means call the Hosts. However, don't assume that the Hosts have the supernatural ability to squint into the dark night, locate where you are and send you a locator beam to direct you to where you should be. Hosts are humans, not aliens. We think if you find yourself upset with this, you should turn around and find a hotel and start again in the morning. We recommend that you use good judgment and arrive in the daylight hours. After 8:00 pm the host will lock the doors and you will need a key to enter.
The airbnb site is meant to be a shared community and that kind of neighborliness is much appreciated. We have rarely had an unhappy guest, but the one or two inconsiderate and greedy folks we have run into have forced us to demonstrate that behind our welcoming smiles, we have teeth and sharp claws. (Boy are we mean!)
If you make and accept a reservation, you agree that if you do anything to destroy, threaten, harm or otherwise, in the host's opinion, impede the host's person, possessions or property or use of same will immediately cause the forfeiture of your security deposit and may be subject to further prosecution at your own expense. This last sentence comes because a guest decided to leave camp fuel inside our house and also left our home unlocked and the door open. We decided this must have been a rabid wild bear in disguise!
The ones who threaten a lawsuit for not getting their own way are consider extremely rare, wild and rabid bears indeed. They make us very sad as we are then forced to stand on our hind feet very tall and put ferocious looks on our faces as we dial for assistance. These are very rare wild creatures. Very rare!
While we can growl as well as any bear in the woods, we much prefer to purr like our Maine Coon Cat and Calico kitten. We look forward to helping you enjoy your visit to Maine, whether you are from the states, Canada, or even further across the ocean! We've made the best friends over these past few years and look forward to increasing our friends this year, too. Thank you. Purr....Hope our humor helped smooth the rough edges!

RESERVATION POLICY:
Please know we have a super strict reservation policy as a result of a few rogue bears who ignored our house rules and threatened a lawsuit to get their own way. We consider that bullying behavior and have a zero tolerance for it. Your host is a mediator for Veterans. A good conversation usually resolves most issues. We are reasonable people and are willing to work with anyone. Life can be unpredictable and we understand that. However, remember that we rely on our summer income to survive the winter. Fairness and trust in the good people of the Airbnb community is what we count on. Relax. Very few of our guests have ever been disappointed with their vacations here.
คุณยังต้องยอมรับ
Cat(s) live in the house
---
---
เครื่องตรวจจับคาร์บอนมอนอกไซด์
---
---
Lee was very friendly and helpful. Our room and private bath in her house were pleasant, clean and comfortable. She invited us to use her kitchen. We did expect to be closer to Bar Harbor for hiking Acadia and more restaurant options (with some road construction it was about a 45" drive). However, it is close to the Schoonic area of Acadia, which has some nice hiking also.
---
Lee was a very kind and nice host. During we stayed her house, she prepared some delicious snacks, eggs, tea and coffee. Still, she offered lots of tour information which very helpful. Her house was very big, warm and clean surrounded by colorful woods and grass. Our bedroom and private bathroom was quite big with bright windows. Everything she prepared for us was so nice. And the location of her house was also very good to anywhere you want to go around Downeast of Maine. We would be here again if possible and we'll introduce her and her house to our friends.
Thank you SO MUCH for staying with me! Your happy smiles and genuine sharing graciousness have given me many memories to cherish. It would be my honor to visit with you again should you every travel here in the future. And I enjoyed the dinner you cooked for me for two days after you left. I enjoyed every bite!
---
Lee was a very kind and welcoming hostess. Her house dates back to the late 1700's and is situated on a large tract of land. At times, however, noise from vehicles on Rt.1 was very loud especiallyin the early morning.I had to use ear plugs to sleep.Our room was on the second floor to the left at the top of the (URL HIDDEN)'s bedroom and bath as well as several other rooms were on the same floor separated by a curtain she had hung across the hallway.Our bedroom suite with private bathroom was large with three windows and a very comfortable bed.In a little niche across from the bedroom door Lee had placed a nice size refrigerator and a Keurig coffee maker(URL HIDDEN) In all honesty we would not stay there again.Lee has a great deal of difficulty with her mobility. Her house is "tired looking" both inside and outside with a great deal of clutter, dust and cat hairs present.The paint on the bedroom ceiling was flaking badly,some on the rug.The bedroom windows rattled and appeared to have sone wood rot.For a five night stay we had one bar of Ivory soap,three white bath towels,one quite old and yellowish,no hand towels but plenty of thin washcloths. Lee offered 6 pods for the Keurig for five mornings,sugar packets but no creamer of any type. The refrigerator and freezer were empty and not really clean. We were charged a cleaning fee of $35 but I really didn't see evidence to support that amount.
Marilyn: I see now that your smiles and pleasanties to me in person were really untruths hiding a bevey of expectations of perfections. If you asked for towels, I would have gladly given them to you. In all the years I have hosted, this is the most vitriolic review. Hmmmm...could all my other guests have been so off the mark? If you need such "plush" accommodations, why do you look for the relatively inexpensive listings to rent? There are plenty of hotels in the area you could have stayed in for $200+ a night where you would not have to worry about being impacted by old windows and a disabled Vietnam Veteran as a host. I thought you fit right in with the ambiance of my old, "tired" home. By the way, the queen mattress is about one year old and you told me every morning how well you slept! For the little money you paid, do you really expect me to fill your refrigerator with food (which you most likely would not like) and to pay for your coffe, which I have no idea what brand your sensitive tastebuds would enjoy? Perhaps you should stick to a more elite hosting group in the future and stop expecting to be treated like a queen on pauper prices. You sure fooled me! Congratulations on the acting job.
---
Lee walked us through the space and showed us what she had prepared for us. She was very friendly, as were her cats! The neighborhood was right near the highway but far enough such that you wouldn't hear the noise of the cars. It was really convenient to get to and from the locations we wanted to visit (many of which were in Bar harbor). The room itself was clean and had the basic things you would want (hairdryer, soap, a tv, etc).
---
communication with Lee was excellent. I had no trouble finding this property. lee was at the door to greet me and give me the tour. house is charming, original part from the 1700's but added on to and modernized. lee invited me to feel free to use the kitchen, which was up to date and very convenient. my bedroom suite was upstairs...steep steps, no problem for me. bedroom very large with queen size bed, most comfortable,good mattress, lovely sheets and linens. plenty of blankets. en suite bathroom very large, with tub and shower...lots of hot water and good pressure, ample towels, lighting and outlets. in fact, lee provided more than needed outlets for all tech items, which was much appreciated. bedroom had three windows with shades (if you like to sleep late), two very comfortable rockers and a large flat screen TV. just outside of bedroom was Kuerig coffee machine, and tea...refrigerator with freezer, which was much appreciated by this traveler. lee recommended two good restaurants, and a day trip to Schoodic point which I thoroughly enjoyed. the property is safe, secure, and near to many interesting coastal sites. lee also recommended a whale and puffin sighting cruise which I did for $66 and was very glad I did. we saw whales, porpoises, seals, and puffins with an excellent marine biologist commenting the whole cruise! I would recommend Lee's airbnb property and would return if the opportunity arose. thank you, lee!
---
Lee was so wonderful to stay with. Her home was beautiful and we felt like we got great value for the price that we paid. We had a huge private bathroom, and great sized room as well as our own refrigerator and breakfast area. Lee's home was convenient for us because we spent a considerable amount of time in Acadia National Park. It was so nice to come home to our clean and quiet room after our long days of hiking in the park. Lee has two feet cats and was happy to let us come and go as we pleased, which we so appreciated. We were welcomed as soon as we arrived and gave Lee a big hug when we left!
---
เจ้าของที่พักรายนี้มี 190 ความคิดเห็นสำหรับที่พักอื่น
ดูรีวิวอื่น
Originally from Bronxville, NY and Fairfield County, CT. Have lived in Maine since 1993, serving the town of Sullivan as Selectman. Love being the Pastor of the Milbridge Congregational Church where the folks and the town are really great people! Love my Maine coon cat! My grandparents met and fell in love here. And my parents met and fell in love in can happen to you too!
สำรวจตัวเลือกอื่นๆ ในและรอบ ซัลลิแวน
ที่พักมากขึ้นใน ซัลลิแวน: