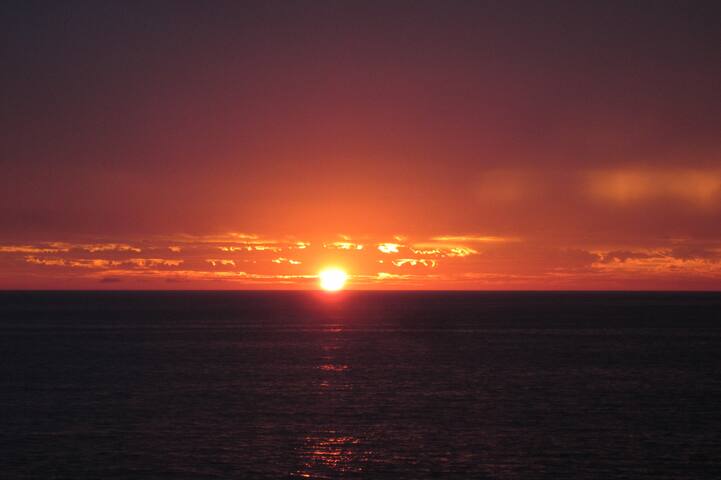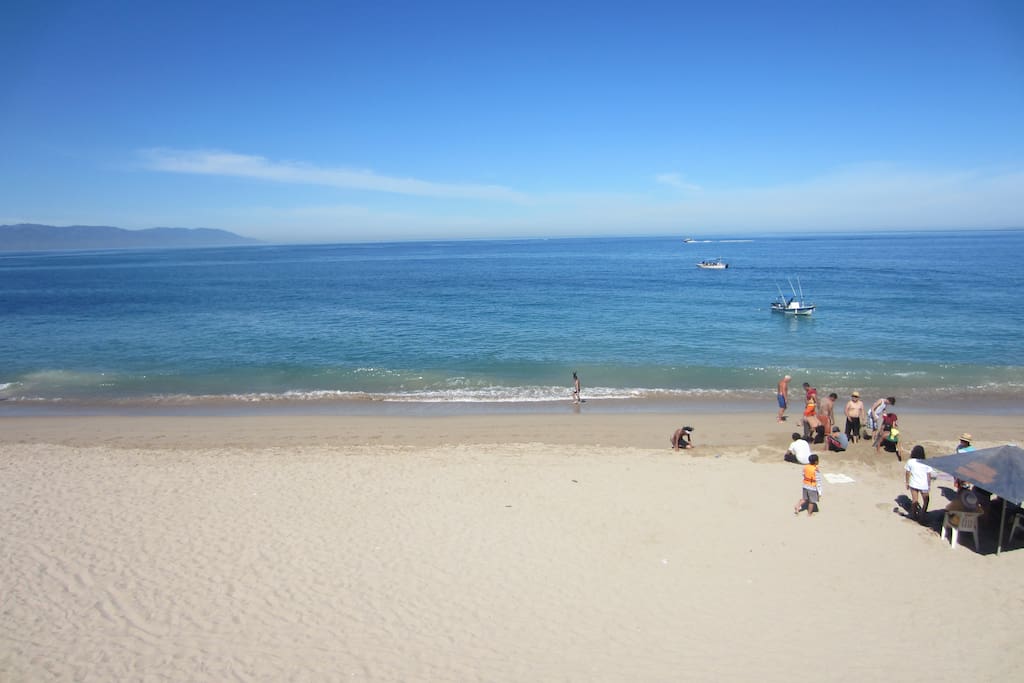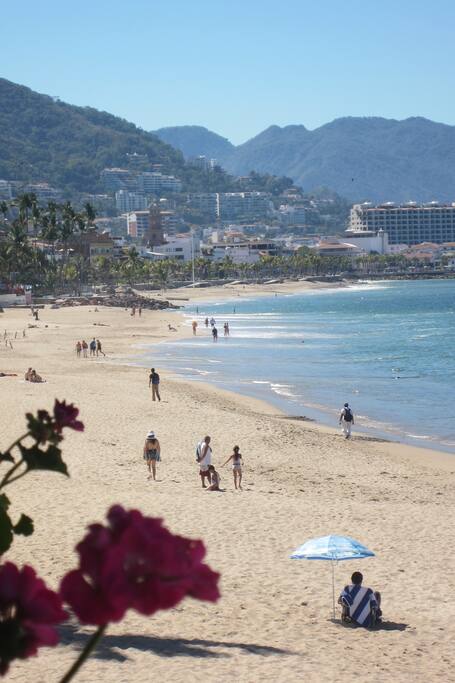 Best Beachfront in Puerto Vallarta
Best Beachfront in Puerto Vallarta
Other than Xmas weeks, I spend about 8 months in my apt. I'm interested in renting my apt. out for the summer months ONLYfor $775 a month (min. of 1 month) which includes all utilities including A/C. I also rent my Paradise Village timeshare any time Of the year, including Christmas and Easter,for a minimum of 3 nights from $70 per night for a large ocean front studio with full kitchen and large balcony.
มีที่จอดรถฟรีบริเวณที่พัก
Other than NO SMOKING and respecting your neighbors' privacy, the only house rule is that you use sunscreen if you spend hours in our sun.
This small studio is not for everyone. Some people may like it and some may not. I will attempt to provide an objective review based on what we consider the baseline/important parameters for us, and so far, the experience with Airbnb has been a good one (7/8). What you may lik…
คำตอบจาก Linda:
I think the best response to this 'review' is to share the emails that were sent addressing the Velez's 'issues' and let you decide for yourself. The Velez's checked in late on Saturday for 5 nights during a holiday weekend. On Monday morning, they sent the following email. They mention that it took a long time to 'get anything done' about their claimed issues, but the fact is that within an hour of reading their email, I offered them an upgraded unit, from a studio apt to an oceanfront resort condo 2 bedroom, 2 bath with wraparound deck at no extra charge. They didn't thank me, but instead decided to 'educate' me about how to run 'my business' and how to portray my property in my ad 'correctly'. I guess it is for you, gentle reader, to decide whom to believe. -----Original Message----- From: Arturo Velez To: Linda Thompson Cc: Layna Segall de Velez ; Arturo Velez Sent: Mon, Jan 6, (Phone number hidden by Airbnb) 2:24 am Subject: URGENT: Your prompt response is required Hi Linda, sorry to trouble you, but we need an urgent response from you. The conditions of the apartment are not acceptable. This is our second night and we have not been able to rest. We have collected a list of issues that we want to share with you before we go to AirBnB; in no particular order: * This place is too noisy; this is not a quiet residential neighborhood as described. * There are ants all over the place and roaches in the kitchen * The advertised high speed wifi is not really available in the house, you need to sit outside to get it, when lucky, and it is not really high speed. * There is no cable TV as advertised * The sink is leaking over the floor when washing dishes * The AC is outrageously noisy and doesn't really cool down, besides leaking; the ceiling fan is a joke * There really isn't direct access to the beach; the swimming pool does not have ocean view as described * This is not a one bedroom as advertised; at best this is a studio * The view is nice, but I am not sure the overprice justifies the rest of the problems. Since we still have three more nights to go, would you please consider a) canceling the reservation and returning to us the fees paid or b) help us move to a better place that has none of the problems described above. Thanks for the immediate attention to this message Linda's note: My response below, sent at 10 a.m which was an hour after awaking to their phone call that advised me to read their early morning email. Please note that I immediately addressed their 'concerns' by offering to exchange where I was staying (a very large, lux, 2/2 oceanfront, wraparound deck unit I had rented at Costa Sur for my family who were scheduled to come visit starting Dec 31, but who had to cancel so that I was staying there myself. Of particular import is that I told this couple about this unit when they checked into my apartment. I even said then that I'd considered offering them an upgrade since it was way to big for me…but that since they were traveling, I couldn't contact them and had already moved all of my stuff out of the apartment and into the bigger unit. Of course had they been interested I would have had to charge them more for the larger unit than the studio. It seems that this couple decided that they might 'convince me' to give them the larger unit, at no additional charge, if they complained about my apartment: From Linda Thompson (Email hidden by Airbnb) details To upxngo (Email hidden by Airbnb) Arturo, I'm sorry that you are having difficulty, and I will be happy to agree to let you have my Costa Sur unit starting this afternoon. BUT I will also address your claims, as I am upset that you have clearly accused me of misrepresentation, and that I do not do. (NOTE: I attempted to address each issue raised in the email sent prior to a call from the renters at @ 9 a.m.) This place is too noisy; this is not a quiet residential neighborhood as described.: The place is not normally noisy BUT this is Mexico. Mexico IS (Website hidden by Airbnb) matter where you go....especially on Holidays. This is 3 Kings Day and the weekend is one big party. During the week nights, it is very quiet here except for people in the beach side tables from the restaurant as they feel they have to talk OVER the sound of the waves. In the day, unless it is a holiday, the beach is near empty and very quiet. . The attached bar is noisy when it plays live music on Saturday nights. Again, not sure about last night, but it IS a holiday here, and there is music and talking most everywhere in Mexico's cities on holidays. If you stay in a resort, there is usually a SILENT time after 10pm, but I never billed this as a resort and even at the resorts there are Mexican fiesta nights and weddings and the Buenaventura Hotel next door is but an example. * There are ants all over the place and roaches in the kitchen. I call the ants 'deaf, dumb and blind' ants and a paper towel or swoosh of the hand removes them. They are very weird because they don't go to food supplies like normal ants; they are very random. Once you wipe them up, they don't seem to return, although I wipe with vinegar and that seems to upset their sense of smell. I only had them when I returned in October for a week off and on, and then they were gone. I'm not sure what their story is, but they are harmless and tiny and while I would; get ant killer for regular ants, the fact that they don't seem to eat or carry food back to their hive makes it hard. I too hate cockroaches and only ever saw 3 in this entire year I've been here. They came after earthquakes . I THINK they must come up from the restaurant but I can't believe the restaurant doesn't spray. I have a cat, so I imagine that he would take care of any cockroaches if there were more than the random 1, but I've not seen any evidence. (he doesn't eat anything but he does kill anything.) * The advertised high speed wifi is not really available in the house, you need to sit outside to get it, when lucky, and it is not really high speed. I don't have a smart phone. I have a lap top and I watch movies online all the time there. That is as highspeed as I know how to 'use' and it seems to work fine. It is called 'hi speed' by the company and there are boosters over at the old Casa Claudia. * There is no cable TV as advertised. There is Cable which includes Disney, ESPN, Fox, CNN and all networks (ABC, NBC, CBS). I can't really help you there as I am not hi tech at all. I get frustrated when I can't get on or it is slow, but the owner of Casa Claudia has boosters and such to try to make it better...I think it is effected by the rains. There is an internet cafe up Nicaragua 2 blocks on the corner where the bus comes. It is very good. * The sink is leaking over the floor when washing dishes. I 'm not sure I understand....Are the pipes UNDER the sink leaking? When I cleaned under there I didn't see any water. Are you using the dish drainer? Or is it leaking from the faucet? I didn't have any leakage up until I left on Dec 20. But if it is leaking, it has to be fixed obviously. * The AC is outrageously noisy and doesn't really cool down, besides leaking; the ceiling fan is a joke. It is leaking outside , but it always kept the place very cool for me when it was extremely hot outside. Are you sure you have it set to 16? * There really isn't direct access to the beach; the swimming pool does not have ocean view as described. Unfortunately I can't help what the govt does as it doesn't advise us on what it is doing...;it just does it. This is Mexico. It started just before I left in December and it has gotten worse, but it wasn't there when you made your reservation and no one said it would take this long. * This is not a one bedroom as advertised; at best this is a studio. I NEVER advertised this as a 1 bedroom. It's always been a studio and advertised as such with photos. * The view is nice, but I am not sure the overprice justifies the rest of the problems. (I made no comment but there is nothing beachfront, holiday weekend, available in PV for $100 or less a night.) I rented a 2/2 here at Costa Sur using my timeshare exchange. It is about 7km south of the southside of town. The bus stops outside the resort and costs 8 pesos. I think a cab into town is 70 pesos. The internet from the room seems fine, tho I haven't watched any movies online here. Someone in the other building complained to me yesterday that she couldn't get internet from her room, but I have a wrap around balcony that faces the ocean on two sides but also the antenae is in direct (Website hidden by Airbnb) I haven't noticed any problems. The bed is quite comfy and the view is beautiful. I've seen no ants or cockroaches. There is room service, a lagoon, a spa etc and a perfect place for tourists. I think you will be happy here. I'm going to have coffee and breakfast and then I will pack up my things. I play water volleyball from noon until 2 and I'm hoping my friend will come down for that so that he can give my stuff a ride back into town. I'll ask the maid to come in after I leave. If you wish to meet me here, I can help you check in and change credit card info. Would sometime between 2:30 and 3 work for you? Best Linda Thompson ________________________________________________________________ Linda's note: They agreed to take me up on my offer, but then decided to have lunch and asked if I minded meeting them in the unit later. I agreed, but at this point I realized that they had been acting like I 'owed them' a oceanfront resort 2/2 that rents for $220 a night for less than $100 a night. When they finally arrived, I decided to tell them that I was upset with their attitude when I felt I was being quite generous. Instead, they told me that I needed to change my ad because it was misleading, esp. that one could 'drift to sleep listening to the waves' , etc. When I got back to my apartment, I noted that there were no ants, no roaches (!!!!! Truly, I can't believe this one), that my A/C was working quite well and that I had excellent internet service so I wrote them another email. After hauling all my stuff out to Costa Sur and having to cancel a dinner party I was having for friends there, I was exhausted but glad to be 'back home' listening to the waves. But they hadn't left the apt. keys inside the unit where I had asked them to, so I sent them another email: From Linda Thompson (Email hidden by Airbnb) details To upxngo (Email hidden by Airbnb) I'm wondering where my keys are. Do you have them with you? I'm laughing a little as I sit here on my bed listening to the waves and no other sound. There is no one in the restaurant and no one on the beach and a sliver of moon is shedding lights on the water. I could (Hidden by Airbnb) you so you could hear the silence, but then you'd probably question my veracity. I did learn that there WAS a party in the restaurant last night. No one could have anticipated (Website hidden by Airbnb) next door neighbor, Jim, called the owner last night to complain at 3a.m. I understand that this was upsetting for you, but for me...there is nothing I can do to anticipate this. For me, I know that Saturday night might be loud with music...sometimes good, sometimes bad, adn that people in the restaurant might be loud while eating...but no one tells me that the restaurant is having an employees party in advance. I'm sorry that it happened when you were here, but there is nothing for me to do about it and it woudl be silly for me to post on the ad....which, btw, was for SUMMER rentals, that there is sometimes music that might be distressing on Saturday nights or that once a year there is an employee party. So tonight I am enjoying complete silence. And I think you are having a party at Costa Sur tonight, no? It's just what happens here. My A/C is definitely leaking water outside, but it is no louder than any other wall unit I've ever heard. It is true that the cable is out, but to question my veracity, especially when you arrived and saw that there was a football AFC playoff game going on, is kinda silly....I can only call the owner and maintenance and say: cable is out; please advise. And so it goes. I'm glad to be back in the hood. Met friends for sunset cocktails and, tho I couldn't fdo my dinner, had tapas instead. Please let me know where the key is. If you have a phone number that is US or Canada I can video call you with (Hidden by Airbnb) and you can hear/see the quiet for yourself. Please let me know where my keys are. Linda Thompson Linda's note: It's hard to believe that Arturo's response below was that I had left the keys at Costa Sur, when of course he had the keys and had brought them to Costa Sur contrary to the agreement to leave them at the apt and that he had failed to give them to me before I left Costa Sur. I don't have a car, and the distance between the condos is about 8 miles. I still don't have the keys back! From: Arturo Velez To: Linda Thompson Cc: Layna Segall de Velez Sent: Tue, Jan (Phone number hidden by Airbnb) am Subject: Re: URGENT: Your prompt response is required From: Arturo Velez To: Linda Thompson Cc: Layna Segall de Velez Sent: Tue, Jan (Phone number hidden by Airbnb) am Subject: Re: URGENT: Your prompt response is required Hi Linda, I wish it were only one thing, however, we pointed out to you a comprehensive list of issues and we were expecting a minimum of what otherwise is known as "Customer Service" You run a business, you are compensated for that service, there are no favors, so as customers, people are entitled to certain levels of equivalent service. It would have made a world of difference to hear from you something like "Yes, I can see your point, how can I make it up to you" as opposed to saying "Your complaints are not valid". Do you see my point? It doesnt matter now. You left your phone charger and your keys on the table here at the hotel. We can leave both at the reception for you to pick up at your earliest convenience. L&A Linda's note: at this point, I'd had enough. Some people have already said that I have the patience of Job; while I don't think that is true by any means, I do believe I treated these people with every possible consideration and that they were out to get something for nothing. So I wrote this to them after they had left for home: On Thu, Jan 9, (Phone number hidden by Airbnb) at 5:37 PM, Linda Thompson wrote: From Linda Thompson (Email hidden by Airbnb) details To upxngo (Email hidden by Airbnb) The thing about credibility is that once you've lost it, it is very hard to get it back. Yes, I inadvertently left my phone charger in the lr, in addition to a beer and soda in the fridge. No, I did not leave the keys to my apartment there: You were in possession of the keys to my apartment. You were asked to leave these keys in the apartment on the side table by the door when you checked out. As I recall, I even mentioned that you'd have to open the iron gate with the key and then go back upstairs and leave the keys inside and that locking the dead bolt was unnecessary and that you could just press the button to lock the quiklock. Instead, you brought the keys with you to Costa Sur and then neglected to give them to me. But now, you say that I left them there and can come down and retrieve them. You are quite the piece of work. I love how you talk so glibly about respect, about contracts and good business dealings. True, I am not a good business woman in this matter. Were I, I would have collected a security deposit from you. And just as Costa Sur charges $100 if you do not return their key, I could now hold your deposit until the key you had in your possession was returned. True, I am not a good business woman in this matter. Were I, had you called me at 9 a.m. Monday morning to demand reimbursement for your rent, I would have said, sorry, that wasn't in your contract Arturo. Instead, I offered you my 2bd/2bath unit at Costa Sur. Did you thank me for my generosity? No. Instead, you felt compelled to stress the 'validity' of your padded list, told me that I must change my 'misleading' ad, and criticized me for also not offering to give you your money back. When I said I'd be glad to give you money back instead, you quickly changed your mind. I have reread all the communications between us: your first email listed the demand that I either return you rent OR find you an acceptable place that had none of the issues mentioned in your 'list' . Then it said that you wanted to apprise me of these issues prior to contacting airbnb. This was certainly not a request for me to address and discuss your concerns, but instead a demand based on your hope that I would give you an upgrade to my 2bd/2bath unit. You are aware that airbnb gives renters 24 hours to contact them with any grievance. After 24 hours, the 'contract' stipulates that money is not refundable. After I upgraded you FOR FREE to a 2bd/2bath ocean front condo, you chose to criticize and complain instead of simply thanking me for my generosity. Where you get such a sense of noblesse oblige is beyond my ken. But now I understand what your motivation was: when you arrived at the apartment, I mentioned that I had considered giving you the option of staying in my 2bd/2bath corner unit at Costa Sur Resort. I imagine you looked that up online and thought...well Linda's apt. isn't the 1 bedroom we (MISTAKENLY) thought it was and there was an employee party til all hours last night and lets get her to exchange into Costa Sur. It is true that had I had a contact number for you (I only knew you were traveling in Mexico), that I was going to call you on Jan 1 (I only returned to the apt New Year's Eve to bring items I had purchased for it over Xmas) and ask if you'd like to upgrade to Costa Sur for an extra $50/night. (My cost.) But I had no way of contacting you. On Saturday night, however, I planted a seed that you decided you would try to capitalize on. You said that I should have told you about the construction on the outside side of our building. And that it impeded your access to the beach. Actually, since you could get to the beach through the restaurant, through the bar, and through the vacant lot on the other side of the building, your access was barely impeded and but a few steps further. I didn't know about the construction until Dec. 31 and there was no way to contact you. You said that I should have told you about my cat because you had allergies. There were renters in my condo from Dec 20 to Jan 4. I returned with my cat on Dec 31 and stayed with friends. The cat wasn't in the condo; he had been with my daughter in Santa Barbara. You mentioned kitty litter...Yes, my friends had bought kitty litter for his stay there, but I had some from the states and brought theirs over to the condo on Dec 31, along with a new shower curtain, door towel bar and track light. You said that my ad said "drift to sleep listening to the sound of the waves". And that I should have known that there was noise some nights and said so. At least 5 and normally 6 nights are very quiet. The employee party was an anomaly. The restaurant rents as do I. The landlord was contacted by an irate neighbor. There really isn't anything that I could have (Website hidden by Airbnb) was unfortunate, but this stuff happens all the time, unless you are staying in a Four Seasons resort and paying Four Seasons prices. The complaints were not valid enough to require reimbursement of your rent or an upgraded unit...they were mostly 'padding' which I expect was to encourage me to give you my 2/2 at Costa Sur. The A/C works fine in cooling the unit to 16 C; it is no noisier than any other WALL unit, and tho it drips water outside, it gets the job done fine. Ants...why were there no ants on Saturday, none on Monday, yet you claim they were 'all over' on Sunday? These little ants come and go at, and will surround food if it is left out, and sometimes just hang out on a wall. But they are easily swept away with a hand and don't return for a long while. I have seen 3 roaches , separately, in the year I've been here and one of them was dead. One scurried under the fridge and one popped out of a plastic garbage bag I'd left by the door overnight. Surely you don't expect me to believe that they were 'all over' on Sunday and if they had been , I'm sure you are the kind of people who would have taken a photo. The kitchen faucet stem was pulled up out of its (Website hidden by Airbnb) wasn't when I cleaned it on Saturday, but even so, that is a problem for our maintenance man to fix, the same as the water coming out of the A/C. The noise and the satellite were duly reported to the owner. The internet here works about as well as internet anywhere in PV. It's hi speed for PV. It seems to get the job done. The cable was working fine when you arrived Saturday night because I was watching the game. I recall when I tried to tell you the network channels you advised that you didn't watch TV. It is true that the sat was out on Sunday, and no one works on Sunday so it didn't come back on til Monday. You said you had rented a 1 bedroom, but clearly my ad says it is a studio and even gives the sq.ft. You resented my lecture (I admit it was indeed a lecture, as I felt you needed someone to explain how airbnb, Mexico, apt. rentals work in real life. I was angry that you seemed to think you were doing me a favor by 'taking' my 2bd/2bath condo at Costa Sur for less than $100 a night, that you felt no gratitude for my generous offer, that you felt obliged to tell me how I should run my 'business'. My 2bd/2bath exchange cost $860 in maintenance fees and $159 in exchange fees, $99 for membership for the week. Why do you think you were entitled to it? I'm sure you checked into alternative rentals. I'm also sure you found nothing ocean front in a 1 bedroom or studio for 5 days for $100 night. The closest I could come was a room on the highway side of the Sheraton for $144. (plus tax and fees). The Hotel Rosita was full...tho when a friend of mine stayed there in October, they had bed bugs. (Those two hotels 'anchor' north and south the 5th of diciembre neighborhood.) Condos were renting here, ocean front, for $225 night with 7 night minimum on airbnb, but there was no availability for the holiday. Respect should come from both sides Arturo. Did you think it respectful and businesslike to write to me that you had issues that you wanted to tell me about BEFORE you contacted airbnb? Yet you bridled when I mentioned that it felt like a threat and that the contract that you agreed to stipulated that you had 24 hours to contact airbnb about issues with the rental. You now say that you only wanted to 'discuss', but may I bring your attention to your email where you instead give me an choice of two unreasonable demands: giving you your money back OR finding you accommodations that I could GUARANTEE would have (1) no noisy music/voices (2) no ants 'all over the place' (3) no roaches (plural) in the kitchen (4) HIGHspeed internet accessible at all times from the unit (5) beach front unit in a quiet, residential area with direct beach access with no construction in the area (6) a 1 bedroom unit(7)quiet air conditioning instead of a wall unit that cools a place (I guess 16 degrees C isn't cool enough for you(8) no joking fan, whatever that means. No business woman would have done the former (cancellation/refund after 24 hours not in that business contract that you spoke so highly of) and no one that I know of could provide the latter guarantee (a 1 bedroom, oceanfront, new central AC, no noise, bugs or construction) at any price. Here's what I think, Arturo. I think that you took note of my mentioning on Saturday night that when I saw the construction upon my return to PV Dec 31, that I thought of asking you if you wanted to upgrade to Costa Sur. Then, when there was a noisy party on a holiday weekend, you decided to come up with all the reasons why you were entitled to said upgrade for free. No one liked the noise that night. My neighbors called the owner (who rents to Barracuda) to complain. It's been quiet ever since. Bottom line: I went out of my way to be generous in my handling this matter. You repaid me by taking my keys and not returning them and even now, criticizing my giving you an upgrade that rents for over twice the amount you paid. But that is the kind of person you are. Sincerely, Linda Thompson Linda's note: and got this email back: Re: URGENT: Your prompt response is required From Arturo Velez (Email hidden by Airbnb) details To Linda Thompson (Email hidden by Airbnb) Layna Segall de Velez (Email hidden by Airbnb) seriously? I mean a saw your email and decided not to read it, it is too long and most likely boring; some people like you just dont get it. The only reason I am acknowledging this email is because I wanted to let you know that you lost your chance for a good review with AirBnB. Good luck trying to do business with them. BTW, Layna suspects you steal the coffee and the towels from the Costa Sur, maybe we should let them know that too? _____________________________________________________________________________ The accusations are of course, untrue. (except my email was indeed LONG) Most people who have stayed in a nice hotel or timeshare know that the hotel often leaves you complimentary coffee and shampoo, etc. Since I had brought my own coffee and shampoo, I left them for Layla and Arturo when I cleaned my unit from the previous renters. The towels comment…I have no idea except that my beach towels (that I bought at Costco) are the same color as Costa Sur's, tho I believe mine might be somewhat bigger and thicker. I note they didn't include this comment in their review as it could be construed as slander. If you have the time and inclination, I feel confident that you will locate no beachfront units for rent for the $25 that Arturo believes oceanfront condos should be renting for in high season in PV. I don't even know of any that are renting for $100/night except for mine. Despite Arturo's comments, my building was built in (Phone number hidden by Airbnb) and the linens and loveseats and lamps /furniture and kitchen items were purchased by me in January, (Phone number hidden by Airbnb) when I moved in. The photos in my 'ad' are recent and show the condition of the unit when this couple arrived. The ocean is hard on buildings to be sure, and constant maintenance is necessary. I only rent out my unit when I'm not here, and I'm here a full eight months a year less two weeks (non residents can only stay for 6 months at a time.) I like having someone in my apt while I'm gone, because I feel that should any problems occur that they will be handled quickly.
I'm from a ski resort town in Summit County,Colorado. I enjoy traveling, and have decided that I now prefer to spend winters in sunny climes by the ocean in lovely Puerto Vallarta. I'm happy to share my beachside apartment when I'm not there and hope you enjoy it as much as I do…
ภาษา:

English, Español, Français
สื่อสารผ่าน Airbnb เท่านั้น
เพื่อเป็นการปกป้องการชำระเงินของคุณ อย่าโอนเงินหรือติดต่อสื่อสารผ่านช่องทางอื่นที่ไม่ใช่เว็บไซต์หรือแอพ Airbnb
สำรวจตัวเลือกอื่นๆ ในและรอบ Puerto Vallarta
ที่พักมากขึ้นใน Puerto Vallarta: